No trip to Korea is complete without trying the best of Korean cuisine, from street food to even soju! But while you're busy stuffing your faces silly with fried chicken, tteokbokki and kimchi, you might start worrying about those extra pounds you would've gained by the end of your trip.
Vacations are all about winding down and relaxing, and while exercising might be the last thing on your mind, it's actually great for releasing those good endorphins and an alternative way to enjoy the best views of Korea. And of course, keeping off those extra pounds! From cycling through the countryside to skiing down winter slopes, South Korea is the perfect destination for you embark on an "active" holiday!
I LOVE KOREA provides a comprehensive list of packages and tours, all which guarantee you a fun and active holiday in Korea! With 8-day tours starting from only SGD 1090, discover the scenic beauty of Korea in a different light, whether you're hiking up a mountain or riding a bike!
View more Korea travel packages!
1. Cycling
Did you know that Korea has more than 1,500 miles of dedicated cycling paths canvassing the country that bring you past beautiful sights and away from heavy traffic?
With multiple scenic bike trails like The Four Rivers Trail (630 km long, from Incheon to Busan) and the Han River Trail (80 km long, along the Han River), as well as bike sharing apps like Seoul Bike, Korea is one of the most cyclist-friendly countries in Asia.
You can even explore popular tourist destinations like Jeju Island on a bike! The Jeju Bike Path is a 244 km trail that will take the rider along the perimeter of the island and past landmarks like Hyeopjae Beach, Songaksan Mountain and the Jeongbang Waterfall. A relatively leisurely and flat trail with countless of pit-stops along the island, the Jeju Bike Path is perfect for beginner cyclists looking to explore this utopic island.
If you don't know how to begin preparing for your first cycling holiday, check out this 6-day Jeju Round Island Bicycle Tour which will take you on the Jeju Bike Path and loads more! Other than providing you with mountain bike and safety equipment rental as part of the package, the tour will also take you to popular attractions like the Seongsan Sunrise Park, which features a large crater at the summit of Seongsan Sunrise Peak and was named a UNESCO Heritage Site in 2007.
Cycling Tour Packages
Jeju Round Island Bicycle Tour
Price: From S$1,480
Departure dates: 19 – 24 May 2019
2. Running
With its cool weather, Korea is the perfect place for you to kickstart your day with a morning jog. Just waking up an hour or two before you begin your sightseeing activities for the day, will not only allow you to explore more of the vicinity but also get you energised and raring to go!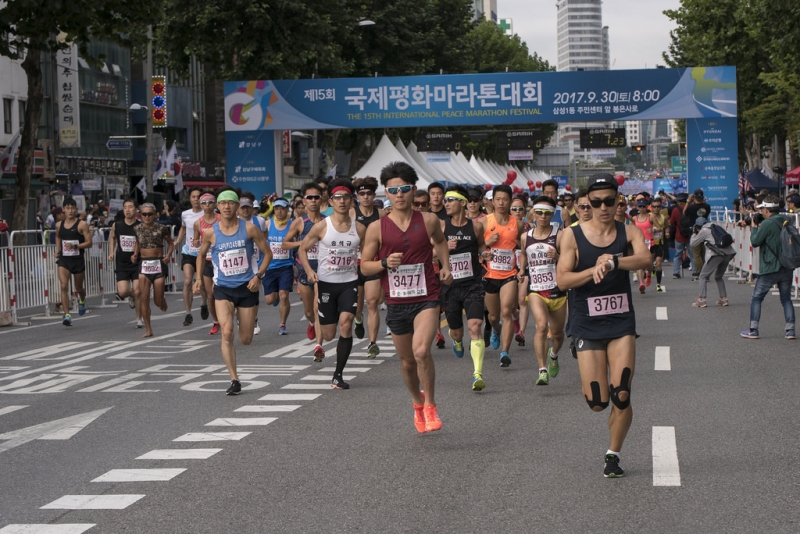 If you really want to get into the thick of Korea's running culture, you can even set your sights a little farther. Seoul is home to the Seoul (International) Marathon, the second oldest marathon event in the world (second only to the Boston Marathon) and the oldest marathon continuously held in Asia. For more casual runners, there is also the Jeju MBC International Peace Marathon, which will take you along the scenic Jeju Island coast and with the cooling ocean breeze running through your hair!
If you're planning to head to Korea to catch the cherry blossoms, you can even sign up for the Busan-Gyeongju Run-Cation Tour. Other than the opportunity to join in the festivities of the Jinhae Cherry Blossom Festival, the tour also includes participating in the Gyeongju Cherry Blossom Marathon! Run amongst rows of pretty cherry blossoms and admire the local attractions along the way.
But that's not all. After your marathon, soothe your tired muscles with a hot spring experience and continue on your exploration of Korea and visit places of interest like the Bulguksa Temple and Seokguram Grotto – a UNESCO World Heritage Site. Once your body is fully recovered, you can even embark on the Gimhae Nakdonggang River Rail Bike to enjoy beautiful views of the Nakdonggang River.
Running Tour Packages
Busan-Gyeongju Run-Cation Tour
Price: From S$1,628
Departure dates: 4 – 9 Apr 2019
Price: From S$1,598
Departure dates: 24 – 29 May 2019
3. Dancing
Mention Korea and one of the things that will come to your mind will definitely be K-Pop. Whether you're a fan of newer groups like BTS or more of an "old-school" fan of SNSD and Big Bang, you can't deny those swanky dance moves!
And thanks to popular dance studios, like 1 Million Dance Studio, that has garnered billions of views on YouTube, Korea is now known as one of the dance capitals of the world! Sign yourself up for a dance class and learn from the popular Korean dancers that you've idolised from behind the screen. Or you could always just plug in your speakers and bust some moves with your friends in your hotel room!
4. Hiking
With 70 percent of its landscape comprising of mountains, South Korea is a hiker's dream. From the largest national park in Jirisan to Munjangdae at 1,054 metres high in the clouds, Korea is a treasure trove of sights and trails for hikers, of all abilities.
While Jeju Island is a popular tourist destination amongst travellers, few know of the scenic Hallasan trail that is perfect if you want to get on your feet and burn off some calories. For nature lovers, the Jeju Hallasan & Olle Trail Tour will be perfect for you, which will take you to the peak of  Hallasan at 1,950 metres high for unparalleled views of the island.
In addition, this tour features a trip to the Dongmun Traditional Market, where you can find a wide range of Korean snacks at cheap prices – perfect for refuelling after your long hike. Famous for their fresh seafood, the small octopus and mackerel are a must-try at this market as well!
Nature & Hiking Packages
Jeju Hallasan & Olle Trail Tour
Price: From S$1,189
Departure dates: 15 – 20 May 2019
5. Water Sports
Speaking of Jeju Island, which is famed for its beautiful and pristine beaches, Korea is the perfect destination for you to engage in some water sports! Engage your core and challenge yourself to some kitesurfing, stand-up paddleboarding and even parasailing!
You can even try your hand at kayaking – in a transparent kayak boat! Admire the azure blue waters through your boat as you paddle, or if you're feeling lazy, you can hop on a submarine tour to explore the rest of Jeju's waters.
6. Skiing
Following the Winter Olympic Games in 2018, Pyeongchang has skyrocketed in popularity as a winter holiday destination. From the slopes at Phoenix Snow Park to ski resorts like Alpensia Ski Resort and Yongpyong Ski Resort, travellers flock to Korea in the winter for their resorts, that cater to a wide range of ages and skill levels.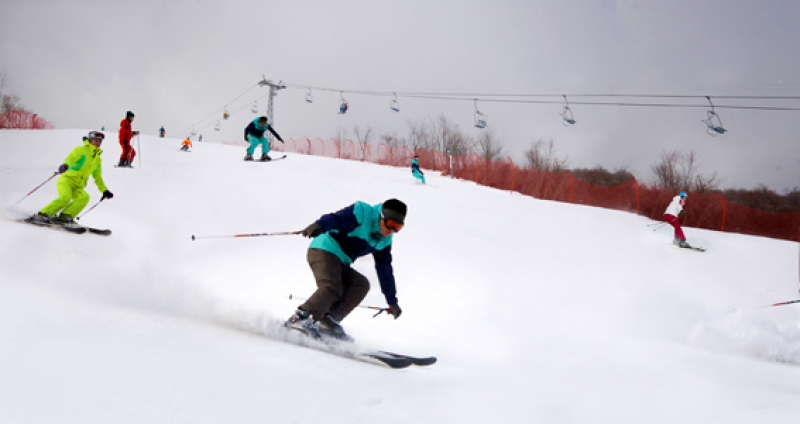 With the 8D Korea Ski Sensation holiday package, you'll be taken to the heart of Gangwon-do where you can ride the slopes! But it's not just all winter fun. You can also enjoy a warm up and soak off in a relaxing hot spring as well as experience Korea's first wooden roller coaster, the T-Express at Everland Theme Park.
Winter Skiing Packages
Price: From S$1,188
Departure dates: TBC
8D Korea Magical Winter & Jeju Island
Price: From S$1,288
Departure dates: TBC
So whether you want to ski down snow-covered slopes or bike across vast and beautiful landscapes between Korean fried chicken and barbecue, Korea is teeming with activities to keep your heart pumping!
View more Korea travel packages!
---
Brought to you by ilovekorea.sg