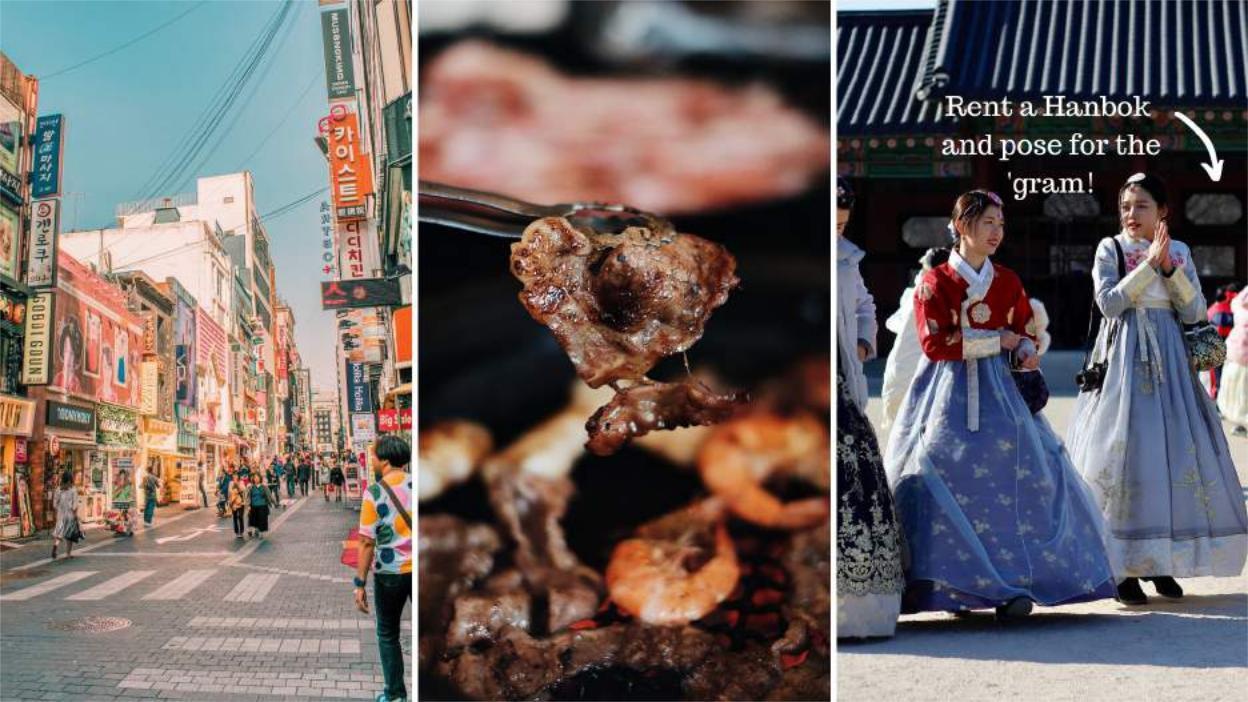 South Korea: this beautiful and intriguing country that has captured the hearts of many, no matter the season. As its temperatures fall and layers of snow envelopes the country from November to March, it's hard to deny South Korea becomes especially stunning during its winter months.
Located in the north, Seoul and its surrounds enjoy more snow and ice as compared to the other parts of the country. Which is why this makes the northern provinces the perfect place to visit during the cold season as they become teeming with activities that exclusively occur during winter!
From epic light festivals to cosy authentic teahouse dates, South Korea brims with a chock full of activities you can only experience during its cooler months. Ready for your ultimate winter escape? Read on for our curated guide of the best winter activities and attractions in Korea (with a few travel saving tips in the mix too)!
ENJOY SAVINGS ON YOUR FLIGHTS TO KOREA!

HSBC Credit Card holders, rejoice! From 1 September to 31 October 2019, enjoy S$40 off your flight bookings to Korea when you book via CheapTickets.sg using your HSBC Credit Card!
*Offer is limited to the first 200 redemptions. T&Cs apply.
PSSST, SAVE ON YOUR ACCOMMODATION IN KOREA!

Looking for a great hotel deal in Seoul and beyond? Enjoy up to 10% off hotel bookings when you book with your HSBC Credit Card! T&Cs apply.
Where to Eat: Best Bites to Warm Your Seoul This Winter!
South Korea is a foodie's paradise, whatever the season. However, we might argue that some of the country's street food and specialties might taste even better in winter! Here are some of our favourite eats guaranteed to keep you feeling toasty on the inside.
1 – Munch on delicious winter street food
Some of Korea's best eats can arguably be found on the streets! There's nothing better than exploring the beautiful country with a warm snack in your hands.
Some popular street food you should definitely keep a lookout for are tteokbokki (chewy stir-fried rice cakes cooked in a thick Korean chilli paste – pictured above), gyeran bbang (literally translates to 'egg bread' in Korean – also pictured above) and hotteok (Korean sweet pancakes stuffed with nuts and honey – pictured below).
Frankly, we can never get enough of tteokbokki – there are several famous street stalls like the famous Mukshidonna Tteokbokki or at Gwangjang market that serve scrumptious ones. Don't miss the piping hot odeng as well (pictured below), a Korean fish cake often served on a skewer and with a side of savoury broth. You can easily find gyeranbbang and odeng across many street food carts in Myeongdong Food Street and more.
However, while these street foods are available all year round, there are some that are only sold in winter – like roasted sweet potatoes and chestnuts – which wafts through the streets of Korea. Not only are these street snacks inexpensive, but they are also delicious, healthy and a great vegetarian option.
2 – Embark on a K-style pub crawl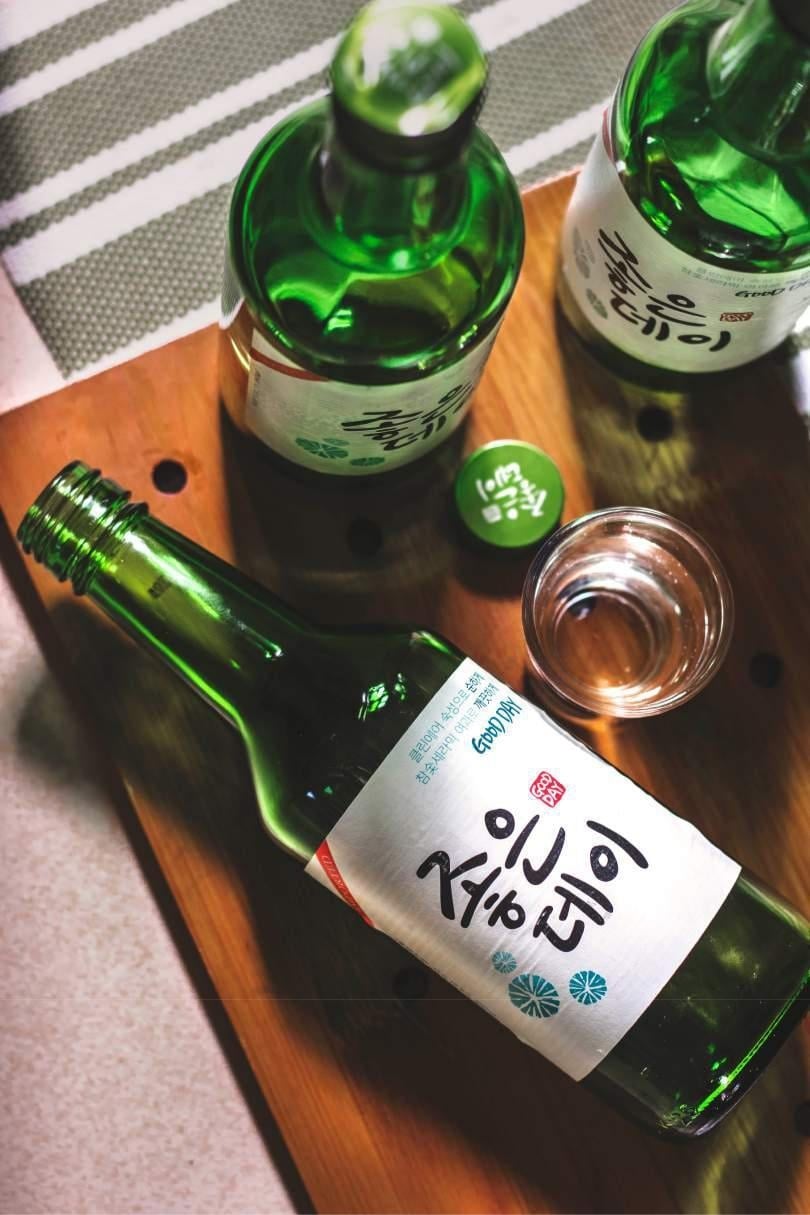 It's no secret that the Koreans love to drink! There isn't a better way to warm up from the biting cold other than to sip on Korea's national drink, soju. Embark on a pub crawl with some locals who will guide you on how to properly enjoy this sweet spirit. Other than sampling different varieties of soju, you can also try out different types of popular Korean drinking games.
#TripZillaTravelTip: Get more booze for your buck at pubs that offer unlimited drinks! These include popular spots like 401 Lounge, Makgeolli Salon, Hanguk Galbi and The A Lounge.
3 – Enjoy a deliciously warm bowl of 'sundubu jjigae', the ultimate winter comfort food
Sundubu jjigae is a sinfully soft tofu stew featuring its main star ingredient, the sundubu (freshly curdled tofu), simmering in a spicy yet hearty broth. During winter, there's truly no better feeling than retreating into a cozy eatery away from the cold and savouring a piping hot bowl of authentic sundubu! For one of its best renditions, make a date at Jaedong Sundubu in Seoul where you'll enjoy a steaming hot sundubu stew at KRW 6,000-8,000 per bowl.
Address: Jaedong Sundubu 6 Bukchon-ro 2-gil, Jae-dong, Jongno-gu, Seoul, South Korea
4 – Try 'chimaek', a Korean fried chicken and beer experience, if you haven't!
'Chimaek' refers to the classic and popular duo of Korean fried chicken paired with beer – a culinary matchmake in heaven that will keep you feeling toasty in the chilliest of winters! Han Chu, said to be a popular haunt among Korean celebrities, is often regarded as one of the best spots for chimaek in Seoul – and rightfully so. These double-fried, deliciously crunchy and juicy chicken are brilliantly seasoned and will have you reaching for seconds. Washing it down with an ice-cold pint of beer only makes it better!
Address: Han Chu Korean Fried Chicken & Beer, 68 Nonhyeon-ro 175-gil, Sinsadong, Gangnam-gu, Seoul, South Korea
5 – Turn the heat up at Seoul's best Korean barbecue spot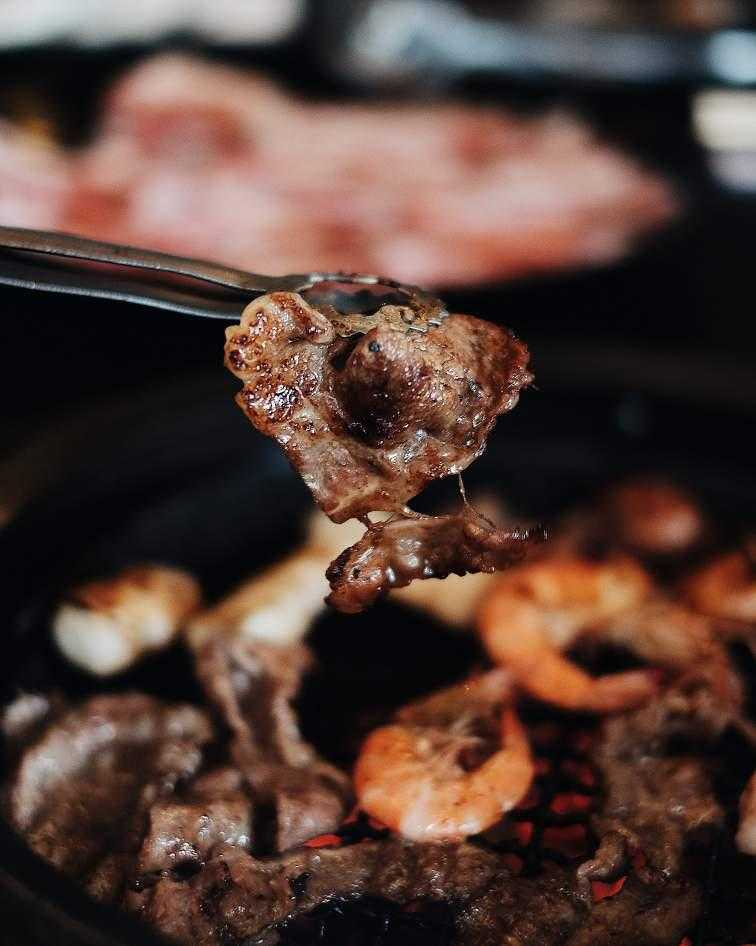 Besides their gloriously crispy chicken, Korean cuisine has also become synonymous with its delicious barbecue. For a sumptuous barbecue feast, make a date at Yeontabal BBQ Restaurant. Here, bulgogi (thinly-sliced marinated beef sirloin) or galbi (marinated beef short ribs) are grilled on your table using charcoal grills which lends a delightful smokiness to the meat cuts.
Address: Various outlets across Seoul. Visit their website for more information.
6 – Have a brewing good time at an authentic teahouse in Insadong
Is there a better way to stay warm during the winter than sipping a cup of tea with a side of sweet rice cakes in a charming Korean teahouse? For a traditional teahouse experience, head to Insadong where you'll find authentic teahouses… and a few hidden gems too! A few spots worth checking out include Shin Old Tea House, The Moonbird Only Thinks of the Moon and Suyeon Mountain Tea Room. And yes, these teahouses are as charming as its name!
For a more contemporary take on Korean tea experience, however, make a date at O'sulloc which now has teahouses all over Korea since first opening in Jeju Island. Pillow-soft green tea cakes, ice cream, and soothing teas, it's a sweet and Instagrammable spot for a warm cuppa on a chilly winter's day.
7 – Harvest your very own strawberries at a strawberry farm – and even make your own jams!
Korean strawberries can cost quite a sum in supermarkets. However, don't let this stop you from enjoying these sweet berries. Since strawberry season – beginning from December to June – starts during winter, stuff your face with as many strawberries as you want at these strawberry farms! Bonus: it's also a great kid-friendly activity too!
Located a mere 30 minutes by KTX from Seoul, Yangpyeong is the place to go to for fresh strawberries. Drop by one of the many strawberry farms in the county where you can pick 500 grams to one kilogram of strawberries from just KRW15,000 (~SGD17.17) onwards! Depending on the farm, you can also opt to make a hand-made jam or enjoy strawberry pizza.
Where to Shop to Look Like Your Favourite Korean Star!
Did you know that the Koreans love shopping so much that the country's tourism committee actually made it a national event? If you think that's crazy, wait till you hear about the Korea Grand Sale! During the height of winter in January, shopping districts across Seoul and other cities in the country participate in this sale and offers large discounts and free gifts! Talk about a savvy shopaholic's dream come true!
8 – Discover a K-Beauty Mecca at Myeongdong and K-Style Heaven at Hongdae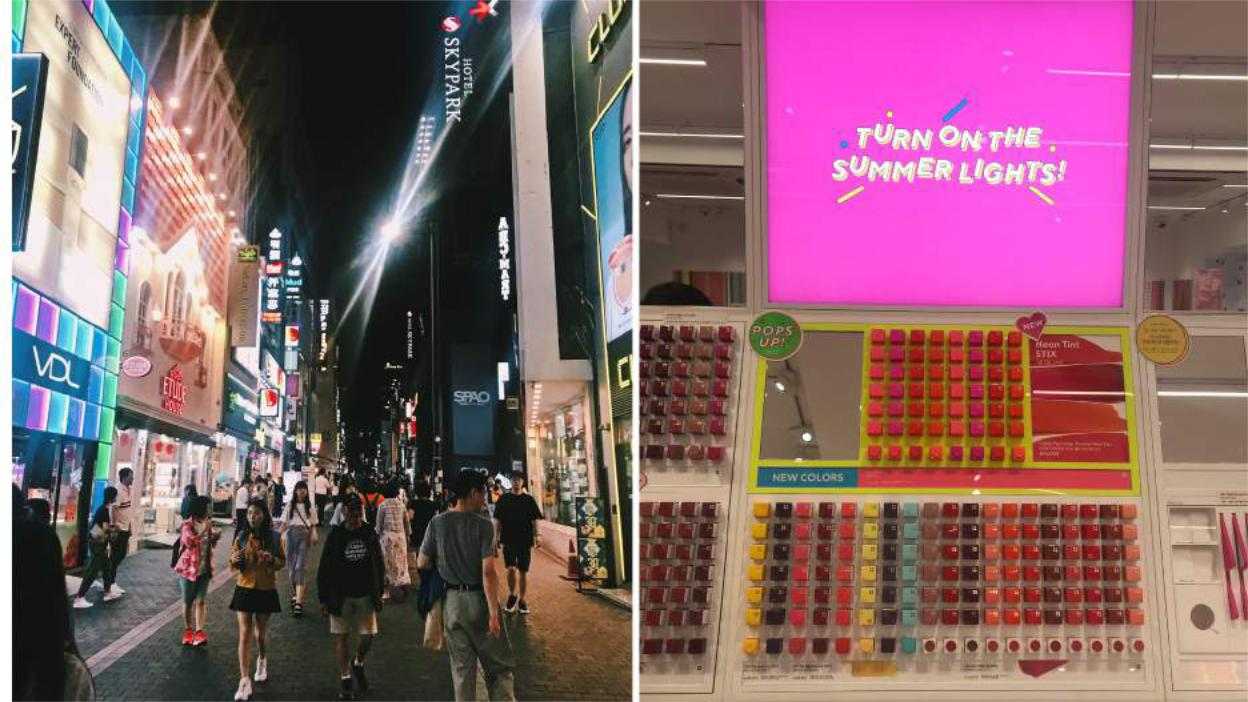 Some of the hottest shopping districts and malls in Seoul include Ewha Woman's University Fashion Street, Myeong-dong, Hongdae, COEX Mall, Times Square, and Common Ground. Needless to say, Myeongdong is the ultimate mecca for K-beauty junkies, brimming with wildly popular Korean beauty stores like Innisfree and Nature Republic which all have at least one store in Myeongdong. You'll also find great clothing items for a steal too!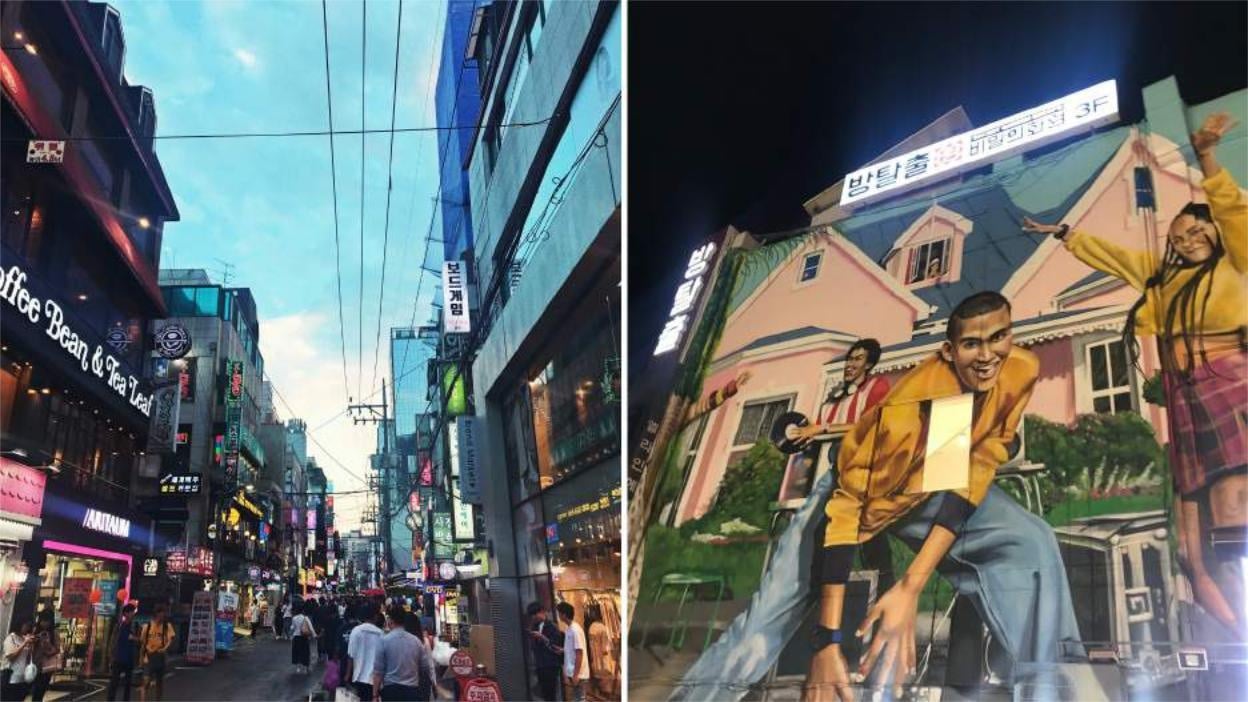 Even if you're not planning to shop, you should still pay a visit to Hongdae. Here, you'll find great local Korean boutiques selling the latest and trendiest in K-style at mostly wallet-friendly prices! With its street performances and generally youthful and vibrant energy, it's truly an experience you can't miss in Seoul.
9 – Shop vintage threads at Gwangjang Vintage Market
If you've already been to Seoul's famed shopping districts and are looking for new retail hotspots, hear us out! Other than filling up your tummies with Korean delicacies at the famous Gwangjang Market, don't miss out on doing some shopping at the adjacent Gwangjang Vintage Market. At the market, there's a whole floor dedicated to inexpensive yet authentic vintage clothing. Whatever your style, Gwangjang Vintage Market definitely has the piece for you. All you have to do is look!
10 – Branded Steals at Munjeong-dong Rodeo Street!
Who doesn't love a good bargain? With discounts up to 80% off, you cannot find better bargains in Seoul than at Munjeong-dong Rodeo Street! Located conveniently along the exit of Munjeong subway station, Munjeong-dong Rodeo Street is considered to be Korea's first outlet shopping district. The street is lined with shops selling tons of previous seasons items well-known brands such as Levi's, Nike and Adidas at heavily slashed prices.
11 – Sungshin Women's University Shopping District
If you're a K-fashion and K-beauty junkie, chances are you're familiar with well-loved (but crowded) university shopping districts such as Edea (Ewha Woman's University), Hongdae (Hongik University) and Kondae (Konkuk University)!
For something a little less jam-packed, there's a new, up-and-coming university shopping district on the block – Sungshin Women's University Shopping District. Located only a few subway stops away from Dongdaemun, you can find cheaper food and more unique finds at Sungshin Women's University Shopping District compared to its more well-known counterparts.
Where to Sightsee & Explore
Although most people choose to go skiing at ski resorts or visiting theme parks to enjoy the winter-themed festivities, these activities are pricey and can create a hole in your pocket! Instead of hitting the slopes or watching a parade, here are some exciting (yet affordable) activities you can do in Korea during winter.
12 – Rent a Hanbok
What better way to immerse yourself in the Korean culture than by donning its traditional wear? You can rent a hanbok (a traditional Korean clothing worn during special occasions and celebrations, as pictured above) from spots like the Gyeongbokgung Store and Bukchon Store and even get your hair done in a classic braid!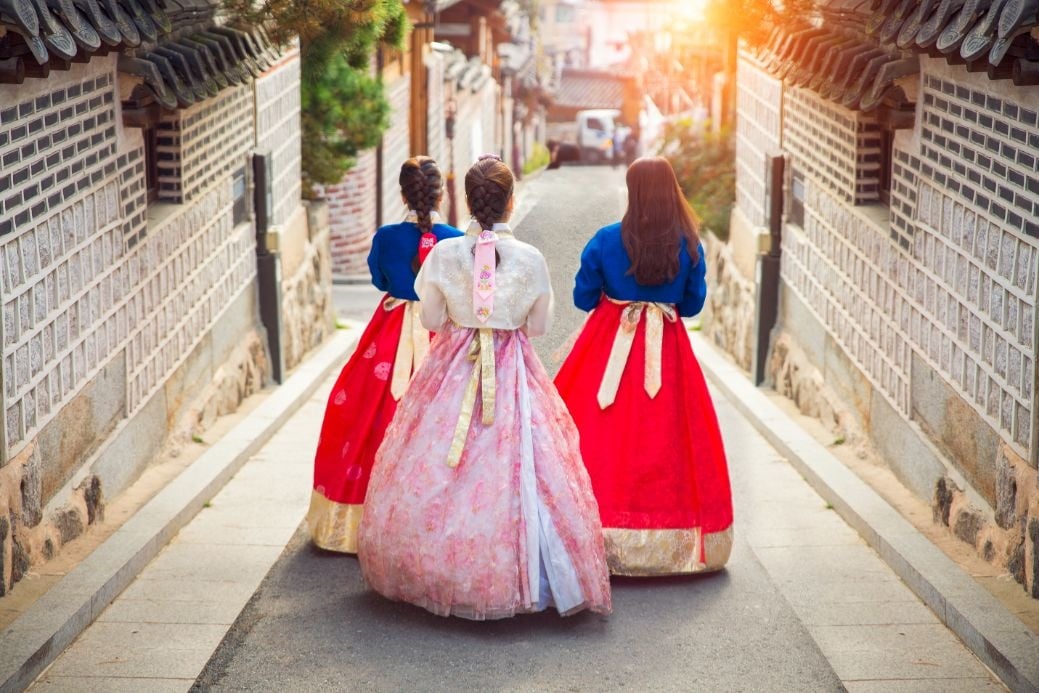 Most hanbok rental boutiques boast of a generous selection of exquisitely-designed dresses and accessories to complete your look. Not only do they make for a great Instagram moment, it's a fun and alternative way to experience Korean culture!
#TripZillaTravelTip: Book your hanbok rental in advance on Klook to enjoy savings on the rental cost!
SAVE ON YOUR EXPENSES ON ATTRACTIONS, EXPERIENCES, TOURS
& MORE IN KOREA!

Whether you're renting an exquisite hanbok or visiting Korea's many exciting attractions, enjoy an extra 7% off all activities on Klook when you book with your HSBC Credit Card. T&Cs apply.
13 – Take the plunge and go ice diving
Asan Spavis is a well-known hot spring and waterpark that is located just an hour away from Seoul. During the winter months, Spavis offers guests a chance to go ice diving! Brave the cold and run through the snow before taking a dive into one of the heated pools in the outdoor spa area. You get to literally soak in a unique experience as you bathe in a hot spring while surrounded by snow!
#TripZillaTravelTip: Opt to enter the facility after 4pm and you get to enjoy a 50% discount on the admission fee! Spavis closes at 6pm or 7pm (according to the peak season), so you will get to enjoy two to three hours of ice diving at a fraction of the price.
14 – Admire impressive ice sculptures at Gangwon's ultra-cool winter festivals
Gangwon province is teeming with different winter festivals during the colder months. One festival you simply can't miss out is the Taebaeksan Snow Festival. Since Taebaek experiences up to six months of winter, the town is practically covered in powder white snow throughout the season. With it, exuberant large-scale snow sculptures are erected! Other activities that you can participate in during the festival include snow rafting, dog sledging and igloo cafe hopping.
Another popular Gangwon winter festival is the Pyeongchang Trout Festival which takes place in the town of Jinbu-myeon. You can try out several unique forms of fishing such as ice trout fishing or, for the daredevils, barehanded fishing! What's more, you can get any freshly-caught trout prepared and cooked immediately at a nearby restaurant.
Other notable Gangwon Winter Festivals include Daegwallyeong Snow Festival, Hongcheon River Ginseng Trout Festival, Inje Icefish Festival and Hwacheon Sancheono Ice Festival which make for a great day trip from Seoul!
#TripZillaTravelTip: Save money on transportation between various Gangwon Winter Festivals by hopping on the G-Shuttle Bus Services. Simply show your foreign passport and enjoy KRW5,000 (~SGD5.72) return shuttle transfers!
15 – Be mesmerised by its stunning wintry light festivals
Nestled in the tranquil Chungnyeongsan Mountain area, The Garden of Morning Calm comes alive during winter as the garden glows with thousands of multi-coloured lights. Each section – namely the Korean Theme Garden, Morning Plaza, Road to Heaven and Moonlight Garden – is decorated in different themes that are sure to enthrall you.
Another truly unique lighting festival you can't experience anywhere else is the Boseong Green Tea Plantation Light Festival. This one-of-a-kind festival is located at the Daehan Dawon Tourist Tea Plantation, which is the only tourist-focused tea plantation in Korea! Be sure to clear your phone's memory space as you'll definitely rack up tons of photos here.
Other notable light festivals include the Korea Tea Culture Park Light Festival, Daegu E-World Starlight Festival, Ansan Animal & Heart Village Light Festival, Herb Island Light Festival, and Little Prince Lighting Festival.
16 – Spend the day in a Korean spa or 'jjimjilbang'
No trip to South Korea is complete without an authentic jjimjilbang experience. These public saunas are a favourite local pastime and a great way for you to unwind the Korean way! From salt sauna rooms and indulgent jade baths to herbal foot spas (shown above), it's a surprisingly budget-friendly way to pamper yourself.
Widely regarded as one of the best saunas in Seoul, Dragon Hill Spa & Resort (pictured above) is not only Seoul's biggest sauna, it also boasts of a slew of impressive facilities which includes a spa, golf course, KTV, cinema and more! K-drama fans might appreciate that Dragon Hill's a popular filming location for its TV shows.
#TripZillaTravelTip: For something a little less touristy however, make a date at Itaewon Land Sauna, the largest traditional oak wood sauna in all of Korea, which is frequented more by locals.
Address: Dragon Hill Spa & Resort 40-712 Hangangno 3(sam)-ga, Yongsan-gu, Seoul, South Korea; Itaewon Land Sauna 732-20 Hannam-dong, Yongsan-gu, Seoul, South Korea
SEE YOU IN SOUTH KOREA!
Now that you know the best wallet-friendly places to eat, shop and play, what are you waiting for? Kickstart and plan your dream South Korean vacation (that won't break the bank) today!
ENJOY SAVINGS ON YOUR TRAVEL BOOKINGS TO KOREA
WITH HSBC CREDIT CARD
Convinced you need a South Korea winter vacay? Book your tickets on CheapTickets.sg using your HSBC Credit Card between 1 September to 31 October 2019 and enjoy S$40 off your flight bookings to Korea!

With irresistible deals on flights, hotels and more, HSBC Credit Card is the perfect essential for the smart and savvy traveller. Don't have a HSBC Credit Card? Sign up and get a Samsonite luggage worth S$560! T&Cs apply.
---
This post is brought to you in collaboration with HSBC Credit Cards.