Everyone loves a good holiday regardless of where it may be. With all the pressure from work, it's no wonder many find themselves hunched over their office desks dreaming of an alluring holiday. But wait! Before you go on dreaming about that luxurious holiday in a faraway country, you've got to get past one thing – the flight.
The thought of cosying up in the comfort of your seat, just to hear a baby wailing for the next few hours is truly horrifying. What about the person next to you encroaching into your personal space? Let's not get started on that annoying person who's constantly kicking the back of your seat. The long-haul flight is every traveller's biggest nightmare as it's merely a means to an end. But it doesn't have to be.
If you're flying to Europe or Australia, being cramped up in a stuffy plane with no entertainment nor food for 7 hours and more is probably the last thing you would want. That's probably why you should consider investing a little more in a ticket with a full-fledged airline!
What's more, the trick to surviving (and enjoying) your future long-haul flights is within reach. These 10 tips and tricks will make your next long-haul flight a memorable and magical one where you'll be begging to stay on-board despite reaching your destination.
1) Pack Your Comfort Gear
What can I say? Comfort is EVERYTHING on a long-haul flight. Packing certain essential items for a comfortable ride is the first step to surviving your ordeal on a jet plane. Combat all unwanted noise with your own set of earplugs! Earplugs are an amazing solution for blocking out any disruptions and giving you a peaceful rest. Do away with those noise-cancelling earphones that dangle surreptitiously and go for a pair of snug earplugs instead.
Eyeshades are also a nifty item to have on-board as you can determine your own bedtime without having the cabin lights dimmed! What's more, it'll give you a good night's rest especially when the passenger next to you refuses to put down the window shades despite the glaring sun. If you're on a long-haul flight with airlines such as Singapore Airlines, simply request for your complimentary eyeshades and earplugs to reduce the hassle of bringing your own!
2) Dress Comfortably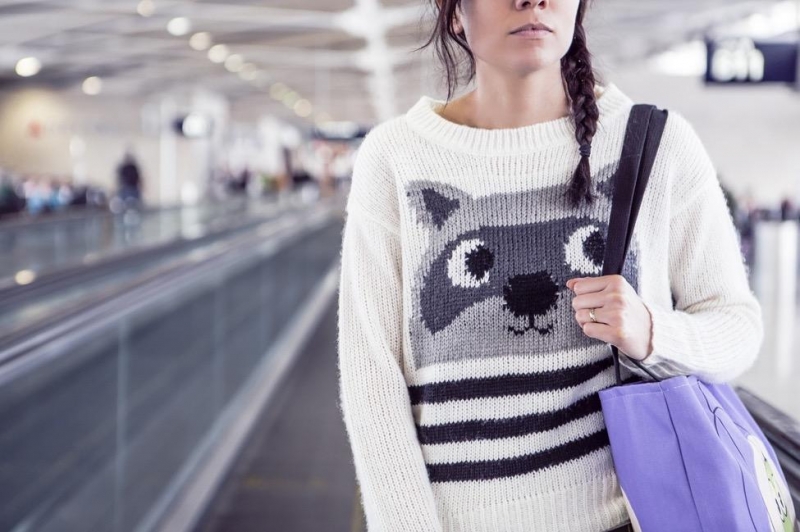 Your outfit on-board determines how comfortably you'll be travelling. Looking good might be a perennial concern for you but on a long-haul flight, it's not worth the expense of feeling worn out when you land! Put aside your beloved pair of rugged jeans and opt for soft lounge pants instead. Choose a lightweight sweater or jacket that you can easily remove when it's too warm or throw back on when it gets too chilly. Stow away any skin-tight outfits that you're thinking of wearing! Trust me, you wouldn't want to feel suffocated on a 15-hour long flight.  
3) Bring a Neck Pillow
Airline pillows are rather insufficient for a traveller who's looking for an optimum level of comfort. Perhaps you're one of those travellers who have been gifted with the ability to sleep anywhere, at anytime and pillows seem redundant. The problem, however, comes when you awake from your slumber. A stiff neck, sore back and throbbing headache isn't the ideal condition to kickstart your holiday! Bring a staple neck pillow on-board the plane to give your neck some support whilst you snooze. Otherwise, a regular pillow would suffice to prevent your back from hunching throughout your flight. You definitely need a good night's rest so you're all refreshed and recharged upon arrival to start your adventure!
Alternatively, if you're on-board a Singapore Airlines' flight, their elegantly furnished seats in Economy Class allow for height adjustable leather headrests with side panels which can be folded for head and neck support. You'll never have to worry about getting a stiff neck ever again.
4) Stay Hydrated at All Times
Imagine having to sit through an 18-hour flight to Los Angeles from Singapore. As the plane ascends, any moisture from your body is gradually sucked out. You're engulfed in the dry, recycled air that the plane processes. Average humidity levels in airplanes range from 10% to 20%, and that's even lower than that of the Sahara Desert! Humidity is definitely an issue on long-haul flights and hydrating is essential to keep you fresh (and healthy). The best way to hydrate is to drink up! Water is readily available on most flights so don't be afraid to ask for water every now and then to keep yourself in tiptop condition throughout your flight.
Secondly, AVOID dehydrating liquids such as alcoholic or caffeinated beverages. Alcohol affects a person faster at higher altitudes, meaning that you're likely to get dehydrated faster on-board! Swap the wine and latte for a glass of water. To ensure that passengers are duly taken care of, the Singapore Airlines crew regularly pass through the cabin, offering water and juices – even in Economy Class. Stick to these two beverages to keep you refreshed instead!
5) Stay Fresh With Your Personal Toiletries
The recycled cabin air doesn't just dehydrate you, it messes with your skin too. Ever had that dry, flaky skin as a result? Yeah, so have we. Soon enough, your face produces a layer of oil and the grime sets in. Spending long hours on a flight with bacteria and oil on your face isn't going to make it any more enjoyable. That's why you should pack your toiletries with you! Keeping fresh on the flight always makes it more bearable. Arm yourself with a toothbrush, toothpaste and your facial products, and you'll feel as crisp and unblemished as you were prior to the flight. Just don't forget to keep your liquids in a 100ml bottle and into a transparent resealable plastic bag!
Lucky for Singapore Airlines' passengers, the crew does hand out the airline's own brand of on-board amenities including an individual toothbrush, toothpaste and knitted sock packs. Mouthwash, skin moisturisers, cologne and aftershave lotions are also available in the lavatories to keep you feeling fresh as well!
6) Purchase an Airline Headphone Adaptor
Sick and tired of having to use those three-pronged headphones provided by most airlines? Always wanted to use your own personal pair of headphones? Well, you can! Most people are unaware that you can purchase your own airline headphone adaptor. For those jetsetters out there, this adaptor saves you the hassle of having to use the airlines' set of audio equipment and lets you indulge in the eclectic on-board selection of movies and music with your own set of headphones.
7) Grab a Pair of Slipper Socks
Kick off those shoes and feel the comfort of being almost barefoot! Whilst going barefoot sure is a tantalising option, some airlines have banned that practice – that's where the slipper socks come in. The slipper socks is fashioned to make it feel as though you are barefoot, ensuring a comfortable flight as you strut around the cabin feeling like a king. Just don't walk into the lavatories with your slipper socks.
8) Prepare Your Own Entertainment
Not every flight's entertainment system will cater to your esoteric needs. That doesn't mean you bum around the 7.5-hour flight to Melbourne doing nothing! Prepare your own entertainment by loading up on your Netflix movies, TV shows and Spotify music that you personally enjoy. For you bibliophiles out there, a long-haul flight is a great opportunity to finish that book that you've always been wanting to read! Busy yourselves on these long-haul flights and we promise you that you'll arrive at your destination before you know it.
If you're catching a flight on Singapore Airlines, request for complimentary postcards, playing cards or writing kits to occupy yourselves! Otherwise, check out their in-flight entertainment system that has more than 1,000 entertainment options on-board. There's bound to be something for everyone on Singapore Airlines.
9) Snack at Your Own Leisure
Eating and snacking at your own prerogative allows you to dictate your own flight experience. Small tidbits such as peanuts, chocolate bars and potato chips make for a light snack, especially when you're feeling peckish! That is, if you have specific brands of snacks that you prefer. Otherwise, you could simply request for a light snack that can be provided on-demand from your friendly cabin crew, while waiting for your main meal to be served!
10) Book Your Seats Sensibly
Booking your seats sensibly makes a HUGE difference in your flight experience. It's no secret that the front rows of every section might have more leg space, but that's also where the parents with young kids are. Whereas the typical crowd prefers seats as far up as possible (no doubt to scramble for the exit as soon as the plane touches down), choose the back seats for a more comfortable ride. If there are any empty seats, chances are they'll be located right at the back, giving you the opportunity to lay claim to more than one seat. This option is a shoo-in for those seeking greater comfort during the long haul flights, making the additional five minutes added to your alighting time feel negligible.
With these tips and tricks, you'll be sure to have a smoother ride and a more enjoyable flight! You'll find time passing by in a whizz as you take a cozy long nap comfortably attired.
Planning for your upcoming trip? Choose a flight with Singapore Airlines as they tick all the boxes off your list of comforts with your needs being met even before you request for them. Providing delectable in-flight meals, a comprehensive entertainment system and impeccable service, Singapore Airlines is truly the way to go when it comes to flying long-haul flights. If your wallet enables you to take Premium Economy or Business Class, even better! But if you're looking for a normal Economy Class seat to places like Melbourne, Barcelona, or Los Angeles, these tips and tricks will have you covered.
Can't wait to put these tips and tricks to the test? You're in luck. Fellow HSBC Credit Cardholders get to book these neat deals such as: All-in return flight to Melbourne from S$668, all-in return flight to Barcelona from S$1,128 and all-in return flight to Los Angeles from S$1,368 and more!
With such a slick deal for HSBC credit cardholders, you wouldn't want to be missing out on this grand opportunity.
There's no time to lose, grab your HSBC Credit Card and fly to the destination of your dreams!
---
Brought to you in partnership with HSBC Credit Cards.