The holiday season is just round the corner and we've picked the top shopping destinations you could fly to! After all, if you're a Singaporean, shopping is in your blood. These cities may not sound very new to you but their shopping spaces never fail lure you over and over again.
In case you're wondering where to head to for a great shopping spree, let us bring you through!
1. Bangkok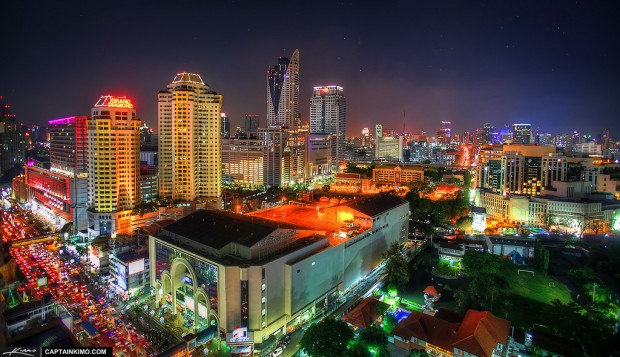 Image Credits: Kim Seng

Undeniably one of the most favourite shopping destinations for many Singaporeans, Bangkok serves as a diversified shopper's paradise. Blessed with some of the world's splendid shopping malls, you can find yourself hunting down the best bargain in Platinum Fashion Mall or MBK, and even immersing yourself into a luxurious galore in the high-class Siam Paragon.
Did we not mention The Emporium, CentralWorld or Terminal 21?
And if you're a technophile, the Pantip Plaza will be your jackpot. You can find new and used technological gadgets at rock-bottom prices. Probably a notch higher that Sim Lim Square perhaps?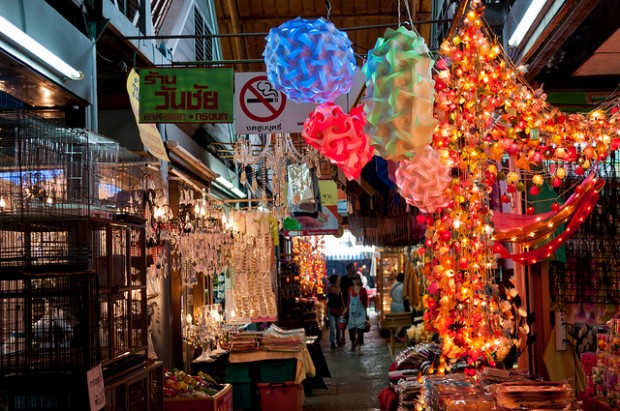 Image Credits: Mark Fischer
If you've had enough of the modern shopping space, step out and wander around Bangkok's bustling and colourful markets. Known to be a landmark for all tourists, the Chatuchak Market is home to over 8,000 stalls! From clothing, handicrafts, antique and collectibles to books, furniture and ceramics, the market is probably the one-stop place for any kind of shopper.
But don't just stop right there! Be sure to chill out the JJ Green Night Market that fuses the aura of a flea market and a local drinking hangout. You can also combine your experiences of a night bazaar and a mall at Asiatique, topped with nightly entertainment by cabaret and puppet performers.
Also Read: The 3 Shopping Places in Bangkok that Non-Shopaholics Will Love
2. Metro Manila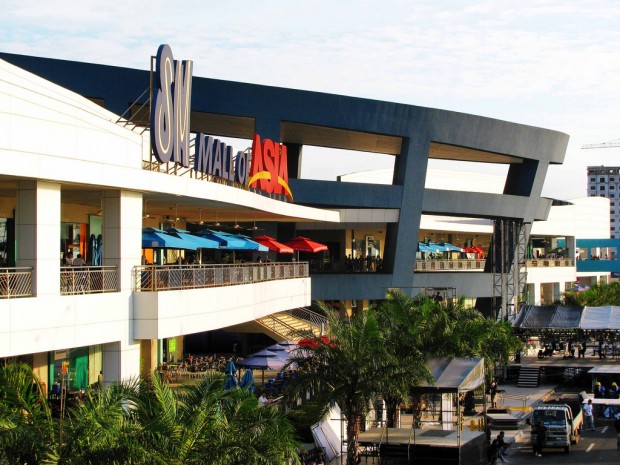 Image Credits: Roslyn

Located in the capital region of the Philippines, the SM Mall of Asia is the country's and the world's third largest mall. It boasts a huge array of luxury goods, ranging from fashion and beauty to home furnishing and latest technological gadgets. For a cheaper alternative, you can make your way to Greenhills Shopping Centre, which ladyironchef aptly describes it "like Singapore's Bugis Village, Mustafa and Sim Lim Square combined into one".
And how can we forget the popular weekend markets of Metro Manila? The Salcedo Saturday Market and Legazpi Sunday Market offer visitors with a great variety of fresh and organic foods, as well as artisan products such as weaved mats and bags, and other handmade creatives.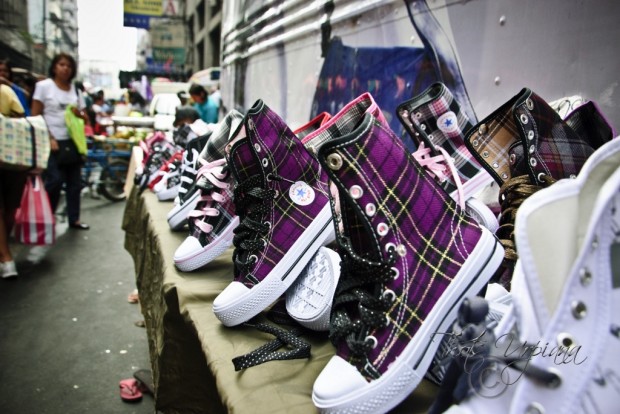 Image Credits: incrediblethots
For a full bargain shopping, drop by Divisoria at the heart of Manila, where you can find everything you possibly need — clothes, fabrics, textiles, crafts, decorations, accessories, electronics, toys and many more. No wonder it's often called the mecca of value shopping!
3. Ho Chi Minh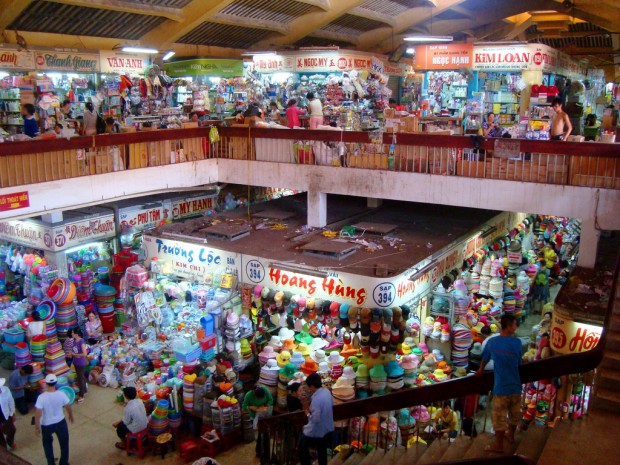 Image Credits: Gavin White
Ho Chi Minh is the city of bargain shopping, with handicrafts, imitation brands, clothes and shoes that cost a fraction of what you spend in Singapore.
Head down to Nguyen Trai Street if you're looking for clothing brands such as Old Navy or Gap. Ly Chinh Thang and Luu Van Lung specialise in shoes of various fashion styles. Saigon Square 1 and 2 offer great deal of fashionable clothing and handbags, along with Binh Tay Market. Remember to brush up your bargaining skills!
Watch lovers will enjoy a stroll around Ben Thanh Market for great quality imitation watches. For a better bargain though, you can check out the market at Binh Tay. Ben Thanh is also a great place for handicrafts, including threadwork embroidery and even handcrafted wooden collectibles.
You can also get your own custom tailored apparel at Fabric Street that sells great quality and exceptional variety of fabrics. The Tan Dinh Market right across is another alternative for your tailoring quest.
Time to suit up?
4. Malacca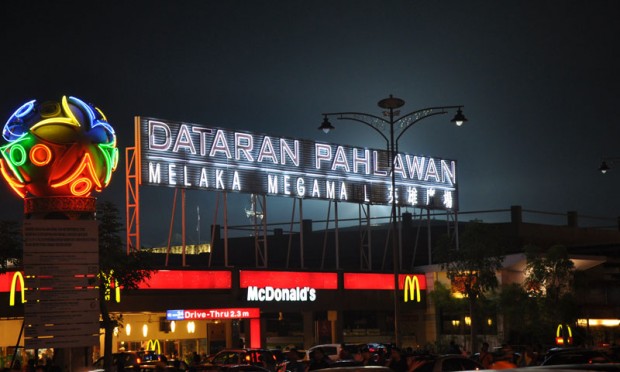 Image Credits: mynikfoto
Apart from its rich historical background, Malacca is yet another city that offers a diverse blend of shopping experiences to its visitors. Among its popular shopping malls is the Dataran Pahlawan that features international fashion chains such as Esprit, Quiksilver and Giordano. Located right across it is Malacca's pioneer shopping mall, Mahkota Parade.
That's some tough competition.
Offering visitors a vast array of affordable clothing and accessories, home appliances, and other discounted products, the mall is a place for those travelling on a budget. Ladies, you'll be excited to admire quality beauty products from Korea and other east-asian choices lined up that offer cheaper prices that their overseas counterparts.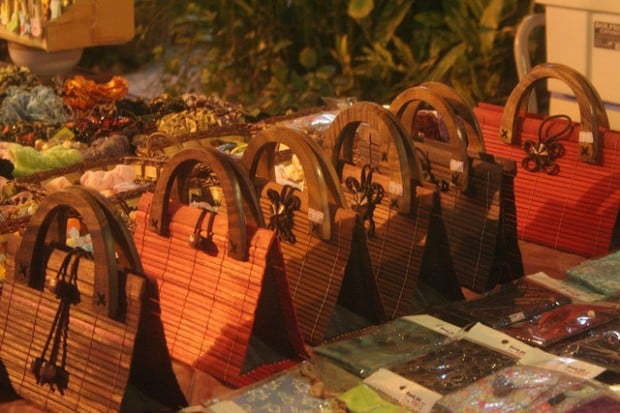 Image Credits: sj liew
Beyond the walls of these shopping cathedrals are the traditional consumption spaces, such as that found next to Makhota Parade. The Pahlawan Walk Market opens on weekend nights — up till 2 am — and is packed with stalls selling handicrafts, accessories, clothing and authentic Malay food. Another similar nightly attraction is located on Jonker Street. Usually bustling every weekend nights, the Jonker's Walk Night Market offers heaps of local hawker stalls, cheap antique and craft keepsakes.
5. Delhi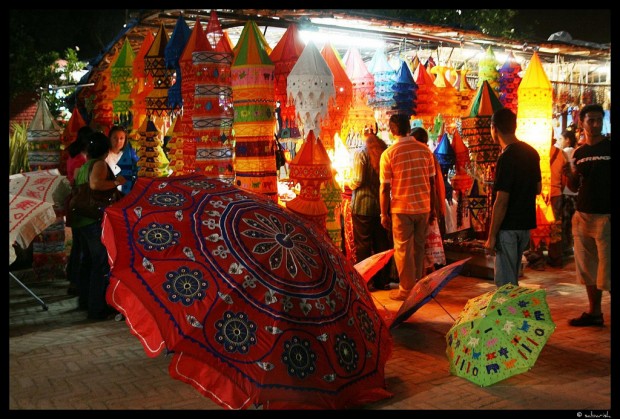 Image Credits: Sabarish Raghupathy

It was quite tough to choose which Indian city would serve the best for shopaholics, but we've finally decided on the state's capital.
Delhi is home to a diverse culture and a vast number of avenues for street shopping. Textiles, shoes, funky jewellery, tea, pashmina shawls, handicrafts, hippie clothes, artefacts from all over India — we mean everything!
For a taste of India all in one city, head down to Dilli Haat. If you're looking for handicrafts, jewellery, paintings or anything hippie, make your way to the Janpath and Tibetan Market.
Bring your bargaining skills forward to Lajpat Nagar, Sarojini Nagar, Paharganj and Chandni Chowk for more inexpensive textiles, hookah pieces, Indian artefacts or clothing, brassware and even electronic goods. Gearing towards the other end of the spectrum, get some high-end and classy shopping done at Khan Market and Sundar Nagar.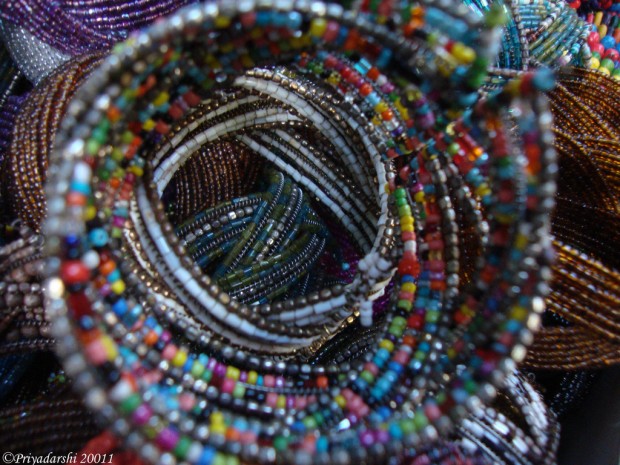 Image Credits: Priyadarshi Ranjan 
Feeling tired already? You still got to check out other street shopping places in Jaipur and Mumbai!
6. Jakarta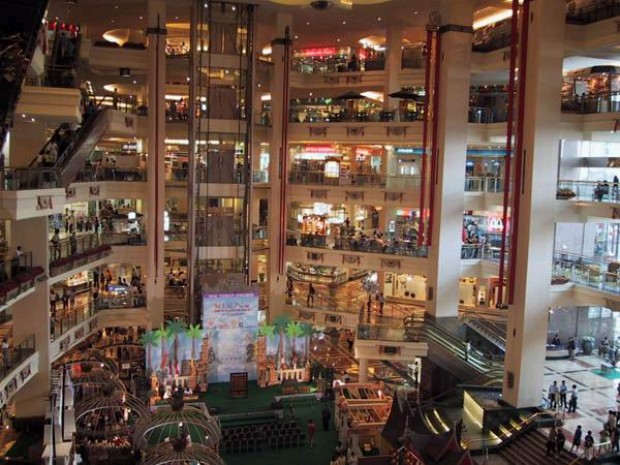 Image Credits: Wikipedia

A modern metropolis, Jakarta offers more than what its growing population desires, with shopping avenues spread out all over the city.
Central Jakarta is popular among those with a knack for high-end fashion. Malls like Plaza Indonesia and Grand Indonesia Shopping Town are housed with international chains such as Prada and Cartier. But if you're travelling on a budget, you can try Pasar Baru that offers discounted prices on local products such as fabrics and clothing.
The Tanah Abang Market is also a favourite place for bargains on a variety of goods such as textiles, fashion accessories and other wearable items. West Jakarta's Taman Anggrek and Ciputra malls also offer local and international fashion at affordable prices, while Central Park will be a place for you to restock your grocery needs.
If you're still on the hunt for great bargains, travel over to the northern part of the city. Mangga Dua is known to be Jakarta's shopping paradise street. Bargain clothing, fake designer clothes, cheap electronics — they've got you covered. For souvenirs and handicrafts, you can head over to Kelapa Gading Mall and Acol Arts Market. What a total bargain paradise! Although South Jakarta has multiple options for luxury buys, shopping at its factory outlets for your favourite label will be a steal!
Technophiles, once again, hit the jackpot with the giant electronics playground, the Ratu Plaza. If you're bored with the international display of goods, East Jakarta offers independent clothing stores for trendsetters to take a unique pick and stand out from the crowd.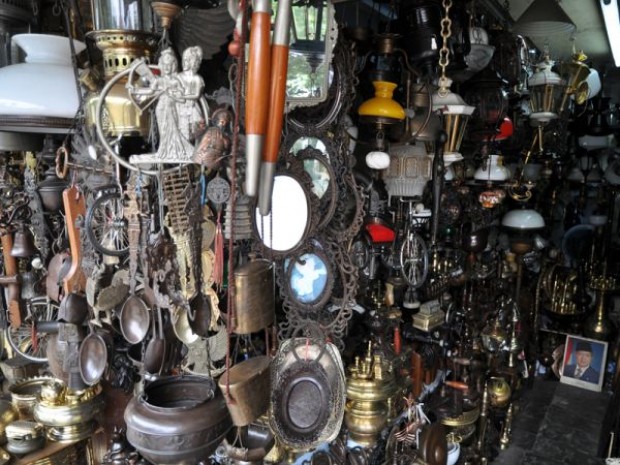 Image Credits: Java Backpacker
Your shopping doesn't just end yet. Jalan Surabaya is home to Jakarta's famous flea market. Turn up your bargaining skills as you shop for furniture, textiles, old vinyl records and many more antiques.
7. Hong Kong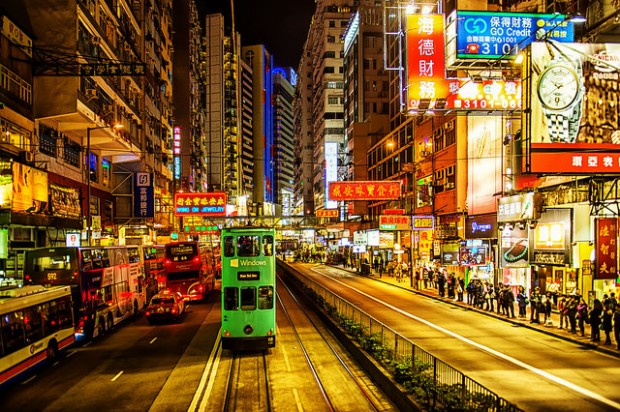 Image Credits: johnlsl

If you hear someone heading to Hong Kong, you already know they're more excited to shop there than anything else. After all, shopping in Hong Kong has been categorised as a "serious sport". For budget, mid-range and high end shopping all at once, get down to Harbour City, the most popular mall in Hong Kong. Fashion and beauty enthusiasts will be delighted to know that the mall offers good quality products at moderate prices too!
The Pacific Place, Landmark Square and Galleria Square are other alternatives if you are eager to splurge on high quality branded products. And if you're not tired yet, Causeway Bay awaits you.
If you're into jade — the symbol of wealth in the city — the Jade Market is a great place for you to admire the precious gem. Be on the safe side though — know your 'Jade' well to prevent being sold a counterfeit. Don't forget other markets in the city too! They've got the Temple Street Night Market, Stanley Market and many more.
8. Seoul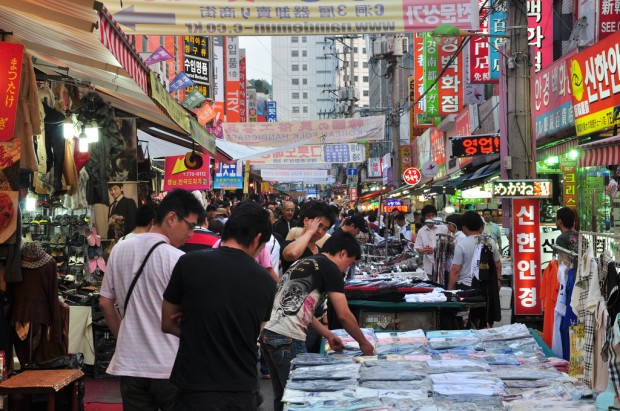 Image Credits: Oskar Alexanderson 
Nobody leaves Seoul without visiting its most sought after shopping venues. We're talking about the discount markets of Myeong-dong and Dongdaemun where you can find latest Korean fashion, beauty products, bags, accessories and what not. Itaewon has also been foreigners' hot favourite! For a traditional treat, Insa-dong and Namdaemun it is, but don't just stop at these popular venues.
Check out the university districts that house many of such attractive markets, and shop for inexpensive and even vintage goodies! These include Edae, Hongdae, Kondae and the Gwangjang markets.
Also Read: 7 Shopping Places in Seoul You Might Not Know About
9. Tokyo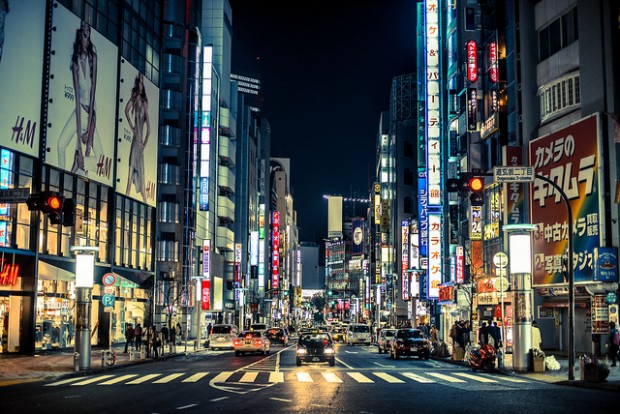 Image Credits: Carlos Donderis

Indeed, the Japanese shop as hard as they work! From the affluent shopping spaces to the traditional flea markets, you can shop till you drop in Tokyo.
If you're looking for high fashion trends or a taste of sophistication, Ginza is the place. And if that wasn't enough, they've got Harajuku and Omotesando too! For an unexpected bargain, you might want to head down to Shinjuku that is packed with departmental stores, huge electronic and book stores, and don't forget the underground mall!
Teenagers might find a liking for Shibuya, a place to look out for the latest trends in town, and even great cosmetic products. Try not to miss out the original shops between the chain stores. They could just offer you the perfect buy!
Often overlooked by tourists, Ebisu offers a unique and interesting shopping experience, while Ikebukuro has huge departmental stores with great bargains on wares found in other parts of the city.
Flea markets are the hot spots for bargaining. The biggest and most popular flea market is the Ooi Racetrack Flea Market that sells almost anything! The Mottainai and Yoyogi Park flea markets are great places for recycled fashion, while the one at Shinjuku Central Park is known for its vintage goodies.
Image Credits: Guilhem Vellut
Some of these flea markets are regular while some aren't, so be sure to check their schedules before planning your shopping spree!
10. Taipei
Image Credits: Andy Enero
Shopping in Taipei never fails to marvel tourists and locals alike. If you're high on your budget, the Bellavita Shopping Mall will serve you well with latest fashion, jewellery and other international brands and boutiques. Levelling with the mall is Breeze Centre that caters more to women's fashion. So ladies, if you've got the money, we say… splurge. However, a slightly cheaper option would be the Taipei 101 Mall.
Taipei's night markets are rolling high too. The most popular for shoppers is the Shilin Night Market, which sells inexpensive clothing, electronics and random collectibles and oddities.
For more bargain deals, head over to Wufenpu for discounted clothing. The Jade Market at the south end of Zhongxiao East Road — a popular shopping district packed with more malls and department stores — offers discounted prices on special products to add to your shopping basket.
Also Read: 6 Best Night Markets To Visit in Taipei