Ah Hong Kong, a paradise for shopaholics and foodies! Many of us know this city fairly well and may have even visited it multiple times (personally, I have been there a whopping total of six times!). After taking in all the usual sights, it's natural to be on the lookout for something more.
If you think you know Hong Kong well, there are so many things that have not been explored in Hong Kong! As cities all over the world are getting ready to embrace the Year of the Dog, Hong Kong has its own agenda to throw the celebration of a lifetime. Want to experience the boisterous and eclectic side of the city? Chinese New Year is the best time to visit! Here's what you can do during this dynamic season:
1.  Forget cherry blossoms, admire other equally stunning flowers
Even though cherry blossoms are all the rage, there are many other beautiful flowers that deserve some attention too. Before the celebrations for Chinese New Year begin, speciality Flower Markets at Victoria Park (Causeway Bay) and Fa Hui Park (Mongkok) are temporary fixtures that boast a whole assortment of different plants and flowers. They open for the week before the new year, which allows the locals to purchase their desired flowers in time for the festivities. Different plants symbolise different things; peach blossoms bring about good relations and business, kumquat trees physically resemble a tree of gold coins and indicate wealth and success, while butterfly orchids stand for blessings and good luck. Not only do these plants bring prosperity, they are also vibrant and add life to the surroundings. Even if you don't buy anything, walking amidst these charming flowers is definitely worth the trip.
If you decide to go to the market at Victoria Park, you should take full advantage of your time and enjoy the serenity of the surroundings. Considered to be one of Hong Kong's best parks, it provides a temporary respite from the hectic and bustling Causeway Bay. Join the locals as they engage in an active lifestyle, and take leisure strolls or even perform tai-chi along with them! It's the zen paradise you never knew you wanted, but actually always needed.  
2. Party in the centre of town with showstopping parades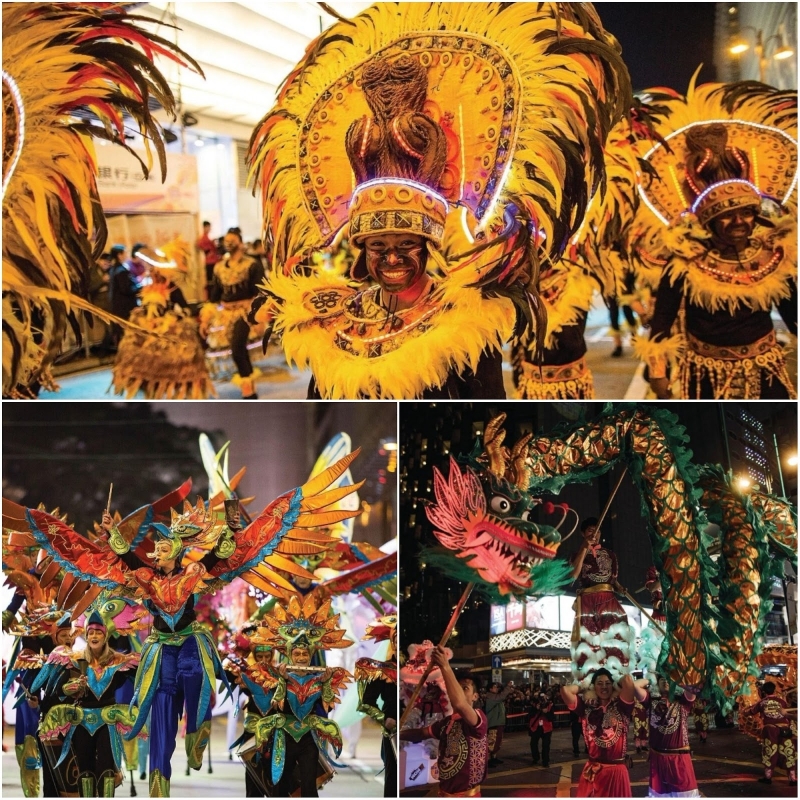 On 16 February, the Cathay Pacific International Chinese New Year Night Parade will return for the 20th year as the showstopper of the city's celebrations. Previously named by Forbes Magazine as one of the "10 Best Events of the Year in 2011", this parade is an amalgamation of local and international performances that guarantees to keep you entertained all night. Feast your eyes on the flamboyant costumes and dazzling performers as they strut their floats down the street, and cheer them on alongside thousands of other spectators. Expect bursts of colour, song, and dance – essentially the best party ever! The parade officially kicks off at 8pm at the Hong Kong Cultural Centre Piazza and is expected to end at 9.45pm at the Sheraton Hong Kong Hotel and Towers.
If you are intending to catch the parade at its starting point, you should definitely go to the Tsim Sha Tsui area even earlier to explore it in its fullest glory. As one of Hong Kong's most prominent shopping districts, there is something there for everyone! Be it luxury designer goods or street market vendors, the shopping there knows no bounds. Before you know it, it'll be time to head to the parade and you'll have to peel yourself from all the mad sales available.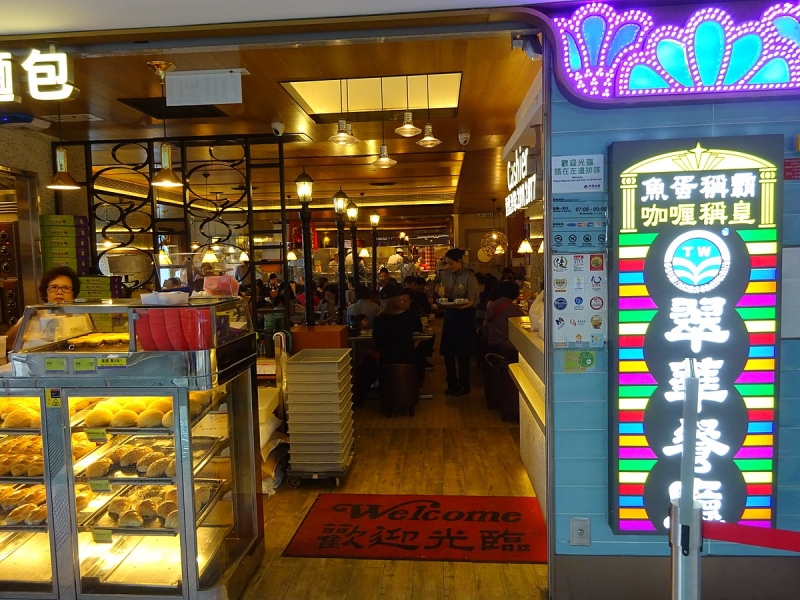 After a whole night of parading and partying, however, you'll probably be starving. Pop into one of the many Cha Chaan Tengs (tea restaurants) to get some of Hong Kong's best comfort foods – Bo Luo buns (pineapple buns), pork buns, egg tarts and of course, instant noodles! These warm comfort foods will be the perfect way to conclude a busy day.
3. Experience a European Carnival packed with exciting rides
Technically speaking, this is not a part of the Chinese New Year celebrations. But with the Great European Carnival happening over the same period of time, there is only more incentive to visit Hong Kong this Chinese New Year. The carnival is jam-packed with exciting activities; from thrilling rides directly shipped from Europe, street performers, food booths and the most recent addition of the Great Circus of Europe, you'll never run out of things to do! The carnival opens from 11am to 11pm daily and will remain in operation until 25 February.
Since you are already living the European experience, venture even further and get a taste of what America is like. Emack & Bolio's is a speciality ice-cream store that opened in Hong Kong in 2015 but hails all the way from Boston, United States. They offer a whole variety of novel ice cream flavours, toppings and sauces that are guaranteed to tantalise your taste buds. The presentation of each dessert is impeccable, and is totally Instagram-worthy! Don't miss out on a chance to make your feed even more picture-perfect.
4. Feast your heart out on a variety of festive dishes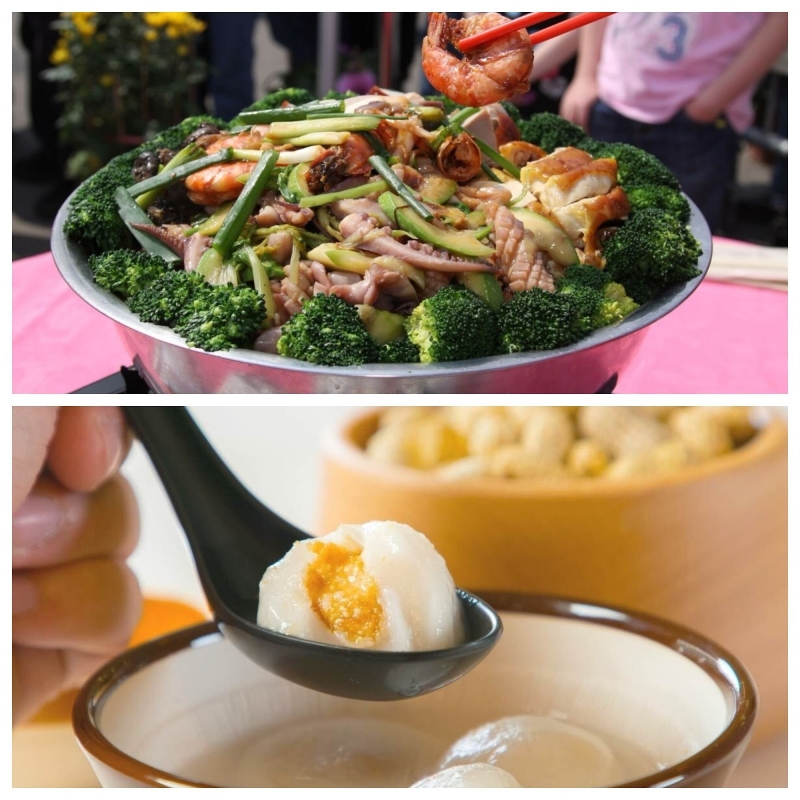 We all know that Hong Kong is a food haven, and cannot get enough of our favourite Dim Sum here. It may be hard to believe, but the food actually can get better. During the Chinese New Year celebrations, restaurants serve Poon Choi, a one-pot casserole by layering a variety of ingredients. Families and friends can dig into this communal dish and savour the layers of meat, seafood and vegetables together.
Tong Yuen dumplings are popular as well, especially as the name sounds similar to the Cantonese term for 'reunion'. As people gather together to celebrate the new year, they share this heartwarming dessert of glutinous rice dumplings stuffed with either peanut, sesame or red bean. Since these foods are less commonly available at other times of the year, take advantage of the New Year season to enjoy them with your loved ones. As you are hustling to check off all the things on your holiday itinerary, be sure to make time to try out these local and seasonal delights!
5. Burn those calories by exploring the great outdoors
It is inevitable that you will be feasting heavily when you are in Hong Kong, let alone during the New Year period. How can you maintain your #fitspo lifestyle then? Thankfully, there are plenty of outdoor activities you can try out to work off those holiday calories! If you are looking for a more urban exercise activity, you can try out the route from The Peak to Lung Fu Shan Country Park and admire the view of the cityscape. For those who want to have a short escapade to explore nature, Hong Kong boasts of diverse geological wonders that are perfect for a trek to work up a sweat. There are many trails to choose from, such as the Maclehose Trail, Tung Ping Chau Trail and the most popular of them all, the Dragon's Back Trail.
In addition, you can explore more of the outdoors by kayaking in the Tai O Sea, or cycling through the woodland paths of Nam Sang Wai. There are so many new adventures that await you! With so many options to choose from, there's no excuse not to get your exercise fix in Hong Kong. Not only do you get to keep fit, but you get to enjoy the scenic views of the rest of the city – not a bad way to start the Lunar New Year, huh!
6. Get your adrenaline pumping at the racetracks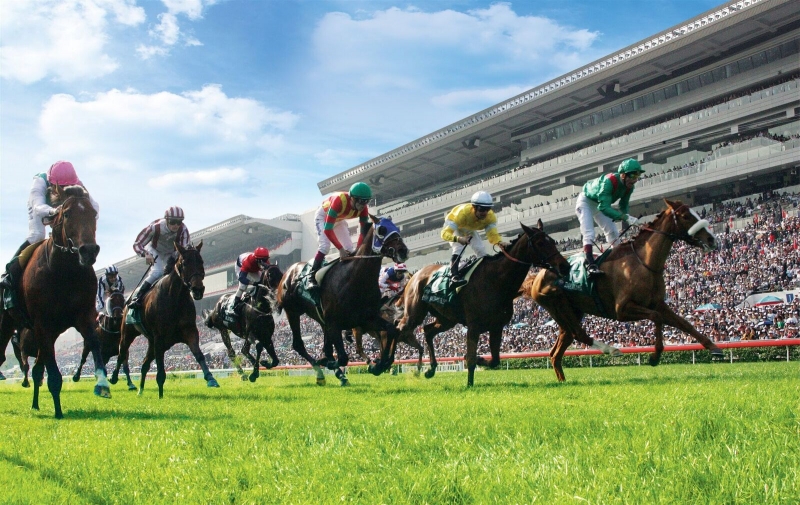 When you think of Chinese New Year, you probably would not associate it with horse-racing. However, this colonial legacy has become a core tenet of Hong Kong's celebrations, and its significance is highlighted at the new year. The Chinese New Year Raceday on February 18 2018, marks the first race of the lunar year and is one of the most popular races of the season. Experience the palpable excitement and anticipation as you watch the horses gallop down the track, and maybe even place a bet or two yourself.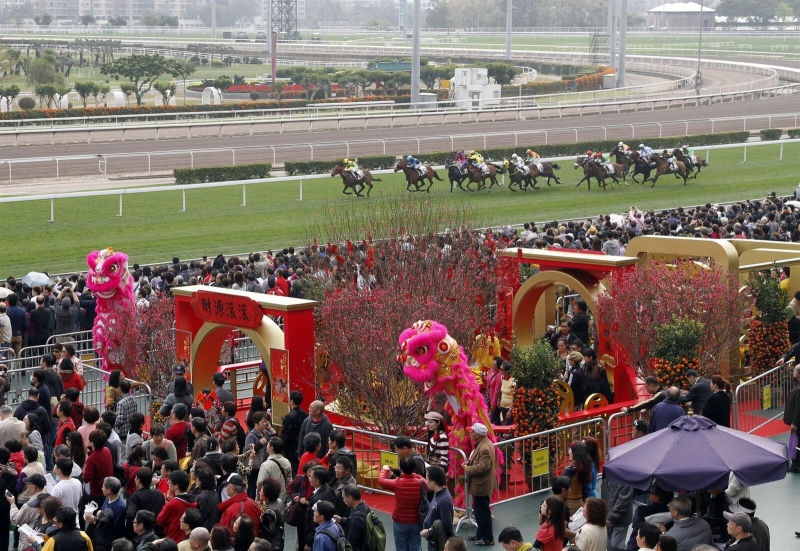 Apart from the races themselves, the racecourse will be transformed to join in the new year festivities. There will be stages for live performances, and activity booths will be set up for visitors to take part in. Racegoers will also receive a free door gift and have the chance to win attractive prizes in their lucky draw. With so many activities going on, it will be hard to hide your excitement!
7. Improve your luck and prosperity with local traditions
It is no secret that Chinese people love to be auspicious and put in huge amounts of effort to improve their chances for success and prosperity. This Chinese New Year, join in their traditions and try to improve your own luck! You never know what fortunes may end up being bestowed on you.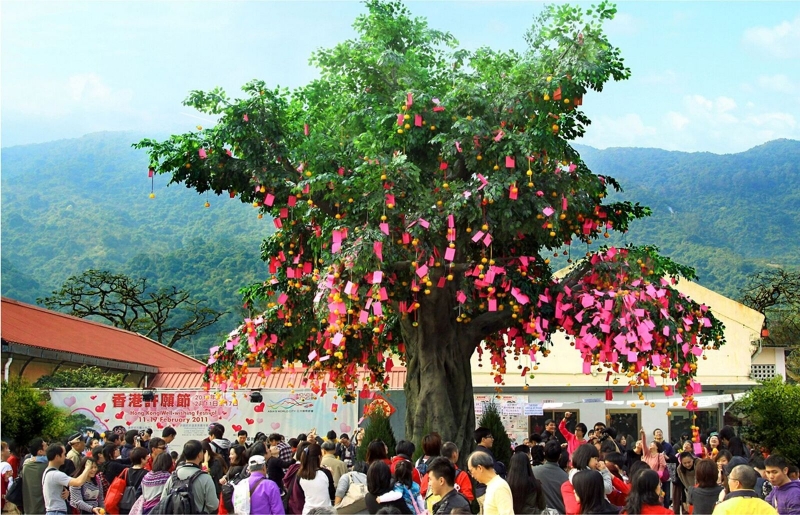 Lam Tsuen is a village that has existed for more than 700 years, and it is believed that the Lam Tsuen Wishing Trees have blessed the place. Every Chinese New Year, both locals and tourists flock here to make their wishes at these lucky trees. The legend is that one should toss joss paper upwards as they are making a wish; the higher the paper lands on the tree, the better the chances of your wish coming true.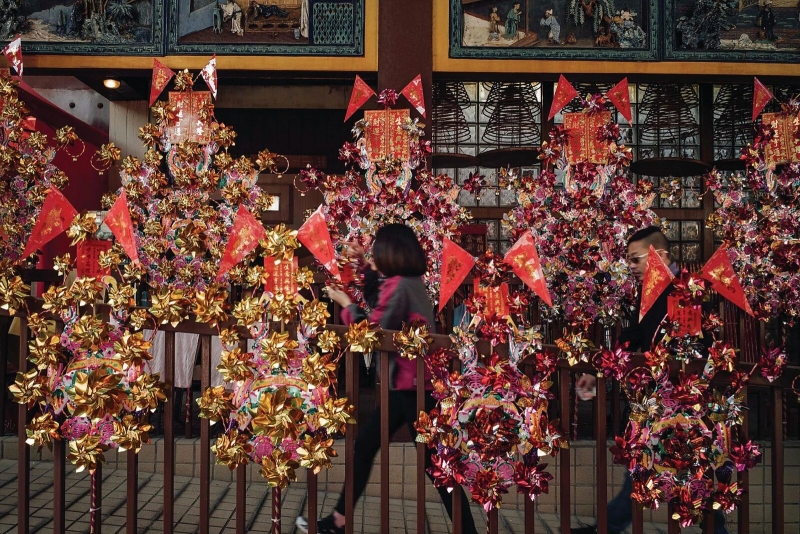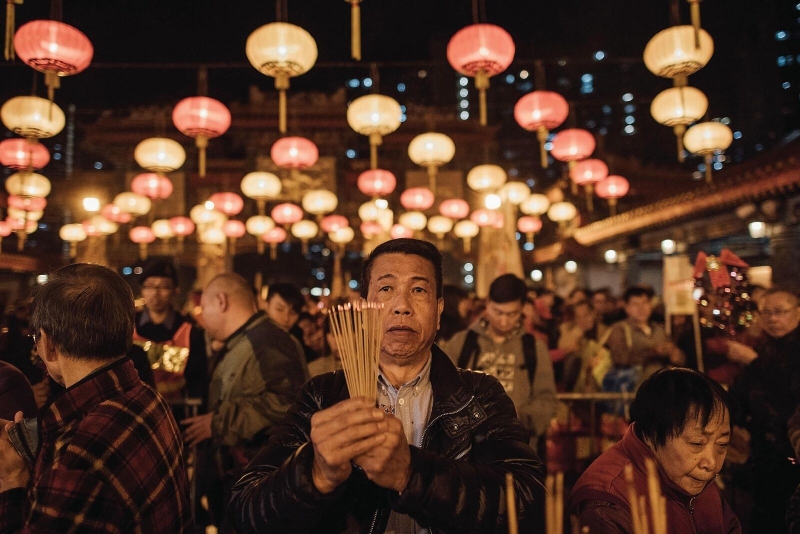 Another method to improve your luck is to go to the Che Kung Temple. It was constructed to honour General Che Kung from the Ming Dynasty, who had successfully quelled uprisings and was rumoured to suppress epidemics. Worshippers return to the temple on Chinese New Year and Che Kung festivals to give their thanks, as well as pray for health and wealth. Within the temple, there are fan-bladed wheels and a drum of fortune. The belief is that if you turn the wheels and beat the drum three times, you will be blessed with good luck.
Whether or not you believe in these traditions, there is certainly no harm in checking them out! Furthermore, you get to live out the authentic experience that hundreds of thousands of Chinese people go through every year. It'll certainly be a memorable way to spend your new year.
With numerous activities and ways to entertain yourself, Hong Kong should definitely be a top contender on your list for a festive season getaway. The city will be transformed into a bustling medley of festivities and promises memorable experiences that will stay with you for life. Wait no longer and book yourself a flight to Hong Kong this Chinese New Year!
Hong Kong certainly knows how to celebrate festive occasions with a huge bang, as you can tell. So if you're tempted and want to find out more about all the incredible festivities happening this Chinese New Year, head to Hong Kong Tourism Board's website and Facebook page now!
---
Brought to you by Hong Kong Tourism Board.