Psst, guess what? We're nearing the most wonderful time of the year again. Jingle bells ringing, sparkling lights on every street, the fragrant scent of freshly baked gingerbread men, and frosty snowflakes in the air… Yes, December is approaching and you know what that means — Christmas is coming!
We definitely don't have to go into detail as to why Christmas is arguably one of the best occasions of the year. If you haven't made any plans for the holidays yet, fret not — we've got a perfect idea for you: a magical 3D2N stay at Hong Kong Disneyland for you and your family!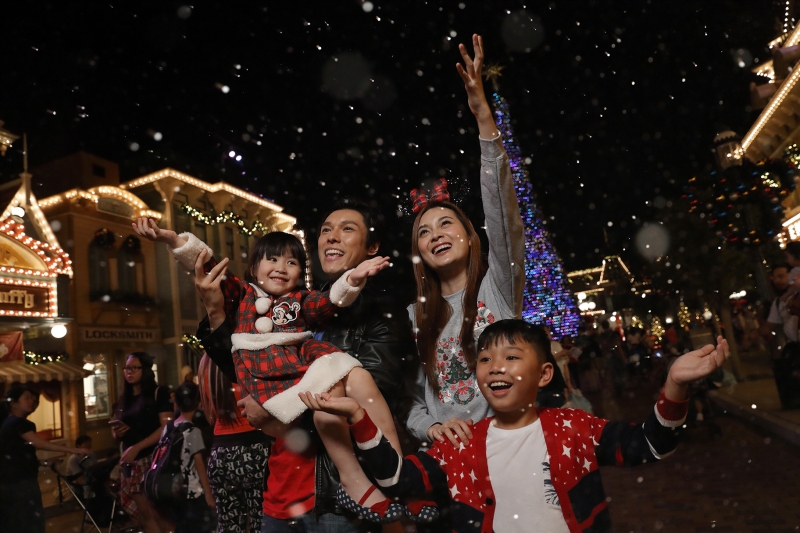 Everyone knows how exciting a stay at Hong Kong Disneyland is even when it's not the festive season — just think how much more fun and enjoyable it would be to spend Christmas there, when the resort is festively decorated for the season! It'd be an unforgettable trip especially for the kids. You don't have to worry about anything — accommodation, food, transportation, or entertainment when you're staying at Hong Kong Disneyland Resort — because everything's already settled for.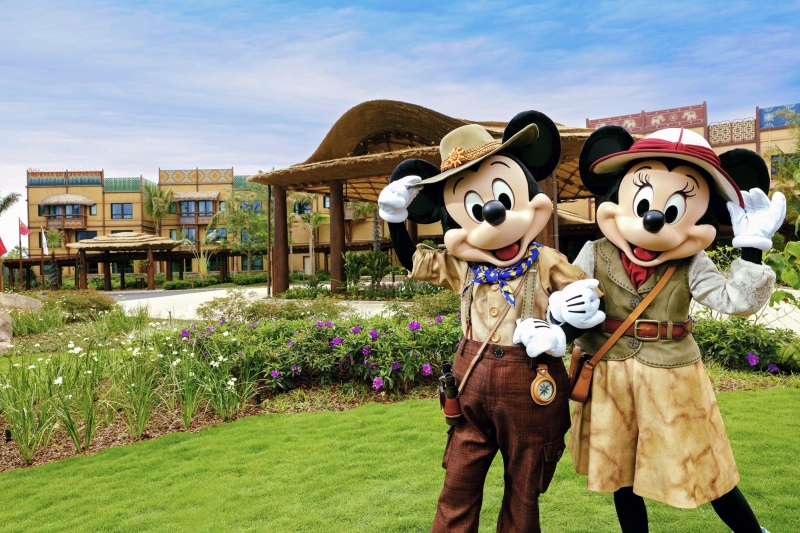 In fact, the resort has three themed hotels for you to stay at: Hong Kong Disneyland Hotel, Disney's Hollywood Hotel, and Explorer's Lodge.  As a Hotel Guest, you are offered a designated entrance to the theme park, and Priority Admission Pass for selected attractions. You will also get to meet your favourite Disney characters and interact with them through various activities. What's even better: hotel guests staying during the festive season will get to experience the true Christmas spirit with festive decorations and music everywhere in their hotel, even on their dining menu and in the hotel room!
Sounds exciting? We think so too. To help you make the most out of this trip, we've put together a 3D2N guide of all the must-see attractions and must-do activities. From hours of magical rides and shows to watching Mickey and his friends perform with classic Christmas carols, we'll make sure this year-end family vacation will leave you with fun-filled memories lasting for a lifetime.
Ready? Let's go!
YOUR ULTIMATE GUIDE TO HK DISNEYLAND: DAY 1 🎅🌲

Check in is only at 3pm, but you can leave your luggage at the hotel if you arrive early! Besides, there's no time to lose when you're in Disneyland. You can explore and marvel at the amazing Disney décor in your room at the end of the day, when you've had your dose of fun at the Park. Now, it's time to head straight to the Park, and prepare yourselves for a day of epic fun ahead — with your favourite Disney friends!
But wait! The Bibbidi Bobbodi Boutique at the Hong Kong Disneyland Hotel is a must-visit for every Disney Princess at heart — at this boutique, little girls can get a Royal Treatment and transform into a real-life princess on the spot. Here, you can find an incredible selection of princess apparels and accessories — so you can dress like a true princess. It's a dream come true for all the girls, so head over for a chance to enter Disneyland as a princess!
As a Hotel Guest, you can enter the theme park through your designated park entrance. Don't forget to bring your Park tickets and Priority Admission Pass too!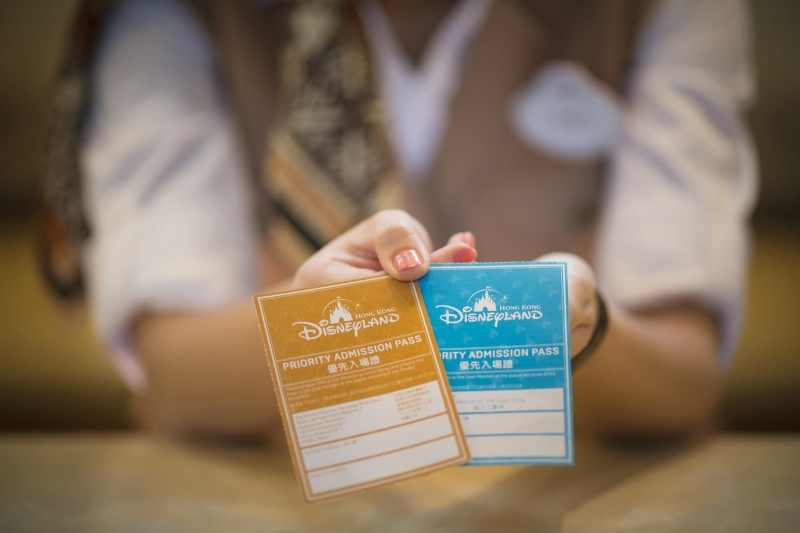 You've made it! You're finally in Disneyland. You're basically free to explore every section of the park. We suggest grabbing a map and marking down all the attractions you absolutely don't want to miss.
Only available at this special season of the year, be sure to catch the grand Christmastime Ball performance by Mickey and his friends at the Castle forecourt. To welcome you, Mickey and his friends will be belting out our all-time favourite Christmas songs with extraordinary dancing. A bunch of Disney Friends will be joining too!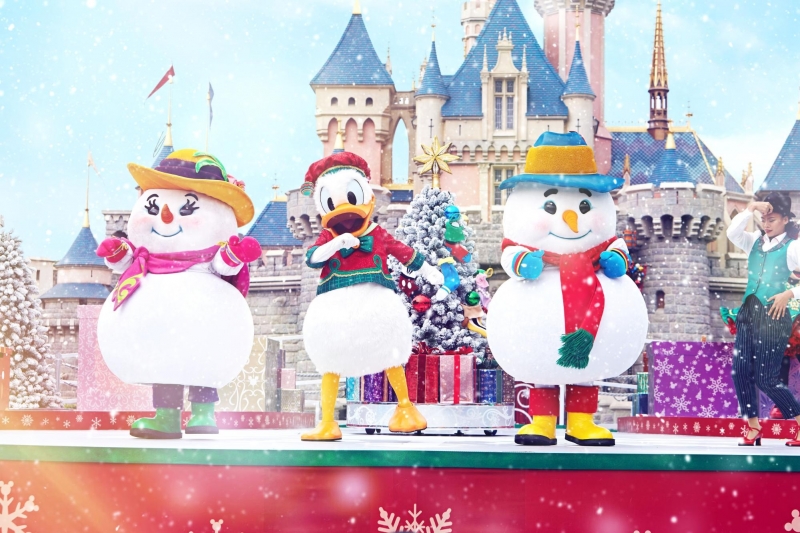 When the Christmastime Ball's over, make your way to the first stop on your list of must-visit attractions. Want to watch a broadway style show featuring your beloved Disney stories, join Mad Hatter's tea party or  soar up the sky with Dumbo? Head to Fantasyland, where all your childhood fairytales come alive. Fantasyland also houses the classic It's A Small World attraction — a whimsical boat ride featuring the title song sung by children all over the world — that's suitable for younger kids.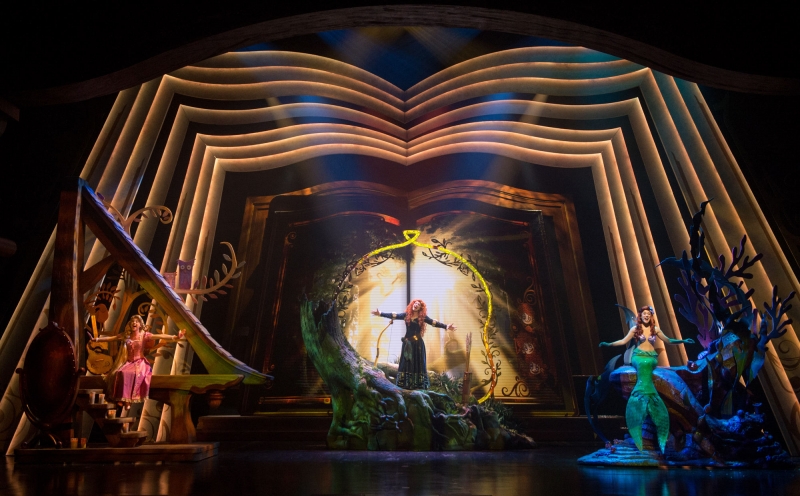 After all that exploring, you're probably starving. Satiate your hunger at Explorer's Club Restaurant, located in Mystic Point. Here, you'll be able to enjoy cuisines from Japan, Korea, Indonesia, and Southeast Asia, with both vegetarian and halal options. Take note, sushi and chicken rice lovers!
Done with your meal? It's time to put your explorer's hat back on — or your cowboy hat, if you're going to Toy Story Land. In this land filled with giant building blocks and game board pieces, Woody, Jessie and Buzz Lightyear await. For those who love a bit of thrill, drop from the sky with the Toy Soldiers at Toy Soldiers Parachute Drop. Kids would love to join Slinky in his dizzying food chase on Slinky Dog Spin.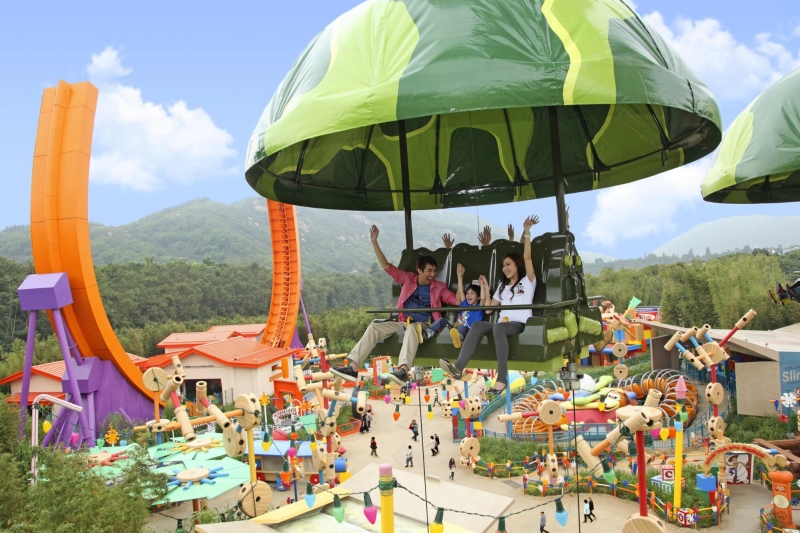 Once the sun begins to set, it's time to wrap things up a little and get a perfect spot for the theme park's spectacular nighttime shows. Main Street U.S.A. is where Mickey and his friends,  accompanied by Duffy, ShellieMay, Gelatoni, and their newest friend, StellaLou, all gather with the Townsfolk to make a special wish: Let it snow! Then, together with your loved ones, watch as the first snowflakes begin to fall, and celebrate with the group as they break into a joyous performance perfect for the yuletide occasion.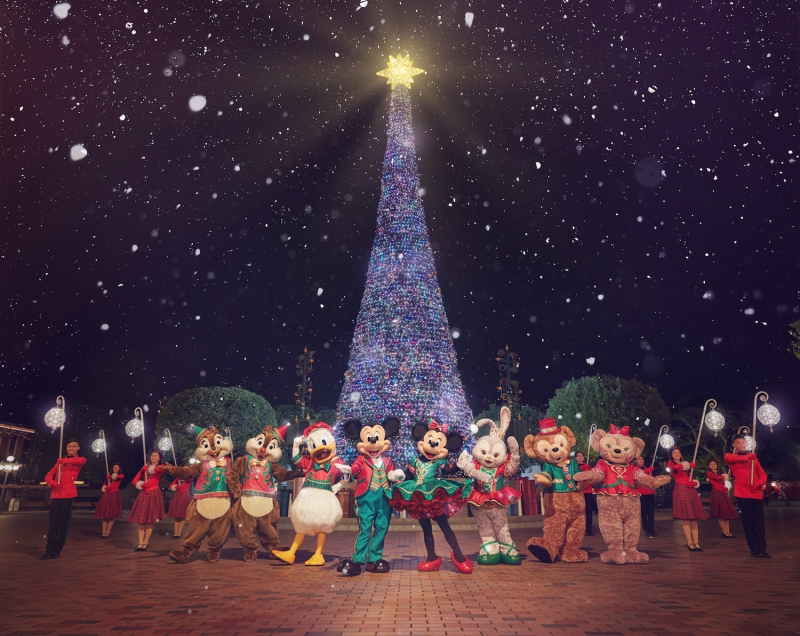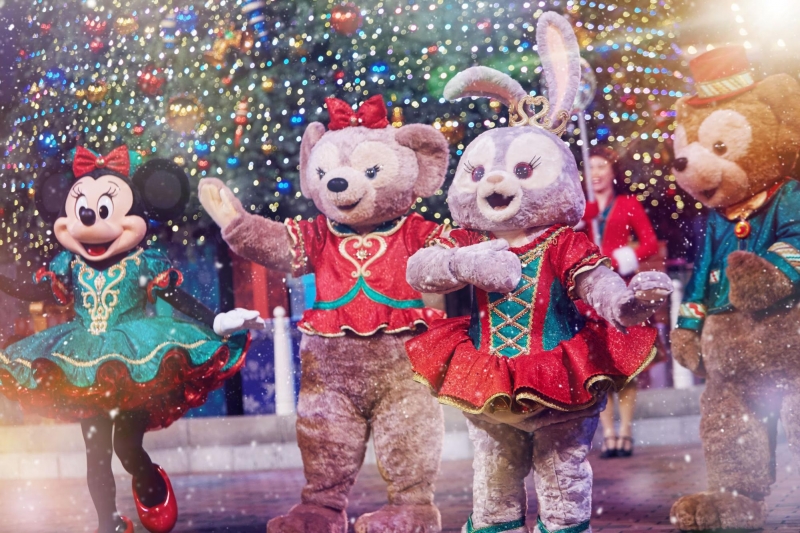 Right after the spectacular snowfall, gather around the huge Christmas tree at Main Street U.S.A, where the A-Holiday-Wish-Come-True Tree Lighting Ceremony will commence. A live quartet of singers will serenade the crowd with classic Christmas tunes! The lanterns will be lighted up and you'll find yourself entranced by colourful projections all around you — turning Main Street U.S.A into an incredible wonderland. Everything will be illuminated during this sensational ceremony, so keep your eyes peeled!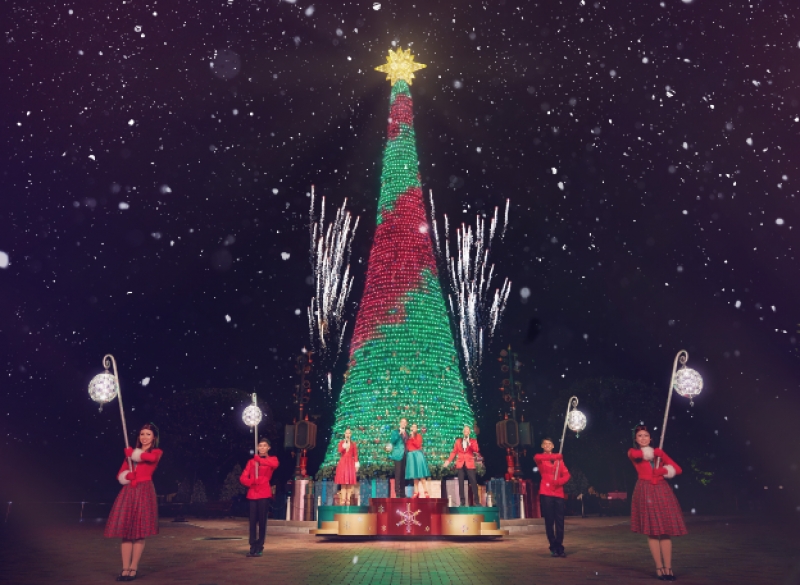 This is definitely a moment for you to hold each other close and take in all the beauty of the holiday season — one that you will recall even years from now.  
That marks the end of your first day at the Park!  After a long day of fun rides and Disney discovery, it's time to let your body rest and relax. End off the night with a festive dinner buffet at your hotel restaurant! It's not the Christmas season if you don't feast on delicious logcakes, gingerbread men, and more! Don't forget to soak in a hot bath before dozing off all warm and cozy under the sheets.
Excited to make this Disneyland Christmas holiday come true? Well, make your hotel room bookings now and
enjoy UP TO 40% OFF
, specially for this festive season! If you book on the official Hong Kong Disneyland website, you'll even get to enjoy a free room upgrade.
In addition, there's also a 2 Day Ticket Offer — which only costs an additional HK60 for an extra day in the park. Tempted? I bet you are!
YOUR ULTIMATE GUIDE TO HK DISNEYLAND: DAY 2 🎅🌲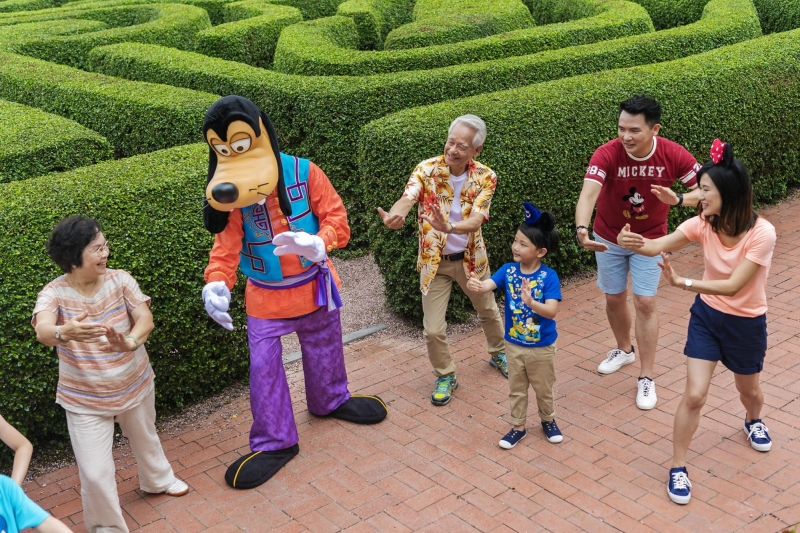 Rise and shine! It's day two of your winter holiday at Hong Kong Disneyland Resort. A whole new day of fun and adventure is waiting for you! To start off your morning right, begin with a small exercise or activity, like Tai Chi with Master Goofy at Hong Kong Disneyland Hotel  .
Then, prepare your body for an active day ahead with a filling breakfast at  the hotel's restaurant. Make your way to the World of Colour Restaurant at Disney Explorer's Lodge for a wide array of international cuisines. Enjoy your meal with Donald or Goofy as they stop by your table while parading around the area. Remember to bring your camera along so you can take loads of photos with them!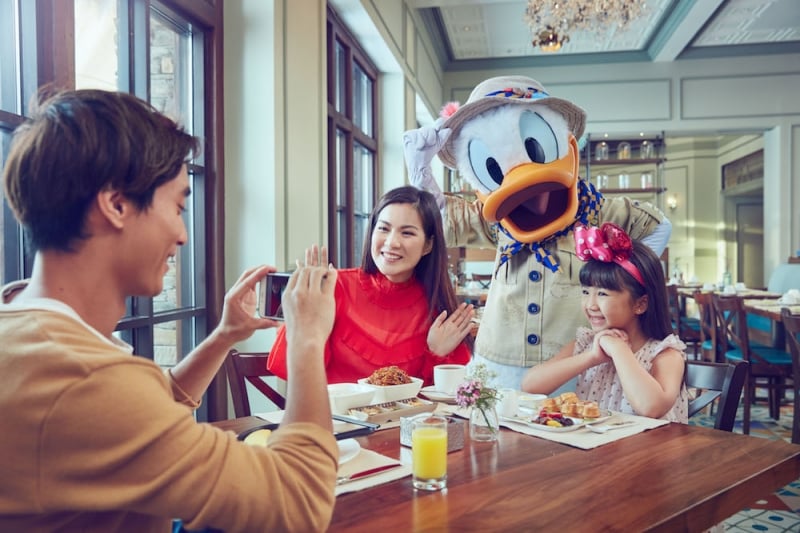 Or you can head to Walt's Café for breakfast as you take in the sweeping view of Hong Kong Disneyland's gardens and the South China Sea.
Done with breakfast? Great. Got your Priority Admission Passes in hand? Get to the designated park entrance and go go go! Don't keep your Disney friends waiting — especially Donald, he gets grumpy about it.
Continue your day to conquer everything on the must-do list! Make sure you pay Santa Goofy a visit at Santa Goofy's Post Office. When you meet him, tell him your biggest wish and send your holiday greetings to your loved ones with his special mailbox! What's more: you can also write your wishes on a special postcard and receive a special Santa Goofy Commemorative Stamp to make it official.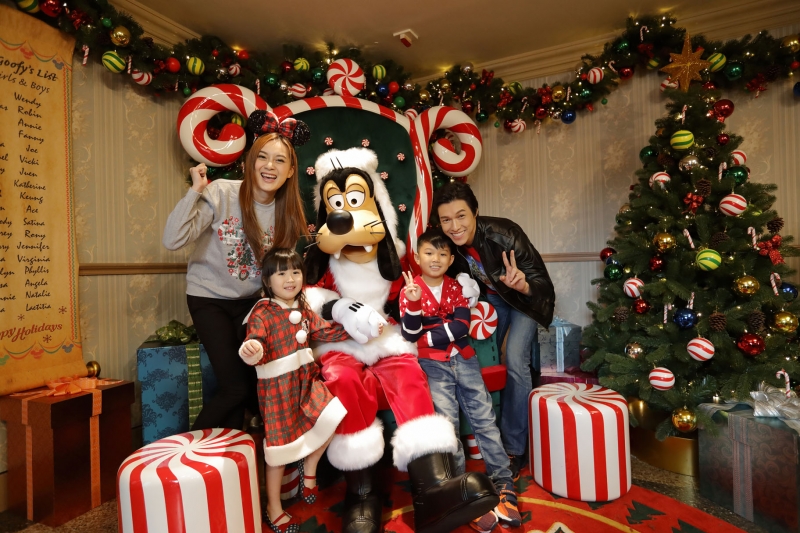 After visiting Santa Goofy, you have to visit Olaf, the world's most famous and loveable snowman. Give him a warm hug when you see him, but not for too long — he might melt!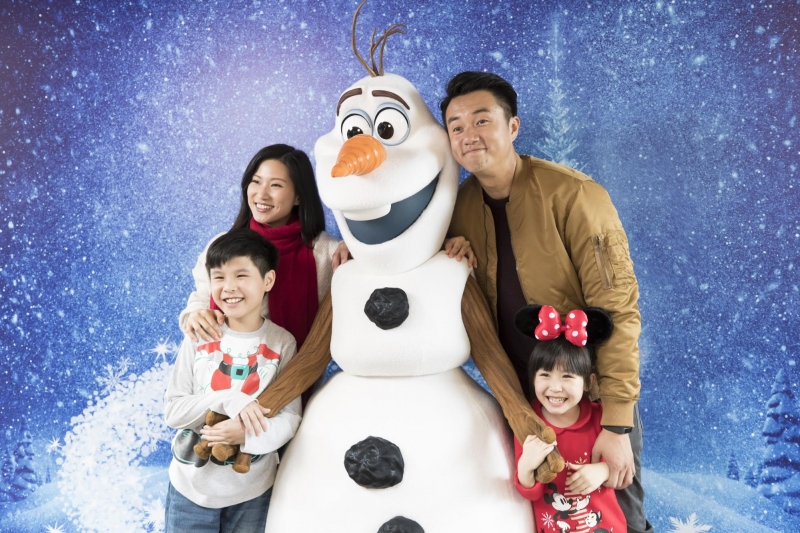 Alright, now you can get to checking off the attractions on your list!
Feel as if you've teleported in time as soon as you step foot in the futuristic Tomorrowland. Iron Man enthusiasts, get a closer look at Tony Stark's iconic red and gold armor suit, and all his other inventions at the Stark Expo. You will also get to take an aerial tour of Hong Kong in the Expo Edition Iron Wing. As for Star Wars fans, here's your chance to join the Rebels in an intense fight against the Imperial Army on the Hyperspace Mountain ride, a dark thrilling ride featuring many sudden drops. Tip: use your Priority Admission Pass so you can skip the lines!
By late afternoon, you would probably be exhausted from all the rides and character greetings. Take a short break and energize yourself with a tea-time snack at Market House Bakery located at Main Street U.S.A. The old-fashioned American bakery offers fresh pastries, desserts, coffee, and tea. Plus, the chilly winter is the best time for you to sip on a cup of hot chocolate.
Continue exploring the park once you've filled your tummy. If you haven't already, make sure to go to Adventureland, an exotic land full of natural wonders and abundant wildlife, which you can observe through the Jungle River Cruise ride.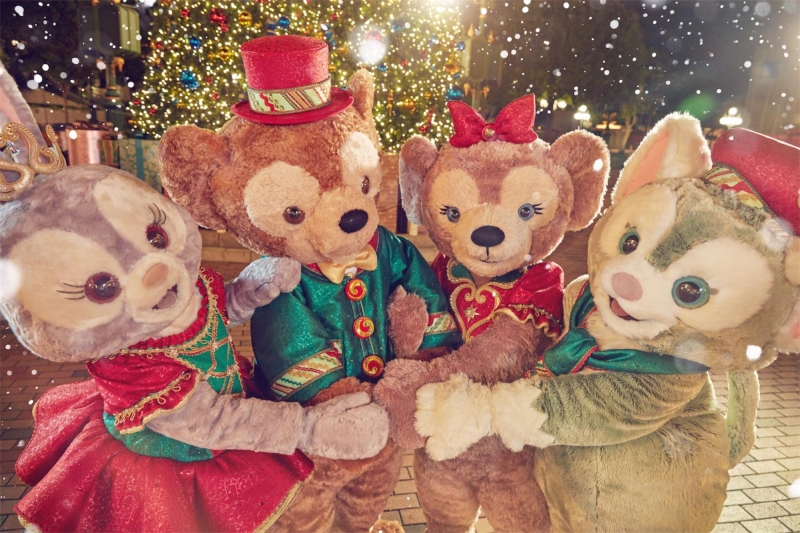 There's still another must do in Disneyland: meet Mickey and friends at Main Street, and Duffy, ShellieMay, Gelatino, and StellaLou. Give them all a tight hug when you see them and snap a couple of photos with them in their adorable winter outfits, so you can look back at your amazing time here even after you've left.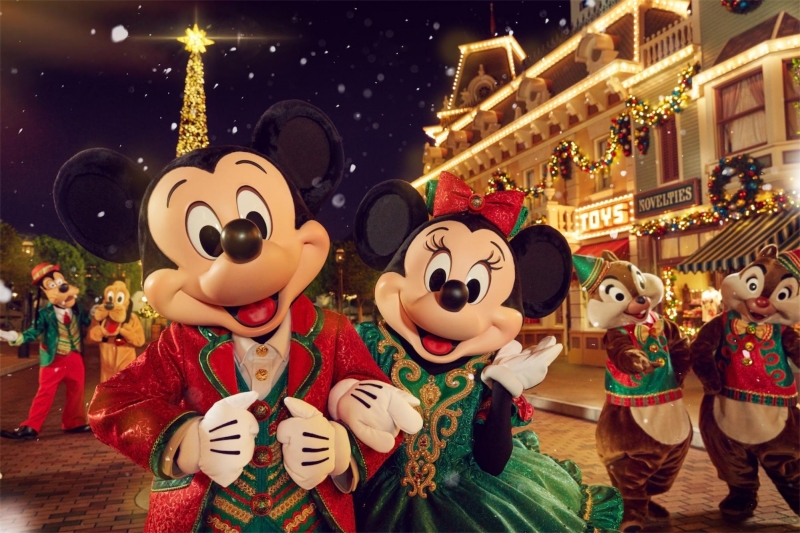 After meeting the classic characters, brighten up your night and dance along with a procession of characters including Tinker Bell, Ariel, Belle, Lightning McQueen, Buzz Lightyear, Sheriff Woody and Mike and Sulley as they parade down Main Street U.S.A at the "Disney Paint the Night" Nighttime Spectacular.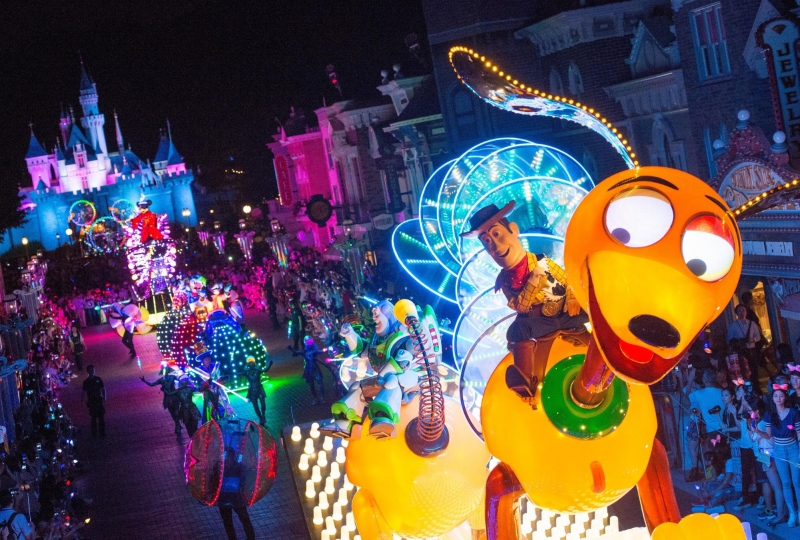 The night isn't over even though the parade has ended!
Grab some dinner in the park before the epic finale. With a plethora of restaurants offering Western, Chinese, Vegetarian, and other International cuisines, there's something for everyone!  If you'd like something festive, head to Corner Cafe for a special Christmas meal!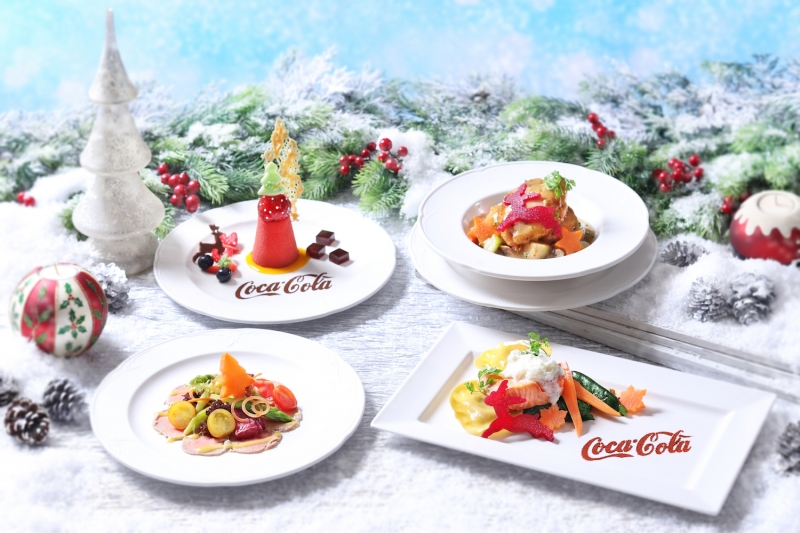 And now it's time for the epic finale! The glorious fireworks that makes every Disneyland visit complete. Find the perfect spot in front of Sleeping Beauty's castle to capture the best moments! The show will be taking its final stage on 1st January, and the Sleeping Beauty Castle will be undergoing magical transformation next year, so be sure to catch it while you can this festive season!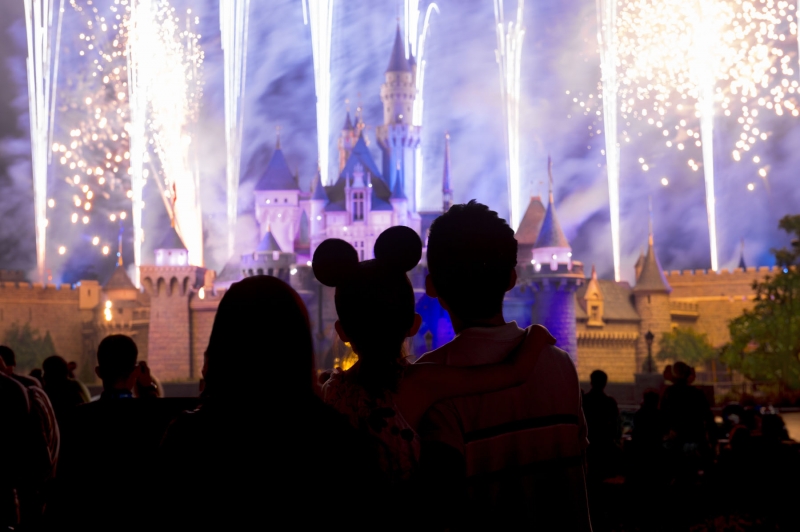 And that marks the end of your second day in Disneyland!
Can't wait to feast on a scrumptious Christmas spread with your favourite Disney characters? Well, make your hotel room bookings now and
enjoy UP TO 40% OFF
, specially for this festive season! If you book on the official Hong Kong Disneyland website, you'll even get to enjoy a free room upgrade.
In addition, there's also a 2 Day Ticket Offer — which only costs an additional HK60 for an extra day in the park. They also have the 1 Day Ticket Offer, which comes with a complimentary HK50 Shopping Coupon. There's no better place to celebrate Christmas than at Hong Kong Disneyland — that's for sure!
YOUR ULTIMATE GUIDE TO HK DISNEYLAND: DAY 3 🎅🌲
It's day three — your last day in Hong Kong Disneyland! If there are souvenirs you haven't bought yet, or wishes you really need to tell Mickey, you still have a few hours to do it. Let's make the most out of the spare time you have before checking out!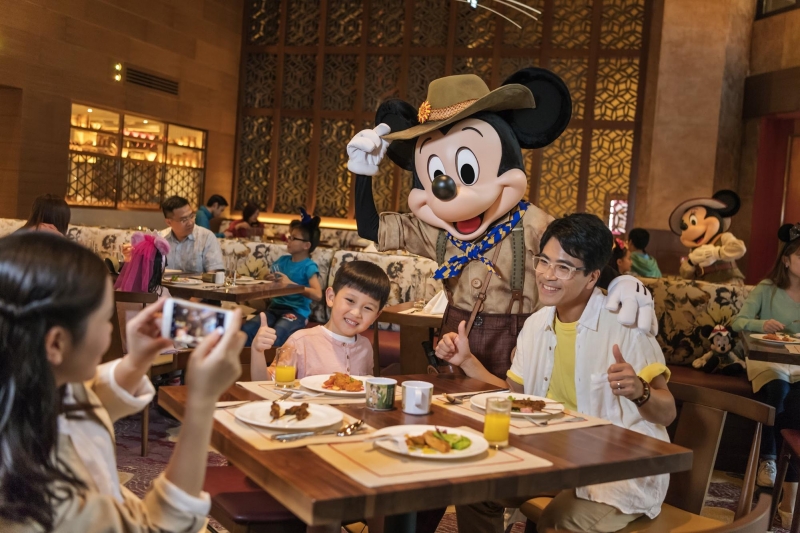 Begin your morning with the most important meal of the day: breakfast. Make your way to your hotel restaurant for a breakfast buffet with Characters and eat eat eat! Whether it's cereal or waffles, make sure you fill yourself up with enough energy for the next few hours. Head to Enchanted Garden in Hong Kong Disneyland Hotel, or Chef Mickey at Hollywood Hotel for an awesome time!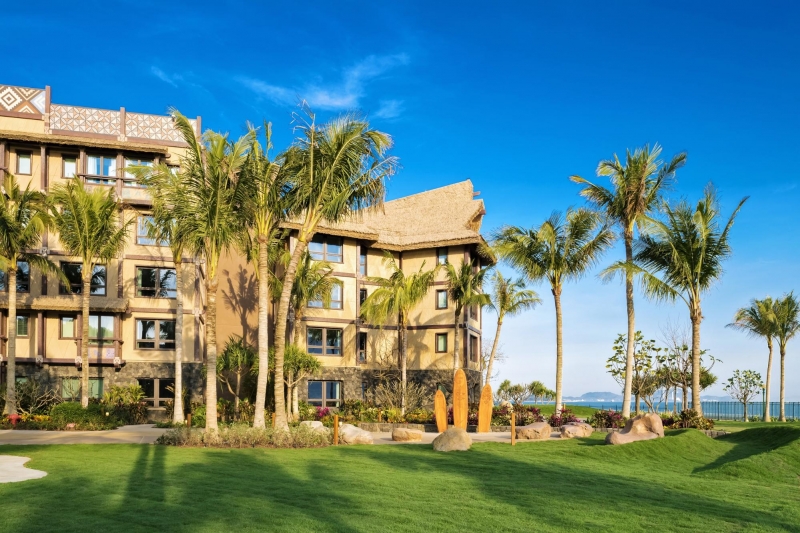 Once you're done with breakfast, why not take part in the fun activities and roam around the resort's lush gardens? Guests of Explorer's Lodge can explore the four exotic gardens surrounding their hotel, each with its own theme: an African savannah, a South American rainforest, an Oceanian paradise and an area reflecting the natural beauty of Asia. As you stroll through the gardens, admire over 1,000 artifacts and memorabilia on display, all inspired by explorers and their adventures around the world.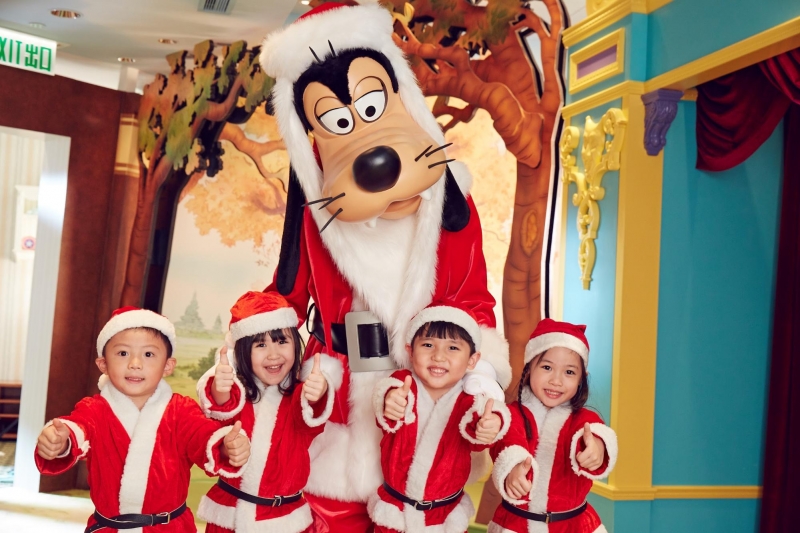 Take part in exclusive Christmas hotel activities, such as gingerbread decorating classes and even little Santa's training workshop! There's no better way to get into the festive spirit with the whole family. If you're staying at the Hong Kong Disneyland Hotel, get lost in the Mickey Maze, or enjoy a live storytelling of Disney tales in the Storybook Playroom.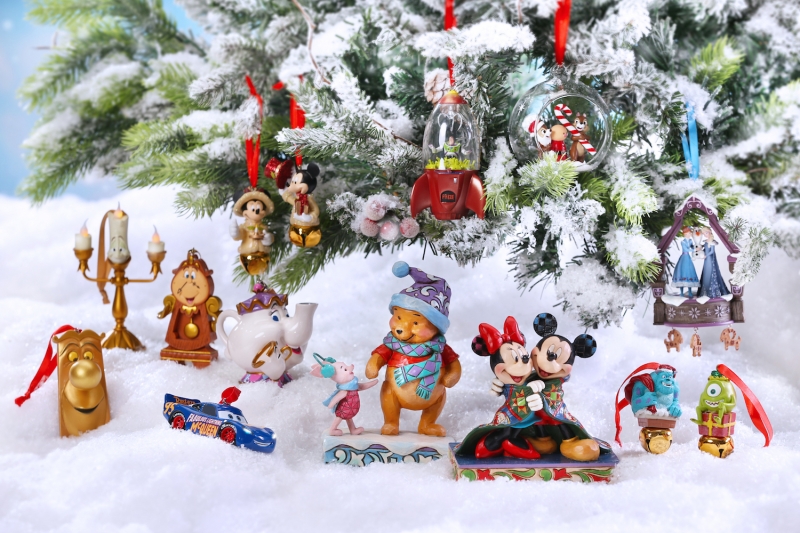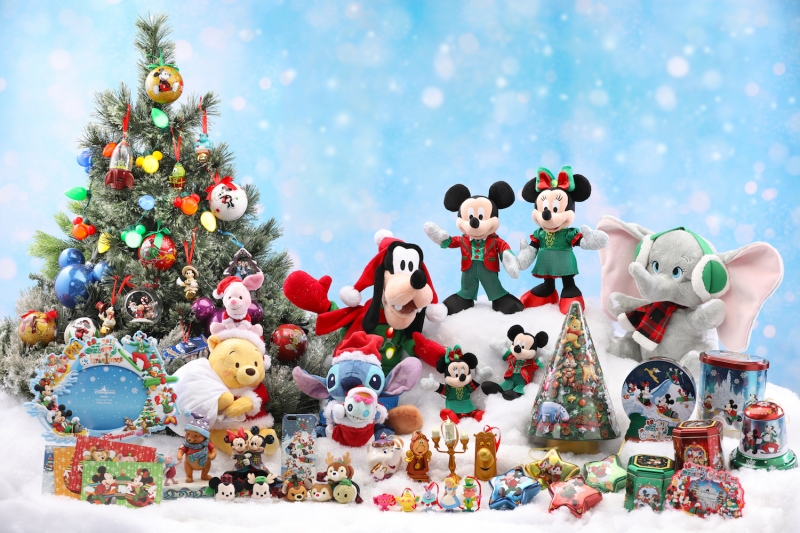 For more last-minute gift shopping, pop by any gift store available at all 3 hotels. These adorable items make the best Christmas presents for family and friends alike! Plus, they're exclusive to the festive season only, so grab them while they last.
And that's it! That marks the end of your magical 3D2N vacation at Hong Kong Disneyland. Hopefully our detailed itinerary has given you a better idea of how to make all three days extra festive and packed with fun! We know your trip there will be absolutely magical.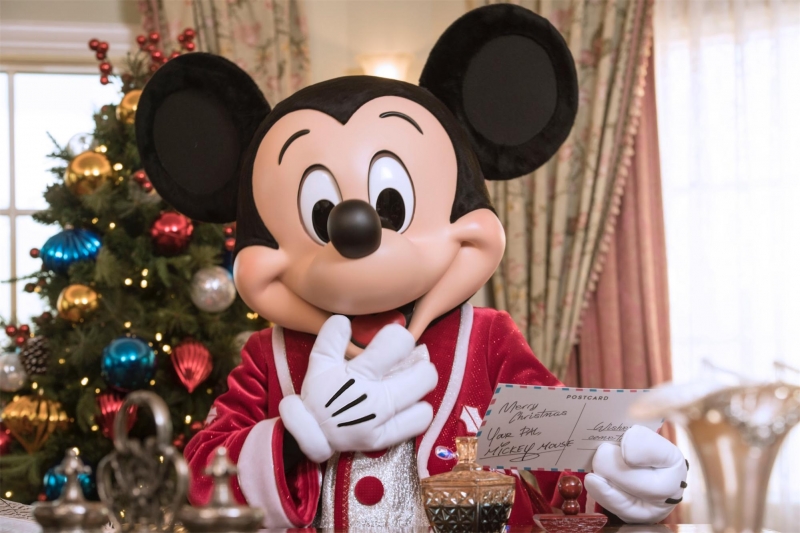 If you're thinking of making this Christmas a total dream come true, then don't wait any longer — make your hotel room bookings now and enjoy UP TO 40% OFF! Remember: Book on the official Hong Kong Disneyland website for a free room upgrade. Plus, staying at any of their three hotels actually grants you access to the family activities and facilities throughout all three hotels, so you get TRIPLE THE FUN just by staying at the resort!
Don't miss out on the exclusive 2 Day Ticket Offer — which only costs an additional HK60 for an extra day in the park! One day in Disneyland is just not enough.  Alternatively, you can get the 1 Day Ticket Offer, which comes with a complimentary HK50 Shopping Coupon.
Sounds tempting? Grab your tickets online now, because they sell fast and get your family ready for a spectacular Christmas celebration.
---
Brought to you by Hong Kong Disneyland