Trying to plan for your annual family trip but not sure where to head to? We feel you! After much research, we've found the perfect (however unassuming) family-friendly destination of Taichung in Taiwan! Taichung is a city located just two hours from Taipei, and boasts a pleasant climate, awe-inspiring scenery, mouth-watering delights (which includes our beloved XL Chicken Cutlet and Bubble Tea!), as well as super friendly locals to boot.
Not only is Taichung a destination where both the young and young at heart are bound to love, it is also home to numerous family-friendly attractions and activities that your entire family can enjoy. Say hello to lots of family bonding!
Here are the 10 top family-friendly activities that you can't miss on your next trip to Taichung:
1. Marvel at the Rainbow Village's vibrant and colourful mural walls
A quaint little mural village situated slightly outside Taichung, the Rainbow Village is a place that will enchant both the young and the old with its interesting history and aesthetics. As one of Taiwan's remaining 'veteran villages' which had been hastily built using cheap materials to house Chinese soldiers in the past – the Rainbow Village was painted by Mr Huang, one of its last residents. With the entire village now filled with his vibrant artworks depicting animals, dolls, airplanes and even manga characters, visitors flock here for a glimpse of his exquisite work.
Besides marvelling at his amazing works, this is a great spot for Instagram-worthy pictures and memorable family shots! Mr Huang, or 'Rainbow Grandpa' as local children call him, still lives there. During your visit, feel free to say hello and have a chat with him! Do also check out the recently-opened small souvenir shop which sells handmade souvenirs based on his works.
Address: No.56, Chun'an Road, Nantun District, Taichung, Taiwan
Opening Hours: 9.30am-5pm, Daily
Price: FREE
2. Learn out of the classroom at the National Museum of Natural Science
If you think all museums are just dreary and boring, then a trip to Taichung National Museum of National Science will definitely be an eye-opening one. Filled with various exhibits and displays covering geology, botany and anthropology scattered throughout the Science Centre, Space IMAX Theatre and even Life Science and Human Culture Halls, this museum is definitely a place that's far from boring. You'll be surprised at what the kids will pick up while they're here and who knows? You might glean a thing or two yourself!
Marvel at the towering steel structure of the Tropical Rainforest Conservatory before entering a whole new world altogether in this glass cone. Pick up a guide and see how many out of the 500 species of flora you can find in this tropical rainforest biome before heading to the conservatory's tropical aquarium to spot some fish!
Address: No. 1, Guanqian Road, North District, Taichung City, Taiwan 404
Opening Hours: 9am-5pm Daily, Closed on Mondays
Price: For Ticketing Exhibitions (including galleries)
Adult: TWD 150 (~S$6.80), Child (above 6 years old): TWD 120 (~S$5.40), Children below 6 years get free admission
3. Pick and harvest fruit at XingFeng Farm
For all of you city folks who've never gotten your hands dirty picking fruit, this is a MUST-try activity that your kids are bound to delight in! Located in Xinshe District, Xinfeng Farm provides a wonderful and authentic fruit picking experience that is perfect for the entire family. Boasting a variety of fruits such as grapes (its speciality), tangerines, oranges, peaches and even loquats, you're in for a fantastic fruit-picking experience.
From June to August and October to December, its signature dark-purple and juicy Jufeng grapes are grown here; sweet fragrant peaches are grown here from April to May; and tangerines and oranges are grown from November to December. As for loquats, they can be picked from February to April but, due to the high level of skill required, the staff will be present to offer their assistance. Plus, the best part of any visit is how you can snack on the fruits that you've just picked! Not only will your kids be able to enjoy the fruits of their labour, they can indulge in the zesty loquat jam that is available there. Do come on a sunny day for the best fruit-picking experience!
Address: No.265, Sec. 2, Zhonghe St., Xinshe Dist., Taichung City 426, Taiwan (R.O.C.)
Opening Hours: 9am-5.30pm, Daily
Price: Depending on the weight of the fruit, minimum of TWD 100 (~SGD4.50).
Our accommodation recommendation:
If you're heading to XinFeng Farm, why not stay in this beautiful wood-furnished Holiday Bed and Breakfast Cabin? A family-run bed & breakfast in Xinshe, this cabin is just a stone's throw away from XinFeng Farm. Comprising a large outdoor space, a huge bedroom fully equipped with a comfortable king-sized bed, a desk, a sofa, loads of storage space, as well a massive bathroom with a hot tub and scenic views, your family will definitely have an unforgettable stay here. Besides having cable TV, wireless internet, free parking, breakfast and air conditioning, community leisure agriculture tours are also available for booking. If you're looking for the perfect vacation away from the hustle and bustle of the city, this is your best bet for some sweet, quiet respite. Plus, get 8% off when you book this property with HomeAway using the promo code <SAVE8>!
BOOK YOUR STAY WITH HOMEAWAY NOW!
4. Soak your worries away at Guguan Hot Spring Park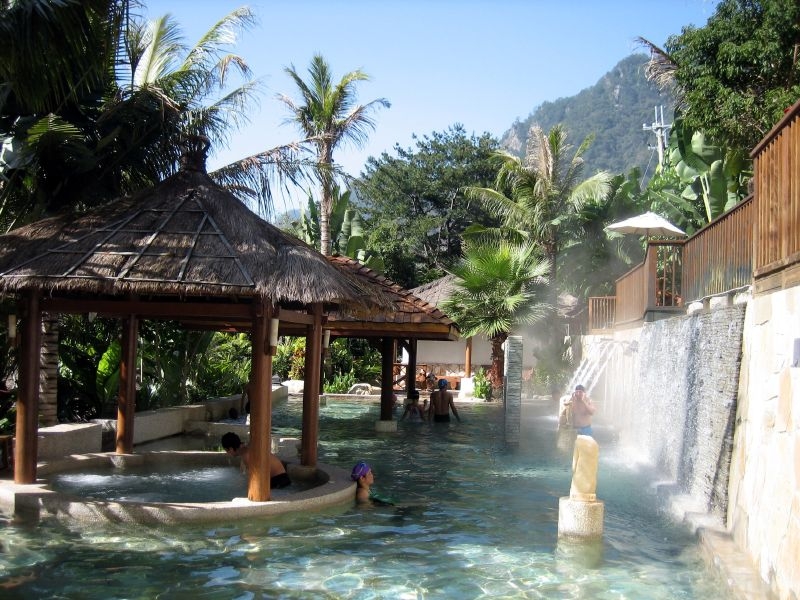 Located in the Heping District in the mountainous area of Poai Village, Guguan Hot Spring Park offers the ultimate zen experience for visitors to soak their worries away. Also known as "Meiji Hot Spring", the magnificent view of mountains and valleys that the Hot Spring Park provides is one of its distinctive features that draws throngs of tourists here from all over the world. With various sulfuric-based hot springs of PH 7.6, you can choose which temperature you're comfortable with soaking in. If you're worried about your children, rest assured that the temperatures are perfect for children as well.  
Not only are the waters soothing for the muscles, they also have a therapeutic effect on arthritis, neuralgia as well as stomach and intestine illnesses. They are even drinkable, thanks to the organic protein found inside! Besides rejuvenating yourselves in the hot springs, Guguan offers great hiking trails, fish spas, and even a Hot Spring Culture Museum to discover.
Address: No.102, Lane 1, Dongguan Road, Heping District, Taichung, Taiwan
Opening Hours: 8am-5pm, Daily
Price: Approximately TWD1200-10,800 (~SGD54-487)
5. Get your fix of Bubble Tea at Chun Shui Tang, home of the original Bubble Tea
Did you know that Taichung is where bubble tea was first invented? For all those looking for the most authentic Taiwanese bubble tea, head no further than Chun Shui Tang Cultural Teahouse, which is believed to be home of the original bubble tea! Not only is their milk tea fragrant, rich and delicious, their chewy pearls certainly pack a punch as well. Besides trying it, you can even make your own bubble tea here!
In addition, an array of mouth-watering Taiwanese dishes and snacks are also served in this intricately decorated eatery, which range from Traditional Noodles and Cheese Toast to Braised Pork Rice. Whilst enjoying the food and drinks, do take some time to marvel at its beautifully furnished interior, or seize the opportunity to speak to the staff for a better understanding of the origins of Chun Shui Tang or the fascinating history of bubble tea.
Address: No.12, Chaoma 3rd St., Xitun Dist., Taichung City 407, Taiwan
Opening Hours: 10.30am-11pm, Daily
Price: Prices range from TWD60-TWD170 (~S$ 2.70-~S$7.70) depending on size and flavour
6. Feast your eyes on Wuling Farm's picturesque tea plantations

Situated slightly further out from central Taichung is Wuling Farm, which spans over 700 hectares of land and stands at an altitude of more than 2000 metres. Located in the mountainous region of Heping, the tea plantations and flower fields it houses are truly a work of art. Every spring, the farm transforms into a stunning sea of cherry blossoms whilst September and November bring about gorgeous cosmos and maple flowers respectively.
Not only will you be able to walk around and take in the magnificent tea plantations and try some freshly-brewed tea, Wuling Farm is also the perfect place for a dreamy photoshoot. We can assure you that this is a place where not only adults will love, but kids too! In addition to that, there are numerous attractions for your family to enjoy – such as a park, botanical garden, camping grounds, restaurants and shops selling souvenirs. From July to October, you can even pick fruit here! Don't forget to purchase the famed Wuling Tea if you visit, which is known to be good for health.
Address: 424, Taiwan, Taichung City, Heping District, 平等里武陵路3-1號
Opening Hours: 24/7
Price: TWD 160 (~SGD7; peak-season full priced), TWD 130 (~SGD6; off-season full priced). Respective discounts applicable to groups, students, civil servants, military personnel, young children and handicapped too.
7. Fill your bellies with local Taiwanese delights at Fengjia Night Market
The LARGEST and arguably the busiest night market in Taiwan which attracts over a 100 million visitors yearly, Fengjia Night Market is the ultimate go-to for foodies young and old! Consisting of a multitude of food stalls and even push carts lining the streets, a common struggle we all face is wanting to eat everything – but not having enough stomach space. No trip to Taiwan is complete without trying its street snacks such as Taiwanese XL Chicken Cutlet, Oyster Mee Sua and Oyster Omelette!
If you're heading there, the Octopus Meat Balls, 'Loaded Baked Potatoes', Sausages In Sticky Rice, Crepes and Oyster Omelette are highly recommended for a food-coma-inducing gastronomic experience. For bubble tea lovers, one of the best bubble tea stores (Just Tea Shop ie. 茶本味) can also be found there.
After filling your bellies, you can walk off the food-coma by doing some shopping, thanks to the numerous street shops selling everything ranging from the latest fashion to shoes and accessories. Time to unleash the foodie and shopaholic in you! A note of caution though: be prepared for huge crowds, especially if you're heading there on the weekend.
Address: Wenhua Road, Xitun District, Taichung City, Taiwan 407
Opening Hours: 4pm-1.30am, Daily
Price: Everything is super affordable here, the price of a Loaded Baked Potato starts from TWD30 (~S$1.40) and Oyster Mee Sua costs about TWD50 (~S$2.30)
Our accomodation recommendation:  
For easy access to Fengjia Night Market and most of Taichung's main attractions, we highly recommend staying in the heart of Taichung City in this modern and minimalist apartment. Located in the Xitun District, the cosy and comfortable double room is well-equipped with a television, wireless internet, air-conditioning and even a kitchen! With a huge wood-furnished dining area and beautiful living room, your kids will be able to run around and play to their heart's delight. It is also extremely kid-friendly; you don't have to worry about your children bumping into objects or getting injured. Don't forget to use the promo code <SAVE8> to get 8% off your booking with HomeAway!
BOOK YOUR STAY WITH HOMEAWAY NOW!
8. Stroll through Taichung Metropolitan Park
Craving for a relaxing activity after all that whirlwind fun? Look no further! A tranquil sanctuary in the centre of bustling Taichung, Taichung Metropolitan Park offers visitors a therapeutic experience of being one with nature. Spanning a large area of 88 hectares filled with lush greenery, there are numerous activities for families to enjoy. Whether you're up for some jogging after gorging on too many snacks, taking a stroll or cycling, it's the ideal spot for families. Furthermore, it offers attractions such as an Ecological Lake, Moon Corridor, Star Plaza, Play and Fitness Area, Plants Garden, a giant sundial and even a Visitors Centre, which will keep your kids occupied for the whole day! Bikes can also be rented for cycling, with rental shops offering both single-rider and tandem bikes for TWD100-150 (~SGD4.50-6.70).
Address: 30-3, XiPingNan Lane (DuHuiGongYuan Rd), Xitun District
Opening Hours: 6am-9pm, Daily
Price: FREE
9. Get lost in a sea of colourful balloons at the Taiwan Balloons Museum

The FIRST balloon-themed sightseeing factory in Taiwan, the Taiwan Balloons Museum offers a fun and interactive learning experience for the young ones! Deviating from a typical informative and un-interactive museum, this former balloon factory combines cultural creativity with sightseeing, and is bound to be an experience that your children will chatter on about even after they leave.
Besides learning about the history and various types of balloons, visitors are brought on a guided tour, AND they even get to make their own balloons! Moreover, parents don't have to worry about being bored, as the outdoor showcase of the rocket balloon booming through the sky is bound to get everyone excited. Finally, don't forget to visit the huge gift shop! This is definitely the perfect place for an afternoon of family bonding and tons of laughter. Do note that a reservation is required prior to visiting.
Address: No. 505, Section 5, Dafeng Road, Shengang District, Taichung City, Taiwan 429
Opening Hours: 9am-5pm, Daily
Price: TWD250 (~SGD11; inclusive of museum Visit + handmade Balloon DIY + balloon game package), FREE for children below 3. Various packages are available.
10. Watch the sunset at Gao Mei Wetlands Windmill Park
For a spectacular sight and an equally unforgettable memory to end your family vacation, head over to Gao Mei Wetlands to catch the sunset! With towering windmills silhouetted by a riot of colours streaked across the sky, this incredible scene will definitely be one of your favourite vacation memories.
Admiring such a sublime sight while holding your loved ones close? We can't think of a better way to end the holiday!
Address: Qingshui District, Taichung City 436, Taiwan
Opening Hours: 24/7
Price: FREE
With a plethora of good food and kid-friendly attractions, Taichung certainly tops the list for a family-friendly vacation! Besides, as Taichung isn't as crowded or touristy as Taipei, you can be assured of a more relaxing family holiday with your loved ones. Since the highlight of any family vacation is having the chance to bond, why not opt for a Homeaway vacation rental where the entire family can stay together? P.S. Do remember to use the promo code <SAVE8> upon checkout to enjoy 8% off your HomeAway vacation rental!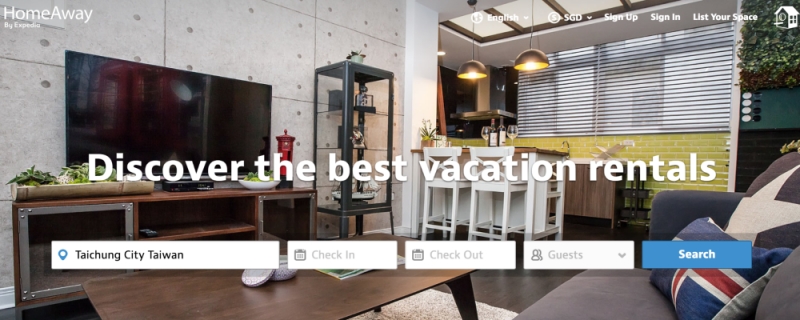 Rather than splitting yourselves into groups of twos or threes in individual hotel rooms, HomeAway vacation rentals allow you the luxury of staying together under one roof. Relax at the communal living area, where the entire family can indulge in a game of cards or a movie marathon. Take the chance to recount the day and relive your funniest moments – these memories are the ones that you'll remember for years to come. For further comfort, buy some yummy snacks back from Fengjia Night Market and dig in whilst in the comfort of your vacation rental. Don't forget to top it all off with the fresh fruit that all of you handpicked at the Xingfeng Farm!
Another headache of bringing the little ones on holiday is the amount of dirty clothes and laundry that gradually pile up through the trip. However, most of these vacation rentals come with a washing machine, allowing you to wash your clothes as and when you like! A kitchen is also available for most vacation rentals, allowing you to quickly whip up a meal should any of the kids be craving for something hot in the middle of the night.
Take your pick from a large variety of HomeAway Taichung vacation rentals, and you'll be all set. Start packing your bags for your most exciting family trip yet!
---
Brought to you by HomeAway.