The annual sakura season is peeking around the corner! This means it's time to hunt for the best hanami spots and enjoy the sight of spectacular pink blooms which have stolen our hearts! Japan's terrain is blessed with plenty of parks and shrines that are perfect for hanami viewing, even outside popular cities such as Tokyo or Osaka. So instead of heading to these cities for a typical cherry blossom experience, why not explore the lesser known city of Kagoshima instead?
Not sure where to start? Why not sit back and leave it to the experts at H.I.S. International Travel? Get ready for the ultimate sakura-spotting trip, with their 5D4N Sakura In Kagoshima tour! From 24th to 28th March 2018, you'll have an unforgettable experience exploring this unique (and less-touristy!) city. Grab this chance to adorn beautiful vibrant kimonos and explore shrines. You will also get the opportunity to pick fruits and lie under sakura-laden skies in flower parks.
To entice you even further, let us tell you why this tour package is worth every dollar! $2,488 may seem like a daunting price for a mere 5D4N Japan trip, but you'll soon understand why it's so value for money.
You'll be flying via a direct chartered flight to Kagoshima – which means no transits needed at all. Every minute counts especially during the cherry blossom season – no transits means you get to spend more time exploring Japan! Meals and accommodation are covered as well. Besides, during the peak sakura season, airfares and prices of accommodation are heavily inflated – if you were to purchase flight tickets independently during that period, it would already cost you more than $1000.

In addition, the sakura season also means Japan will be flooded with locals and tourists alike, especially in the big cities of Tokyo, Osaka and Kyoto. Kagoshima, on the other hand, is a less crowded option where you can enjoy the sakura scenery comfortably, without having to jostle with swarms of people. It is also known as one of the best places to catch sakura in Japan. Instagrammers, take note!
Lastly, the cherry blossoms have been forecasted to start blooming on 22nd March 2018 – and this trip departs for Kagoshima on 24th March 2018. The timing could not be any more perfect.
Tempted? Get your cameras and best outfits ready –  it's time to explore Kagoshima in spring!
Day 1: Singapore > Kagoshima > Miyazaki
Deplane at Kagoshima and make a beeline straight to your guide, who will bring you to make peace with your stomach at lunch. After satiating your stomach, feast your eyes on the seaside Udo Shrine which is located by the Nichinan Coast. Be sure to explore the main building of the shrine, built inside a coastal cliff cave!
After a fruitful time at Udo Shrine, your next stopover would be the Sun Messe Nichinan Statues. When you get there, do remember that you are still in Japan and haven't been mystically teleported to the Easter Island! You will understand the reason for this warning once you spot the massive monoliths. Appropriately nicknamed 'Moai of the East', these Sun Messe Nichinan Statues are the only approved replicas of the Easter Island icons. Standing upright along the coastline with a backdrop of the vast Pacific, these seven giants are definitely be a sight to behold!
After marveling at these wonders, help yourself to some therapeutic shopping at AEON Mall. The mall is part of the largest retail group chain in Japan, AEON. Make sure to look out for souvenirs and trinkets to take home while you're at it. Dine at a local restaurant before heading back to the hotel.
Day 2: Miyazaki > Kirishima
On your second day, don't forget to get your breakfast fix at the hotel before heading off to Takachiho Gorge with your guide. This gorge was formed when the Gokase River eroded its way through the hardened lava of Mount Aso. Overtime, a narrow ravine with beautiful waterfalls (Manai Falls) cascading down the sides of the gorge was formed. Say hello to your first cherry blossom viewing spot! Be prepared to be blown away by the unyielding force of Mother Nature, alongside the blossoming of her delicate pink flowers.
Indulge in a sumptuous lunch at a local restaurant and head down to Ikomakogen Flower Park after. Japanese spring isn't just pretty in pink; look out for bright shades of yellow too! Located at the foothill of Mount Kirishima, this flower park boasts sprawling fields of canola flowers for visitors to enjoy. Bathe amongst the flowers and don't forget to capture some golden snapshots!
A Japan trip without dipping in an onsen should be a crime! End the day at your hotel's onsen baths, and watch all your worries and stress melt away while you relax your mind and body. It's truly pure bliss!
After the onsen therapy, it's time for your kaiseki dinner. This traditional multi-course dinner consists of dishes that are exquisitely prepared by professionals with exceptional culinary skills. Feast like royalty as you treat yourself to the Eastern version of fine-dining!
Can't wait to fly to Japan and witness the beauty of Kagoshima for yourselves? Hop on the
5D4N Sakura in Kagoshima tour
by H.I.S International Travel today! You'll get to enjoy direct flights via SilkAir, and a whole host of exciting experiences from just $2,488. What else are you waiting for? The transient but spectacular cherry blossom canopies await you!
Departure date: 24th March 2018
Day 3: Kirishima > Kagoshima
Begin your third day at the Kirishima Jingu Shrine (a.k.a. your next sakura-viewing location). As you make your way to this Shinto shrine, which honours the deity Niniginomikoto, you will first be greeted by a majestic red torii. The shrine itself consists of vermillion lacquered pavilions set amongst a serene natural environment. Since it will be spring soon, the grounds will be a popular spot for viewing the cherry blossoms. Explore the shrine thoroughly and revel amongst the verdant pink canopy! You can also take this chance to write your sincere wishes for 2018 on a wooden tablet, and hang it in the shrine.
Next, head to the Izumi History Museum for your chance to try out kimonos! Once you enter the Izumi Area of Kagoshima, it may seem like a completely different century. What used to be the Izumi-fumoto samurai residence in the Edo period (17th to 19th century), is now a preserved site of historic buildings where visitors can tour around. Take your time to traverse the samurai residences, reflect on their lifestyle and take a peek into their culture!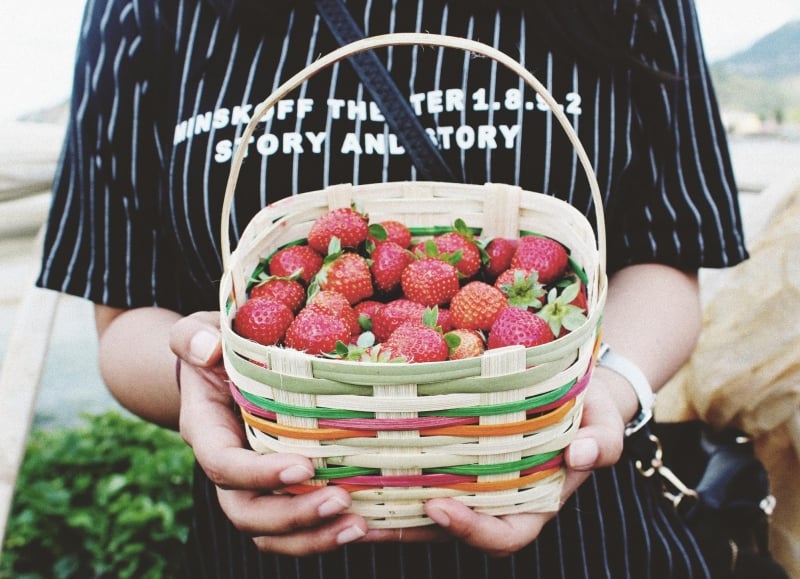 After lunch, immerse yourself in a hands-on experience – strawberry picking! Although spring is synonymous with flowers, strawberries are seasonal fruits which are all the rage during spring in Japan. Savour in the delightful sweetness of your hand-picked strawberries – they're best tasted when freshly picked! After which, feast on some delicious Kagoshima Black Pork Shabu Shabu for a truly unforgettable meal.
Day 4: Kumamoto > Kagoshima
Start day four on a refreshing note with breakfast at Kagoshima's Wholesale Morning Fish Market. You get to check out the legendary fish auctions that Japan is famous for! If luck and time permits, you may even get to catch a tuna-filleting show! For sashimi lovers, this is an absolute haven for your taste buds.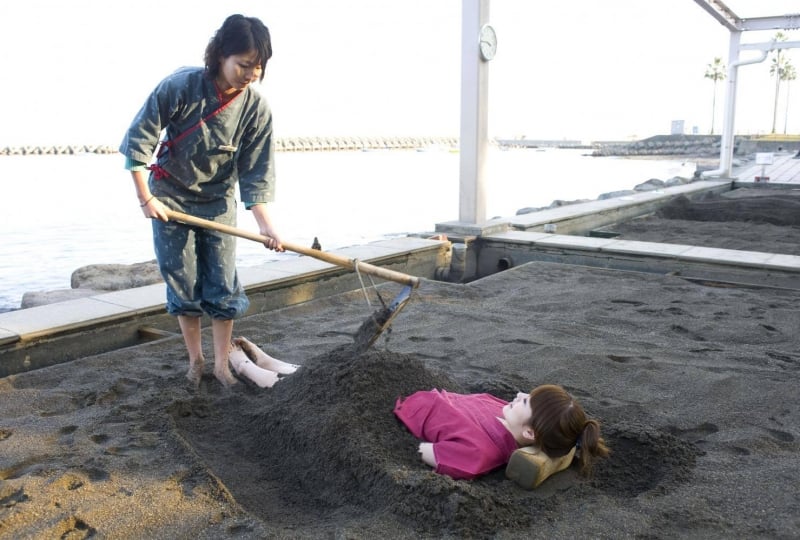 After a hearty breakfast, it's time to try out sand baths at Ibusuki! Don't be alarmed when you see a row of heads protruding from the sand on Ibusuki Beach. The sand is naturally heated thanks to underground volcanic waters! This sand onsen is incredibly relaxing and improves blood circulation around the body, thus proving the attraction to not only be fun but also healthy. After being submerged in sand, you'll wash it off in the hot springs. You certainly don't come by such sand baths easily in Japan, so go ahead and try out this unique and rejuvenating experience!
After lunch, it's time to head to Sengan-en Garden. Known as one of the most beautiful gardens in Japan, this stately traditional garden used to be the royal abode of a 19th-century Japanese prince. It was also awarded the status of a World Cultural Heritage Site in 2015. In spring, Sengan-en looks exceptionally beautiful with sakura blooms framing the splendid view of volcano Sakurajima in the background. In all its natural (and pink!) glory, this garden is definitely a breath of fresh air!
Trips are incomplete without some last-minute shopping! Satisfy the shopaholic in you with some free time to shop till you drop at Tenmonkan Arcade. Located in downtown Kagoshima, this shopping area is filled with boutiques, cafes, restaurants selling traditional Kagoshima food and more.
When dinner time comes along, peek into the renowned Yatai food stalls to get a taste of Hakata's nightlife. With a plethora of food stalls each offering dishes made from local Kagoshima produce, simply take your pick and indulge to the fullest. After all, there's no better way to experience Kagoshima's gastronomic culture than feasting!
Day 5: Kagoshima > Singapore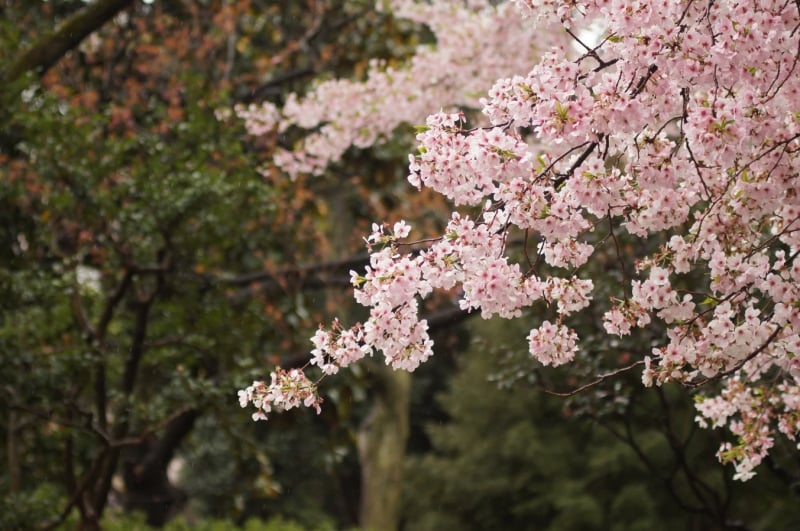 By the end of this trip, you probably wouldn't bear to leave Kagoshima at all. But alas, we must say our goodbyes. After your final breakfast of the trip, bid farewell to Japan as you hop on your Singapore-bound flight back home.

A 5-day trip may seem insufficient to explore the beautiful city of Kagoshima. But with H.I.S. International Travel's 5D4N Sakura In Kagoshima tour (departure date: 24th March 2018), their carefully curated itinerary encompasses all the highlights you need for an epic vacation. Not only do you get to watch delicate sakuras in full bloom, you also get to revel in the essence of old Kagoshima, glimpse into the samurai culture, pick fresh strawberries, wear kimonos and more!
Besides, the following reasons might serve to tempt you even further:
You'll be flying via a direct chartered flight to Kagoshima – which means no transits needed

Meals and accommodation are covered

Kagoshima is a less crowded option where you can enjoy the sakura scenery comfortably, without having to jostle with swarms of people

Kagoshima is known as one of the best places in Japan for sakura viewing

Cherry blossoms have been forecasted to start blooming on 22nd March 2018 – this trip departs for Kagoshima on 24th March 2018 – perfect timing!
Just leave all your trip planning to the experts and get ready to experience spring in Kagoshima. It will certainly leave you breathless with wonder and joy!
---
Brought to you by H.I.S International Travel.