It's that time of the year again, where the denizens of the night take to the streets and cause all sorts of mischief. But there's no need to be afraid, because underneath those spooky robes and costumes are just ordinary people like you and me, looking for the perfect place to celebrate this year's Halloween!
Got your own costume ready, but find yourself without a place to haunt? Well, here are eight spine-chilling places in Singapore for you to get your ghoul on!
1. Halloween Horror Nights 6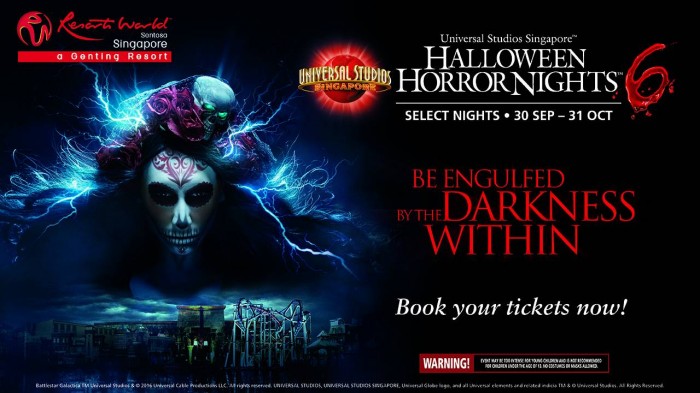 Image credit: BeMyGuest
This Halloween event list simply wouldn't be complete without including the local favourite by Universal Studios Singapore. With its sixth year in action, the line-up for this year's Halloween Horror Nights may just be the scariest one yet!
Showcasing two scare zones and five haunted houses, Halloween Horror Nights 6 features new horrors close to home, such as Old Changi Hospital and Hawker Centre Massacre. Other attractions, such as the Salem Witch House and Hu Li's Inn, promises to deliver the same level of fright to those with the courage to venture forth!
There'll also be special spine-chilling shows revolving around Lady Death, their official mascot for this year's Halloween Horror Nights. Rides will stay open as well – try to outrun that persistent evil spirit with a thrilling ride on the Battlestar Galactica or the Revenge of the Mummy!

Universal Studios Singapore
Weekends from 30 September till 31 October
7.30pm to 1.30am
Ticket prices range from $51 t0 $207

2. *SCAPE Museum of Horrors VI: The Doll Factory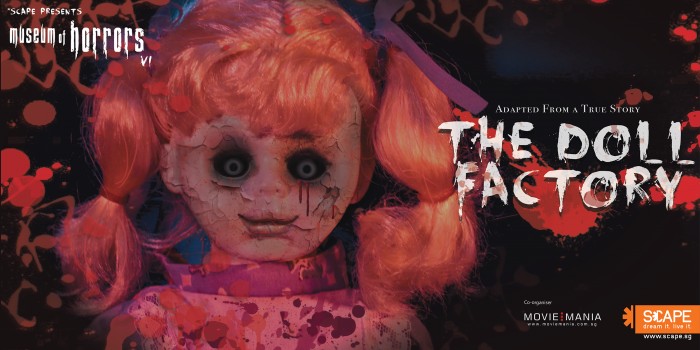 Image credit: The A-List 
Also a favourite for their local Halloween events, *SCAPE has not been slack under the pressure. Returning this year with a total revamp of their Ground Theatre, the Museum of Horrors unleashes the terror of the Doll Factory to the public!
You'll be guests of the Doll Master, a doll-maker who murdered his whole family to preserve them as dolls for his personal collection. Run through seven different mazes, with his puppets and restless spirits waiting to spook you at every corner. Try not to get too lost, else you'll end up as another doll on the shelf!
If navigation isn't your strong suit, why not instead catch a movie screening of The Conjuring or Dead Silence at the *SCAPE Gallery? There's a blood donation drive as well, organised by the Singapore Red Cross Society. Don't worry; they're not going to hand over the blood bags to the vampires. Or are they?
*SCAPE
Select nights on 26 October till 6 November
10.30am to 10.30pm
Early bird tickets priced at $9.90 till 9 October, standard tickets will cost $15
3. Spooky Seas at S.E.A Aquarium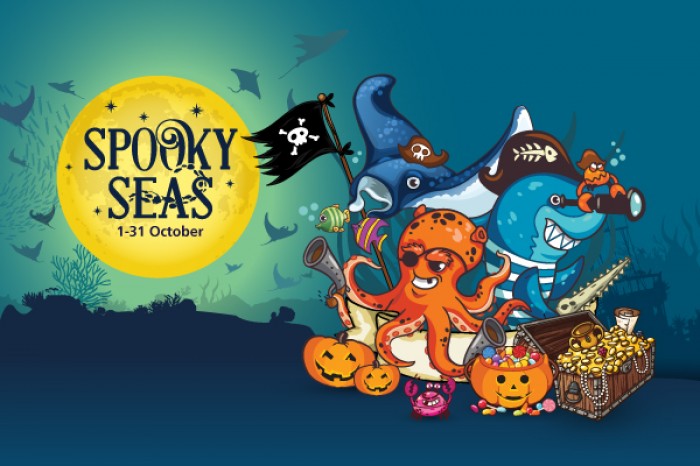 Image credit: Resorts World Singapore 
Arr! Put on your best swashbuckling coat and eye patch if you're intending to visit the S.E.A. Aquarium this month, because pirates, gypsies and skeletons have descended upon the underwater exhibition of Spooky Seas to call it home for this Halloween!
Parents especially will enjoy the Captain Spooks' Treasure Trail, where their children can embark on an adventure along a trick-or-treat trail and learn fascinating things about the ocean. The Skeleton Wanderers, consisting of divers dressed in skeletal suits, will plunge down into the aquarium on weekends to perform a spectacular underwater show that'll sure entertain all ages!
You'll also want to check out the Gypsy storyteller, who will regale the audience with the tales of the seven seas and share her own adventures with her marine friends. She'll top it off with a musical performance with Captain Spooks, a perfect way to end the day!
S.E.A Aquarium at Resorts World Sentosa
1 October till 31 October
10.00am to 7.00pm
Ticket prices range from $15 to $32
4. JCube's Scream Fest 3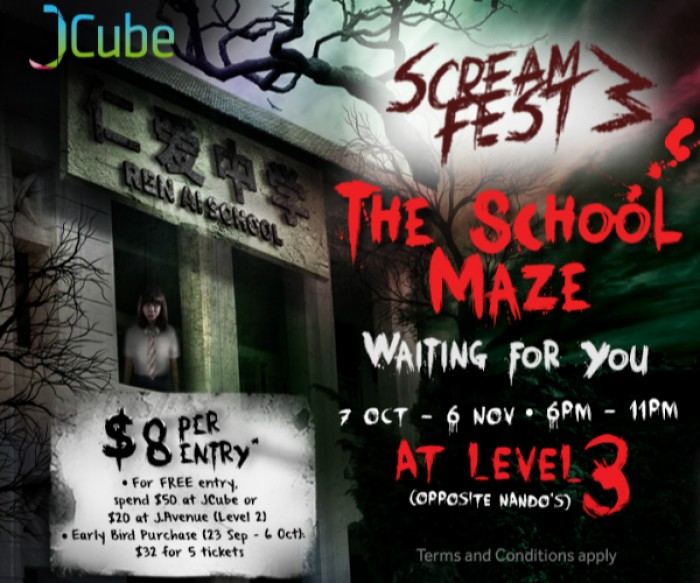 Image credit: JCube 
Ever wanted to be one of those unlucky students who find themselves in a horror movie? Well, now you can, in JCube's latest Scream Fest! Featuring the "The School Maze", you'll be pitting your wits to escape the clutches of a vengeful spirit who died under mysterious circumstances.
If you're intending to do a little shopping as well, you won't even have to pay for your entry tickets! Spend at least $50 at JCube, or $20 at J.Avenue, and you can redeem them for free.
The Rink in JCube is getting into the festivities. Present your "The School Maze" admission ticket to the service counter and enjoy a $7 promotion for your next skating session! You're also encouraged to dress up in your favourite Halloween costume on the 28 and 29 October during the weekend Disco on Ice sessions, so suit up!
JCube
7 October to 6 November
6.00pm to 11.00pm
Tickets priced at $8, free with $50 worth of goods purchased around JCube or $20 at J.Avenue
5. OverEasy Orchard: Battle Royale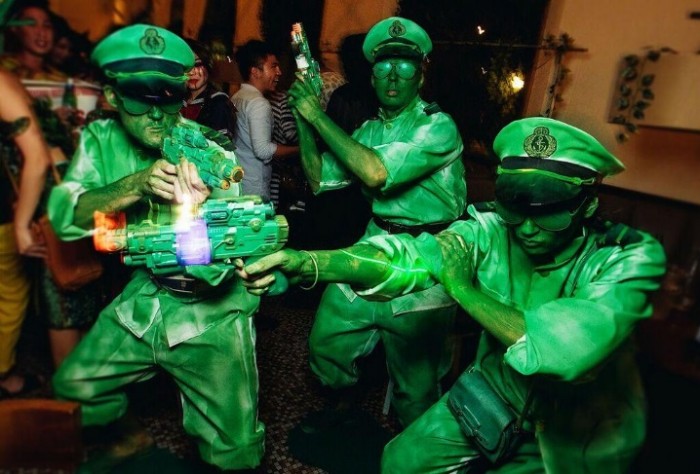 Image credit: City Nomads
Looking for the wilder side of Halloween? Then drop on down by OverEasy Orchard at the 29 October and join in the "Battle Royale"! The popular all-American diner revamps itself to a fight club this year, hosting the ultimate showdown for aspiring champions to claim glory in the ring.
Be prepared to see guests dressed up as their favourite fighters, including Bruce Lee, the Power Rangers or even Chuck Norris! Ring girls and wrestling hunks will be exchanging shots with partygoers as they choose to dance the night away to the killer beats of DJs KFC and KiDG, or challenge each other to a game of beer pong.
Pull off the best costume in the ring and stand a chance to win the grand prize of a four days' vacation at Bali! Other prizes are also up for grabs as well, including dining and shopping vouchers, so make sure to put a little extra effort into making your outfit shine!
OverEasy Orchard
29 October
10.00pm to 2:30am
Free admission
6. River Safari: Safari Boo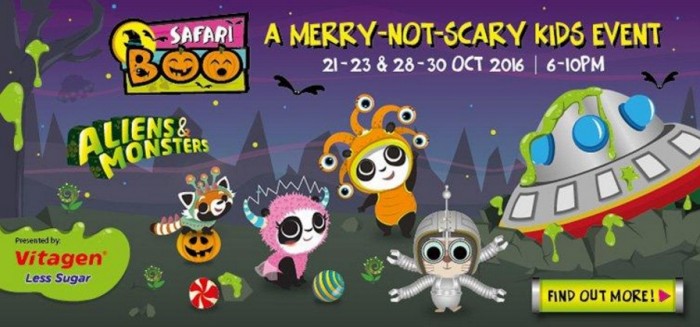 Image credit: River Safari
The River Safari is the perfect place to bring your scaredy-cat child for this Halloween! This year's Safari Boo, with the theme of "Aliens and Monsters" emphasises the merry-not-scary fun for your kids to enjoy the spooky festivities without the nightmares.
Going on a big trick-or-treat adventure, visitors will learn about the different kinds of "alien" animals that populate our world and their habitats. They'll also catch live animal presentations and underwater musical performances that are sure to keep them captivated throughout the journey!
For those who prefer a hands-on experience, there are activity booths scattered around the safari for crafting and face painting, allowing your little one to dress up as one of the aliens. Top it off with a photo finish with the various alien mascots or the giant crashed alien spaceship! 
Singapore River Safari
21 to 23 October & 28 to 30 October
6.00pm to 10.00pm
Tickets prices range from $5 to $22
7. Fort Canning Park: Thriller in the Park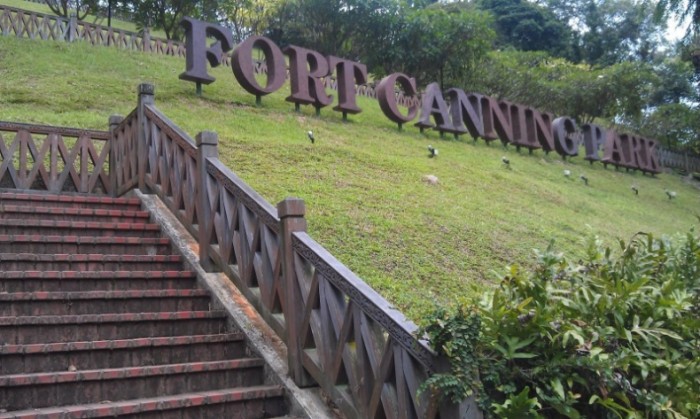 Image credit: Left or Right Singapore
Turning the popular park into a mock-up cemetery, Thriller in the Park is one carnival you'll enjoy to death!  There are plenty of things for everyone to do, regardless of age! Dancing queens will have a blast dancing away to sets from local DJs through day and night; the thrill-seekers can evade the walking dead in the zombie maze; and children will be kept entertained in the kids' zone with friendly shows. To those planning on wearing their scariest and best costumes, spare no expense as there'll be a cosplay contest! 
If you feel your bellies rumbling, a giant picnic with gourmet options, as well as unique F&B outlets, will sate that hunger. There's nothing like eating delicious food beside a fake tombstone to get into the spooky mood of Halloween! 
Fort Canning Park
29 October
11.00am to 11.00pm
Ticket prices range from $20 to $150, free entry for children under 12
8. PARKROYAL on Pickering: A Sub-LIME Halloween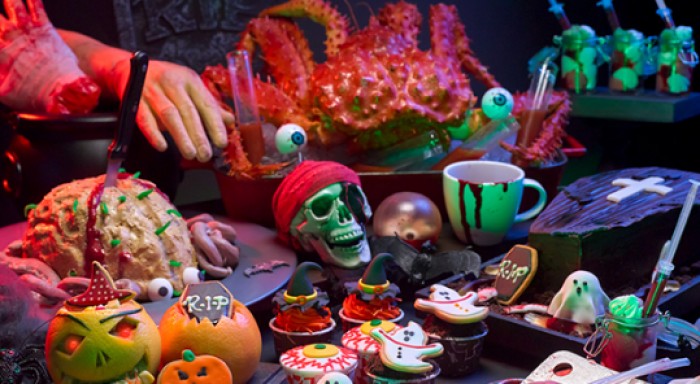 Image credit: PARKROYAL on Pickering 
Looking for a place to sink your fangs to? Well, make a reservation at Lime on the 28 or 29 October for a Sub-LIME Halloween! With specially-made treats like Tomato Gazpacho and Beef Tartar disguised as blood-filled test tubes and broken limbs, your taste buds will be in confusion and ecstasy. This frightening yet delicious buffet is just what you need to get in the mood for a food coma in a coffin!
For something a little less squeamish, the Freddy Nightmare Pasta, or Squid Ink Pasta with Black Caviar, might be in line with your choice. Top it all off with frightful tasty desserts, such as the Blood Splatter Cheesecake. Don't jump out from your seat – it's only cherry. Or is it?
The whole place has also been redecorated to suit the atmosphere, with the private dining rooms turned into a dark enclave for evil beings. Should you and your friends turn up with the best costumes, you'll stand a chance to win a free bottle of Champagne, so make sure to adhere to the spooky dress code if you're interested!
PARKROYAL on Pickering
28 October to 29 October
6:30pm to 10:30pm
Ticket prices range from $30 (children) to $80 (adults)
Also read: Haunted Singapore: Self-Drive to a Night of Terror
Has this list given you an idea of how to maximise your scare factor for this year's Halloween? Make sure to plan and book tickets early, as they often get sold out very quickly as the days get closer. Don't miss out and be the only lonely soul stuck watching old reruns at home, because that's usually how the horror movies start…