Contributed by Chapters by Lee Ling
Earlier in March this year, we followed a group tour to Europe which was a rather tiring trip with plenty of travelling on the road each day. Once we were back, my heart once again filled with unknown voracity and ached for another trip almost instantly. This time, I was determined to make it a relaxing trip with no restrains, even the tiniest, at all. Coincidentally, SQ launched its airfare promotion when we were still busy unpacking the luggage and shortly after, we knew we will be going to Gold Coast in a few months.
Hubby had been to Gold Coast when he was little while I will be a first-timer since my parents have never been keen on travelling even until now. Contrary to popular belief that Gold Coast, with its famous theme parks, is for the young ones, I would love to think that the sunshine city has plenty to offer to mature kids like me! And I was right after all. This trip was one of the best that we had experienced and we managed to conquer Gold Coast from all three aspects – 海 (the sea), 陆 (the land), 空(the air).
Accommodation
Gold Coast offers a wide range of accommodations, from luxurious hotel skyscrapers with million-dollar views to backpacker hostels that suit most budgets. Since my utmost priority is to ditch all rushing about, that would mean no changing of accommodation in this one-week stay so that time need not be spent checking in and out. This would also mean a fairly good accommodation that isn't squeezy (at least) will be much needed. After much googling, we decided to go for Meriton Serviced Apartment, Southport which seems to receive as many positive reviews as its highly sought-after sibling in Broadbeach.
Located in a relatively quieter district along Aqua Street, Meriton Southport is away from all the hustle and bustle of the popular Surfers Paradise, yet if we want to, we could also easily reach there by tram in just a few minutes. Nestled among many other residential apartments and homes to locals, there are quite a few food choices within reach and of course, there won't be any moment of loneliness and insecurity at all. Perfect!
Just opposite Meriton Southport is its latest new family member, Meriton Sundale, a 55-level residential tower which will be opening soon. Sundale, being the new kid on the block, also boosts some restaurants and an express version of Woolsworth supermarket which benefits all those staying around, including us!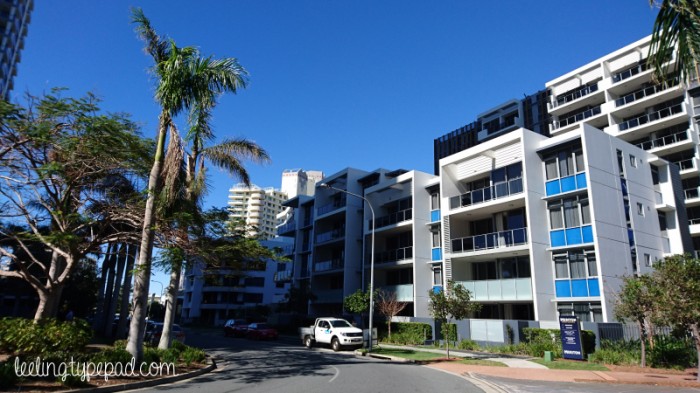 Our first time staying in a serviced apartment on a holiday and we could barely hide our joy as we somersaulted across the spacious room and whipped up meals in their small but well-equipped kitchen. The one-bedroom apartment also includes a tiny yard with washer and dryer so go ahead and wash your clothes so that you don't have to come back with a pile of dirty laundry waiting for you. Check out our lovely apartment for that week.
Activities and attractions
1. Whale-watch with Sea World 。海
Our first activity in Gold Coast started with a whale watch tour with Sea World. Besides Sea World, there are a few other Whale Watch companies that bring you out to the open water where over 15,000 whales will mingle and rest as they migrate each year between June and October.
We decided on Sea World because their vessel "Spirit of Migloo" is generally larger than most other whale-watching ships which meant that it is supposed to be more stable in the open sea where waves can be quite huge and unpredictable.
Also, if we purchase their combo tickets, we can gain entry to Sea World with just an additional of AU$11 each (yes, Sea World and Sea World Whale Watch are beside each other and one do not need to enter Sea World for the Whale Whale tour). Book your combo tickets here.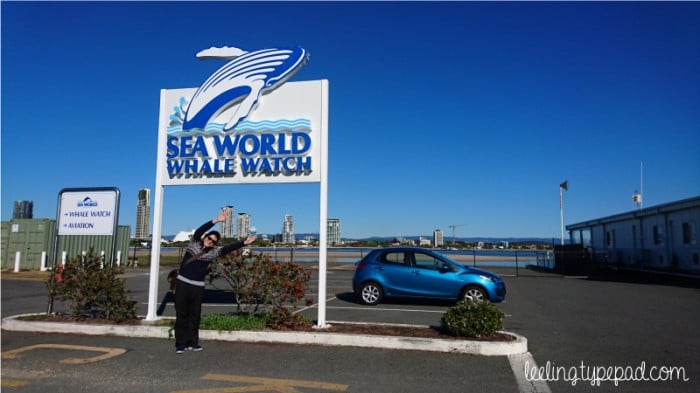 We were the earliest to reach and we enjoyed a cup of hot chocolate as we watched the crew getting the vessel ready for its first tour of the day.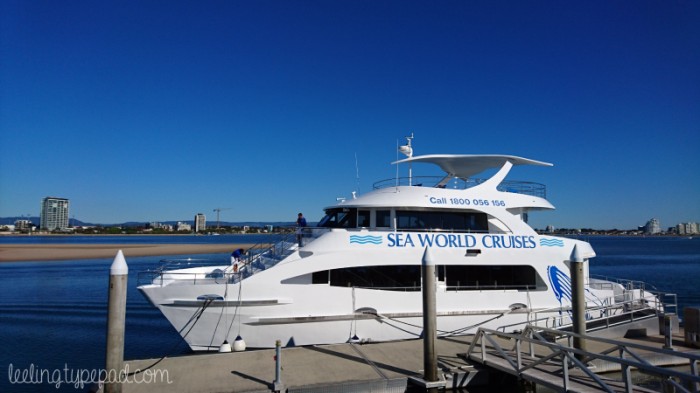 Indeed, just like what we had seen before in the picture, "Spirit of Migloo" was sparkling clean as we boarded it and there are three viewing decks to ensure passengers can spread out and enjoy personal space even when one or two humpbacks decided to make appearances. Many of us rushed to the top deck to 'chope' a good seat but there is actually no need for that as just 10 minutes after heading out, we were all required to make our way down to the indoor deck as this is one of their safety requirements as we approached the open sea.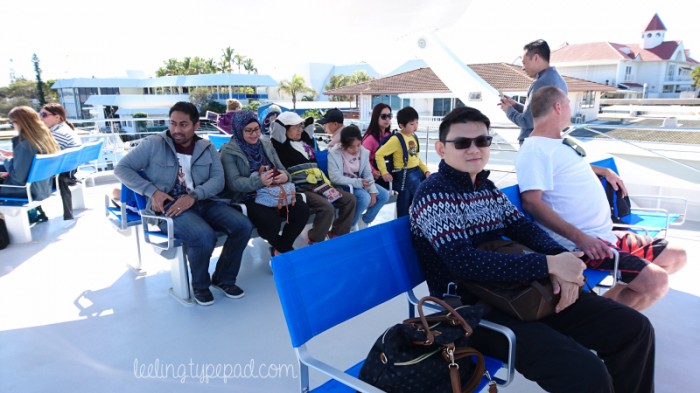 "when seasickness kicks in.."
If you are wondering about the possibility of seasickness, it is definitely high, especially if the water is choppy that day. That was what happened to me and many other passengers; the waves, as told by our guide, was about one to two metre high and I finally understood what 'rocky road' means. The whole tour was 2.5 to 3 hours and we were barely 30 minutes out there and only caught a glimpse of the tail of a whale before I started to feel sick in my stomach.
The churning feeling of my poor stomach forced me to retreat back to the indoor deck, away from the strong wind and the sensation an out-of-control rocking chair can give. We were told to stay at the back of the vessel at the lower deck if we were feeling unwell as that part of the ship is usually more stable. I never knew that I can get seasick but I do believe one with a weak stomach may be more prone to getting it so I am surely an easy target. As I used my determination to curb the nauseous feeling that threatened to dirty the carpet of the indoor deck anytime, I noticed that I was not alone. From men to women, children to adults, people rushed in to take paper bags and as Hubby checked on me, he also provided 'regular live reports' on the latest 'situation'. The crew members were extremely attentive to all of us, checking on those unwell ones (including me) and making sure that if we wanted to throw up, at least we do not execute the action on their carpet (ok I'm just joking).
So as those strong-stomach passengers made their way around the vessels and making "ooooh-s" and "wow-s" as if the mammals just talked, I hypnotized myself into thinking I was fine and not going to throw up my breakfast by sniffing peppermint oil every 5 seconds and pressing my Neiguan acupoint (a last minute acupuncture relief I googled on the ship) to fight the seasickness. But all was not lost because the whales, a total of five of them at one time, circled around the ship and many times, they poked about 10% of their body out of the water near where I was sitting. So it was fortunate, that amidst all my internal chaos, I still managed to witness these magnificent creatures.
Of course, with my condition, there was no way for me to photograph or video anything. But then here it was, a picture taken by the professional staff onboard on the day of our tour while I was somewhere in a corner practising acupuncture.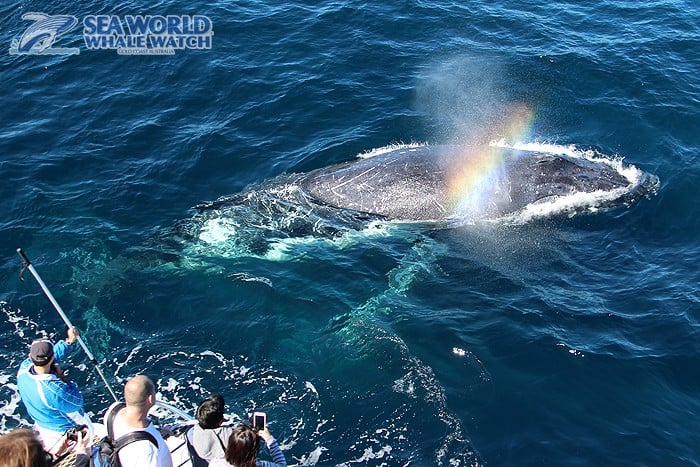 Tips
If you are uncertain whether you will suffer from seasickness, do take precaution first so that you will not let those unwanted sensations disturb your time with the whales.
There is no need to "chope" a good seat when you just board the ship as you will soon need to be at the indoor deck when the ship approaches the open water.
If you start to feel unwell, stay at the lower deck and at the back of the ship. Most importantly, stay away from those who are throwing up as seeing people vomiting only makes you want to 'join in' when you are already busy fighting the urge.
2. Sea World
As we returned from our whale watch tour, my stomach got better and we went on with our plan to visit Sea World.
It was a beautiful scene the moment we entered the theme park – visitors chilling on the grass, eating their fries as the water show performed right in front of them. The view looked a bit like in the 90s but it was no less captivating. By then, my stomach had fully recovered and was asking to be fed.
The weather was perfect at about 18 degrees with plenty of sunlight and eating ice-cream without any rush was just as comforting.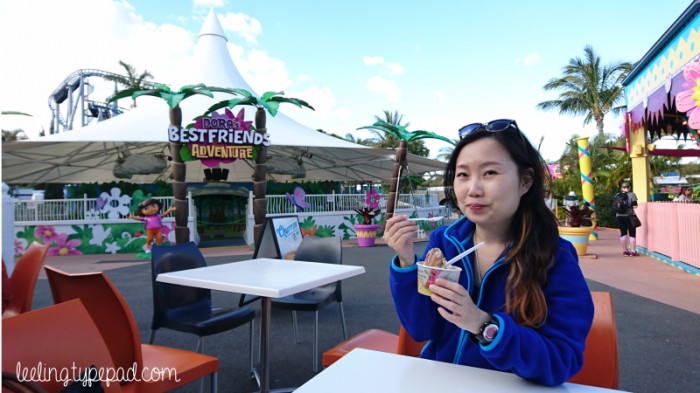 3. Gold Coast Helitour 。空
Our "Air" (空) element of this trip lies in this short but super memorable helicopter ride with Gold Coast Helitour. There are a few scenic flights to choose from – from the shortest 5-minute flight where you most probably complete your flight before you got your seat belt on to the longest 45-minute flight. I believed the 10-minute flight which we had opted for is the most popular one as this is one option that (tries to) strikes a balance between enjoyment and the thinning feeling on your wallet. heh!
We pre-booked the tour online and the check-in procedure was quick and straight-forward. Before we started the flight, we were shown a safety video and life jackets in the form of a pouch were also worn on us. We won't get the chance to take selfies in front of the helicopter but the staff will do that for you. After which you can choose to buy that precious photo (or not).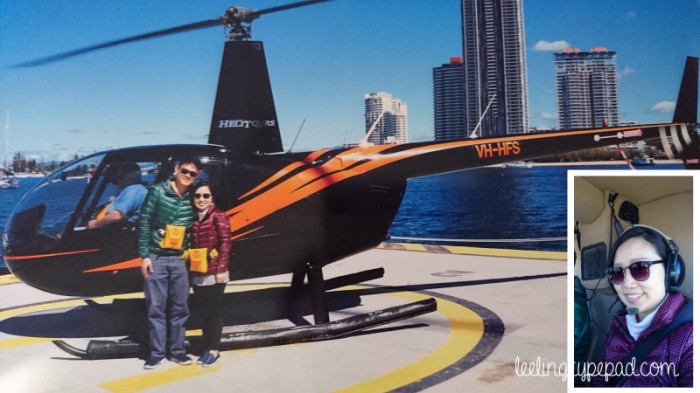 Here's how Gold Coast looks like from the top!
Tips
You will get to keep your bags in their lockers so don't forget to bring along your camera or phone if you want to capture those lovely views from the top and keep them forever!
4. Currumbin Wildlife Sanctuary
Many years before when we visited Melbourne, one of the biggest regrets we had is not having the opportunity to get up-close with Koalas. We went to a conservatory where Koalas were hiding high up in trees and we almost sprained our necks just trying to catch a glimpse of them. Needless to say, we didn't get to hold them or rub our fingers on their soft fur. This time, we made it a point to clear those regrets and planned a trip to Currumbin Wildlife Sanctuary.
We pre-booked the entry tickets online and were lucky to get their Wild Deal general admission ticket at AU$29 per person (usual price AU$49.95).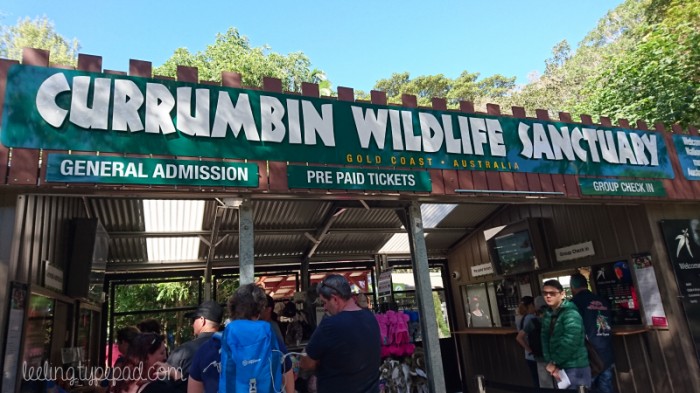 Upon reaching the sanctuary, I frantically searched for the sight of koalas like they were my lost children and just near the entrance is where the Koala Photo Booth stationed. Even on a Sunday, the home to many animals was rather quiet without tourist crowds which was much to my relief. The Koala Photo Booth presented no queue at all and we hurried over to pay for the photo before we were greeted by a sleepy furball.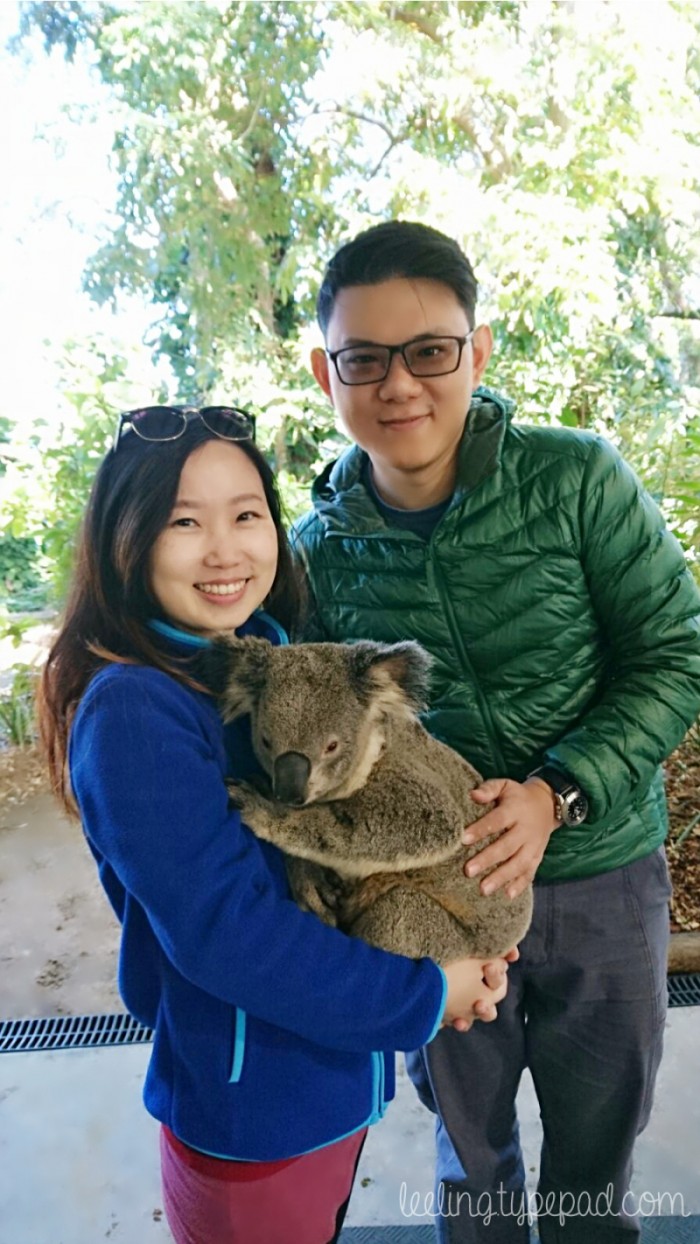 "happiness in the form of a furry sleepyhead.."
The lady guide let us touch its fur before handing the rather heavy national treasure over to me. I took a quick sniff of its head and it smelled of dusty carpet … heh heh …. not too pleasant of a smell but it was still as therapeutic.
The sanctuary is not of too large a scale and a half day visit should be quite sufficient. There are many animal shows and also opportunities to interact with kangaroos that seem to prefer chilling out than hopping around.
Tips
Check out their Wild Deals before buying the tickets and you may get to save quite a bit.
If you are staying at Surfers Paradise or Broadbeach, there are some companies that offer transfer service to CWS with a rate at approximately AU$20+ per person. Check out the information here and you can request your hotel to book the transfer for you. Alternatively, if you stay elsewhere like us where transfer services are not available, it is still not too hard to travel to CWS by yourself. From Southport to CWS, the journey is about an hour.Directions. Take Tram (towards Broadbeach South station), alight at Broadbeach South station (last station), cross over to Bus Stop (they are at the same place). Transfer to bus 700 (34 stops) , Click here to see actual route
5. Numinbah Valley Adventure Trails 。陆
Having experienced Gold Coast by Sea and Air, we thought horse-riding sounds like a nice way to explore the hinterland while completing the "Land" (陆) part.
It was not an easy task to find a tour that offers horse-riding to beginners but Numinbah Valley Adventure Trails is one of them, if not the only one, that welcomes inexperienced riders. Besides horse-riding, Numinbah also offers camping and some other activities in the beautiful wild. Although there were mixed reviews about Numinbah, we went ahead with it and did not regret at all. We booked the 2-hour horse riding tour with them just 2 days in advance through our hotel Meriton and it was a breeze! Meriton helped us booked the tour including the transfer service and we can even pay the tour through them. My love for them is once again strengthened.
It was, however, quite a long journey from Meriton to Numinbah and took over an hour. If you are not driving, then the transfer service would be essential as going there by public transport did not seem easy. When we finally reached, we were served tea and bread first, probably because the next 2 hours proved to be energy straining. I was excited to start and did not eat much.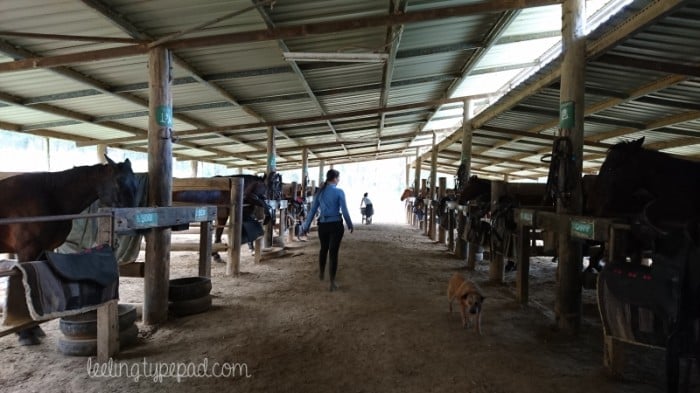 Our lady guide started assigning us horses that suit our abilities, although I do not think hubby and I have any to speak of. There were 9 of us that day and I finally got assigned with "MaCloud" girl and hubby got his "Puddles" boy. All the horses were tame and well-behaved, although my MaCloud girl did seem a bit slower, not to mention that she likes to poo and pee a lot and also often stopping by to take a sip at the river. But still, she managed to keep me safe and sound throughout by not galloping into the wild or jumping off the cliff with the signature pose. Hubby and I reminded ourselves though not to say "驾" as this word seems to be the trigger that sends horses dashing off in those Chinese dramas. Anyway, that did not happen because we believe Australian horses wouldn't understand Chinese. By right.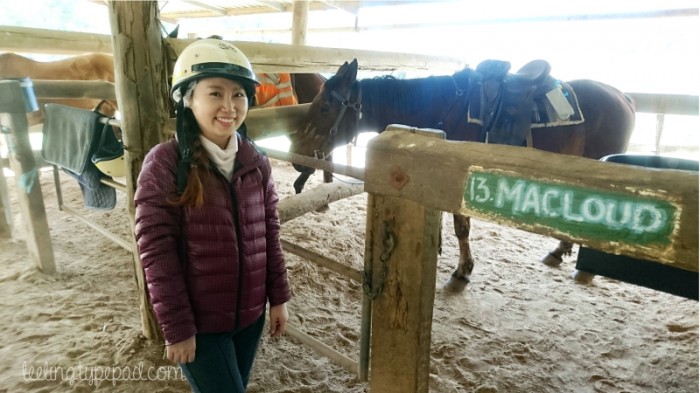 We were soon all saddled and ready to go! Quite to my surprise, the only instruction given to us was how to make the horses "go", "stop" "turn left" and "turn right". Tada! and that was it, you are ready to ride ON YOUR OWN! Yes, there were two guides with us throughout but you will be the only one the horse will listen to so be careful what signal you give him/her. Heh Heh, talking about the free spirit of Australians and I'm also starting to love their independent way of teaching already!
Fortunately, all the horses were well-trained and I did not have to do much other than trying hard to balance myself – definitely more effective and authentic than Osim iGallop. But that was before the trainers spontaneously asked us to trot. TROT! Once the first horse started trotting, you can do nothing and the horses behind will just follow suit. And that was when I had to hang on to my dear life as I felt I will be thrown off anytime.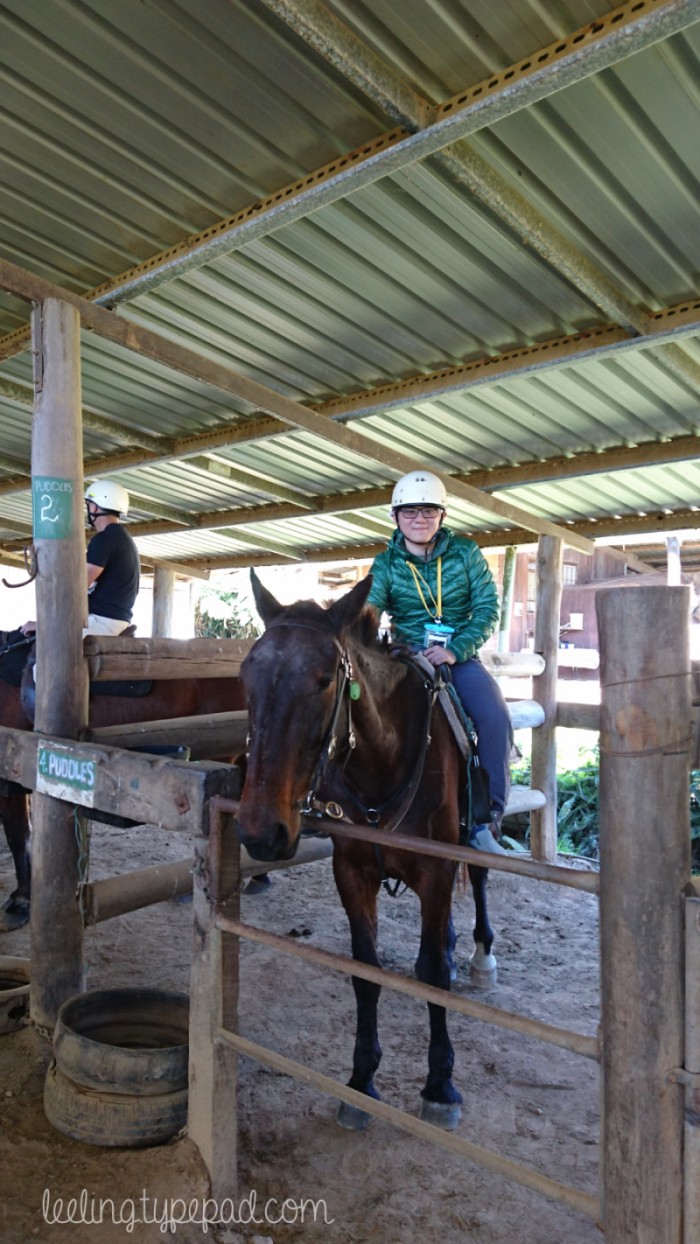 After going through hills and slopes, streams and farms, we approached the end of the challenging 2-hours. Despite having aching butts that lasted a week, hubby and I strangely missed the mild thrill of horse-riding in the wild. Maybe some days we will really gallop along the seaside like professionals.
Tips
It is a must to wear long pants and covered shoes.
If you are not driving, request for their pickup/return service at only AU$10 per person and save your energy for the horse ride.
Bags and bulky items are not to be carried along so to be safe, hang your camera or phone around your neck and if you manage to ride with only one hand on the rein, you still have the chance to take some pictures of the horse in front of you (not your horse). At least you won't have to worry about dropping your phone because the guide did mention that they won't stop to pick up anything. With that, try not to fall off from the horse too.
6. Harbour Town Outlet
Shopping is not the key factor of this trip but nevertheless, it shouldn't be left out entirely so we kept a day for it. Harbour Town Outlet Shopping Centre reminded us of Japan's Chitose shopping mall we visited years ago with its open concept shopping space filled with rows and rows of endless stores. I'm especially drawn to such shopping experience since this is highly impossible to find in our hot and humid island.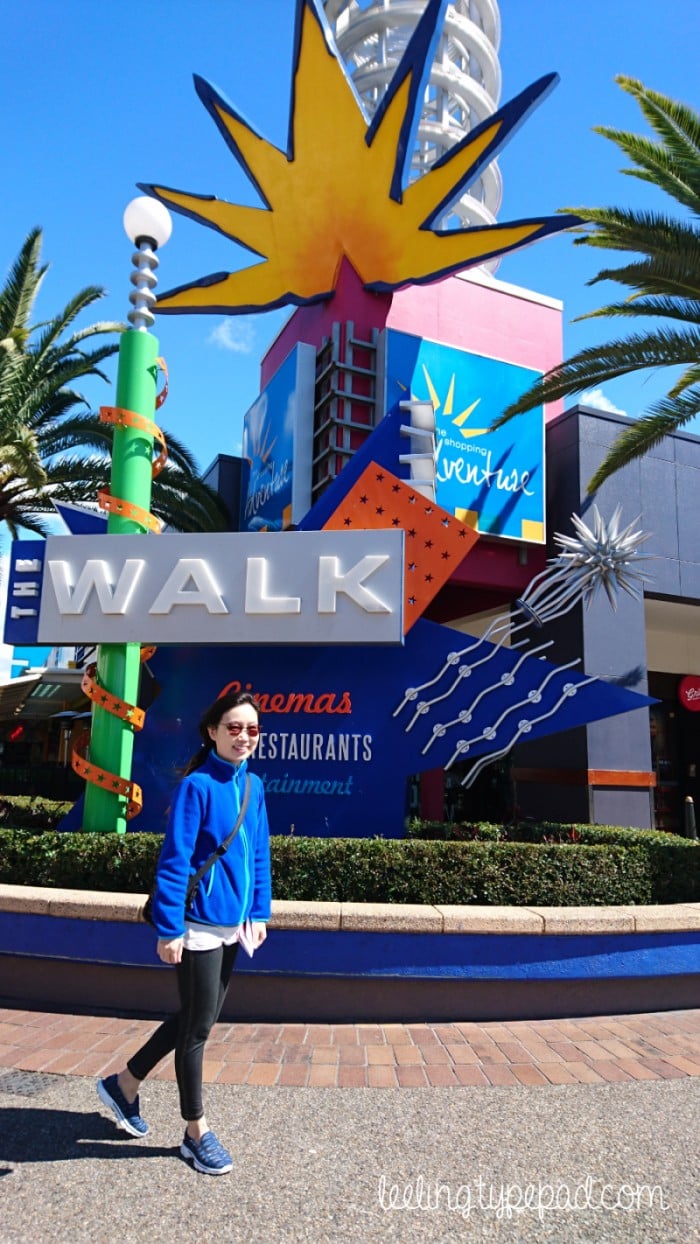 "..shopping in the breezy sunshine.."
Lunch time came and this Ispa Kebabs successfully reminded me of my hidden craving for kebabs! Food serving can be quite generous in Gold Coast and small eaters like me can save their wallets a bit by sharing food.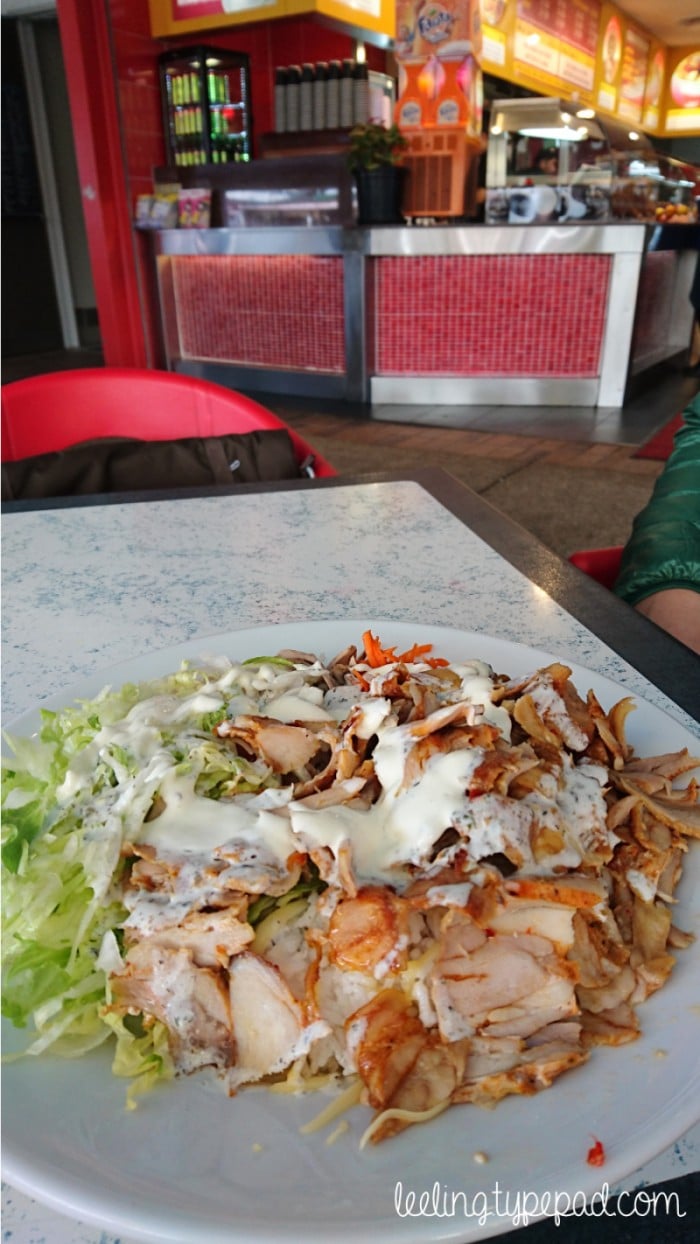 Plus you get to eat more often and hence try more variety since you never attempt to eat till your maximum capacity. Try the Churro and hot chocolate in between your lunch and next hunt for that pair of boots.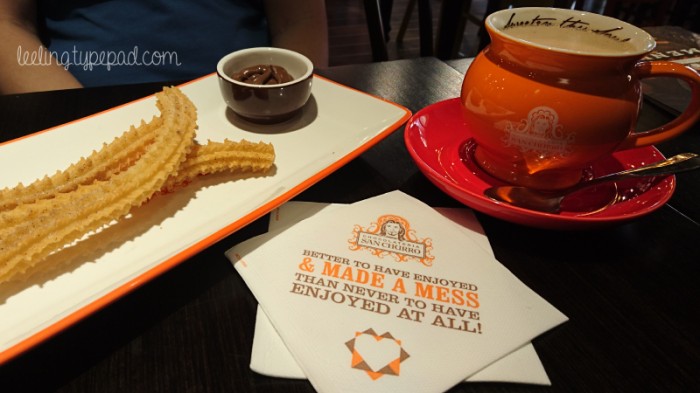 Tips
If you are a tourist, make their Tourism Lounge your first stop of your shopping trip. Besides providing a discount card for tourist, they also offer complimentary refreshments, wifi, etc.
Also read: Beach Please: Discover the Hidden Side of Gold Coast Only Locals Know About
7. Surfers Paradise
I guess any trip to Gold Coast will not be complete without a visit to their iconic Surfers Paradise so kick off your shoes and soak your feet in the sand or play catching with the waves.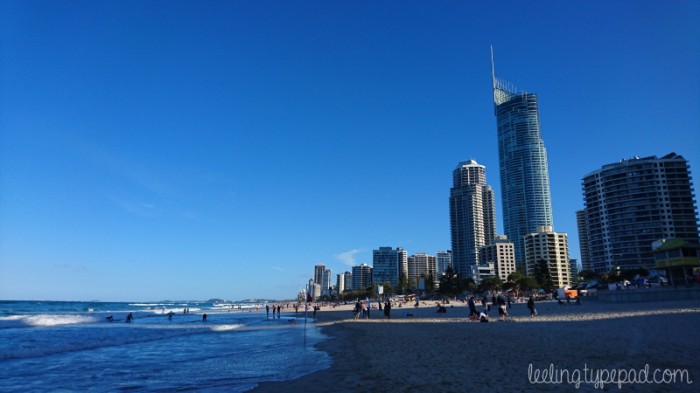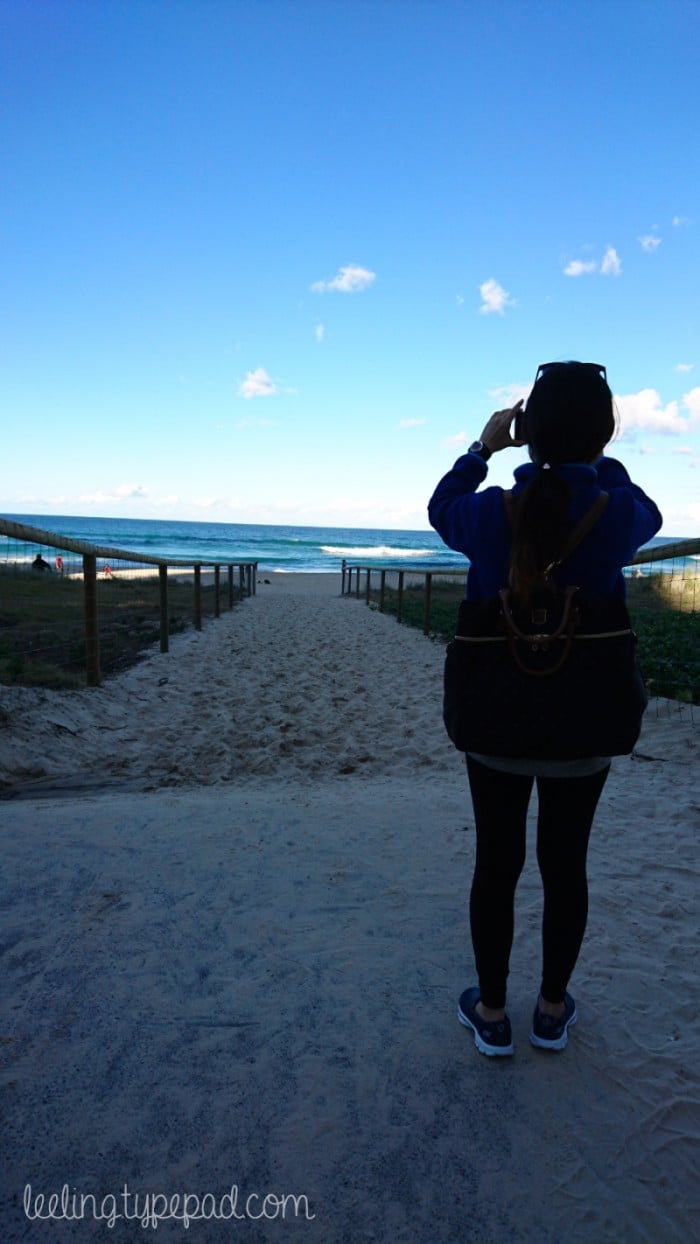 Nightfall happens early here even before 6pm but the coast looks even more stunning in the rapidly darkening sky.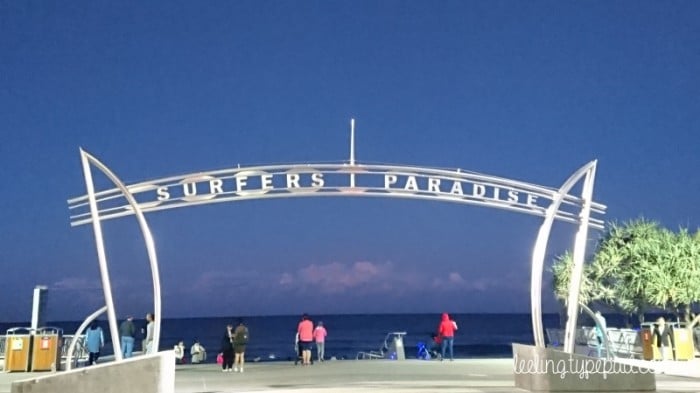 Turn your head the other way and the hippest precinct is just right there.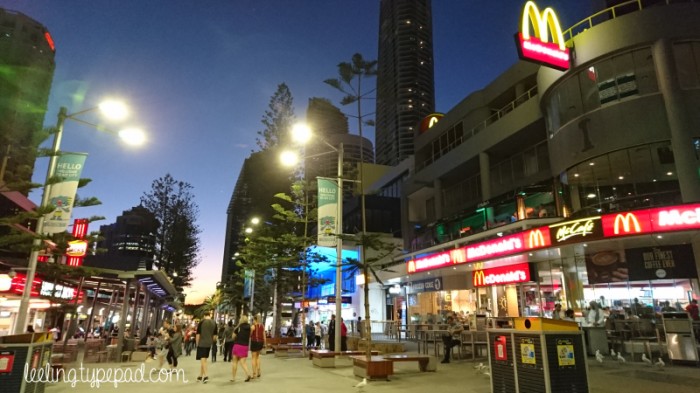 Hubby found this Ben's Fish and Chips on Google Maps before we came to Gold Coast and couldn't stop talking about it since then. We fulfilled his dream and found this Billy Bombers lookalike (minus the jukebox) store with black and white tiles, just opposite the iconic signboard of Surfers Paradise. I always prefer battered to breaded and this signature fish and chips really won our thumbs-up with its crispy batter without the oiliness.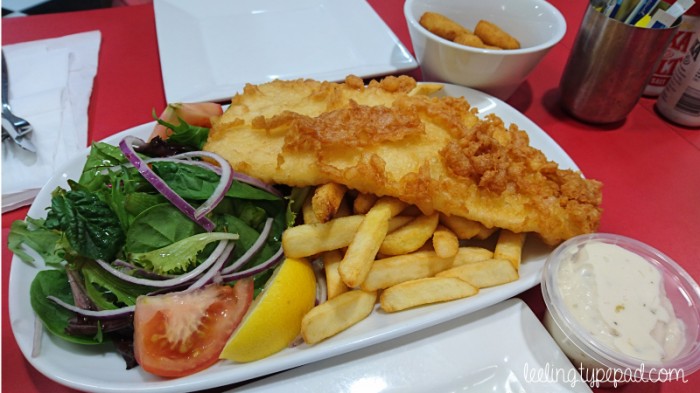 Tips when travelling to Gold Coast
Just like any part of Australia, Gold Coast practises strict rules on the items that we can bring into their city. To save time at the custom, avoid bringing restricted items listed here.
Being a touristic city, Gold Coast indeed portrays a more welcoming aura as compared to its cosmopolitan sibling, Melbourne. Most likely, their people recognised us as tourists coming here for a short stay and are happy to treat us nicely and politely by greeting us "How are you?" everywhere we go. We may be shy Singaporeans but don't shy away from their kind hospitality. Returning them a big smile or simply replying them "Good! Thank you!" will further enhance their impression of us!
It is easy to get around Gold Coast with their Tram and Bus network that is fairly user-friendly. If you expect lots of travelling done everyday, consider getting the Go Explore card that offers unlimited bus and tram travel with just AU$10 each day. The only downside is that tram stations do not sell them and you can only get them at selected hotels or retailers. But topping up of day pass can be done at Tram stations.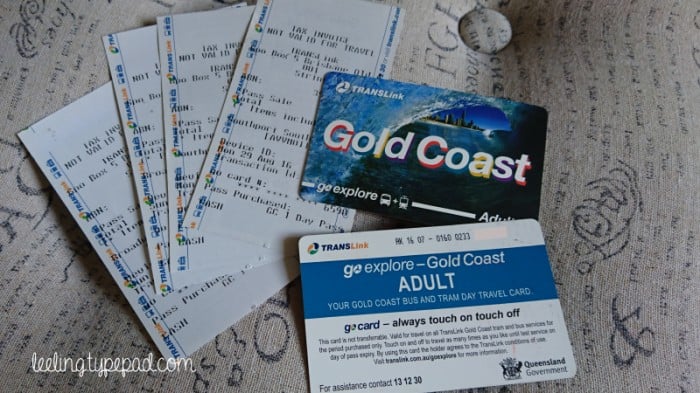 Now, where is my Ben's Fish & Chips?