Sadly, it's happened more than once. After dinner and some drinks, you and the squad find yourselves stuck in the Marina Bay area – with absolutely zero ideas on what to do next. It's too early to go home but too late to do something fun anywhere else, since the malls are closing soon. Oh, and that late night movie you guys wanted to watch together? … Got sold out already. Dejected, you guys will probably head to a 24-hour Mcdonalds for some sinful late-night indulgence or start to slowly make your way home.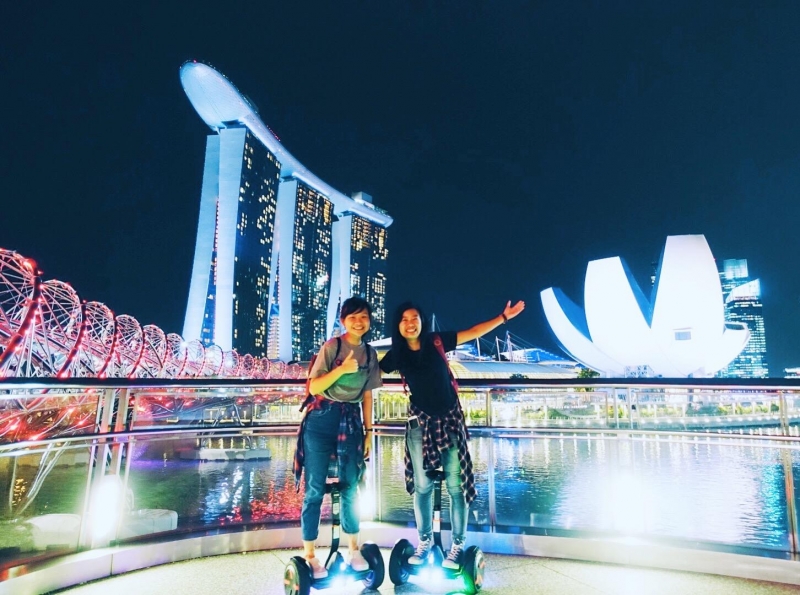 Well, fret not my friends, the next time this happens – we've got you covered. Here's a novel activity to try: how about a city tour and supper-hopping the night away? No, we aren't talking about any regular joyride. This night ride is going to be much more epic and twice the fun – with the Segway MiniPRO! Imagine zooming around with your friends and taking in the epic view of the Marina Bay Skyline at night before zipping through the brightly lit Helix Bridge. With lots of great 'gram backdrops to stop for photos as you guys go along, this night will surely be an unforgettable one!
To make things easy, we've planned out a route filled with sights, eats and lots of laughter for you and your crew! Are you ready to roll? Let's go!
First up, renting your Segway MiniPRO!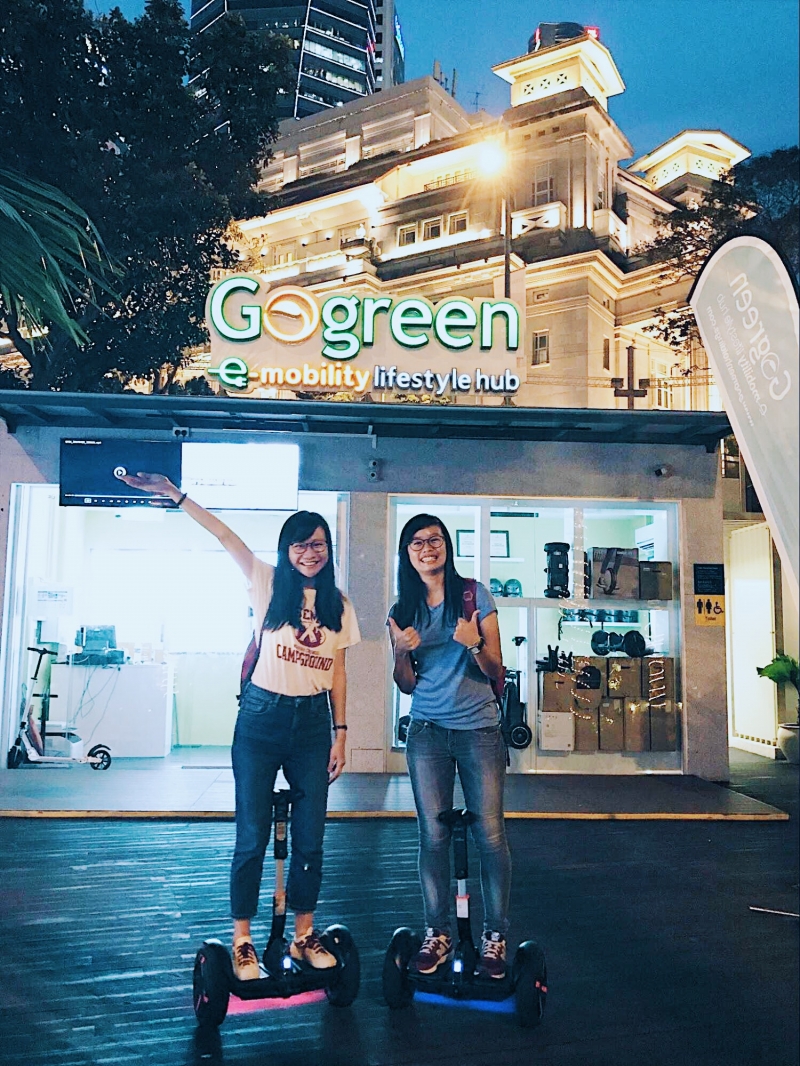 First things first, gotta snag yourselves some Segway MiniPROs! Head over to Gogreen e-Mobility Lifestyle Hub at Fullerton Waterboat House for Segway rentals. You'll find it tucked away just behind Merlion Park and in front of Starbucks!
At Gogreen e-Mobility Lifestyle Hub, visitors can choose from renting a Segway, rental bicycles or e-scooters. But of course, the highlight of this ride is that you can use the segway MiniPRO to zip from place to place – plus it's the lightest option too! Once you get your Segway MiniPROs, the instructors will give you a quick crash course on how to mount it and move around. Once you've got the hang of it, you're all ready to ride into the night!
NOTE: Be sure to get there before 9pm because the kiosk closes at 9pm – ask for an overnight rental and they will provide you with a charger for your Segway MiniPRO, so you can have it charged for use, should you want to take it out for a spin the next day.
How to mount your Segway MiniPRO: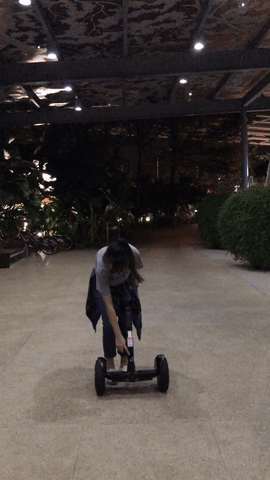 Since we've already given it a go, trust us when we say that mounting a Segway is not difficult at all! Look! Just step up, lean forward a little and you'll be whizzing around in no time! Remember to keep your knees straight!
Don't be intimidated by the lack of handlebars on the Segway MiniPRO, because precision sensors installed to capture every inch of your body motion will help to keep you in balance. Using the innovative knee control bar, you'd be able to maneuver the Segway with absolute ease and comfort. 
1. Take in the spectacular night scene from Merlion Park and Jubilee Bridge
As you exit the Gogreen e-Mobility Lifestyle Hub, you'll find yourself at Merlion Park, where you can ride along the different kiosks and shops and do a few practice loops in the open spaces to get your bearings. Once you're more confident (and less wobbly), pose for a picture with the glowing Merlion and Marina Bay Sands in the backdrop before moving on!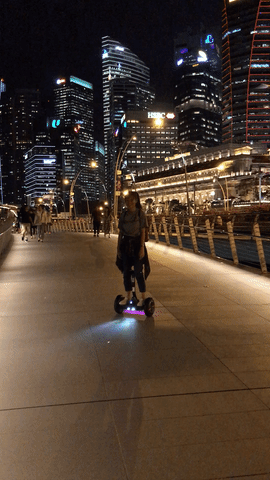 Take care as you navigate through the crowds of people across Jubilee Bridge where you'll enjoy more scenic night sights of the Marina Bay Skyline along the way, such as the brilliantly lit Singapore Flyer in the far background.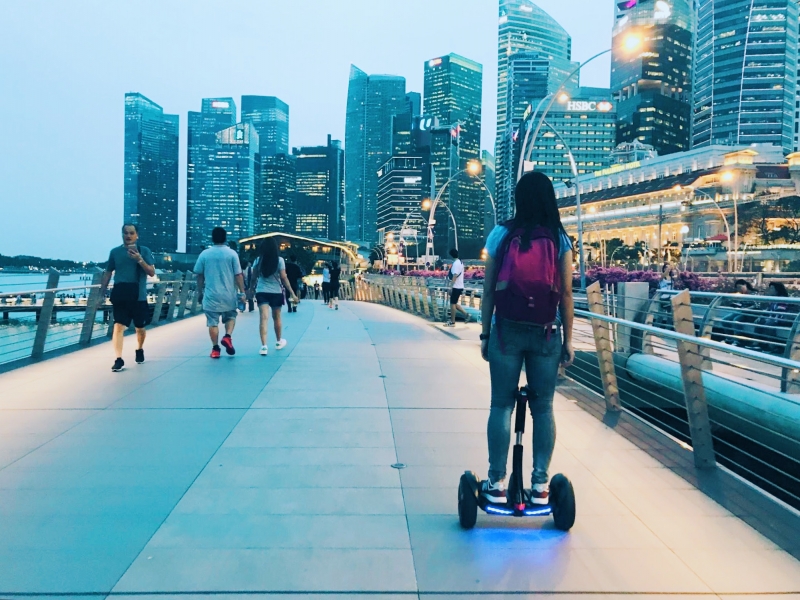 Keep going! Enjoy the cool breeze as you course past the throngs who will look on in envy. You'll also be able to get pretty awesome views of the skyscrapers of the Central Business District. If you'd like, stop by the ice-cream uncle's ice-cream cart for a traditional ice-cream sandwiched in bread – and have it on the go!
2. Reach Gluttons Bay and have round #1 of supper
As you continue on your journey, you'll find yourself reaching Gluttons Bay, which is beside the famous Esplanade, or more affectionately termed by the locals as "durian" due to its spiky panelled exterior. Stop, dismount and roll your segway along by its convenient pull up handle as you enter Gluttons Bay food centre! Always remember to dismount and glide your segway along in especially crowded and indoor areas – safety comes first!

With that, park your segways under the table and get to having some delicious supper! Feast on an assortment of local delights from char kuay teow (fried rice noodles with oyster and egg) to hokkien mee (prawn noodles) and tzechar (rice and favourite local dishes) – perfect for sharing in a big group.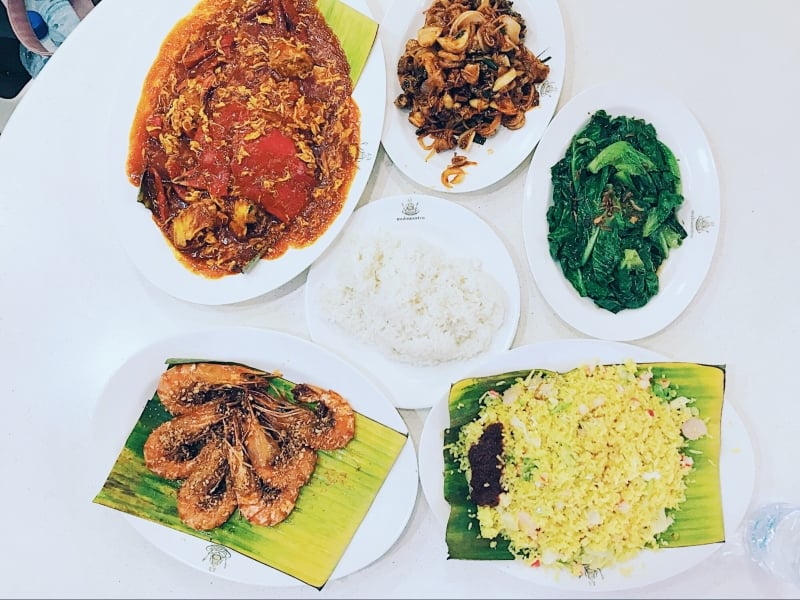 As for us, (a very hungry duo) we ordered seafood dishes and a plate of stir-fried veggies with rice! We got delicious chili crab drenched in thick tomato and egg gravy with just the right hint of spice, along with prawns and a heaped plate of fried noodles for good measure. It was oh-so-satisfying!
3. Cruise along Marina Bay boardwalk and stargaze at the floating platform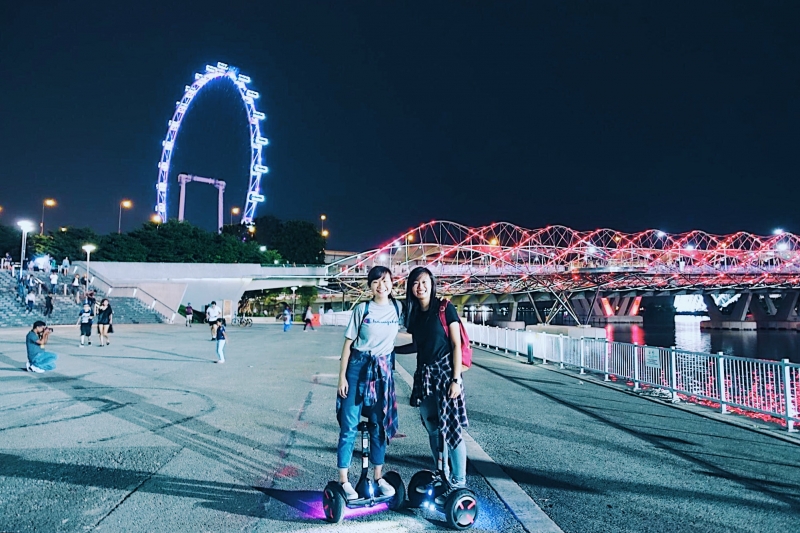 After a sumptuous supper, start up those segways again and cruise down Marina Bay boardwalk till you reach the wide open spaces of Marina Bay floating platform! If you're making good time, you'll be able to catch Spectra, a laser light and water show along the promenade of the area. Spectra is screened at 8.00pm and 9.00pm from Sunday to Thursday, and at 8.00pm, 9.00pm and 10.00pm on Fridays and Saturdays.  
Slow down and snap a shot with the Singapore Flyer and the Helix Bridge in the background! If the sky is clear enough, why not hop off your Segway MiniPRO, take a seat at the floating platform and just look up? Stargazing with the squad? Check!
4. Continue through the Helix Bridge and towards Marina Bay Sands
This part is the best place to take gorgeous night photos so have your phones at the ready in camera mode! Glide to the numerous viewing platforms along the Helix Bridge, where you can capture photos with the stunning Marina Bay Sands and Art Science Museum in the background! It's an even more spectacular sight at night, as the twinkling lights illuminate the backdrop with an effervescent glow.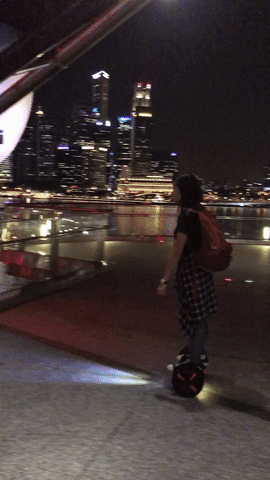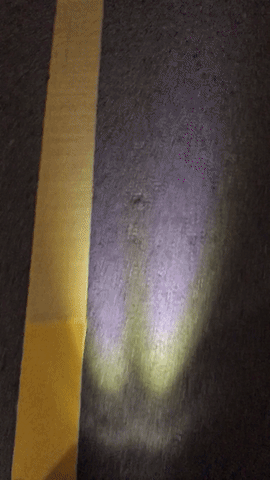 Look! The Segway MiniPRO even has headlights to guide your way!
Tempted to try riding a Segway MiniPRO? Book now and you'll get to enjoy a whopping 20% OFF overnight rental rates with the promo code <TRIPZILLA20>! Awesome or what? Head to their official website and start booking your Segway miniPRO today!
5. Zip on over to Gardens by the Bay to catch the glowing Supertrees
Once you're done with all those group photos against the mesmerising Marina skyline, continue on your adventure and head towards Gardens by the Bay. Follow the footpath which leads you under the ECP expressway, and you'll arrive at Bay South Garden in no time!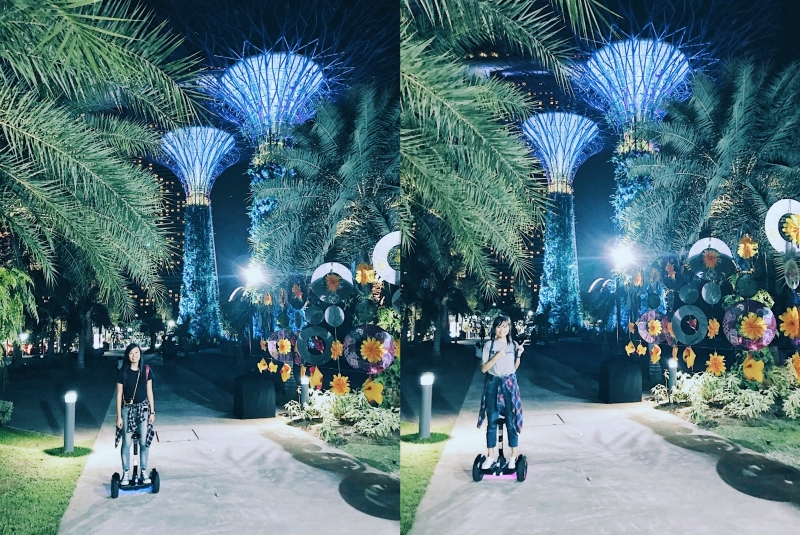 Explore the park and have even more photographs taken with the amazing Supertrees that tower over you. If you've only been to Gardens by the Bay during the day, you should definitely consider exploring the vicinity at night! Bring on the oohs and the ahhs at the exhilarating display during the Garden Rhapsody – a signature light and sound show at Gardens by the Bay, which is available daily at 7.45pm and 8.45pm.
Unfortunately, you are not be permitted to ride your Segway MiniPRO within the compounds of Gardens by the Bay…So dismount, extend the Segway MiniPRO's retractable handle and gently glide it along with you as you meander through the gorgeous gardens!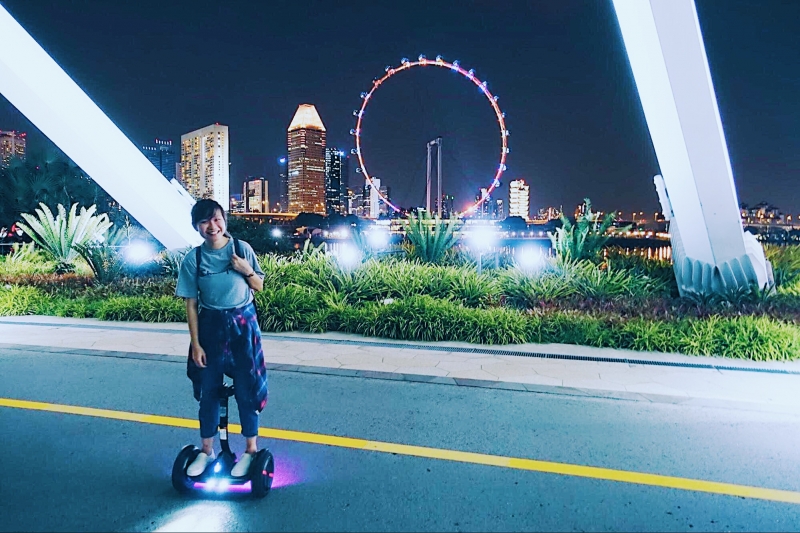 After you're done with Gardens by the Bay, exit, mount your Segway MiniPRO and off we go! While you whizz along the Waterfront Promenade and head towards Marina Barrage, you'll be passing by the Flower Dome and Cloud Forest. Don't forget to look to your left, where you'll find yourselves being treated to a clear view of Singapore Flyer beautifully set aglow under the night sky.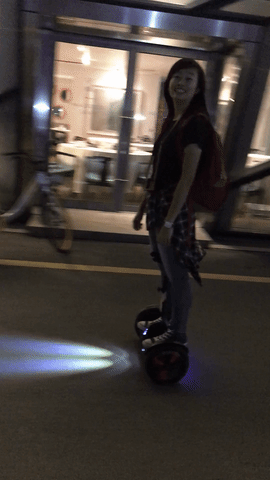 Feel the breeze gently caressing your face while you zoom pass Singapore's iconic landmarks. The best part of the Segway MiniPRO? You get to steer and manoeuvre it effortlessly with your knees and stance, hence keeping your hands completely free! This makes it more convenient for you to take photos or videos while riding. Feel free to stop for photos wherever you are and simply glide over to your next photospot when you're done! Documenting your squad's Segway adventures and sharing them around could never be easier.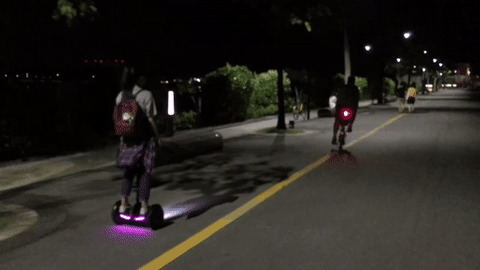 It won't be long before you find yourselves approaching Satay by the Bay. Check out the amazing selection of local delights offered, yum! Choose to grab a quick bite and replenish some energy while enjoying unparalleled views of the waterfront. Most of the food stalls are opened from 11am to 10.30pm daily, and if you happen to be in the mood for a steamboat party, you can feast your hearts out because the steamboat buffet stall opens till 1.00am – perfect for satisfying your supper cravings! Feeling thirsty? Quench your thirst with a refreshing drink from the beverage stall that operates 24 hours. How great is that?
6. Breeze through Marina Barrage and onto the trail to Gardens by the Bay East
After your short stop at Satay by the Bay, you'll find yourselves pulling up to Marina Barrage!

Situated right in the middle of the Barrage, the Central Courtyard offers an astounding view of Singapore's city skyline with a beautiful display of lights from the water feature. Navigate through the Barrage easily as you zoom through the spacious Central Courtyard on your Segway MiniPRO!
Next up, ride across the Marina Bridge!
Fun fact: Did you know that as you pass through the Marina Barrage, you're actually travelling across both reservoir and sea all at once? How cool is that!
After exiting Marina Barrage, you'll arrive at the Bay East Garden. You'd probably be familiar with the picturesque scenery it provides during the day, with amazing views of the Conservatories, Supertrees and the Marina skyline in the backdrop. Feast your eyes on a completely different sight after the sun goes down! Dismount and take a break while you soak up the unobstructed view of the absolutely stunning Marina skyline!
7. Coast towards East Coast Park and have dessert & drinks at East Coast Lagoon Food Village  
After a long and breezy ride, you'd finally arrive at East Coast Park! Singapore's largest park continues to be the most treasured urban getaway for Singaporeans – even late at night. Find yourselves in the companionship of fellow like-minded sporty individuals who are out for a late night jog or cycle in the park.
For your last stop before ending the night, treat yourself to a delicious supper (yes round 3, last round!) at East Coast Lagoon Food Village!
From Sambal Stingray, Oyster Omelette and Fried Carrot Cake to Chicken Wings and Satay, you name it, they've got it! Be spoilt for choice with the scrumptious array of local delicacies available at the food village. Top it all off with a cup of ice-cold sugar cane juice to quench your thirst after that long ride!
And… that's it! You've toured the city's skylines and gone to one of it's most spectacular gardens with lots of eating and drinking along the way too! What do you think? One heck of an awesome night activity, huh?
Additional Tips: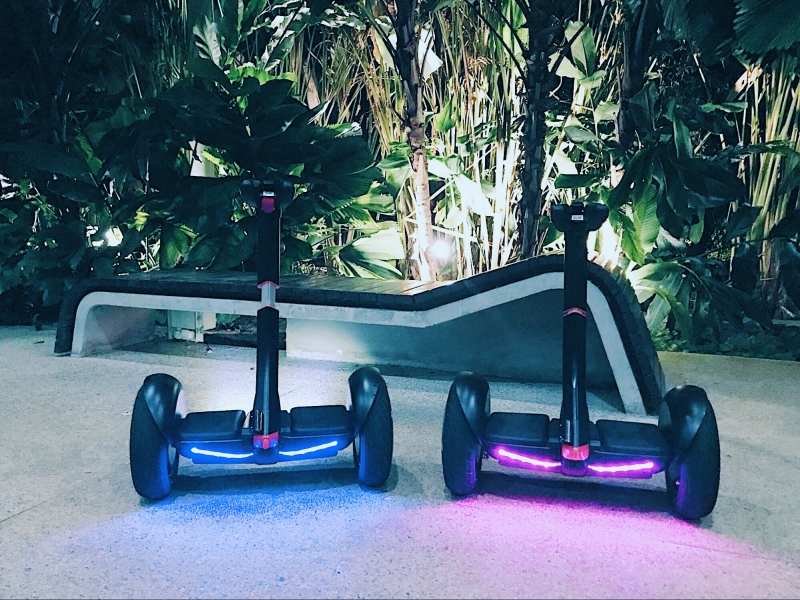 The Segway MiniPRO is probably as convenient as it gets with regards to personal transportation. That being said, for safety reasons, we'd still like to remind you to dismount your Segway and walk it along when you cross the road or are in crowded or indoor spaces. After all, this can be done so effortlessly with its retractable handle that's easily accessible whenever you need it.
If you ever find yourselves running into a situation whereby your Segway MiniPRO runs out of power, have no fear because with its portable charger, you'd be able to recharge it at any power socket along the way. While your Segway is charging up for the next leg of your adventure, take a short break, grab a quick bite and you'd be good to go in no time!
There you have it – an evening's adventure from Marina Bay to East Coast Park complete with yummy food stops along the way (because who doesn't love a good supper?). All this made possible with your trusty and speedy Segway MiniPRO transporting you from one point to the next! Day or night, what better way is there to explore Singapore than on a Segway? Mount and dismount it with ease wherever and whenever you like during your journey. Light and compact, you can even choose to also roll it along with you without any difficulty for when riding is inconvenient.
Don't just take our word for it though, because you've simply got to experience it to  believe it! Head on down to Gogreen e-Mobility Lifestyle Hub to rent a Segway MiniPRO today and hop on for a ride of a lifetime!

Where: 3 Fullerton Road, #01-04A, The Fullerton Waterboat House, Singapore 049215
Operating Hours: 11:00am to 9:00pm
Rates: Book via www.segwaytours.com.sg or rent directly from kiosk
The rates for overnight (up to 24hours) rental are:

MiniPRO/escooter – $118
Bicycles – $48

PLUS, get an exclusive 20% OFF rental rates when you use the promo code <TRIPZILLA20> while booking!
---
Brought to you by Gogreen Lifestyle Mobility Hub