Contributed by: A Girl & A Bald Traveller
There is always a first time for everything.
In fact, part of the fun of travelling is the discovery of "many firsts". And on this trip, for the first time ever, we found ourselves in a situation we'd never experienced before…..
We had changed too much money.
If you've been following A Girl & A Bald Traveller, you'll know our travel style is the impromptu – whatever comes, comes, sort of travel.
Research and prior preparation is not our strongest suit. This time, though, I thought we should change more because:
a. Part of our 10-day trip to the Caucasus encompassed oil-rich Azerbaijan,
b. A similar 15-day trip to the same three countries organised by Dynasty Travel cost almost SG$6,000!
With that in mind, SG$800 should do it – including hotels, tours, food and transport. (Including flights, it would cost around SG$1200.)
I was wrong. SG$600 was all we needed.
And if we really wanted to go budget? We could probably do it under SG$400. But this wasn't our usual backpacking trip. This was a "luxury trip". Tours, restaurant dining, a hotel stay-cation maybe; and also, part of my proposal/engagement plan to "The Girl".
Countries travelled
Azerbaijan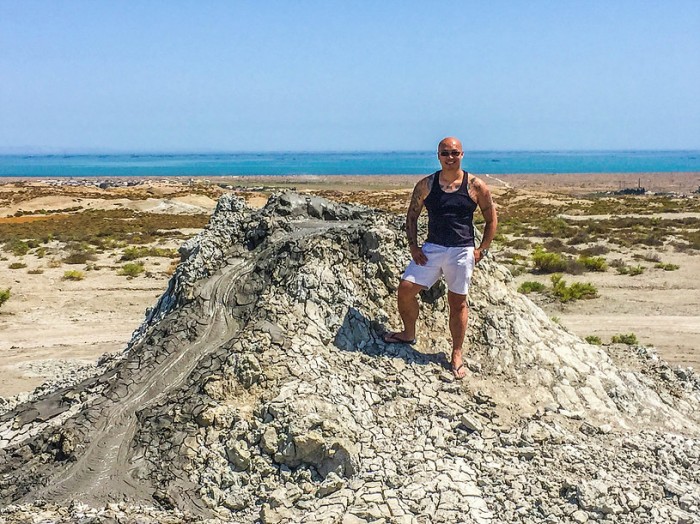 Mud Volcano in Azerbaijan
Also read: 9 Essential Experiences to Have in Azerbaijan
Georgia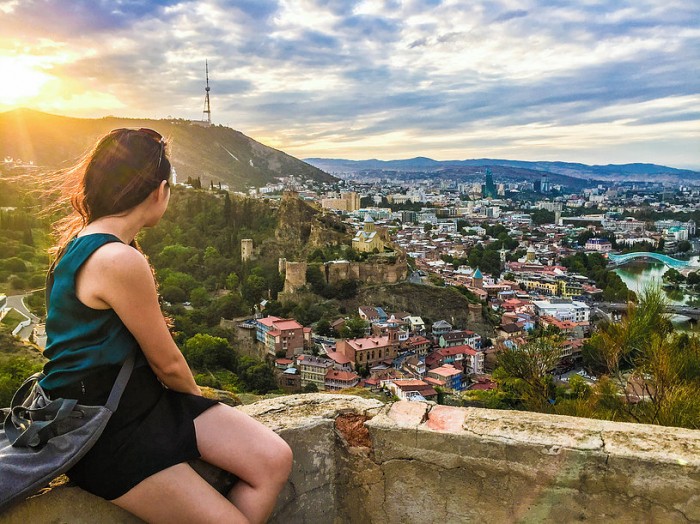 Overlooking Tbilisi, Georgia, from the hill tops.
Armenia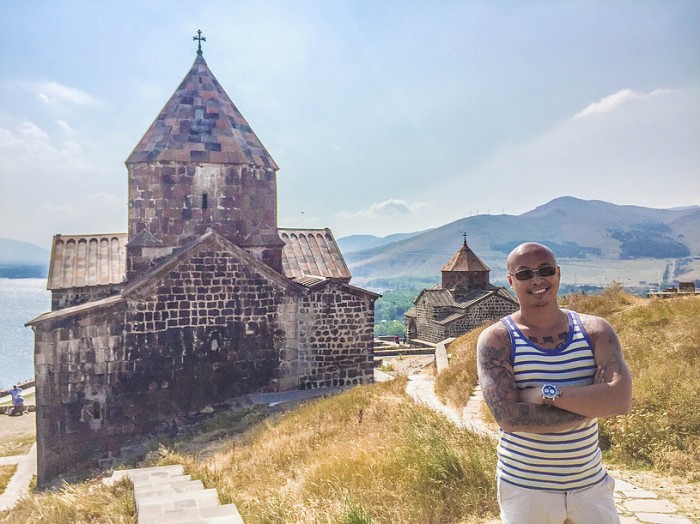 Visiting a monastery at Lake Sevan, Armenia
Average prices
Airfare
Emirates return-trip SIN – DXB, Dubai: SG$743
FlyDubai, Multi City: DXB – Baku, Azerbaijan / Yerevan, Armenia – DXB  SG$475
Total: SG$1,218
Transport
Average taxi cost: US$1–2
Average metro (MRT) cost: US$0.20–0.30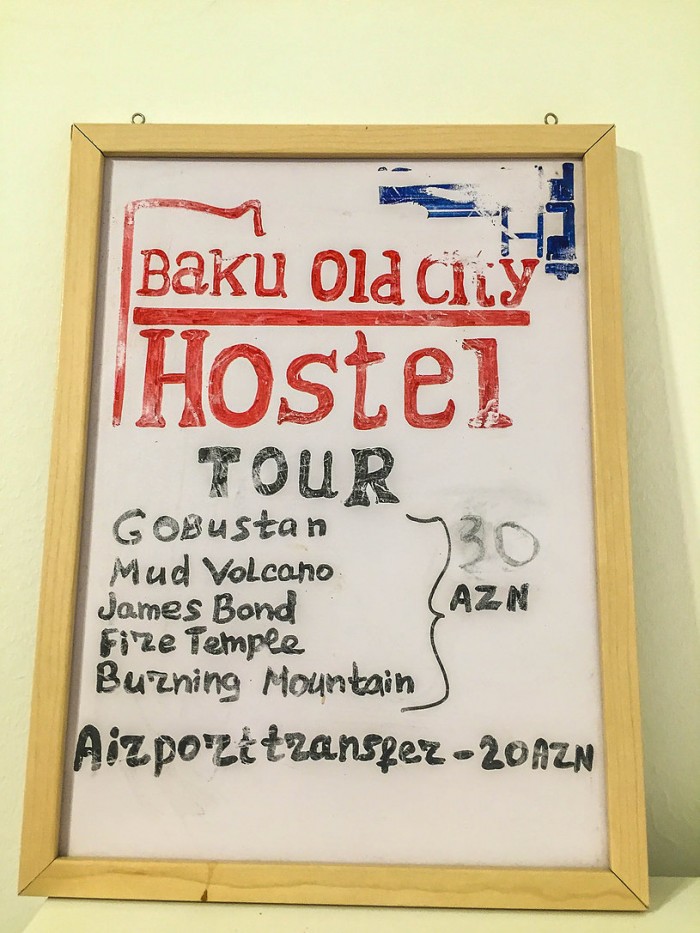 What! So many attractions for just the equivalent of US$19? Nett!!!???
Average price of a day tour
1. Azerbaijan: US$19/ day
2. Georgia: US$25/day
3. Armenia: US$21/day
Average price of accommodation
1. Azerbaijan: US$12/day
2. Georgia: from US$5/day
3. Armenia: from US$5/day
Where is the Caucasus and how to get there?
The Caucasus? Where on earth's that?
Because this European region isn't Scandinavia or the United Kingdom, most Singaporeans (even those who claim to "travel frequently") would be hard-pressed to point it out on a world map. The Caucasus (in as simple an explanation as possible) is the region that separates Europe from Asia.
Getting to the Caucasus from Singapore can be quite costly. The cheapest way is to get a cheap ticket to Dubai. This should cost you roughly around SG$700 for a direct flight, or as low as SG$450 if you don't mind transits. From Dubai, simply catch a flight on FlyDubai (the budget version of Emirates); a multi-city or return ticket should cost around SG$500.
Of course, the other way, if you're as wealthy how some Singaporeans portray themselves to be, is to simply book a 15-day package tour from Dynasty Travel for slightly under SG$6000.
Local tours & attractions: SG$108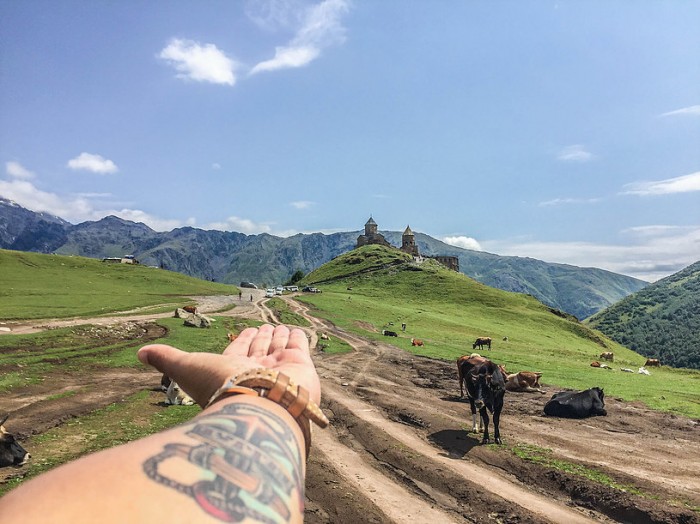 Kazbegi, Georgia. This picture doesn't give it enough credit. It's way more beautiful than this, Just run a google search!
Now, the Caucasus aren't exactly what I would call a "typical Singaporean" destination – that would be Scandinavia. Georgia, however, could be somewhat "acceptable" even for a Singaporean. Tbilisi, its capital, ranks way up on my list of favourite European capitals; and trust me, I've visited more European capitals than most.
It sort of reminded me of Budapest (another typical Singaporean destination) but with a more raw, romantic old world charm about it. And if you thought Budapest was cheap, wait till you get to Tbilisi. In Georgia, entrance fees to most attractions are pretty much non-existent. (Either that or they cost US$1.)
Georgia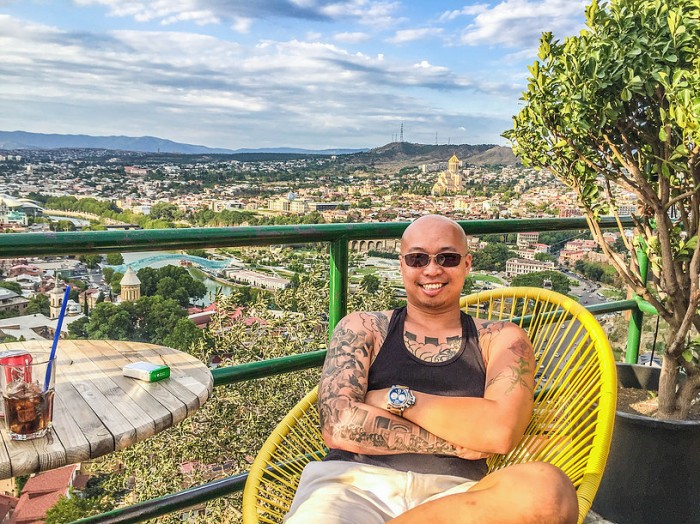 Enjoying the view of Tbilisi from a cafe up on the hills.
If you're wondering, how much of the country can you really experience in four days? (This is the amount of time we spent in Georgia.)
In the case of Georgia? Plenty!
Like many European capitals, Tbilisi is made up of the "old" part, and the modern part. There's nothing much of note in the modern part of the city; and if you get about by taxi like we did (it costs just US$1–2 per person), you'll find yourself in the "old part of town" (basically the beautiful and interesting part) by lunch. From there, half a day is more than enough to wander about and enjoy the wonders Tbilisi has to offer.
For our evening program, all we had to do was take a cable car (the cheapest cable car ever at US$2 each way) right up to the Narikala Fortress overlooking the entire city to savour the one of the most beautiful sunsets we'd ever seen before heading down for a dip in a traditional Georgian Sulfur Bath.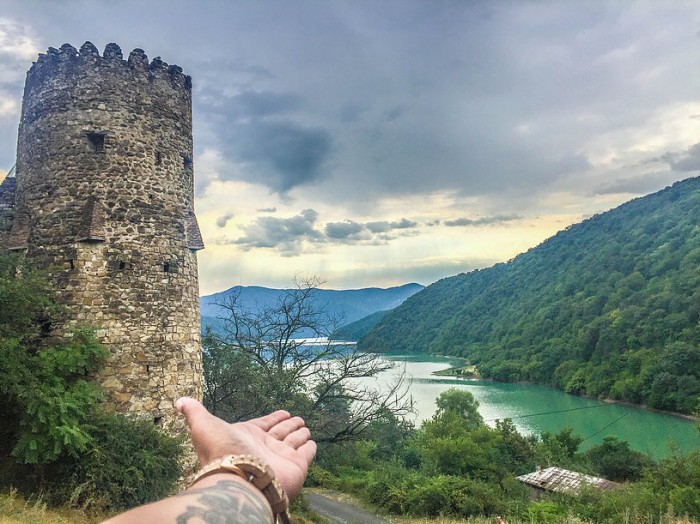 Georgia is really beautiful. When we happened to stop for a toilet break, I looked up and realised, "Wow. What a great view!"
Tbilisi, being the capital, also happens to be the launchpad for most tours around Georgia. From Tbilisi. we took a day tour all the way up to the magnificent Kazebegi, (a must-see attraction of Georgia) just kilometres away from the Russian border.
Because we had just four days in Georgia, we wanted as diversified as possible an experience. In Tbilisi, we embraced the old world charm of Georgia. At Kazebegi, we witnessed part of the beauty of the Georgian mountains. And in Kakheti, "Georgia's desert region" of the David Gareja Monastery, we toured wineries and castles.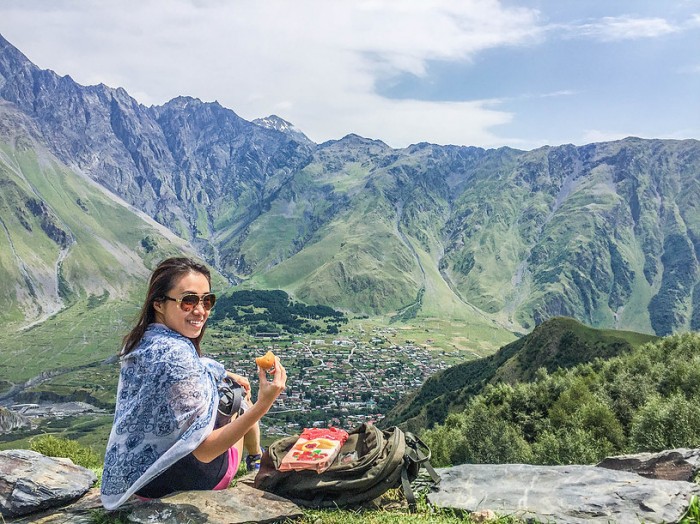 Having lunch up in the Georgian mountains. A perfect place for a picnic.
If I could turn back the clock and change the way I planned this trip, I would have factored in a day or two to visit Svaneti, the high mountainous region of Georgia. The ENTIRE region is a UNESCO World Heritage Site.
Leave is a precious commodity in Singapore. Employers can be stingy with it, and sometimes we're so busy with work that we just can't consume it. Still, if you're reading this, have a week of leave to spare and hope to enjoy a vacation in Europe without breaking the bank, there's no European country I'd recommend more than Georgia for a one-week visit.
Azerbaijan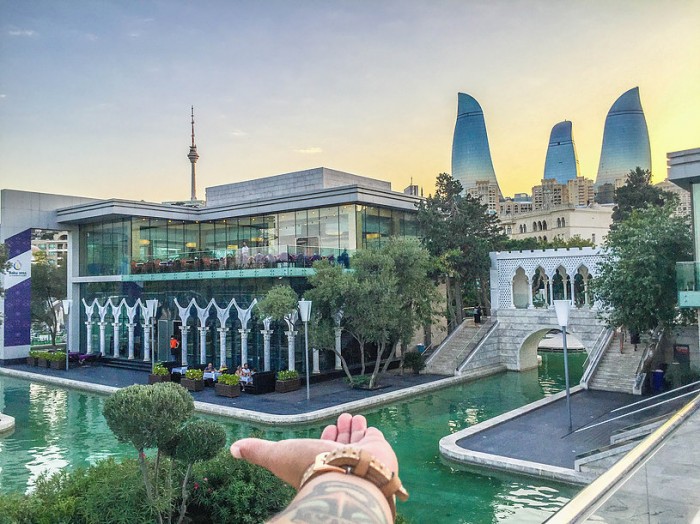 The Flame Towers of Baku is arguably the most iconic landmark in the city. Here's how it looks in the evening.
Azerbaijan is home to some of the world's quirkiest "travel attractions". And if you were to run a google search, you'll find very little information on its "attractions", probably because they only really started having a more welcoming visa policy this year. From what we could google, though, descriptions like "expensive, oil-rich" popped up rather frequently, which also explains why we changed more money than what we usually would.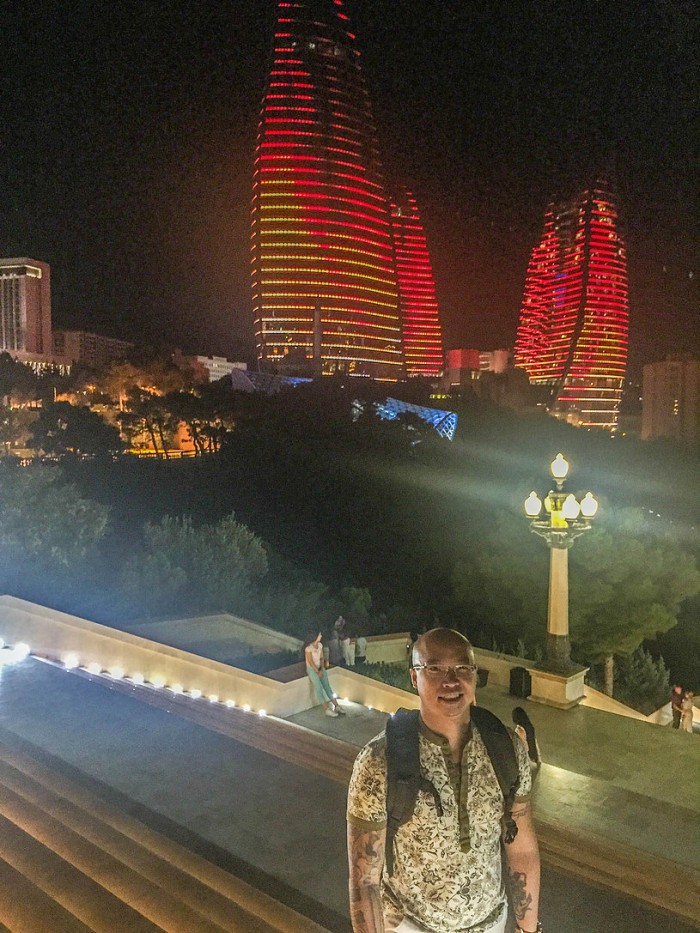 And here's how the Flame Towers look at night.
So imagine our surprise when we found that costs in Azerbaijan were at the worst, around the same price point as in Singapore; on most occasions, though, even cheaper. A FULL-day tour cost us just the equivalent of US$19–20!! And yes, that day tour includes almost all of the main attractions one would visit while travelling in Azerbaijan.
Obviously, there's more to Azerbaijan besides the attractions listed in the picture above under "cost breakdown". The point I'm getting at here is: Do You Actually Realise How Cheap Azerbaijan Is For An OIL RICH Nation!!??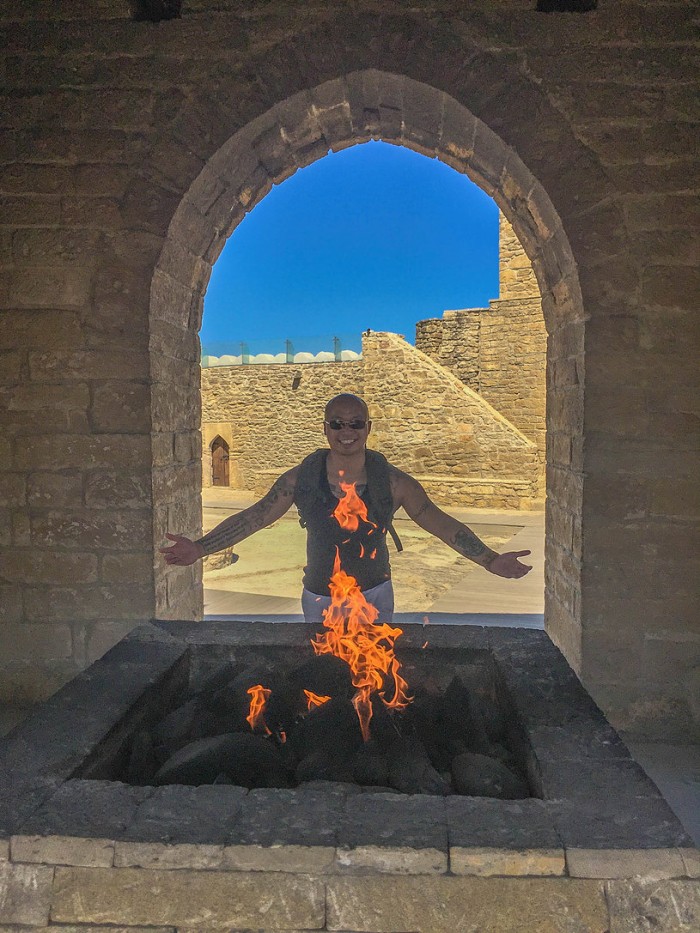 Summoning fire at the "Ateshgah of Baku" (Fire Temple of Baku)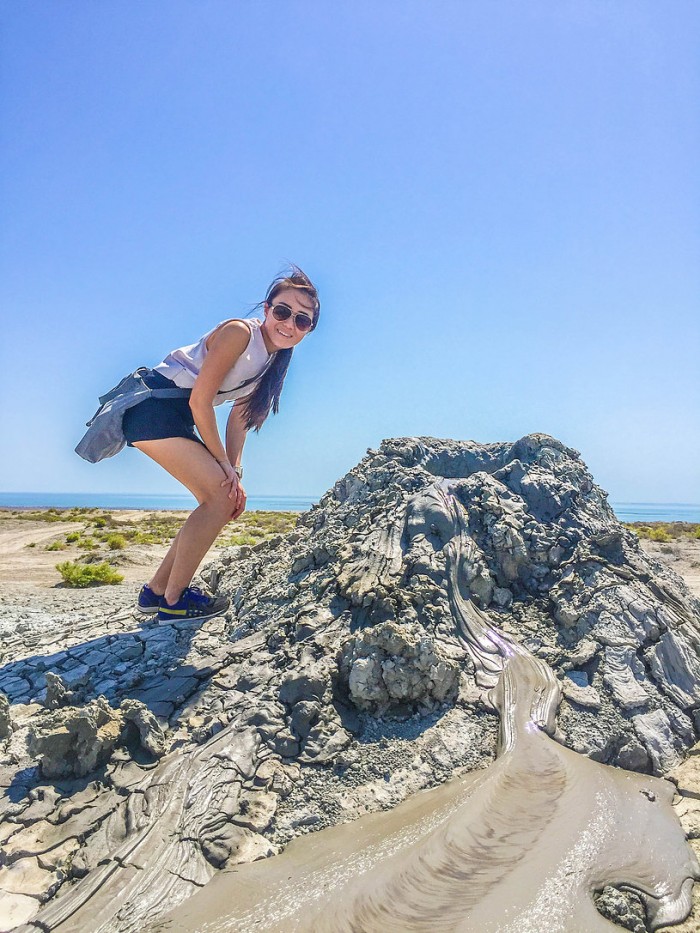 Probably one of the weirdest attractions we've come across in our years of travelling: Mud Volcanos! They are mini volcanos that spew COLD mud all over the nearby villages when they erupt (yes, they do).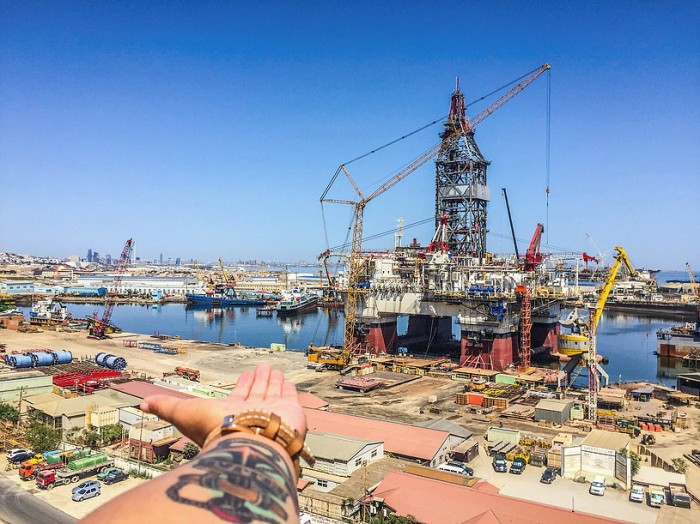 Exploring shipyards, oil rigs and oil fields are part of the attractions of this country.
Did you know that the oil fields in the James Bond movie The World is Not Enough starring Pierce Brosnan was filmed in Azerbaijan? Since then, the "oil fields" have been renamed "The James Bond Oil Fields".
The city of Baku reminds me of a Dubai in the making. Weird modern structures popping up in the midst of ancient buildings. In the same way that James Bond has a license to kill, the architects seem to possess a license to build. Restrictions? Regulatory bodies? Nah, just build whatever, wherever; as long as they "outbuild Dubai".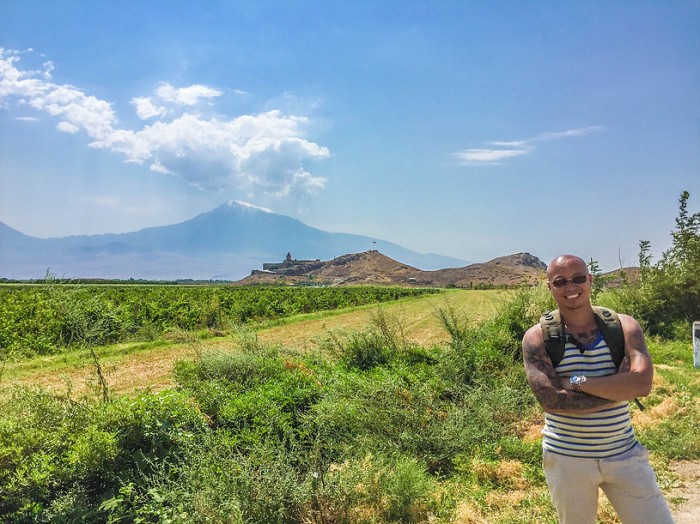 It was a cloudy day when visited Khor Virap (above). On a clear day and in the "right season", Mt Ararat can be seen towering majestically in the backdrop.
Armenia
We found Armenia to be in stark contrast to Azerbaijan (and by the way, these two countries aren't on friendly terms). Skyscrapers were few in between, the capital of Yerevan was generally brown and dusty, and few people, if any, spoke English.
Being the world's FIRST Christian country, it's no surprise that the main bulk of Armenia's attractions would be "early Christian" monasteries. One of Armenia's monastery must go's would be Khor Virap (above). This particular monastery has amazing views of Mount Ararat at its doorstep. What's the significance of Mount Ararat you ask? It's the resting place of Noah's Ark that's what. (Even if you aren't a Christian you should have heard of Noah's Ark.)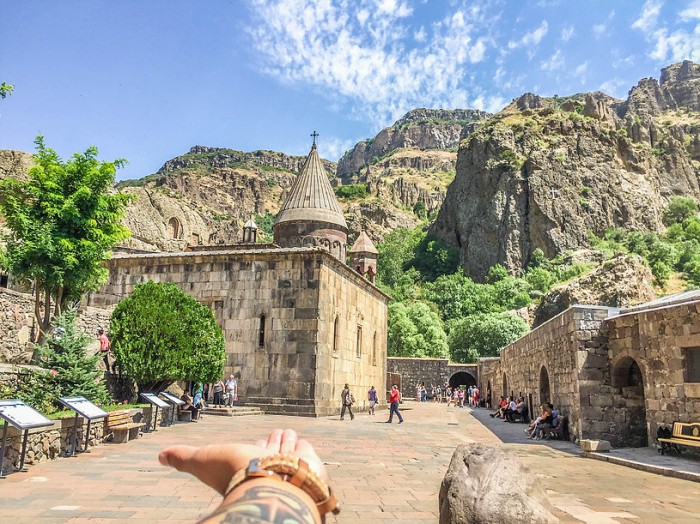 Monasteries, and even more monasteries… if not, it's churches or temples of the "sun/light god"
If you don't enjoy monasteries, I certainly hope you're a history buff or enjoy trekking, else you might want to cut down the number of days here. Sure, there are beautiful mountains and majestic lakes (I proposed to "The Girl" at Lake Sevan, Armenia's most famous lake), but if I were to be absolutely honest, I enjoyed Georgia more. In Armenia, I kind of had "monastery overdose".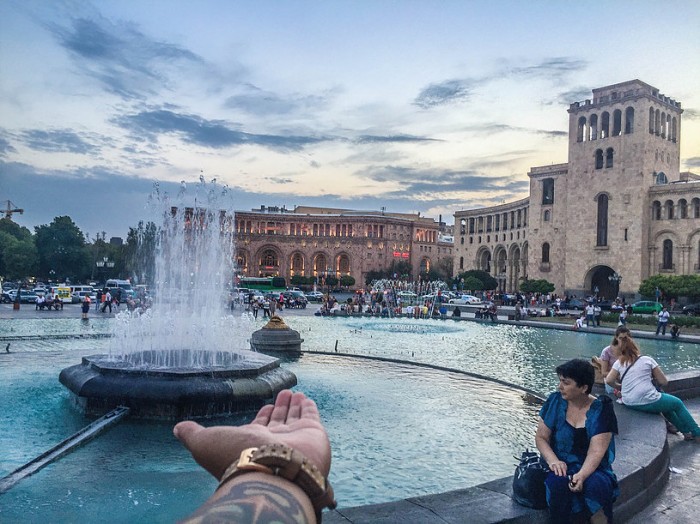 Republic Square, Yerevan. Armenia's equivalent of our "Orchard Road"
On the whole, a vacation in the Caucasus can be really cheap. 4- or 5-star hotels cost as low as US$80 a night, meals at restaurants cost less than a beer back home (Singapore), attractions are mostly free (or cost US$2), and day tours? They're so affordable you'll forget you even paid for anything.
Here's a tip or two for "kiasu" Singaporeans who are planning a trip to this part of the world. Don't even bother booking anything in advance on the internet – they're all mostly rip offs. Just fly in, head to the city and take your pick from the many local tour companies in the city.
Food, drinks & "happy spending": SG$153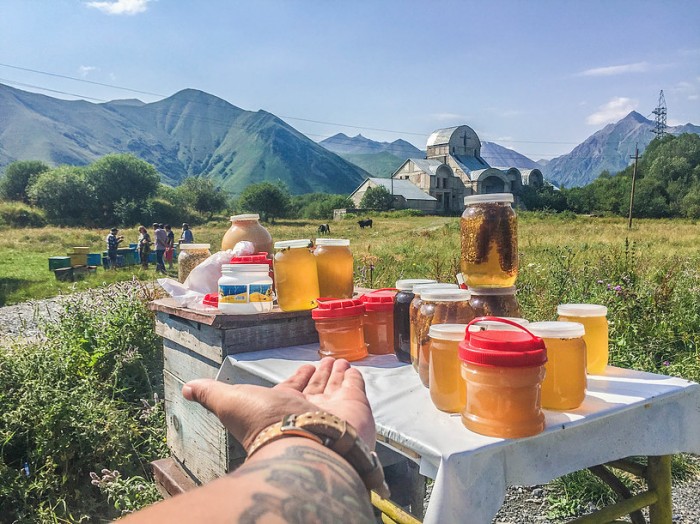 On the way to Kazebegi, we found the countryside of Georgia littered with "honey sellers".
The Girl & I, we hail from a country of self-proclaimed foodies. Singaporeans love food. We love taking photos of food, spending excessively on food, queuing for hours because if other people are queuing, it's probably good; and apparently, it's not cool to not have tried the latest food craze like "milk tea" from Taiwan or "cheese tarts" from Hokkaido", which we still have yet to bother to queue up for.
Fortunately, while we do retain some of our Singaporean traits, (not the love for queuing, though) our priorities when it comes to food while on vacation is pretty straightforward: be sure to try the local cuisine at least once.
And as luck would have it, the local cuisine is pretty cheap. Dirt cheap.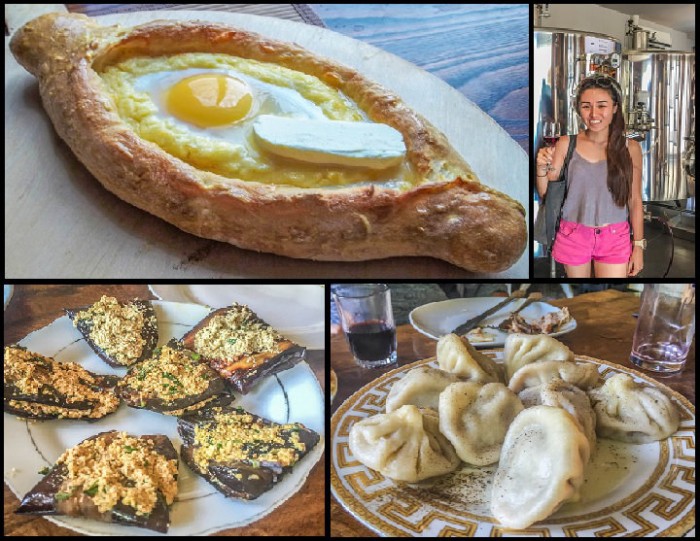 Snapshots of the delicious Georgian cuisine. Khachapuri (bread bowl of egg and cheese), eg plant, and Khinkali (like an oversized Xiao Long Bao).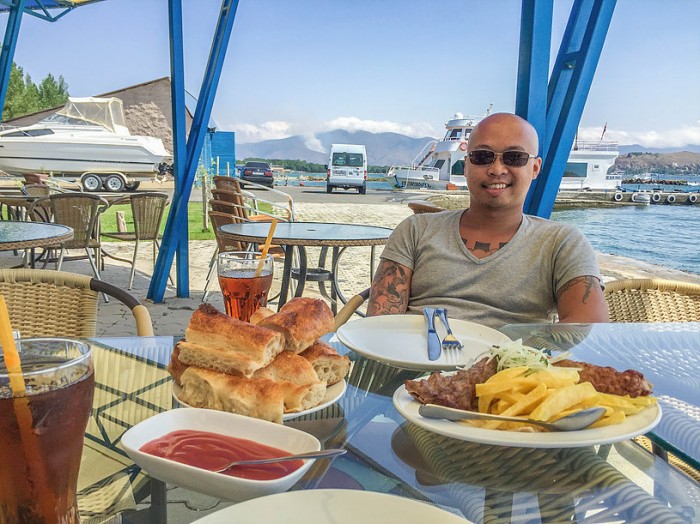 For an idea of just how cheap the food in the Caucasus can get, take a look at the above picture. One set of chips with beef kebabs, chicken kebabs, two iced teas, a plate of chicken wings (not in the pic) and a mountain of bread cost us a grand total of… US$9!
US$9!
That's US$4.50 EACH!
In a restaurant! At the most expensive 5-star hotel in the area! (The picture above was taken at our hotel restaurant at Lake Sevan, Armenia). Guess how much non-restaurant food costs?
Oh, and did I mention, a litre of wine in Georgia costs as low as US$3.20!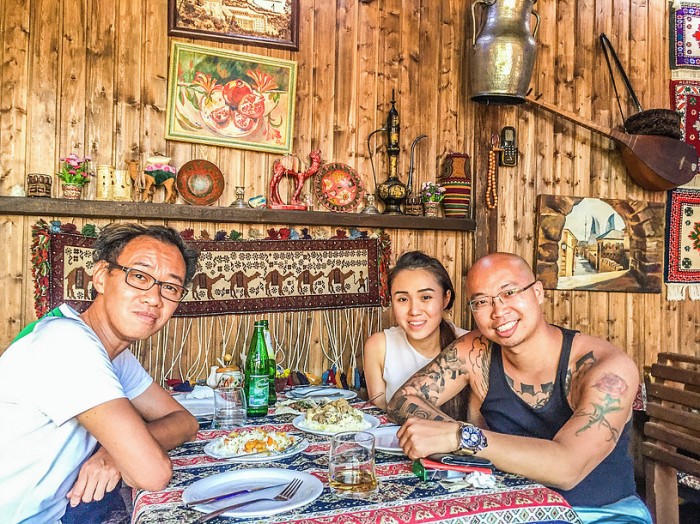 In Azerbaijan, a restaurant meal costs slightly more, say US$8 per person for kebabs, beer and rice.
Because of the ridiculously low prices charged by restaurants in general, we didn't even bother asking "where the locals eat" like we usually do. For the first time on our travels, we ate according to the "ambience" of the restaurant instead of how much it cost.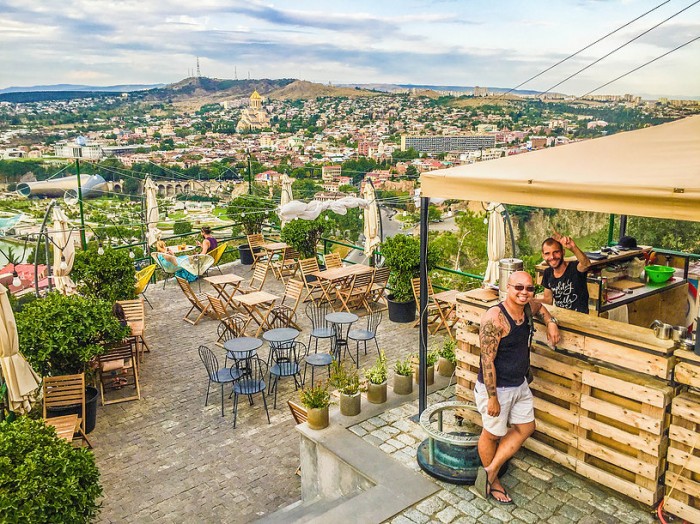 At a "hill top bar in Tbilisi. The coke up here costs more than a Kebab meal in a typical Georgian restaurant. But for the view, it was worth getting ripped off for.
Singaporeans who are huge fans of cafe-hopping and "paying for ambience" will love Tbilisi, the capital of Georgia. The city is littered with pubs and cafes. In all honesty, I am puzzled when readers refer to us budget travellers. We dine at restaurants most of the time (those that locals visit), stop for a snack or beer whenever we feel like it, and enjoy our meals like most Singaporeans would (except Singaporeans prefer tourist traps over local cafes).
Of the three countries, we enjoyed Georgian cuisine the most. If you're a vegetarian, however, dining in the Caucasus might be a bit of a problem. You'll probably have to survive on a diet of olives, cheese and eggplant and tomatoes. If that's not your idea of a meal, you might be better off staying back home.
And if you're still sceptical? Let me go on record here (but you can quote me on this): You can DEFINITELY get by COMFORTABLY on US$10 a day in the Caucasus.
Accommodation: SG$191
Note: this is not inclusive of two nights on the night sleeper train, which is factored under "transport".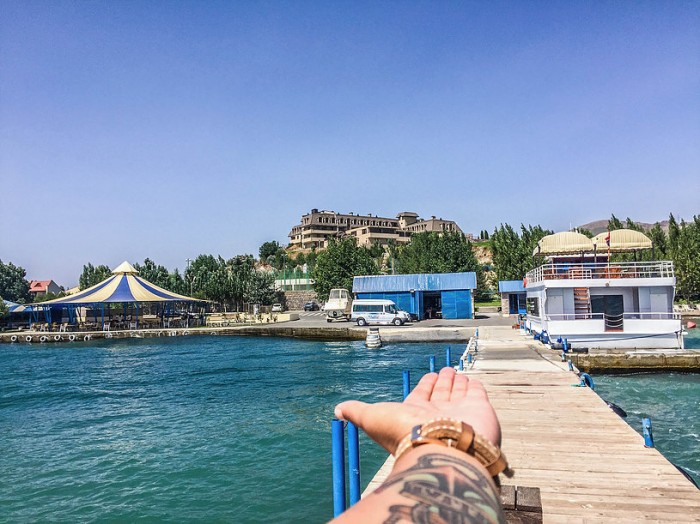 Our 5-star hotel at Lake Sevan, Armenia
Accommodation is extremely cheap in the Caucasus. On this trip, we stayed mostly in hostels, save for one night in Lake Sevan, Armenia, where I booked the best 5-star hotel in the area as I was planning to propose to "The Girl". As pleasant as hostels can be, I thought a lake-view suite was for fitting for the occasion.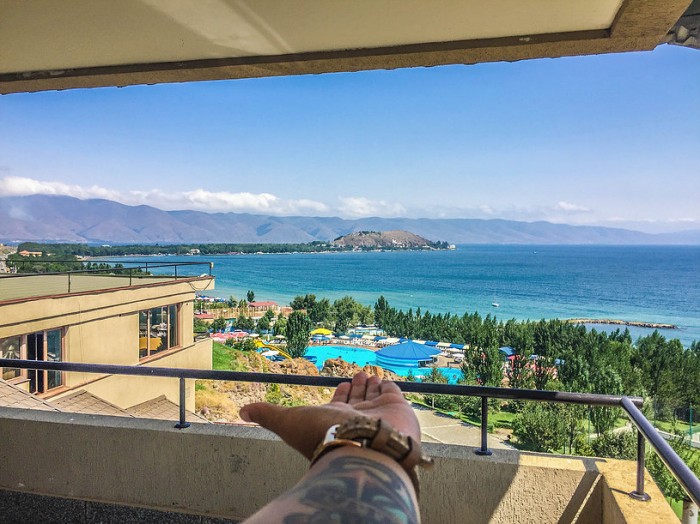 The view of Lake Sevan from our hotel suite.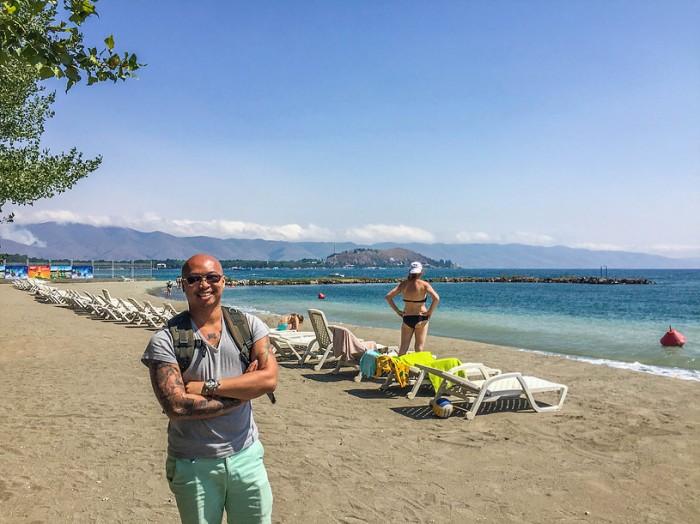 By Armenia's standards, it was a very decent hotel which had its own "water-park" and even a private beach (above) for guests! The cost? US$105.
Hostels in general cost upwards of US$5 a night in both Georgia and Armenia – cheaper than even the Balkans! (For the benefit of Singaporeans who can only pinpoint France or Italy on the map, the Balkans consist of Bulgaria, Bosnia, Serbia, Albania, etc….too many to list.) Azerbaijan, with its limited number of hostels, cost upwards of US$12 a night, reasonable nonetheless.
Our hostel dorm in Baku, Azerbaijan which cost US$12 a night. It had its own privacy curtain! Like in Japan!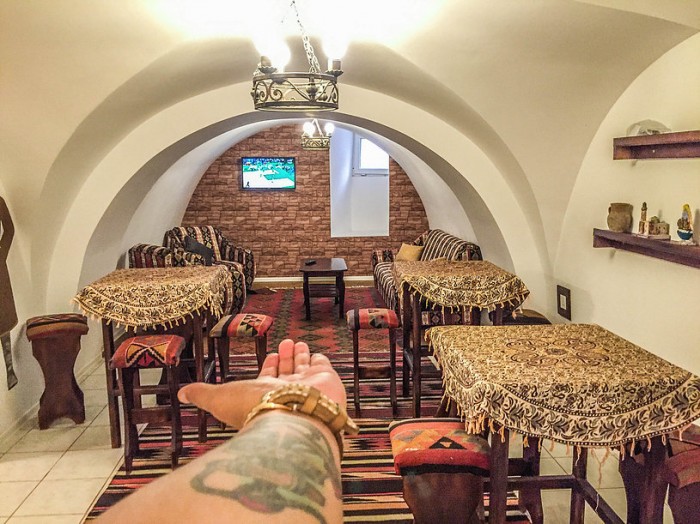 Hostels/hotels mostly include free breakfast as part of the room cost, so that's one meal you save. And no, not all hostels serve a basic breakfast. Our hostel in Baku served, eggs, spaghetti, bread and ham! That's a pretty decent meal considering it was complimentary.
To be fair, I've stayed in better hostels in Europe or even China than those in the Caucasus, but for the price you pay, it's in no way unacceptable. Of course, Singaporeans would rather spend US$105 as opposed to US$5 because that's a trait of ours.
Transport: SG$115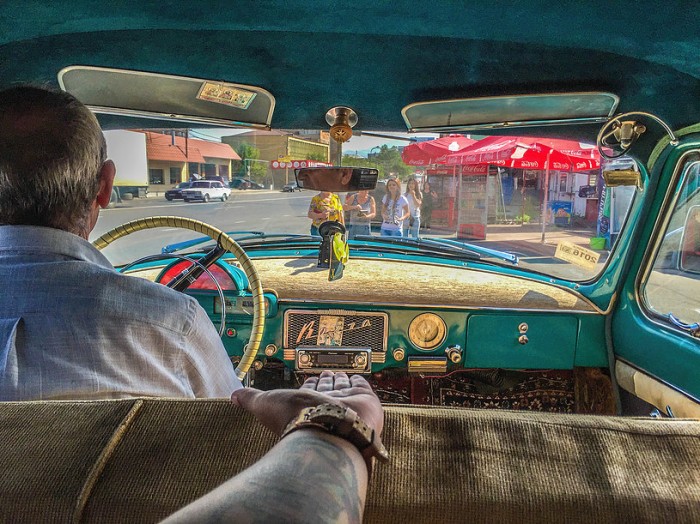 The inside of a taxi in Armenia. The driver was really proud of his well-maintained vintage car. He kept on asking me to drive it!
If I had to name a potential roadblock a Singaporean would face while travelling "free and easy" around the Caucasus, it wouldn't be accommodation standards (a pet peeve of Singaporeans nonetheless) – it'd be the language barrier. Besides their respective local tongue, the next most commonly spoken language would probably be Russian, which last I checked doesn't seem to be the "top pick" of Singaporeans looking to pick up a 3rd language (is the trend now still Japanese? or has it moved to Korean?).
Almost no one spoke English. Not at the ticket office at the railway station, not the local bus drivers or the taxi drivers; not even the random local on the street. Fortunately, wild gestures and noises will get you anywhere. And of course, the world's most powerful language: the language of money.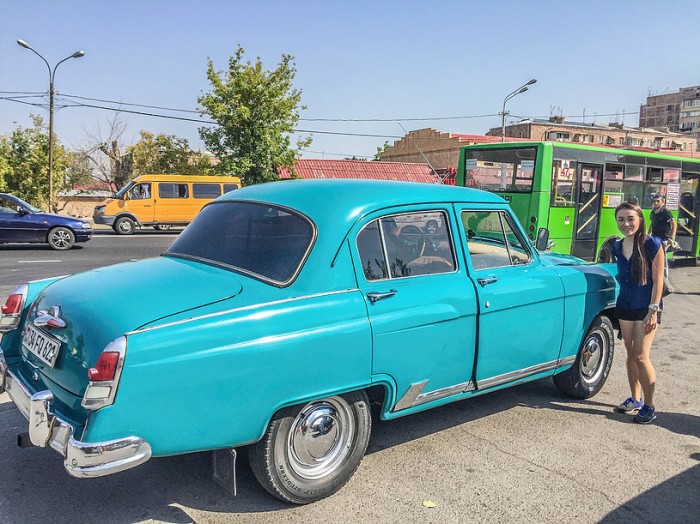 Since we paid US$1.50 each to take this taxi to our hostel, we might as well take a photo of it!
As always, we made our way about on public transport, which cost about US$0.20 for a short 15–20 minutes trip, either on a marshrutka (like a minibus) or by the metro (MRT). Because the language barrier got annoying after a while, we decided to let our money speak for on our behalf. We took taxis. Yes, taxis, almost everywhere.
After all, at a rough equivalent of US$2 (US$1 each) to get from one attraction to another within a city, we decided it was money well spent. Taxis saved us time, got us around more comfortably, and cut down the opportunities we had to practice our non-existent Russian, which I was grateful for.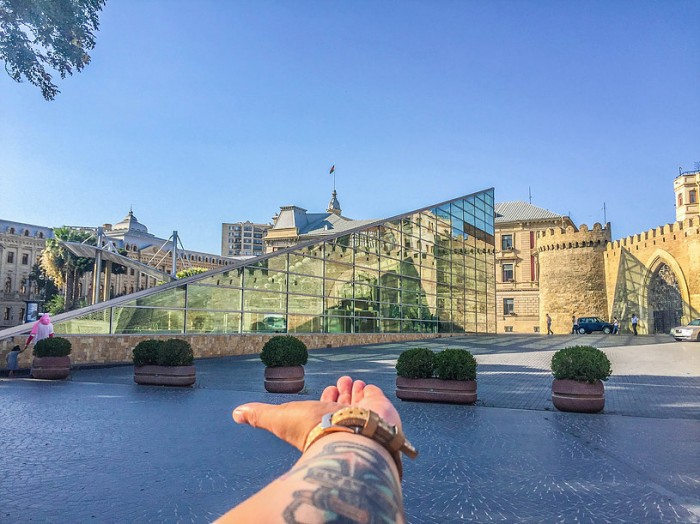 The metro (MRT) station in the old city of Baku, Azerbaijan. Modern structures like this (above) sprouting up in the midst of ancient buildings are commonplace in Baku.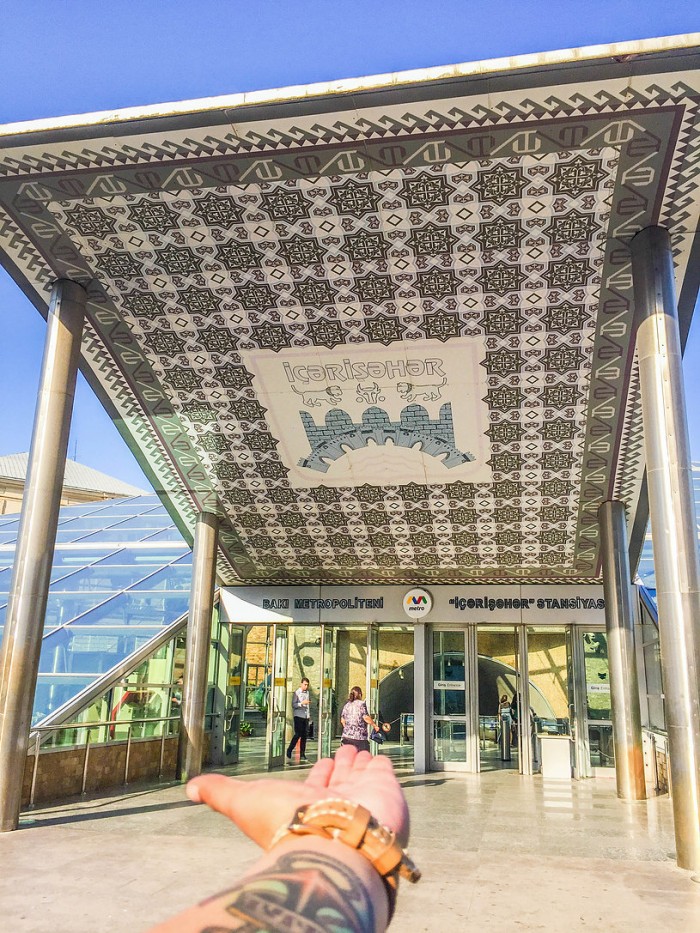 The entrance of the Metro (MRT) Station. Tickets cost just US$0.20.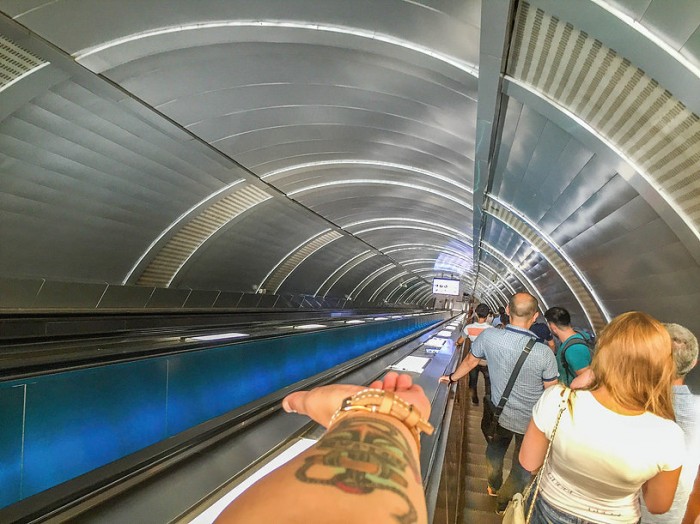 The longest escalator we'd every ridden on. This photo was taken halfway down, imagine how deep underground their trains run.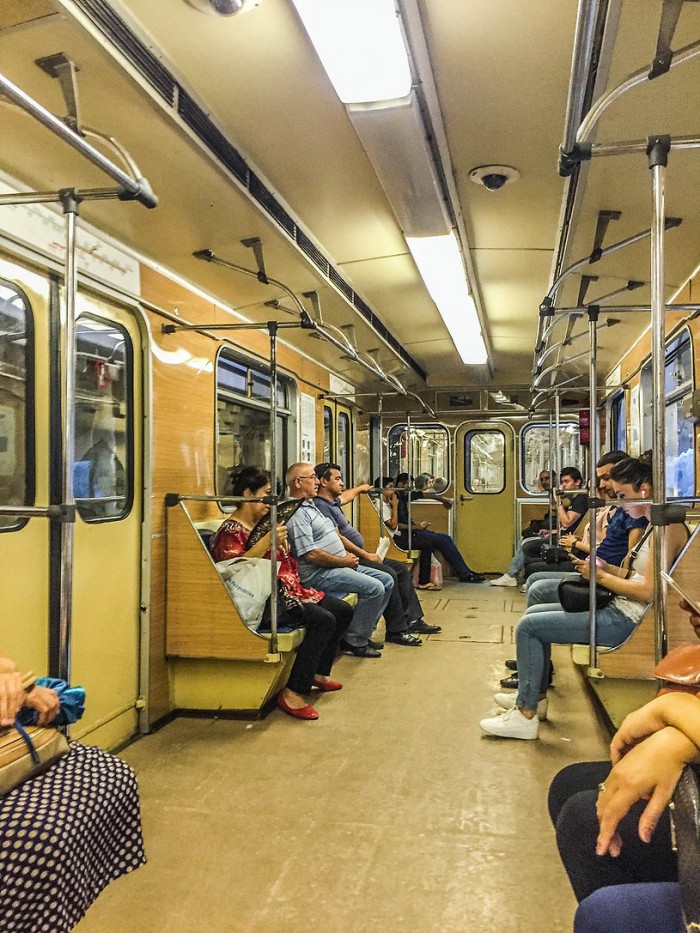 A typical "Metro" in the Caucasus. Acceptable for US$0.20.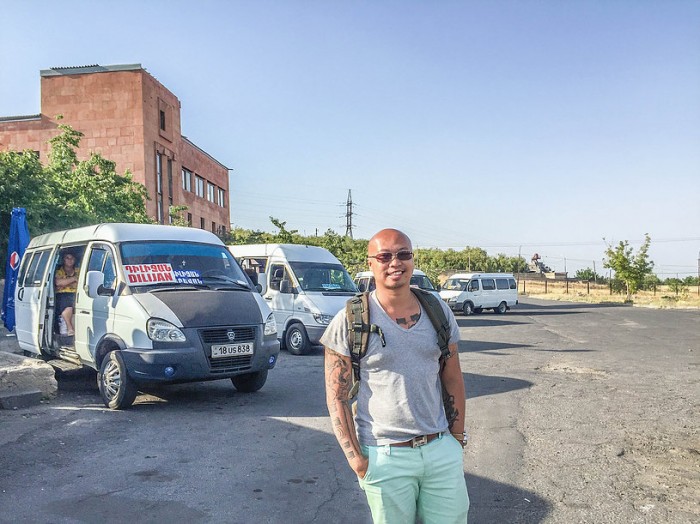 A marshrutka (mini bus) used for getting around the city. In this particular picture, we took the marshrutka to Lake Sevan, Armenia at a cost of AMD 1000, roughly US$2.20 for a one-hour ride. Rides on the Marshrutka within the city cost just AMD 100, US$0.20 per trip.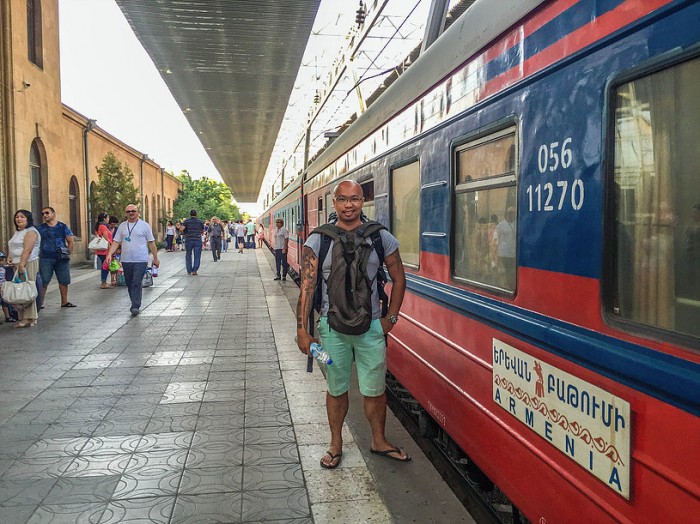 Our first experience with trains in the Caucasus began in Azerbaijan. While we could technically buy our tickets online, the Azerbaijan website wasn't exactly the most user friendly for an "IT idiot" (me). Eventually, I gave up and decided to purchase tickets to Tbilisi over the counter at the railway station, which brought along a new problem; language.
At the railway station in Baku (the capital of Azerbaijan), there is only one ticket counter that "caters" to English-speaking passengers, Unfortunately, it happened to be closed that very day we were there. Then began a 30-minute long "booking debate", them speaking Russian and us in a mix of English with wild hand gestures.
The result? We finally got our tickets, but because the first and second class compartments were both full, we had to settle for third class. Which we were glad to have – at least until we arrived at our train the next evening.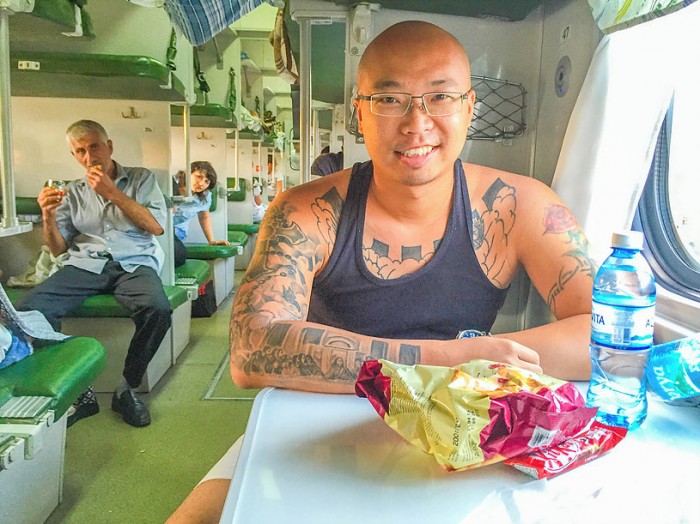 This (above) is how our third class compartment looked like. It was comfortable enough, cheap enough, and being an overnight train, saved us a lot time. There was only one issue: it was summer.
The temperature in Azerbaijan was at roughly 39–41 degrees during our visit. Not in the Sahara desert, nor in India, or even growing in Singapore (an average of 30 degrees) could have prepared me for this. The train was like a magnet for heat, practically a "microwave on tracks". In fact (no exaggeration here), it was even hotter than a sauna! Within seconds of boarding the train, perspiration poured out of our every pore, soaking our clothes to the skin.
We looked around and there were at least 50 of us. The train smelled like a gym with no ventilation. I looked at my watch. Another nine hours to go.
Note: Only after the train starts moving will the air conditioning be turned on. This means there is no way to escape the heat regardless of your compartment class. Even a first class ticket holder would be subject to this. The train stops twice, once at the Azerbaijan side, the other at the Georgian side, essentially meaning that you experience the sauna feeling three times in total. My point is, just buy the third class ticket – it's at least US$50 cheaper and you're going to sweat buckets all the same.
The experience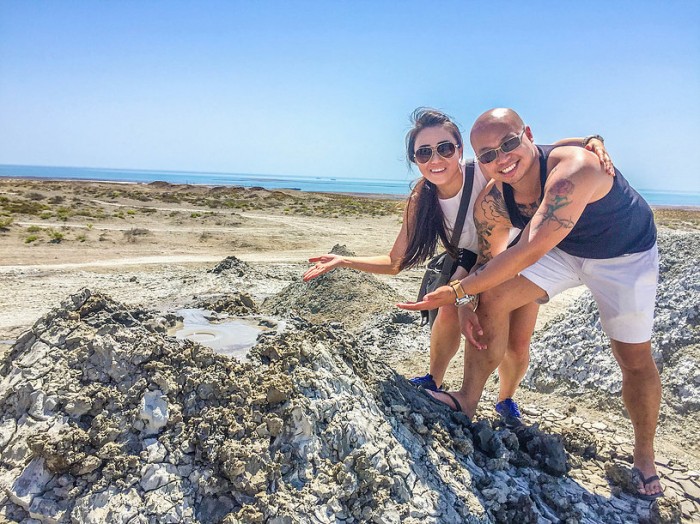 Would we recommend Singaporeans to visit the Caucasus?
Well, maybe just Georgia.
Somehow, I've a feeling most Singaporeans would be sceptical about visiting Azerbaijan. After all, we're a nation noted for being "sheep" and the "herd mentality" as opposed to embracing the bizarre. Armenia, beautiful no doubt, was simply monastery overload for me and just didn't float my boat. And while Singaporeans "enjoy" taking photos, oohing and ahhing about beautiful architecture, churches and stuff, they only appreciate it if the cathedral/church happens to be, say, in Spain or France. In Armenia? Well, because their friends don't know about it, it's a minus point for them.
Georgia is a perfect blend of the three countries. "European enough" for a Singaporean, yet with a touch of exclusivity. How many Singaporeans do you know who've been to Georgia? I have slightly over ten friends who've been here, buI'llll bet you know none. With it's "Lord of the Ring"-like landscapes, monasteries to rival neighbouring Armenia's, and an amazing capital city, Tbilisi, Georgia is the ultimate European adventure.
If you're able to free up enough leave for an entire week of vacation time, don't mind living like a king (yes I mean it) under SG$2000 and yet still wish to experience a European vacation, there's NO European destination I'd recommend more than Georgia. Yes, even Singaporeans will enjoy it.
Georgia – it your next European destination.