Mention Gardens by the Bay to any Singaporean, and the responses evoked would probably include exclamations about the famous supertrees and floral displays. It's our pride and joy, the top choice we'd mention when recommending local attractions to our foreign friends.
There's a high chance that you might have been to Cloud Forest before, but can you recall when that last time was? Bet you didn't know that some displays within the dome are changed periodically in order to keep things fresh!
Oh yes, there's definitely more to the Cloud Forest than being just a mist-shrouded biome with a grand indoor waterfall! Read on to learn more about what's blooming and fun facts that would make you pine for a visit to the Gardens and the Cloud Forest again!
Now Blooming: Cattleya Orchids

From now till 10 December 2017, Cloud Forest's newest section,  will feature more than 400 exquisitely beautiful Cattleya orchids of different colours and varieties throughout the duration of the display! We Singaporeans sure love our orchids. After all, our national flower, the Vanda Miss Joaquim orchid, was chosen from out of 40 types of flowers, with 30 of the species being orchid variations. Orchid lover or not, you're definitely in for a treat because this dazzling display of Cattleya Orchids will definitely wow you with their vibrant colours and elegant beauty.
Orchids belong to the family of Orchidaceae which is one of the largest families of flowering plants in the world. As you stroll through this cooled conservatory with temperatures between 23℃-25℃, similar to Tropical Montane regions such as Mount Kinabalu, look out for the different orchids in the Cattleya section! You'll get to learn about the various species of orchids as well as highlight the plethora of forms and colour variations that orchids can attain.
Don't worry about having to keep your eyes peeled for these stunning blooms because the striking colours will most certainly catch your attention! Known as the "Queen of Orchids," Cattleya is also referred to as "Corsage Orchid" due to how it was a popular accessory in the past!
From an assortment of soft purple hues of lilac to burgundy fringed petals, bright yellows and reds, with the common practice of hybridization today, we can all enjoy flowers in a wider array of colours and forms! Highlights of this display also include Rhynchloaeliocattleya which are characterized by their bigger sizes, scent and brightly-coloured petals.
Be sure to look out for award-winning Rhynchloaeliocattleya Duh's Fantasy 'Mellow' with its deep red hues and a ruffled dark fuchsia lip accentuated with yellow grooves!  
Aside from these breathtaking little beauties, there are also 4 giant hybrid flora sculptures by renowned Japanese floral artist, Azuma Makoto, to look out for! See if you can spot all of them as you stroll through Cloud Forest!
And to refresh your memory… here are the other main features of Cloud Forest:
Indoor Waterfall

What a splendid sight! Cloud Forest's very own 35m tall indoor waterfall gives you a roaring welcome as soon as you step into this cooled conservatory. Did you know that this very waterfall before your eyes is also the world's tallest indoor waterfall?
Lost World & Cloud Walk

At the top of the forest observatory, you'll find Lost World, which instantly reminds you of the wild rainforests in Jurassic Park. Lost World features a vivid, motley garden complete with plants such as the Venus Flytrap and the notorious Rafflesia flower! Take a closer look, and you'll be surprised to find that both the Venus Flytrap and the Rafflesia are constructed entirely out of toy brick pieces! How cool is that? Camouflaged amidst other real plants, they looked so authentic – we barely noticed the difference!
Take your time to meander through the winding trails of the Cloud Walk, as you admire the breathtaking scenery from the highest walking path in Cloud Forest! The cherry on top? The great 'gram spots that surround you at every turn!
Crystal Mountain & Secret Garden

Caves are a feature of real Cloud Forests around the world, so you get to experience them right here as well! Learn more about natural cave features and other geological facts at Crystal Mountain Cave! You can even get up close and examine the structures of stalactites and stalagmites, and how they form naturally within caves!
Here's a fun fact to spice up your visit by the way: notice the mirrors hanging above you when you look up at the ceiling? These mirrors have been deliberately placed there to reflect the stalagmites on the ground level, hence making them looking like stalactites hanging down from the ceiling! Thumbs up for the effort in providing a more holistic cave experience, Gardens by the Bay!
Treetop Walk

This gorgeous view from the Treetop Walk awaits you after you've finished walking through the Lost Garden and the Cloud Walk! It's absolutely fascinating to view the Cloud Forest from various different perspectives as you follow the trail meandering in and out of the main structure.
Here, you'll be able to get a magnificent view of the surrounding foliage and flora, as well as a bird's eye view of all the tree canopies within Cloud Forest. Feast your eyes on lush greenery every corner you turn – it's beneficial for your eyes too!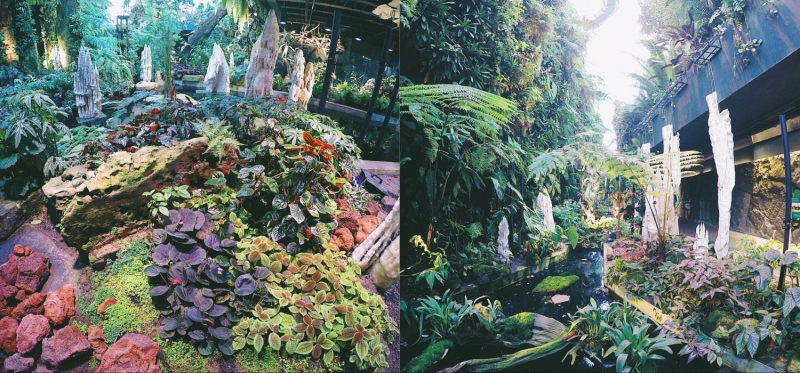 Before you exit the dome, soak in the last few moments in the Cloud Forest as you walk through the Secret Garden. You'll be able to enjoy rare plants like prehistoric ferns, begonia and peperomias nestled amongst pops of colourful ginger and heliconias! One rare plant in particular is the Wollemi Pine, which was thought to be extinct until the 1990s when it was rediscovered in Australia. And yes, you can find this endangered plant right here in Secret Garden!
Fun Facts:
1. The Cloud Forest is a cool moist biome

This is why Cloud Forest is regularly shrouded in cool mist! The other dome, Flower Dome, is a cool dry biome! Flower Dome and Cloud Forest are of the same temperature, but it often feels significantly colder in Cloud Forest because of the higher humidity level of 80% to 90%, which replicates the cool moist climate of Tropical Montane regions that are 1,000-3,500 metres above sea level.
2. Cloud Forest is just one of the many examples of energy efficiency at Gardens by the Bay

Energy-efficient technology at Gardens by the Bay helps to save at least 30% in energy consumption as compared to conventional cooling technologies.

Look up at the glass panels above you – that's no ordinary glass, but a spectrally-selective version that maximises sunlight coming through for the benefit of the plants, while minimising solar heat gain so less energy is required to cool Cloud Forest.

While you can't see them, water pipes carrying chilled water run under the ground slabs you walk on. Their function is to encourage cold air to "hug" the ground-level where visitors are, while hot air rises and is vented out. This is based on the theory that cold air sinks and hot air rises.

And what keeps the water in those pipes cold? Horticultural waste from around Gardens by the Bay and parks in Singapore! There's a biomass energy generator on site where horticultural waste is burnt to generate energy, which is not only used to chill the water in the pipes, but also to power the chillers keeping the conservatories cool.
3. There are over 72,000 plants in this conservatory!
While it's pretty obvious that there's dense and abundant vegetation in this conservatory, did you know that there are actually over 72,000 plants of over 2,660 species and varieties? Yes that's right, all over the the span of 6,000㎡, including 3,800㎡ of vertical planting space on the Cloud Mountain!
Plants in Cloud Forests around the world are increasingly vulnerable due to climate change and habitat loss. With conservatories like these, Gardens by the Bay aims to raise awareness as well as to educate the public on the importance of nature conservation.
Ready to rediscover Cloud Forest at Gardens by the Bay? Then grab your camera and let's go!
Admission:
Local Resident Rate – Double Conservatories (Cloud Forest + Flower Dome)
Adults: $20
Senior Citizen (≥60 years old): $15
Child (3-12 years old): $12
Guess what! Gardens by the Bay is also offering exclusive promotions when you purchase your tickets onsite or online! There's no time to lose, start booking your tickets right HERE.
Operating Hours: Open daily from 9.00am – 9.00pm
Mist Timings: 10.00am, 12.00pm, 2.00pm, 4.00pm, 6.00pm, 8.00pm daily
---
Brought to you by Gardens by the Bay.