Isn't a Parisian holiday every Christmas lover's dream come true? Think extravagant lighting, picture-perfect window displays, and exquisite shopping deals! It's no wonder the City of Lights is the idyllic Christmas haven. And what better place than Galeries Lafayette to truly enjoy the festive celebrations.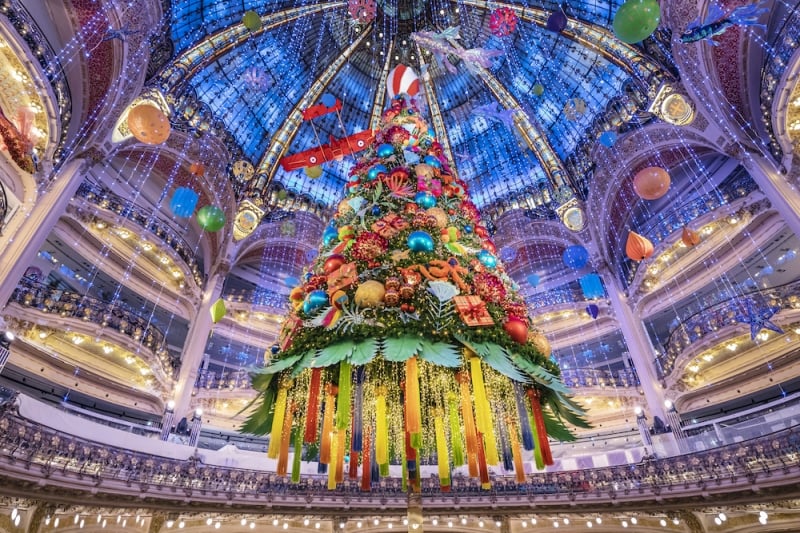 This gorgeous open-air shopping mall is embellished this holiday period with all things Christmas and more! Owing to the mall's rich history, this year's Christmas celebrations pay homage to fearless French aviator Jules Védrines, who famously landed a plane on the rooftop of the Galeries Lafayette Paris Haussmann store over 100 years ago. The plane, featured in this year's decorations, is piloted by a fictional character, Celeste, who takes a fabulous journey around the globe whilst meeting other lovely characters. 
The theme adopted for this year's celebration is hence titled "A Christmas Voyage". 
Want to know more about the festive celebration and shopping experiences at Galeries Lafayette this Christmas? Visit their website to find out more about the Christmas tree, light spectacles, and window displays! 
Sounds like a journey we all want to take right about now, am I right? While we can't physically be part of a Parisian Christmas celebration this year, we certainly could use some of the holiday spirit. So take these festive celebrations at Galeries Lafayette as added motivation to plan your dream holiday to Paris and spread Christmas cheer in these unprecedented times! 
A Christmas tree to remember
It's not a Joyeux Noël without an intricately ornamented Christmas tree, is it? The majestic tree that graces the dome ceiling of Galeries Lafayette's Paris Haussmann store certainly is the most eye-catching object of this yuletide fest. Following the theme of this year's celebration, the tree is adorned with ornaments from around the world.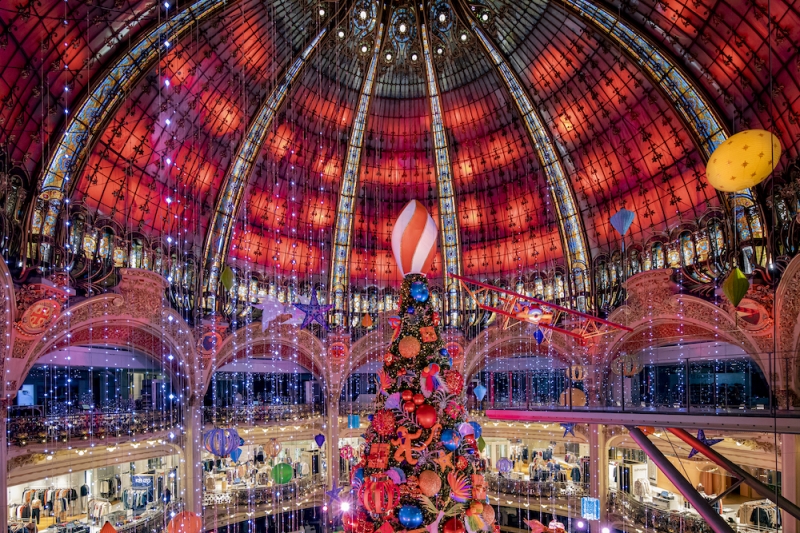 This year's tree is a true reflection of the Christmas spirit and yuletide bonding we yearn for at a time when current circumstances prevent us from physically coming together. Believe us — the tree is the most eye-catching highlight of this Parisian Christmas celebration and the charming ornaments make for quite the cheery scene. The tree is, in fact, the final product of Celeste's voyage around the world, bringing together numerous Christmas traditions, gifts, colourful pom poms, and embroidered baubles.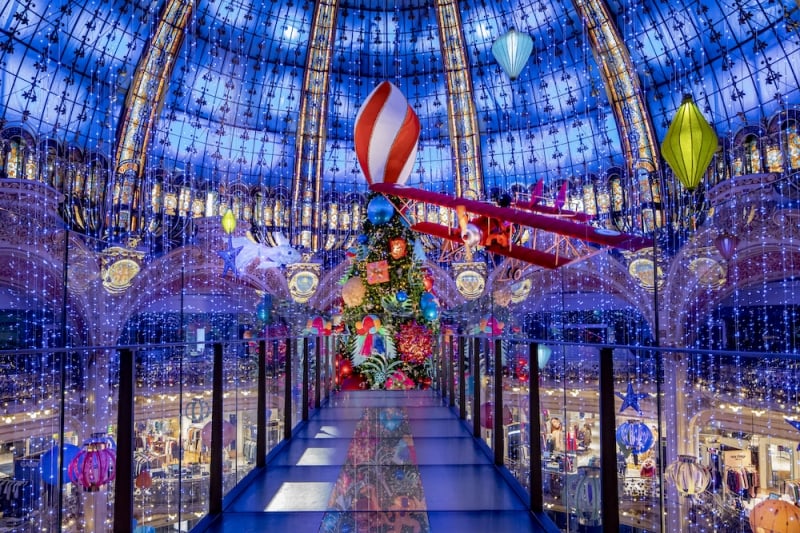 You'll also find glittering lanterns and Jules Védrines' plane circling the tree, plus a light and sound show every 30 minutes to top it all off! As if this feast for the senses isn't enough, a nine-metre-long glass walkway suspended from the 3rd floor also allows visitors to see the Christmas tree from a unique vantage point. Walking under the dome and watching all the lights beam; sounds like a Parisian dream.
Take a journey to faraway lands
Picture a fantasy world with 11 unique Christmas window displays that all come together to form a visual narrative. Galeries Lafayette's Paris Haussmann store brings this beautiful picture to life with its spectacular window displays that take visitors on an enchanting journey to faraway lands. We only wish we could be a part of this voyage!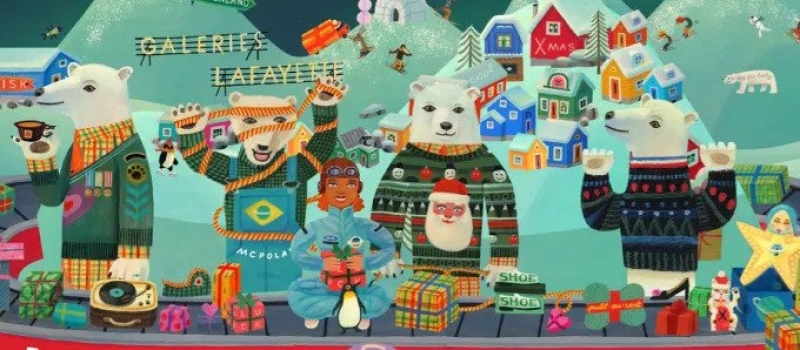 Through this journey across a unique Christmas wonderland, you'll be greeted by polar bears at a fairytale village, walk through an enchanted forest, and even enter a mystical land of Arabian nights — all while encountering a glittering festival of lights, storybook characters, and magical creatures from worlds unknown! The entire journey culminates with Celeste celebrating Christmas with her new friends on the rooftop of Galeries Lafayette.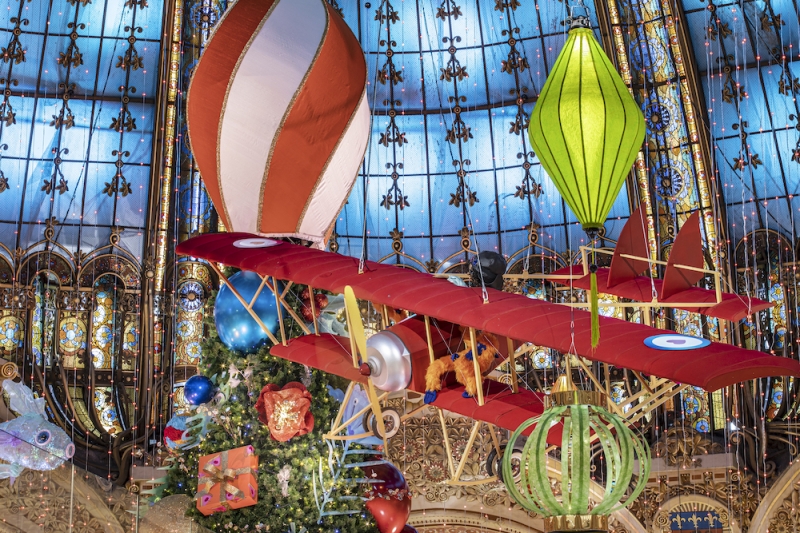 What's most unique about this festive celebration are the wonderfully whimsical characters that will welcome you at each display. A fantasy world tour of sorts, the displays include polar bears in pullovers, cheeky little monkeys, a dancing flower, and a mysterious panther. These marvellous illustrations, as real as they may seem, are the captivating creations of Belgian artist Tom Schamp. 
Christmas gifts and shopping at Galeries Lafayette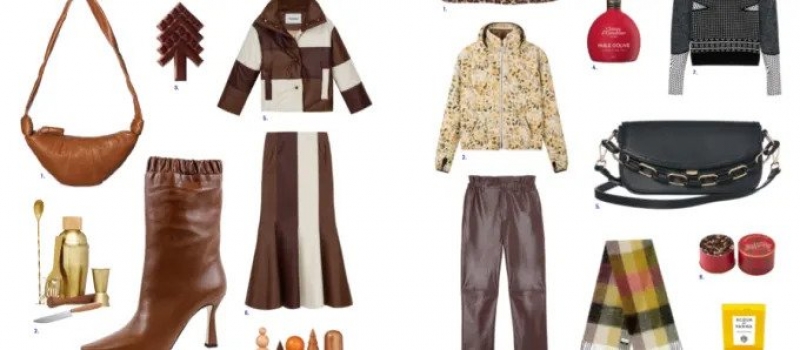 There are various opportunities for you to go all-out when Christmas shopping at Galeries Lafayette.
Bring home a piece of Christmas by keeping an eye out for the perfect yuletide bauble or spread the joy of this festive season to the less fortunate by dropping off toy donations in the store. What's more, pop-up stores feature all our favourite brands — think Lanvin, Givenchy, and more!
Also read: Google Santa Tracker Lets Bored Kids Follow Santa Around This Christmas Season
If you're more of a foodie, the yummy pastries and gourmet Christmas specialities will get you drooling away. From fashion and beauty to homeware and food, Galeries Lafayette has a bit of everything. Perhaps, it's time we get started on our shopping lists for next year! 
There are countless shopping experiences at Galeries Lafayette!
Indulge in pop-up stores, gifts that keep on giving, and delectable food items. Visit their website to find out more and plan your shopping list the next time you visit!
Why not convert this year's disappointment to the joy of giving and an ardent hope for that Parisian Christmas dream next year! These festive celebrations at Galeries Lafayette have certainly gone above and beyond to add to the allure of celebrating our Christmas holidays in the City of Lights. We've started planning our next Christmas getaway amidst these merry and bright celebrations; have you?
---
Brought to you by Atout France.