You've probably heard of the trending Netflix series called Squid Game by now. It's an action-packed K-drama that revolves around a group of people who come from different backgrounds but have one thing in common: They are buried in debt. To make ends meet, they join a game of survival that promises millions of Korean won to the victor. The series stars Korean actors Lee Jung-jae, Park Hae-soo, and Wi Ha-joon, and of course, a stellar lineup of supporting cast members. 
Also read: 7 International Shops to Buy Korean Clothes Online
Filipino actor, Carlo Aquino, was originally part of the ensemble
Squid Game is currently the number one trending Netflix show in the Philippines today. No surprise there because Filipinos binge-watch K-dramas religiously. What was surprising though, was Filipino actor Carlo Aquino's recent revelation about almost being a part of the K-drama. 
Carlo, who's also known as Jose Liwanag, is one of the Filipino actors today who's very popular with the youth thanks to his charming personality and "never ageing" babyface. Hence, you can imagine how the Filipino audience reacted when he posted this on Instagram: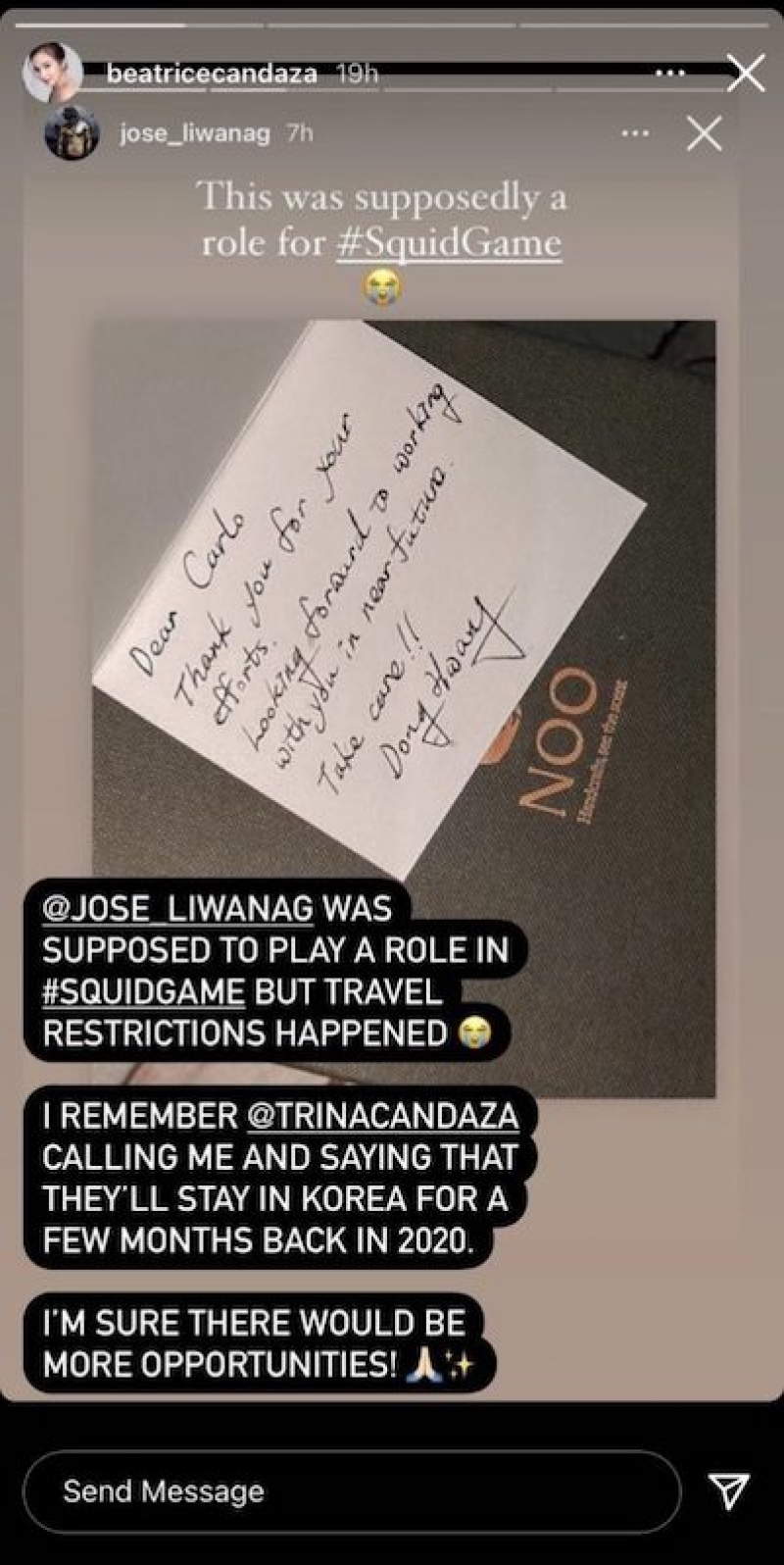 His original Instagram story showed a hand-written letter from the director of Squid Game, Hwang Dong-hyuk. The letter reads, "Thank you for your efforts. Looking forward to working with you in the near future. Take care!!!"
Carlo also expressed regret over the lost opportunity by saying, "This was supposedly a role for #SquidGame."
Why Carlo Aquino couldn't join Squid Game
After his revelation, his girlfriend's sister, Beatrice Candeza, restoried Carlo's post confirming that it was due to COVID-19 travel restrictions that Carlo wasn't able to make it to the filming of Squid Game. She also recounted when her sister told her that Carlo and she would be staying in Korea for a few months in 2020. 
Carlo's girlfriend, Trina Candeza, also showed support for Carlo saying, "I'm still proud of you @jose_liwanag! Isipin ko na lang ikaw si Ali." The last sentence translates to "I'll just imagine that you're Ali," which seems to hint that Carlo would have gotten the role of Ali in the K-drama if he was able to travel to South Korea. 
Abdul Ali, among the supporting characters who easily won the hearts of the viewers, was eventually played by the talented Tripathi Anupam. Ali is a Pakistani who needs money to support his wife and baby. Tripathi did a marvelous job portraying the kindhearted and considerate Ali in Squid Game. It is unknown whether the character was changed from Filipino to Pakistani to better suit Tripathi Anupam. 
Also read: 'Bridgerton' Season 2: Everything We Know So Far
Now it looks like Filipinos are left to wonder how the series would have been if Carlo wasn't hindered by COVID-19 restrictions. But we're sure there will be a lot more opportunities for Filipinos to shine bright in K-dramas. After all, Squid Game still kept a Filipino in the cast no matter how small the role was. If you want to know more about Christian Lagahit's time on the Squid Game set, click here. 
---
Featured image credit (L-R): Squid Game | Official IMDB Page ; Carlo Aquino | Official Instagram Page