Ahh… Magnificent Fiji. Fiji is an absolute island paradise, what's with its pristine white beaches and absolutely gorgeous, sparkling azure waters. And with over 300 islands to explore at this archipelago, there's endless things to see and do here!
Need any more convincing on why you should totally jet off to this exotic destination soon? Well, then read on to find out!  
First of all, these overwater bures will make you feel like you've stepped straight into a movie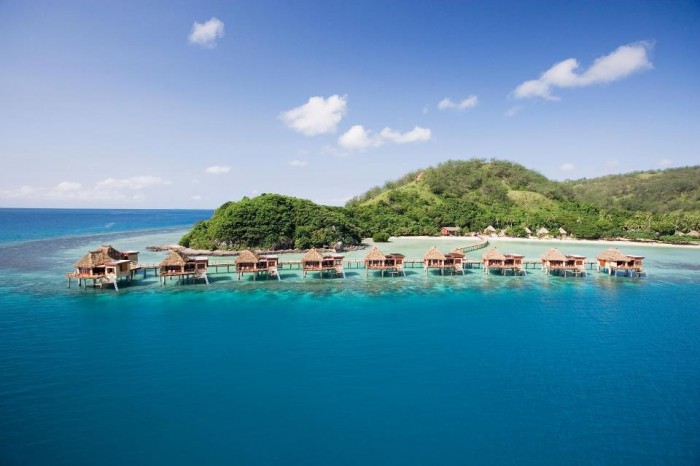 Image credit: LikuLiku Lagoon Resort Facebook
Overwater bures (the Fijian word for a wood-and-straw hut) will make you feel like the tropical island prince/princess that you've always wanted to be! Likuliku Lagoon Resort is the first place in Fiji that offers such overwater bures (the other being Koro Sun Resort), with only 10 such exclusive bures at their resort. What they lack in quantity, though, is definitely made up for in terms of quality!

Image credits: Likuliku Lagoon Resort Facebook
With the chef personally delivering canapes right to your doorstep every sunset, an opulent bathtub with a view of the ocean, and many more swanky perks available to you here, your dream tropical paradise getaway awaits you. Combined with the fact that it's above the gorgeous, irresistible waters and soft coral of Fiji, this will definitely make your vacation a thousand times better!  
Resorts that will make you feel like a million bucks
With only 10 overwater bures available at Fiji, booking one might be pretty hard. Not to worry, though, because there's plenty of other absolutely spectacular island-chic accommodations at Fiji that'll definitely amp up those tropical beach vibes! I could go on and on… But let's just have the photos speak for themselves, shall we?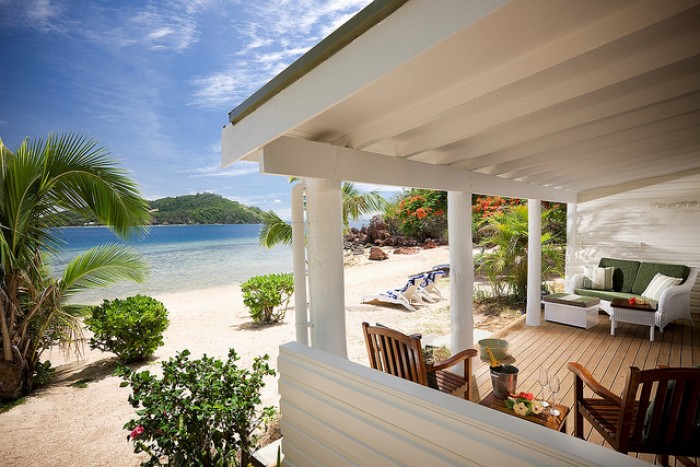 Image credit: Roderick Eime
The island paradise vibes are strong here.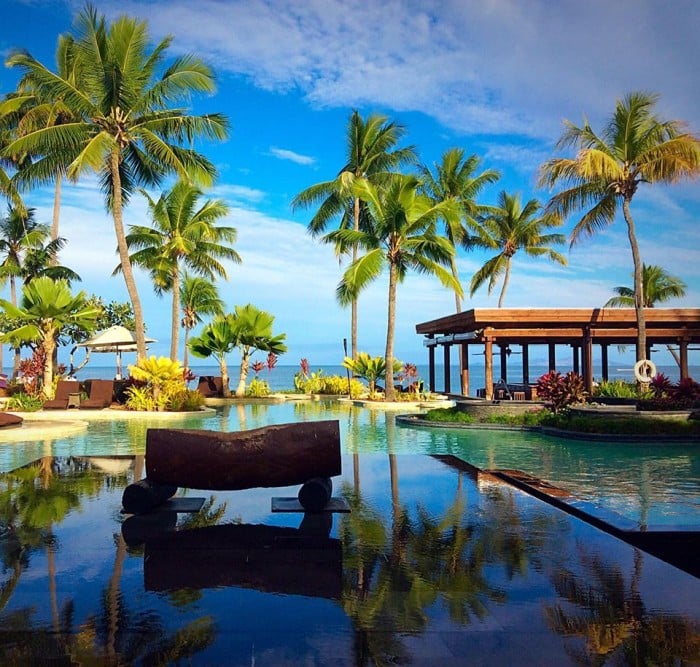 Image credit: Sheraton Fiji Resort Facebook
Don't you just wish that you could teleport yourself to Fiji now!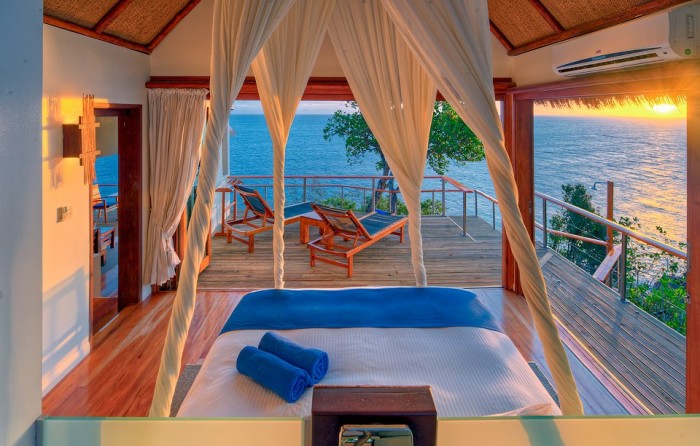 Image credit: Royal Davui Island Resort ~ Fiji Facebook
Just LOOK at that gorgeous blue sea! Look at that sunset! And not to mention the absolutely stunning decor that's totally guaranteed to make you feel like tropical royalty. What a view to laze away too, aye? Just shut up and take my money already!!
And the endless water sports that you can do in its crystalline waters, of course
Image credit: Namale Fiji
Did I mention that Fiji is one of THE best places in the world to scuba dive at? Known as the "Soft Coral Capital of the World", as well as having one of the largest barrier reefs on earth (Great Astrolabe Reef), diving here should most definitely be on your bucket list!

Image credits: Tourism Fiji
If diving isn't your thing, well, there's plenty of other pretty awesome stuff you can do in Fiji's absolutely magical waters!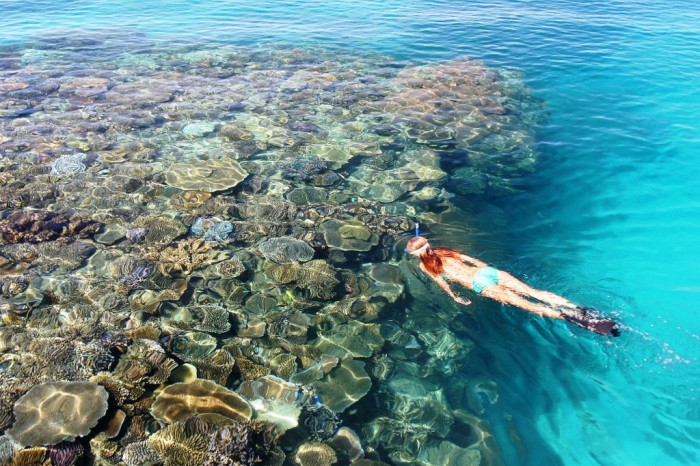 Image credit: Beachcombers Fiji
Choose to snorkel instead, for example. And if you don't want to get wet but really, really want to see the amazing underwater life of Fiji,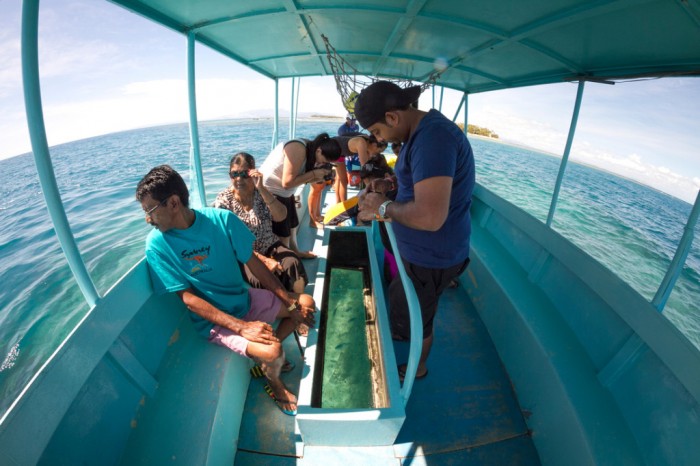 Image credit: Beachcombers Fiji
Go on a glass-bottom boat tour! Seriously, catching a glimpse of Fiji's totally magical underwater realm is a once-in-a-lifetime experience that you absolutely cannot miss!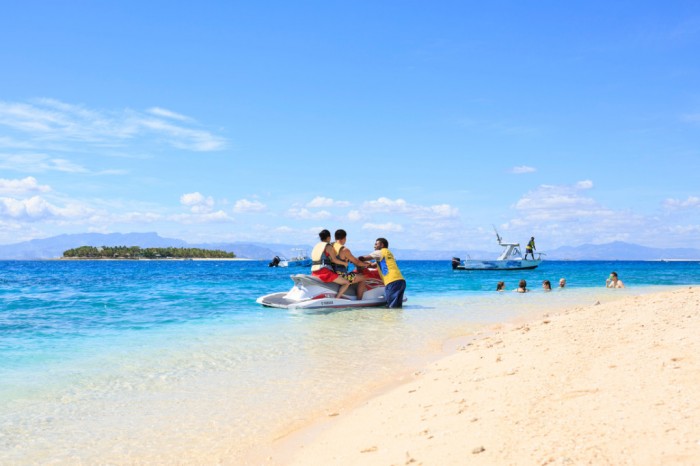 Image credit: Namale Fiji
There's plenty of other water sports that you can indulge in, too! From jetskiing to parasailing to stand-up paddleboarding to banana boating… The world (or rather, the ocean!) is your oyster, my friend, the world is your oyster.
It's a pretty good place for your romantic honeymoon
And after all, who better to explore an exotic island paradise with, if not your lover? Just imagine dining together in this out-of-this-world setting: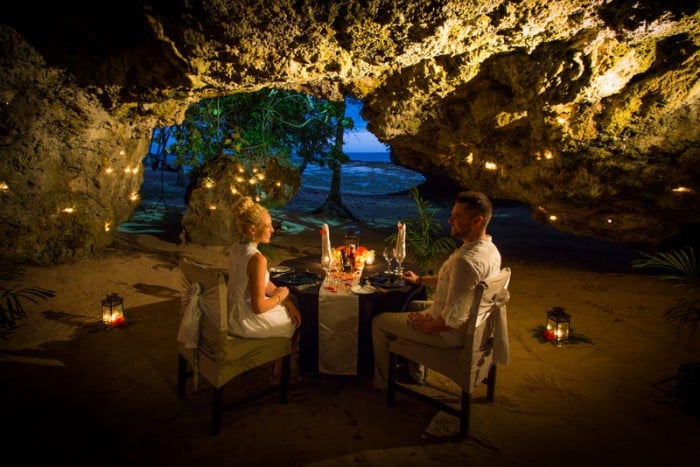 Image credit: Namale Fiji
Or maybe taking a dip together in this pool with a view?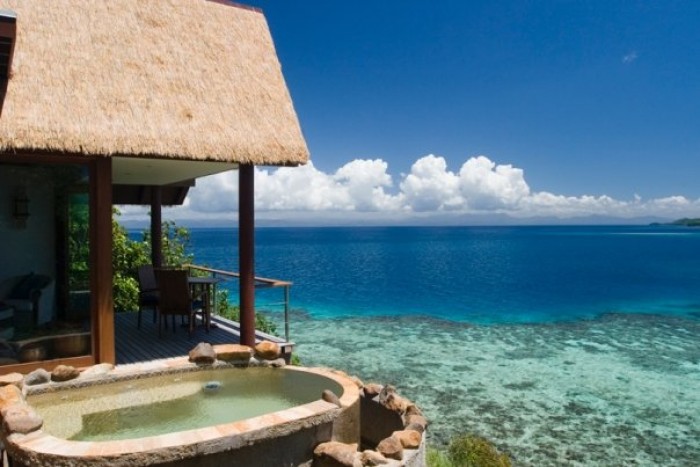 Image credit: Royal Davui Island Resort ~ Fiji Facebook
Seriously, just look at this! Straight outta a fairytale.

Image credits: Turtle Island Fiji Facebook
Question: what will you be staring at more, your lover's eyes or the absolutely magical view? This will definitely your dreamiest, most romantic getaway yet!
An overwater restaurant that will leave you on Cloud 9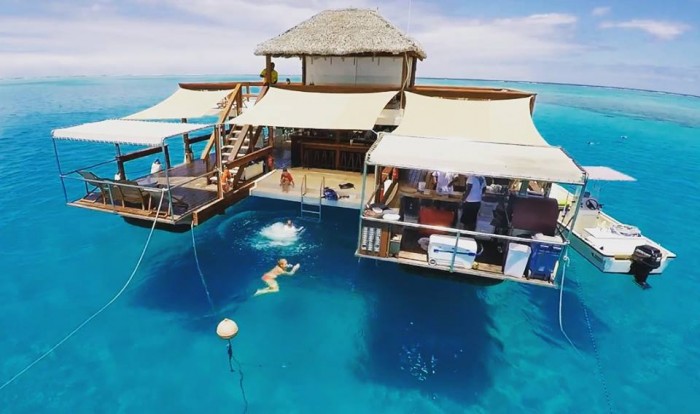 Image credit: Cloud 9 Facebook
Fiji's only two-level floating restaurant, Cloud 9 is a totally apt name for this gorgeous restaurant. Think: a fully-stocked bar, wood-fired Italian pizza, day beds, hanging chairs, sun decks… And not to mention the surrounding pristine-blue waters!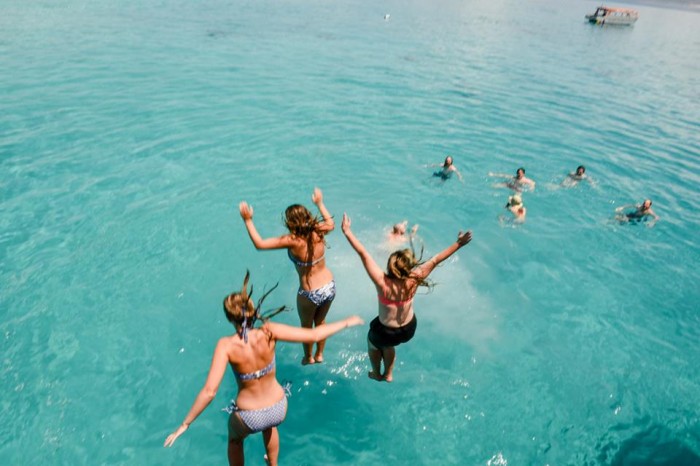 Image credit: Cloud 9 Facebook
Take a plunge into the ocean to work off those calories, maybe? Dive from the second storey if you dare! Bonus: Cloud 9 offers water sports, too, so you can be sure to be totally entertained all day long when at this party central of a restaraunt!
It looks absolutely gorgeous as the sun sets, too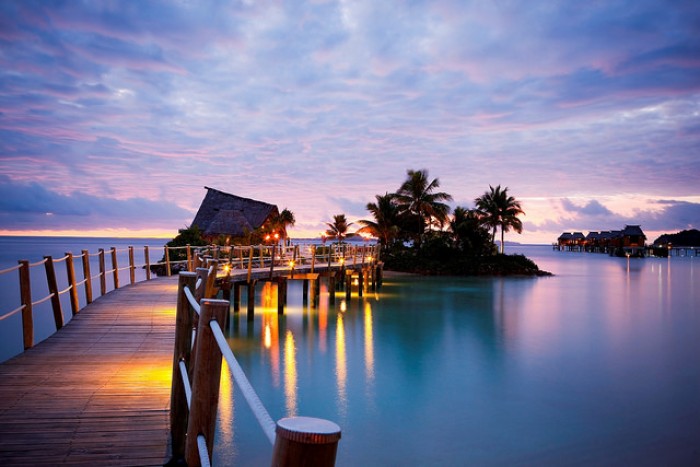 Image credit: Roderick Eime
Just look at those gorgeous hues of pink!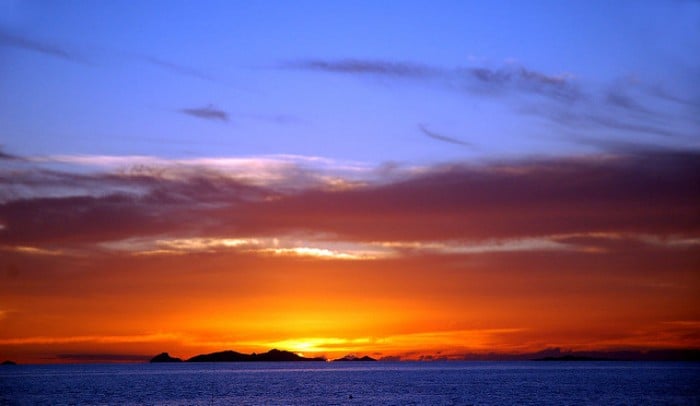 Image credit: Alex Kher
One postcard-worthy photo, coming right up.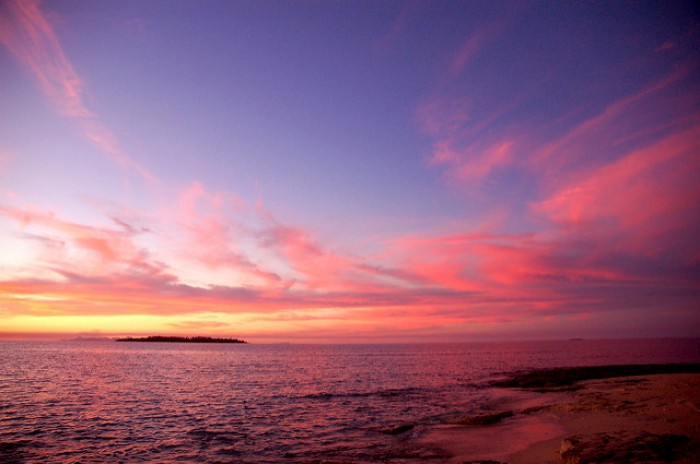 Image credit: Alex Kher
I think the question we all need to ask ourselves is: how on earth is Fiji so stunningly beautiful?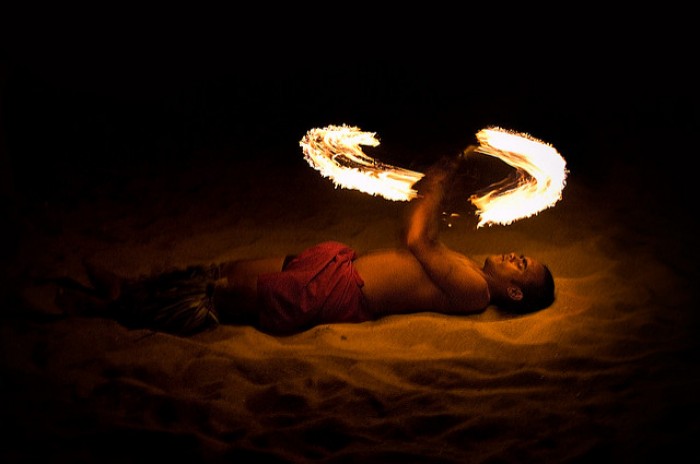 Image credit: Magnus Buseth
And as night falls, catch a heart-stopping fire show by the locals themselves! This is definitely one highlight of Fiji that you cannot miss.
Lastly, you'll never feel homesick – the locals will welcome you just like you're one of them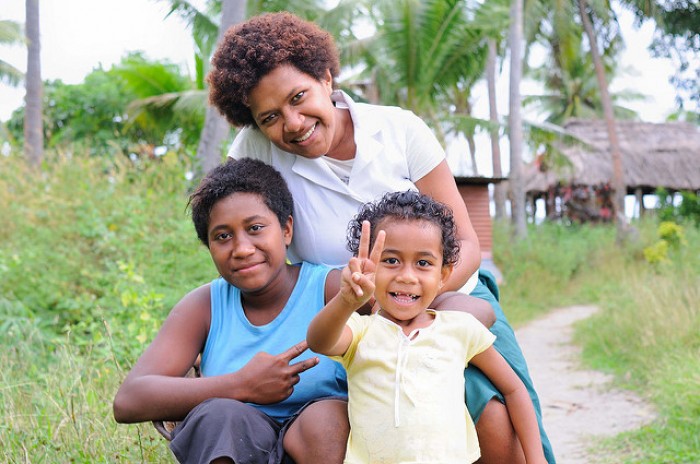 Image credit: M M
Be ready to be met by hearty cheers of 'Bula!' everywhere you go, the traditional Fijian welcome greeting. The inhabitants of Fiji are one of the friendliest, warmest, most welcoming people that you will ever meet, and they will welcome you like part of the family. After all, when travelling, the locals will definitely make up a big part of your overall experience, so why not make your next exotic beach getaway a fantastic one and head on over to Fiji!
And to make your Fiji experience even better, you should most definitely travel with Fiji Airways! Not only do they specialise in flights to Fiji and offer up the best rates ever, this airline takes pride in embodying the spirit of its namesake. You can totally be rest assured that from the minute you step onboard a Fiji Airways flight, you'll definitely feel the abundance of hospitality and warmth that Fijians are famous for!
Make sure you check out the amazing packages they have on offer, such as the Fiji Free and Easy package which allows you to explore this magnificent paradise at your own pace, or the Romantic Fiji package, for a truly unforgettable time with your other half!
So what are you waiting for? Hurry book your tickets with Fiji Airways today, and jet off to this gorgeous island paradise of Fiji!
---
Brought to you by Fiji Airways.