It's no secret that food is at the top of any traveller's list. And here in Sydney and the broader New South Wales (NSW) region, there's a patchwork maze of quirky cafés and delectable desserts in every colour of the rainbow – all just waiting for you to discover.  
Indeed, the NSW region is a paradise for any foodie. We've laid out a list of both sweet and savoury pickings for your choosing – all of which you'd find are worth every calorie.
Warning: don't continue reading on an empty stomach! For easy reference, we've segregated the foods into Sydney's sweet and savoury offerings, followed by a couple of farmer's markets, our favourite spot in Hunter Valley as well as some novel gastronomic experiences found in the NSW region.
Sweet offerings in Sydney:
The Aussies take pride in their sweet treats and this shows – in every perceivable way possible. Get ready for a sugar rush just from looking at these heavenly treats, especially if you're a sweet tooth!
1. Speedos Cafe
Start your gastronomic adventure down under with a vibrant splash of colour. Here at Speedos Cafe, every item on the menu is a work of art and you literally get a rainbow served to you on a plate. Overlooking Bondi Beach, the cafe serves up a diverse menu containing mean (richer) items, lean (lighter) items, as well as in-between items for a little bit of both. We just couldn't wait to dig into the watermelon granola parfait, an overflowing jar of 'cocowhip' (a soft-serve made out of coconut), watermelon, granola and fresh strawberries. The café is also known for their cronuts, which are perfect for a takeaway snack.
Address:
126 Ramsgate Ave, North Bondi NSW 2026, Australia
Opening Hours:
6am – 5pm daily
How to get there:
Catch a 15-minute bus ride from Bondi Junction Station to Bondi Beach via buses 380, 381, 382, or 333.
2. Aqua S
We're somewhat of a sweet tooth, hence how could we ever resist these genius ice cream creations?! The ice cream from Aqua S basically puts every other ice cream to shame. You can even opt to have your soft serve served to you whilst enveloped in a dreamy cloud of cotton candy and showered with toppings of popping candy or sweet popcorn. The best thing about this café is that they constantly refresh their flavours every 2-3 weeks but the signature baby blue sea salt flavour is kept as a permanent offering. Even if you're not a fan of ice cream (the blasphemy!), a visit to this café is worth it just to spam lots of Insta-worthy photos.
Address:
Regent Place Shopping Center,
27/501 George St, Sydney NSW 2000, Australia
Opening Hours:
12nn – 10.15pm daily
How to get there:
Take a train to Town Hall Station (exit nearest to ANZ ATM) and take a one-minute walk along George Street to get to Regent Place Shopping Center.
3. Black Star Pastry
We thought we would never swear by any cake, but this creation alone is enough to make us want to book our flights down under as soon as possible. Both gorgeous and unbelievably light, this cake is the café's pride and joy and is its sole claim to fame. The cake boasts layers of almond dacquoise, rose-scented cream, strawberries, pistachios, watermelon with a sprinkling of dried rose petals. These ingredients shouldn't go so well together, but they do. Every mouthful is an explosion of flavour, a tangy sweetness that sits refreshingly well with the palate. Pair a slice (or two!) of this cake with a steaming cup of tea and you're all set for the afternoon.
Address:
The Galeries Level 2, 500 George St, Sydney, NSW 2000, Australia
Opening Hours:
10am – 6:30pm (Monday – Wednesday, Friday – Saturday), 10am – 8pm (Thursday), 11am – 6pm (Sunday)
How to get there:
Take a train to Town Hall Station (exit at Stand H, along Park Street). The Galeries is located right above the station.
The Galeries outlet is located right smack in Sydney CBD but you can find other Black Star Pastry outlets at Newtown, Rosebery, and Moore Park as well.
4. Le Monde Cafe
Touted to be one of Sydney's top-notch coffee joints, tourists and locals alike flock to Le Monde Café for their daily caffeine fix. The star of the show, however, is the matcha hotcakes! Besides being a feast for the eyes, the pancakes are soft, soaked through with a delicious coconut espresso and paired with creamy mascarpone cheese/fruits. If you always thought matcha was unbearably bitter, think again! The bitterness was somehow balanced to perfection in this dish. For a matcha overdose, have a Matcha Latté to wash it all down.
Address:
83 Foveaux St, Surry Hills, NSW 2010, Australia
Opening Hours:
6.30am – 4pm (Monday – Friday), 7am – 2pm (Saturday), Closed on Sundays
How to get there: Exit from Central Station at Stand F, along Foveaux St.
Make this one of your coffee and dessert refuel stops when you embark on your great Sydney adventure! While you explore the city's main highlights on a fun-filled
6D4N Splendid Vivid Sydney Tour
, satisfy those hunger pangs in between and settle for some hearty sweet treats paired with a good cuppa'.
Whether it's just after the exhilarating Sydney Bridge Climb or sauntering around Madame Tussauds, a coconut espresso can definitely do wonders in the heat of the day. If you are pressed for time, the concise
5D3N Sydney Trendy Tour
will be just right for you.
5. Cuckoo Callay
If you love caffeine, Cuckoo Callay is the ideal spot for you! Pulling inspiration from Lewis Carroll's Jabberwocky poem and the story of Alice in Wonderland, the café simply shouts quirky and unconventional. Cuckoo Callay specialises in brewing a variety of caffeine fixes and serving up treats to satisfy your sweet tooth. Take your pick from their signature beetroot pink latte to chocolate brownie waffles with ice-cream and peanut butter! They also plate up uniquely named seasonal dishes, such as 'All That Fritters Is Gold' and 'Rabbit's Food', all of which artistically designed to play up the café's theme.
Address:
324A King St, Newtown NSW 2042, Australia
Opening Hours:
6am – 4pm (Monday – Friday), 8am – 4pm (Saturday – Sunday)
How to get there:
Take the King St. exit of
Newtown Station.
6. Messina Gelato
Ask for Australia's best gelato and you'll mostly likely be directed to Messina Gelato. Once you enter the store, you'll be greeted with a burst of colours in the display section! Decked with gelatos of more than 40 assorted flavours from Apple Pie to Italian Nougat, customers will be duly spoilt for choice. Keep an eye on their social media platforms and look forward to special seasonal flavours coming through, such as Khaleesi and Thai Milk Tea Gelato with Pandan Fudge (yes, you heard that right!). Fun fact: they make all their flavours from scratch without any artificial colouring. How cool is that!
Address:
389 Crown St, Surry Hills NSW 2010, Australia
Opening Hours:
12pm – 11pm (Sunday to Thursday),
12pm – 11.30pm (Friday and Saturday)
How to get there:
Take bus 374 from Central Station (Eddy Ave) and alight at Albion St., followed by a four-minute walk down Albion St. before turning right into Crown St.
Other than the Surry Hills outlet, you can find Messina Gelato outlets at Bondi, Circular Quay, Darlinghurst, Newtown and Tramsheds Glebe as well. See here for the full list of addresses and locations.
Savoury offerings in Sydney:
Due to a close proximity to oceans and vast farming lands, you can be assured the food found here at New South Wales will be nothing less of top-notch quality. Think fresh seafood, succulent ribs that are grilled to perfection, and even an unassuming meat pie topped off with a heap of mushy peas.
7. Sydney Fish Market

The Sydney Fish Market is probably where all the foodies congregate to feast on what's possibly the freshest seafood in all of Sydney. The varieties are endless – from prawns to oysters and fish of all kinds to crabs and sea urchins – there's something for everyone. Peter's is the go-to seafood haunt for many; choose to have your seafood cold and fresh sashimi style, or battered, flamed, grilled and even blanched to your liking. Dine indoors or alfresco next to the bay, but be warned: lots of hungry seagulls circle the outdoor dining areas in hope of snagging a stray piece of fish! You might even see a stray pelican around.
Address:
Bank St & Pyrmont Bridge Road, Sydney, NSW 2009, Australia
Opening Hours:
7am – 4.30pm daily
How to get there:
Take a train to Central Station, then catch the Sydney Light Rail to the Fish Market stop located just across the market.
8. Harry's Cafe de Wheels
There's nothing quite like a hearty steaming classic Aussie meat pie on a warm summer's day, or any day of any season! Top it off with a giant dollop of mushy peas and brown gravy, and we've got a winner. The best part? The pies are filled with lots of chunky beef pieces, instead of the usual minced meat. The tangy meat complements the mashed peas perfectly and is filling enough for an entire meal in itself.
Address:
George Street Haymarket NSW 2000 Australia
Opening Hours:
8.30am – 10pm (Sunday – Tuesday), 8.30am – 12am (Wednesday – Friday), 9am – 2am (Saturday)
How to get there:
It's located right outside Capital Square Shopping Centre, next to Paddy Maguires Pub.
Hit up other Harry's Cafe de Wheels outlets at Woolloomooloo and Darling Harbour as well. See here for the full list of locations and addresses.
What is a trip Down Under without trying some of their yummy homemade pies? After exploring the iconic Blue Mountains, venturing through the depths of Hunter Valley and soaking in the sights of Port Stephen, enjoy the final day during your
6D5N Sydney and Surrounds Tour
by simply indulging in all things delicious. The Aussie meat pie is a fantastic place to start if you're too spoilt for choice!
9. Muglife Cafe
Take on an interesting twist on burgers at Muglife Café. Head to this 90's rap music themed café to dig into hearty burgers and colourful doughnuts. Indulge in their cheese-doused diet-busting burgers, such as their 'Tradesman Crack' decked with mashed patties and bacon jam or nosh or their signature 'Cali Love' burger with beef patty, American cheese and potato cake squeezed in between flamingo-pink buns.
Address:
28A Bayswater Rd, Potts Point NSW 2011, Australia
Opening Hours:
6.30am – 10pm (Monday to Thursday, 7am – 9pm (Friday), 7.30am – 9pm (Saturday),  8am – 10pm (Sunday)
How to get there:
Take a train to
King's Cross Station, exit at Victoria St. and take a three-minute walk across Darlinghurst Road and down Bayswater Road.
10. Hugos Manly
Up for some high-end dining by the waterfront with a spectacular view? Head straight to Hugos Manly! Boasting an amazing view as well as contemporary Italian and seafood cuisine, this restaurant is known to offer the most unforgettable dining experience in Sydney! The outlet's passion for food is evident in the dishes they plate up. With mouth-watering starters of succulent meat paired with Sicilian olives and
gruyere de comte cheese as well as classic Italian pizzas with diverse toppings, you'll definitely be back for seconds. 
Address:
Manly Wharf, 1 E Esplanade, Manly NSW 2095, Australia
Opening Hours:
12pm – 12am (Monday to Friday), 11.30am- 1am (Saturday), 11.30am – 12am (Sunday)

How to get there:
Take a ferry from Circular Quay to Manly Wharf.
11. Butcher And The Farmer
Simultaneously working as a dining area, bar and a butcher, Butcher And The Farmer offers a somewhat farm-to-table concept – the meat version. Using only produce from local farmers, the restaurant's chefs whip up delectable fare as they adorn patrons' plates with their take on classic dishes. Feast on dishes such as 12-hour wood smoked brisket, baby ricotta hotcakes, and American Wagyu burgers. Pair your main course with a selection of wine and spirits and you'll be all set!
Address:
Tramsheds Harold Park, Shop 7, 1 Dalgal Way, Forest Lodge NSW 2037
Opening Hours:
11.30am – 9pm (Monday to Thursday), 11.30am – 10pm (Friday), 8am – 10pm (Saturday), 8am – 9pm (Sunday)
How to get there:
Take a train to
Jubilee Park Light Rail Station and take a short walk down Maxwell Road.
Farmer's markets in Sydney:
What better way to experience the region's freshest produce than by visiting the farmer's markets? You'll find that most, if not all, the items found at these markets are either farmed or made by the store owners themselves! Everything is really affordable as well, leaving visitors utterly spoilt for choice.
12. Eveleigh Market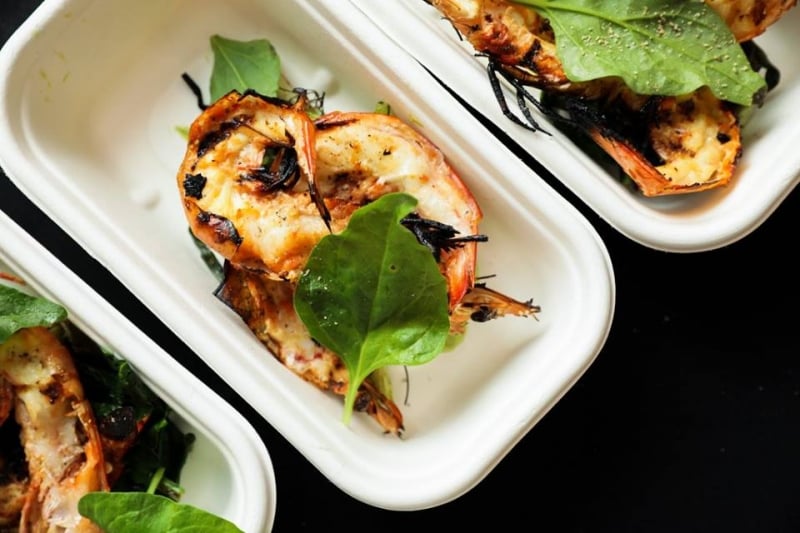 Eveleigh Market, located in Carriageworks, is home to over 70 regular stall holders – farmers and artisanal producers alike – that gather every Saturday to show off a variety of fresh and seasonal produce. You'll be thrilled to find vibrantly coloured fruits and vegetables, organic produce, fresh cuts of meats, boutique wines, and sweet treats. You can even choose to dig into authentic dumplings prepared by a celebrity chef, Kylie Kwong herself!
Once you're done snooping around the food section, you can explore the rest of Carriageworks! You'll get to learn more about food, and sample tasty treats from other farmers, and even learn about the origins of the food products.
Address:
245 Wilson St Eveleigh NSW 2015, Australia
Opening Hours:
8am – 1pm, every Saturday
How to get there: Take a train to Redfern Station, followed by a ten-minute walk through Wilson Street to get to the entrance of Carriageworks.

Give your weary legs a break after discovering some of Sydney's most iconic points of interest namely the Sydney Opera House, Hyde Park, Royal Botanic Garden and the famous Bondi Beach all on your exciting 6D4N I Love Sydney Tour. Feast on some authentic nosh from venison to kangaroo meat and satisfy those growling bellies. You will definitely feel peckish after spending hours going around on foot!
13. The Rocks Foodie Market
Indulge in decadent chocolates, freshly grilled corn on the cob, crusty baked bread, barbecued salmon, homemade condiments infused with love as well as an assortment of other Australian-made produce. You're going to have to buy a new pair of jeans after visiting this market!
After eating (one too many) slices of hearty artisanal bread, head to the Cruise Bar Restaurant and Events to sip on cocktails while looking out onto the magnificent City Harbour.
Address:
Playfair Street, Jack Mundey Place The Rocks, Sydney, NSW 2000
Opening Hours:
9am – 3pm on Fridays only
How to get there:
Take a train to Circular Quay, followed by an eight-minute walk along George Street to get to Playfair Street.
14. Bondi Farmers' Market
If you've thought of making your way down to Bondi Beach during your stint in Sydney, here's another reason to do so. Every Saturday, the Bondi Farmers' Market, conveniently nestled in Bondi Beach Public School, opens its doors to throngs of beach goers. Take your pick from a diverse array of organic fruits and vegetables, farmstead cheese, organically grown meat and poultry, delicious homemade jam, fresh seafood catches and much more!
Address:
Campbell Parade, Bondi Beach NSW 2026, Australia
Opening Hours:
10am – 5pm on Sundays only
How to get there: Take a train to Bondi Junction Station, followed by a 15-minute bus ride to Bondi Beach via buses 380, 381, 382, or 333.
There are so many things to do in Sydney, you'll definitely need to do it all on a full stomach! Fill up at the Farmers Markets before venturing out to explore the surrounding region on this
7D6N Sydney & Surrounds Sensation tour
. Make your way to Blue Mountains, Hunter Valley, and Port Stephens before returning to Sydney to continue your food hunt.
Alternatively, head out on this Legendary Pacific Coast Self-Drive land tour and discover Port Stephens, Port Macquarie, Coffs Harbour, Byron Bay and Coffs Harbour on top of having some free time to discover Sydney. This tour also allows you to have a novel 'Catch a Crab' experience. More on that next!
Novel experiences in the region:
15. Catch A Crab
If the idea of catching your own shellfish makes you rub your hands together in glee, we've got just the thing for you! The Catch A Crab tour gives you the chance to hone your hunting skills by trapping your very own mud crab and then devouring it over lunch. It really doesn't get any fresher than this. Aside from crab-nabbing, you'll also get to visit an oyster farm along the way, and make friends with wild Pelicans who will happily nibble feed off the palms of your hands!
At the end of the trip, head to the gift shop to grab some quirky tees, hats, and beautiful pearls for a novel keepsake to remember this place by.
Address:
Birds Bay Drive, Tweed Heads, NSW 2486, Australia
Opening Hours:
9.30am daily (Morning Tour), 1pm daily (Lunch Tour), 2pm daily (seasonal Afternoon Tour)
How to get there:
Drive south along the Pacific Highway (M1) keeping to Tugun Bypass Road until you reach the Pacific Highway tunnel. Exit via the first exit on the left, Coolangatta Tweed Heads Exit, then head towards Kennedy Drive, before turning in onto Scenic Drive. Birds Bay Drive is located on the left opposite the BAKERY.
16. Hunter Valley
It's been said that the magical soil in the Hunter Valley vineyard is the secret to producing the best wines in Australia. Hunter Valley somewhat comprises a mini wine civilisation on its own, housing more wine cellar doors than one could ever imagine, multiple restaurants, fresh produce and both luxury and budget hotels. You'll not only be able to taste an assortment of wines that were brewed here, you will also be amazed to find that there are countless festivals for you to partake in, tours for you to hop on and, if you're feeling extra adventurous, you can even skydive and get a bird's-eye view of the entire valley.
In May and June, head to the Hunter Valley Wine and Food Festival, where you can experience a special selection of the region's best wines paired with aged cheese, fresh cuts of meat and various stone fruits.
Address:
2090 Broke Road, Pokolbin
How to get there:
Take a 2.5-hour drive from Sydney City Center via the M2 and M1 motorways to Hunter Valley.
17. Ricardoes Tomatoes and Strawberries
If you're one of the few who are just itching to pluck your own fresh Aussie produce, why not take a trip down to Ricardoes Tomatoes and Strawberries to get a taste of the sweet, organic red fruits fresh from the farm itself? Walk along rows after rows of bright red juicy tomatoes and strawberries which are grown hydroponically, and pick the ones you fancy to munch on. And because these are such a healthy snack, you won't have to feel guilty or worry about the extra pounds!
The farm also has a Red Café where you can indulge in some scrumptious strawberry scones paired with fresh cream, a moist slice of strawberry shortcake or sweet tomatoes served with locally-grown leafy greens and bright grated carrots in a hearty salad. If you can't get enough of the organic treats, you can always head to the supermarket section to purchase bagged tomatoes, strawberry punnets, strawberry jams, and tomato sauces to savour throughout the rest of your trip!
Address:
221 Blackmans Point Rd, Blackmans Point NSW 2444, Australia
Opening Hours:
7am – 5pm daily (Farm), 9am – 3pm daily (Red Cafe)
How to get there:
Take a 15-minute drive North from Port Macquarie, which is located about 4 hours away from Sydney center.
18. Birch Restaurant
If you're looking for a restaurant that will surprise your taste buds every time you visit New South Wales, this one's for you! The restaurant changes their menu according to season, so you'll almost never have the same dish twice when you dine here! If that's not appealing enough, adventurous diners will be thrilled to know that Birch also serves exotic meats like venison (deer) and kangaroo.
Birch also offers a bunch of special events such as the Dessert Degustation happening on 24th May 2018, where guests will be treated to a seven-course dessert dinner or the Winter Crustacean Lunch where diners will get a taste of a six-course lunch, featuring fresh crustacean catches sourced from local suppliers.
Address:
2/249 Argyle Street, Moss Vale NSW 2577, Australia
Opening Hours:
Lunch from 12nn – 3pm (Thursday – Sunday), Dinner from 6pm onwards (Wednesday – Saturday)
How to get there:
Take a train to Moss Vale Station, followed by a 5-minute walk to Birch via Argyle Street/Illawarra Highway.
19. South Sailor
With seafood as the highlight, South Sailor has been making waves in New South Wales with their fresh, sustainable and seasonal offerings such as oysters, local prawns, and fish that are sourced directly from local suppliers. Aside from serving up mean seafood options, the in-house bar also offers a wide range of alcohol, ranging rom beers to pair with a bucket of tiger prawns to ciders and wines for more sophisticated palettes.
With its cosy indoor and outdoor dining areas furnished with warm woodsy tones that makes it the perfect place to chill after a day at the beach, you'll feel right at home at the South Sailor.
Address:
216-218 Lawrence Hargrave Dr, Thirroul NSW 2515, Australia
Opening Hours:
11.30am – 3pm / 5pm – 10pm (Wednesday – Saturday), 11.30am – 4pm / 5pm – 10pm (Sunday)
How to get there:
Catch a train to Thirroul Station, then walk to the bus stop located opposite Thirroul District Community Centre that's on Lawrence Hargrave Drive. Board either buses 1, 10, or 2, and alight at Cochrane Road. Alternatively, South Sailor is a 12-minute walk from Thirroul Station.
20. Sabor Dessert Bar
If stuffing your mouth full of chocolatey desserts sounds good to you, then don't hesitate to make your way down to Sabor Dessert Bar. Plating up several recipes that cover decadent cakes, smooth mousses, and tasty pastries, this dessert haven is the gem of Hunter Valley! Be sure to indulge in their old family recipe and signature dessert, Casa de Sabor, which comprises a Portuguese chocolate mousse that is coveted by many! When there are a large variety of desserts on display – think Sticky Date Puddings and Sabor Souffles – it's easy to get spoilt for choice. If you can't decide, simply get a tasting plate to sample them all!
Address:
2342 Broke Rd, Pokolbin NSW 2320, Australia
Opening Hours:
10am – 4.30pm (Thursday and Friday), 10am – 5.30pm (Saturday), 10am – 4.30pm (Sunday and Monday), Closed on Tuesdays and Wednesdays
How to get there:
Embark on a 2.5-hour drive from Sydney via the M1 and Freeman Drive to Broke Road.
21. The Potager Mount Tomah
A gratifying menu coupled with a majestic view? Yes, please! Nestled within Mount Tomah Botanic Gardens sits this elegant restaurant that offers a natural outdoor setting surrounded by lush foliage. Dine on baby barramundis and Mediterranean dishes while feasting your eyes on the Blue Mountains, one of Australia's UNESCO World Heritage sites. If you are seeking to get your mind off the humdrum routine of the urban grind, then The Potager Mount Tomah is the place to go!
Address:
Bells Line of Road, Mount Tomah NSW 2758, Australia
Opening Hours:
9am – 4.30pm (Wednesday to Friday), 9.30am – 4.30pm (Saturday and Sunday), Closed on Mondays and Tuesdays
How to get there: Take a 21-minute drive up Old Bells Line of Road/B59 motorway from Bell Station to The Potager.
With so many yummy food spots to choose from, we wouldn't be surprised if you can't make up your mind on where to go first! Embark on your foodie journey with Farmosa Holidays as they take you on a one-of-a-kind trip around the best places to taste, smell, see, and feel Sydney and the New South Wales Region! You can choose from their 5D3N Sydney Trendy tour around the coolest spots in Sydney, a 7D6N Sydney Surrounds and Sensations tour that will bring you around the region or, if you don't fancy any of that, how about a 8D7N self-drive tour along the legendary Pacific Coast so you can stop any time and indulge in the freshest catch straight from the ocean? The best part is that almost all the tours include a trip to Hunter Valley, so you can spend a day drinking till your heart's content without worrying about having to drive!
For more information about Sydney and the NSW region, check out Destination NSW's official website and Facebook page. Stop hesitating and start booking your favourite tours now from just S$838 – food glorious food awaits!
---
Brought to you by Farmosa Holidays and Destination NSW.