If you think you've discovered all of Sydney, think again. Go beyond the main city attractions and traverse through one of the largest cities in Australia, and home to the world's best wines, beaches, and restaurants.
If you're not one for planning, here's a 7D5N itinerary for you to discover the best of what Sydney has to offer and more!
With the
7D5N Sydney Explorer & Hunter Valley package
starting from S$1408, you'll be sure to have a comprehensive, fulfilling and enjoyable trip to Sydney!
The package includes a two-way flight by Qantas airlines, airport to hotel transfers by coach, 4 Nights' Hotel Accommodation in Sydney with daily breakfast, 1 Nights' Hunter Valley Train Package, Port Stephens Tour and a FREE morning Sydney City Tour which includes Bondi Beach.
Day 1: Glebe
Glebe Markets
Spend your morning shopping for eccentric and colourful vintage clothes, handcrafted jewellery and accessories at the rows of stalls at Glebe Public School. If you go deeper into the market, a small section just off Derby Lane, tucked behind the school, has more vintage treasures for you to rummage through!
If you're not up for the shopping, not to worry, there are also plenty of street food stalls at Glebe Markets that sell gozleme, kebabs and doughnuts!
Blackwattle Bay Park
Located on the Glebe foreshore, Blackwattle Bay Park is a great place for you to rejuvenate and marvel at the spectacular views of the ANZAC Bridge and view the city from a different perspective.
Have a leisurely stroll and stop to say hello to the many adorable dogs on their afternoon walks in this dog-friendly park. The park is also perfect for picnics or barbecues and it even has a children's playground area to entertain the kids.
Friend In Hand Pub
Have a cheap beer at this eccentric bar in the back streets of Glebe and you'll be entertained by the pub's famous cockatoo and the bartender singing her heart out to the best karaoke hits. You're in for a night of fun and amusement with the many quirks of the Friends In Hand pub. Depending on the day, you might be treated to Wednesday Crab Racing (hermit crab race), comedy night, poetry reading or even life-drawing.  
Day 2: Chippendale
Something For Jess
Begin your day with a scrumptious and healthy breakfast at Something For Jess. Feast on the Earth Bruschetta with beetroot hummus, roasted pumpkin, confit tomatoes, fresh avocado and homemade vegan soft cheese.
If you're just interested in a snack, their avocado toast with smashed avocado on whole-wheat miche sourdough is just as delicious!
Mortuary Station (Regent Street Railway Station)
Packed with an eerie history and an even eerier former name, the Mortuary Station, now referred to as Regent Street Railway Station, is a must-visit. The station was built in 1869 and ceased to function in 1938; it was previously used for the transferring of the deceased and bereaved. Albeit closed to the public, the exterior view of its 13th Century gothic-style architecture is just as chillingly beautiful.
The Two Wolves: Community Cantina
Head to The Two Wolves: Community Cantina, a social enterprise eatery and bar. The staff at The Two Wolves comprises of volunteers only and the proceeds go to the Cardoner Project, a project that sends youth overseas to developing countries to build schools and teach English. You're eating your meal for a good cause!
Summon up a chuckle with their punny dishes, like 'Nothing Dahl About It', a creamy dahl with cauliflower and eggplants, as well as the 'Sister Hien's Bun Thit Nuong', a vermicelli rice bowl with marinated pork. There's also a $5 happy hour from 5-7pm!
Not all tour packages are boring and inflexible! Other than guided tours, the Farmosa Holiday
7D5N Sydney Explorer & Hunter Valley package
also gives you plenty of free time to explore the city on your own
Whether you prefer exploring the city, lazing at a coffee shop or getting up close and personal with the Australian wildlife, the 7D5N Sydney Explorer & Hunter Valley package provides you with the flexibility you need to enjoy the perfect holiday that you want!
Work-Shop
For a slightly different experience of Sydney, try some hands-on activities instead at Work-Shop, a creative concept that provides affordable short courses in life skills and alternative art. From watercolour painting to tarot classes, pick an activity that suits your fancy and learn from a local expert, emerging artist and some of Australia's best creative minds!
Spice Alley
Simmer down, replenish your energy and enjoy some Asian cuisine at the Spice Alley. If you're already missing a taste of home, have a taste of some Asian fusion at the hawker-style eateries cooking up a variety of Asian food, from Singaporean, Thai, Malaysian, Cantonese, Japanese to Vietnamese cuisines!
If you're planning a romantic date night during your holiday, Spice Alley is also recommended as one of the top 5 date night places in Sydney.
Day 3: Hunter Valley
Up next, let's take a train ride to Hunter Valley from Sydney Central Station. Upon your arrival at Singleton Station, you'll be headed to Hunter Valley Resort where another adventure begins!
Hunter Wine Theatre
For the wine aficionados and connoisseurs, the process of winemaking from grape to bottle at Hunter Wine Theatre will be sure to entice you! The 15-minute winemaking presentation unveils the Hunter Wine heritage, acclaimed as one of the best winemakers in the world and Australia's oldest wine producer.
You will be introduced to the ways in which grapevines are maintained, the annual grape harvest, the grape crusher and the actual winemaking process. You'll also learn how to taste for sweetness, acidity and other flavours with the winemaking experience at Hunter Wine Theatre!
Hunters Quarter
For lunch, dine at Hunters Quarter which is located in the Cockfighters Ghost Vineyard, offering a picturesque view of the vineyards. With flavoursome food and excellent service, be promised with a pleasurable contemporary dining experience.
Warbird Adventure with Aerohunter
Fly in Australia's Warbirds, flown by an experienced Ace Aerobatic pilot, and enjoy an aerial view of Hunter Valley. The Warbird  Adventure flights will not only give you a spectacular view of the Hunter Valley region but will also teach you about flying, such as G-force, weightlessness, and military manoeuvres. The Aerohunter aerobatic experience is surely like no other!
Segway Tour
Sign up for the Segway Tour and hop on a segway – a two-wheeled self-balancing scooter – that will take you through nature in the vicinity! Starting off at the Hunter Valley Resort, the Segway Tour will bring you to off-road tracks and an 1880's stock route, presenting marvellous views of the Brokenback Ranges and giving you the opportunity to get up close and personal with Australia's kangaroos.
On the way back, the tour will take you through the resort's vineyard for more wine-tasting in Hunter Valley.
Day 4: Milsons Point
Luna Park
Enjoy unlimited rides at Sydney's best and most iconic amusement park, Luna Park! With many exciting rides to choose from such as the Wild Mouse, Tumble Bug, Ferris Wheel and Moon Ranger, the whole family is sure to have a blast!
If you're tired of the rides, take a break and play some sideshow games or eat at one of the eateries located within the park. If you're lucky, you might be able to catch some of the special events that are held at the park as well!
Kirribilli Markets
Be sure not to miss out on the Kirribilli Markets. Held on Alfred Street South, Milsons Point, the Markets run from the Burton Street Tunnel into the bowling green next to the Bradfield Park Community & Well-being Centre. One of the most popular markets in Sydney, the Kirribilli Markets boasts over 200 stalls that sell both brand and secondhand arts and crafts, fashion accessories, jewellery as well as gourmet food.
Aqua Dining
End your day with some contemporary Italian cuisine at Aqua Dining, a waterfront Italian restaurant which presents marvellous views of the Sydney Opera House and Harbour Bridge.
Situated above North Sydney Olympic Swimming Pool, savour the seasonal menu and enjoy a truly outstanding and extraordinary dining experience.
Day 5: Port Stephens
Riverboat Postman
Get on board the Hawkesbury Mail Boat, the famous Riverboat Postman, and explore the picturesque Hawkesbury River as they deliver mail to the settlements upriver.
Enjoy local stories and learn about the history of the area as you munch on the famous anzac biscuits and sip on hot tea, while cruising past the settlements of Dangar and Milson Islands, Fisherman's Point and Mison's Passage.
With Farmosa Holiday's
7D5N Sydney Explorer & Hunter Valley package
you can enjoy a full-day tour of Port Stephens and its wildlife, dolphins and sand dunes.
Alternatively, you can also opt for a full-day tour of the Grand Blue Mountains which includes a visit to the Waradah Aboriginal Centre, Scenic World, Featherdale Wildlife Park, Paramatta River Cruise, Darling Harbour and Circular Quay. Starting from S$1408, every dollar is well worth the trip!
Australian Reptile Park
Home to a variety of native Australian wildlife and exotic reptiles from around the world, the Australian Reptile Park is certainly a must-visit for animal lovers! The many attractions and activities in the Australian Reptile Park include hands-on programmes with snakes, frogs, alligators, birds and mammals. Among the various programmes you can opt for are the Super Seniors, Big Kids 2 Keepers, Little Kids 2 Keepers, Mini Kids 2 Keepers or VIP Behind the Scenes Tour.
Sand Dune Adventure
At Port Stephens, embark on a sand dune adventure on the quad bikes and bask in the area's spectacular beauty. Traverse the Southern Hemisphere's largest moving coastal sand dunes with the expert Aboriginal tour guides and learn about the Aboriginal culture, bush tucker (food native to Australia) and how the indigenous people find fresh water. The sand dune adventure will definitely be an unforgettable and educational one!
Dolphin Swim
Be sure to check out the Dolphin Swim as well, the first and only permitted wild dolphin swim! Swimming with dolphins may seem unimaginable but not at Port Stephens. Get up close and personal with the dolphins and learn more about dolphin conservation and marine mammals in Port Stephens.
Don't worry if you've never swum with dolphins before, both training and safety equipment will be provided, as well as photos and breakfast on the boat. Each four-hour session swimming with dolphins experience will sure to leave an indelible impression on you.  What are you waiting for? Check this off your bucket list!
Day 6: Bondi Beach
Stand-up Paddleboarding
If you're in for some fun in the sun, Bondi Beach is a perfect beach getaway! Try stand-up paddleboarding with the help of instructors at Bondi Beach. Once you've mastered paddling the sea waters, head over to North Bondi to enjoy the gentle surf and bask in the sounds of the sea waves.
Snorkelling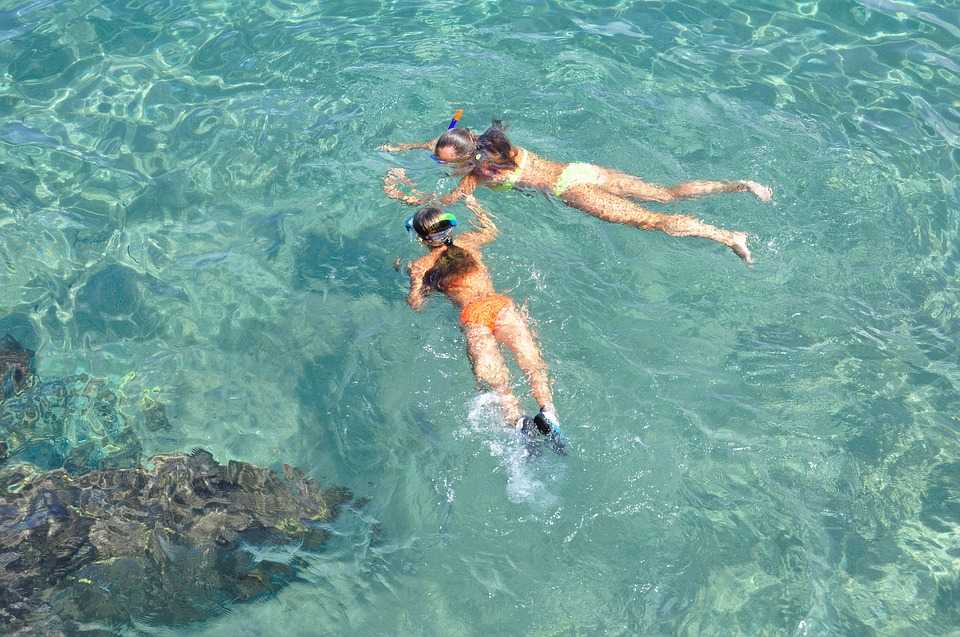 Alternatively, you can try snorkelling at the Ben Buckler Point located at the most Northern tip of Bondi. Revel in the Australian marine life and enjoy a revitalising swim! Both adults and children can have a great time exploring the marine life living in the shallow ends of the seabed.
With Farmosa Holiday's
7D5N Sydney Explorer & Hunter Valley package
, you'll be able to explore every nook and cranny of what Sydney has to offer.
Seek out the hidden gems of Sydney during your free days or explore some of the main Sydney attractions with the free morning Sydney City Tour included in the package. Starting from S$1408, you'll definitely be able to maximise every single day of this 7D5N holiday!
Day 7: The Rocks
Bonza Bike Tours
With bicycle rental provided and a choice of exciting cycling routes, the Bonza Bike Tours will bring you around the city and give you a different outlook on Sydney. If touring on foot isn't exciting enough for you, then a bicycle ride around Sydney might be a bit more up your alley.
Australian Heritage Hotel
If you've got some time to spare on your last day in Sydney, make a visit to the Australian Heritage Hotel where you can feast on the different kinds of meat available in Australia! Try the Pepper Kangaroo pizza, Saltwater Crocodile pizza or Coats of Arms pizza, a pizza that has both emu and kangaroo meat. If you're feeling adventurous, you definitely do not want to miss out on these strange but mouthwatering meat pizzas.
Are you intrigued by Sydney already? With the Farmosa Holiday's 7D5N itinerary, you'll be able to discover the best of Sydney and beyond! Chuck aside your travel planning anxieties, we've got it all laid out for you. Get your 7D5N Sydney Explorer and Hunter Package from only S$1408 to start on your Sydney adventure!
---
Brought to you by Farmosa Holiday.