Since so many cities around the world are slowly easing coronavirus restrictions and reopening establishments, more people have finally stepped out of their house for the first time in months. And with this comes the constant reminder of local governments to keep one's surgical face mask on whenever one goes out in public. More than being protected by the face mask, wearing one will highly decrease transmission of the coronavirus if it happens that the wearer turns out as a carrier or asymptomatic. 
We know that wearing masks can be uncomfortable, but it's sadly part of the new normal we have to accept as long as the coronavirus pandemic is still out there. To make things easier for you though, here are face masks hacks that you may find useful!
Also read: 7 Self-Care Tips to Protect Your Mental Health During the COVID-19 Pandemic
1. When you've run out of disposable masks with no reusable ones, here's how you make an emergency mask…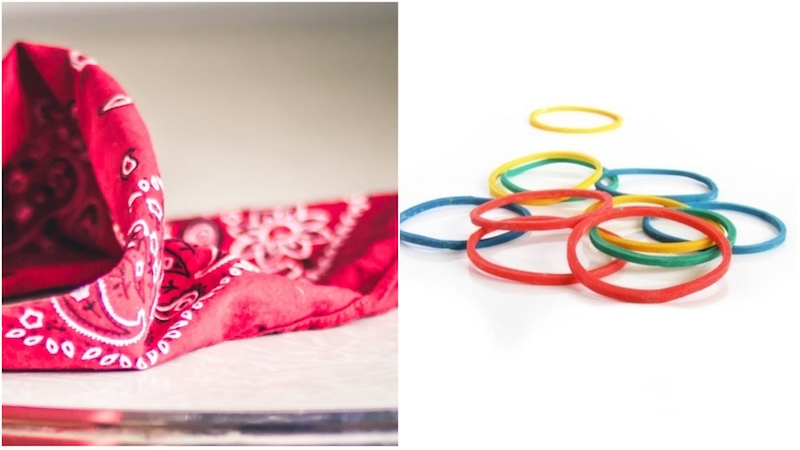 All you need is a bandana or handkerchief that can cover your face when folded, from your nose to your chin, and a pair of rubber bands. Here's a rule of thumb when looking for a piece of cloth that will cover your face: You have to make sure that when you fold it into a rectangle, it isn't too big for your face to the point that there might be gaps between your skin and the fabric at the edges of the mask; meaning around your nose and jaw area, and cheeks. Having such gaps or holes will only make you susceptible to transmission all the same!
How to make a no-sew face mask:
Once you've found a bandana, fold it into a rectangle, then place hair ties or rubber bands on both ends. Push the bands near the centre of the folded bandana just enough to get three-inch flaps on each side. Fold the left flap inwards, then fold the right inwards too, but place it inside the hole of the left flap. Make sure the right flap is securely tucked in. And voila, you have a DIY temporary face mask for emergencies!
How to increase the protective capabilities of your cloth mask:
Always make sure to wash your cloth mask after every use with detergent or bleach. But aside from this basic face mask hack, you can increase a cloth mask's filtration capability by as much as 33% if you layer another folded paper towel or even some tissue paper between your face and the mask! 
Researchers from the University of Hong Kong back this study, so you can rest assured that this face mask hack definitely works. And as always, throw the tissue paper after use and replace it with a new one every time you go out with your laundered cloth mask!
2. You don't have to rest the strings around your ears if they're making your ears ache
There have been a few surgical face mask hacks that have been concocted to address this concern. Some people have remedied the problem with a baseball cap. What you would do is to stitch buttons on either side of the cap right above your ears. This would be the place where you loop the surgical face mask strings instead of around your ears. 
Another solution is the use of paper clips or safety pins to link the strings behind their head. You could, of course, simply invest in a reusable face mask that can tie behind your head too. Just be sure to observe the tips we gave in #1!
3. If your glasses are fogging up…
The face mask hack for this problem is to pinch your mask at the nose area to help it hug the contours of your face better. Then be sure to place your glasses over the mask. The silicone nose pads could help prevent the fog. 
Another way to stop the fogging is to rub a thin film of dish soap at the edge of your lenses, then rinse the soap off. When your glasses are dry, the soap leaves a thin layer that keeps your glasses from fogging up when temperatures change. 
4. When convincing children to wear a face mask, put one on their stuffed toy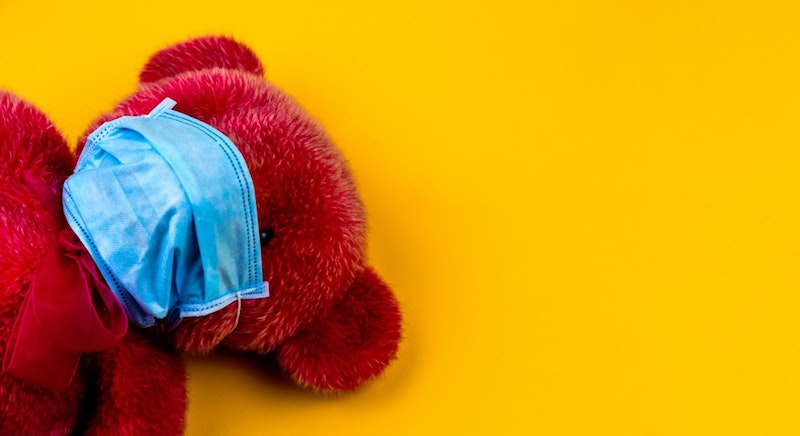 Children can be difficult to convince to wear a surgical face mask, especially if they haven't fully grasped the changes that the coronavirus pandemic has brought about. In fact, explaining such a difficult and dark time like this to your little one is a daunting task in itself. But they sadly have to abide by the new normal just like the rest of us. 
Level with them and put a face mask on their favourite stuffed toy so you can make the idea of wearing a face mask more fun! Maybe you could even use your children's toys to roleplay the current situation of the world just so they have a better appreciation for all the new rules you want them to follow. And more importantly, don't you ever let them catch you without a surgical face mask outside either. You can't break the rules you've set!
Also read: How to Work From Home Productively, Without Losing Your Sanity

For our last and final tip, apply alcohol on your hands before and after taking your surgical masks off. We hope these face mask hacks were informative and help you, one way or another, as you brave the outside world!