Stressed and overwhelmed by that growing to-do checklist? Well, this might be your cue for a quick weekend getaway to some of Asia's most popular destinations that are just a short flight away! Whether you're seeking a shopping holiday, a beach themed vacation or a cultural escapade, we've got you covered.
Procrastinators, you can heave a sigh of relief. We understand, we always end up leaving it too late to book trips for the public holiday weekends but don't give up just yet. Making these last-minute plans a reality just got easier with the amazing Expedia App, which allows you to book your dream vacation anytime and anywhere from the comforts of your mobile device! Take your pick from these five quick 3D2N itineraries to inspire you for your next weekend getaway.
From now till 30 June 2018, use the code
<APP15>
to enjoy an
extra 15%
(up to $50) off*
your hotel booking, exclusively through the
Expedia Mobile App
.
Now, you have all the more reason to book that impromptu weekend getaway!
*Travel period is between now to 31 Dec 2018. Visit the Expedia site for more details!
Bangkok, Thailand
Day 1 – Pratunam
Known as the City of Angels, Bangkok is an amalgamation of interesting sights and sounds that rewards travellers who are willing to get a little lost in this frenetic city. Begin your journey in Pratunam, Bangkok's most vibrant areas. Best known for its cheap wholesale shopping venues, street markets and authentic food places, this district offers you the best of what the city has to offer.
In dire need of a total wardrobe makeover? Platinum Fashion Mall is the place for you! As the name evidently suggests, this mall is THE fashion capital of Pratunam. As this mall is a wholesale shopping centre, be assured that the prices are low and very affordable. To stretch your Thai Baht even further, buy three pieces or more at a shop to get a lower price.
And of course, how can you go to Bangkok and not visit a night market? There are numerous popular night markets in Bangkok, but this new kid on the block is the latest hipster haunt in Pratunam. Just down the road from Platinum Fashion Mall, the Talad Neon Night Market offers a buzzing plethora of stores offering retro and hypebeast-approved fashion items, as well as interesting foods and kitschy kitchen items! Geared towards pleasing the millennial crowds, eclectic neon lights and live performances add to the youthful vibes at this night market.
Platinum Fashion Mall
Address: 222 (Pratunam) Petchaburi Road, Ratchathevee, Bangkok, Thailand
Opening Hours:
Daily, 10am to 10pm
Talad Neon Night Market
Address: 1087 Khwaeng Makkasan, Khet Ratchathewi, Krung Thep Maha Nakhon 10400, Thailand
Opening Hours:
Thursday to Sunday, 5pm to 12mn
Book your flights and hotels to Bangkok with just a couple of taps and swipes. Fast forward to your Bangkok adventure with a seamless booking experience with the Expedia App! Sourcing from over 400 airlines and 500,000 hotels, Expedia gives you the best flights timings and hotel prices to suit any schedule and budget. The Expedia App also notifies you about any important travel updates such as a change in gate numbers or flight timings. Find out more about the Expedia Mobile App here!
Day 2 – Culture and Chatuchak
Start your day with a trip to the Grand Palace Complex, which is undoubtedly Bangkok's most famous landmark. Built in 1782, the Grand Palace leaves its visitors awestruck by its beautiful architecture and intricate details, which is a true testament of the creativity and craftsmanship of the Thai People. Also known as the spiritual heart of the Thai Kingdom, it used to house the Thai War Ministry and even the mint.
Since you're in Bangkok just for three days, the Chatuchak Weekend Market is a must-visit! Consisting of over 8,000 stalls, it's probably the biggest market that you'll find anywhere on this planet. Conquering Chatuchak might seem like an impossible feat, but fret not. One main walkway encircles the entire market, and it then branches into a series of alleyways called Soi 1, Soi 2, Soi 3 and so on. Here you can find almost anything that you can think of, from clothing and accessories to furniture and home decor items.
Grand Palace Complex
Address: Na Phra Lan Road, Old City
Opening Hours:
8.30am to 3.30pm
Chatuchak Market
Address: 587/10 Kamphaeng Phet 2 Rd, Chatuchak District
Opening Hours:
Saturday and Sunday, 9am to 6pm
Day 3 – Floating Market
The bustling scene at Damnoen Saduak Floating Market is a timeless snapshot of exotic Thailand! It is highly advisable to join a tour for a morning trip to this world-famous floating market as it is about more than an hours' drive away from central Bangkok. Once you reach the pier, hop onto one of the traditional long-tail boats that will be waiting to take you to the market. Take in the sights of the scenic, winding waterways before being greeted by the chaotic pace of the market.
Top off your trip with a fancy evening at Chili Hip Bangkok. Offering a luxe rooftop location, chic decor, chill vibes and fantastic views of the city, Chili Hip is the place to go. Located on the 20th floor of Centara Watergate Pavillion Hotel, this restaurant is probably the most value-for-money rooftop dinner experience that you can get in the heart of Bangkok!
Damnoen Saduak Floating Market
Address: Tambon Damnoen Saduak, Amphoe Damnoen Saduak, Ratchaburi Province
Opening Hours:
Monday to Friday 8am to 12nn, Saturday and Sunday 8am to 5pm
Chili Hip Bangkok
Address: 487/26 Phetchaburi Road, Pratunam
Opening Hours:
Daily, 5pm to 11pm
Already can't wait to take in the sights and sounds of bustling Bangkok? Save big with Expedia's signature speciality – hotel and flight bundle deals!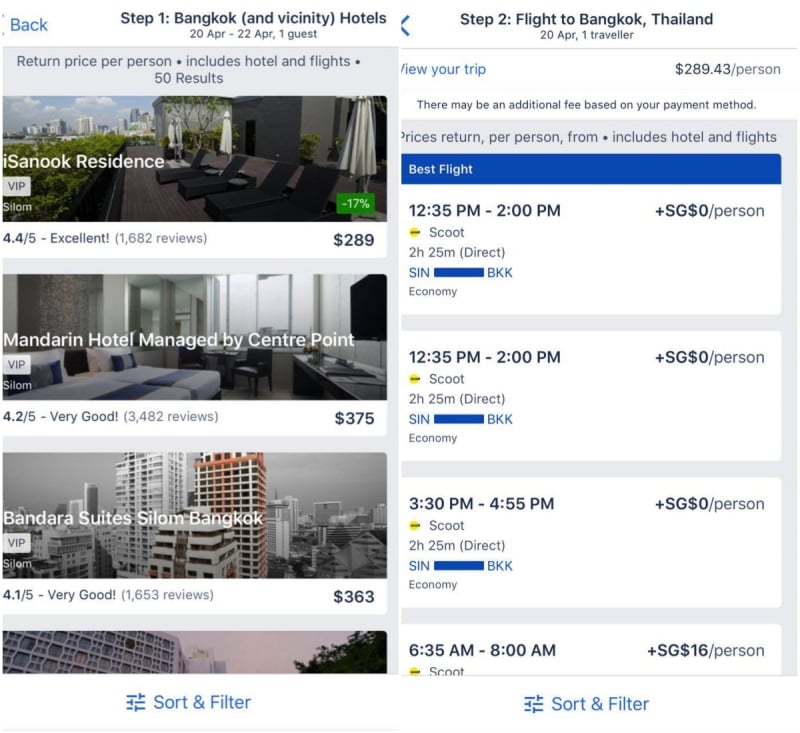 We understand that your wanderlust tendencies may burn a hole in your pockets. But when you complete your booking via the Expedia Mobile App, you can easily save up S$600 with bundle deals, compared to booking them separately. Get more bang for your buck by looking out for exclusive Mobile-only deals and save up to a whopping 40% more. Travelling for less just got easier with the Expedia App!
Check out these fantastic deals on Expedia:
*Do note that prices are subject to daily fluctuations.
Bali, Indonesia
The Island of Gods is a pulsating hub of opportunities for adventure, relaxation and exploration. As soon as your flight lands at Ngurah Rai International Airport, take a metered taxi or your arranged airport transfer to the serene town of Ubud. Be welcomed by the lush greenery of the rice paddies and let the fresh countryside air fill your lungs. Also known as Bali's cultural heart, Ubud's calming atmosphere will invigorate your soul and bring you closer to nature.
Day 1 – Ubud
While you're at Ubud, make a pit-stop at Ibu Oka, a well-known eatery which is famous for its Babi Guling Dish! This local establishment serves the juiciest roast suckling pig, attracting the local and international crowds. Served with rice and Ibu Oka's secret sauce in a traditional rattan bowl, this is the heartiest welcome that you can get for your first day in Bali!
After your scrumptious lunch, work those calories off with a scenic hike along the Campuhan Ridge Walk! The nature trail starts off from Ibah Hotel and it takes about slightly more than an hour to complete the hike. The trek is relatively easy and well-maintained and offers a sneak peak into Ubud's countryside life. End the day by watching the sunset from Tegalalang rice terraces.
Budget-conscious travellers rejoice! With the exclusive member pricing feature on the Expedia App, save an additional 10% or more on your adventure to Bali. All you have to do is sign up as an Expedia+ member (and signups are free!). Click on the 'Member Pricing' button as soon as you launch the app and scroll through hundreds of different hotels and villas. Keep your eyes peeled for the yellow Member Pricing Tag at the right side to know which hotels are eligible for the discount. Awesome or what? All the more reason to download the Expedia App now and be on your way to massive savings!
Day 2 – Best of Seminyak

After making your way back from Ubud, start your day in Seminyak with a scrumptious brunch sesh at Ritual Coffee Shop and Boutique. Known for its great coffee, unique designs and alternative fashion, this quirky little boutique-cum-cafe doesn't just serve any old cuppa Joe. It uses a speciality coffee blend from Toraja to ensure that you get only the best coffee for your caffeine fix. Next, head to Jiwa Bikram Yoga to burn off those calories! Regardless of whether you're just a beginner or a veteran yoga practitioner, there will definitely be a class to suit your needs. Do contact them and arrange for your preferred class in advance!
End the day by catching the sunset (Bali is famous for her sunsets!) at the renowned Potato Head Beach Club, which is home to a ritzy beachfront bar, swanky restaurants and an infinity pool with stunning views of the sunset against the Indian Ocean, it is a glamorous venue not to be missed.
Ritual Coffee Shop & Boutique
Address: Jl. Kayu Aya No. 8, Bali

Opening hours: 8am-8pm daily
Jiwa Bikram Yoga
Address: 78 Jalan Petitenget, Kerobokan Kelod, Bali, Indonesia

Opening hours: Check out their class schedule on their
website
Potato Head Beach Club
Address: Jl. Petitenget No. 51 Seminyak, Bali 83061

Opening hours: 10am to 2am
Day 3 – Surfing
With over 60 surf spots scattered across the island, surfers are spoilt for choice. Head down to Uluwatu and catch a wave against the backdrop of the world-renowned Uluwatu Temple! Do note that this location is recommended for intermediate to advanced surfers due to its gnarly waves and strong currents. For beginners, Kuta Beach would be an excellent choice, with numerous surf schools offering lessons at reasonable rates.
End your trip in Bali with a visit to the Uluwatu Temple. Believed to be one of Bali's spiritual pillars, it is famous for its stunning location perched atop a steep cliff about 70m above sea level. The Balinese Hindus believe that the spiritual powers of Brahma, Vishnu and Siva become one here and that the temple is dedicated to protecting Bali from evil spirits!  Be sure to also catch the daily Kecak dance performances for a glimpse into the Balinese art scene.
Uluwatu Temple

Address:
Pecatu, South Kuta, Badung Regency, Bali, Indonesia

Opening hours: 9am-6pm daily
What's more, book your Bali getaway now on the Expedia App and rake up rewards points on your mobile booking! Get instant Expedia Rewards member recognition and level up your member status as you travel more with Expedia. And drumroll… For a LIMITED PERIOD ONLY, Expedia is giving you double the Rewards points for all bookings made through the app! Sounds too good to be true? We kid you not!
Check out these fantastic deals on Expedia:
*Do note that prices are subject to daily fluctuations.
From now till 30 June 2018, use the code <APP15> to enjoy an extra 15% (up to $50) off* your hotel booking, exclusively through the Expedia Mobile App.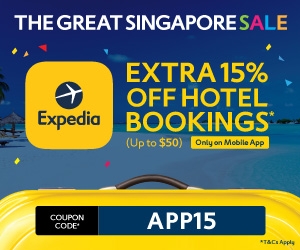 Cebu, Philippines
Day 1 – Whale Watching and Island Tour
Kick-start your adventure in Cebu with an exhilarating journey to Oslob to watch the whale sharks! Venture into the open waters, where your guide will attract them closer with food for the day. Don't worry – even though they are the largest fish in the world, they are renowned for being the epitome of gentle giants. Their frequent interactions with humans have allowed them to become more accepting, and even comfortable with the human presence. Just be sure not to make any loud noises, or be aggressive towards them. As always, treat the animals around you with care and respect.
After your exciting encounter with the whale sharks, head to Bluewater Sumilon Island, a stunning marine sanctuary that guarantees a private time of peace and quiet. This doesn't mean there's nothing to do here; on the contrary, the possibilities are endless! Snorkel in the pristine waters, explore the nooks and crannies of the caves and take hikes amongst the lush greenery of the forest. However you decide to spend your time, savour the experience fully and enjoy it at your own pace and comfort. That's a luxury we don't often get to enjoy.
Bluewater Sumilon Island
Address:
Sumilon Island, Oslob, Cebu 6025
Day 2 – Osmena Peak and Kawasan Falls
Hike your way up to Osmena Peak, one of the highest points in Cebu, for a glimpse of some of the most picturesque views of Mother Nature. Be rejuvenated by the crisp, fresh air and the alluring sight of jagged cliffs and the vast blue sea. Although it is a relatively easy trek that can be completed within 30-40 minutes (one way), make sure you are well equipped with proper attire to combat the wind and possible wet terrain. If you are feeling particularly enthusiastic, you may even try to catch the sunrise with an early morning trek – the views will certainly be rewarding.
After your hike, keep your heart rate up by going canyoneering at the Kawasan Falls. For the uninitiated, canyoneering is an adrenaline-inducing sport of travelling down streams in a canyon by any means possible. You could walk and swim, but where's the thrill in that? Instead, one of the most popular options is to jump straight into the water.
Osmena Peak
Address:
Mantalongon, Dalaguete, 6022
Kawasan Falls
Address:
Kawasan Falls,
Badian, 6031
Day 3 – City Tour and Stations of the Cross
Aside from all the natural beauty that Cebu has to offer, its city is also brimming with an abundance of art, culture and tradition. Take a tour around the bustling metropolis and uncover some of their most prominent buildings and monuments. For one, the Cebu Capitol Building boasts of neoclassical and art deco styles and is a sheer architectural work of art. It reflects decades of the provincial government's reign and bears witness to the city's growth and prosperity.
In addition, the Casa Gorordo Museum is an iconic attraction that has been classified as a national historical landmark. While its exterior is humble and unassuming, it contains a rich backstory that is pivotal to Cebu's history. In 1863, a Spanish Merchant Juan Isidro de Gorordo first lived here and passing it to his descendent Juan Gorordo, the first Filipino bishop of Cebu. It has since been converted into a museum to store and immortalise the architecture, antiques and relics from the Spanish colonial period. If you want to know more about Cebu's past, this is the place to be!
Cebu Capitol Building
Address:
Near N Escario St.,
Cebu City, 6000 Cebu, Philippines

Opening Hours:
8am to 5pm
Casa Gorordo Museum
Address: 35 Eduardo Aboitiz St, Cebu City, 6000 Cebu, Philippines
Opening Hours:
10am to 6pm
With the Expedia App, don't vex over planning your itinerary or go to the trouble of perusing different websites just to book your tickets. Instead, get it all covered with just a few taps on your phone! The 'Things to Do' tab will recommend a whole list of exciting activities for you to browse through and provides you with the convenience of booking tickets to your favourite attractions directly. It's that simple!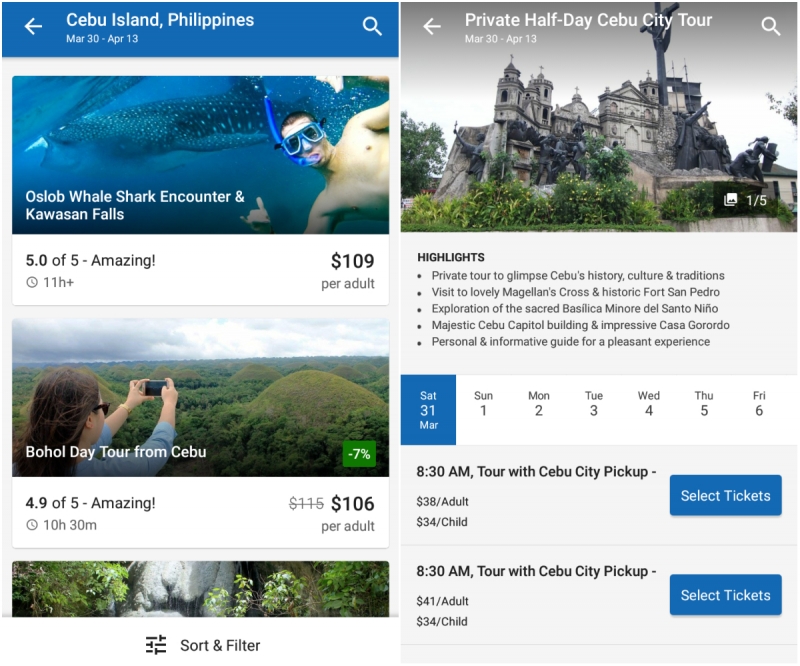 Tailor-make your own holiday schedule by mixing and matching between different activities and there you have it – the perfect weekend getaway!
Check out these fantastic deals on Expedia:
*Do note that prices are subject to daily fluctuations.
Kuala Lumpur, Malaysia
Day 1 – City Tour and Petronas Towers
On your first day in Kuala Lumpur, it would be good for you to get acquainted with the heart and soul of this bustling city. One of the most fundamental tenets to the majority of Malaysians is their Muslim faith. Make time to visit their stunning mosques, such as the Wilayah Mosque or the National Mosque of Kuala Lumpur to gain a better understanding of their faith and cultures. Do take note that as places of worship, it is important to show respect. Another cornerstone of the authentic Malaysian experience can be found in local markets, with the Central Market leading the way. This celebrated cultural heritage site is home to more than 350 shops and kiosks that live and breathe local life, and locals and tourists alike flock here to eat and do their shopping.   
Of course, you cannot make a trip to Kuala Lumpur without stopping by their world-renowned Petronas Towers! Don't just look at the towers from the outside – make your way up to the Skybridge on the 41st floor, or the Observation deck on the 86th floor to catch the majestic, panoramic view of the Kuala Lumpur skyline. Also, head to the adjourning Suria KLCC, the biggest and best mall in the city for shopping like you've never seen before.
Central Market
Address:
Jalan Hang Kasturi, City Centre, 50050 Kuala Lumpur, Wilayah Persekutuan Kuala 
Lumpur

Opening Hours:
10am to 9.30pm (daily)
Petronas Twin Towers
Address:
Kuala Lumpur City Centre, 50088 Kuala Lumpur, Wilayah Persekutuan Kuala Lumpur
Opening Hours:
9am to 9pm (closed on Mondays)
Day 2: Batu Caves
Make your way up North to Batu Caves, a limestone hill with a series of caves and cave temples. Be greeted with a giant golden statue of Lord Murugan, a Hindu deity revered as the God of War. As you climb up and enter the 400 million-year-old limestone formations, you'll also come face to face with many statues of other Hindu deities.
One of the most quintessential experiences that must be had in Kuala Lumpur is stuffing yourself silly with food! Head to some of the most authentic restaurants for a whiff of the most aromatic curries, and a taste of their very best cuisine. Nasi Kandar Pelita is a Mamak (Indian Muslim) restaurant that serves up a whole range of dishes to be paired with steamed rice, as well as local favourites like Thosai and Roti Canai. Also, be sure to try KL-style Hokkien Mee at the coffee shop off Petaling Street for a truly heartwarming meal.
Nasi Kandar Pelita
Address: No. 149, Jalan Ampang, 50450 Kuala Lumpur
Opening Hours:
24 hours (daily)
Day 3 – Sunway Lagoon
It's your final day here, so let loose and go wild at the Sunway Lagoon Theme Park. After a short 30 minute drive from the central district of Kuala Lumpur, you'll find yourself at the entrance of a multi-award winning theme park. With the plethora of rides suitable for all ages and a range of other entertaining attractions, rest assured that you'll have a memorable day out in the sun.
In addition, Sunway Lagoon has its very own in-house Wildlife Park, which is home to more than 150 species of exotic animals from around the world. Find out even more about the animals with the Park's unique Wildlife Encounters segment, and interact with these talented and lovable creatures.
Sunway Lagoon Theme Park
Address: 3, Jalan PJS 11/11, Bandar Sunway, 47500 Petaling Jaya, Selangor
Opening Hours:
10am to 6pm (daily)
Who doesn't love a good road trip? Many people love the convenience and accessibility of self-driving around Kuala Lumpur; you'll have the complete freedom to go wherever you want to, whenever you want to. The Expedia App allows for seamless car-rental services and you can select from a range of options to make it your best ride yet.
In addition, you can pair your car-rentals with other recommendations to complete your journey. Whether you are searching for accommodation or other modes of transport, the Expedia App has it all at hand.
Check out these fantastic deals on Expedia:
*Do note that prices are subject to daily fluctuations.
Siem Reap, Cambodia
Day 1 – Angkor Wat
Begin your Cambodian escapade to the enigmatic Angkor Wat, the largest religious complex in the world. Not only does it boast an immaculate architectural feat, it also contains the remains of different capitals from the previous Khmer Empire. Angkor Wat continues to act as a symbol of national pride and has played a part in fostering diplomatic ties with other nations.
Next, make your way to Ta Prohm, one of the most prominent temples within the complex. Popularised by the movie 'Tomb Raider', this temple has received a lot of attention as a venerable ruin that has been susceptible to the overgrowth and fecundity of the forest. Huge tree roots have taken over the temple grounds, and old Buddha carvings are slowly being eroded from the forces of nature.

Angkor Wat
Address:
Siem Reap, 243001
Opening Hours
: 5am to 6pm (daily)
Sometimes, we have a hard time choosing between the myriad of amazing travel destinations for our next quick getaway. However, with the 'Staff Picks' on the Expedia App, this decision might not be so hard after all! Get some travel inspiration with their hand-picked selection of countries, and choose from their recommended hotels. Travel indeed just got much easier!
Day 2 – Tonlé Sap and Cultural Village
There's no better way to experience a destination than through a local perspective! Take a leisurely boat ride along Tonlé Sap, a freshwater lake that connects directly to the Mekong River. Here, you'll find the enclaves of floating villages where natives make a living off their catch of the day. Take a glimpse into their everyday lives, and even have a meal at one of their floating restaurants! It'll be a dining experience like no other.
Thereafter, pay a visit to the Cambodian Cultural Village, a theme park and museum to celebrate and showcase their unique local heritage. Be enthralled by their vibrant dance performances, savour sumptuous Cambodian cuisine and get your very own traditional massage. It's a one-stop shop to learn and experience the very best of this amazing country!
Tonlé Sap
Address:
Lower Mekong Basin
Cambodian Cultural Village
Address:
Airport Road # 6, Khum Svay Dang Kum | Krus Village, Siem Reap
Day 3 – Rest and relax at your resort
Sometimes, all you need on a holiday is a proper chance for some rest and relaxation. At the Sarai Resort and Spa, the elegant and ethereal design is the perfect setup for a tranquil and zen afternoon. Take full advantage of all the perks at your stunning resort, and spend the day lounging by the pool and watching the clouds go past. It'll be as though you're transported to somewhere far away – far from all your worries, at least!
Also, seize the opportunity to pamper yourself with some tender loving care. Treat yourself to indulgent spa treatments and massage sessions. By the end of the trip, your mind will be clear and well rested.
Sarai Resort and Spa
Address: Wat Damnak Village, Salakamreuk, Krong Siem Reap, Cambodia
Check out these fantastic deals on Expedia:
*Do note that prices are subject to daily fluctuations.
Let a short trip revitalise and reinvigorate your tired soul for you to fight those Monday blues with newfound positivity. What's more, with the Expedia App, planning that much-needed trip is sure to be a breeze! With its user-friendly interface and seamless booking platform, all it takes is a few taps to be on your way to enjoying a fun-filled vacation.
To make it a bit sweeter, from now till 30 June 2018, use the code
<APP15>
to enjoy an
extra 15%
(up to $50) off*
your hotel booking, exclusively through the
Expedia Mobile App
.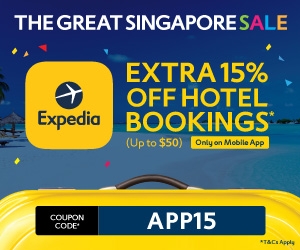 Download the Expedia Mobile App today!
*Travel period must be from now till 31 Dec 2018. Visit the Expedia site for more details!
Say goodbye to scouring various deal websites promising good prices only to find out that they don't include the multitude of peak period surcharges and what nots. And with all the amazing features and deals outlined earlier, you should already be downloading the Expedia App now!
---
Brought to you by Expedia.