Japan isn't the cheapest of travel destinations; from its food, transport, accommodation to its flights, a vacation to Japan is not one that you can plan on a whim. Even a night's stay at a lower end hotel can set you back about S$100 to $150 per person!
While you can easily save on things like food, other essentials like flights and accommodation are big-ticket items that cannot be avoided. Here are 8 hacks to help you snag your accommodation for cheap (or even free!), making your trip to the Land of the Rising Sun way more wallet-friendly than you would think.
Tip: The easiest way to save on your accommodation in Japan? Making use of discounts! With Expedia's Add-On, you can enjoy up to 57% off your hotel booking after booking your flights to Japan! Want to know more? Read on!
1. Look for cheaper alternatives
Other than hotels, some of the more popular and cheaper options include Airbnbs, capsule hotels and sometimes even traditional ryokans. However, with tightening government regulations on Airbnbs and the increasing popularity of ryokan and capsule hotels as a quintessential Japanese experience, these may not be the cheapest or most novel alternatives anymore.
However, the fascinating country of Japan offers plenty of other affordable accommodation options for you to choose from!
Public baths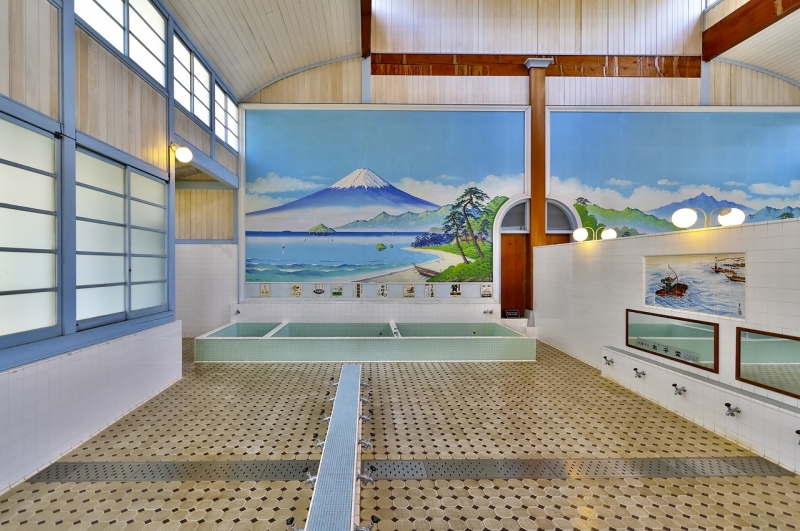 Japanese hot springs, or onsens, can be found all over the country and some of the public baths even offer lodging for the night, much like in South Korea. Prices can start from as low as 1600 yen (~S$20) per night and part of your experience includes a hot soak in the healing hot springs. Just remember to do your research before you attempt to spend a night in a public bath as not all of them allow you to do so.
Try Ekimae Koto Onsen for a traditional feel or Odaiba Oedo Onsen Monogatari for a multi-faceted onsen experience! If you're not one to give up on creature comforts, you can easily find an affordable accommodation option within the vicinity of your bath using Expedia!
Minshuku
A minshuku is a Japanese-style bed and breakfast or guest house. It is different from a ryokan, which is a traditional Japanese inn and oftentimes more expensive. However, these family-run minshukus offer a no less authentic Japanese experience, including sleeping on traditional tatami beds! As most minshukus are half board, with lunch and dinner included, the prices range from S$50 to S$110 per night.
Considering that a typical meal in Japan can set you back at least S$10 to S$20, the amount you pay for your stay in a minshuku is worth it – especially since the meals are home-cooked and authentically Japanese! Though it isn't your typical accommodation, minshukus are available to be booked on websites like Expedia, so you can reserve your spot at these unique stays well before your trip.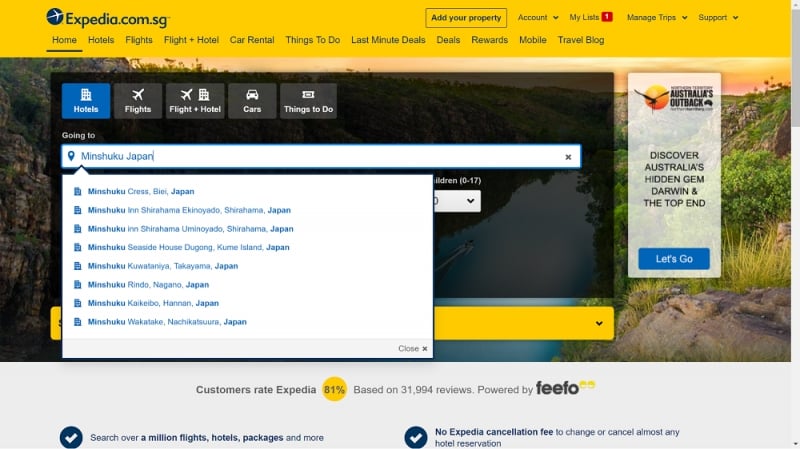 Pensions
Pensions are basically the westernised versions of minshukus, so think beds instead of tatamis and Western meals instead of Japanese ones. Most pensions are half board as well and will cost you about 6000 to 12000 yen (~S$75-S$150) per night. Though not as common in Japan, you can still find them in abundance in areas like Furano, Niseko, Nikko, Nasu, Zao, Urabandai and Karuizawa. Similar to minshukus, most pensions can be booked on online sites like Expedia as well!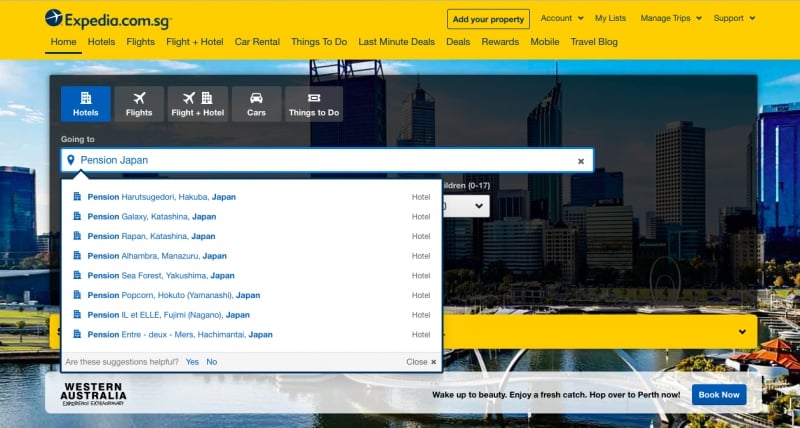 2. Book your flights and accommodation on the same platform
Many booking sites usually offer package discounts when you bundle your flight and accommodation bookings together, and Expedia is no exception! But Expedia isn't just offering bundled offers. After making your flight bookings to Japan, Expedia's new Add-On will reward you with 57%* off your hotel booking as well!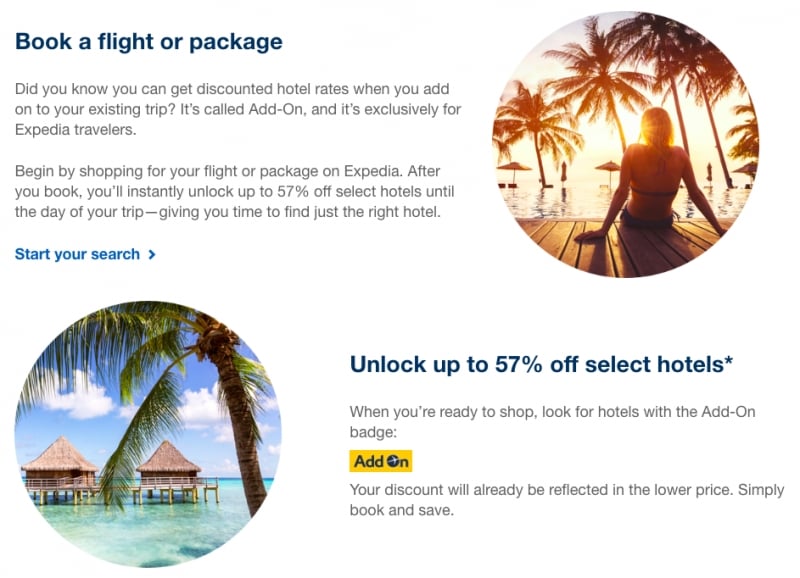 The best part? You don't have to rush to book everything at once in fear of the prices going up. Weigh your options, sleep on it and book the hotel that feels like the best fit.
The 57%* discount off your hotel booking will apply right up until the day of your trip! Talk about incredible savings on your accommodation! Plus, enjoy the convenience of being able to manage all of your flights and accommodation bookings on the same platform.
* Terms and Conditions apply.
3. Beat the crowds, especially during Cherry Blossom season!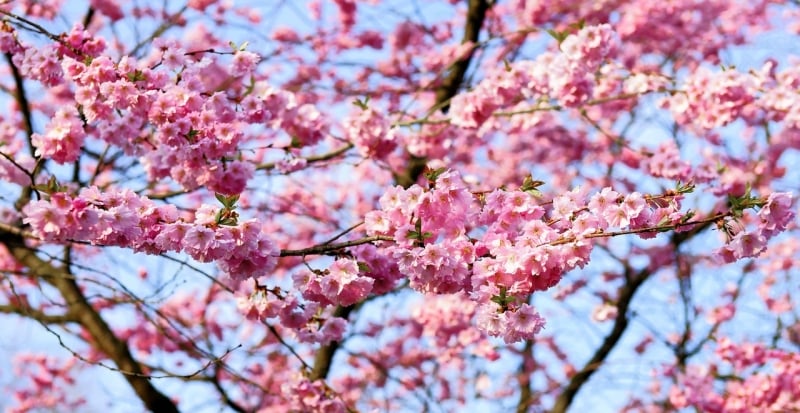 The Japanese take their national holidays pretty seriously so you shouldn't even think about travelling there during periods like the New Year or Golden Week. Domestic travel is common in Japan so most hotels and accommodations are likely to be fully booked months in advance, driving up the prices of accommodation significantly. The influx of international tourists that throng the streets of Japan, especially during spring, doesn't help either!
However, travelling during cherry blossom season doesn't necessarily have to mean expensive accommodation. Different regions in Japan bloom at different times, so keep an eye on cherry blossom forecasts to know which other areas you can visit to avoid the crowds in popular areas like Tokyo. Avoiding the peak full bloom periods is also a good idea, as you'll still be able to catch a glimpse of the lovely pink blossoms with less of a crowd!
4. Work for your night of sleep
Some hostels in Japan offer you the option of staying for free in exchange for helping out around the place for a few hours a day. This is also a rare opportunity to immerse yourself in Japanese life since you'll be working and living like a local.
Most of these hostels cater to tourists, so you won't have to worry about any language barriers while working there. You can even take the opportunity to brush up on your Japanese while you're there!
5.  Consider your location and duration of stay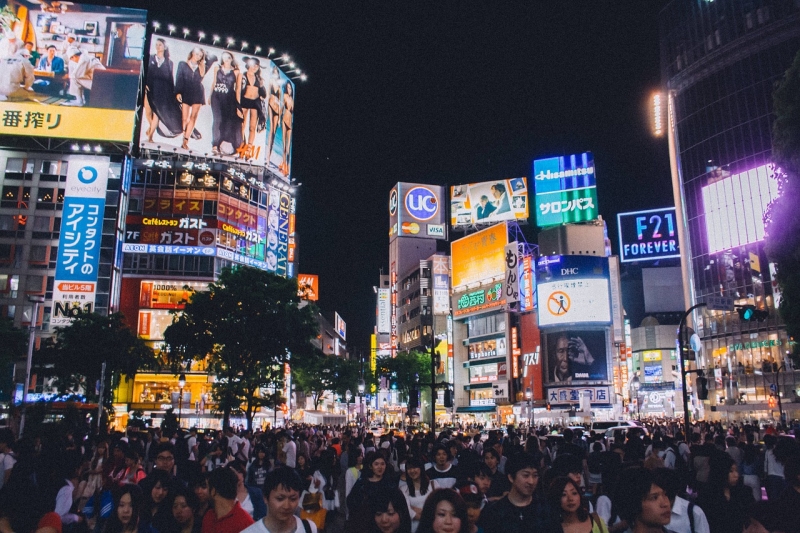 If you're staying in the city centre or closer to a train station, you'll have to expect higher nightly rates in exchange for the convenience. If you don't mind a longer walk to the train station, choose an accommodation that is slightly further away from the city area. Not only will you get better rates, you get to enjoy some peace and quiet and might even stumble upon some hidden gems in the residential areas.
While you might want to try all of Japan's fascinating forms of accommodation, it's not recommended to hotel hop if you can help it. Staying more than one night in the same place usually gets you better nightly rates. If you're desperate to save a bit more cash, you might even want to try planning your holiday to coincide with the middle of the week, to avoid the slightly higher weekend rates.
However, with Expedia's Add-on, staying in the convenient areas might not be that expensive after all! Book your flights to Japan on Expedia and be rewarded with 57% off your hotel booking, right up until the day of your trip. Do your research on where is the most convenient location to stay in Japan and book your accommodation when you're ready!
6. Say 'no' to meals
Many accommodations offer meals or are even half board or full board in the case of minshukus and ryokans. However, you often have the choice to exclude these meals from your package for a lower nightly rate. Not only will these add-on meals add significantly to your travel expenditure, you'll end up missing the chance to try new things. Opt for an affordable breakfast at a Japanese bakery or get a utility breakfast bento or ramen. It'll make for a uniquely Japanese breakfast experience!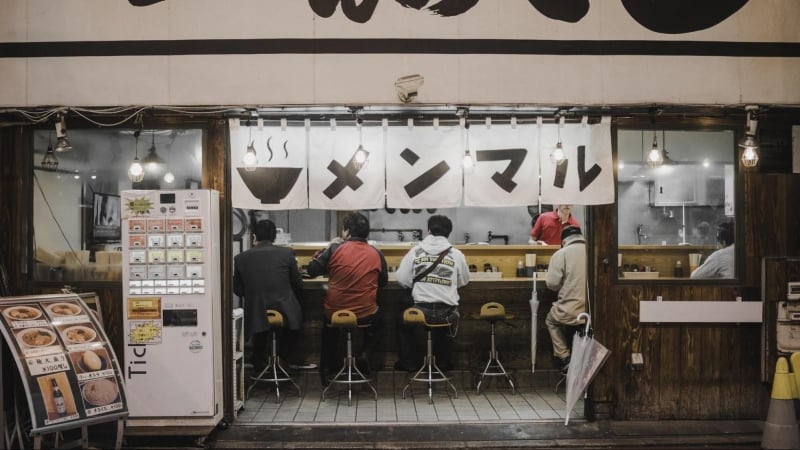 7. Stay out for more!
Though not everyone's cup of tea, you can even plan your itinerary such that you don't have to book a night's accommodation at all!
Travel overnight
If you're planning to travel around Japan, you might want to opt for an overnight train to save yourself a night on accommodation. While there aren't many overnight trains left in Japan and are significantly slower than the bullet trains, they are a cheaper mode of transportation and will also save you on a night's accommodation.
Alternatively, you can also to rent a car and make a little overnight road trip to save on time and accommodation costs by using the night to travel. Good news, because Expedia Car Hire offers car rentals for as low as $939 for 12 days. That said, ensure that you're well-rested or at least have a good driver roster rotation to prevent any accidents. Safety first!
Night Tours
As taxis and other private-hire vehicles are extremely pricey in Japan, locals often choose to stay out late once the public transportation service ends. With Tokyo After Dark, you can enjoy a private and personalised experience of Japan as night falls. Allow a local to take you around Tokyo: from taking shots at quirky Shinjuku bars to slurping hearty ramen at 3am.
End the night at one of Japan's famous karaoke spots and belt your heart out in a cosy, private space until morning (or at least until the public transportation starts running again!)
8. Avoid the extra fees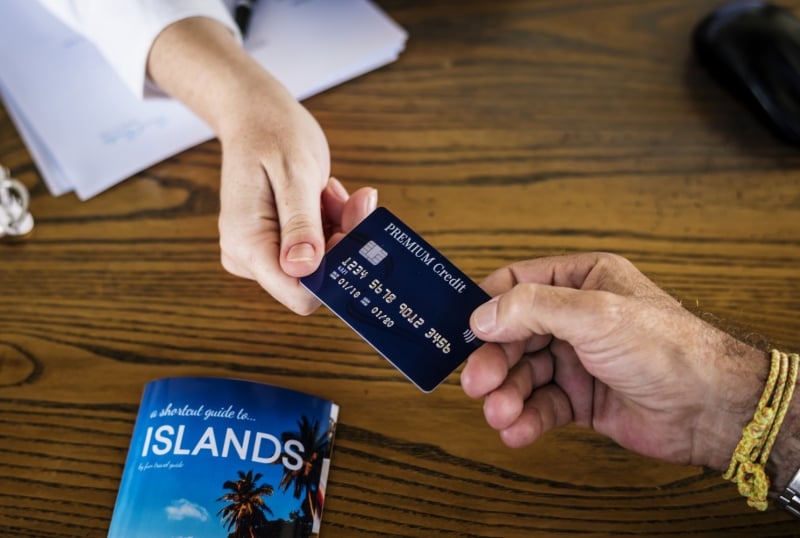 While Japan is still a very cash-oriented society, they've become more welcoming of credit cards in recent years. Expect to pay for your accommodation in cash, especially if it's a traditional or smaller establishment. If you don't prepare enough cash and have to withdraw money from an ATM, you'll probably be charged with hefty Foreign Transaction Fees and other withdrawal fees.
Even if your accommodation allows payment by credit card, some places impose taxes on credit card payments, which result in higher fees. If you're not comfortable with carrying around too much cash or want to avoid unforeseen charges, book in advance on trusted online platforms like Expedia. That way, the transaction is done in your home currency and you can travel to Japan with peace of mind!
Expedia also fully understands the hassle of researching and choosing the perfect and most affordable accommodation for your holiday, which is why they've introduced their exclusive
Add-On
!
After booking your flights to Japan on Expedia, you can unlock up to 57%* off on select hotels, for accommodation bookings, right up until the day of your trip. You won't have to stress about prices going up as you wait on procrastinating friends. Make use of Expedia's Add-On to ensure amazing savings and an unforgettable vacation in Japan!
* Terms and Conditions apply.
And there you have it! Travel hacks to make your accommodation that much cheaper. Remember, it's not just what you book (the type of accommodation, location and dates), but how you book (with booking advantages like that on Expedia) that can make a world of difference in price!
---
Brought to you by Expedia.