Often described as the world's greatest light show, the aurora borealis – commonly known as the northern lights – is one of nature's most spectacular phenomena. A dazzling spectrum of colourful lights dancing across the pitch-black sky makes for an unforgettable sight, so it's hardly surprising that witnessing this mesmerising display in person is on every traveller's bucket list.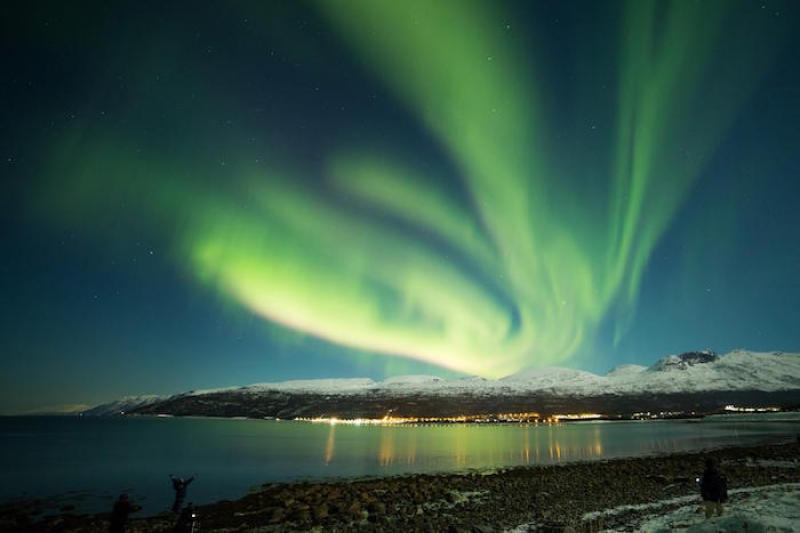 And there's no better time than now to try and catch this natural wonder. While the northern lights aren't disappearing, soon, they will become harder to see. The elusive aurora borealis is the result of the collision of atmospheric gases and charged particles from the sun, so its brightness and visibility are affected by the sun's solar activity. By the end of 2018, the sun will approach its solar minimum and remain dormant for about 11 years, which greatly reduces the frequency of aurora appearances – and your chances of spotting them.
All the more reason to travel to these five arctic destinations that are known sweet spots for aurora-hunters. With a bit of planning – and a lot of luck – you may just see the northern lights for yourself. Even if you don't, the postcard-worthy landscapes and heart-pumping excursions will still make your trip an adventure of a lifetime.
1. Tromsø, Norway
Spotting the unpredictable lights might be a priority, but your daytime activities should be equally enthralling. That's why Tromsø is popular with travellers – not only is it strategically located above the Arctic Circle in prime aurora-chasing territory (with several meteorological zones just a short drive away), but its charming city life, picturesque architecture and magnificent scenery have resulted in it being dubbed 'the Paris of the North'. Increase your chances of spotting the aurora borealis by embarking on a cruise aboard the famous Hurtigruten ship towards the Lofoten Islands, along the breathtaking Norwegian coastline.
Book your trip with EU Holidays: 'Aurora Chasing in Norway + Hurtigruten Cruise'
2. Sommarøy Island, Norway
Just an hour's drive from Tromsø is the locals' best-kept secret for spotting the northern lights – the tiny tranquil island of Sommarøy, a coastal fishing town with less than 400 inhabitants. In wintertime, the aurora borealis often lights up the pitch-black sky, and the island's panoramic views, white sand beaches and crashing waves provide a stunning backdrop for the spectacular light show. Between November and January, you'll also have the opportunity to witness another of nature's marvels – every year, majestic humpback and killer whales fill the surrounding waters, so be sure to book a boat trip to see the beauty of these creatures up close.
Book your trip with EU Holidays: 'Aurora Chasing in Norway'
 3. Lapland, Finland
In the sparsely populated arctic wilderness of Finnish Lapland, the northern lights are said to be visible on roughly 200 nights out of the year. But experiencing the aurora borealis doesn't always have to mean long hours outside in the frigid cold. In resort villages like Saariselkä and Kakslauttanen, you can stay in a glass-domed igloo for an unobstructed view of the night sky without ever leaving the warmth of your bed. In between aurora chasing, don't forget to pay a visit to Santa Claus in his hometown of Rovaniemi, the region's capital.
Book your trip with EU Holidays: 'Winter Adventure in Finland'
4. Iceland
There's no excuse for not travelling to Iceland in winter to try and catch the northern lights – if weather conditions are right, they can be spotted from almost anywhere in the country! Clear, cloudless skies and total darkness are key factors for aurora sightings, so venture outside of major cities like Reykjavik and Akureyri to where light pollution is at a minimum. Be sure to visit Þingvellir National Park, a UNESCO World Heritage Site, for a chance to view the lights against a majestic geological landscape.
Book your trip with EU Holidays: 'Northern Lights of Iceland'
5. Svalbard, Norway
Home to the northernmost town on the planet, the Svalbard islands are halfway between continental Norway and the North Pole. It's also the only place on earth where you can see the aurora borealis in the day (during the polar night from November to February). With a population of just 2,000 in the only town of Longyearbyen, Svalbard's rugged, icy terrain of glaciers and polar bears remains truly untouched. Huddle around a fire in a Sami-style tent, chase the aurora from a snowmobile, or take a tour of the fjords. Seeing the northern lights will be a part of this once-in-a-lifetime journey.
Book your trip with EU Holidays: 'North Pole Svalbard Islands'
So what are you waiting for? This magnificent extravaganza awaits!
Chase the light with EU Holidays! (Taken in Norway on 5 March 2017)
---
About EU Holidays:
EU Holidays are the leading experts when it comes to Europe and USA travel and specialise in Europe tours. Their tour managers are highly knowledgeable, extremely passionate about travel, and provide excellent service.To book a trip with EU Holidays, visit their website, call +65 6535 8535, or send an email to [email protected].