Now that the ball has long dropped for 2019 and many of you have probably included "travel more" in your resolutions, it's about time to start making your travel plans for the year!
Forget the touristy favourites like Korea and Thailand and add these exotic destinations (as voted by our community) to your list of must-visit holiday destinations. From vibrant streets to breathtaking beaches, these unfamiliar locations are sure to spice up your life with their rich cultures and liveliness.
Broaden your horizons this 2019 and explore a new and exotic destination with
Ethiopian Airlines
.
Venture beyond our Asian shores and plan a holiday to any of these exotic destinations and more! From now till 31 Mar 2019*, book your flights with Ethiopian Airlines and enjoy 10% off your tickets! For extra savings, download the Ethiopian mobile app and enjoy additional savings of 15%!
*Travel period: 1 Mar 2019 to 21 Jun 2019 and 16 Sep 2019 to 22 Nov 2019.
1. São Paulo, Brazil
São Paulo, or Sampa, as it is affectionately referred to, is the largest city in the southern hemisphere and third largest in the Americas. That said, the 12 million people have plenty to keep themselves entertained and it's not hard to see why. With 120 theatres, over 100 museums and approximately 300 cinemas, we're merely scratching the surface of what São Paulo has to offer.
Sitting in the historic centre of São Paulo, made from more than 800 tonnes of marble and able to accommodate 8,000 people, is the fourth largest gothic cathedral in the world – the São Paulo Cathedral.
Although it has mostly neo-Gothic architectural style, this cathedral has a Renaissance-style dome, stained glass windows that depict the history of Catholicism in Brazil. Carved into the columns of the cathedral are also Brazilian flora and fauna, like pineapples, branches of coffee and armadillos!
Aside from a slice of religious history, you can also explore the city's nature at Parque Agua Branca, one of the many parks scattered around the city.
What makes it special? Aside from the street musicians and food stalls, Parque Agua Branca is full of animals! Chickens and roosters roam free in the park and horses are kept in stables, ready for horse riding lessons.
If you're here over the weekend, live like the Paulistanos (São Paulo residents) by heading to any of the street markets around the city. Popular ones to look out for are The Bixiga, Liberdade and Praça Benedito Calixto. where you can sample some delectable delicacies while basking in the warm atmosphere!
Enjoy 15% Off Flights to São Paulo
2. Buenos Aires, Argentina
Your wallet certainly won't cry for you as you fly to Argentina, or more specifically, Buenos Aires. This vibrant cosmopolitan capital is the largest city in Argentina, exuding forgone European grandeur and warm Latin vibes.
Experience the warm vibes of the city at La Boca, a quaint neighbourhood known for its soccer team, tango vibes and their vividly coloured houses. As you soak up the atmosphere, make your way to El Caminito – a little cobblestone walkway that is a hidden gem of this precinct.
Every day, the street is filled with contemporary artists who exhibit their vibrant work. For decades, this street has hosted a mini-craft fair that features more than 100 artisans, attracting people from all over the world. In addition to the exquisite handicrafts, the streets are also filled with tango dancers and buskers from dusk till dawn – simply a sight not to be missed!
Enjoy 15% Off Flights to Buenos Aires
3. Addis Ababa, Ethiopia
Addis Ababa, meaning 'New Flower' in the Amharic language, is the charming and exciting capital of Ethiopia which some even dub as the capital of Africa! Immerse yourself in cultural experiences as you traipse through the streets or learn about its significance as a coffee producer; this city bubbles with undiscovered adventures.
As one of the highlights of visiting Ethiopia, Addis Ababa is a brilliant place to start hunting for the best blend of your aromatic coffee. From cafés to traditional coffee stalls in bars and restaurants, Addis Ababa is no doubt the motherland of coffee.
Join one of the coffee tours organised by hotels like Radisson Blu or head to Tomoca Coffee, a popular coffee house in Addis Ababa for a hot cuppa to warm your soul.
Of course, while Ethiopia is famous for its coffee, it isn't the only thing that draws tourists in. Ancient churches like St George's Cathedral will leave you astounded at its architecture and marketplaces like Shiro Meda Market will excite your senses with an array of local crafts and souvenirs for sale.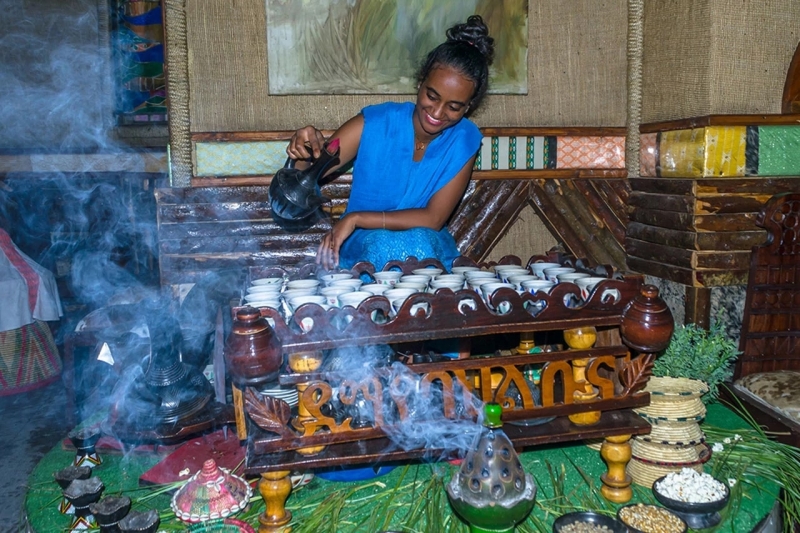 If you have between 8 to 24 hours of transit in Addis Ababa, maximise your time there with a tour of the city to have a real taste and flavour of Ethiopia. With
Ethiopian Airlines' transit programme
*
, simply stop by the Interline Desk at Addis Ababa Airport and have your accommodation and transit visa settled for you at no extra costs.
Squeeze in an extra stop in your travel itinerary and explore one of Ethiopia's most popular museums, be part of a traditional coffee ceremony and buy local handicrafts as souvenirs. For more information, visit Ethiopian Airlines or check with your local airline representative for the eligibility of this programme.
*Terms and conditions apply.
This transit programme is only valid for flights to/from America, Canada, the Middle East and Europe where there is no immediate connection.
Enjoy 15% Off Flights to Addis Ababa
4. Mahé, Seychelles
In the middle of the Indian Ocean lies a few island clusters far from the bustle of city life: the Maldives, Keeling Island and Seychelles. Within Seychelles is Mahé, the largest and arguably the most diverse island in the archipelago. With its rugged National Park and stretches of smooth beaches along the crystal waters of the Indian Ocean, Mahé is the epitome of a utopic getaway.
The destination has no shortage of luscious sand beaches and bright aquamarine waters, from the pocket-sized Anse Soleil beach to the white sandy Grande Anse beach. You can choose to snorkel, scuba dive, or take a ride in a glass-bottom boat to admire the corals, reefs and tropical marine life.
But what's a beach holiday without a tropical cocktail in hand? If you're a fan of rum, you might be familiar with the Takamaka brand – Seychelles local brand of rum. The Takamaka Rum Distillery is open for educational tours which show you the rum-making process and allow you to taste their different types of rum.
5. Nosy Be, Madagascar
Nosy Be is an island paradise off the north-west coast of Madagascar and probably its most popular tourist destination. With its pristine beaches and crystal clear waves, some might be surprised by the whole different world of critters hiding beneath its forest canopy.
The Lokobe Special Reserve not only houses the last remaining lowland rainforest on the island but also provides a home to many animals such as the Black Lemur and the Nosy Be Panther Chameleon – a beautiful, uniquely-coloured teal chameleon. Additionally, the Lokobe Special Reserve is also home to most of Nosy Be's native vegetation like ylang-ylang and vanilla orchids.
Keep your eyes on the trees; you'll probably spot some boa constrictors, owls, and lemurs amongst the leaves!
Enjoy 15% Off Flights to Nosy Be
6. Moroni, Comoros
Moroni, the largest city and capital of the Union of the Comoros, is a small collection of islands in the Indian Ocean. The word 'moroni' in Comorian translates to 'in the heart of the fire' – a fitting name for the city located at the foot of the largest active volcano in the world – Mount Karthala.
Aside from its immense natural wonders, Moroni is a charming city with an intimate vibe.
Make your way towards Volo Volo Market as you stroll past friendly locals and natural streets, lined with quaint cafés. Situated in the centre of Moroni, Volo Volo Market is packed with local shops peddling cultural artifacts, native spices and other artisanal handicrafts – the best place to pick up some awesome souvenirs!
A visit to the Grand Mosque du Vendredi is not to be missed, known for its beautiful Comoran architectural style. Bear in mind that daily prayers are still held at the mosque so remember to be respectful as you visit.
Enjoy 15% Off Flights to Moroni
7. Cairo, Egypt
Cairo, a mega-city in its own right, holds impressive titles such as the capital city of Egypt and the largest desert city in the world. The city thrives along the Nile, the world's longest river, granting visitors an exceptional view when they stay in a Nile-view room at one of Cairo's best hotels.
When in Egypt, there's no escaping the world-famous Pyramids of Giza (part of Greater Cairo), most notably the Great Pyramid and the Sphinx. The Great Pyramid is the oldest monument listed as one of the Seven Wonders of the Ancient world and it's the only one that's still standing!
That's hardly the only place of historical significance in Cairo. Learn about Egypt's history and marvel at the extensive collection of ancient Egyptian antiquities at the Egyptian Museum or go out and explore the many faces of Cairo at Coptic Cairo and Islamic Cairo. You'll find the highlight in the heart of the city where the Citadel lies, housing three majestic mosques and providing the most amazing views from up on its terrace.
Enjoy 15% Off Flights to Cairo
8. Tel Aviv, Israel
Lying along the Mediterranean coastline is Tel Aviv, the metropolis of Israel. With the sun shining down on Tel Aviv all year round, people-watching and lazing around on beaches is a popular way to spend the day.
Follow the coastline towards the south and you'll eventually chance upon Old Jaffa, an ancient port city in Israel. Stroll along its storied streets and pop into the numerous little galleries and eateries tucked inside its narrow alleyways. The Jaffa Flea Market, or Shuk Hapishpishim, is also a good place to get unique or antique knick-knacks, or simply take in the sights and sounds of the marketplace.
Ranked among the world's greenest cities, Tel Aviv is also green-conscious when it comes to food. It's a vegan paradise, claiming the title of the vegan capital of the world with hundreds of eateries that serve up delicious vegan dishes. If you're not already familiar with the vegan diet, try the innovative cuisine you'll find all around Tel Aviv that will surely leave you wanting more!
Enjoy 15% Off Flights to Tel Aviv
Here's our list of some of the spiciest, exotic destinations to visit in 2019! All that's left now is to book your flight, so what are you waiting for?
With
Ethiopian Airlines
, book your next holiday to an exotic destination anywhere in the world!
Book from now till 31 Mar 2019 and enjoy up to 15% off your flight tickets on Ethiopian mobile app and 10% off desktop bookings.
*Travel period: 1 Mar 2019 to 21 Jun 2019 and 16 Sep 2019 to 22 Nov 2019.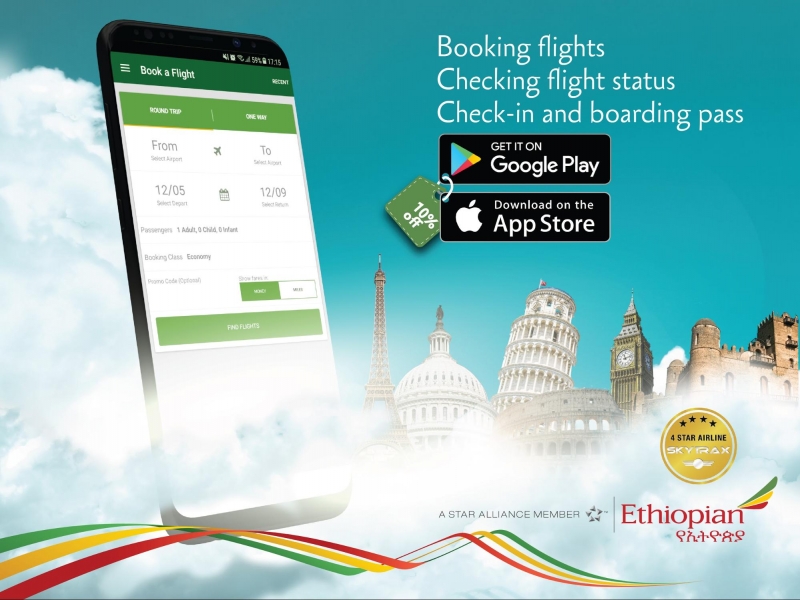 You can even maximise your trip with a 2-in-1 holiday and stopover in Addis Ababa, Ethiopia if you're travelling to America, Canada, Europe and the Middle East. With Ethiopian Airlines' transit programme* have your transit visa and accommodation taken care of for you as you explore this New Flower city with a peace of mind.
What are you waiting for? Plan your next 2019 vacation today!
---
Brought to you by Ethiopian Airlines.