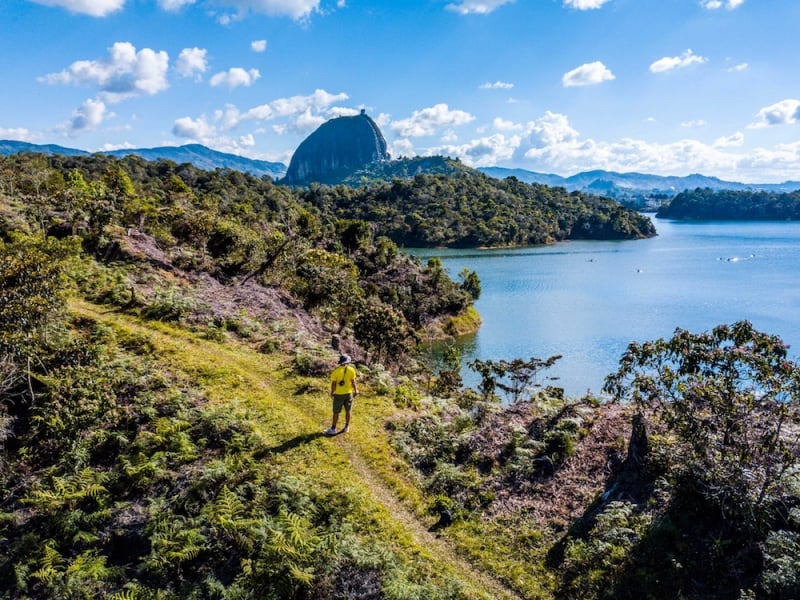 Your time spent in South America could have a variety of different focuses. Whether it be volunteering in Bolivia, having some fun at Rio de Janeiro, exploring nature in Quilotoa—or doing all three in an "Eat Pray Love" situation—your trip should be about what you went there for. There are so many amazing things for you to explore during your time in South America, you certainly don't want to spend any of it doing some menial task on your computer.
Also read: The Ultimate South America Bucket List: 27 Experiences Every Traveller Must Complete
When you think of the word "nomad," you're probably not thinking of someone of the present day using their MacBook while answering texts on their Apple Watch. The term probably conjures up an image of some kind of neanderthal, roaming from one food source to the next.
A nomad is defined as "a member of a people having no permanent abode, and who travel from place to place to find fresh pasture for their livestock," or more simply, "a person who moves often." The sound of not having a permanent abode may sound kind of scary, but you also may be thinking that the world is just too big to stay in one place for too long.
If you're interested in living a nomad lifestyle, one interesting place worth a spot at the top of your travel list is South America.
Wherever your journey as a nomad takes you, you may find you have trouble keeping in touch with whatever work you had previously done before, especially if it was mostly digital. Fortunately, Dropbox allows anyone to become a productive and up to date nomad. Using the variety of technologies that Dropbox offers, even the most sedentary person can become a world traveller.
In this article, we will discuss:
The benefits of syncing all of your files
How to sync your files and access them later
With the help of Dropbox's productive and user-friendly technology, you'll be dying to travel as a working nomad.
The benefits of syncing all of your files
If you're working in the 21st century, odds are you're dependent on your devices. Computer, phone, watch, or some network of any of the three, you may have a hard time leaving even one of your devices behind to become a world traveller.
Fortunately, Dropbox has got you covered. When you save a file on Dropbox using your computer, the file is immediately synced to your mobile device, and vice versa. There is no need to worry about having all of your devices on your person at all times, weighing you down, maybe even keeping you from doing something on your journey that you originally planned to do.
Not only are your devices taking up physical weight in your pocket or bag, they can also weigh on your mind. Worrying about one device is already enough of a burden, worrying about two sounds like a nightmare. You may then wonder about the inevitable occurrence that you need to access a file on your phone that was previously saved to your computer. Dropbox will prevent such a situation from ever occurring. As previously mentioned, each new file is synced to the rest of your devices through your Dropbox account. Furthermore, files continue to be synced even as you update them from one device to another.
Now that the days of worrying about lugging around multiple devices are gone, how exactly does one upload all of those files and make sure they are synced? Learning how to do so can make your journey through South America a little bit closer to carefree.
How to sync your files and access them later
Now that you've been briefed in the appeals of syncing your files, chances are you're interested in learning how to do it for yourself.
Welcome to the cloud
In order for your files to be synced throughout your network of devices, you first have to upload them to Dropbox. When you upload a file or folder to Dropbox, you are putting it in your cloud storage, a place where all of your docs are safe and sound, and where they are not taking up precious hard drive space.
Once your files are uploaded to the cloud, you can then access them from any of your devices through the instantaneous syncing. This process can be done on a variety of devices and platforms, including Windows, Android, iPhone, and Mac.
In addition to the seamlessness of file syncing, your files can even be recovered if they are accidentally deleted or saved as a version you are unhappy with.
How to tell when your files are synced
Since Dropbox automatically syncs each of your devices every time you upload or update a file, you might not be worried about double checking to make sure you can access them at a time when you only have one of your devices.
But if you are on the worrying side, you can guarantee your files are completely synced when you see the green checkmark.
Hopefully, you are more comfortable with the idea of nomad-ing (sort of) during your time in South America, now that you know you don't need to worry about carrying around all of your devices all the time. What do you feel good doing now that you know all of your files are synced? Let us know in the comments!
Also read: Top 10 Things to Experience in South America
*This is a sponsored post for Dropbox. All opinions are my own. Dropbox is not affiliated with nor endorses any other products or services mentioned. 
---
Brought to you by Dropbox.