Editor's Note: As of publication date, the Philippine destinations included in this article are only open to local travellers. This disclaimer will be removed once the Philippines opens its borders to international travellers.
Reader, do you still remember what it was like to have the travel bug? It feels like a lifetime ago that we were so wide-eyed and excited for our travel plans this year. 
MORE ABOUT SAFE TRAVELS TO THE PHILIPPINES
Now that we've spent most of our days at home, we've had a lot of time to think about where we want to go next. As soon as the world recovers from the COVID-19 pandemic, we're turning our eyes to where "it's more fun" year-round and touching down in our dream destination: the Philippines. 
Why? Because in our hearts, we never left.
Also read: All the Reasons We'd Love to #WakeUpinPH Once the Pandemic Is Over
An open letter from your dream destination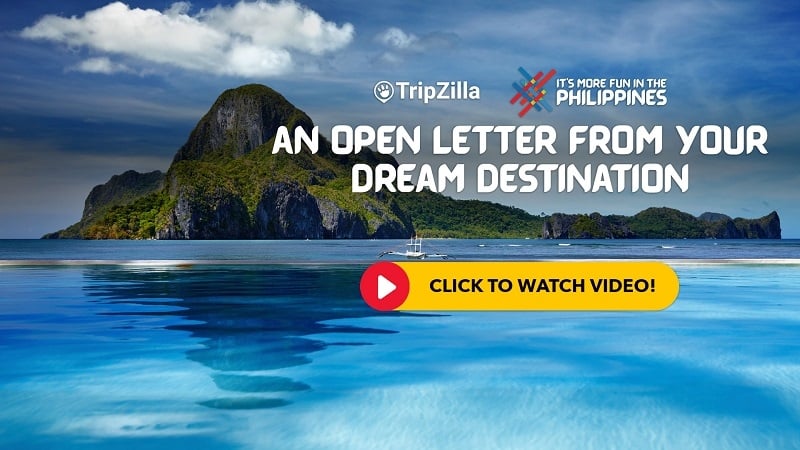 Picture your dream destination. What do you see? 
Some people imagine standing at the peaks of mountains, hiking at dawn to see the first light of morning. Others imagine powdery stretches of sand, taking a boat out at sea and sailing towards a tropical getaway. 
In the Philippines, you will never have to choose between mountains or the sea, cities or towns, natural landscapes or manmade wonders. We have all of these aplenty. 
Scattered across our 7,641 islands are serene coastlines, historic towns, marine sanctuaries, lush fields, mouth-watering flavours, and breathtaking landscapes that can only be summed up in one word: paradise. 
And so, we're training our eyes on the Philippines and putting the spotlight back on all the destinations we love so dearly. 
Here's why the Philippines still is, and always will be, our dream destination. 
SEE THE PHILIPPINES' DREAM DESTINATIONS
We're longing for sun-soaked islands
When someone says the word "paradise," it's impossible not to think of the Philippines. Nature has blessed this sun-soaked archipelago with abundant treasures: white-sand beaches, idyllic coves, blue lagoons, roaring waterfalls, and isolated sandbars that look better than any postcard you'll find. 
Thinking of leaving your footprints on Philippine shores? Here, we'll show you how you can kickstart your island-hopping adventures when the time is right to travel again! 
Note: Well-loved dream destinations in the Philippines such as Boracay, Bohol, and Palawan have successfully reopened to local visitors and are gearing up to welcome international tourists back. Quarantine for domestic travellers is only imposed when an individual displays symptoms associated with COVID-19. Otherwise, quarantine is waived.
Some top spots are part of recommended travel bubbles such as the Ridge and Reef Travel Corridor, which includes the provinces of Baguio, La Union, Pangasinan, Ilocos Sur, and Ilocos Norte. There are other travel bubbles that round up exciting travel experiences in specific provinces such as the Bohol Bubble and this Culion, Palawan travel bubble package that TripZilla has tried.
That said, no matter where you travel in the Philippines in the new normal, rest assured that your safety will be the number one priority. Strict health and sanitation protocols are implemented to keep travellers safe from COVID-19: social distancing, temperature screening, regular hand washing and disinfecting, and the wearing of face masks and face shields.
Sail through gentle waves in the island province of Palawan, where the seascapes and rock formations make for one jaw-dropping destination. In the capital city of Puerto Princesa, you can take a boat tour that will ferry you through the intricate caves of the Puerto Princesa Underground River. Trust us, you'll want to linger for a little longer in El Nido, where the turquoise water framed by karst cliffs will make you feel like you've discovered utopia. 
Go parasailing in Boracay for a bird's eye view of the island — floating over the mesmerising blue sea, you can feel the ocean breeze on your skin and never, ever want to land. Take your pick among the incredible seafood restaurants there, where the fresh catch of the day tastes even better after a good splash! 
Note: Domestic tourists will be required to undergo RT-PCR testing prior to travel only if the concerned local government units and accommodation establishments require it. The Department of Tourism (DOT) currently extends an RT-PCR test subsidy program to Filipino tourists. Don't you love how this dream destination makes travel more fun and easier on the wallet? Learn about subsidised COVID-19 testing for local tourists in the Philippines here.
Catch the waves of Baler, Siargao, and La Union, whose breezy, palm-lined shores will make you believe in love at first surf. Afterwards, wind down for a romantic evening under the stars, as you listen to the waves crashing on the shore. 
Whether you want to explore pristine beaches, waterfalls, or hidden coves, the Philippines has plenty to offer visitors. 
We miss the mountains, which show off breathtaking topography
Epic, dramatic, breathtaking — these are the words that come to mind when we think about the Philippines. Have you ever been stunned by the beauty of sights from what seems to be the top of the world?In the Philippines, you can stand at the peak of dizzying heights and feel the wind caress your skin. Rest assured that you'll never feel lonely, only triumphant. 
Witness the perfect shape of the Mayon Volcano rising through the clouds in Albay, a sight that never ceases to amaze anyone! Escape to the Chocolate Hills in Bohol, where thousands of dome-shaped hills transform the terrain into a verdant landscape. 
Even better, make your way north to the Banaue Rice Terraces in the mountains of Benguet. There, you can discover rows of rice fields, arranged like a staircase. 
Hailed as the "Eighth Wonder of the World," these rice terraces are not only a remarkable feat of agriculture; they also demonstrate the artful skill and ingenuity of the Ifugao, the region's indigenous people. From them, we may learn what it means to harness the gifts of Mother Nature and live from the bounty of the land. 
Feel closer to the heavens with every step you take
Across the scenic mountain trails and valley walks in the Philippines, you can feel the pulse of the earth. This close to nature, it's impossible not to feel a sense of peace. 
Touch the clouds at the Masungi Georeserve in Rizal or Mt. Pulag in Benguet, where you can breathe in the cool air and reflect on just how far you've come. 
Beneath the waves, there's an entire world waiting to be discovered
If you only see the Philippines on land, can you really say that you've experienced all that this dream destination has to offer? Venture a little deeper under the sea; you'll find a secret trove of marine treasures, coral reefs, and even diving wrecks from World War II. 
Mother Nature has blessed the Philippines with more than breathtaking landscapes — hence, we encourage visitors not to limit their adventures to the shoreline. Let's jump right into them, shall we?
Dive into a kaleidoscopic world of colours
Plunge into the crystal-clear waters of Malapascua Island in Cebu, then open your eyes to vibrant coral reefs and thresher sharks. Explore the marine sanctuary of Apo Island in Negros Oriental, where green turtles and clearfin lionfish reside. 
Float alongside more than 600 species of fish in the Tubbataha Reefs, a gem of ecotourism and a UNESCO World Heritage Site home to over 300 species of coral. For an immersion like no other, you can swim past the massive WWII shipwrecks buried in the depths of Coron Bay. 
Although there are many spectacular diving spots in the Philippines, let's always be polite witnesses of the species we encounter. Be sure to respect wildlife by maintaining a safe distance from these incredible creatures! 
Note: Diving establishments that have secured safety accreditation from the Philippine Commission on Sports Scuba Diving or certification from the DOT are currently allowed to operate at 50% capacity. Local travellers looking to go on a diving trip soon may check the requirements for scuba diving here.
SEE THE PHILIPPINES' DREAM DESTINATIONS
Vibrant culture and history are just around the corner
Bringing together spectacular culture and heritage, the Philippines is filled with many landmarks where history comes to life. Step back in time to the Spanish era in Vigan, the capital city of Ilocos Sur, where you can hear the horse hooves from a kalesa (a horse-drawn carriage) echo down the cobblestones of Calle Crisologo. 
Your gateway into the colonial history of the Philippines, this UNESCO World Heritage City boasts of a 17th-century cathedral with a bell tower, antique shops, museums, and elegant houses still standing today. 
From heritage homes to charming towns, the Philippines has plenty of historical buildings that have preserved their splendour. One of them is Las Casas Filipinas de Azucar, whose heritage walking tours offer a glimpse of the Philippines in the 18th-century. 
This 400-hectare property in Bataan showcases Filipino-Spanish architecture, traditional wooden furniture, and arched bridges over canals. It's easily one of the best places to witness the genteel ambience of the olden days.
Feasting on the flavours of the Philippines is its own journey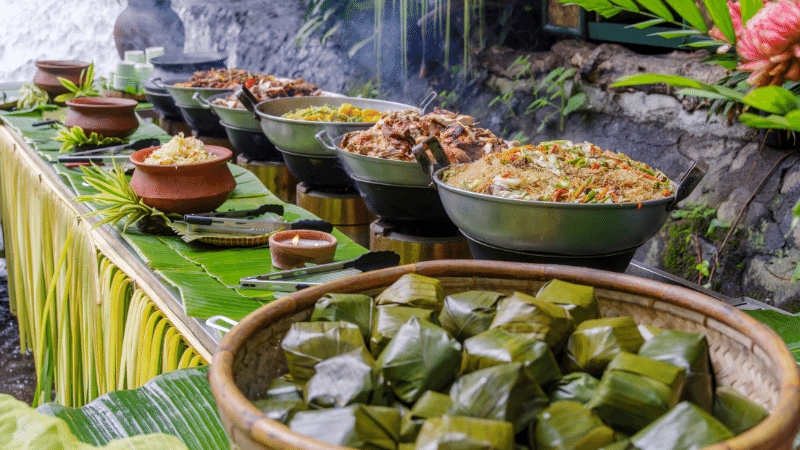 Some people say the fastest way to get to know a culture is through its food. Likewise, Filipino food plays a bigger role than just filling our bellies. (We're definitely not complaining about that, though!) It's also our way of connecting with loved ones, celebrating special occasions and milestones, while enjoying the company of others over a comforting meal. 
How can we not miss the food of the Philippines? Filipino cuisine is as diverse as the islands of this vast archipelago. There's the joy of trying the local dishes that are unique to each province — all mouth-watering and highly addictive in their own way! 
Note: Traditionally, the Filipino custom of kamayan also makes use of banana leaves strewn with meats, rice, vegetables, and fruits. These generous portions of food are meant to be enjoyed with bare hands, typically good for sharing with family members or friends. That said, we're better off saving this hands-on feast for when the COVID-19 virus is long gone. Operating F&B establishments in the Philippines follow strict COVID-19 guidelines so you won't be seeing any of them offering kamayan anytime soon.
LATEST PHILIPPINE TRAVEL UPDATES
Embark on a culinary tour of the Philippines
Feel like eating your way through the Philippines? Taste melt-in-your-mouth lechon (roasted suckling pig) with crispy, golden-brown skin in Cebu. Feast on the savoury chicken inasal of Bacolod, where every part of the chicken is char-grilled, then drizzled with chicken oil and served with steaming white rice. Indulge in tsokolate, a smooth and velvety-rich dark chocolate drink made from Philippine cacao, grown in farms across Davao. 
You can't miss out on a dish that won the heart of Anthony Bourdain himself. Sisig, a crispy, sizzling dish made from pig's face, right from its origin in Angeles City in the culinary capital of Pampanga. It's often enjoyed with a cold beer, and we suggest you do, too.
Savour the taste of gold with every bite
Anyone who hasn't bitten into a ripe Philippine mango does not know what happiness tastes like. In provinces such as Guimaras and Zambales, you can sink your teeth into the juiciest, plumpest versions of these fruits. 
During the annual Manggahan Festival in Guimaras, the height of mango fever in May, you can enjoy the sweetest export-quality mangoes in the world — "all you can eat" style! All Philippine festivals are currently on-hold just until it's 100% safe for crowds to gather again. In the meantime, why not savour a ripe mango or two when borders reopen?
LEARN MORE ABOUT COVID-19 SAFETY PROTOCOLS
Due to Spanish, American, and Chinese influences, Filipino cuisine is also a smorgasbord of rich flavours. Our cultural history and identity are laid out on the colourful plates that you see today — and the result, to say the least, is lip-smacking. 
If there's another thing we feel nostalgic about during quarantine, it's running into a friend in the Philippines and asking them, "Kumain ka na ba?" Or, "Have you eaten yet?" 
Whether it's sharing a family-style meal over banana leaves or travelling to festivals to try local specialities, the experience of eating delicious food with our loved ones is something we look most forward to revisiting after the COVID-19 pandemic.
We can't help but fall in love with the Filipino spirit
One of the greatest joys of travel is meeting friends on our journey. And Filipinos, well, they're as warm and friendly as the sunny islands they call home. 
Anywhere you travel in the Philippines, you only need to look around you to witness the open-hearted kindness and hospitality of the Filipino people. This warmth comes from embracing the spirit of pakikisama, which loosely refers to the value of "togetherness" and "getting along with others." 
But more than the easy companionship, it's the gentleness and compassion of Filipinos that makes people feel welcome in the country. And if the testimonies of other travellers are anything to go by, you will never leave this country as a stranger. 
The Philippines, a dream destination: Your greatest journeys have yet to come!
Truth be told, we couldn't have expected that something would keep us away from travelling around the Philippines for this long. For Filipinos, it's a bittersweet feeling for sure — not being able to explore our home country as much as we would like. And it's just as bittersweet; not having the chance to share our wonders with foreign friends.
Even now, our imaginations run wild with fantasies. We can't wait to ride through the sand dunes in Ilocos Norte. Glide through the air on a rope swing, splash into the forest pools of Siquijor. Feel the wind graze our shoulders in the rolling hills of Batanes. 
If there's anything we've learned in quarantine, it's that this dream destination that we call the Philippines has more than enough to keep us wanting more. From north to south, there will always be something new to discover on these shores. 
We believe our adventures in the Philippines are far from over. We'll emerge from this storm stronger than before. Slowly, but surely, we'll get there. 
So, let's dream of a future when we can #WakeUpinPH again. Let's meet in the country where the sunlight bounces off the sand and kisses your skin; where the locals are as warm as the islands they live in, and the sweeping views of mountains tell us that everything is worth the wait. 
When that day comes, we'll be there. We know we'll see you there, too. Because your best journey starts when you wake up in the Philippines.
For more information, please visit app.philippines.travel, philippines.travel/safetrip, and DOT's official Facebook page.
---
Brought to you by Department of Tourism – Philippines.