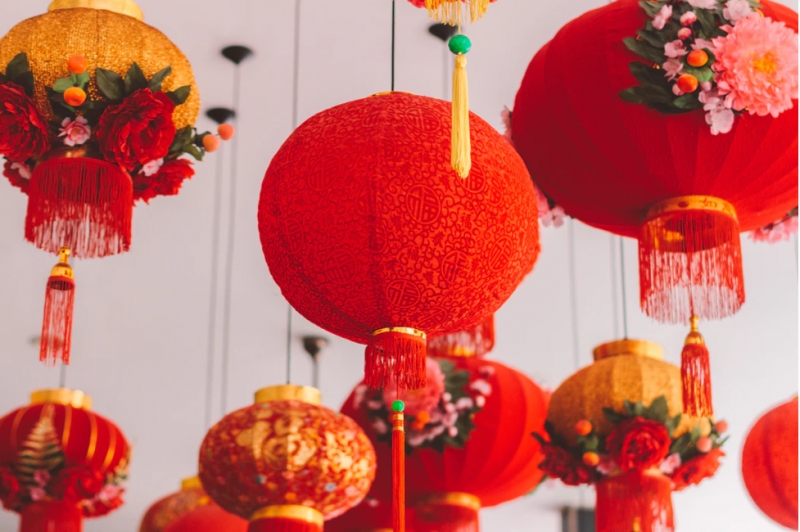 CNY deals – Chinese New Year signals the start of a new lunar cycle and is often aggrandised with pomp and splendour. We're talking about dazzling light displays, ubiquitous Chinese dishes, dragon dances, reunion dinners, splashes of symbolic red everywhere, and many other long-observed traditions.
However, with COVID-19 looming in the background, it is safe to assume that this year's celebrations will be remarkably different than those in the years gone by. Measures such as social distancing, placing a limit on the size of gatherings, and mandatory mask-wearing — coupled with importance placed upon cleanliness and hygiene — will transform the traditional Chinese New Year celebrations we all relish. 
While it may be different this time around, Chinese New Year still holds the same significance; it marks a new chapter anchored on high hopes for prosperity, happiness, and wealth. Let's hold on to the symbolic meanings of this auspicious festival and make it one to remember.
Preparations would usually be in full swing with the celebration just around the corner. Why not recreate that anticipation and get started on amping up the celebrations this year? Read on to find out the best deals and tips to prepare for Lunar New Year — all without breaking the bank!
Whether you're looking to treat your loved ones to a reunion dinner they'll never forget or scouring for new outfits, DBS/POSB brings you amazing offers and deals to make your Chinese New Year a great one!
1. Deep clean your house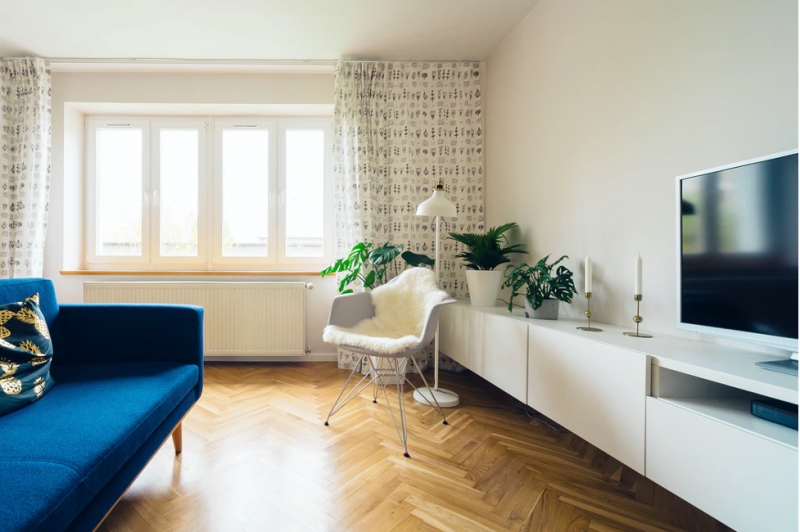 Spring cleaning before the Chinese New Year is an unmissable tradition that has a deeper meaning than just wiping away dirt. Essentially, it gets rid of the old things to make room for better things to come. It may be a tedious task but a clean home will create an ambience of clarity and permeate your being with a profound sense of peace.
What's more, you are getting rid of germs that may compromise your health, which is especially helpful in the midst of a pandemic. With your loved ones coming over for a time of merry-making and feasting, you would want to go all out to ensure that your house is shining from the inside out. Here are some tips on how you can attain an immaculate home while ensuring the process is doable:
Start by prioritising which area to conquer first. 

Assign each family member with a specific task to get the job done faster.

Create a checklist and put labour-intensive chores at the top of your to-dos.

Toss out things that you haven't used in years, or consider donating them. 

Deep clean storage units such as your fridge and cabinets.

Wipe your walls and ceilings.

Vacuum every nook and cranny of your home.

Dust every surface thoroughly.
If you do not have time on your side, you can hire trusted professionals from Helpling to take care of all your home cleaning needs. From the kitchen and bedroom to the bathroom and living areas, your home will certainly look amazing (and dare we say, spotless).
Psst, DBS/POSB Cardmembers can enjoy $40 off Helpling's Spring Cleaning Service with promo code 'DBS40SPRING'. Don't say we bojio!
2. Groom yourself for success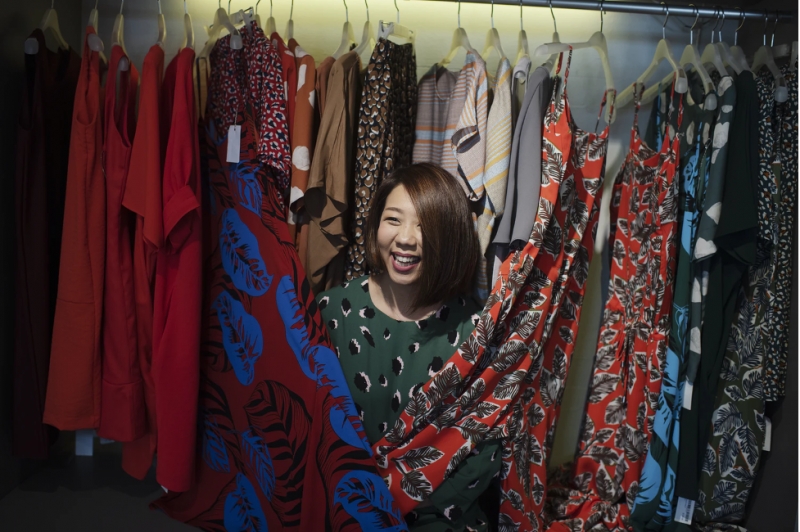 This festive period is the perfect excuse to get dolled up and dressed to the nines! Not only will it make you feel good; you also impress friends and family you haven't seen in a while. As such, you would want to primp and buff yourself to look fabulous for the reunion dinner and the house visits that follow. This includes flaunting fresh garbs, which actually signifies a new start in Chinese culture. 
On account of your outfit setting the tone for the rest of your year, opt for brand-new clothes and accessories in vibrant colours. You can never go wrong with the colour red! You can even glam up your look with a cheongsam or changsan that boasts a sleek modern twist that truly turns heads.
Upgrade your wardrobe on a budget with an extensive selection of fashionable pieces from Pomelo. With new clothes from head to toe, you might just be the next talk of the town this Chinese New Year.
You can maximise your shopping spree when you pay with DBS/POSB Cards. Enjoy up to 20% off your online purchases, and 15% off when you shop at Pomelo flagship store @ 313 Somerset. More reasons to shop till you drop this Chinese New Year.
3. Cook up a feast

Food is at the heart of any occasion and even more so during Chinese New Year. The smell of dumplings, spring rolls, and steamed fish (among many other dishes served on the table!) wafting through the air is extraordinarily evocative. The aroma of good food somewhat triggers nostalgic memories — those of a certain time, of important people in your life, of occasions you look forward to every year. At the same time, it has the powerful effect of bringing people together.  
While reunion dinner this year must be capped at eight people, make it an extra special one by putting together a feast that is reminiscent of the most well-loved aspect of the celebration in the past years. The intimate family dinner is an ideal time to reaffirm the love you have for each other and to strengthen the ties you share.
If you have yet to master the flair of whipping up traditional Cantonese dishes, you can still treat your loved ones to a mouth-watering meal without disappointing their taste buds. You can choose from a wide variety of dishes from many reputable restaurants all across Singapore to order from and for new users, enjoy free delivery with your DBS/POSB Cards on foodpanda.
Alternatively, you can enjoy delicious dishes that are served up with tantalising 1-for-1 offers when you use your DBS/POSB Credit or Debit Card. All that's left is for you to set up the dining table and dig into the sumptuous repast.
Tip: You can get 10% cashback on dining and groceries with a PAssion POSB Debit Card — so much savings await you.
You can't miss out on all these Chinese New Year deals!
4. Spruce up your abode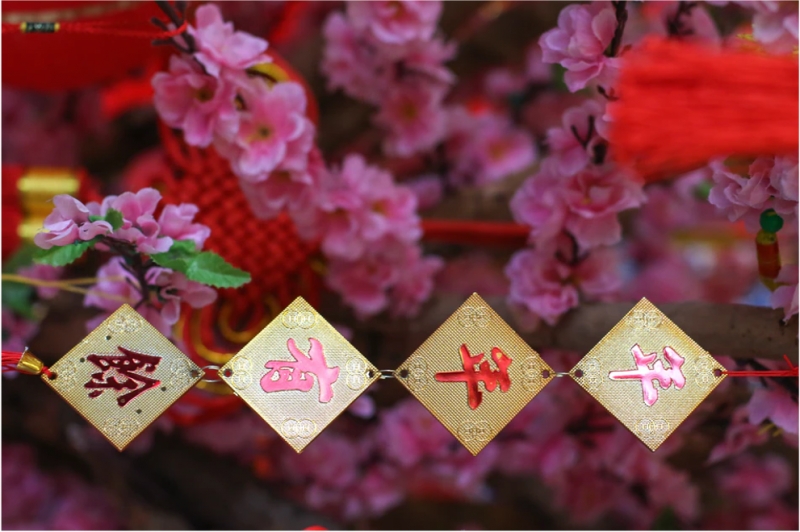 If you're expecting family and friends over at your humble abode this year, why not deck your home with festive decorations to vivify the space and achieve the Chinese New Year 'feel'. Having your house all done up sets the mood and creates a lively atmosphere. Furthermore, the small gesture of making your house look more attractive is a simple way to make your guests feel more comfortable and welcome in your home.
 You can easily freshen up your dwelling place without burning a hole in your pocket by beautifying it with quintessential ornaments such as lanterns, paper cuttings, floral arrangements, and greeting cards. It is a great time to put on your creative hat and get crafty. If you would like to take things up a notch, consider adding a fresh coat of paint on your walls to breathe new life into the area. If you can't decide on a colour, you can refer to a feng shui guide to make an informed decision. It will help you establish harmony with your physical space, which is vital to nourishing your life and relationships. 
Have more cash to spend? Perhaps you can get your hands on new furniture to update the look of your home. A new piece of furniture can add an instant wow factor that's sure to catch the eyes of your guests. Make sure to style your home to suit your personality as it is an expression of who you are. Embellishing your space benefits you the most because that is where you'll spend the majority of your time.
Who said refurbishing your home empties your wallet? With a wide range of home & living deals ranging from up to S$150 off Hipvan to S$2,211 off OSIM u-Dream chair, make your home look beautiful in time for Chinese New Year.
 Hurry snag these discounts when you make payment with your DBS/POSB Credit or Debit Cards!
Also read: 6 Alternative Ways to Spend CNY with Your SingapoRediscovers Vouchers
5. Catch up with loved ones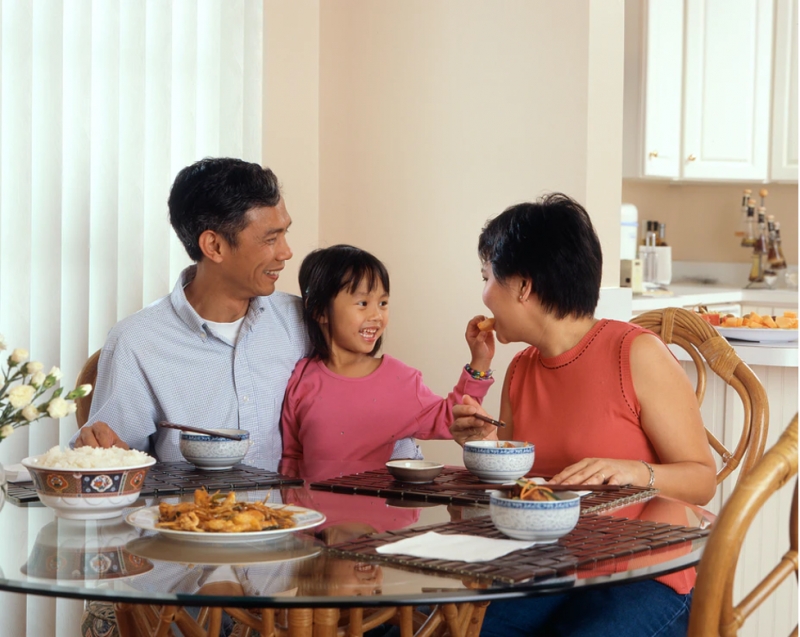 Visits to loved ones' homes during Chinese New Year is an inherent part of the festive season. The second day of the festival is dedicated to making rounds at friends and relatives' houses, with gifts and red packets in hand. The time spent together helps to create wonderful memories that last an eternity. On top of that, it reinforces the mutual respect between family members while solidifying the bond. There is no reason for you to give this meaningful practice a miss this year. 
Make this upcoming Chinese New Year the time you catch up with relatives and friends you have not seen in a while. After all, the months-long circuit breaker in 2020 limited social interactions, with much of it shifting online. It has probably been many moons ago since you last saw your near and dear face-to-face.There is no better time to pick up right where you left off! Just bear in mind to adhere to the eight-people household limit so that you can have a fun-filled, worry-free celebration.
Planning to pay a visit to your friends and family in Singapore? Take advantage of BlueSG's car-sharing service and avoid the crowds. You can also conveniently pick up your car at over 370 stations island wide, with no extra Chinese New Year surcharge on rental rates. What a great Chinese New Year deal!
Enjoy a one-month subscription and 30 minutes rental usage (worth S$17.90) when you sign up for the BlueSG Basic Plan with this promo code: BSGDBS20
6. Indulge in staycations and experiences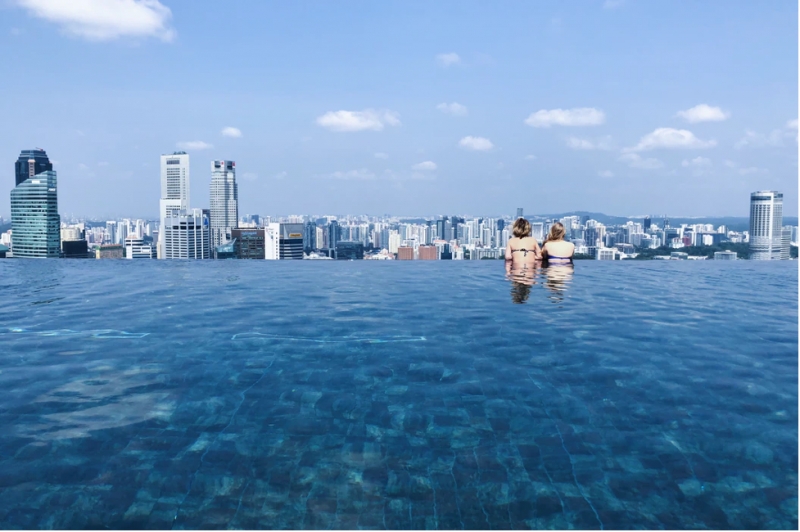 Maybe this year, you can take advantage of the long Chinese New Year break to bask in well-deserved rest and recreation with your nearest and dearest. It's the perfect excuse to escape all the daunting questions from nosey relatives curious to find out when you'll be tying the knot or how well you did in your exams! 
Kidding aside, with travelling off the cards for now, a staycation is a great way for you to recharge and refuel. This option will satiate your wanderlust-filled soul while allowing you a taste of comfort and convenience for a fraction of the price. 
You can even use your SingaporeRediscovers vouchers to offset $100 from the total bill plus additional perks when you use your DBS/POSB Card to complete your purchase.
Don't worry, you won't miss out on the festive vibes! Get into the spirit of Chinese New Year by selecting hotels that adorn their sprawling space with auspicious decorations and curate mouth-watering treats to usher in the year of the ox. Certain restaurants at various hotels even offer guests yu sheng or lo hei so that you can partake in the rich tradition of prosperity-tossing because what's Chinese New Year without it?  
Still deciding where to spend Chinese New Year? Choose from world-class hotels dotting out little red dot! With exclusive DBS deals this Chinese New Year, you'll get even more value from all five Singapore Rediscovery Voucher (SRV) partners, when you pay with your DBS or POSB Card. Hooray for more savings!
Bonus tip: Give
ang baos
using eGift & QR Gift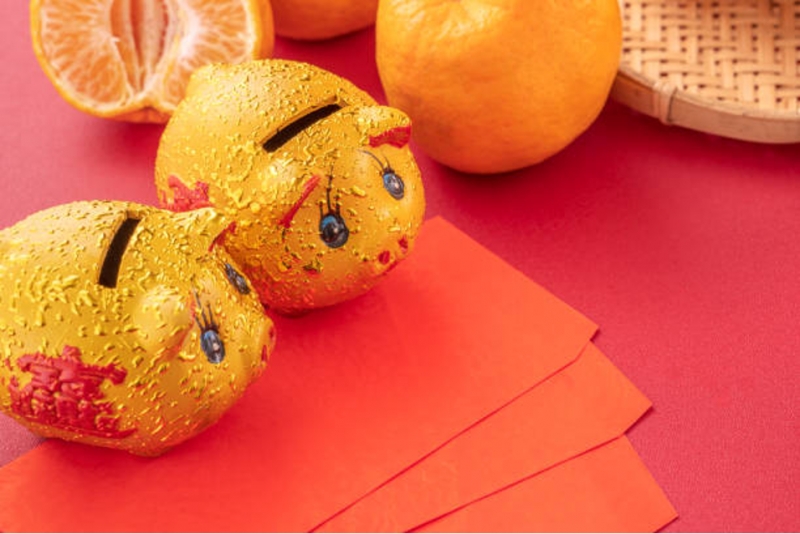 Married couples bestowing the younger generation (only the unmarried ones) with red packets is an integral part of Chinese New Year. And for many, the fondest memories of the auspicious celebration come from eagerly receiving ang baos from their elderly. Who would refuse money, right?
However, at a time when safe distancing is commonplace, you may not be able to present cash to your loved ones in person. But don't let that dampen the excitement! Even with physical distancing, ang baos are here to stay as tokens of good wishes for the rest of the year.
With the advent of technology, gone are the days when money can only be exchanged physically. Now, you can share your blessings simply by utilising eGift on DBS PayLah!. This hassle-free option is a great way for you to reduce cash handling and avoid heading out into crowds who are trying to get their hands on crisp notes.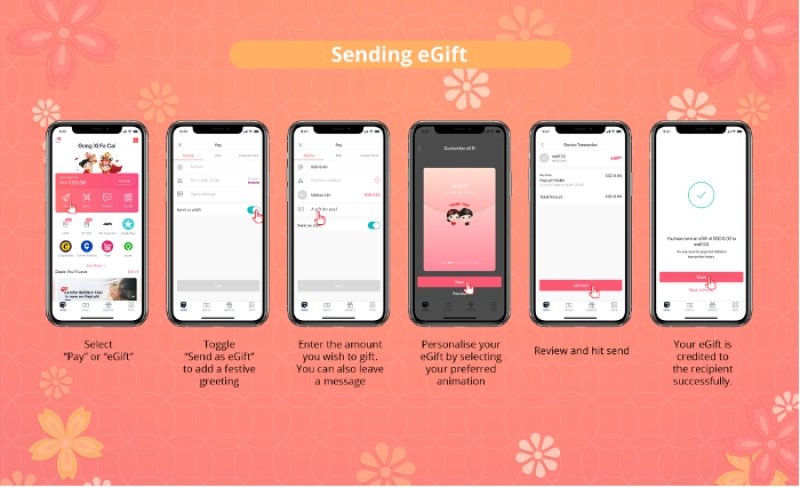 All you have to do is log in to DBS PayLah!, tap on the eGift icon, and swipe right after entering the amount you wish to send and selecting the recipients from your contact list. You can even top it off with a personalised message complete with stickers. With a simple touch of a button, the money will reach your loved ones anytime, anywhere. 
As another option, you can opt for a QR Gift. Physical ang baos — with the many hands they have been through — pose contact risks and that's not something you want to 'bless' your loved ones with. As such, you should pick up a QR Gift card from any DBS/POSB branches islandwide or at the pop-up ATMs and Digital Lobby located in the community centres from 25 Jan 2020.You can then scan your unique QR code to load cash of up to $999 and get the recipients to scan the code to receive the designated amount with PayLah! app or Pay Now.
What a great way to retain the tradition of gift-giving! Besides the speed and convenience, cashless transactions are the way to go as they limit environmental impact — there won't be many red packets lying around once Chinese New Year concludes. Besides, with recycling points accessible at DBS/POSB branches islandwide, you can ensure your used QR Gift cards will be adapted for use in a different purpose.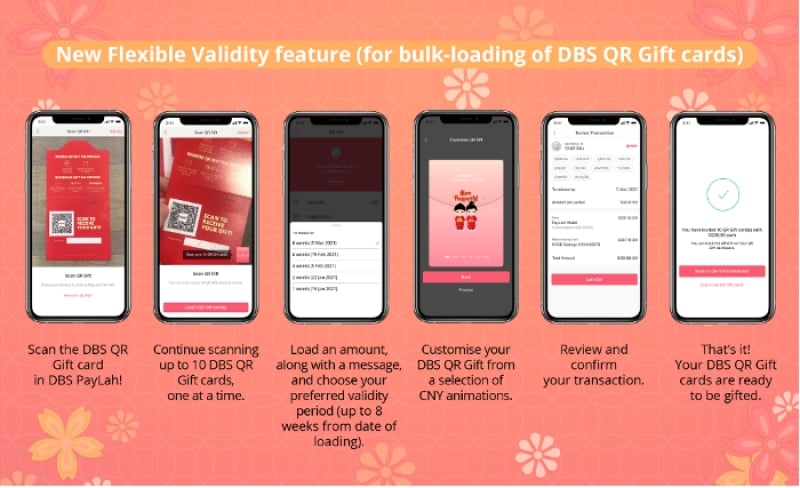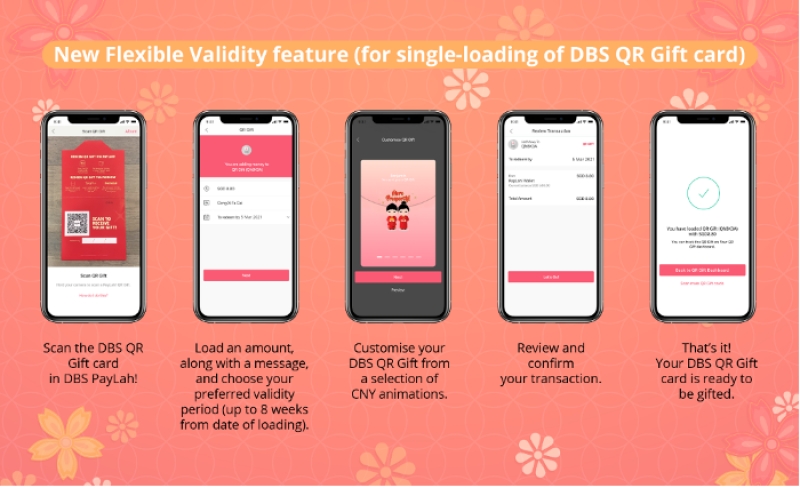 There you have it; the best deals and tips to kickstart your Chinese New Year. While the festivities may take on a new face this year, you can still make the most out of the situation and turn your 2021 Chinese New Year celebration into one you'll never forget. Gong Xi Fa Cai! Wishing you a year filled with abundance and good fortune.
---
Brought to you by DBS Bank.