Let's face it: the best way (perhaps even the only way) to really get into the Christmas mood is by spending it somewhere frosty. What better place to experience that than Scandinavia? We know there's a reason why Scandinavian countries consistently emerge on top of the World Happiness Index despite the winter chill – it's got to be their multitude of incredible ways to enjoy the holiday season and spread the yuletide cheer! So pack your hats, scarves, and coats, because you'll no longer just be dreamin' of a white Christmas.
1. Visit Santa Claus in Finland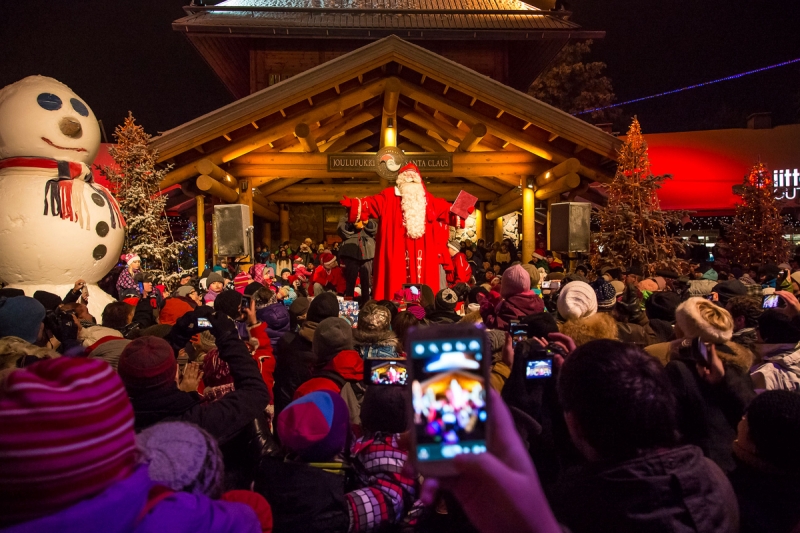 So you thought Santa lived at the North Pole? Well, no, but Rovaniemi, the capital of Finland's northernmost province of Lapland, and the 'official' hometown of jolly old Saint Nick, is close enough. It's situated right by the Arctic Circle and is most well-known for its Santa Claus Village, which boasts Santa's Main Post Office (served by Santa's elves, of course!), plenty of cheery restaurants and souvenir shops, and most importantly, Santa Claus himself! Children will definitely love their time spent here, and you'll have a ton of fun bringing out the child in you again. Plus, entrance is free.
If you'd like an even more memorable Christmas experience, rent a cottage in the Santa Claus Holiday Village. You'll be able to book a unique private meeting with Santa Claus and your family, and when Santa visits your cabin, snap as many photos as you wish! Every letter sent from the Santa Claus Main Post Office also gets a special Arctic Circle postmark not available anywhere else, your Christmas greetings sent to anywhere in world are guaranteed to be unique.
A prominent Finnish tourist destination, Rovaniemi has many other attractions like reindeer tours and farm visits, the stylish Arktikum science museum, Ranua Wildlife Park and Lampivaara Amethyst Mine that are sure to enchant everyone too!
2. Stay in a glass igloo or log chalet in Finland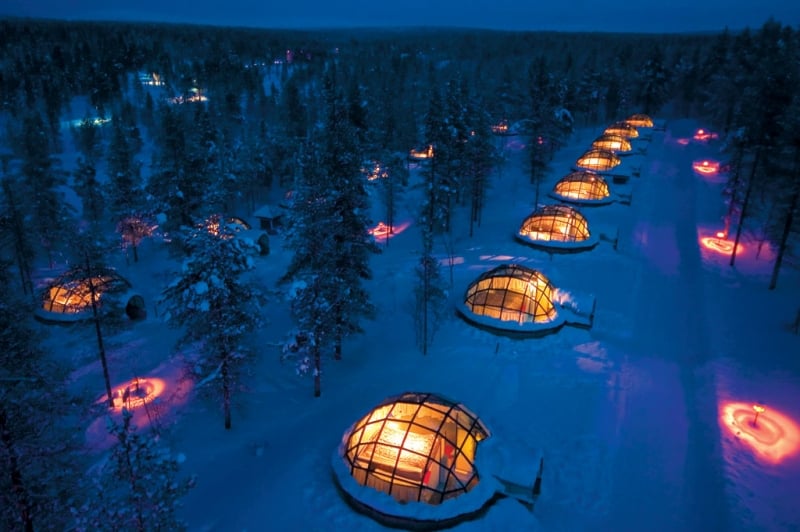 Kakslauttanen in Saariselka, Finland, is an incredible Arctic resort that features log chalets made of kelo pines that are perfect for groups, as well as thermal glass igloos where you can cosy up under the stunning view of the night sky, for a romantic evening with your partner! And for a truly white Christmas, you can even opt to stay in a real igloo made of snow and equipped with comfy sleeping bags.
Plus, there are loads of activities you can do within the resort itself! You can go Aurora hunting and ice fishing, or scout for reindeer on a Reindeer Safari, just to name a few.
3. Have a merry time exploring Christmas markets in Sweden
Stockholm's Skansen and Stortorget Christmas markets are among Europe's best! Buy some quirky Swedish handicrafts as gifts or just try as many Christmas treats as possible! Marvel at the decorations lovingly put up by stallholders, inhale the warm fragrance of Swedish fare and just soak in the jolly, festive atmosphere.
Besides the capital, the Swedish coastal town of Malmo heralds the yuletide season with plenty of ice rinks, an abundance of twinkling lights, and of course, gorgeous Christmas markets. Fill yourself with festive cheer at Mollevangen or Gustav Adolfs torg, two of the city's biggest markets. If markets aren't your thing, then watch out for Malmo's 'Shop Window Sunday', when over 800 shops unveil their Christmas displays all at once. It will definitely be a spectacularly dazzling sight.
Exploring Christmas markets are the best way to join in the local celebrations, but you might soon realise that you've spent all your cash on delicious Swedish fare or handcrafted products! How are you going to pay the bill for your Swedish
julbord
next? Or pay for freshly baked X'mas cookies in Norway? Finding a good money-changer around the neighbourhood can be such a hassle, plus the exchange rates might be far from ideal.
Well, guess what? Solve this problem simply by opening a DBS Multi-Currency Account (MCA). With an MCA, you won't have to pay any foreign exchange fees. Plus, you get to buy currencies at your preferred rate when the exchange rates fall, and pay directly in that currency using your linked DBS Visa Debit card.
We'll show you how it works:

STEP 1: Keep a lookout for the best time to exchange your currency

Keep your eye on the exchange rates of the Swedish Kroner and Norwegian Kroner, and wait until its value drops to your preferred rate before exchanging your Singapore Dollar for them.
Tip: Once you've planned out where you're headed to, you can also set up a FX Rate Alert on the latest DBS/POSB digibank app, to get notifications when your preferred rate is met! Simply log in to digibank app > Select 'Transfer' on the menu > FX Rate Alert

On top of the Swedish Kroner and Norwegian Kroner, your MCA account also covers these other foreign currencies: British Pound, Euro, Canadian Dollar, Hong Kong Dollar, New Zealand Dollar, Japanese Yen, Australian Dollar, Thai Baht and US Dollar.

STEP 2: Transfer funds into your MCA to secure your desired rates

Don't forget to transfer funds into your MCA so as to lock in your desired rates! Your exchange rate will be locked in at the time of Funds Transfer, and will not be subject to any future fluctuating market rates.

STEP 3: Whip out your linked DBS Visa Debit Card and you're ready to go!

If you're a new DBS/POSB customer, every new MCA account comes bundled with a complementary DBS Visa Debit Card. With this card, you will be able to make cashless transactions on the go.
Sounds convenient, doesn't it? The MCA is applicable in most countries that accept the major foreign currencies, making exploring Sweden, Norway, and the rest of the world a breeze!
4. Try an authentic Swedish julbord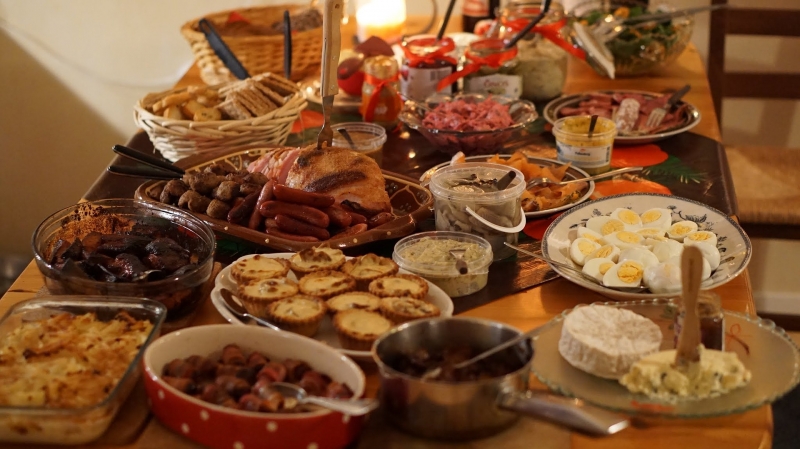 No Swedish Christmas is complete without a julbord! This buffet-style feast can have over 100 dishes. Some typical inclusions are pickled herring, red beet salad with whipped cream, pork ribs, meatballs and cabbage, with a traditional rice pudding to round off the meal!
Savour your Christmas dinner Swedish-style at various hotels and restaurants in Stockholm throughout the month of December. To complement your meal with a classy, romantic ambience, check out restaurants such as Aquaria in downtown Stockholm, Kaknastornet which boasts an enchanting view over Djurgarden island, and Junibacken overlooking the sparkling waters of the Nybroviken.
5. Watch the Santa Winter Games in Sweden
Gallivare is a nondescript town in Swedish Lapland for most of the year, but it comes alive in December as participants from all over the world compete in a variety of events to be crowned Santa of the Year! No, this is not just a fancy dress party, but a serious sport. Expect events such as present-stacking, reindeer-lassoing and porridge-eating before one Santa is eventually declared as the winner. Elves and 'human reindeer' will be there to hand out candy and flags to supporters too. Plus, it's completely free, so head on down for a truly unique carnival-esque experience.
6. Gulp down a warm mug of glogg in Sweden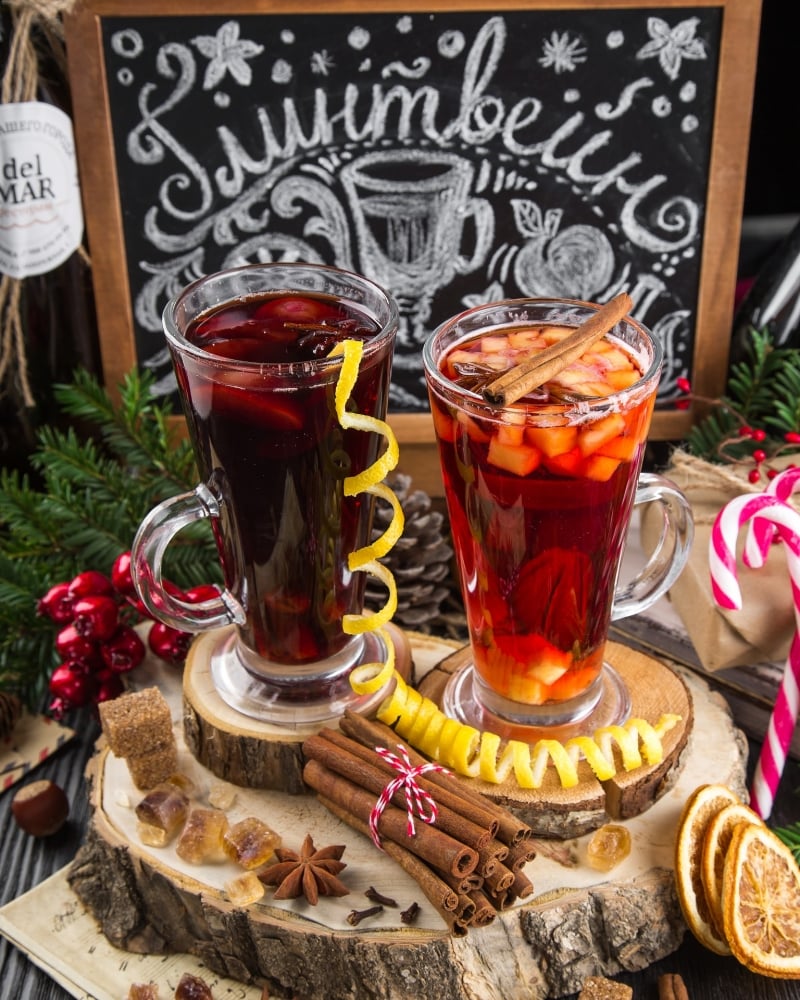 The word glogg is almost onomatopoeic here as you'll be glugging this warm, sweet Swedish mulled wine with reckless abandon, especially during the festive season! Spices like cinnamon, cardamom, ginger, cloves and bitter orange are added to red wine and sugar to create a hearty, homely drink that warms you up from the inside. Almonds and raisins are almost always placed at the bottom of the glass before drinking. Glogg parties are common throughout Sweden over the holiday period, with the brave often adding stronger spirits like vodka to the mix. Believe us when we say you must get a taste of glogg at a Swedish restaurant!
7. Take a stroll through brightly lit gardens in Denmark
What's more romantic than huddling close to your partner for warmth as you walk through a verdant park, gazing at shimmering decorations and brilliant light displays, while sharing a packet of hot Danish doughnuts and crumbly gingerbread? That's right, almost nothing.
Tivoli Gardens in Copenhagen, Denmark is a stunning sight to behold in winter. Not only is it adorned with stunning decorations and illuminations, there's also a Christmas market that's routinely named one of Europe's finest, as well as a giant carousel for kids and the young-at-heart! Rest assured you'll leave the gardens full of that warm, fuzzy feeling that the Danish call hygge.
Can't wait to try out the thrilling rides at Tivoli Gardens? Well, if you think you might become a frequent flyer to Scandinavia, or anywhere else in the world, why not
apply for a DBS Altitude Card
? Enjoy 3 miles/S$1 spent on online flight & hotel transactions (capped at S$5,000 per month), 2 miles/S$1 spent overseas (in foreign currency), and 1.2 miles/S$1 spent locally.
And the best part? These miles don't expire! You can take your time in redeeming them as and when you like. So whenever you spend, you're actually saving up for your next trip! Sign up for DBS Altitude Card today!
8. Enjoy 7 kinds of freshly made Christmas cookies in Norway
Norway's Christmas cookie baking tradition epitomises the principle of 'go big or go home' – you've got to bake at least seven different kinds (known as Syv Slags Kaker, or Seven Sorts)! When in Norway, you must try pepperkaker (gingerbread), goro (fried cookies made with cream and brandy and imprinted with a floral design), krumkaker (small waffle cones filled with whipped cream) and berlinekrans (ribbon-shaped butter cookies). If you're in Oslo, get them fresh and hot from local bakeries for an authentic Norwegian Christmas!
9. Ski down slopes of fresh, soft snow in Norway
Thrill-seekers will say there's no better way to enjoy Christmas up north than to spend as much time in the snow as possible! If you're one of them, then we know the perfect place for you: Geilo Ski Resort in Norway! The slopes are spacious, quiet and well-groomed, which makes them perfect for beginners. Plus, they offer skiing and snowboarding lessons too!
There's also nothing more breathtaking than revelling in the magnificent panoramic views of the snow-covered slopes from above, a glistening white masterpiece to feast your eyes upon. For the more adventurous, there's a whole bunch of other snow activities like kite-skiing, snowmobile safaris, dog-sled rides, ice fishing, ice climbing on frozen waterfalls and more. Whether you're just looking for a way to get active over the holidays or want to have some family fun this Christmas, Geilo is an amazing place to frolic in fresh and fluffy white snow.
10. Watch a Christmas concert in Norway
Another highlight of the yuletide season in Norway is the abundance of Christmas concerts that are put up. Throughout the month of December, the capital has performance after performance lined up, from folk and classical music to rock. These concerts are held at various locations including Oslo Cathedral, Oslo Rock City, Oslo Concert Hall and more! Be sure to check them out for a taste of Scandinavian arts and culture, and sing-along to some of your favourite Christmas tunes.
With all these food and festivities in store, 'tis truly the season to be jolly! Christmas in Scandinavian countries is an absolute feast for the senses. Book your trip now and get ready for that magical, white Christmas you've been dreaming of!
P.S. Merchants in some countries/cities may not accept EMV chip for processing your card payments. In some cases, you will also need to use the magnetic stripe to access the ATM for withdrawing cash overseas. That's why you still need to enable your card's magnetic stripe for overseas use. Before you leave for your vacation, don't forget to
download the DBS Lifestyle app
which lets you enable your card's magnetic stripe. This location-based activation feature lets you enjoy greater card security and it is just so convenient – it'll automatically be activated when you travel, and de-activated when you're home.
Simply download the app, look for
Card Services
under the
More
tab, select
Auto Activate/Deactivate
and select your card.
Download now!
---
Brought to you by DBS.
DEPOSIT INSURANCE SCHEME (from 1 Apr 2019)
Singapore dollar deposits of non-bank depositors and monies and deposits denominated in Singapore dollars under the Supplementary Retirement Scheme are insured by the Singapore Deposit Insurance Corporation, for up to S$75,000 in aggregate per depositor per Scheme member by law. Monies and deposits denominated in Singapore dollars under the CPF Investment Scheme and CPF Retirement Sum Scheme are aggregated and separately insured up to S$75,000 for each depositor per Scheme member. Foreign currency deposits, dual currency investments, structured deposits and other investment products are not insured.