For many in Asia, the holiday season doesn't end when Christmas is over. For those of us who celebrate it, the Chinese New Year holiday typically lasts for 15 days (in the lunar calendar). So, if you're planning to take additional leaves (beyond the first three days of Chinese New Year), that means your first long weekend holiday of the year has arrived. 
More than that, you can still celebrate the holiday even when you're overseas. Read on for our top picks of where to travel during Chinese New Year, as well as what the festivities look like in these holiday destinations. 
Also read: 10D9N in Incheon, Seoul, & Jeju: Rediscover Your Love for South Korea This Season
Boost your vacation with the DBS Visa Debit Card today! This multi-currency card will score you up to 2% cashback on all foreign currency spend and 10% cashback on online food delivery and local transport.
Apply online by 30 Jun 2023 to get this fantastic deal! Terms and conditions apply.
A Chinese New Year holiday closer to home
1. Bangkok, Thailand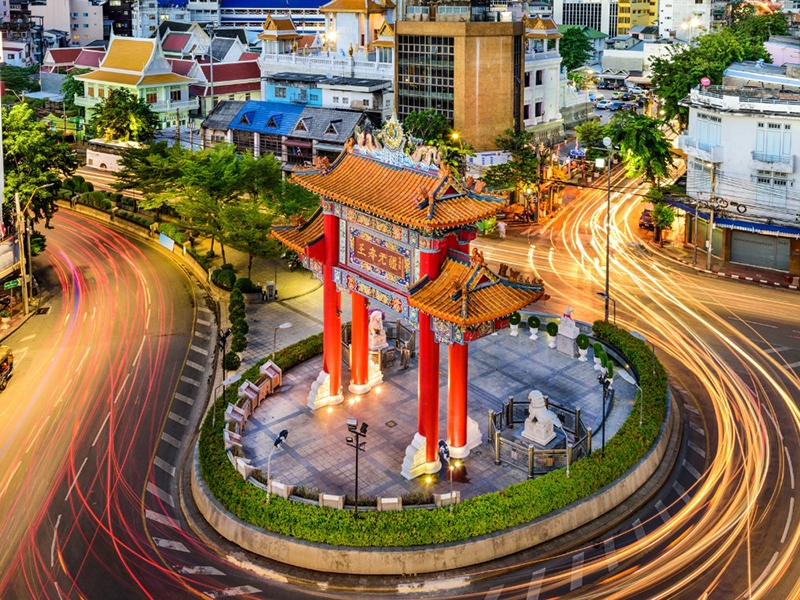 One of the most popular places to visit for your Chinese New Year holiday this 2023? The exciting city of Bangkok. 
With about 15% of Thailand's population of Chinese descent, you can expect Yaowarat, Bangkok's Chinatown, to be the epicentre of the festivities. Streets here will be decorated with red lanterns, food stalls, acrobatic performances, and dragon parades; you'll know you're at the right place once you pass by the famous Odeon Gate. 
Dress in red, come with an empty tummy, and be prepared for a flurry of activities and crowded streets. You'll get to experience the fun of Chinese New Year — close to home. 
Elsewhere in Thailand, you can enjoy a quieter Chinese New Year break, too. Take advantage of the cool weather of the northern Thailand region by travelling to the scenic wineries and parks of Khao Yai. Or, if you happen to be in Phuket for your Chinese New Year holiday, visit the temples and markets of Thalang Road, Dibuk Road, and Phang Nga Road. 
2. Kuala Lumpur, Malaysia
Like Singapore, the streets and malls of Malaysia are decked with red lanterns, food stalls, decorative displays, and the occasional lion dance performance or fireworks show. One such place to see all of this? The Chinatown of Kuala Lumpur, aka Petaling Street. 
Besides the delectable food and entertainment within the street alone, you're also in a prime spot to continue celebrating the Chinese New Year holiday. For this, walk over to Sin Sze Si Ya Temple and Guan Di Temple to see these religious sites abuzz with locals coming here to pray. 
One absolute must-visit on your Chinese New Year holiday in Malaysia? Thean Hou Temple. While already stunning all year round, this Buddhist temple gets adorned with rows upon rows of red lanterns (6,000, to be precise), making for a breathtaking spectacle — especially at night. Make your way here dressed in red and get your cameras ready for the 'Gram. 
3. Hoi An, Vietnam
Also known as the Tết Festival, Vietnamese New Year is Vietnam's most important festival celebrating its culture. Like the Chinese New Year customs we're familiar with, Tết Festival is also marked by houses being cleaned and decorated, and many businesses closing for the period, so that families can gather together. Traditional Vietnamese meals are also prepared to accompany the celebration.
However, when you're in Hanoi or Ho Chi Minh, many shops and restaurants stay open during the Tết Festival as these big cities anticipate many tourists coming here for their Chinese New Year holiday.
Likewise, many recommend travelling to what is considered to be the place to celebrate the Tết Festival: the port city of Hoi An.
Not only do businesses stay open, but the lively street food stalls, performances, and traditional Vietnamese lanterns become a picturesque display that one must definitely see. These activities are centred in the UNESCO World Heritage Site of Hoi An's Ancient Town, with waterfront shophouses and colonial buildings beckoning visitors to capture a photo or two.
Chinese New Year in popular East Asian destinations
4. Taiwan
Known as the Spring Festival or Lunar New Year, Chinese New Year in Taiwan is a little bit different from what you might know of the holiday. 
Popular cities are typically busy in the few weeks leading up to the actual holiday, with many flocking to markets like Dihua Street and Nanmen Market for spring festival goodies. However, once the holiday comes around, locals travel away from the city to their hometown. 
Be that as it may, what visitors to cities like Taipei, Taichung, Tainan, or Kaohsiung are left with are famous tourist attractions that are emptier than usual. If your Chinese New Year holiday is during this time, use this opportunity to visit attractions — like Taipei 101, Elephant Mountain, Taipei Zoo, and the National Palace Museum — which would otherwise be crowded. 
Also, take advantage of the coldest season of the year in Taiwan (ranges anywhere from 10°C to 15°C) by heading to Beitou Hot Springs. 
That said, the best time to visit Taiwan is actually towards the end of the 15-day period, when Lantern Festivals around the island happen. These include the Taiwan Lantern Festival and the famous Pingxi Lantern Festival which sees mass releases of sky lanterns at timed intervals. 
Pro tip: If you're coming here for the Pingxi Lantern Festival, check the schedule and crowd levels beforehand, as it's an extremely popular event. If you can, avoid the main (first) day of the event, aka the most crowded day. The lantern festival happens over the course of a few days (up to two weeks) anyway, so it's best to go on another day.
5. South Korea
Korean New Year, otherwise known as Seollal, is one of the most important traditional holidays in South Korea. 
Like Taiwan, this three-day celebration sees Koreans travelling away from the city to their hometowns for family gatherings. Dressing in hanbok, playing folk games, eating traditional food, and younger generations of the family paying respects to elders and receiving sebaetdon (Seollal version of angbow, or red packet) are witnessed. 
While the Seollal holiday sees many restaurants and shops close, popular cultural spots like palaces remain open. For instance, the famous Gyeongbokgung Palace and Deoksugung not only stay open, but also witness the usual events like the changing of guards, performances, and even traditional games for everyone to try. Most of all, entrance is free during this time! 
6. Yokohama in Kanagawa, Japan
Finally, while Chinese New Year is not a recognised holiday in Japan per se, that doesn't mean there isn't something to look forward to. In fact, if you find yourself in Tokyo, hop on a 20-minute train ride to Yokohama in Kanagawa, aka Japan's largest and most famous Chinatown!
The 15-day Chinese Spring Festival will take place here, which is marked by stretches of red lantern illuminations, Lion Dance performances and parades, firework displays, and alleys of restaurants and street food stalls. 
Though not as popular, other Chukagai (Chinatown areas) of Japan also see the same festivities. In Kobe's Nakin-machi and Nagasaki's Shinchi Chinatown, you'll see an equally impressive selection of restaurants, souvenir shops, red decorations, and performances adding to the overall merriment of the period. 
While a holiday to the faraway cities of Europe is always on our travel bucket list, it might be a good idea to celebrate a Chinese New Year holiday close to home instead. Besides, holding such significance, this annual festive period might include something unique in each country that celebrates it. Why not use your next Chinese New Year break to find out what this is? 
Also read: 10 Best Eateries in Phuket, From Cafes to Beachfront Restaurants
This Chinese New Year, call DBS Travel & Leisure Marketplace your travel partner.
Make flight and hotel bookings seamlessly on this one-stop-shop platform, and score attractive (and exclusive) perks and complimentary travel insurance at the same time!
---
Brought to you by DBS.