See a different side to local life in frenetic Phnom Penh and take a trip to the quaint and quiet Silk Island.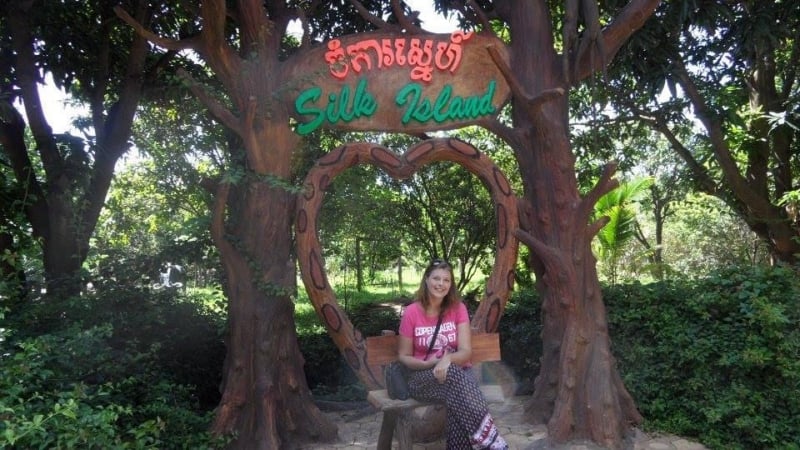 Silk Island, known locally as Koh Dach, is an island in the Mekong River. North of the capital of Phnom Penh, it's an easy day trip destination that offers insights into rural Cambodian life without having to travel too far from the busy city. Named because of its traditional silk-weaving communities, there's more to enjoy on the island in addition to the main silk-related activities. The island sees relatively few tourists. Those who do make the visit, however, will likely feel as though they've ventured far away from the tried and trodden track to a land that time forgot.
Here's everything you need to know to plan a cool trip to Silk Island:
How to get to Cambodia's Silk Island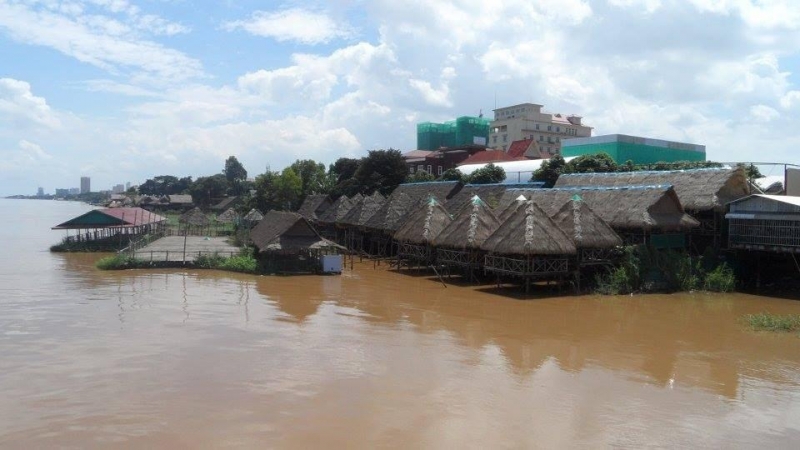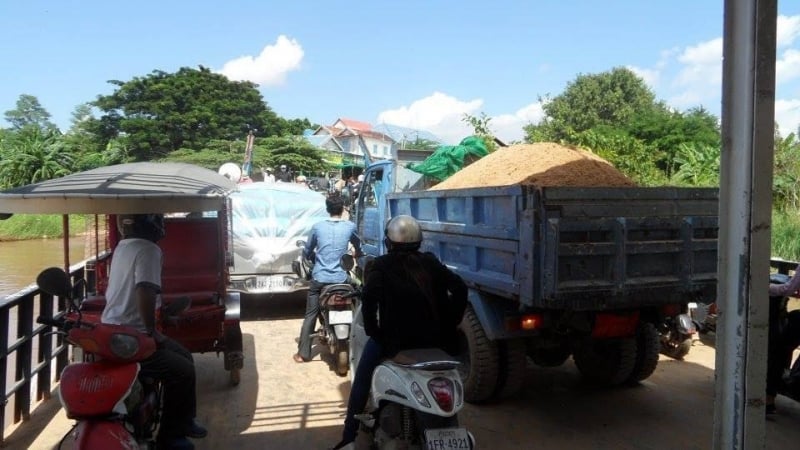 You'll need to catch a ferry across the water to land on the shores of the islands. Tours run along the river from the heart of Phnom Penh, some visiting riverside communities and other islands on the way, and some including lunch and other activities. While a package tour may be the most convenient way of enjoying Silk Island, it is usually fairly pricey compared to the costs of a DIY trip. Plus, you have little flexibility in terms of what you see and how long you stay at certain places.
There are boats that make the journey to the island from Phnom Riverside, though you will usually need to charter a vessel and negotiate a price for the return trip. Travelling in a group helps to keep the costs down. As a rough guide, you should expect to pay around US$10 per person with a group of ten, although prices can vary depending on your powers of negotiation and the time of year. The ride takes around an hour. Do note that you will need to arrange local transportation to maximise your time on the island.
Short ferry crossings are also available from closer to the island. Mainly used by locals, the fares are really cheap; it costs about US$1 for a one-way ticket. The ferry terminal can be reached by crossing the Japanese Bridge and following Road 6. If you have your own transportation, it's an easy route to follow. It's also possible to cycle to the ferry, and take your bike across to the island with you. Alternatively, you can catch a tuk tuk or motorbike taxi.
After much research, my friends and I decided to do it slightly differently. We rented a tuk tuk for the day, and arranged a price for the round-trip from Phnom Penh and for the vehicle to cross on the ferry with us and take us around the island. Win win! We paid US$35 for four people.
Getting around Silk Island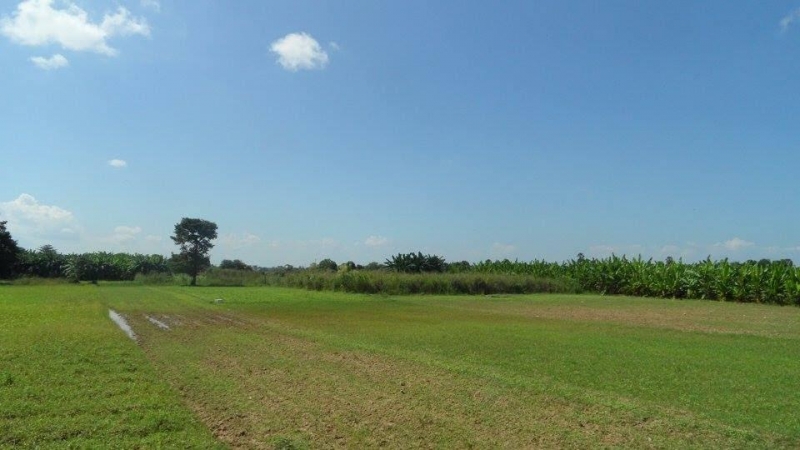 We had an easy time getting around Silk Island with a tuk tuk we rented in Phnom Penh. We simply told the driver where we wanted to go and he waited until we were done exploring and continued to the next place.
If you do not have your own transport or a tuk tuk, however, there are still easy ways to move around the island. Bicycles are available to rent from close to the ferry stop. Although I didn't do it, I would imagine that cycling along the quiet rural roads would be very pleasant. Be sure to drink plenty of water and apply lots of sunscreen to avoid becoming sick in the heat though! While it is possible to walk to some destinations, trying to cover the island's 30 square kilometres by foot probably wouldn't be much fun!  
There are few motorised vehicles to rent once on the island, but you will find the odd tuk tuk and motorbike taxi, or you could really step back in time and arrange for a horse-drawn cart to take you sightseeing.
The weaving Industry on Koh Dach
Cambodia has a long history of weaving, with people having excelled in the craft since before the times of the mighty Kingdom of Angkor. As in many places, machines have led to the weaving industry going into a sharp decline. Efforts are being made to preserve the practice around the country, and Silk Island is home to several weaving villages. Although the island is particularly known for its high-class silks, cotton is also woven here.
There's a large weaving centre just a couple of minutes' drive from the ferry landing. You can learn all about the silk production process, from silkworms chomping on mulberry leaves, to the fine thread being spun, dyed, and finally woven to create soft fabrics for an array of garments and other textiles.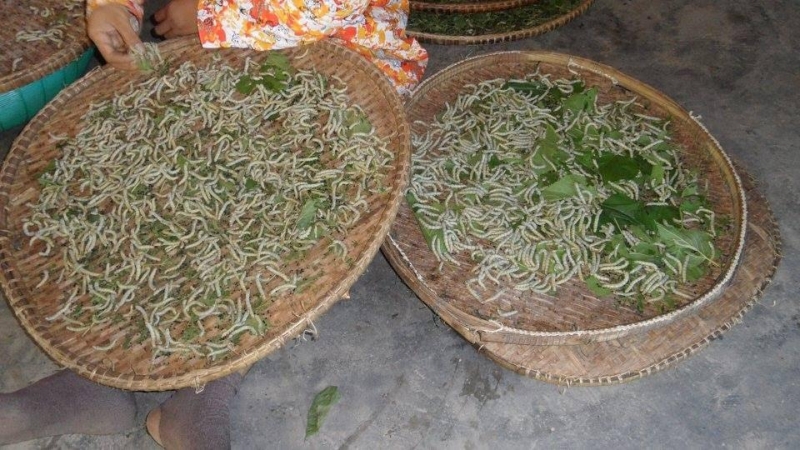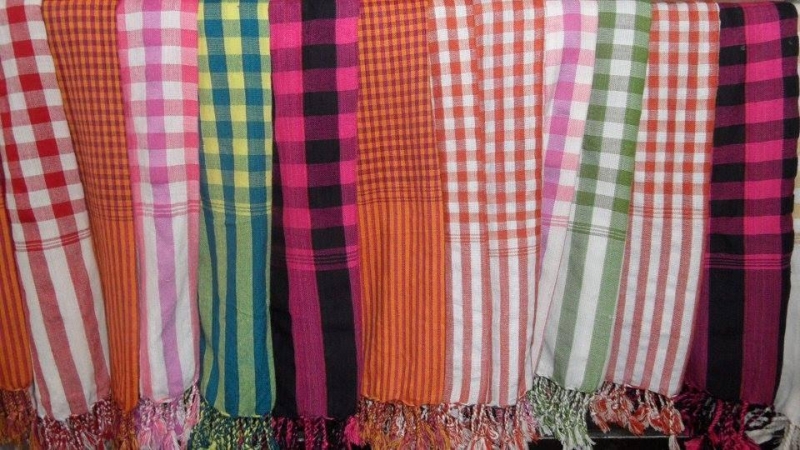 Traditional wooden and bamboo buildings are spread throughout the leafy and shaded grounds, with people hard at work on large looms, clacking sounds breaking the peaceful air. You can see how various machines operate, including large spinning wheels and some innovative pieces made from bicycles and other everyday items.
Travelling around the island, you'll come across other smaller weaving centres and stores. Unsurprisingly, there are plentiful opportunities to purchase locally made products. With everything from bed linens and table runners to gowns, scarves, shirts, and ties, you'll find an assortment of colours and sizes. Remember to haggle for the best bargains, but also keep in mind that people are trying to make a living for their families.   
Other things to do on Silk Island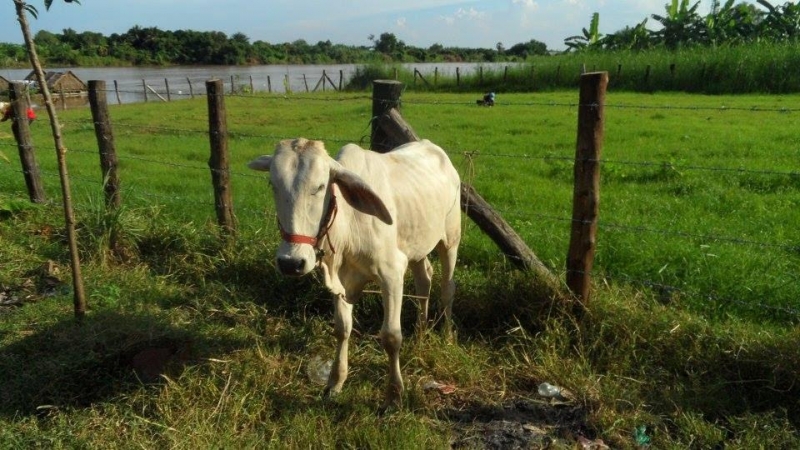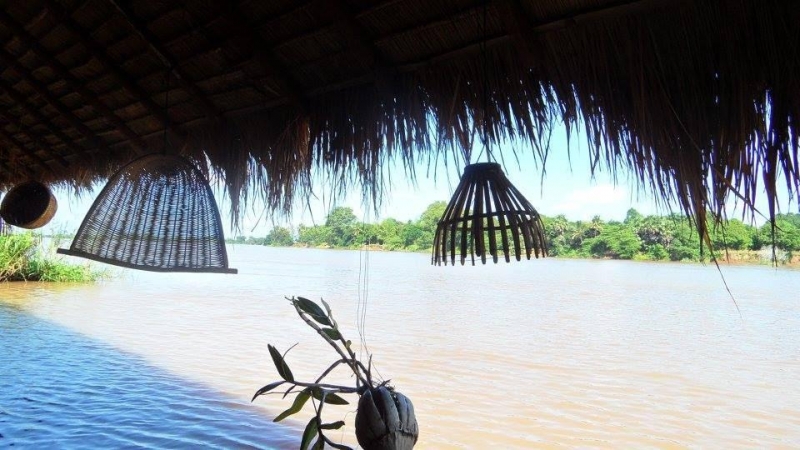 The atmosphere on Silk Island is peaceful and the views are scenic. Simply exploring the island and seeing local homes surrounded by lush agricultural land is really quite enchanting. Cattle graze in the fields and chickens peck at the earth. The vibrant yellow Koh Dach Pagoda is a pretty sight, well worth a quick photo stop, and you can also see a few traditional boats moored at the water's edge. See fresh produce at the local markets and pick up an assortment of tasty snacks.
There are several riverside restaurants and cafes where you can relax with a local meal and cool beer or soft drink. Mainly built from wood, many riverside eateries have floor seating with traditional cushions at low tables. Some also have enticing hammocks where you may be tempted to linger for a while as you relax. Furthermore, there are sandy patches around the island's edge that are optimistically referred to as beaches. If swimming in rivers is your cup of tea, take the plunge and jump on in!