This deal has already expired. Stay tuned and sign up for our e-newsletter as we bring the latest travel deals and happenings to you!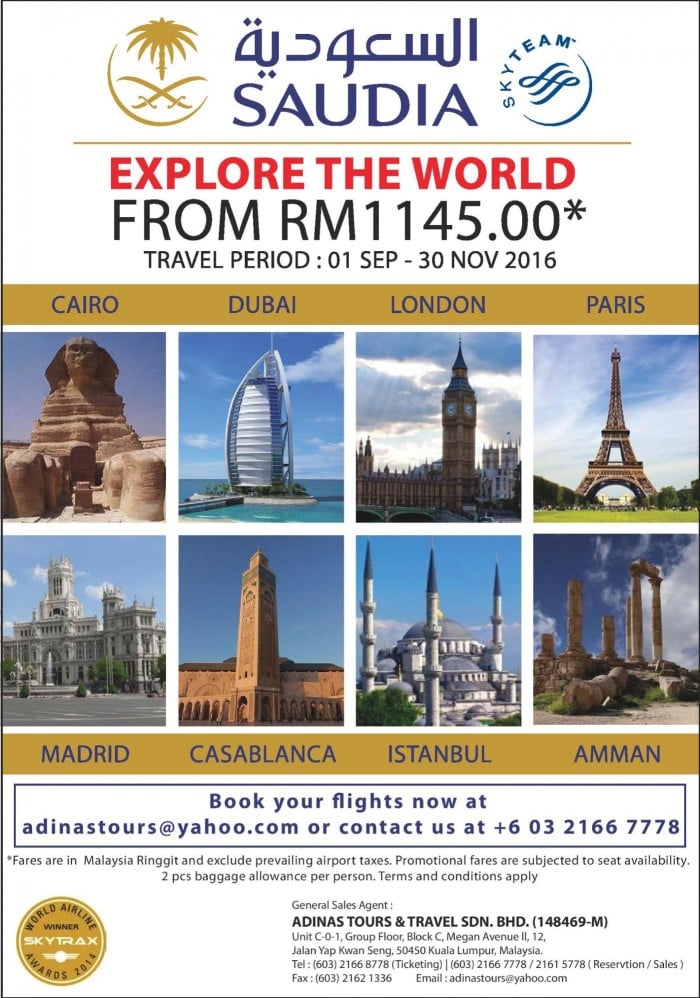 Avid Malaysian travellers and students studying abroad rejoice! We've found you an incredibly irresistible flight deal which will allow you to travel to Europe without leaving a big hole in your (or your parents') pocket.
In fact, with Saudi Arabian Airlines' 2016 promo fares, round-trip flights from Kuala Lumpur to European destinations like London, Manchester, Paris, Milan, Madrid and Munich are going at a base fare of just RM1768*. Weak as our ringgit is right now, that is definitely a real steal and you'd be a fool to miss it!
*Fare is in MYR and excluding taxes.
Even after the addition of taxes, it's still a bargain. Here are some sample return fares, inclusive of taxes:
RM2,905.00 to London, United Kingdom

RM2,905.00 to Manchester, United Kingdom

RM2,486.00 to Paris, France

RM2,308.00 to Milan, Italy

RM2,368.00 to Madrid, Spain

RM3,486.00 to Rome, Greece

RM3,486.00 to Geneva, Switzerland

RM3,631.00 to Frankfurt, Germany

RM3,631.00 to Munich, Germany
Do note that the return fares listed above are subjected to tax changes. The fare may increase or decrease depending on the destination, but they are correct as of the date of publication (23 June 2016).  
The travel period for this exclusive offer is between 1 September to 30 November 2016 and you can start booking now. The full list of promo fares (to other destinations such as Istanbul and Tunisia) and rules are available here.
Make your 2016 travel resolution count by simply getting hold of this best-for-value flight deal! Also, good news for you students, you can book your return ticket 12 months in advance, which means you are coming home in a year or less at very affordable rate. Students studying abroad like you must be smart enough to know that this is one GREAT deal that you should never ever miss!
So HURRY! Grab your air ticket before seats sell out. To book, contact Adinas Tours & Travel Sdn. Bhd., the General Sales Agent for Saudi Arabian Airlines in Malaysia. Simply send them an email through [email protected] or call 03-2166 7778. Consult Adinas Tours & Travel for FREE to get the best flight arrangement for you and your travel buddies!
About Saudi Arabian Airlines
Saudi Arabian Airlines (Saudia) is the flag carrier airline of Saudi Arabia. It is one of the largest and best airlines in the world with over a hundred modern aircrafts flying across different domestic and international destinations. A proud member of SkyTeam Alliance, Saudia has been consistently recognised for its excellent service and state-of-the-art fleet.
Take a look at its outstanding Economy Class and Business Class features.
Also read: Travel Hack 101: How to Survive Long Haul Flights in Economy
SV Economy Class B777 – 268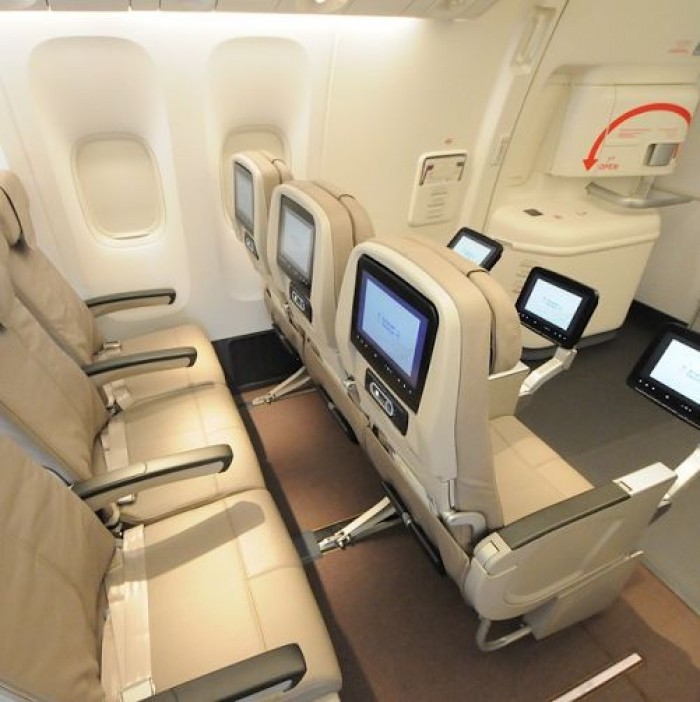 Seat pitch (distance from one row to the next) of 34 inches – for your reference, most full-service airlines only allow 30 to 32 inches of seat pitch in their Economy Classes. As insignificant as it might seem on the surface, two inches can make a HUGE difference especially for long haul flight!
Seat equipped with padded headrest wings, manually-operated footrest and lumbar support decliner – no more neckache, backache and leg cramp, now Economy Class passengers are also entitled to a good night sleep!
Luggage allowance of 46 kgs check-in (2 pieces of luggage, maximum 23 kgs each) and 7 kgs hand luggage, while other full-service airlines only allow a maximum of 30kgs.
Full In-Flight Entertainment (IFE) System equipped with special monitors, 9" with a remote control, up to 40 stations of video-on-demand, over 12 audio stations with a varied selection of video games. Best of all, you can enjoy the 'pilot's eye view' through your personal entertainment system. Stunning views from the forward and downward facing cameras? Oh yes, please!
In-flight meal with three entrees instead of two – choose from Arabic, Western, a dish from the destination country and Vegetarian, all come with pairing appetizer and dessert (three-course meal on a plane, yes you heard me correctly), truly spoilt for choice!
SV Business Class B777- 300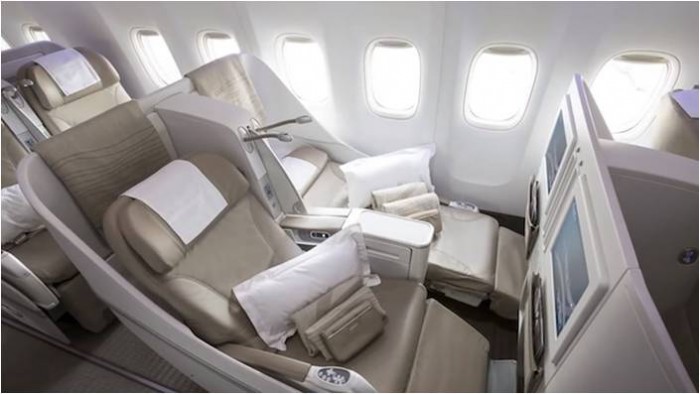 First Class seats in Business Class – seat comfort guaranteed with seats that recline up to 170 degrees with a generous seat pitch of 61 inches.

Luggage allowance of 64 kgs check-in and 9 kgs hand luggage.

Four-course meal which includes hors d'oeuvres, soup of the day, main of your choice and dessert.

High-tech IFE System which includes special monitors, 17" with a remote control, up to 40 stations of video-on-demand, over 12 audio stations and many video games to choose from.
Also read: 10 Entertaining Apps to Kill Time for Your Next Long-Haul Flight
First and Business Class passengers can also use:
SkyTeam Business and First class priority check-in.

Immigration clearance at Premier Lane.

Plaza Premium Lounge at Kuala Lumpur International Airport Mezzanine Floor Satellite Building.

Saudia's Alfursan VIP lounges in Saudi Arabia.
Additional Information
Departing from Kuala Lumpur International Airport 1 (KLIA 1), Check-in Counter Row K.

Saudia has more flights flying out of Kuala Lumpur than of Singapore.

Daily flights to Jeddah and 4 weekly flights to Medina during travel period: 1 Sep 2016 to 30 Nov 2016.

Good connection via Jeddah, Medina and Riyadh to London, Madrid, Milan, Paris, Manchester, New York, Tunisia and Cairo.
With Saudi Arabian Airlines' 2016 promo fares, you are guaranteed to experience excellent service, high-tech aircraft facilities and world class comfort at a fraction of the price. Now that's what you call a GREAT flight deal! Check out the full list of prices and the terms of this promotion. After that, make your booking with Adinas Tours & Travel Sdn. Bhd. ([email protected] / 03-2166 7778) or fill in this enquiry form.
Great deals are meant to be shared, so spread the word to your friends!