In desperate need of some BFF alone time? Sometimes, there are things that only your BFFs can understand – things that your significant other, family members, or even your other friends just won't get. You can spend lots of quality time with each other here in Singapore, yes, but why not take it up another level and plan a trip overseas? They say travelling together might make or break your friendships, but when you travel with your BFFs, you really have nothing to worry about. In fact, it might just be the time of your lives!
However, planning such a trip can prove to be challenging with the endless list of activities, places to visit and foods to try – all to be squeezed into a limited time span. We hence recommend choosing a destination that has it all: shopping, food, spas, scenery…. And where better to set your sight on for a BFF holiday destination than Korea?
There are so many things to do in Korea, thus choosing one specific destination in Korea to have that BFF trip might prove to be rather tricky. So why not visit a few places on the same trip? For starters, we recommend visiting Seoul, Gangwon, Busan and Jeju Island – over a duration of two weeks. And for a BFF trip, shopping, insta-hunts, café-hopping, going for spa and massages, and perhaps going wild at a festival all have to be on your agenda!
To make your trip planning much easier, arm yourselves with these tips for doing all of the above and you'll be all set for the trip of a lifetime. The best part? Book a package from Cheaptickets.sg, inclusive of return flights to Korea and 3N accommodation, and get a S$100 cash rebate – yes, S$100 off your holiday! Alternatively, if you prefer to settle your own accommodation, book a return flight from Singapore to Korea and get an instant S$30 discount per booking at the checkout page. These deals are only valid till 5 December 2017, so get your squad ready and let's go!
Shopping
1.  Seek out secret local shopping spots
The number one activity to include in any ladies BFF Korean itinerary is definitely shopping! While there are popular shopping spots like Myeongdong and Dongdaemun in Seoul, beat the crowd and head to places where the locals shop – university areas and underground shopping centers.
University areas like Ewha Womans University and Hongik University are the best place to find the latest Korean fashion trends, while underground shopping centers like Gangnam Underground Shopping and Seoul Express Bus Terminal Underground Shopping Center are the places to be at for best deals.
Apart from University areas and underground shopping centers, go for street markets that showcase trendy, affordable fashion at a steal. In addition, you and your girlfriends can also bask in, and enjoy, the street market culture as you join in the throngs of locals to sniff out bargain deals. In Busan, head over to Seomyeon or Nampodong for the best shopping experience as you stroll through streets flanked with carts of goods and sellers.
For Jeju, the Yeon-dong shopping district and Jungang Shopping Mall are definitely must-go's on your shopping expedition. Jungang Shopping Mall is also tax-free too. From beauty cosmetics to clothes, shoes and electronic gadgets, perhaps you girls should get an extra luggage or two – because your hauls will definitely just keep on growing!
2. Score mega bargains during a grand sale
Here's when a visit to Myeongdong in Seoul is warranted – during the Grand Sale periods! There are various grand sales that happen several times a year in Korea including Korea Grand Sale and Seoul Summer Sale. During these grand sales, most stores in Myeongdong, if not all, will give special discounts to foreign tourists. Each store will have varied deals, just make sure you have your passport and/or foreign credit card ready!
For Busan, be sure to stop by Shinsegae Centum City. Did you know that this gigantic mall is the largest departmental store in the world, according to the Guinness Book of World Records? So how can this place be missed! Make a beeline for all your favourite branded items which are sold at more often than not, pretty great discounts.
Another great place to visit is also Lotte Department Store, which sells a whole range of items. However, the highlight would definitely be the cute Lotte brand snacks and souvenirs that you can buy back for your friends and family. Psst, they all have a great range of K-beauty products so go ahead and treat yourself, K-beauty haul checked! As a popular departmental store, Lotte can be found in both Seoul and Busan.
Start planning your trip early by booking your flights to Korea with Cheaptickets.sg, and enjoy S$30 off upon checkout. Retail therapy, check!
3. Suss out the coolest streets for unique souvenirs
If you and your besties are looking for shopping that will allow you to gain insight into the culture and lifestyle of the locals, try out Lee Jeong Seop Art Market in Jeju, which is a vibrant, cute and colourful street that's lined with artistic murals and paintings. Cafés also line the street, so you will never have to worry about going hungry or thirsty while you shop! With a plethora of independent shops selling quirky items and indie crafts, this street not only makes for a good photospot, but also a cool place to get souvenirs that are one of a kind.
To take your hunt for unique souvenirs even further, go flea market hopping in Gangwon. Check out markets like Sokcho Jungang Market, Chuncheon Folk Flea Market or Chuncheon Romantic Market for interesting goodies that range from favourite local snacks like cookies to clothes like the Korean traditional costume, hanbok!
Insta-hunt for the best photo spots
4. Get free entry into palaces when dressed in a hanbok
Kill two birds with one stone: save money on palace entrance fees and get the beautiful, insta-worthy shots you need to take with your BFFs while in Korea by simply renting a hanbok!
Hanbok is Korea's traditional outfit that is available for rent near the main palaces in Seoul, especially near Gyeongbokgung Palace. Available in various colours, these beautiful and detailed dresses are guaranteed to make your photos more colourful and vibrant. When and where else can you do this except in Korea? Other than in Seoul, you can also visit the Busan Museum of Hanbok where you can get to try out the hanboks for free. How sweet is that!
5. For extra stunning 'gram pics, make nature your backdrop
Apart from filling up people's feed with pictures of you and your friends in hanboks, another quick 'gram trick is to make use of the spectacular surroundings around you as backdrops for equally spectacular shots. Now, that's an #ootd that will garner you a gazillion likes on your 'gram!
Where can you find these backdrops you ask? Make a beeline for the natural features and landmarks around nature's finest at Jeju island – think: surrounded luscious foliage, standing at the top of mountain peaks with a scenic panoramic view, or posing beneath majestic waterfalls. On Jeju Island, Mt Hallasan, Seongsan Ilchubong (sunrise peak), Cheonjeyeon and Jeongbang waterfalls are definitely must-go's to take in the amazing views – and for that sick instagram pic, of course!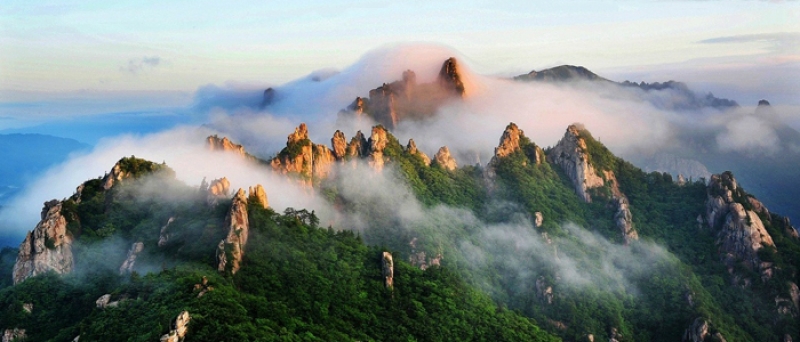 Gangwon also has its fair share of natural wonders that make for incredible photo spots and backdrops – from Mount Seoraksan and Mount Odae to Petite France, Gapyeong and nearby Nami island too. Choose from picturesque scenes that are postcard-perfect and take those squad photos to a higher level!
To make your photos even more spectacular, time your visit during the fall and winter seasons, where you will be able to witness the autumn magic. Allow the fall colours of red and gold to grace your photos, and make them even more beautiful and vibrant. Or, if you girls fancy a winter wonderland themed shoot, plan to visit during winter where you can have more #OOTD shots against a breathtaking blanket of snow. How enchanting is that? This is one photoshoot that you and your girls will surely never forget!
Make your dream a reality by booking a package with Cheaptickets.sg, which will settle both your return flights to Korea plus 3N accommodation. Plus, you'll get to enjoy a S$100 cash rebate – valid for bookings from now to 5 December 2017. The ultimate BFF adventure awaits!
6. Add some flower power to your shots
How can girls say no to flowers? Sorry, we don't mean bouquets this time round… but rather visits to flower fields around Korea! Needless to say, the vibrant, colourful landscapes will surely be a hit with your followers –  so make sure to amp up your feed with some flower power!
NOTE: These are seasonal, so make sure your trip coincides with the blooms if you want to catch them!
Cherry Blossom Tunnel, Seoul
Yup, Japan isn't the only place to catch these pretty, delicate little blooms! Come Spring, Seoul's 'Cherry Blossom Tunnel' is a stretch of road lined with 1,800 of these breathtaking trees that bear dainty, pink cherry blossom flowers. What a spectacular sight!
Where: Areas of Yeouido-dong, Yeongdeungpo-gu, Seoul (Behind the National Assembly Building)
How to get there: From Seoul Station take bus from Gyeonggi Girls' High School to National Assembly and walk 7 minutes
Hyo-Seok Cultural Festival, Gangwon
The Hyoseok Cultural Festival is held every year in Gangwon to commemorate the Korean writer, Lee Hyo-seok, on his popular Korean novel titled, 'When Buckwheat flowers Bloom'. During this period, you'll be able to see the beautiful buckwheat flower fields that inspired his writing, as well as take part in various themed programmes like poetry exhibits and nature experiences. Put on your colourful sundresses and take a picture with your BFFs amidst the rolling fields – Kpop music video style.
Address: South Korea, Gangwon-do, Pyeongchang-gun, Bongpyeong-myeon, 창동리
How to get there: Take an intercity bus to Jangpyeong Intercity Bus Terminal. From Jangpyeong Terminal, take a local bus bound for Bongpyeong (봉평) or Phoenix Park shuttle bus.
Jeju Canola Flower Festival, Jeju
Jeju Island has delightful sights at every corner and turn, but one of the best views you get to savour just so happens during their annual Canola Flower festival. The festival ushers in the fresh season of Spring, allowing you to enjoy the crisp fresh air as you marvel at the endless fields of sunshine yellow. The festival also includes a parade and various performances, as well as a cooking competition to boot. Definitely a great day out with the girlfriends, plus countless #OOTD opportunities!
Address: San 41, Gasi-ri, Pyoseon-myeon, Seogwipo-si, Jeju-do (Jorangmal Experience Park)
How to get there: We recommend taking a taxi from the airport.
Cafe-hopping
7. Seek out hidden cafes only known to locals
There are literally over hundreds of cafes in Seoul alone in Korea – which should you go to? We recommend ditching the international chains like Starbucks or popular local chains like Dal.komm café, and head to the smaller, hidden cafes instead for a totally novel experience.
Our favourites are Ms Yoon's Wonderland Café and Urban Source Café. Ms Yoon's Wonderland is an "Alice in Wonderland" themed cafe, which will make you feel as if you fell right through a rabbit hole. If you are wondering why this cafe looks familiar, it is because Miss Yoon's Wonderland was the place used for Joo-man's nephew's birthday party in an episode of the latest Korean drama series, 'Fight My Way'. Gather your BFFs and re-enact your very own party scene at this café!
How to get there: The café is located 10 to 15 minutes away from Yangjae Station (Seoul Subway Line 3 and Sinbundang Line) by foot, and the exact location can be found here.
Urban Source, on the other hand, is another wonderland guaranteed to delight the whimsical child in you. The café has two sections; one that serves the usual grub, and another consisting of a pool of white plastic balls. Yes, you read that right! This unassuming pool is located right smack in the middle of the premises, and comes complete with pink flamingo floats for the ultimate shot. Have a ball fight, lounge around or simply take lots of photos; this place is simply made for a BFFs outing.
How to get there: The café is located near Seongsu Station (Seoul Subway Line 2), and the exact location can be found here.
8. Search out places with Instagram worthy eats and decor
What could be more instagram-worthy than delicious meals or desserts that look cute AND taste just as good? Indulge in some tea and cake, and just hang out with your girlfriends after a long day of shopping. Good food and good friends, what could be better? Here are some places you could check out:
5BEY – 오베이, Seoul
This cafe boasts cool outdoor murals and colourful decor that look perfect for the gram. Oh, and they serve up scrummy burgers, fries and… drinks topped with cotton candy? Yes, please!
How to get there: Noksapyeong Station (Seoul Subway Line 6), Exit 2. Walk straight for about 3 minutes until you reach an underpass. Use the underpass to cross over to the other side of the street.
Billy Angel Cake Company, Seoul
You and your BFFs are in for a real treat here at the Billy Angel Cake Company! Indulge in sweet treats like brownie cheese cake, strawberry cheese cake as well as rainbow mille feuille, and snap lots of shots of adorably bottled beverages like strawberry milk and royal milk tea. This café is great for people-watching too, or for flipping through some magazines.
How to get there: Take to Gangnam Station and walk 3 minutes.
Check in Busan Cafe, Busan
Say hello to this cute 'postcard cafe' in Busan where you can send postcards to your friends back home, or make new friends. How this works: you can create a card (stationery is provided) with the name of the country you come from. This is then placed at your desk, serving as an 'invitation' for other guests to come and strike up a conversation.Spend the afternoon with warm cuppas in hand while you and your friends craft messages to send to loved ones, or to potential new friends!
How to get there: Take a 3-minute walk from Nampo-dong station.
Hey Brother Cafe, Jeju
Hey Brother Cafe is a lovely cafe by Sagye beach in Jeju Island, where you can enjoy fantastic panoramic views of the beach and enjoy the cool breeze while you tuck into your food. Indeed, the whole cafe is so pretty that you and your girlfriends will be fighting over the good spots to 'gram your layouts and #ootd!
How to get there: Take bus 70/200 at Jeju International Airport, get off at Hwasun/Sagye (Wolseong Village) and transfer to intercity bus  750-1. Get off at Sagye-ri office and take a short taxi ride to the cafe.
Spa and massages
9. Get to know your BFFs better, the Korean way
Get to know your BFFs the Korean way; do it like the ahjummas ('aunties' in Korean) and reach a whole other level of friendship through a session in a jjimjilbang (Korean sauna). Sweat it out whilst having deep heart to heart conversations in the sauna room! In most big jjimjilbangs like Siloam Sauna and Dragon Hill Spa, there are also other facilities like the game room, canteen, and even a karaoke room if you want to try other things together.

One place I would recommend going to is Aquafield in Hanam Starfield Mall. Compared to the usual jjimjilbangs, Aquafield is an affordable yet more luxurious option where you and your BFFs can be pampered silly. Entrance fees cost about 20,000 won (~S$23). Since it is rather new, the crowd here is also significantly less compared to other jjimjilbangs, which means less jostling with crowds, and more quality time (read: breathing space) with the besties.
How to get there: Take Bus no. 9303 from Gangnam Station (Exit 1). The journey will take approximately 1 hour.
Festivals and other attractions
10. Look out for fun Korean festivals to participate in
Boryeong International Mud Festival held every summer
While planning for your trip to Kimchi Land, be sure to check Korea Tourism Organization's website to find out the different festivals to time your visit with. With the numerous festivals that happen each month in Korea, there is probably going to be one that catches your eye!
Every season offers different festivals that you can attend. From Goyang International Flower Festival in spring to the renowned Boryeong International Mud Festival in summer, and the Seoul International Firework Festival in autumn to the Pyeongchang Ice Trout Festival in winter, there will always be something new to check out – regardless of how many times any of you have visited Korea.
From rock music festivals to traditional cultural ones, choose a festival to attend and your BFFs trip is guaranteed to become that more memorable.
However, due to the popularity of these festivals, prices of flights and accommodation often surge sky-high nearing the respective dates. Hence, it never hurts to start planning early! Lazy planners can choose to book a package with Cheaptickets.sg, that comes with return flights to Korea and 3N accommodation, or return flights to Korea. Enjoy perks no matter which you choose – receive a S$100 cash rebate for the former, and a S$30 discount upon checkout for the latter. With these discounts, your next holiday can arrive much sooner than you think!
11. Choose to spend a day at a theme park
Another must-add to your Korea BFF itinerary is a visit to the theme park. If you are familiar with the theme parks in Korea, names like "Lotte World" or "Everland" may pop up, but I recommend forgetting about these insanely crowded parks. After all, who likes to waste half a day standing in queues that move at a snail's pace? Instead, visit Seoulland, Korea's first theme park, an escape that is blissfully crowd-free.
If you're unconvinced, check out the above pictures that depicted how crowd-free the park was on a Saturday afternoon. How awesome is that! The entrance fees, too, was way cheaper compared to Everland and Lotte World, especially if bought through online ticket providers.
How to get there: Exit 2 of Seoul Grand Park Station (Seoul Subway Line 4)
E-World theme park in Daegu, an hour from Busan | Image credit: Korea Tourism Organisation
In addition, Daegu city – located just an hour away from Busan by train – is also home to a theme park unknown to most tourists: E-World. Besides saving money on entrance fees, you also get to enjoy more space and less queue time when visiting these alternative theme park options!
BONUS: Things to Take Note Of
And lastly, here are some things that you should take note of to make your Korea BFF trip a smooth-sailing one:
12. Make street food your staple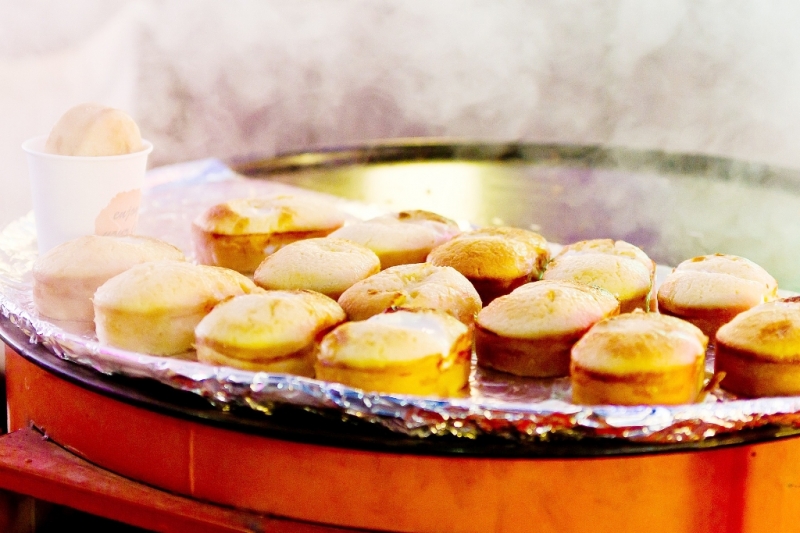 Sure, sit down meals in cafés and restaurants can be great, but with so much to see and do in Korea, you can't afford to visit these every day. After you get the requisite café-hopping out of the way, opt to fill your tummies with the dazzling array of street food that Korea has to offer. Korea's street food scene is so varied and widely available that you and your BFFs will NEVER go hungry! Indulge in light snacks like Gyeranbbang (egg bread), Mandu (dumplings) or  Manjoo (small custard buns), which can be found all along the streets of Seoul.
Even if you are craving for a heavier meal, some stores like the ones near BIFF Square in Busan Nampo area or Gwangjang Market in Seoul also sell main dishes like Pajeon (Korean pancake), Jokbal (pork feet) or Gimbab (Korean rice roll filled with meat or vegetables). These don't cost much, and offer a money saving option for those travelling on a budget, or for those looking to spend their money on shopping.
And speaking on travelling on a budget, save save save when you book with Cheaptickets.sg! Receive a S$100 cash rebate when you book a package to Korea, inclusive of return flights and 3N accommodation, or a S$30 discount when you book return flights to Korea. It doesn't get any cheaper than this!
13. Rent a WiFi egg for cheaper, faster connection
If you are planning to go to Korea with your BFFs, the cheapest way to get constant and unlimited connection is by renting a WiFi egg. This portable, chargeable device is basically a WiFi hotspot that you can bring around while exploring Seoul. Plus, the connection can be shared with up to 4 to 5 people – absolutely perfect for you and your girlfriends. There are many providers that rent out WiFi eggs, and they can go as cheap as 5,000 won (~S$6) per day.
Remember to check their network coverage before renting one, because some may only work in Seoul. Make sure you get one that covers the whole of Korea! Also, reserve your WiFi eggs early before your departure, especially during the holiday season when demand is high. Now you can instastory your BFF adventures, as and when you want, without worrying about incurring roaming data charges!  
14. Get the best currency exchange rates
If you are planning to go on a full-blown shopping spree and travel to many places, chances are you will need some extra Korean currency (won). We got you covered! For the best exchange rates, head to the money changes located at Myeongdong, Seoul. The hidden alley of money changers is located here, at the street in front of the Embassy of China. There are several money changers there, so you can hunt for the lowest rates.
15. Be sure to check the weather forecast daily
Warning: when you are already in Korea, be sure to check the weather forecast daily before leaving your accommodation. We speak from experience! There was one time when we were at Ulsan, a city north of Busan, during summer, and went out dressed in shorts and t-shirt thinking that we were going to enjoy a nice sunny day at the beach. To our surprise, the weather turned from sunny to a mini storm – without much warning – that left us freezing, drenched and totally caught us by surprise.
Do all you can to avoid being in our shoes; fair warning, it's not pretty. Do take note that the weather in Korea is quite unpredictable, especially in between seasons. Do not repeat our mistake, and always have your weather application ready to check the weather forecast of the day before heading out!
All ready to have the ultimate BFF trip to Korea? Not quite! Your planning is not complete until you make your trip materialise – make all that talk a reality with these fantastic deals from Cheaptickets.sg. Choose to a) book a package – inclusive of return flights to Korea and 3N accommodation – and receive a whopping S$100 cash rebate or, b) book return flights to Korea and receive an instant S$30 discount upon checkout. Book your holiday by 5 December 2017, and your squad will be all set for the holiday of their lives. Quality BFF bonding time, coming right up!
Brought to you by Cheaptickets.sg and Korea Tourism Organization (Singapore).