From thrilling adventure destinations like Dubai's amazing theme- and water-parks to world-class attractions like The Dubai Mall, Burj Khalifa and Palm Jumeirah, there is just so much to explore in Dubai!  What you might not know is that while these are the city's most well-known attractions, the list of things to see and do in Dubai certainly doesn't stop here. Get off the beaten path and discover the region's heritage in Dubai's pristine desert, or make lifelong memories during a family-friendly day at Dubai Parks and Resorts. Here's a list to get you started!
Can't wait to explore Dubai for yourself? Great news! Get $30 off your flight tickets when you book a return flight from Singapore to Dubai with CheapTickets.sg. Simply key in your discount code <FLY2DUBAI>  and get a $30 discount per booking instantly at the checkout page.
What are you waiting for? Book your flight by 28 February 2018 to enjoy this fantastic deal!
1. Visit one of the world's largest suspended aquariums in The Dubai Mall
To describe the malls in Dubai as "giant" is an understatement. Built to cater to the whims of international travellers and shoppers, the malls here have everything – from luxury designer goods to entertainment options for those who want to have an immersive experience.
The Dubai Mall, for example, has one of the largest suspended aquariums in the world – Dubai Aquarium & Underwater Zoo – which holds a 10-million litre tank home to over 140 species of aquatic animals.
You can choose to navigate this underwater world through the 48-metre walk-through glass tunnel or a glass-bottom boat ride where you'll get to see fishes gliding past beneath your feet.
For those looking for an underwater adventure, there are also a multitude of options available, such as a Cage Snorkelling Experience or using a Shark Scooter (a mini submarine-esque contraption that lets you paddle with your newfound fishy friends!).
Opening Hours: 10am-12 midnight, Daily
Cost: Underwater experiences range from AED100-AED600 (~S$36.70-$220), book online here
Address: The Dubai Mall, Financial Centre Road, Downtown Dubai
2. Have fun at some of the world's largest theme parks
Nobody does adventure like Dubai – and its theme parks, are, of course, built with that same motto in mind. Promising a whirlwind of heart-stopping excitement with crazy rides and experiences, the theme parks here will definitely give you a day to remember!
Aquaventure
Waterpark,
Atlantis
Scream your lungs out at this iconic waterpark as you plunge down a 27-metre flume or hurtle along the twists and turns of a mega-slide in a giant rubber tube ring.
For those who love a good adrenaline rush, make a beeline for Poseidon's Revenge and The Leap of Faith, which involve diving down slides at rapid speeds into coils and turns, or through a tunnel filled with sharks and rays. Families with young children can go for the dedicated children splash zone and other family-friendly rides!
Whether you're indulging in thrilling rides or simply enjoying a gentle bob down the Lazy River, Aquaventure Waterpark is where you'll have a splashing good time cooling off on hot summer days.
Opening Hours: 10am-5.30pm, Daily
Cost: 1 Day Aquaventure Pass: AED260 (~S$95.30) Other packages available, Book online here
Address: Atlantis, The Palm, Crescent Road
Dubai
Parks
and
Resorts
Dubai Parks and Resorts is an integrated resort destination which includes Legoland, Motiongate, Legoland, Bollywood Park and Riverland theme parks. Here's a place for the kids to run wild and meet their favourite Lego characters and Smurf friends (or for the young-at-heart to relieve their childhood).
Film geeks will love Motiongate and Bollywood Park, with Bollywood Park being the first ever theme park that is dedicated to all things Bollywood! The latest offerings at Motiongate also include two spanking new rides in the first theme park that has a The Hunger Games World. With rides that simulate an aerial tour and a bullet train ride to the Capitol, it'll surely have all the fans out there volunteering to be tribute.
Opening Hours: Park hours can be found here
Cost: Park tickets start from AED175 (~S$64.10). Other packages are available, book online here
Address: Sheikh Zayed Road, Opposite Palm Jebel Ali
IMG
Worlds
of
Adventure
IMG Worlds of Adventure is the world's largest indoor theme park. Visitors can explore the Cartoon Network Zone, where you'll get to meet the Powerpuff Girls and Ben 10, as well as navigate around the Marvel World and Lost Valley where you can abandon yourself to your favourite superheroes or wander amongst dinosaurs.
Get up close and personal to characters like Thor or Spiderman at this theme park, which is the only one that has a zone dedicated to the Marvel storyline!
Opening Hours: 11am-9pm, Daily
Cost: Adult: AED245 (~S$89.90) Junior: AED225 (~S$82.50) Child (under 1.05m height): FREE Book online here
Address: E311, Sheikh Mohammed Bin Zayed Road, City of Arabia, Dubai Land  
Ready for the most unforgettable day of your life? Then book your trip to Dubai now!
With offers like Get $30 off your flight tickets with discount code <FLY2DUBAI> OR book a return flight from Singapore to Dubai along with a minimum of 3 nights accommodation to enjoy $100 travel cash rebate with CheapTickets.sg, how can you resist?
Dubai's theme parks await you!
3.
Tuck
into
a
meal
at
a
food
truck
park
This food truck park is every foodie's dream come true! Scrummy grub in a fun and relaxed setting? Count me in! I absolutely loved dining here at Last Exit, Dubai's food truck park. Here, one can lounge on cute donut-shaped dining booths or wander around the different themed trailer trucks for different dining settings.
Serving up tasty delights from American-style diner burgers and milkshakes to pizzas oozing with toppings galore, Mexican fare and Arabic desserts – Last Exit has got them all. Be sure to make some time for a mini photoshoot with the gorgeous Instagram-worthy backdrops here that are guaranteed to make all your followers green with envy!
Opening Hours: Opening hours vary with location
Address: Check out the 4 different trailer park locations here
Ready to up your Instagram game? We have an irresistible deal for you:
Simply book a return flight from Singapore to Dubai along with a minimum of 3 nights accommodation to enjoy $100 travel cash rebate with CheapTickets.sg! Yes, more money for more food, what could be better? Grab this deal by booking your flight before 28 February 2018!
4.
Soar
toward
the
skies
on
a
Flyboard
Ever wondered how it feels like to be able to fly like a bird… or Superman? Well now you canThanks to technology, the latest watersport – flyboarding – involves the use of flyboards that will empower you to soar to greater heights.
Simply strap onto your flyboard (which is connected to a powerful jet ski), and let powerful surges of water propel you up into the sky. How fun does that sound? Time to jet away!
Cost: Prices vary according to provider, prices start from AED300 (~S$110)
5.
Skydive
over
the
artificial
archipelago
of
Palm
Jumeirah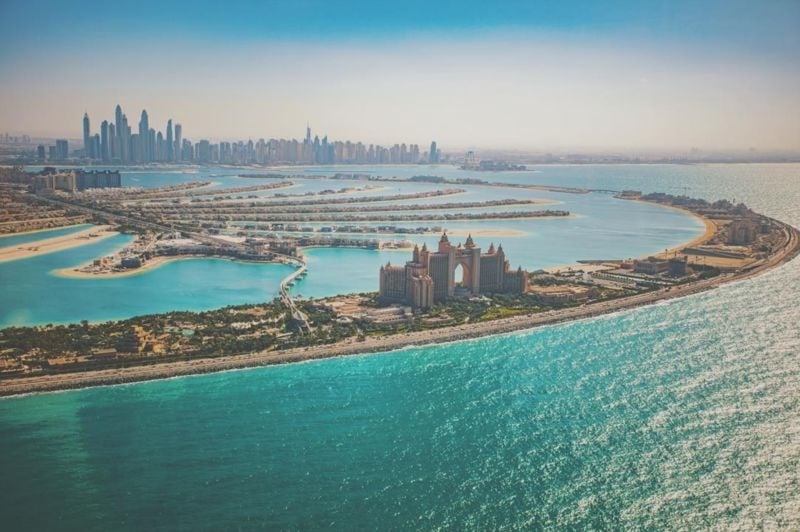 Dubai's iconic palm-tree shaped island, Palm Jumeirah, is one of the most recognisable features of the city's coastline. And of course, what better way to admire the view of the Palm Jumeirah than by going on a skydive? Feel the blustering wind along with the thrill of freefall as you plummet through the air against a spectacular backdrop.
Think you could strike a pose like this in mid-air? Be it skydiving alone or with friends, this stunning sight is surely one for the books and the perfect opportunity for a bird's eye view of Dubai's iconic skyline, too!
Cost: Prices vary according to provider, prices start from AED1999 (~S$732.50)
Just imagine getting to skydive to the most gorgeous view ever! Want to have that experience? Take that first step by booking your flight to Dubai! Here's a super deal for you: Get $30 off your flight tickets when you type the discount code <FLY2DUBAI> before checkout on CheapTickets.sg! 
Be sure to not miss an offer like that and book your flight by 28 February 2018!
6.
Spend
a
night
out
in
the
desert
What's a trip to Dubai without doing an overnight desert safari tour out in its expansive golden deserts? Going on a desert safari while in Dubai is truly a must, and if you have only one night to spare in Dubai, let this activity be it.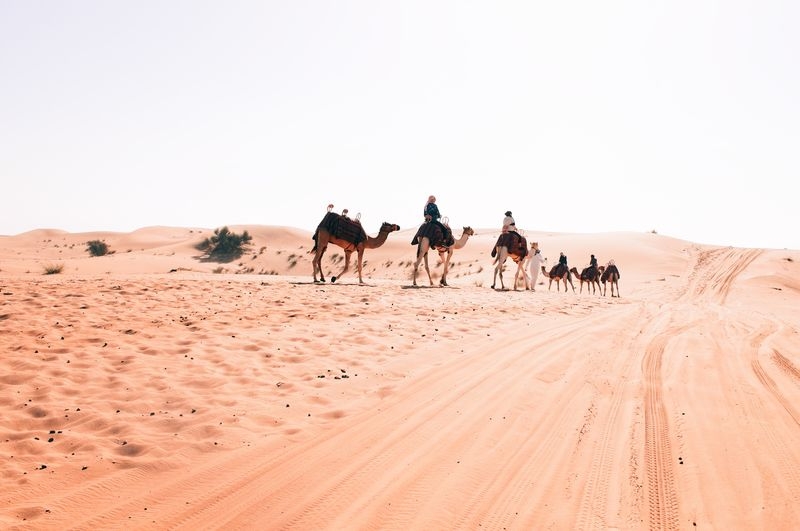 The quintessential desert safari adventure involves lots of fun desert activities like camel riding and sandboarding, followed by a dinner and entertainment into the night – which includes Arabic dancing and selfie opportunities among some amazing Arabian-inspired backdrops.
I went on the Private Night Safari and Astronomy tour with Platinum Heritage, which allowed me to fall asleep under the beautiful night sky filled with twinkling stars. Don't get me started on being able to wake up to witness the glorious sunrise and its golden glows across the sky! Trust me, this is an experience that you will never forget!
Cost: Prices start from AED495 (~S$128.20) at Platinum Heritage Tours 
7.
Experience
an
indoor
winter
wonderland
at
the
Mall
of the
Emirates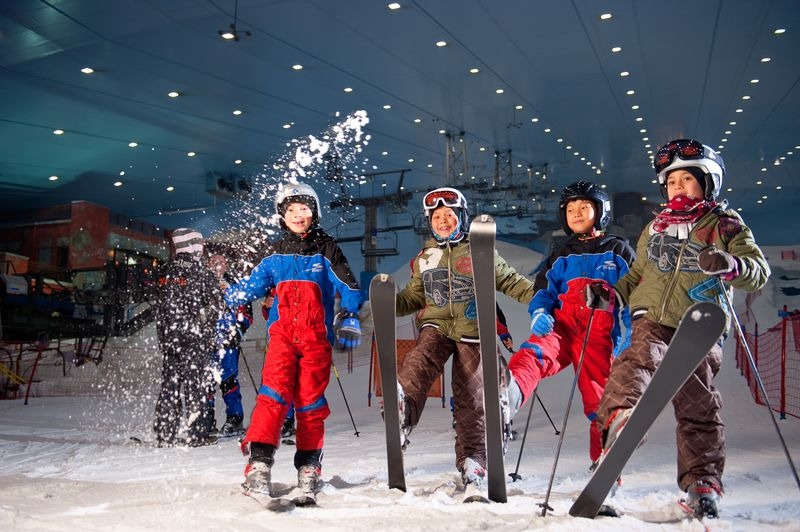 So far, I've mentioned seeing a humongous aquarium within the confines of The Dubai Mall, but snow skiing amidst Dubai's desert landscape is certainly one for the books. At the Mall of the Emirates, visitors can look forward to having snowball fights and racing down slopes in the mall's ski resort, Ski Dubai.
Alas, if you think that skiing is the only thing you can do here, you're wrong! At Ski Dubai, visitors can opt for a zorb experience, which involves getting into a giant plastic bubble and tumbling down snowy hills.One can even go for a penguin encounter, where you can choose to swim with the penguins or just cosy up and pose for a photo together!
If you want to take your winterland experience up a notch, try booking a room at Kempinski Hotel Ski Dubai, which has rooms that overlook the sparkling, white slopes of Ski Dubai. I really enjoyed just lazing around in one of the armchairs near the windows! What could be better than looking at the snowy ski slopes while sipping on a mug of hot chocolate?
Opening Hours: 10am-10pm, Daily
Cost: Ski Dubai experiences range from AED185 (~S$67.80) for a beginner ski lesson-AED1320 (~S$483.30) for a penguin experience ticket, Book online here
Address: Sheikh Zayed Road, Dubai
Can't wait to zoom down those snowy slopes?
With offers like Get $30 off your flight tickets with discount code <FLY2DUBAI> OR book a return flight from Singapore to Dubai along with a minimum of 3 nights accommodation to enjoy $100 travel cash rebate with CheapTickets.sg, the time to visit Dubai is now!
Book your flight by 28 February 2018 to snag those deals!
8. Be enthralled by Global Village, Dubai's all-in-one entertainment attraction
For a mega dose of fun, Dubai's Global Village is something that cannot be missed! Just a step into the region's all-in-one cultural, entertainment, family and shopping destination will make your jaw drop!
The park features a slew of attractions, including Carnaval (Think: carnival rides, skill games and over 100 arcade games), concerts and pavilions themed by different regions across the world, making you feel like a true globetrotter.
It's definitely understandable to feel overwhelmed while you're here, and you may not have the time to try everything. However, I feel that one must-see attraction is the famous Monster Stunt Show which showcases drifting cars, stunts on bikes as well as a monster truck! It's definitely packed with lots of action that will have you gripping onto the edge of your seat!
Opening Hours: 4pm-12am, Daily
Cost: 15AED (~S$5.50) Book online here
Address: Exit No.37, Sheikh Mohammed Bin Zayed Road
9.
Go
dune
driving
across
the
deserts
of
Dubai
Imagine taking a rollercoaster ride through ginormous mounds of sand way out in the glossy, golden dunes of Dubai. After hopping in on a four-wheel drive vehicle, I felt my heart rate rise and fall as my expert instructor swivelled through the sand dunes. It was simply exhilarating.
The cars will pause for some Instagram-worthy shots so you have a chance to document your thrilling desert adventure. Those snaps of the desert sunset view will surely be a big hit amongst your followers!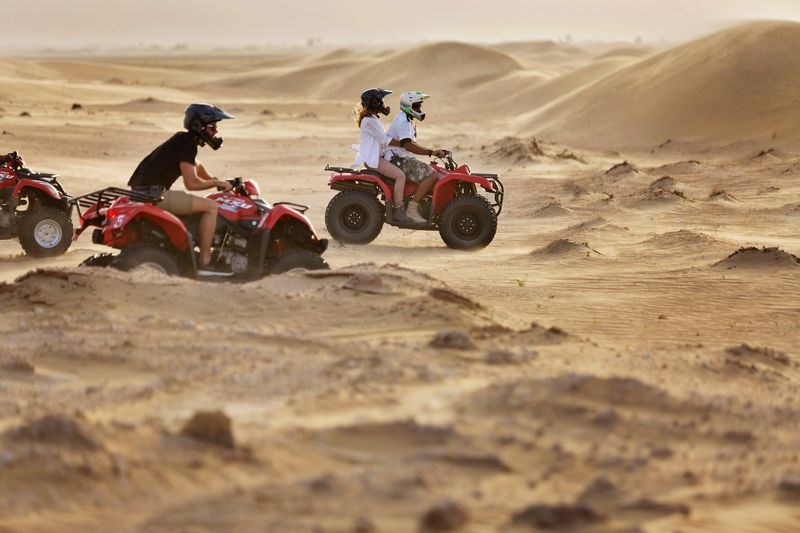 For the daredevils who would rather do the zooming themselves, opt for a desert dune buggy experience instead! Just follow your safari guide through the natural trails and keep to the safety and driving instructions, and you're all set for a wild ride.
Cost: Prices vary according to provider, prices start from Car: AED55 (~S$20.20) or Buggy: AED695 (~S$254.50)
10.
Drive
a
Formula
One
race car
While on the topic of fast cars, here's another novel experience to try out in Dubai: speed racing in an authentic Formula One race car at Dubai Autodrome! Yes, this is Hot Wheels in real life, where you'll get to channel your inner Lewis Hamilton.
Buckle up in a race car of your choosing (either the Arrows F1 2002 or Jaguar F1 2000) and feel the power and speed surge through your body as you crank up the speed. After going for a few test laps, turn up the heat and burn some rubber on the tracks.
This one is a tad on the pricey side, but hey, riding in an actual Formula One race car is not something you get to do every day! If you're game for it, safety equipment will be provided for all drivers and you'll even get a F1 certificate after your 'race' too (to frame up on your wall, duh!).
Cost: AED19,900 (~S$7,300) Address: Dubai Autodrome, Sheikh Mohammed Bin Zayed Road
Ready to try your hand at all these exciting activities? If you need another reason to convince you that Dubai should be your next travel destination, this sweet offer will seal the deal:
Simply book a return flight from Singapore to Dubai along with a minimum of 3 nights accommodation with CheapTickets.sg to enjoy $100 travel cash rebate! That means more money to spend on other thrilling activities!
So be sure to grab it quick as this deal is only available for the first 100 bookers. Don't forget to book your flight and accommodations by 28 February 2018 too, fastest clickers first!
Bet you never knew that there's so much to do and see in Dubai? For more information, check out Visit Dubai's official website and Facebook page. Time to finish up that big breakfast of Shakshouka (a traditional Middle Eastern breakfast dish) and get going because a fun-filled Dubai adventure awaits! Don't forget the awesome deals awaiting you too such as the $30 flight discount and $100 travel rebate when you book with Cheaptickets.sg!
Which activity will you try first?
---
Brought to you by Visit Dubai and Cheaptickets.sg.