So when's our next trip?
One of your friends casually asks and suddenly there's a change in the atmosphere; it's charged with the electricity of excitement at the prospect of another getaway. Chatter fills the air as you enthusiastically suggest countries to visit, foods to try and potential travel dates – until you realise that the group will eventually have to get down to some actual planning.
Cue personal differences, clashing interests and varying budgets. Where in the world can the whole group sit down with good WiFi, enough power plugs and indulge in productive conversations without getting chased out?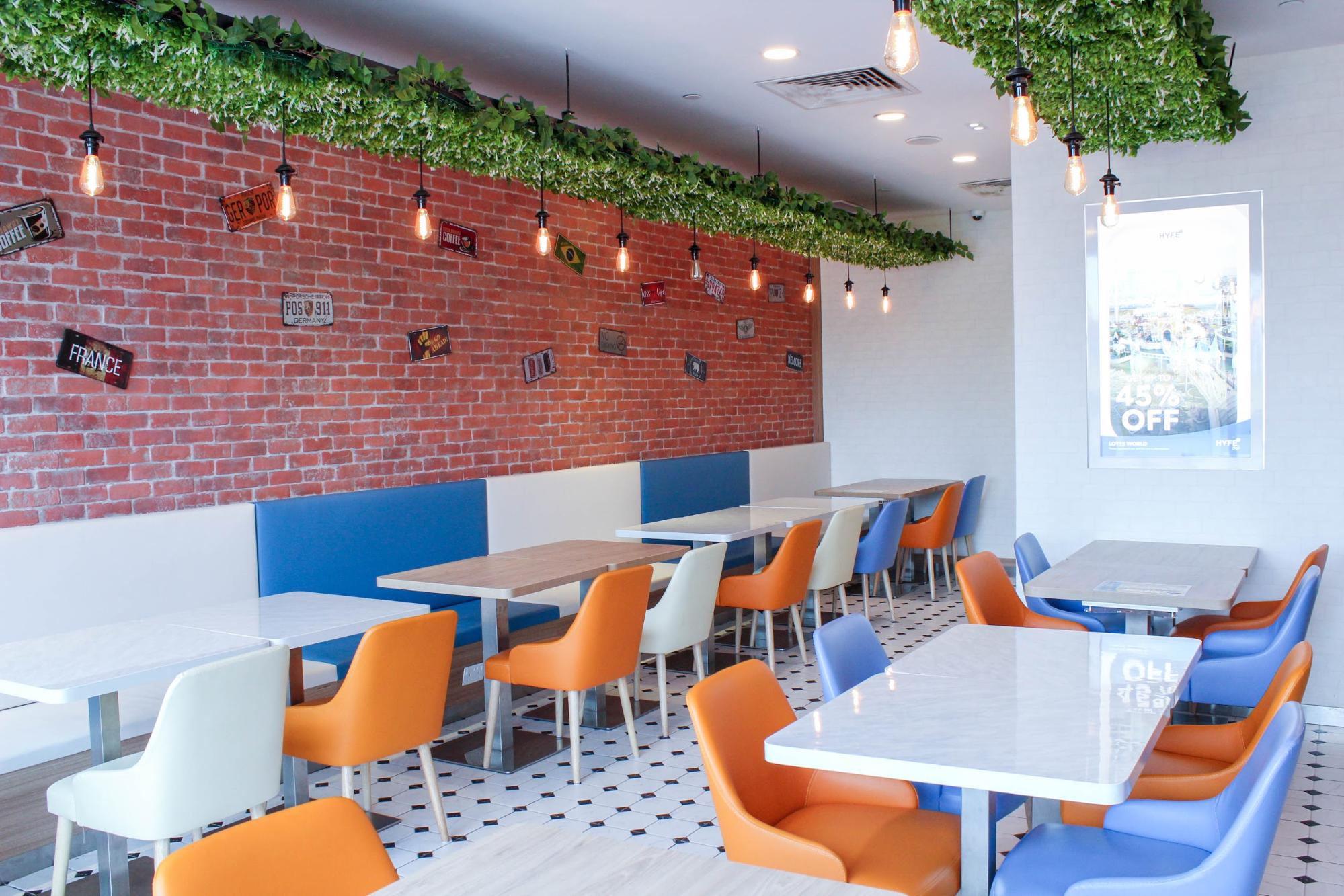 Lucky for you, we've caught wind of the perfect establishment. Located in Tampines 1, HyfeCafe is the first-ever travel-lifestyle café run by Changi Travel Services, who also owns Singapore's leading online travel store, Changi Recommends.
We've heard about its claims of being a one-stop-shop for travel services, ranging from in-house travel experts to a comprehensive travel planning service that helps you book tickets to attractions. Coupled with a smashing menu of culinary delights, how could we not pay this quaint establishment a visit?
Discover fuss-free travel planning with the in-house travel resources
At first glance, HyfeCafe seemed more like a travel agency than an actual restaurant. Upon entering the cafe, we were greeted by friendly staff who showed us to our seats. We passed by walls stocked full with colourful itinerary pamphlets for over 20 countries, free for patrons to browse and bring home.
As we ventured inwards, more capacious decor was revealed. This included large TV screens lining the walls, playing a variety of travel videos. Watching the videos sparked our wanderlust, as we discovered hidden café gems in Bali, the best places to find gelato and even learnt how to maximise space while packing our luggage! There is also an abundance of power points available within the café, making it the perfect location to gather your homies and research for your next holiday.  
After being ushered into our spacious marble-topped booths, we wasted no time in ordering our food from the myriad of choices available. While waiting for our dishes to arrive, we requested for the free in-house tablets to explore HyfeCafe's exclusive Trip Planner mobile app!
While the interface looked overwhelming at first, the knowledgeable in-house travel expert offered us a quick walkthrough that left us at ease.
Discover pre-planned itineraries, or have one tailored to your needs!
The Trip Planner app comes equipped with sample itineraries spanning Europe, Asia and the United States. You'll be thoroughly spoilt for choice! And if you like an itinerary you see from one of the hardcopy pamphlets available, simply key in the corresponding code and it'll bring up a digital one for you to complete the planning.
If the pre-planned activities aren't to your liking, you're welcome to use them as references and piece together your own with its itinerary modifier. Go wild and mix and match activities from different itineraries until you're satisfied!
Nurse the beginnings of a wanderlust bug bite while you dig into the delectable food and enjoy boundless information at your fingertips. The Trip Planner app even provides you with travel times, distances between attractions and ticket prices – no need to have 50 tabs open on your browser window anymore!
For those who want a surprise, Trip Planner offers a bespoke itinerary feature as well. Simply key in the number of travel companions, the destinations you're interested in and punch in your personal details.
Travel experts from Changi Recommends will then take your selections into account and put together a personalised itinerary for you within three working days! You'll be able to correspond with them directly via WhatsApp where you can discuss which features of your itinerary you might want to change and more.
What's more, attraction tickets and transport passes can also be bought through the Trip Planner app or the travel concierge! Booking through Changi Recommends also allows you to enjoy up to 40% off – planning your next trip has never been this affordable.
EXPLORE THE TRIP PLANNER APP TODAY
Indulge in delectable fusion cuisine
Travel planning is intensive labour and you'll probably spend a whole afternoon trying to craft the best itinerary for you and your friends. If your stomach gets a little hungry, you can satisfy your hunger pangs with some of the scrumptious delights that HyfeCafe has to offer!
And psst Muslim friends, we've got an exciting update for you – HyfeCafe is in the process of applying for Halal certification, so you'll soon be able to join in on all the flavourful grub!
We were parched from all the talking, so we wasted no time in ordering the Lilac Frogurt (S$6.90) and Yuzu Soda (S$5.90) from the extensive menu. Grape Yakult and yoghurt lovers, the Lilac Frogurt is a must-try – the fresh homemade yoghurt is infused with a delicious blend of blackcurrant and lavender. Be sure to mix it well before taking your first sip! For those who prefer a more refreshing flavour, the zesty Yuzu Soda is both tangy and sweet. It's the perfect thirst-quencher on a sweltering afternoon!
We also ordered one of their Sharing Platters (S$15.90 for 2, S$23.50 for 4) to munch on while we waited for our mains. The platter was a smorgasbord of pleasant surprises, served with a generous dollop of tartar sauce and piled high with a wide variety of finger food including cheese fries, chicken sausages, tomato bruschetta, deep-fried calamari and our personal favourite – succulent popcorn chicken.
For those looking for something different, the menu also boasts a wide range of salads, soups and chicken wings with homemade Asian-inspired sauces, like salted egg yolk and teriyaki.
For the mains, we opted for the Crispy Chicken Mac and Cheese (S$13.90). While the macaroni and cheese lacked the vibrant yellow and tantalising cheese pull that we were anticipating, it was light on the palate and paired well with the cheese-drizzled crispy chicken. Despite being on the creamier side, the dish was very pleasant and allowed us to clean off the plate without feeling jelat at all.
The Cajun Chicken Aglio Olio (S$11.90) was up next. Drenched in a rich mushroom gravy, the huge slice of Cajun spiced chicken was a succulent delight to sink our teeth into. It wasn't overcooked or dry, and still retained its juiciness even after we had spent some time taking photos! The noodles were perfectly al dente as well!
And now for the star of the show. Meet one of HyfeCafe's best-selling dishes: Teriyaki Salmon Udon (S$15.90). The stir-fried udon is paired with scrambled egg and a sprinkling of spring onions, packed with umami. Don't forget the generous helping of salmon sitting precariously atop the steamy noodles – dipping the salmon flakes into teriyaki sauce adds the perfect hint of sweetness to this delish meal.
End your travel planning with classic and innovative sweet treats
Ready for dessert? Choose from a wide range of colourful treats, all at affordable prices! We wanted to get our hands on the Omakase (a dish named after the Japanese tradition of letting the chef choose for you), but unfortunately, it was unavailable the day we visited.
Nonetheless, the full-page feature of Golden Waffles (S$8.90) caught our eye, as did the Lemon & Lime Crumble (S$8.90). Dusted with a light coating of powdered sugar, the waffles were the perfect combination of a crisp surface and buttery, fluffy insides. You get to choose between strawberry, vanilla or chocolate flavours for the scoop of rich ice cream plopped atop the mix of fresh strawberries, blueberries and dried cranberries.
The Lime Cookie Crumble, on the other hand, provided a refreshing change to our saturated palates, where lime flavoured jelly, cookie crumble, marshmallows and a cool blast of lime sorbet were arranged in a cute round-bottomed cup. 'Gram-worthy, isn't it?
Hankering after your next holiday? Whether you find yourself searching high and low for that perfect spot to conduct your brainstorming sessions in, procrastinating on your hunt for accommodation or just looking for a place to treat yourself to lunch, HyfeCafe's got it all.
With a Travel Concierge, nifty Trip Planner app, ready-made itineraries, affordable fusion cuisine and decadent drinks to boot, experience it all for yourself at HyfeCafe today!
Address: #03-25 Tampines 1, 10 Tampines Central 1, Singapore 529536
Contact: +65 8620 0075
Opening Hours: 10am – 10pm daily
Social Media: instagram.com/hyfecafesg
---
Brought to you by Changi Recommends.