Let me take you back to the days of Silk Road merchants, when Central Asia was home to bustling street markets and loud traders were busy selling off their produce to locals. Citadels and madrasas lined the streets with grandeur, and beautiful mountains formed a picturesque backdrop unlike any other.
Today, after decades of repression, Central Asia is a region overlooked by many. With the glorious image it once had now a distant memory, people are afraid to visit this territory – mostly out of ignorance and misinformation.
But as we dig deeper into a region full of mysteries (and surprises), let us uncover why Central Asia shouldn't slip under everyone's radar anymore. In this edition of Expectations vs Reality, have an open mind and be ready to stan hard.
Expectation: Central Asia is plagued with civil wars and best left alone
If there's one thing history does for Central Asia, it is a disservice. Nations in the region —  Kazakhstan, Turkmenistan, Kyrgyzstan, Uzbekistan and Tajikistan — were all former Soviet republics and have experienced less than pleasant pasts. Civil wars have plagued the region and the notoriety birthed from it continues to linger.
Indeed, this region was highly inaccessible for independent travellers and its reputation of having authoritarian governments has repelled curious visitors from visiting. Afterall, there won't be smoke without fire, and the negative impression has certainly taken a toll on the regional tourism scene.
Reality: This is a safe region to explore and you'll be shocked by how beautiful it truly is
While there are pockets of Central Asia best left alone due to unsafe conditions, this is a generally safe part of the world to visit. Keep an eye on the news and be abreast with the latest happenings when exploring the region.
Visitors rarely face threats to personal security but you may find government officials to be intimidating, creating more problems than actually solving them. Crossing many borders in this region might feel like a mountain range of red tapes with certain visa requirements.

Nonetheless, visitors often feel safe when travelling to Central Asia and in fact, have their best memories made when exploring the region. The mountain range with the real deal? Visit Iskanderkul in Tajikistan, it's bound to leave you speechless.
Expectation: The heat will be unbearable
Since Central Asia is home to at least 20 deserts, it's no surprise that many have the impression that the region is nothing more than barren plains of sand and dust. After all, it is not buffered by any large body of water.

The summer months can be relentlessly hot and sunny, and most areas have a dry and continental climate. While these preconceptions are true and travelling in Central Asia during the summer months can be an insurmountable challenge, this region has so much more to offer!
Reality: It actually snows here too! Travelling in Central Asia during other seasons might be more favourable
In the winter months, Central Asia transforms into a whole new paradise. The scenery is gorgeous with snow-capped mountains and tourists gliding happily on their skis. Central Asia is definitely a great place to experience during months where the sun is not out to get you!

Activities such as skiing, horse riding and many more are available for you to enjoy during these months of cool weather! If you think Central Asia is only hot and warm all year round, you are definitely snow wrong.
Expectation: There is nothing much to do in Central Asia
A former Soviet Republic? Before even doing any research about Central Asia, many visitors already think that there is absolutely nothing interesting to see or do in the region. Isn't it just filled with statues of past Communist leaders or political agenda all over the country?

Furthermore, not many people know where Central Asia is on the map and many would prefer common destinations such as East Asia or Europe for their holiday plans. I wouldn't fault you for thinking that way.
Reality: Too many exciting things you can't get to do back home!
If you're thinking of Central Asia as your next destination, you're in for a real treat! As much as it is a region misunderstood by many, there are many interesting things to do that will certainly leave you with a wonderful memory from your trip. For instance, a morning visit to the Chorsu Bazaar in Uzbekistan will certainly leave you enchanted as you witness locals carry out their daily errands.

If you have more of an adventurous spirit, how about horse riding in the beautiful mountain ranges of Chimgan, Uzbekistan? Hold on tight as it sure is going to be one bumpy ride! If you crave to soar like an eagle, paragliding above the Charvak Lake will leave you speechless. These places of wonder will be your big little secret.
Expectation: People in Central Asia are unfriendly to visitors
That natural scowl, accentuated by the ubiquitous badass shawl and shades, will be a common sight in Central Asia. Merchants put on an intimidating mask and you might feel anxious at the airport where immigration officers look like they're bound to give you a hard time. The sun and scorching heat do not help in any way. In fact, it only adds to the tension on their faces. So what do you do?
Reality: Simply talk to locals! You'll take back your words in a jiffy
Locals in Central Asia are some of the friendliest people you'd meet. Beyond the scowl, they will be glad to shine that smile and most of them will proudly show you their gold-plated teeth (yes, it's a sign of wealth). The region is an interesting melting pot of cultures and ethnicities due to its proximity to Mongolia, Iran, China and Russia.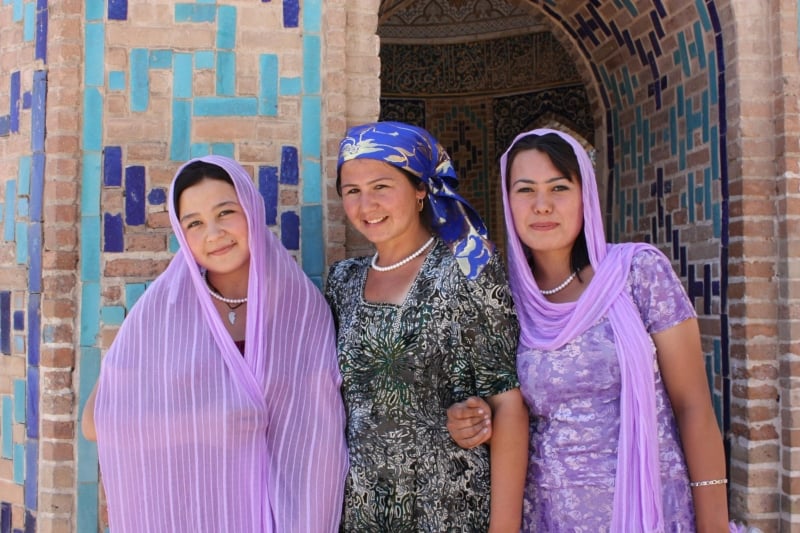 Furthermore, Central Asians are extremely warm and welcoming. More than anything, they're very interested in foreigners since there aren't many around in the region. Don't forget to bring your little Russian phrasebook and you will definitely excite your new local friends.
It's common for locals to invite you back to their place for a cup of tea, and introduce their families to you. If you decide to agree on this, be sure to check your schedule and time. These tea sessions will take almost two hours!
Expectation: Travelling to Central Asia is a hassle
With fears stemming from stereotypes of Central Asian immigration offices, known to have stringent red tapes and fierce bureaucracy, many of us are afraid of travelling into the region. There are certain visa requirements required for each country and you'll definitely need to put in some planning and work into these applications. Sounds like a tedious process, doesn't it?
Reality: It's not as complicated as in the past!
With burgeoning regional flight connectivity and a shrinking red tape, Central Asia is more accessible now than ever. There are now even more flights from Singapore to Central Asia, with short stopovers in neighbouring cities such as Kuala Lumpur and Bangkok. For instance, Uzbekistan Airways fly directly from Tashkent to Singapore, with a stopover in Kuala Lumpur for the Singapore-Tashkent route. Both legs take about seven to eight hours.

Furthermore, Central Asia is slowly gaining more attention amongst travellers. Countries like Kyrgyzstan and Uzbekistan have eased visa restrictions and established homestay programmes with locals. These initiatives have certainly made it easier for people like us to experience the local way of life.
With the exception of Turkmenistan, the one country in the region maintaining its reputation as a bureaucratic nightmare, travel into Central Asia have been made much easier as compared to previous decades.
With only a handful of tourists exploring the region currently, Central Asia is an apt destination for those craving for a novel adventure. But that won't be for long! Once regional tourism infrastructure gains stability and national tourism boards become more active in promoting themselves, the number of visitors to the region will surely increase. Don't procrastinate your trip further, else you'd have to compete with maddening crowds who wish to explore this fascinating region as well.