Top honeymoon destination picks seem to predominantly revolve around the usual Hawaii, Maldives, Bali and New Zealand. Lovebirds, are you game for adventure, romance and relaxation? Then I recommend South Africa's phenomenal coast, Cape Town, which appeals as the next prime honeymoon spot.
I kid you not when I say that Cape Town is an ideal choice – two friends of mine still reminisce fondly about their memorable honeymoon in Cape Town. The majestic mountain vistas, gastronomic delights, pristine waters and safaris galore will leave you enchanted.
Well, whether you are on a honeymoon or simply vacationing with your other half, check out this specially-curated list of the top six things to do in Cape Town for a romantic time!
1. Drift away on a hot air balloon in Cape Winelands
Forget Turkey's Cappadocia! Feel the gentle breeze caress your cheeks as you soar up and above in South Africa's premier vineyards region. Just a 40-minute drive from downtown Cape Town, the stunning panoramas will leave you on a constant high. There are a few companies that offer cool hot-air balloon packages namely Winelands Ballooning, Adventure Shop Stellenbosch and Life Ballooning Cape Town. Some require you to send in an enquiry to find out more about pricing and details. However, a rough gauge for a one-hour flight per person is SGD$400.This also usually includes champagne and a hearty breakfast. Do also take note that this activity is weather dependent and hence might not operate every day. On a clear day, you will be able to see the majestic Table Mountain range, Paarl Rock, vineyards, cattle, wheat fields and vast orchards. Soak it all in and share these intimate moments with your beau. Don't forget to capture these precious moments with a selfie or two.
2. Retreat to the Kirstenbosch Botanical Gardens for a romantic picnic
This lush garden is a heavenly backdrop for a wonderful afternoon picnic. Pick a shady spot and enjoy each other's company as you dig into tasty sandwiches and toast to some champagne. The better alternative: Ring up Dial-a-Picnic, a company that specializes in themed picnics and outdoor dining experiences, and leave everything to the experts. Indulge in delectable cheese platters, an impressive bread spread, tasty cupcakes and a bottle of bubbly whilst you marvel at the phenomenal vistas. The picnic is tailored to meet your preferences and the small personal touches value-add to the overall experience. They say everything's better with food around – it's true. Thereafter, you can saunter around Kirstenbosch, home to Cape Town's extraordinarily rich and diverse flora. Explore the winding Centenary Tree Canopy Walkway and check out the stunning viewpoints 12m above ground. If you're up for a mini-workout, you can also take on the various hiking trails around this massive nature reserve.
3. Hitch a cable car up the colossal Table Mountain during sunset
Standing tall at 1,086m, Table Mountain is symbolic of Cape Town aka The Mother City. Views from the summit are sensational and you really need to see it to believe it. Instead of a sweaty, tiring and muscle ache-inducing hike up, settle for the cable car option that will take you right to the top in four minutes. The best time to go is definitely during sunset because the transition from day to night brings a surreal change in the surroundings. Once the city lights go on, you will see how Cape Town beautifully illuminates. It's time to put your love on top!
4. Dip in the lapis lazuli waters of exotic Camps Bay
The glistening azure blue sea fringed by the pearly white shores are just what you need to up the romance a notch. Whether you choose to suntan and leave with the perfect glow or soak in the cool waters, this beach definitely exudes charm and tranquillity. Just a mere seven-minute drive from Cape Town city centre, it's the perfect escape to admire dazzling sunsets and crystal-clear waters with that special someone.
5. Delight in a mouth-watering fresh seafood spread along the idyllic V&A Waterfront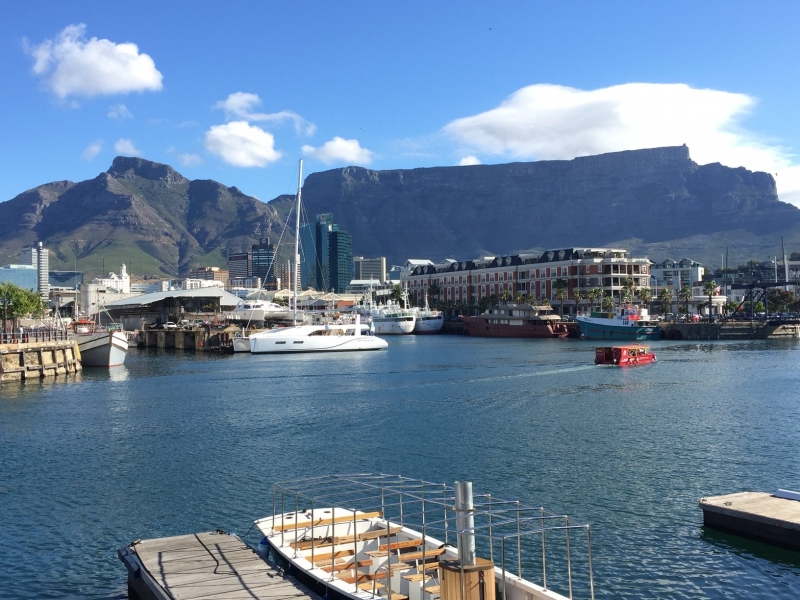 A visit to Cape Town is incomplete without savouring some of the finest seafood (think: juicy calamari, fresh Pacific oysters, South Coast rock lobsters – yum!). The Victoria & Albert Waterfront boasts the perfect setting for a romantic dinner by the wharf, with Table Mountain overlooking you. Saunter hand in hand thereafter and enjoy traditional African performances, some retail therapy and perhaps delicious desserts – all at this entertainment hub!
6. Get up close and personal with the ocean's apex predators
The number one activity in Cape Town for all thrill-seeking couples would have to be shark-cage diving. If you and your significant other are game for a real adventure, muster up your courage (you'll need it), and face these great white sharks in person. Separated only by the slim bars of a steel cage, you might just end up holding your breath out of fear. Well, they say through good and bad times you'll have to stick together. Nobody gets to chicken out now!
Pictures do not do justice to this magical place on Africa's southernmost tip. Cape Town has a plethora of bonding activities for you and your significant other. From its breath-taking beaches to its unforgettable Table Mountain backdrop, be certain that you'll have optimal romance during your entire stay.