You've seen far too many news articles and reporters going on about the prolonged slump that the Euro is in. If you played a drinking game where you did a shot every time an analyst reported on "the plunging euro", you'll probably be inebriated enough to star in the next Hangover movie. The more pressing issue is, what does this mean for you?
Well, in layman terms, it means get ready to pack those bags and buy yourself a ticket to Europe because you are going to get more bang for your buck now than ever before. Okay, that may be a slight exaggeration, but with the Euro near a 10-year low, it's not far off the truth. Get ready to learn "Hola", "Bonjour" and "Ciao" because you're going to need it. And of course, the all important universal sign language of wild gesticulations and weird facial expressions.
Without further ado, here are some of the most wallet-friendly European destinations you can visit in 2015.
Also read: 5 Most Photogenic Places in Europe for Shutterbugs
Budapest, Hungary
Budapest makes for an attractive backpacker destination due to the combination of wonderful attractions that have low or even no entrance fees, and very reasonably-priced accommodations. The city is littered with architectural marvels, including the world renowned Hungarian Parliament building which has got to be one of the most imposing and impressive buildings ever built. The grandeur and scale of the building takes your breath away as if Mike Tyson just delivered a body blow to you.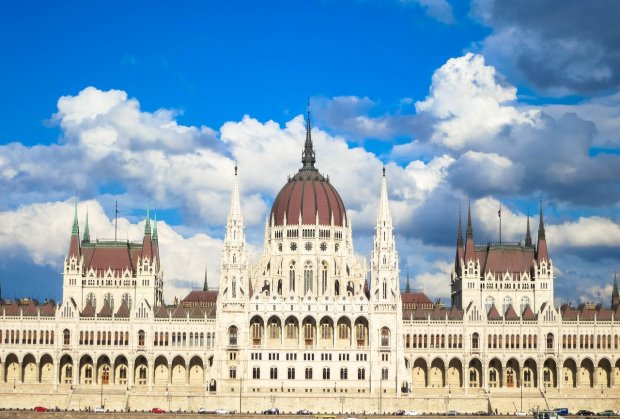 There are also plenty of churches (check out the Matthais Church) and castles to feast your eyes upon.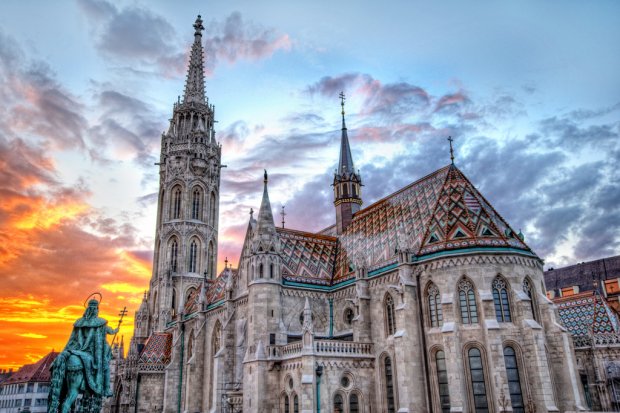 Image credit: Alex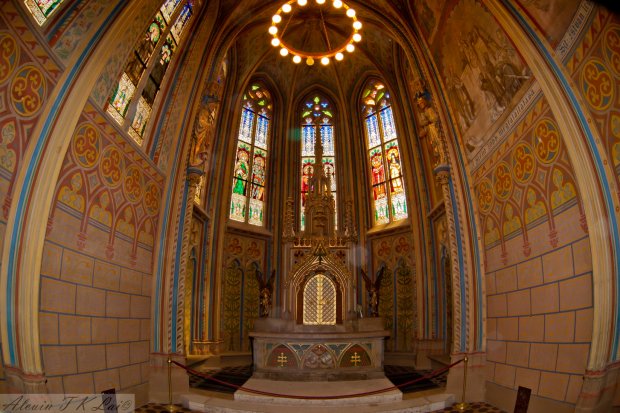 Image credit: alcuin 
When your aching feet can't take the strains of pounding against the cobblestone any longer, you can always head to one of the thermal spas that Budapest is famous for. Crucially, these thermal spas are affordable enough for the backpacker set, allowing a sense of creature comforts that can be hard to come by when on the road on a skimpy budget.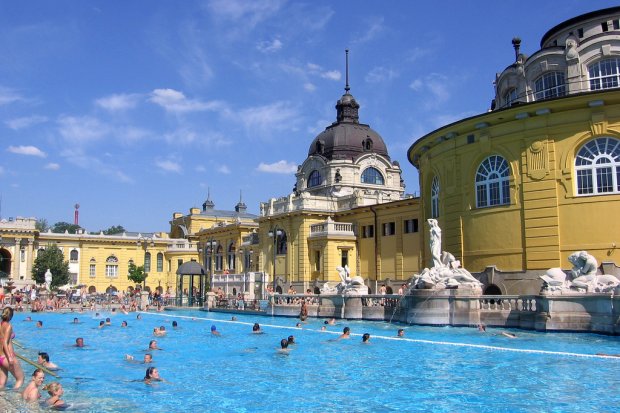 Image credit: Vlasta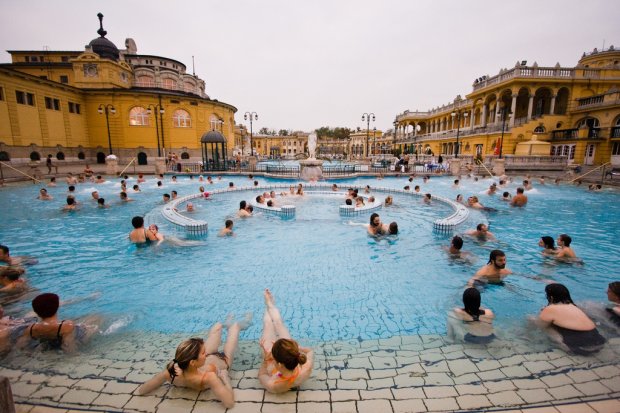 Image credit: Alvaro
Soak in the quirks and sights of Budapest while it is still relatively cheap to visit, rising tourist numbers mean that sooner or later prices will be shooting up.
Saint Petersburg, Russia
Moscow is arguably Russia's most well-known city due to its status as Russia's capital. However, St Petersburg is like the quiet cousin who is secretly marvelously interesting and attractive, just that not many people pay attention to it. With its old world charm, you'll feel as though you travelled through time as you walk about the streets. Home to the magnificent Hermitage Museum and Winter Palace, these two attractions could leave art aficionados and history boffins enthralled for days. If you happen to be an art historian, well then you might as well just move to Saint Petersburg right now (sorry I enjoy my little in-jokes). Go through the full spectrum of emotions when you pore over the great art on display at the Hermitage, and solemnly pay your respects at the Winter Palace which was the scene of a violent bloodbath in 1917 during the October Revolution. One particularly OCD tourist once counted the number of rooms in the Winter Palace, and arrived at the grand total of 1500!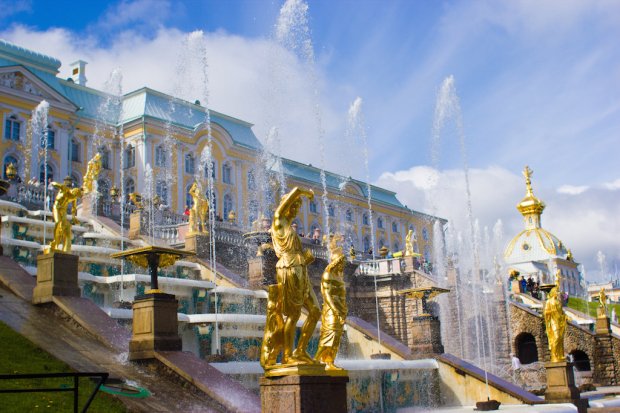 Image credit: Wikimedia Commons
The ominous sky only lends more drama to the already imposing Winter Palace.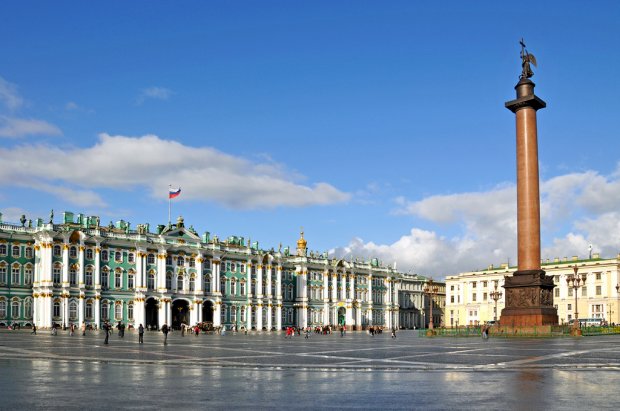 Image credit: Dennis
The Russian currency plunged late in 2014 due to the instability caused by the Ukrainian crisis, so the low prices you'll get in 2015 are more of the exception rather than the norm. With more budget hostels starting to pop out to cater to the penny-pinching traveller, Saint Petersburg should fit comfortably within your budget. Tip: when looking for eats, try to avoid shops and restaurants with an English menu out front. Not only is it infinitely more fun to not know what you're ordering and engage in the always entertaining tango of sign language, the local restaurants also tend to much cheaper than those catered to the tourist crowd. Plus, local authenticity points!
Bratislava, Slovakia

Lying in the shadows of the neighbouring Vienna, this small town lacks the glitz and glamour of its Austrian neighbour. However, this also implies that it is much less touristy and therefore will afford you a much more local and unique experience. Much of the attractions lies within the Old Town of Bratislava, and it is a good idea to stay within walking distance and explore most of it by foot. Even the most hardened of travellers would wish they were royalty once they see with their very own eyes some of the most incredible palaces and castles ever built. The Bratislava Castle in particular, affords you a sweeping view of the city's skyline, and on days with good visibility you can look out to Austria and even Hungary. Now that is what I call sight-seeing!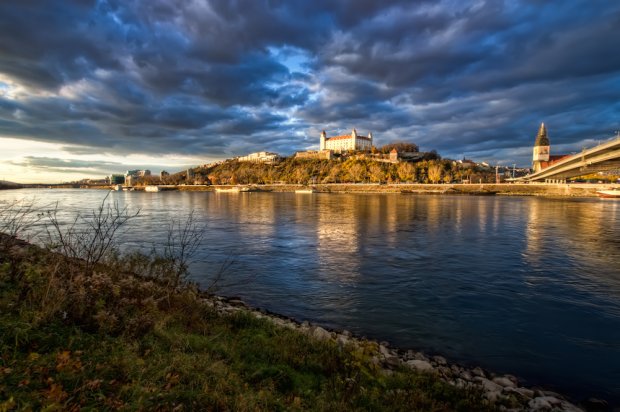 Image credit: Miroslav
While Bratislava should not feature as one of the highlights of an itinerary as its size limits its number of attractions, it is definitely worth a visit and makes a good base due to its proximity to neighbouring Austria and Hungary. It also can double up as a good alternative to the increasingly expensive and crowded Prague, though if you have the time and resources visiting both should be a no-brainer.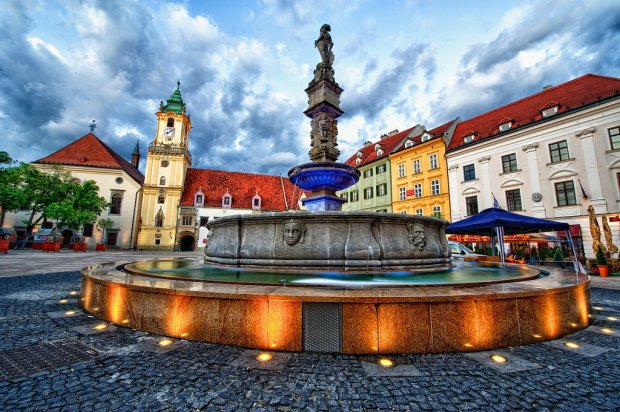 Image credit: Jim Nix
Milan, Italy
Before all of you start raging and start screaming at me, let me justify this inclusion. Travel is only as expensive as you allow it to be, this includes choosing what you do, where you stay, what you eat etc. Milan has a not-undeserved reputation of being an expensive to visit and rightly so! But if you consider that many who visit Milan are aspiring fashionistas looking out for the latest Spring Summer collection or seeking to pick up the next up-and-coming designer brand before it explodes onto the international scene, you can see where most of the spending goes.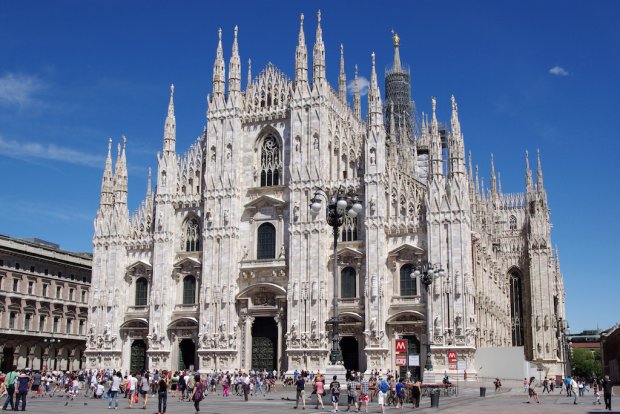 Image credit: Wikimedia Commons
You wouldn't want to miss out on this architectural work of wonder, the Duomo.
Instead, let's start your scrimping and saving by staying at unique Airbnb locations, which come at a fraction of the cost of a hotel room. Some of them can even offer great locations near to the city centre.
Rather than heading straight toward the Quadrilatero d'Oro for your fashion fix, choose one of the many outlet malls that are packed to the rafters with designer goods. I mean when the name of the shopping district itself translates to "rectangle of gold", you know its going to be pricey. You should definitely still take a stroll in the square, but discipline yourself and limit it to window shopping! Looking is free the last time I checked.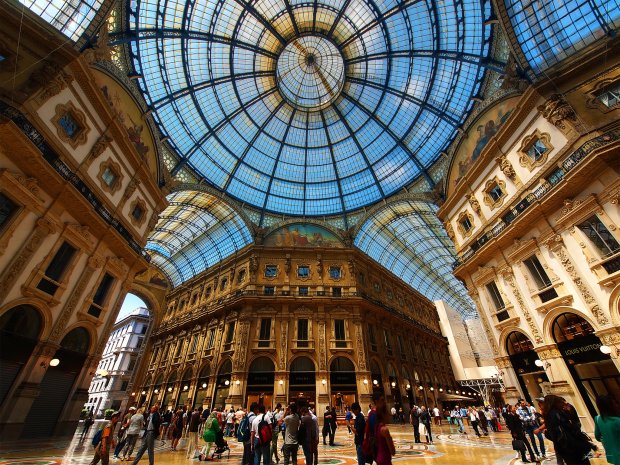 Image credit: Paul
The number one way to soak in the atmosphere and culture of Milan no doubt, is to people watch. Simply order an espresso at one of the many cafes to be seen in that pepper Milan's streets, and watch the world go by. Tip: Milan is also among one of the many bike-able cities in Europe, save on your cab fares and public transport, you see so much more on a bike anyway!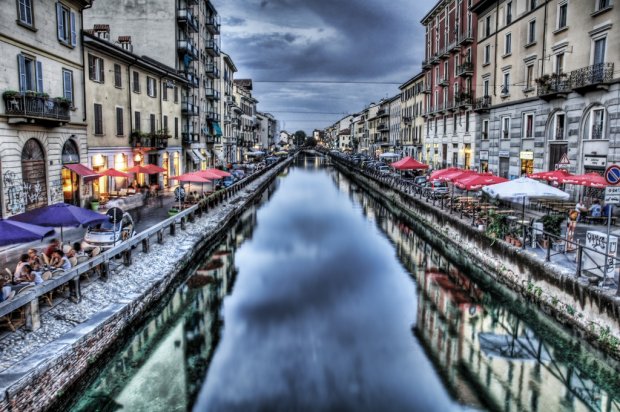 Image credit: Trey
Instead of having a budget-busting meal at a restaurant, why not opt for Apertivo? It is the Italian practice where most bars serve some free finger food along with their drinks. Sip on a prosecco and nibble on some cheese or cured meats while hobnob-ing with the locals and you'll get an experience to remember.
Istanbul, Turkey
The land of mouth-watering delicacies, historic monuments and vibrant bazaars might not be the budget destination it once was 10 years ago, but it still is a fascinating place to explore and can be fitted into your budget if you know how to look out for the right deals.
Also read: How to Travel Istanbul on a Budget in 2015
It is not difficult to find affordable accommodation that is clean and comfortable for backpackers, and you'll be pleasantly surprised at the convenient location of some of the guesthouses. We recommend that you stay either in Sultanahmet which is close to the Hagia Sophia and the Topkapi Palace which are both must-visit tourist attractions.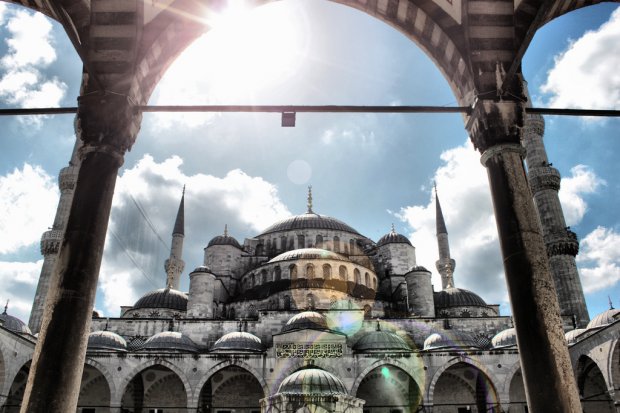 Image Credits: Veronica Aguilar

Or you can opt for Beyoglu, the area next to the famed Taksim square. This option offers plenty of shopping and dining options, as well as the occasional indulgence in the bustling nightlife should you choose to.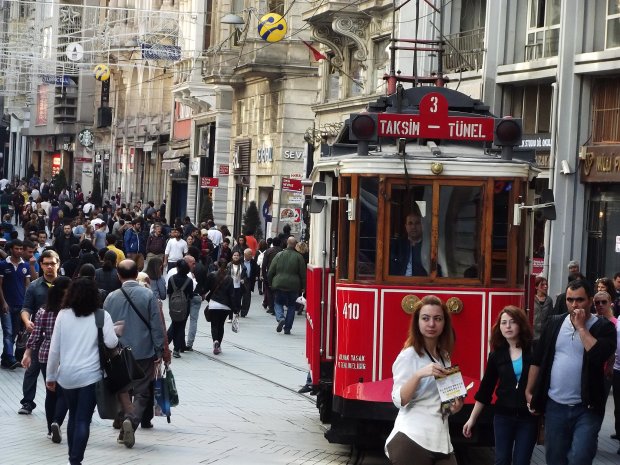 Image Credits: G.OZCAN
Tip: Since Istanbul is chock full of attractions and sights that you'll definitely want to check out, it might be more prudent to invest in a Museum Pass which covers all the major attractions and museums that will complete your trip to Istanbul culturally and spiritually.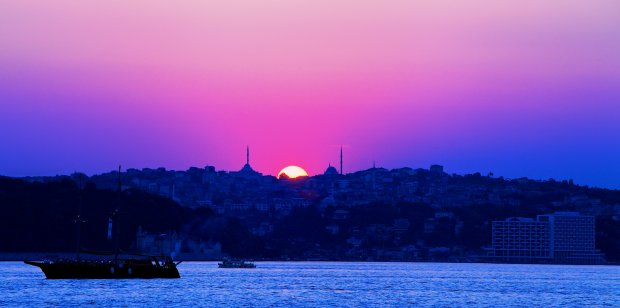 Image credit: sammsky
Tip #2: Okay bonus tip! You're going to have to put on a thick skin and bargain the hell out of whatever catches your fancy in your trips to the bazaar (don't act like it won't happen, it will and it's better to just go with the flow). Don't be afraid to negotiate aggressively (I don't mean threateningly but in terms of price), and walk away if the price is not to your liking. It is not uncommon to slash prices by more than half after you're done, so go ahead and put on your best lawyer impression. Learn how to negotiate:
Lisbon, Portugal
Perched on the edge of the Atlantic, Lisbon is able to offer stunning views of the ocean from the various hills that it is set on. It will make for one of your more comfortable stops in a multi-city itinerary due to the overall high standard of its tourism and hospitality industry, and more importantly the increase in comfort levels does not translate to higher prices.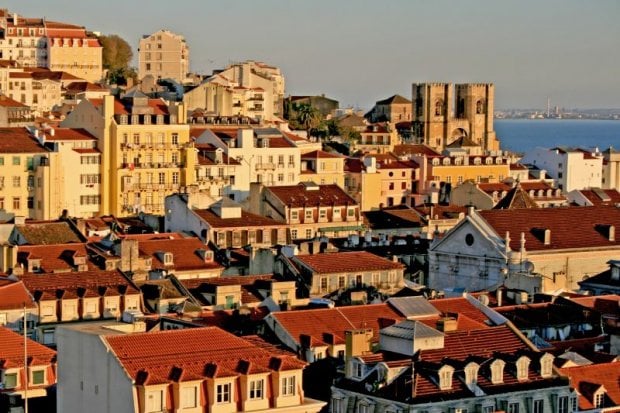 Image credit: Francisco
One of the highly recommended activities will be to rent a bike and cycle along the beautiful Tejo river waterfront, which is rather aptly named the Poetry Bike Lane. Other than that, the city has also been working hard to accommodate cyclists by having more designated bicycle lanes, so don't be afraid to work up a sweat and keep your transport costs down by pedaling around town.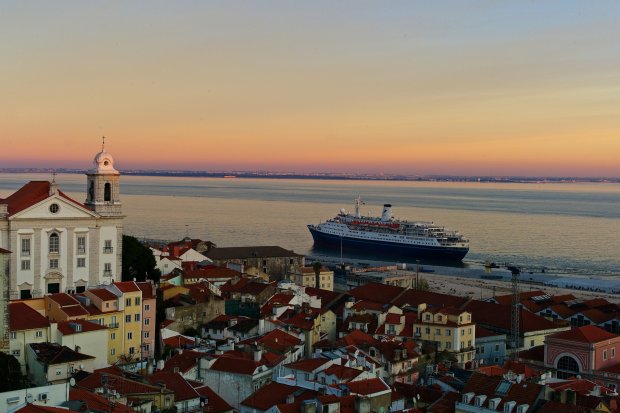 Image credit: Pedro
The hilly town affords you some of the best sunsets you'll ever lay eyes on.
Tip: Avoid the costly tourist trams that are rampant, but rather hop onto the local Tram 28, which takes a route past most of Lisbon's most interesting and renowned sites.
Madrid, Spain
A question many visitors to Spain face every year is choosing between heading to Madrid or Barcelona. Well for those not pressed for time we'd recommend heading to both for obvious reasons, the culture differences are fascinating given their relative proximity to one another. However, if we can only choose one we'll recommend Madrid for its overall cheaper prices and better location.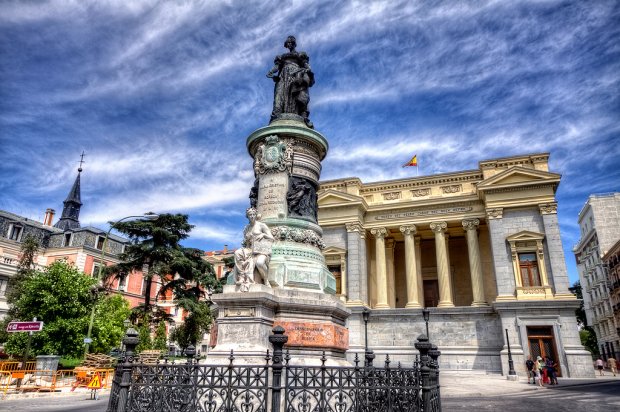 Image credit: Marc
Spain is a good place to develop an appreciation for the fine arts, and we'll let you in on a little secret: to keep your wallet happy, visit two of Madrid's finest museums, the Reina Sofia and the Prado, at night to save on the entrance fees. Admire the various masterpieces on display and attempt to acquire an understanding of the intricacies and complexity of art. Tip: even if you don't, just nod and look thoughtful.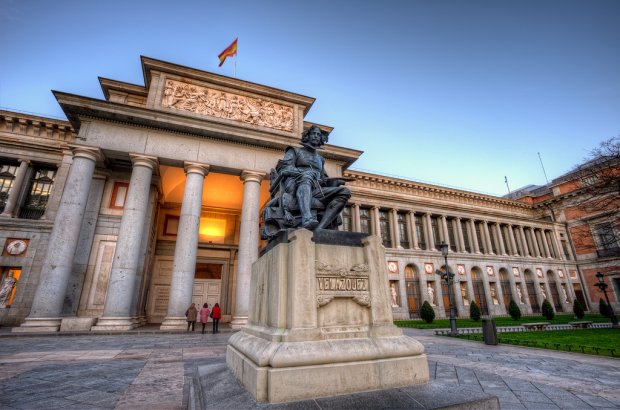 Image credit: Marc
Madrid also has very reasonably priced food options in comparison with some of the exorbitant prices across Europe. Tapas is extremely popular and a great option for the budget traveller, as you get to sample many different types of food at a relatively lower cost. Alcohol is also surprisingly cheap, as beer is commonplace in most tapas shops and restaurants so do not worry about indulging in a pint or two. Good wine comes at low prices, just try to avoid the expensive mixed drinks and sangria which can catch you by surprise if you're not careful.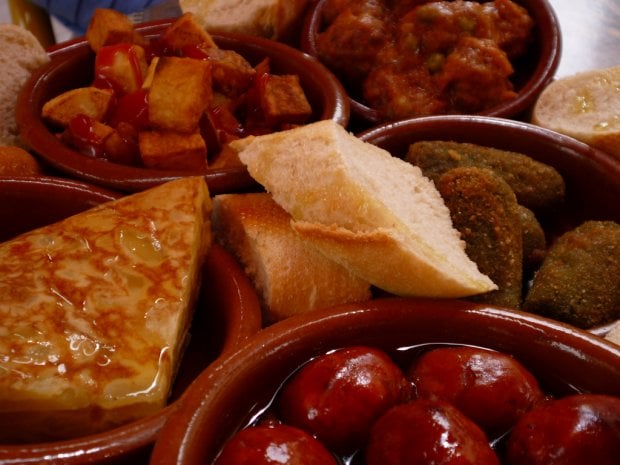 Image credit: Helen
Madrid has a central location within Spain, which makes it convenient and cheaper to do day trips out of Madrid should you choose to explore the surroundings. Trains run frequently to the outskirts which should provide you a nice change of pace to the busy city of Madrid should you decide on a break.
Bonus: If you're a soccer fan, you cannot leave Madrid without paying homage to the Santiago Bernabau, home of the Galacticos. Love them or hate them, they're one of the most iconic football teams in the world, and get inspired when you visit their monster of a stadium.
While in general prices in Europe are lower than they have been for awhile due to the economic downturn, needless to say these economic conditions are temporary and won't last for long. Don't feel bad about making the best of the situation, by spending our foreign dollars we are contributing to the local economy. Win-win! We say get out there and take advantage of the cheaper prices before they start to spike up again!
Also read: Tokyo Bucket List: 20 Challenges For Your Next Trip