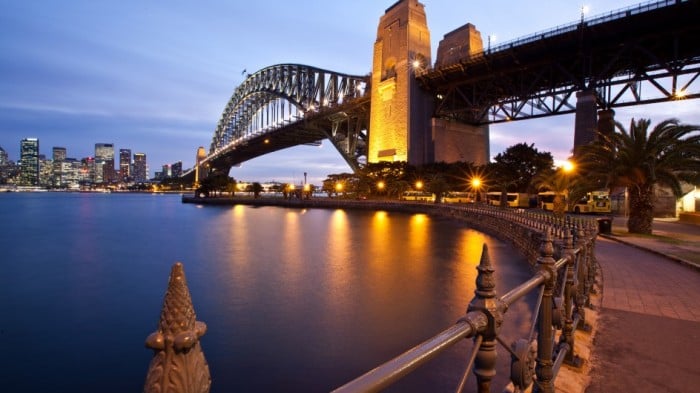 The Sydney Harbour Bridge is almost entirely synonymous with Sydney. This iconic bridge is one the most spectacular, most photographed and most loved landmarks by Australian locals and foreign visitors alike. But what's more fascinating about the Sydney Harbour Bridge is that it's not just a mere bridge and a landmark; it's a one-of-a-kind attraction that captivates even the most intrepid of travellers.
Thanks to BridgeClimb Sydney, you can now walk your way to the Bridge's summit and enjoy an incredibly beautiful view of Sydney like you've never seen before! Here, have a taste of what awaits you on top:
The climb experience
There's only one word to describe BridgeClimb Sydney: ADVENTURE!
Whether you want a new kind of thrill, another friendship goal, a family bonding opportunity or a romantic moment that you and your special someone can cherish forever, BridgeClimb Sydney will make that incredible adventure happen!
Share the moment, the laughter and the fun – celebrate life with BridgeClimb Sydney! There's no perfect time to do it than NOW.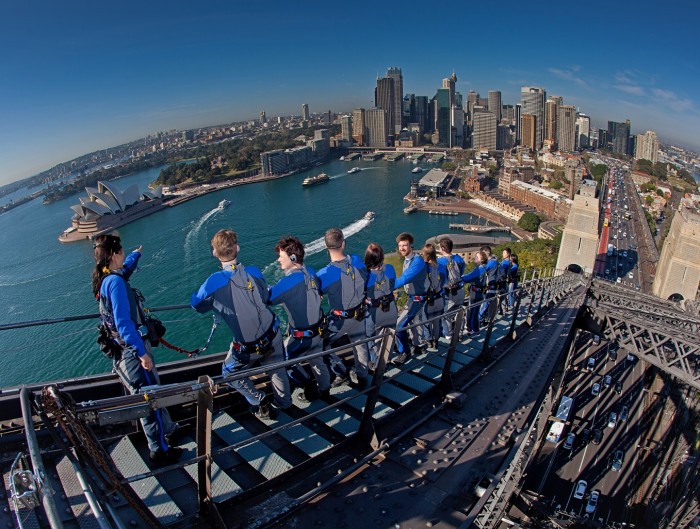 And if you have the fear of heights, BridgeClimb Sydney is the right avenue for you to conquer that fear! With your Climb leader guiding you every step of the way, you will climb the arches of the Bridge as you marvel at the panoramic view of Sydney, which is always visually stunning any time of the day. Plus, your Climb Leader will walk you through the history of the Bridge – from its construction to its opening – in a fun and adrenaline-inducing way! How exciting and educational can that be?
Meet Delphi, one of the Climb Leaders, and be moved by her most memorable climb experience.
Every climb is unique and truly life-changing. Inspired already? Check out the different climb types below.
Climb types
BridgeClimb Sydney offers you different climb types with technical specifications that cater to your needs. You may opt for the original BridgeClimb, BridgeClimb Express or BridgeClimb Sampler. There is also a special BridgeClimb Mandarin for those who want to have a Mandarin speaking Climb leader. This special climb type follows the BridgeClimb Express route to the summit. Choose your preferred time, whether it is day, twilight, night or dawn, and make the Climb of Your Life happen!
What's more, this 2016, there are three special themed climbs – Karaoke Climb, Mardi Gras Climb, Vivid Climb – that will make your climb experience even more interesting and memorable. Look out for our special feature on these three unique, limited-time climbs. In the meantime, here are the standard climbs to choose from:
BridgeClimb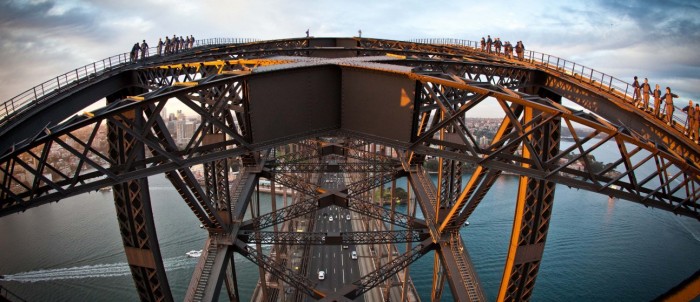 BridgeClimb is the original climb experience which takes about 3 ½ hours to complete. From the Climb Base below Bradfield Highway, you will follow an exciting route on the outer rim which leads you to the breathtaking summit. Words are not enough to describe the whole fantastic journey, so until you experience it yourself, here's a short clip for you to watch:
BridgeClimb Express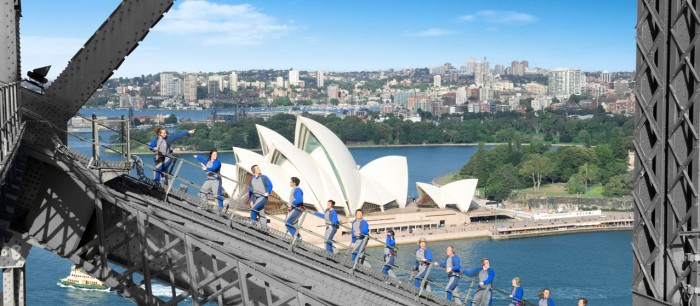 BridgeClimb Express, as the name suggests, is the fastest way to get to the top of the Bridge. You will complete the journey in only 2 ¼ hours. But of course, it has more pace and fewer stops than BridgeClimb. Chinese climbers may opt for BridgeClimb Mandarin, which offers Mandarin speaking Climb Leader and follows the same route as BridgeClimb Express.
Let's have a glimpse of the BridgeClimb Express highlights with this video:
BridgeClimb Sampler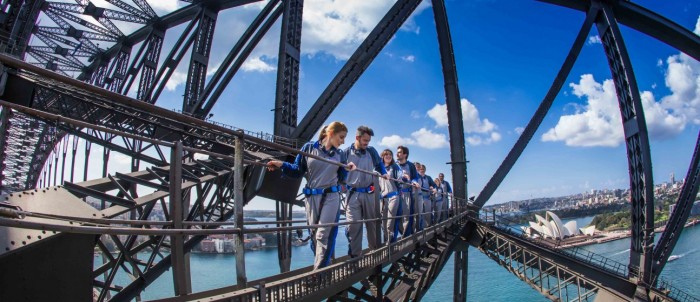 Harbour a fear of heights? No worries, BridgeClimb Sampler still gives you a good dose of excitement at only half the full height. It takes 1 ½ hours to complete and is the most economical of all the climb types.
Here's a sneak peek of BridgeClimb Sampler:
If you choose BridgeClimb and BridgeClimb Express, you will receive a Climb group photograph, a BridgeClimb cap, a certificate of achievement, and free entry to The Pylon Lookout. If you go for the BridgeClimb Sampler, you will receive a Sampler Group Photo and a BridgeClimb cap.
Pre-climb preparations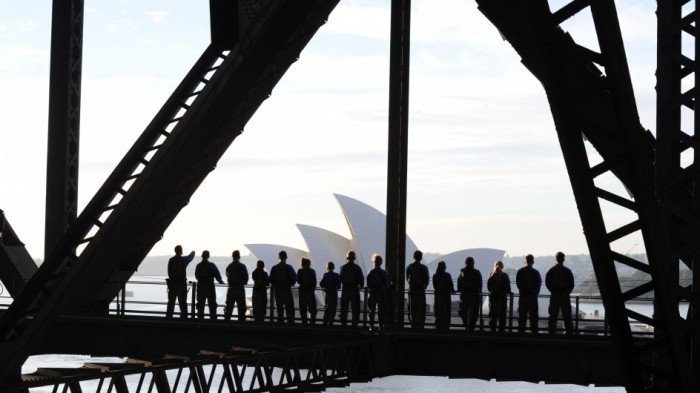 Your safety is of primary concern. While you are provided with the necessary safety gears, it is still important to know some basic information and precautions prior to your climb.
1. You are eligible to climb if you are over 8 years old and more than 1.2 metres in height. Children aged 8 to 15 must be accompanied by an adult, with a maximum of three children per adult.
2. You can't carry anything including phones, cameras and GoPros on the Bridge. Lockers are provided for your valuables. Don't worry about documenting your adventure; Climb Leaders will capture your photos during the climb.
3. All climbers are breathalysed by the staff. You must have an alcohol-blood reading below .05 to climb.
4. If you're under 24 weeks pregnant, you can climb with a Certificate of Fitness signed by your medical doctor. If you're over 24 weeks pregnant, you are not allowed to climb.
5. You must have a general level of health and fitness. You will be given a BridgeClimb Declaration Form for you to fill up before the climb. Those with heart conditions, respiratory problems, physical injuries and other serious medical conditions are not encouraged to climb.
For more details, please read their Pre-Climb Checklist and FAQs section.
That's basically it! Whichever climb type and time you choose, you are guaranteed to have the best time (and climb) of your life! And oh, did you know that Oprah Winfrey, Matt Damon, Nicole Kidman, Kylie Minogue, Justin Timberlake, Cameron Diaz, Katy Perry, Robert De Niro, Prince Harry and many other celebrities have made it to the top? If they can do it, there's no reason for you not to!
The clock is ticking; plan this bucket list-worthy adventure with BridgeClimb Sydney now!