Little is known of Salzburg apart from the fact that it was the filming location of the iconic musical, The Sound of Music. As travellers coming from the Southeast Asian region, we tend to overlook this very special aspect of the city. But even if you watched The Sound of Music, you only get but a taste of what a genuine Salzburg experience feels like. There are quaint alleys to explore, old-world architecture to admire, and nostalgic classical music to enjoy. Sounds inviting, doesn't it? Read on for everything else you should know about Salzburg, Austria.
Also read: 15 Underrated Cities To Visit In Europe
It's a UNESCO World Heritage Site
Salzburg has a rich history of arts and culture, which is why it's not only considered as a UNESCO World Heritage Site, but a city of "outstanding value to humanity". Like Vienna, Salzburg is a Baroque city with architecture that will make you feel as if you've just been transported into a fairytale novel.
Travellers who admire Rome will adore Salzburg, too. This city owes its original Baroque architecture to Italian architects Vincenzo Scamozzi and Santino Solari, earning it the nickname of "Rome of the North". Many homes and establishments from the Middle Ages are also preserved well to this day.
If that isn't enough to satisfy your senses, why not try their water? Salzburg is located at the edge of the Alps, which means their water comes straight from the Alps as well. It doesn't matter if you drink from the tap, you'll drink the freshest water you've ever tasted.
Trivia: In general, Austria gets its water from the Alps, so you'll get this freshwater in any part of the country. It'll definitely taste very different from the water we're used to in Southeast Asia!
You can join The Sound of Music Tour
Any self-professed fan of The Sound of Music would know that the von Trapp family in the film was based on the real Trapp family, who lived in Salzburg before migrating to the USA. Therefore, it's only right that the film was shot in Salzburg and that the city made the filming locations their tourist attractions. These locations, such as the Hotel Leopoldskron Palace, Mirabell Palace and Gardens, and the famous fountain on Residenz Square attract more than 300,000 visitors a year.
It's clear that although the movie was released decades ago, the city maintains the hype by providing a Sound of Music Tour for travellers, whether they're fans of the film or not. If you think going on this tour is cheesy, it's not! With the scenic backdrops that you'll witness in the palaces and gardens, you might even forget that you're on a Sound of Music tour. You'll simply feel that you're living in another time.
It's the City of Mozart
Perhaps the most known fact about Salzburg aside from being the filming location of The Sound of Music is that this city was the birthplace and hometown of Wolfgang Amadeus Mozart. Mozart was born in Salzburg in 1756. His birthplace on Getreidegasse and residence on Makartplatz have become museums and tourist attractions where curious travellers can take a peek into what growing up was like for the famous composer.
Even if you're not an avid fan of Mozart, you still won't help but buy Mozart merchandise simply because most of the souvenirs in here has his face plastered on them, or his music playing within cute contraptions. And if you really want to bring a piece of Salzburg to your loved ones back home, you have no reason to skimp on Mozart chocolates, Mozart toys, and Mozart jewellery boxes. There's even a Cafe Mozart to buy tasty pastries from!
Trivia: To keep the legacy of Mozart alive, Salzburg holds festivals such as Mozart Week where people can fully enjoy and look back on Mozart's greatest compositions. Salzburg is also the birthplace of the song "Silent Night, Holy Night".
Exploring the city by foot is ideal
DIY walking tours are much easier in Salzburg since distances between attractions and go-to establishments are short. They have tiny alleyways where you'll find cosy hole-in-the-wall restaurants and cafes, and souvenir shops that showcase local craftsmanship and their handicraft business. Getreidegasse, in particular, is the perfect example of a street that adds life to the whole city. It's where traditional manufacturers are based and where local businesses thrive. You can see this from the fashion stores, leather shops, antiquities, to the traditional inns, all of which make Getreidegasse a favourite tourist destination in Salzburg.
Tip: To see the beautiful view of Salzburg from a 2,000-metre altitude, you can ride the Untersberg cable car to the top of Untersberg mountain in Grodig.
There's an annual Salzburg Festival for art and culture lovers
Lovers of all things artistic and musical will go crazy if they chance upon the Salzburg Festival in the summer, usually from July to August. The festival happens several weeks during this season, and it's when the city invites top international artists of opera and theatre among other artistic genres for a number of performances.
Every year, Salzburg attracts over 250,000 tourists who mainly go to witness the concert life of the city. Aside from the Salzburg Festival, the city holds an approximate of 4,500 cultural events based on their calendar. So, regardless of when you travel to Salzburg, you'll have a chance to experience these concerts as long as you plan your dates strategically.
The Salzburg Card is the key to attractions and transportation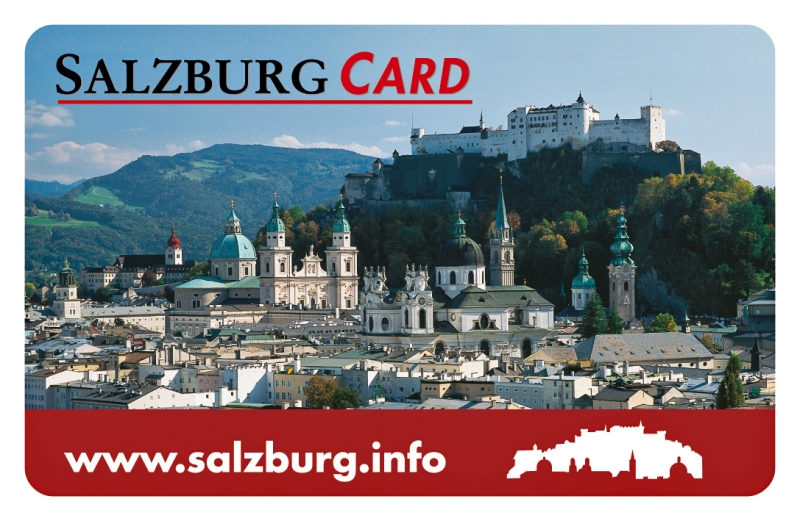 Salzburg is actually a very friendly destination for those who are travelling to Europe for the first time or are DIY tour beginners. This is due not only to the fact that Salzburg has a generally safe atmosphere, but it also has its Salzburg Card.
The card is heaven-sent, whether you're an expert traveller or not, because it gives tourists free admission to both commercial attractions and public transportation. Depending on the kind of package you avail of, the card is valid for 24, 48 and 72 hours. The price ranges from €12 to €19 for children and €25 to €28 for adults. Learn more and buy your Salzburg Card here.
How to get there
From Singapore, the fastest and most ideal route you can take going to Salzburg, Austria is to fly with Singapore Airlines. It's approximately a 16-hour travel time with a stopover in Frankfurt. Another easy option is Lufthansa. It also has an approximate of a 16-hour travel time with a stopover in Frankfurt. Flying with Turkish Airlines is approximately a 17-hour travel time with a stopover in Istanbul.
Now that you're more pumped up to experience Salzburg in all its musical, artistic, and historical glory, why not book that ticket? Just like The Sound of Music, the sound of Salzburg being your next destination sounds pretty good.
For more information, please visit Salzburg Tourism Board's official website and Facebook page.
---
Brought to you by Austrian National Tourist Office (ANTO) and Salzburg Tourism Board.