It seemed that no matter where we went, a drizzle was never too far away; a stop-start affair that graced the Netherlands with a strange, dull allure. We needed the sun, but in those few days, we felt like it did not belong. Nevertheless, spring marks the start of tulip season, the very reason we made the visit. We were fortunate, for any later than April and the tulip buds would have withered.
Sassenheim, a five-minute train journey from Leiden, was our starting point. We would be travelling to Keukenhof, a tulip-rich area north-east from the town. As a cherry on top, we rented bicycles and an experienced guide who could shed some light on Dutch history and traditions that I had later discovered dated back hundreds of years, such as the origins of tulips on Dutch shores courtesy of the Ottoman Empire.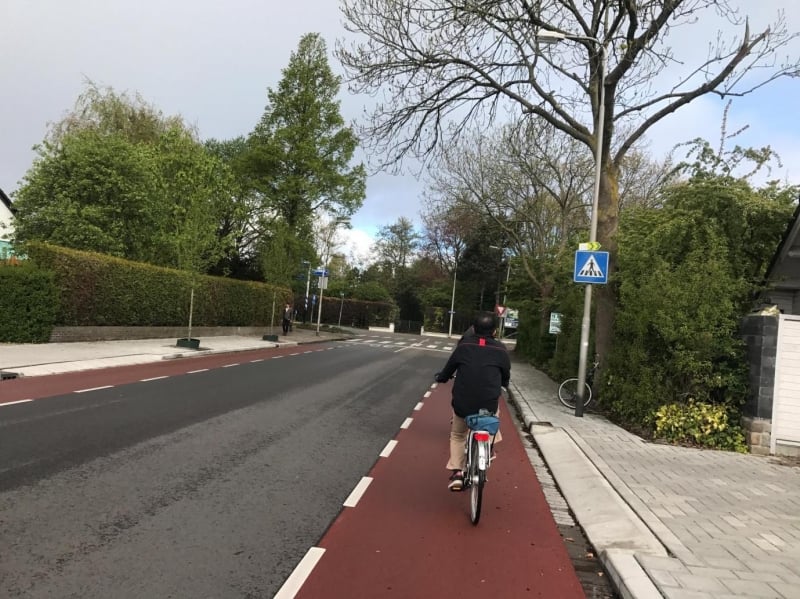 As we set off with our sturdy bicycles, it became apparent that no matter how rural an area we found ourselves in, there would always be cycling paths drawn up beside shared roads. It was easy to navigate around and motorists were patient with us as we sometimes struggled to familiarise ourselves with the right-hand driving system that is contrary to what we are used to back home. We rode across the length of the town until the last traffic lights had disappeared and the familiar stench of fresh fertiliser marked our entry into tulip territory. It had already started to rain earlier on, but relented as we approached a nursery; the sun made its rare appearance. Was it a false dawn, or was the weather finally playing into our favour?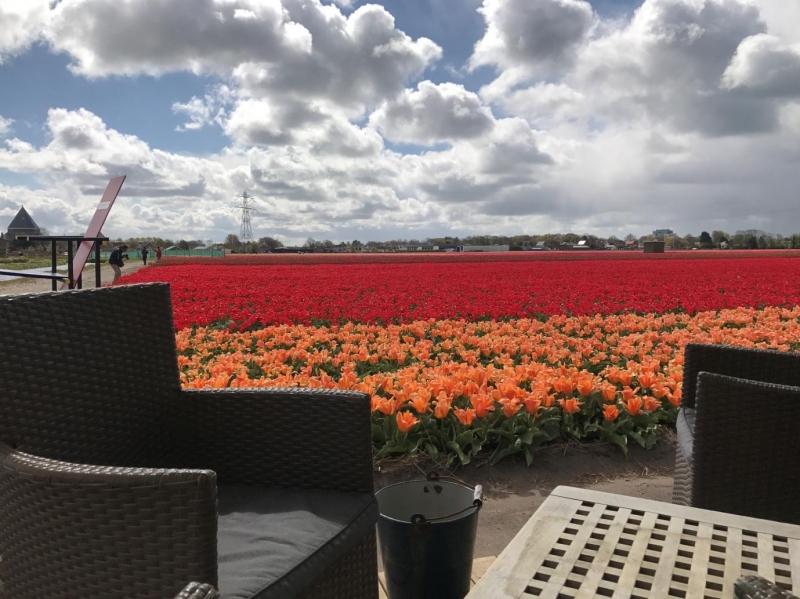 We dismounted and stepped into the open fields. I had never seen such bright, natural colours: yellow, red, purple, pink, grouped side by side in perfect rows. There was even an option to stay through the night — there, in the middle of the fields, was a little wooden shack with a zippered entrance. There were two soft, fluffy beds that looked that they belonged in a hotel. A mini stove stood behind the window overlooking the porch, where one could sip on a hot beverage on a cold spring's morning, looking on as dawn breaks over the tulips. That day, we found ourselves huddled inside the porch; it was not to admire the tulips, but to take shelter from the rain which had started its harassment yet again. We found ourselves on the move, this time towards the bulb flower museum. We pedalled more intently with a false sense of hope that we could outpace the looming clouds, but the ensuing droplets upon our faces brought us back to reality.
The rain hit us harder. There was a strange sensation to it, almost as if.
I looked down at my sweater and saw tiny pieces of ice stuck to the fabric. "It's hailing!" I cried out, voice tinged with excitement and a little bit of worry; it was my first experience with hail. We scurried to the nearest shelter, a dilapidated shopping cart lot, and waited it out. Whilst the rest of us tried to digest what just happened —in the middle of spring—, Vera, our guide, was naturally unperturbed. I asked if that was normal, to which she sighed in resignation and said, "April doet wat hij wil (April does what it wants)."
"How do the Dutch cope with this erratic weather?"
"We don't. We go on a holiday."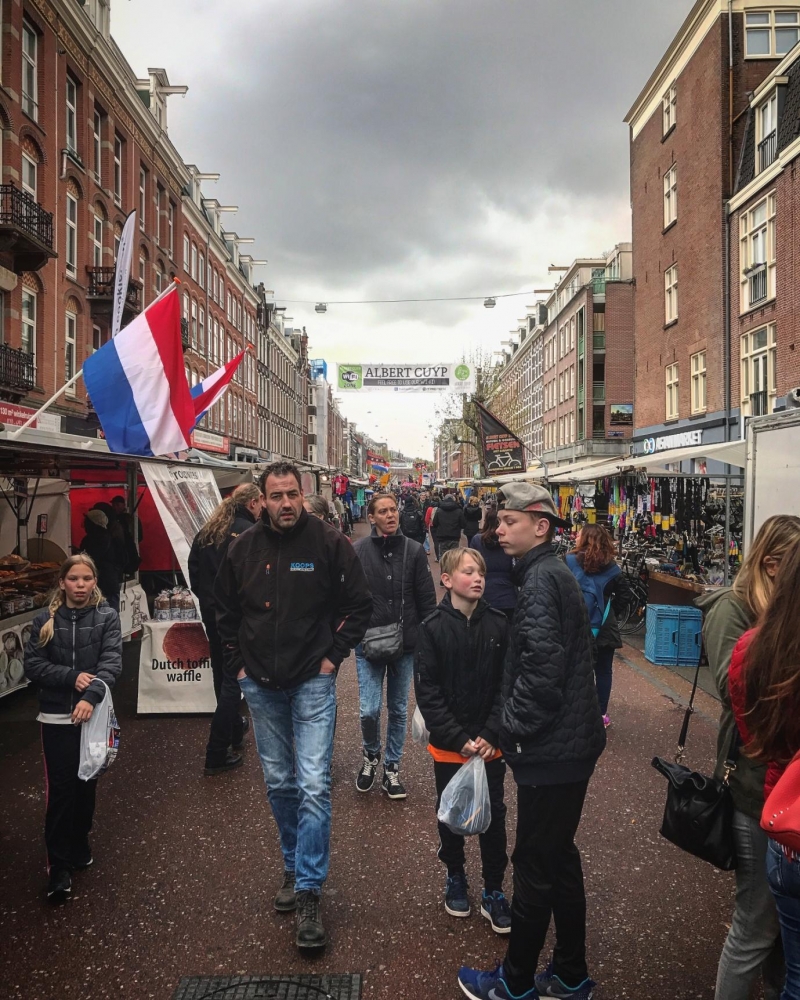 Understanding this concept somehow gave us the ability, however short-lived, to see out the rest of the trip with a serene sense of nonchalance, and the weather became less of a thorn in our flesh, and more of a unique phenomenon that characterised the Netherlands. We stopped focusing on what we had missed out, but cherished what we were able to see. Even when it rained again when we visited the Albert Cuyp Market during our second tour of Amsterdam the next day, we were surprised at how much more elegantly the area came to life. Bright orange bulbs fluttered like fireflies across the stalls, giving them a charm that not even the brightest skies could.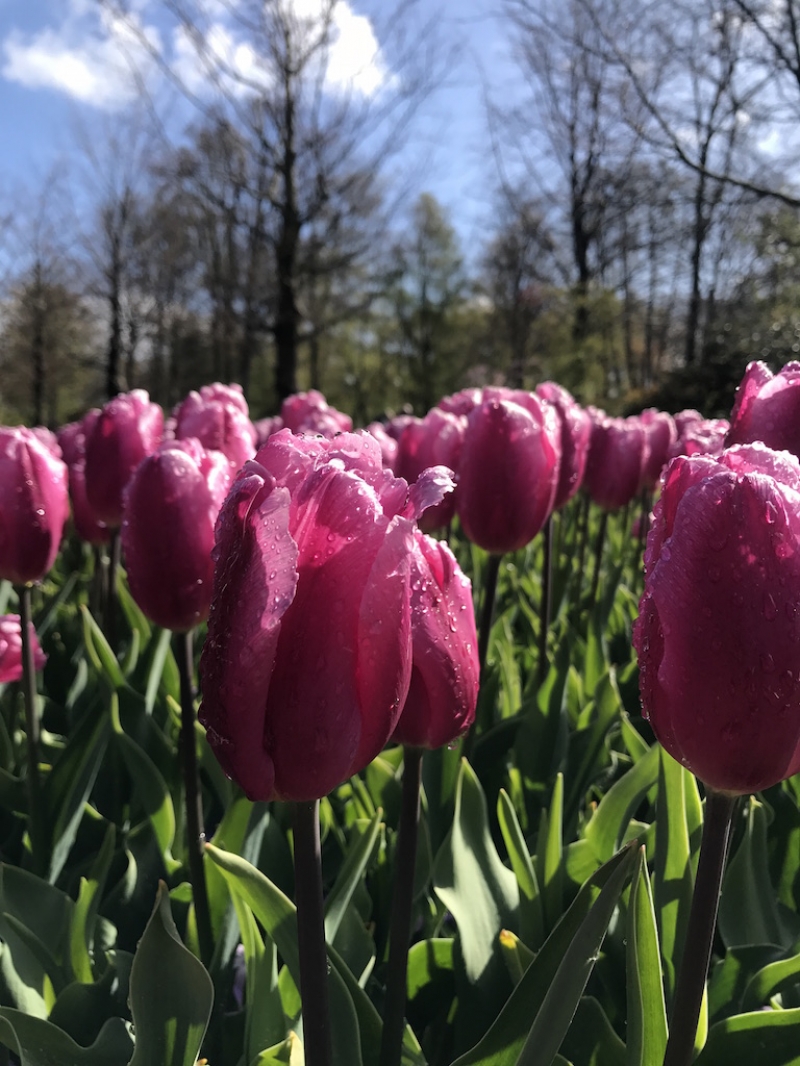 We did experience a prolonged period of sun the day before we departed. Aptly, it finally emerged victorious during our visit to the iconic Keukenhof Gardens, home to hundreds of tulip variations, displayed by their respective nurseries. It was one of my parents' most treasured moments during their honeymoon. This year is their 30th anniversary, and you could tell, as they gleefully posed for photos at familiar spots, that perhaps it wasn't as gloomy in Amsterdam after all; the sun was shining from within.
A small part of me still felt dissatisfied. I had secretly enjoyed the cold weather, a welcome change from the perpetual heat back in Singapore. But, we were leaving for a country close to the Alps and, according to the weather forecast, snow was to be expected. It was fitting that the train that would take us from Amsterdam to the Swiss city of Bern would be the German "ICE".