From haggling at street markets to conquering mega malls, and carrying dozens of shopping bags on both arms, all serious shopaholics know that shopping is no leisure activity, but rather, an extreme sport. If you're one of them, today's your lucky day: we've compiled a list of the world's best shopping cities just for you!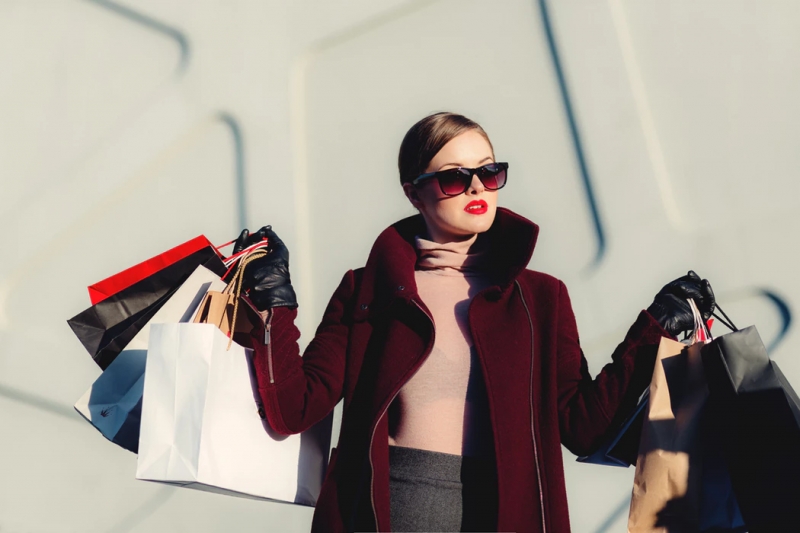 But hold up – before you leave, you'll need to ensure you have somewhere to pack all your best buys home. Well, guess what?
American Tourister's Curio luggage collection
is perfect for practical yet fashion-forward travellers!
Its polypropylene exterior makes it lightweight yet sturdy, with 360° rolling double wheels that provide smooth rolling comfort! It comes in three different sizes as well, so you can choose which one best suits your needs. And that's not all… It's even expandable to fit all that extra shopping! Be rest assured that your shopping will stay safe and secure thanks to the recessed TSA lock as well. Isn't that just awesome?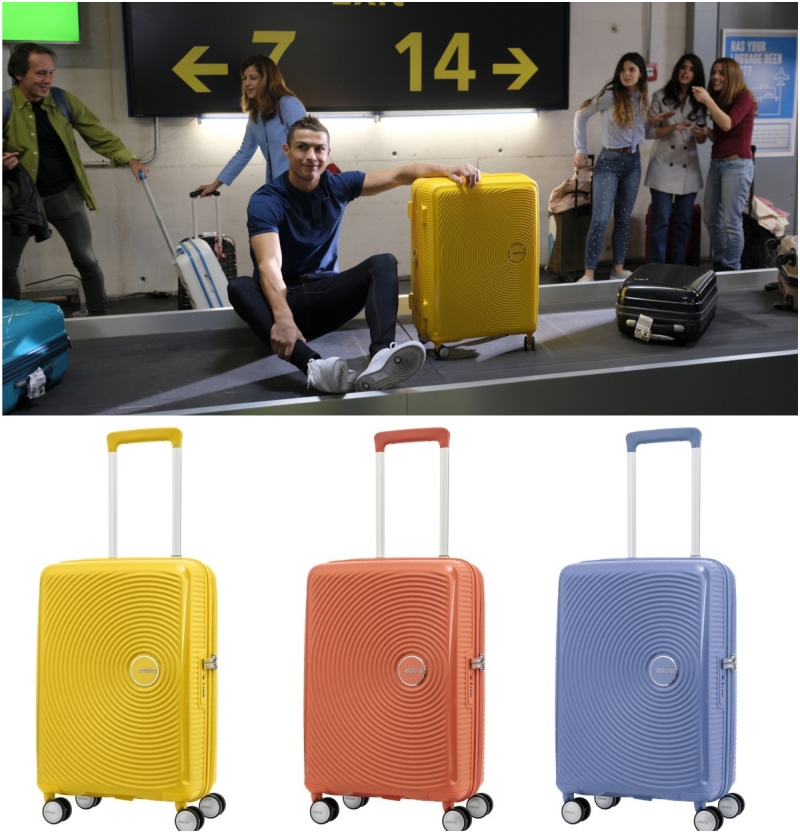 With football superstar Cristiano Ronaldo as its new brand ambassador, American Tourister is also proud to unveil new limited edition colours for its Curio Spinner Collection: Golden Yellow, Spicy Peach and Denim Blue!
Prices start from:
80cm/ 30inch S$270

69cm/ 25inch S$240

55cm/ 20inch S$210
It's all you need for a smooth, hassle-free shopping trip. (And of course your wallets too!)
P.S. American Tourister is also giving away these Curio Spinner luggages to TWO lucky winners, so head over HERE to take part in the giveaway!
1. Bangkok, Thailand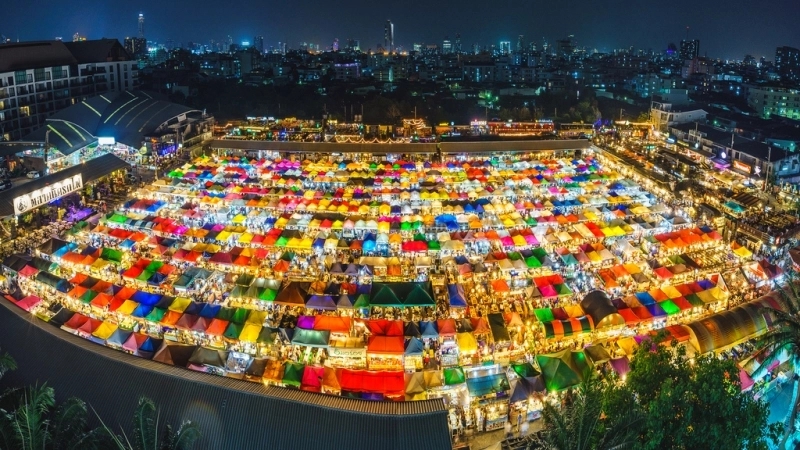 Mention Bangkok and the first things that come to mind other than delicious Thai food, would be shopping. Home to a bevy of shopping malls that scream paradise for shopaholics all over the world, bringing a sturdy luggage for your vacation is a must. Popular favourites include Platinum Mall, Union Mall, Terminal 21, Central World, Siam Square and more, where you can shop the latest trends in fashion, as well as splurge on affordable yet stylish bags, shoes, accessories and more.
And we haven't even mentioned the highlight of Bangkok – Chatuchak Market! You'll find everything you could possibly need right here, from fairy lights to quaint figurines, locally designed notebooks, leather shoes, and more. For more hipster vibes and unique offerings, head to Ratchada Train Market or Talad Rod Fai. Pratunam Market also offers great bargains that you will find hard to resist!
Khao San Road is another of Bangkok's most famous streets. By night, it's often lined with hawker stalls from end to end: you can expect to find DVDs and handicrafts at absurdly low prices. And of course, Bangkok's delicious street food and local delicacies are a must-try! Grab some delicious tom yum flavoured crackers as souvenirs for your loved ones back home.
2. Seoul, South Korea
If you're a serious shopper, you're probably aware that Seoul is the place to go for cheap, stylish fashion and cosmetics! Dongdaemun, Namdaemun and Myeongdong are just a few of the hot shopping areas you can visit. Myeongdong is best known for cosmetics and skincare products, Namdaemun is bursting with stalls full of affordable yet trendy apparel, and Dongdaemun spans an incredible 26 malls that only close in the wee hours of the morning! You can literally shop till you drop here.
You can also check out Garosugil for more upmarket fashion, or Samcheongdong and Insadong for traditional Korean crafts and costumes. For students, don't miss out on areas like Ewha Women's University and Hongdae where you can splurge on trendy clothes without burning a hole in your wallet! The underground mall at Express Bus Terminal station is also another sprawling haven for shopaholics to run wild with excitement.
3. Hong Kong
In Hong Kong, shopping is a way of life! And that means that Hong Kong is full of awesome shopping spots. Plaza Hollywood in the Kowloon shopping district is the creme de la creme for high street fashion, while K11 incorporates art and nature into its architecture to create a truly unforgettable shopping experience.
For better bargains, you'd be wise to visit Temple Street Market in Kowloon which opens till midnight daily, or Tung Choi Street Markets (or Ladies' Market) that has everything a girl could possibly want. There are plenty of choices for children and men too!
4. Istanbul, Turkey
The most famous place to shop in Turkey's capital is the Grand Bazaar, which is buzzing with enough sights and sounds to make you dizzy with delight! Immerse yourself in the hubbub, and buy some local spices, clothes or even a new carpet. The stunning sight of mosaic Turkish lamps in all shades of the rainbow will also enthrall you, and maybe even entice you to bring one home!
If the hustle and bustle of the lively bazaar isn't really your thing, head down to the cool, quirky boutiques of Serdar-ı Ekrem. For those more into luxury fashion, you might prefer Abdi İpekçi Caddesi, which houses a range of both international and local boutiques and designer stores, or İstiklal Caddesi, Istanbul's premier shopping street that has some pretty cool side alleys too.
Worried about not having enough luggage space to store your fresh buys? Consider getting an
American Tourister Curio Spinner luggage
! From S$210 for a 55cm/20 inch luggage, to S$270 for an 80cm/30 inch luggage, they're extremely value-for-money given their impressive features. A strong but light polypropylene exterior, soft-touch carry handles and 360° rolling wheels let you transport your luggage easily no matter where you go. Plus, with limited edition youthful colours like Golden Yellow, Spicy Peach and Denim Blue available, be rest assured that you'll be travelling in style!
Treat yourself to an American Tourister Curio Spinner luggage today! Dealing with your extra baggage has never been such a breeze. 
P.S. American Tourister is also giving away these Curio Spinner luggages to TWO lucky winners, so head over HERE to take part in the giveaway!
5. Buenos Aires, Argentina
Lovers of vintage trinkets will be thrilled by what Buenos Aires has to offer, especially on weekends: plenty of stallholders set up shop at a number of flea markets across the city's different neighbourhoods! At Feria de Recoleta, you'll find everything from t-shirts to handmade jewellery. Feria de San Telmo is the place to go for vintage home decor items, while Feria de Artesanos is more akin to a contemporary art fair.
For modern fashion, the places to be in Buenos Aires are Palermo, which exudes an aura of effortless urban class, Calle Florida with its eclectic mix of established international brands and quirky shops, and Aguirre for its outlet stores.
6. Milan, Italy
Warning: head to Milan only if you're in the mood to splurge. Throngs of tourists flood its streets looking for the latest haute couture. Start your expedition at Milan's 'Golden Quadrilateral': Via Montenapoleone, Via Borgospesso, Via Della Spiga and Via Sant'Andrea, where the world's best designers are located. Just to name a few: Prada, Valentino, Chanel, Armani and Hermes can all be found within these four intersecting streets.
Galleria Vittorio Emanuele is another gorgeous place to shop to your heart's content while beholding the splendid Baroque architecture. Expect to walk away with your arms full of designer handbags, exquisite shoes and beautiful coats!
7. Delhi, India
Delhi's markets are worth a visit not just for the charming goods you can pick up (at great prices, if you bargain with skill) but also for their wonderful, lively ambience. Dilli Haat is a bright and colourful bazaar made up of thatched-roof cottages that give it a homely village vibe. Here, you can get Indian handicrafts, food, and watch dazzling cultural and music performances too!
Paharganj, the "traveller's grotto", is known for unique and inexpensive import goods as well as textiles, jewellery and other handicrafts. Meanwhile, the narrow, winding alleyways of Chandni Chowk shopping district are great for exploring too. The district is separated into different bazaars based on specialisation, from electronics and silver jewellery to flowing saris and fragrant spices.
If you're a stickler for good design, you'll be glad to know that American Tourister clinched the Red Dot Design Award in 2017 for its
chic, trendy Curio luggage design
! They come in three sizes: 55cm/20 inch, 69cm/25 inch and 80cm/30 inch, as well as three fabulous limited edition colours: Golden Yellow, Spicy Peach and Denim Blue!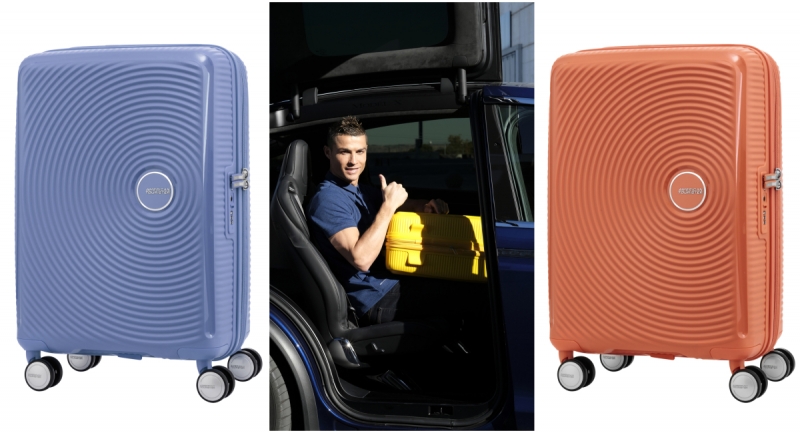 At the same time, American Tourister doesn't compromise on functionality either! 360° rolling double wheels and a light, durable exterior ensure maximum ease and comfort while using it. Plus, it's been endorsed by Cristiano Ronaldo too. Get yours today!
P.S. American Tourister is also giving away these Curio Spinner luggages to TWO lucky winners, so head over HERE to take part in the giveaway!
8. New York City, United States of America
The minute you set foot in New York City, you'll probably be surrounded by all kinds of shops and boutiques, but some spots are better than others. Fifth Avenue is a must for big brands and designer labels: Apple, Abercrombie & Fitch, Tiffany & Co., Victoria's Secret and more have staked their claim along Manhattan's most famous street.
Times Square and Broadway are havens as well, lined with giant outlets from the likes of M&Ms, Disney, American Apparel and Urban Outfitters just to name a few. Union Square's enormous Barnes & Noble store is the to-go for bookworms, while for department stores, Macy's and Bloomingdale's are probably the best picks. Shop away!
9. Madrid, Spain
Flamenco your way through the neighbourhoods of Madrid for the best of both local and international design! Begin your haul along Gran Vía, where the biggest Spanish brands like Zara and Stradivarius are located. Then, make your way to Calle Preciados, a pedestrian-only shopping street and tourist hotspot, and Calle Serrano which has a nice mix of high-end fashion boutiques, pop-up art stores and everything in between.
The 400-year-old El Rastro open-air flea market is a local favourite and opens every Sunday and on public holidays. Vendors hawk clothes, everyday objects as well as curiosities that are sure to delight!
10. Dubai, United Arab Emirates
Boasting both palatial malls bursting with luxury brands, and markets full of affordable souvenirs, Dubai attracts shoppers like a magnet. You must step into the Dubai Mall, the world's largest mall with over 1200 shops and 120 cafes! Mall of the Emirates is also stunningly designed, and Wafi Mall will also awe you with stained glass ceilings, elegant sculptures and detailed carvings on staircase railings.
For a market experience, we urge you to head over to Bur Dubai Souk where some popular items are the "Aladdin shoes", Dubai souvenir t-shirts and Burj Khalifa souvenirs. Or check out Deira Gold Souk where shops dripping in ostentatious gold jewellery are interspersed with humble vendor carts.
American Tourister's Curio Spinner collection
is fun, fresh and fashionable, but suits all your practical needs too! Take your pick from one of the three available sizes: 55cm/20 inch (S$210), 69cm/25 inch (S$240) or 80cm/30 inch (S$270).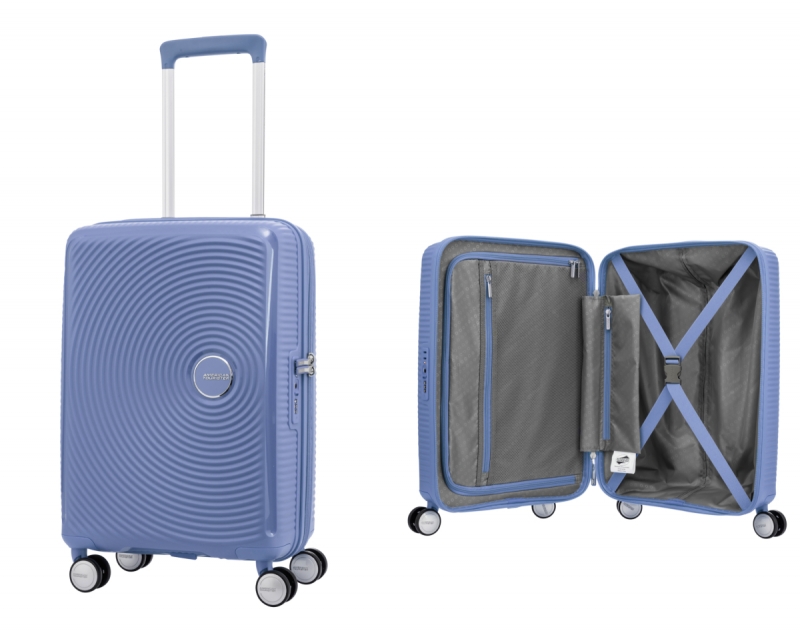 Plus, with global football sensation Cristiano Ronaldo as its new brand ambassador, American Tourister is launching three new limited edition colours for its Curio Spinner collection: Golden Yellow, Spicy Peach and Denim Blue! Grab them now before you head off for your next vacation.
P.S. American Tourister is also giving away these Curio Spinner luggages to TWO lucky winners, so head over HERE to take part in the giveaway!
Shopaholics, get your wallets and American Tourister Curio Spinner luggage ready, because you're about to have the time of your life!
---
Brought to you by American Tourister.