Bhutan is not a place where mass tourism reigns and this is perhaps why it has been able to retain its air of magic and mystery. It is a beautiful, spiritual country with majestic mountains and breathtaking natural scenery.
Many see Bhutan as an expensive holiday destination, since travellers must get a tourist visa and pay by the day. But will it be worth it? Absolutely.
As there is so much unique experiences you can immerse yourself in, the value of travelling to Bhutan is far better than you might expect. On top of that, you can rest assured that you will be contributing to an industry that is sustainable – far more than you can say of many mass tourism destinations. In fact, a holiday in Bhutan would be worth it at twice the price!
Let us share with you some of the things that make Bhutan so special.
Authenticity at its finest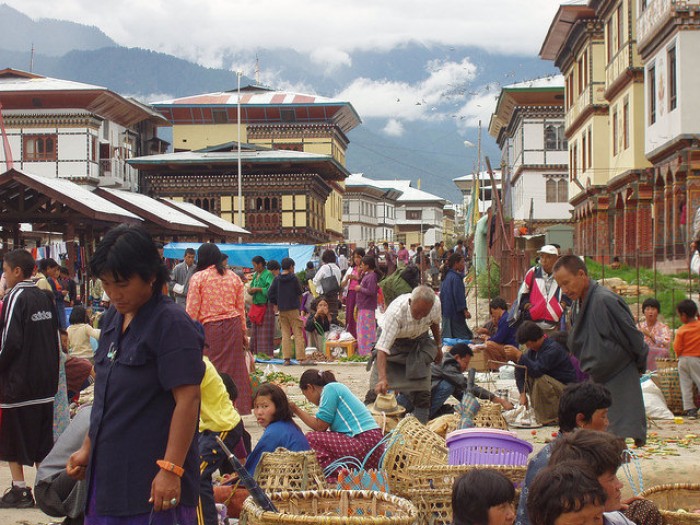 Image credit: Genke Kenne Hans
A visit to Bhutan is the antidote to the usual packaged vacations. In Bhutan, the nature of the tourism industry is such that you will often find yourself the only foreign traveller wandering in a temple, fortress or at a country market.
As such, it always tickles us when our guests request that nothing "touristy" be included in their itinerary. We always tell them that there is absolutely nothing touristy in Bhutan – we would be hard pressed to even find anything that's commercial. Needless to say, tourist traps are non-existent.
Bhutan shows you an authenticity that is rare in the world of travel, and for that matter, in the world in general. When you go to Bhutan, you are really seeing Bhutan, not some fake version of what tourists feel the country ought to be.
Here's a story to share:
A group of our guests were hiking through a farm area in Punakha. They stopped to watch a farmer harvest his chili crop – the first chilies of the season! The next day, our guests travelled back to the capital Thimphu and visited the farmers' market. Lo and behold, there was the very farmer they had met the day before, selling the chilies he had harvested.
Surprising and heart-warming experiences like the one above are plenty in Bhutan.
Also read: 6 Incredibly Scenic Spots In Eastern Himalayas
Incredible nature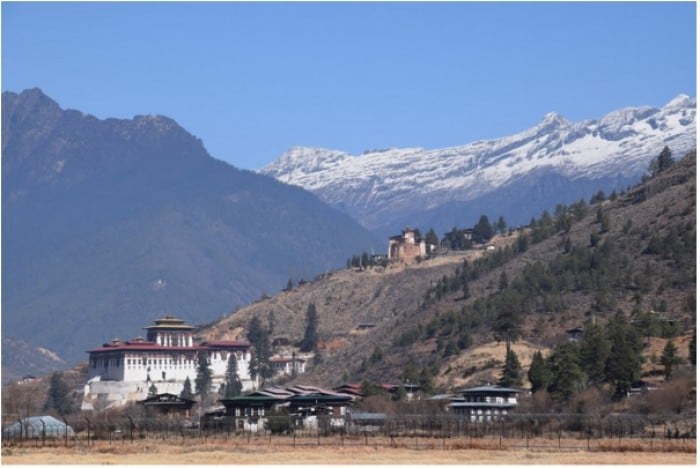 Once you step into this magical Himalayan kingdom, you will be enthralled. There is nothing like the pristine surroundings, fresh mountain air and crystal clear rivers that Bhutan has to offer. The pureness of Bhutan's nature is utterly astonishing. Stroll through lush valleys, climb to ancient monuments, or hike high into the mountains and take on the challenge of the Himalayan peaks. This fairytale land is wild and utterly unspoiled, a place of pilgrimage for those who enjoy a trek in the mountains. Here, you can truly experience the beauty of the Himalayan flora and fauna.
Rich culture, tradition and history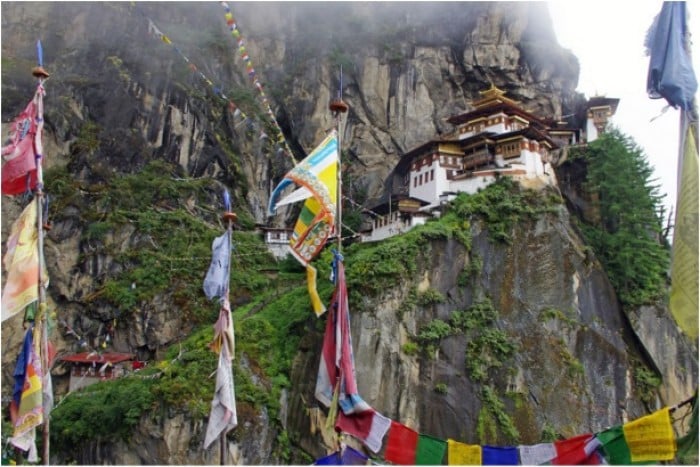 Those interested in history and tradition will find a lot to love in this country that is proud of its heritage. It is interesting that Bhutan is one of the few countries in the world that have never been conquered, invaded, or governed by an outside power. This country that is sandwiched between two of the most populated countries in the world – China and India – have remained independent throughout the ages. Presently, Bhutan is a democratic, constitutional monarchy.
Bhutan is a deeply spiritual Buddhist country, and its people are adamant about retaining their strong culture and values. The whole country is dotted with fortress monasteries called dzongs, and temples, many of which are chief among the country's many attractions. On high mountain passes, chortens (dome-shaped monuments) help you to connect with Buddha. A sense of peace can be found within this culture that can be found only rarely around the world.
Delectable food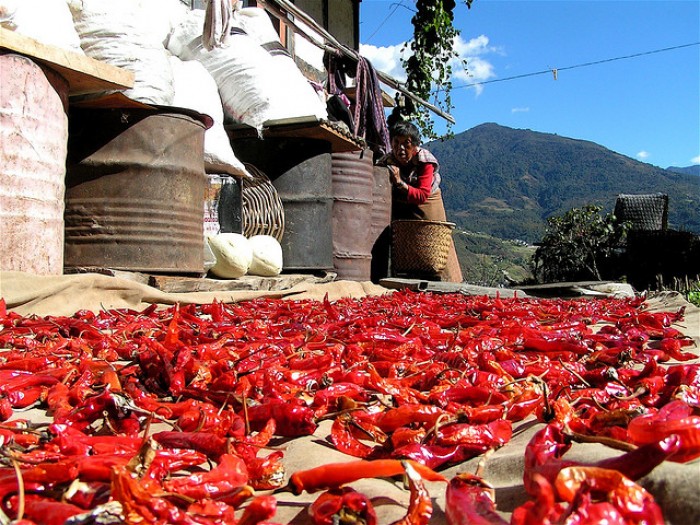 Image credit: Thomas Wanhoff
Typically Asian, the staple food of the Bhutanese people is rice, very often red rice.  No Bhutan meal is complete without Ema Datse – the perfect combination of chilli and cheese! Chili is an important component in Bhutanese cuisine, but fret not if you're not a big fan of spicy food – they can prepare milder versions upon request.
Bhutanese meals vary according to the season; so in the spring months there are asparagus, sweet peas, spinach and fiddlehead fern, while during the summer months there are plenty of lettuce, arugula, and fresh peas. Around August there are plenty of mushrooms, including the famous Matsutake, and in the autumn or winter months, radish, turnip, potatoes and carrots are in abundance.
Happiness is a place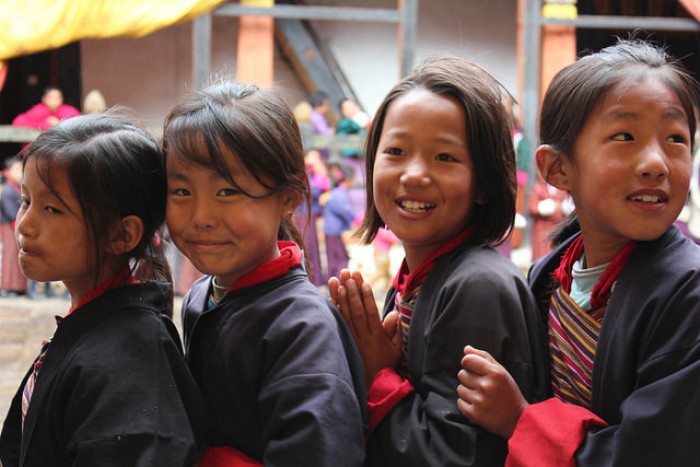 Image credit: Arian Zwegers
"Happiness is a Place" is the country's tagline. Bhutan pioneered the concept of Gross National Happiness, whereby non-economic aspects of well-being are highly prioritised. Yes, this is a country that cares more for National Happiness than for GDP, and you will come to appreciate how everyone in this Kingdom embraces this concept completely.
Bhutan emphasises the guiding principles of Gross National Happiness – sustainable economic growth, cultural preservation, environmental conservation and good governance – and has well earned its title of "The Last Shangri-La". The Kingdom also protects the people themselves; 30% of the USD 65 royalty charge per person per day paid by tourists goes straight into providing free healthcare and education. By choosing to travel to Bhutan and spending a little more on your holiday, you are contributing to the happiness of its people, not just the country's economy. How great is that?
It's no wonder our guests leave this place with a smile and a promise to return.
Travelling to Bhutan?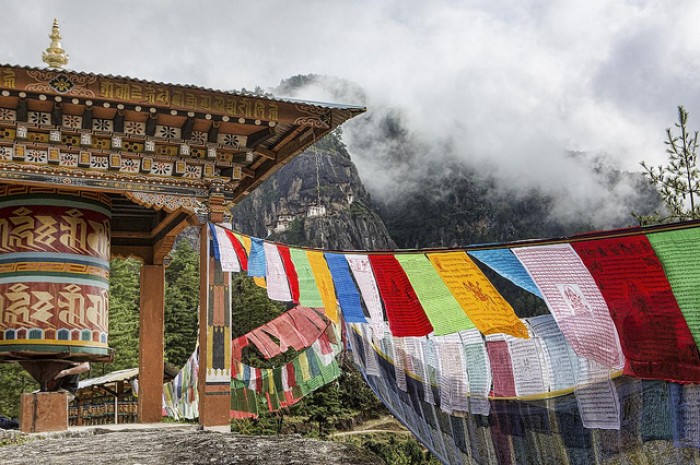 Image credit: Christopher Michel
Ready to have an experience of a lifetime in Bhutan? There are a few things to take note of first.
First of all, only licensed agents are allowed to process visas and book hotels, provide trained guides, and transport for visitors. Unlike most other destinations, it is not so simple to design your own tour to Bhutan using information you can find over the net. This makes a guided tour – ideally a fully customisable one – pretty much an essential for travel in Bhutan.
Secondly, air transport services, hotels and restaurants do not run on the same sophisticated level as most other destinations. Although airlines to Bhutan provide online bookings, they do not have pre-check-in or seat selection, nor do they notify passengers of delays and cancellations. Hotels vary in quality of service and amenities greatly, although they may be rated the same as each other.
We are your solution.
At Amala Destinations, we provide a one-stop service to our guests. Our local network allows us to curate authentic experiences, and we provide a personalised and bespoke service, from the minute you contact us and throughout your journey in Bhutan. Our list of signature packages contain itineraries specially designed to meet an array of needs – from the quick rustic getaway to the more contemplative pace that inspires discovery. We also provide customisable services that cater to all your travel needs, including itinerary planning, hotel and flight arrangements, visa acquisition, meals and activities. On top of that, our guides are your personal butlers, concierge, assistants and tour guides – all rolled into one!
When you enjoy a Bhutan vacation with Amala Destinations, you will understand why a trip to Bhutan really is worth every cent. Make your dream trip to Bhutan happen with us.