Over the last two decades New Zealand has made itself a name as an adventure destination. As if the beautiful nature and scenery weren't already enough, travellers have the chance to test their personal limits in water, in the sky, underground and high up in the mountains.
Also read: 20 Incredible Experiences You Must Have in New Zealand
1. Abseiling and rock climbing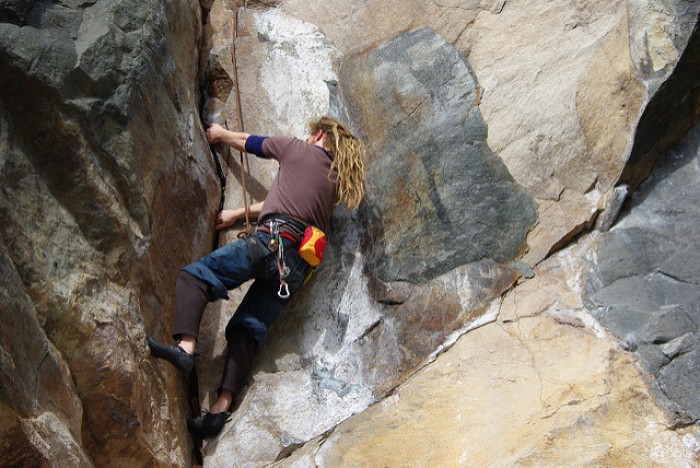 Image credit: Liam O'Malley
When it comes to mountains in New Zealand there are only two ways – up or down. Both are extremely fun and thrilling in the country's mountainous areas. Mount Cook with its 30 peaks over 3000 metres in the Southern Alps on the South Island is one of the most popular destinations for climbers from around the globe. However, the climbs are not only for professionals, but are suitable for climbers of all skill levels. On the other hands though, the area has a few climbs that do require special equipment, such as an ice axe.
2. Paragliding
The Kiwiland is known to have stunning landscapes pretty much everywhere you go. However, sometimes you only really appreciate the full extent of it when seeing it from above. Paragliding is therefore one of the best opportunities to get the full picture. Although it is much easier to learn than parachuting and hang-gliding, it is just as exciting. As New Zealand is very mountainous, you will find dozens of opportunities to fly through the sky – ranging from Tauranga, Taupo and Rotorua to Omarama, Upper Hutt and Wellington.
3. Whitewater rafting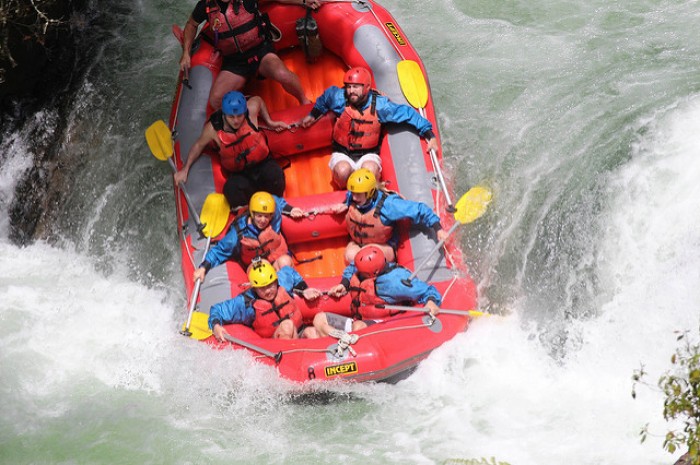 Image credit: Ronald Woan
Once again we can thank New Zealand's mountains for giving us yet another thrill. Streams and rivers coming down from the springs in the mountain often turn wild and crazy, making them perfect for rafting. Locations on both the North and the South Island offer more tranquil spots for beginners as well as heavy waters for more extreme adventures. The Wairoa River close to Hawker Bay on the north island has some of the roughest patches of water in the area.
4. Shark diving
For most travellers (or anyone actually) this will be an once-in-a-lifetime activity. Diving freely with sharks is an opportunity that doesn't present itself that often. Although it isn't for the light-hearted, there is actually no real danger. Auckland's Kelly Tarlton's Sea Life Aquarium provides a very controlled environment as well as detailed instructions for the dive. Unlike cage diving, this free dive doesn't bother the animals nor causes any harm to them. However, I promise that you will feel totally out of your element.
5. Canoeing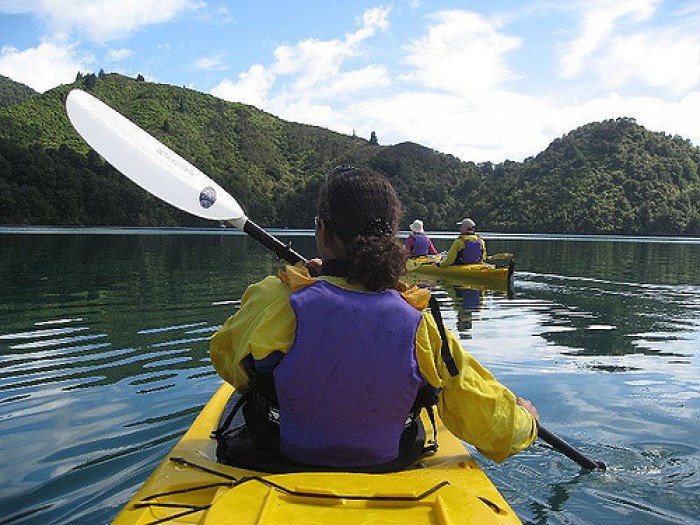 Image credit: Jon Hadley
It might not immediately sound as exciting as whitewater rafting, but actually is more exhausting, active and exciting, as you are kind of on your own. Excursions through canyons, cliffs and rock-filled rivers will keep you alert 100% of the time, as you don't really want to crash against anything around you. Although it can be scary, you will get professional instructions before the trip – so you know what to do in case you canoe flips. Occasionally you will even have the chance to jump off cliffs into natural pools.
6. Bungee jumping
Image credit: Mat79
I have never been to a country where there are so many bungee jumping possibilities. If you have always wanted to try it, you should do it here. While some spots seem fairly 'normal', such as the jump from Auckland's SkyTower, other ones are almost frightening. One of the most adrenaline-fuelled jumps is at Lake Taupo, which is the highest water touch jump in the world. Exactly – water touch. You are not only jumping 50 metres off a platform, but you also will briefly dip into the water, getting quite literally slapped in the face with water.
7. Caving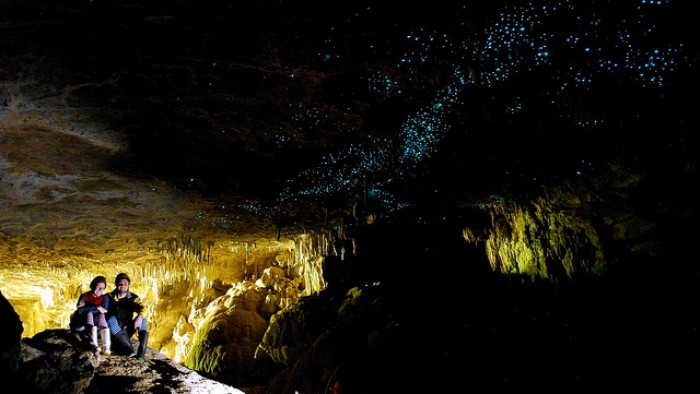 Image credit: Donnie Ray Jones
Some people say that New Zealand gets even more magical once you go underground. A destination to discover are the glow-worm caves of Waitomo. You can explore the underworld with calm boat rides, but also by climbing and rafting under the surface – all with larvae glimmer above your heads. If you scared of the dark, you should rather stay away.
Also read: 28 Photos That Prove New Zealand is the Epitome of Earth's Beauty
8. Ice hiking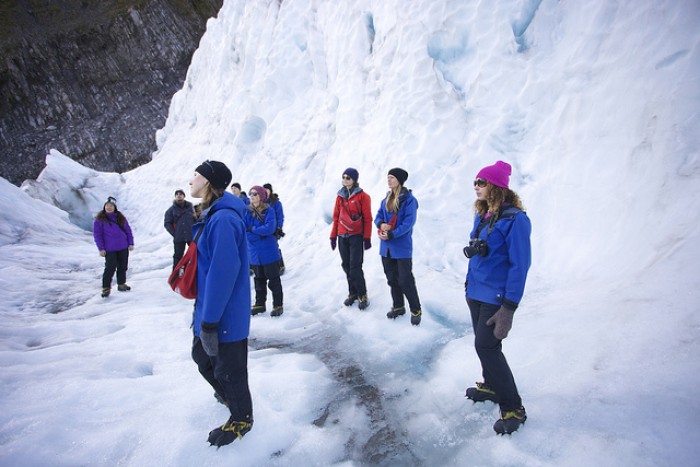 Image credit: RAFFI YOUREDJIAN
It should be said that this adventure isn't for everyone, especially if you never have done any hiking before. Seeking a real challenge, many experienced hikers head to the Fox and Franz Josef glaciers in order to climb and hike on icy terrain. It is extremely rewarding, as you get to see landscapes that won't be accessible to most ordinary travellers. The trip will take you through tunnels, caves and will eventually lead you to a natural hot spring, which will serve as your immediate reward.
9. Flying a stunt plane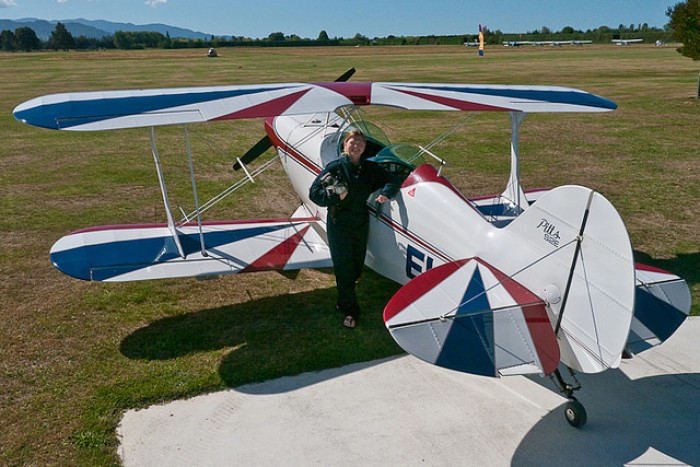 Image credit: Flying Kiwi Tours
Perhaps it is the most thrilling adventure on the list. The Abel Tasman National Park offers an activity that is unique throughout the county – piloting a stunt plane. Get into a small plane with an instructor and do figures of eight, loops and twists high up in the sky. You will even be allowed to control the plane at some point. It is truly a thrilling experience, especially if you have never flown by yourself before.
10. Skydiving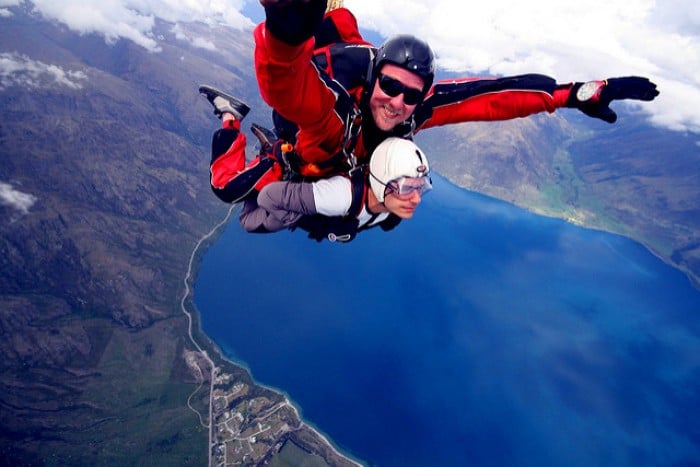 Image credit: Or Hiltch
It almost doesn't seem so electrifying anymore when comparing it to all the other activities on the list. However, skydiving remains one of the most exciting things to do in New Zealand. 30 seconds might not seem like much, but falling towards the surface of the earth with a speed of around 200 kilometres per hour doesn't happen every day.