I was truly delighted when Air Asia finally branched out to the Philippines. It certainly is one of the best airlines in South East Asia that offers discounted flights to neighbouring countries. The announcement of the plan was definitely a signal for me to snag cheap tickets to Air Asia's home country, Malaysia. I had to cut my trip short though – I decided to postpone my plans for Sabah and Kota Kinabalu because of the conflict with the Philippines during the time.
Planning and itinerary
Simply put, 8 days were not enough to explore 330,000-square-kilometer surface area of Malaysia, so I listed down my goals for the trip, which was to see the rich multi-cultural aspect of the country and experience wonderful but cheap food encounters. I was able to narrow down my list to Kuala Lumpur, Putrajaya, Melacca and Penang.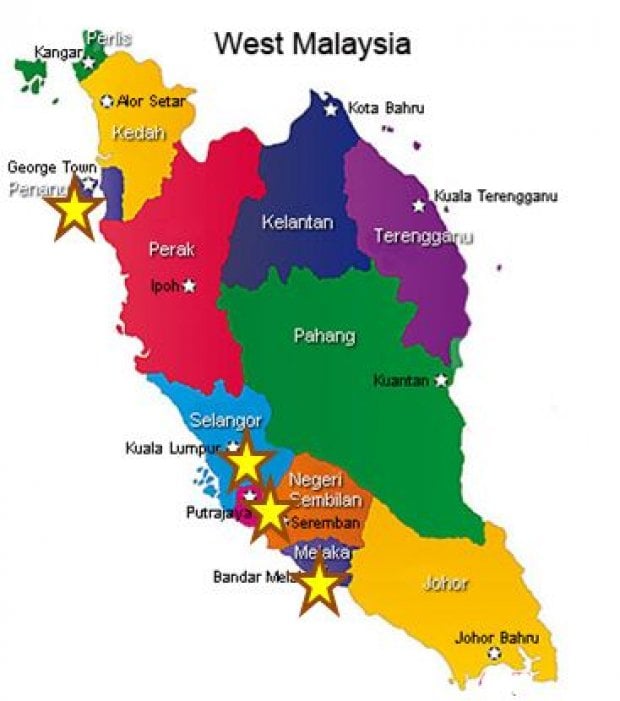 Travel Report
Day 1-2, 5: Kuala Lumpur
Malaysia's capital, Kuala Lumpur, was my first stop for this trip. After settling down, we roamed around looking for shopping areas in Bukit Bintang. We were off the next day to Kuala Lumpur's own Chinatown, to see what is offered in the Central Market. After this we wandered around the religious sites of Guan Di Temple and Sri Mahamariamman Temple.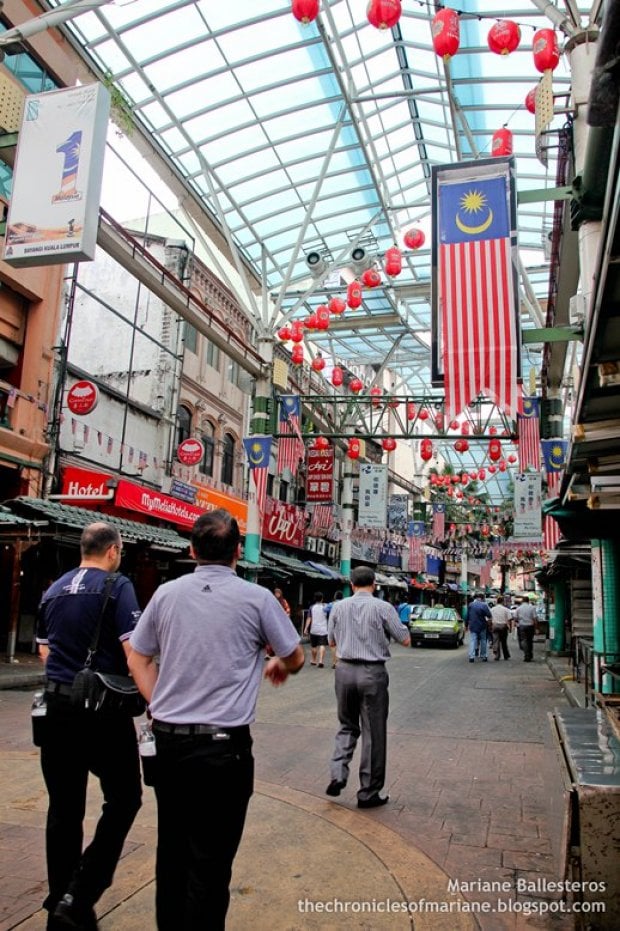 The bustling Petaling Street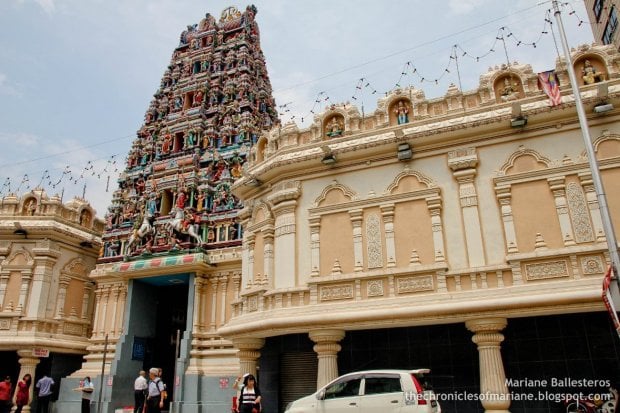 Sri Mahamariamman Temple
The Petronas Towers proved to be one of the "must-see" attractions in the city. Being one of the world's tallest buildings, we did not pass the opportunity to have a glimpse of it during both day and night. Both times, it looked very grand and magnificent.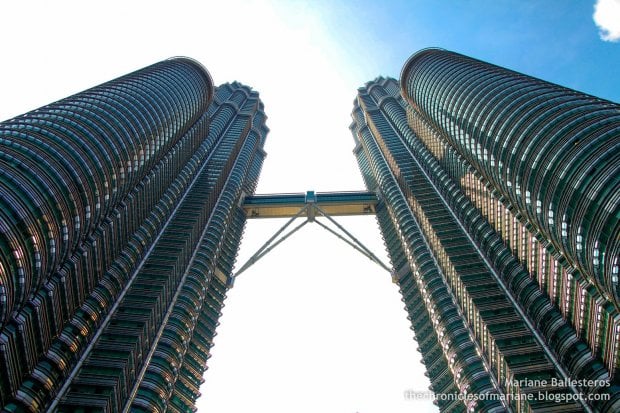 Looking so strong by day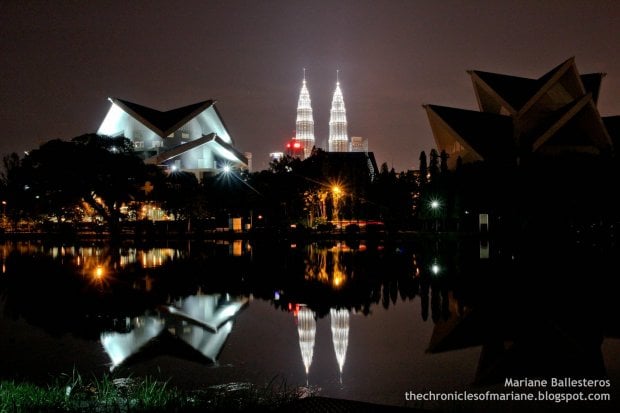 Petronas Towers at Lake Titiwangsa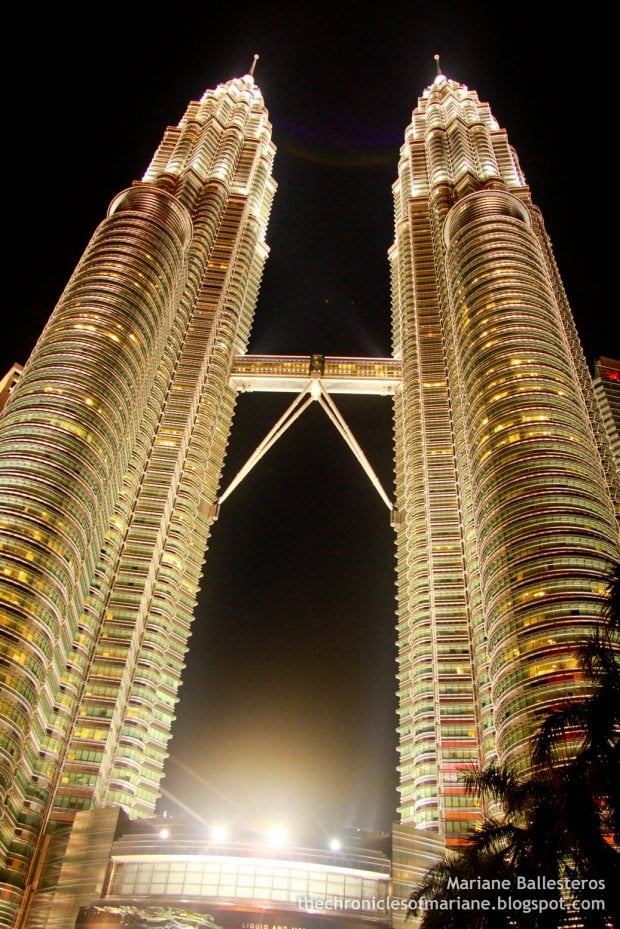 It's very romantic at night
Though not exactly in KL, Batu Caves is also flocked with tourists excited to see not just the famous cave but also to experience Indian culture evident throughout the entire country. We also did not miss taking the heritage trail where we saw the Merdeka Square, and other lovely pieces of architecture such as KTM Headquarters and Old KL Railway Station.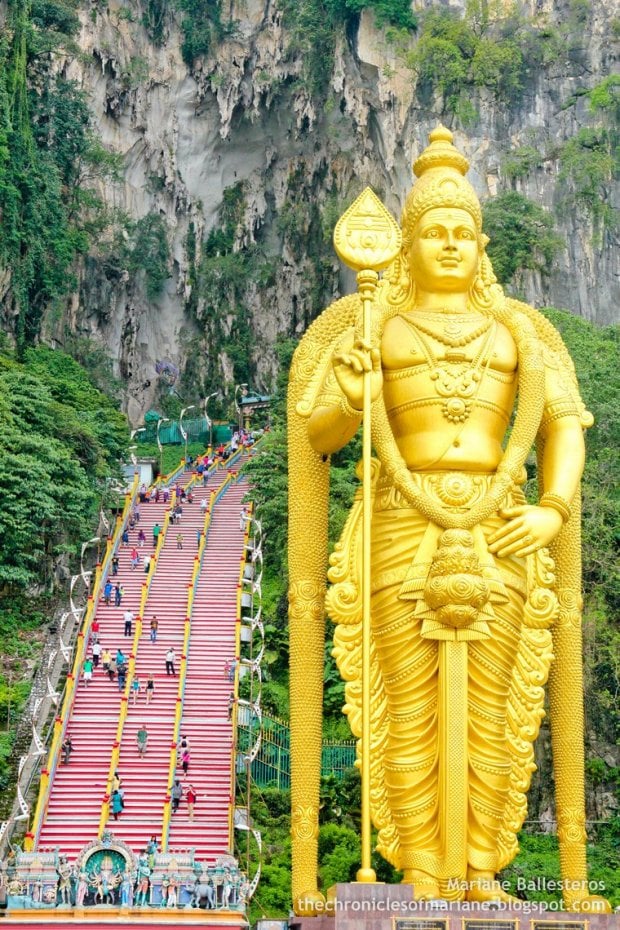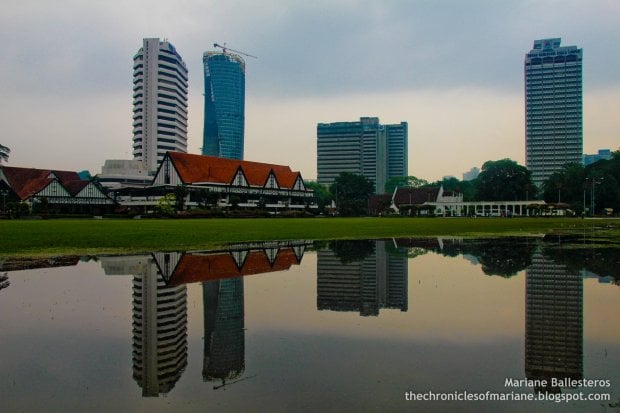 Merdeka Square
KL is one of the largest transportation hubs in South East Asia. I took a direct flight from Clark to Kuala Lumpur via Air Asia, but there are also local companies that offer this route such as Cebu Pacific and PAL Express.
Day 3: Putrajaya
Putrajaya, located south of Kuala Lumpur, was very much suited for a day trip as it was only an hour or less away from the central station. Though the city had a very quiet atmosphere (almost like a ghost town feel to us), we still enjoyed its very sophisticated look and sights it offered. One of the highlights of the trip was being able to go inside the Pink Mosque.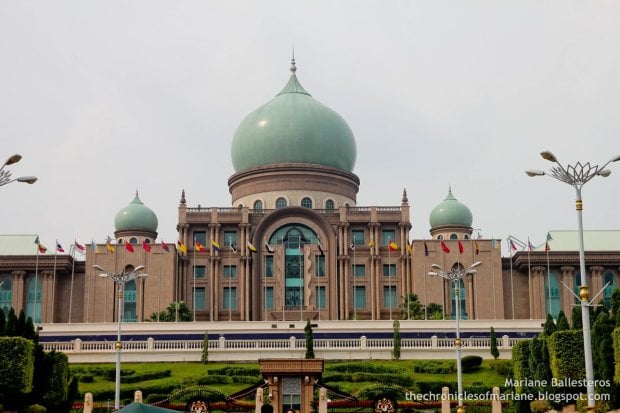 The lovely Perdana Putra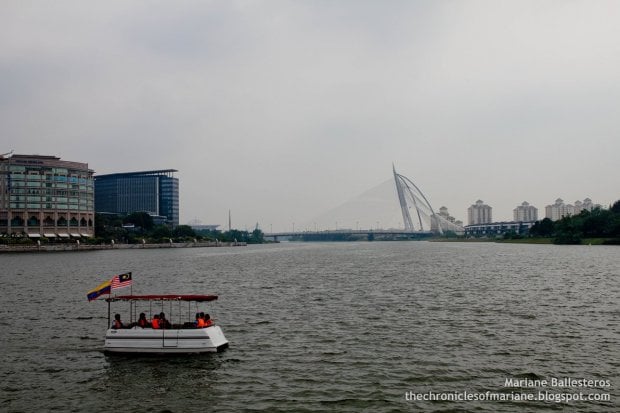 A great view of Putrajaya Lake and Seri Wawasan Bridge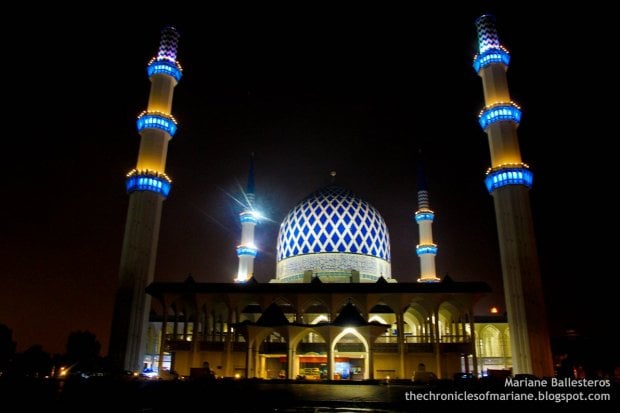 Blue Mosque of neighboring Shah Alam
From Kuala Lumpur, Putrajaya can be easily accessed via the KLIA Express Train. Once there, there are buses that can take you to the different tourist spots of the city. Otherwise, you may ask a cab driver to tour you around, but negotiate for a good price.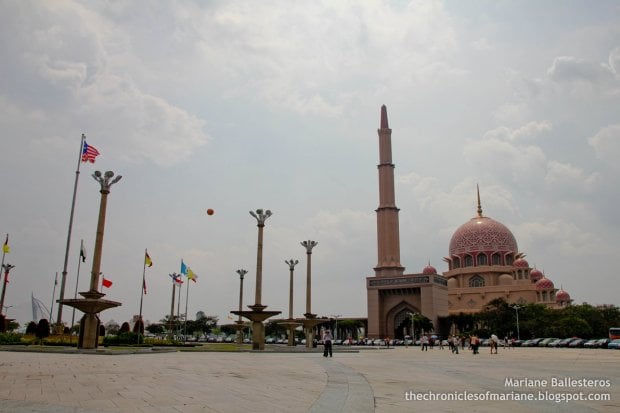 The unique Pink Mosque of Putrajaya
Day 4: Malacca
I wanted to do more in Malacca. Sadly though, we were only there for a day. Its slow pace and quiet ambience is perfect for travellers who just want to chill and relax. The city is very historic, which I can relate to my own country. It is also very easy to traverse. You can begin your tour from the Dutch Square. One of my most favourite places in this city is the Baba Nyonya Mansion, which gives a beautiful night view of Melaka River and has a long line of restaurants to food trip around!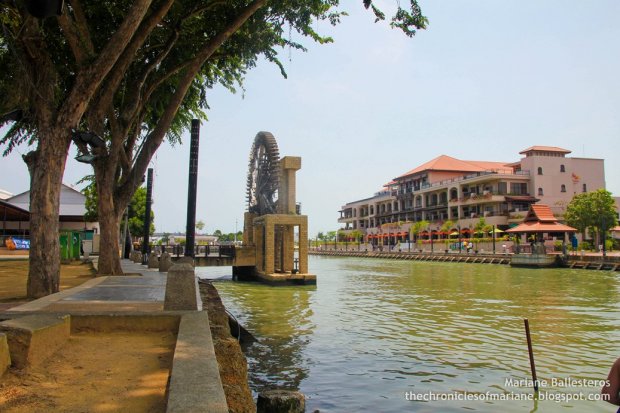 Melaka River
Dutch Square looking so lovely during nighttime
Malacca takes up a good two hour journey from KL by bus. The coach buses are so comfortable that you can even take a nap on the way!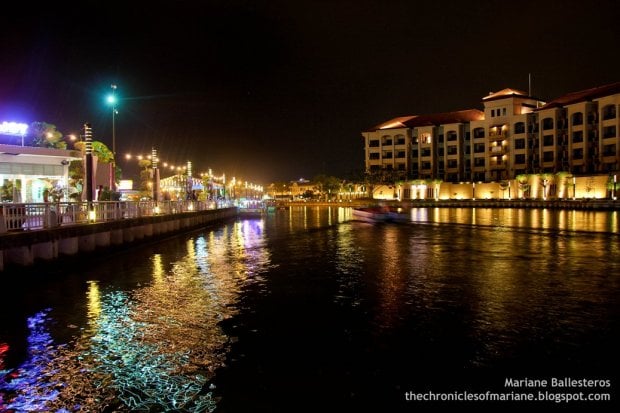 My recommended view of the city
Day 5-8: Penang
It was also a lovely treat to visit Penang but certainly not for people on diets (if you are, you must stop dieting while visiting here; eating at the hawker stalls four times a day is a must!). Like everywhere else in Malaysia, the local street food here is so cheap, tasty and fulfilling, but the ones in Penang are more diverse and have also been raved about by international travel/food critics by the likes of Anthony Bourdain.
The UNESCO-listed George Town is also one of the reasons I wanted to come here. One of the attractions we enjoyed was the Street Art scattered around the place which adds a sense of quirkiness in the area.
One of the many fun street artworks of Georgetown
It is also a place that boosts diverse religion. We headed to Kek Lok Si to see one of the largest Buddhist temples in South East Asia. It is situated in Penang Hill, a great spot if you want to get a good view of the city. If you have extra time, you could also head out to these Buddhist temples namely Wat Chayamangkalaram, a Thai temple, and Dhammikarama, a Burmese Buddhist temple. Both can be found at Burma Road and also feature very artistic and distinct architecture of the countries they represent.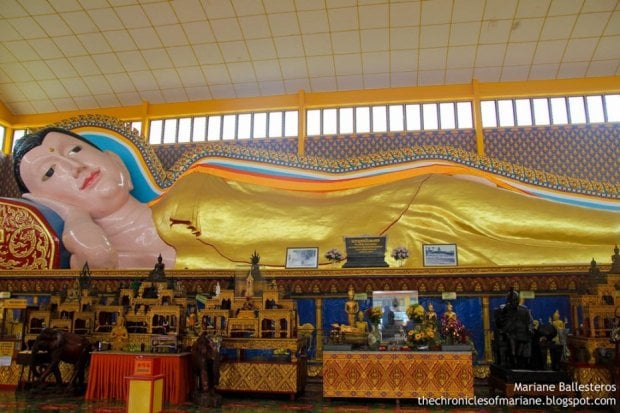 The Reclining Buddha of Wat Chayamangkalaram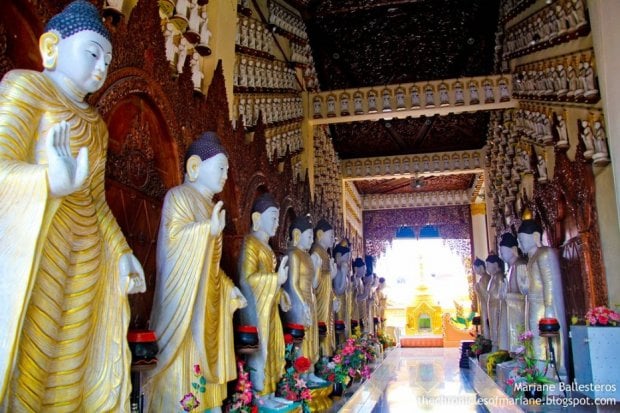 The relaxed statues of Dhammikarama Temple
Penang can be reached via bus, train or plane from Kuala Lumpur. One can also transit here from Thailand.
Recommended Eats
You can never call it a good adventure unless you have had a food trip in Malaysia; it is a must! The mamak stalls are basically everywhere! Aside from it being a great place to observe the local Malaysian culture, you can also taste yummy and cheap eats here, which is good for both the tummy and the wallet. It is open even until the wee hours of the night so if you are craving for a midnight snack, then head out here. It's also a great thing that Malaysia has a large multi-racial community as you are exposed to different types of cuisine: Malay, Chinese, Indian, and sometimes even Thai.
Famous chicken rice balls of Malacca
Craving for something sweet? Get an ice kachang!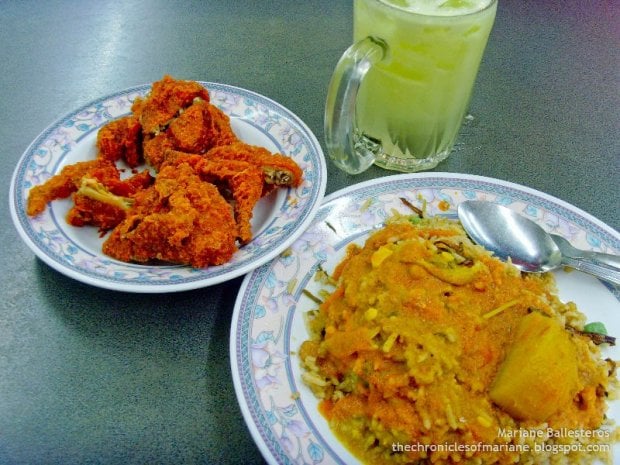 This is probably one of my best (and cheapest) Indian meals ever! Chicken biryani, tandoori and apple juice.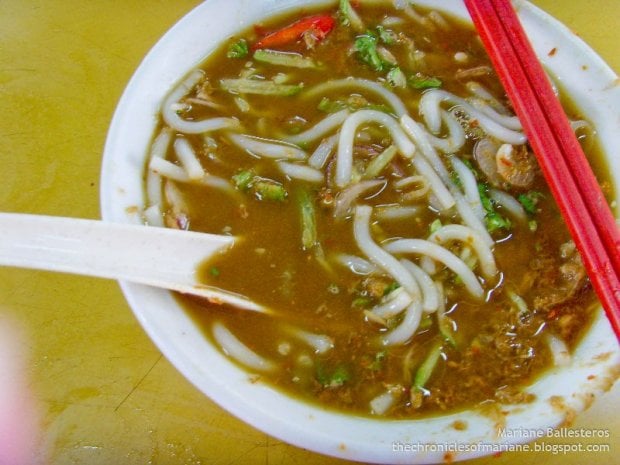 I totally love Assam Laksa, especially Penang's version of it!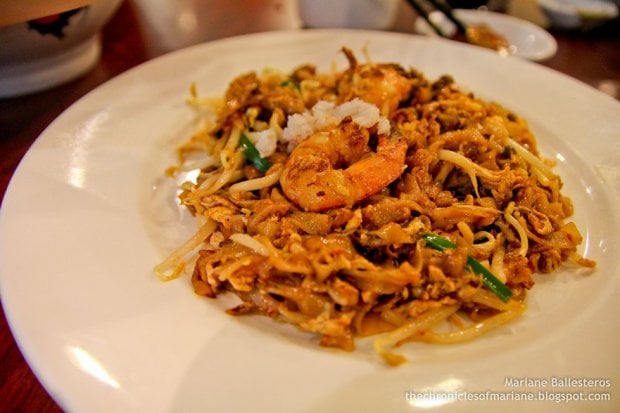 Char kuey teow, one interesting noodle dish of Malaysia 
Tips
1. I spent a total of PHP 8,000 (around USD 185) for 8 days, on food, transportation (within the country and to Singapore), and souvenir shopping expenses.
2. It is very easy and convenient to go anywhere within the country. Buses and trains are frequent and accessible to most or all the tourist spots. Get used to haggling with taxi drivers, it will come in handy outside of KL.
3. Be prepared to walk and to carry spare change/small bills for buses and trains.
4. English is widely used. Due to the diverse culture and many languages of the locals, majority of them can speak or understand English.
5. Malaysia is a Muslim country so observe the rules that apply to their religion. When visiting mosques, please dress appropriately (cover legs, shoulders and arms). Otherwise, some mosques will be able to lend shawls or cloaks to you.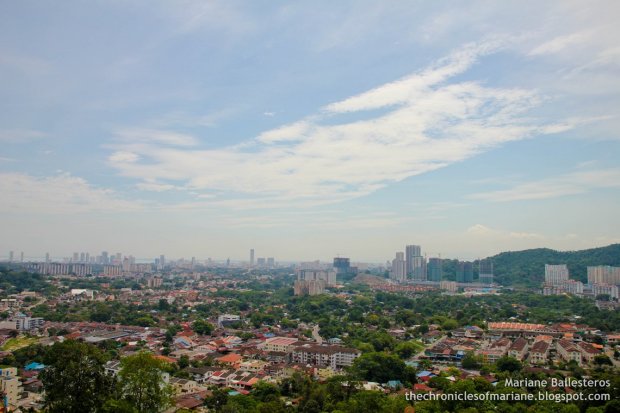 A great view of Penang at Kek Lok Si
Summary
Our trip focused on culture, religion, architecture and food as you may have noticed with the sights we saw at Kuala Lumpur, Putrajaya, Malacca and Penang. However I believe the country offers more nature-related attractions in the Eastern part of the country (Sabah) and more.
I regret only having been able to spend 8 days in Malaysia. Anyway, I think I was able to see the highlights of Malaysia and I certainly enjoyed this trip and most especially the food (which will probably be the major reason for me to come back).
Hope this beginner's guide to Malaysia has been able of help to you!
This post appeared first on The Chronicles of Mariane.
Inspired? Here's how you can make your travel happen:
TripZilla Travel Deals and Promotions to Malaysia