When it comes to long weekend trips, you may be all too familiar with indulgent getaways to Kuala Lumpur, Bangkok or Bali. But consider this: for a similar price, you can get a trip to Perth, Australia out of it.
How is it possible, you ask? Fares on
CheapTicket.sg
say it all! Flights to Perth are as low as $430 and they get even cheaper when you enter the promo code
ILOVEWA
upon checkout.
Book by 15 Dec 2019 to enjoy an instant $20 discount!
For the budget-conscious traveller, keep costs low by comparing flight prices on
CheapTickets.sg
before you make your bookings. Also don't forget to redeem an instant discount when you use the promo code
ILOVEWA
, valid until 15 Dec 2019.
Itinerary #1: The Most Popular Road Trip Route in Western Australia
What better way to travel than to have an Aussie road trip! A self-drive itinerary is perfect for three days in Western Australia, taking you southward along the coast from Perth city to Margaret River. As one of the most popular routes for road trips in the state, it's one that's been tried and tested; you'll be able to enjoy your self-drive with the promise of being able to complete it within the duration of your long weekend!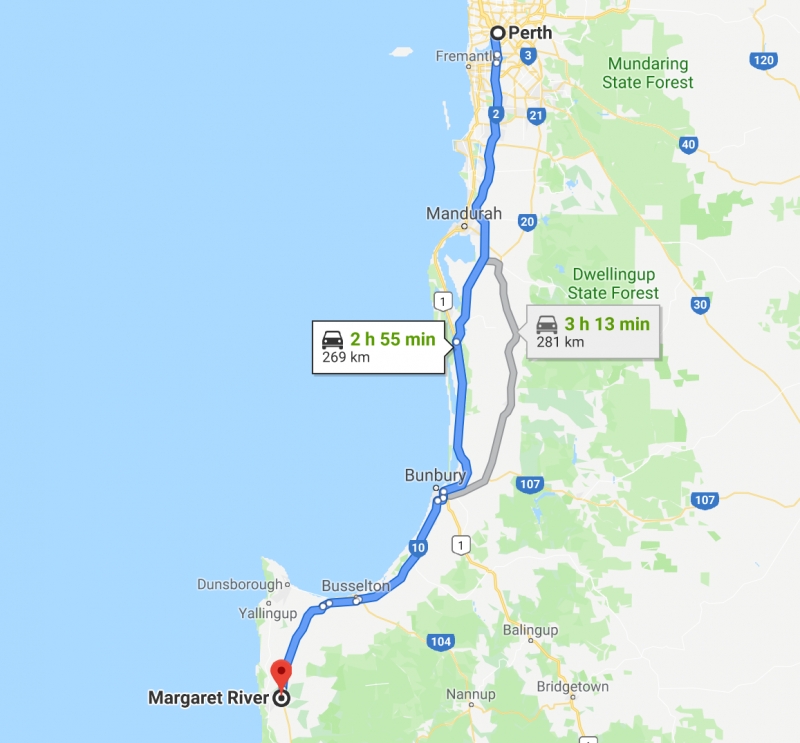 To secure the cheapest rental car for your trip, compare prices on CheapTickets.sg. The cost of car rental in Perth can go as low as $37/day! And on top of these savings, the rental cars can conveniently be picked up at Perth Airport once your flight lands. 
Cost of car rental: $37 x 3 = $111
Day 1: Perth → Bunbury → Busselton → Margaret River
Start your journey by taking a 2-hour drive to Bunbury, a coastal port town and the second largest city in Western Australia. Bunbury is the perfect place to stop by en route to Margaret River, and at this point you'd already have left the hustle and bustle of everyday city life behind.
One of the biggest attractions and best experiences to have in Bunbury is to spot wild bottlenose dolphins at Koombana Bay! The Dolphin Discovery Centre offers an educational tour and front-row seats to observe these gentle marine mammals. With a fee of $18 per adult, it sure gives your money's worth!
After meeting dolphins in Bunbury, it's time to take your trip further south to Busselton. Just a 40-minute drive away, the small city is known for its beautiful white sand beaches.
Make a stop at Busselton Jetty, the second longest wooden jetty in the world, stretching a whopping 1841-metres out into the sea! The immense length of the jetty boardwalk coupled with its blue boathouses should be no unfamiliar sight as it makes up the iconic image that represents Busselton on postcards. At the jetty, you can choose to take an old-fashioned train, or a relaxing stroll down its length and enjoy the ocean breeze. There's so much else to explore in the vicinity which we'll let you discover for yourself! After which, you can treat yourself to a good meal (we recommend to opt for fresh local seafood!) with a view at either Equinox Restaurant & Bar or The Goose.
If you have time to spare when you're making your way back to Perth, also be sure to check out the stars of Busselton — its stunning beaches! Busselton Foreshore is a favourite destination because of its calm, crystal clear waters which makes it a great place for swimming and snorkelling.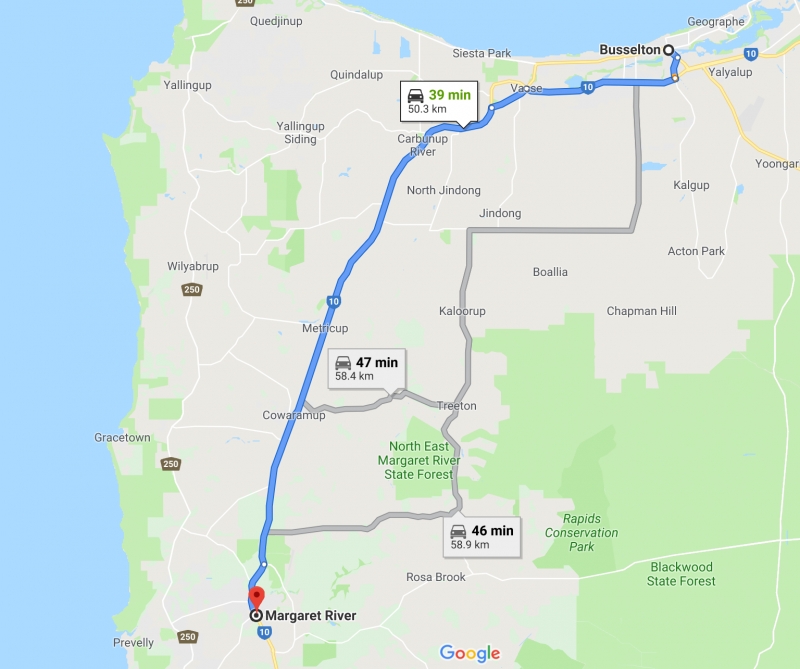 Next, say goodbye to Busselton and take a 40-minute drive to the final destination of the day, Margaret River! This charming region is renowned for its surf spots, as well as its many vineyards producing world-class wines.
After a fulfilling first day in Perth, spend a night in a comfortable guest house. Margaret River Motel is a wonderful option, located a stone's-throw away from the Margaret River town centre, and priced very reasonably at around $116/night. The spacious property really gives you the bang for your buck with its barbeque pit area that you're free to use — all set for that perfect Aussie barbie!
Cost of Day 1: 
Dolphin Discovery Centre tour: $18

Lunch at Busselton: $30

1-night accommodation: $116

Total: $164
Day 2: Margaret River → Perth 
Get an early start to the day and drive down to Cape Leeuwin Lighthouse for a panoramic view of the vast seas. The fully functioning lighthouse guides ships that sail pass the southern tip of Western Australia, and is positioned where the Indian Ocean meets the Southern Ocean. A $20 entry ticket gets you up the lighthouse and an informative tour of the region's maritime history.
A visit to Margaret River wouldn't be complete without stopping by a local winery. There are so many great options to choose from, but at this small farmhouse cellar door called Arlewood Estate, you'd get to indulge in bespoke local chocolates and personal wine tastings at a mere $10/person!
This next stop is for the adventure-seekers — it's time to channel your inner Indiana Jones and explore one of Margeret River's many limestone caves! The Margaret River region has over 300 historic limestone caves, all with gigantic stalagmites and stalactites that have been growing gradually over the years. These natural formations are a sight to behold, and definitely isn't a readily available sight in Singapore.
A popular publicly accessible cave is the Mammoth Cave, often likened to an ancient realm where you can observe preserved fossils of animals that have long gone extinct.
After this, it's time to make your way back to Perth and settle in for the night having accomplished so much in a day. You should be able to find a budget-friendly accommodation in Perth for around $100 or less!
Cost of Day 2:
Cape Leeuwin Lighthouse entry: $20

Wine tasting: $10

Cave self-guided tour: $21

1-night accommodation: $100

Total: $151
Day 3: Perth
Take it easy on your last day and have a leisurely brunch as they do Down Under, or better yet, head to the mall to fit in some retail therapy before you catch your flight home! 
Having just opened late last year, make sure you visit Perth's very own Direct Factory Outlet! It's where you'll get all the best deals on everything under the sun — from fashion, to jewellery to food. The best part? It's just a few minutes' drive away from the airport! 
Approximate cost of 3D2N itinerary #1: $111 + $164 + $151 = $426
If this fulfilling 3D2N road trip itinerary sounds good to you, don't wait any longer and start booking your flights and rent a car on CheapTickets.sg!
But if road trips aren't really your thing…
Itinerary #2: Exploring Perth, Fremantle and Rottnest Island Day Trip!
Here's an alternative itinerary that'll let you explore Perth City and its immediate attractions without renting a private car:
Day 1: Perth → Fremantle 
Getting around the city is extremely convenient with the CAT (Central Area Transit) public transport, a free bus service that covers the key areas of the city. With four routes looping in and around town, it's the perfect way to get to your destination quickly and easily!
Start your exploration at the Perth Cultural Centre. As its name suggests, it's the city's hub for all things arts and culture, snugly tucked within Western Australia's capital. With numerous public art sculptures and even live street performances, a casual stroll around the precinct is already a treat in itself.
For the art lovers, visit the Art Gallery of Western Australia to get yourself acquainted with local artworks ranging from contemporary and modern pieces to traditional aboriginal crafts. The city of Perth is also a great place to get some shopping done! You'll find plenty of malls and shopping streets all within walking distance of each other. Some popular favourites amongst tourists and locals alike include London Court, Hay Street Mall, as well as Murray Street Mall. 
Even though the mention of Perth typically conjures images of modern architecture and its glitzy city skyline, it also boasts of renowned inner city nature, impeccably encapsulated in Kings Park. The expansive Botanic Gardens sits right at the borders of the city centre, and overlooks the stunning Swan River. It even features special exhibitions on the flora and fauna of the region! 
Finally to end the day, take a half-hour train ride (~S$4.60) to Fremantle, a quaint port city filled with old Victorian buildings dating back to its colonial days in the 19th century. There, you'll find countless food options available at the town centre and also its famed Cappuccino Strip, which really cements the town as the culinary mecca of Perth.
With the help of CheapTickets.sg, finding affordable accommodation in Fremantle is made so simple! A great option is the South Beach Bed & Breakfast located along South Harbour Beach that sets you back only S$86/night for a two-person stay. 
Cost of Day 1: 
Train ticket from Perth to Fremantle: $4.60 

2-night accommodation: $86 x 2 = $172

Total: $176.60
Day 2: Rottnest Island
A short ferry ride away from Fremantle, Rottnest Island is an idyllic paradise with plenty of untouched natural landscapes. A two-way ferry trip there costs $94.99 from Fremantle Port, and includes a bike hire as part of its package. As there aren't any cars and only a single one-way island bus service, a great way to tour Rottnest Island is by embarking on a bike ride around the island. While it may be hilly, there are many dedicated bicycle paths to guide your journey to the island's attractions.
Without a doubt, Rottnest Island is best known for its native quokka population — you'll see dozens of these adorable marsupials roaming freely and lazing around the grassy areas. Feel free to snap a selfie with them as they are extremely friendly!
From spotting fur seal colonies at Cathedral Rocks to snorkelling at Little Salmon Bay, there's certainly more than enough to do at Rottnest Island on a day trip. However, above all the amazing activities, a detour to Wadjemup Lighthouse is highly recommended to get a 360-degree bird's-eye view of the entire island. Entry tickets costs only a small sum of $9, and includes an extensive tour of the lighthouse's history since it was built in the 1840s.
Cost of Day 2: 
Two-way ferry + bike hire = $95.17

Wadjemup Lighthouse entry and tour = $9

Total: $104.17
Day 3: Fremantle → Perth 
Survey just about anyone and they'll tell you that a must-do when in Fremantle is to visit the weekend Fremantle Markets! This weekly affair is the ultimate one-stop spot to experience the vibrant festivities that have been a trademark of the town since the 1890s.
The Fremantle Markets isn't a gimmicky tourist trap selling your typical travel souvenirs, rather, its traders sell unique art and handcrafts showcasing their aesthetic eye and attention to detail. In another section of the market, you'll find fresh and healthy produce selling like hotcakes. Don't underestimate the experience either! The Fremantle Markets is a celebrated affair where the spirited community gather and feast on quality goods. 
Another must-visit when in Fremantle is the infamous Fremantle Prison. Built in the 1850s, the prison first housed convicts from the Swan colony, and continued its operations up until 1991. It has had its fair share of dramatic escape stories and convict deaths, which gave rise to its status as one of the darkest and ghastliest extant sites. The Tunnels & Prison Tour Package (~S$75) takes you on an eerie tour of the prison grounds as well as its underground labyrinth of tunnels. But beware, this isn't for the faint-hearted! 
Back in Perth for the last few hours of your vacation, why not try a once-in-a-lifetime experience of Stand-Up Paddleboarding over the iconic Swan River! With its prime location, you'll be able to admire both the natural landscape of the beautiful lake, as well as the city skyline in the backdrop. This stand-up paddleboarding experience is suitable for all ages and skill levels, and you can choose between flat water paddle-boarding or try taking on small waves in different parts of the river. What a way to end your 72-hour Perth experience!
Cost of Day 3: 
Fremantle Prison Tour: $75 

Train ticket from Fremantle to Perth: $4.60

Stand-up paddleboarding experience: $51.39

Total: $130.99
Approximate Cost of 3D2N Itinerary #2: $176.60 + $104.17 + $130.99 = $411.76
Exploring Perth is enjoyable no matter how you travel — and the best part is that you can do it comfortably under $430 and 72 hours! Whichever itinerary you prefer, a trip to Perth guarantees a fun-filled, fulfilling, and unique experience for all. Ahead of your trip, you can read up on tips and get more information on Western Australia here.
Can't wait to begin your Perth adventure? Book your tickets now via CheapTickets.sg and receive a $20 instant discount off all flights! For the budget-conscious traveller, cost savings on your flight sure leaves more to spend on hitting attractions and exploring all that Perth and Western Australia has to offer.
Also read: 2020 Long Weekends: 8 Short Getaway Ideas From Singapore
---
Brought to you by CheapTickets.sg and Tourism Western Australia.