Contributed by Quotient Travel Planner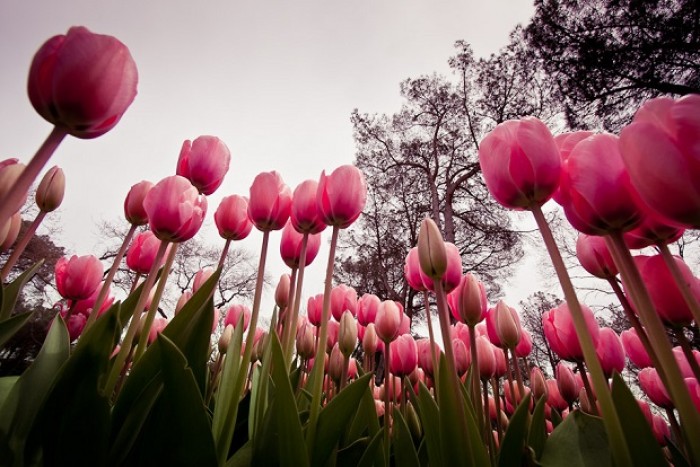 Image credit: CC BY 2.0 (Nezih Durmazlar, 2011)
The opportunity to stand amidst fields of brightly-coloured tulips, breathing in the heavenly post-winter scent, will surely spring any flower lover into a holiday-booking frenzy.
And nowhere in the world but Lisse in the Netherlands can better seed this yearning come the season of bloom. For decades, the Keukenhof has been the most-loved tulip paradise on earth, its 7 million flower bulbs (including daffodils and hyacinths) attracting over a million visitors annually since 2014. Considering this is all within the short span of about 8 weeks, the fact that there are all of 32 hectares is somewhat comforting.
This year, the Keukenhof opens from 24th March to 16th May, with the highlight event, the Flower Parade, taking place on 23rd April 2016.
But if you can't make it to the Garden of Europe or simply need to branch out, your desire to see tulips doesn't have to wither away. Here are seven surprisingly great tulip experiences in the Asia-Pacific region.
Also read: 10 Gardens Around the World for Flower Lovers
Taean, South Korea
Taean is one of the top places in South Korea to soak in the tulip mania. | Image credit: CC BY-NC-ND 2.0 (kiyong ahn, 2015) 
It may shock you, but the Taean Tulip Festival was crowned one of the top five tulip festivals in the world by the World Tulip Summit Society, which had convened in Suncheon Bay City in South Korea. Held near the Mageompo Beach, under 4 hours by public transport from Seoul, the site features about 1.2 million tulips representing 300 species. There are at least three other tulip festivals in the country during spring, such as the one on Imja Island, one of the over 1,000 islands in Sinan County and the largest tulip-growing area in South Korea, which showcases some 6 million bulbs representing over 40 tulip species and offers activities such as horse-riding and making flower pots.
Festival period: 16th April – 8th May, 2016
Srinagar, India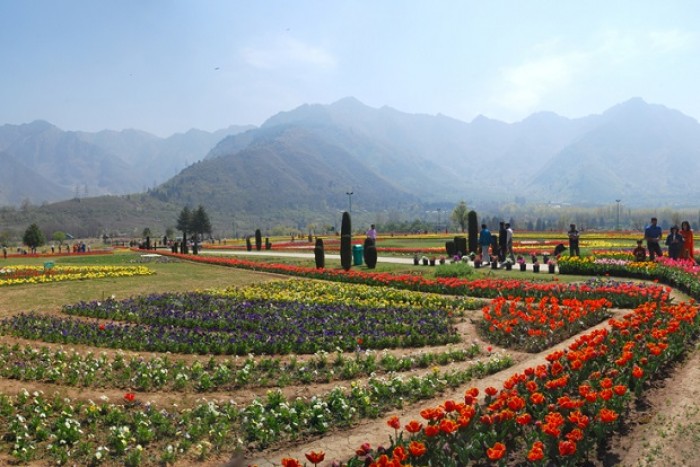 Tulips thrive in the high-altitude climate of northern India, adding to the gorgeous mountainous landscape. | Image credit: CC BY-ND 2.0 (Amanda W, 2010)
Possibly South Asia's largest tulip plot, the Indira Gandhi Memorial Tulip Garden in Srinagar boasts more than 2 million stalks featuring 60 different varieties and spread over 5 hectares. The vibrant floral carpet impresses easily, but coupled with the breath-taking backdrop of the majestic Zabarwan Range on its east it is simply spectacular. Visitors can also look forward to cultural activities such as folk singing and dancing, local handicrafts and traditional cuisine from Kashmir; nearby in the Dal Lake, you get to experience houseboating and check out floating vegetable gardens.
Festival period: 7th May – 14th May, 2016
Tonami, Japan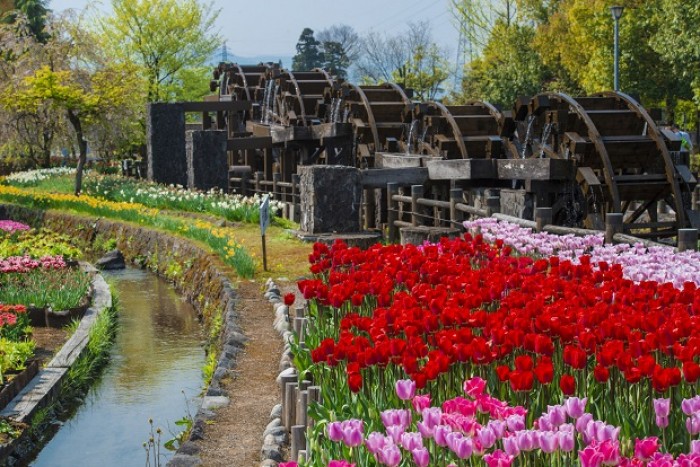 The Tonami Tulip Fair in Central Japan promises a slice of Netherlands come April.

There are a numerous flower festivals in Japan, but when it comes to tulips, it is hard to beat the No. 1 producer in the country and a city that has been cultivating the bulb since the early 20th century. Another fact that cannot be ignored — Tonami is in Toyoma prefecture, where the tulip is the official flower! The Tonami Tulip Fair presents some 2.5 million tulips of around 600 varieties, including 200,000 blooms depicting a "look of love" design, a tulip version of the snow wall along the famous Tateyama Kurobe Alpine Route and unique floating flower beds in the gourd-shaped pond of the Tonami Tulip Park. Fringe attractions such as a flower fashion show, mini bullet train ride, live performances, food stalls and souvenir shops add to the lively atmosphere.
Festival period: 22nd April – 5th May, 2016
Istanbul, Turkey
The expansive Emirgan Park offers a calming space to check out over 2 million tulips. | Image credit: CC BY 2.0 (Nezih Durmazlar, 2011)
Sitting at the crossroads of Europe and Asia (that's why it's on the list), Istanbul has a special relationship with the tulip for centuries; in fact, the tulip was introduced to the Netherlands from the Turkish capital. Every April, the Istanbul Tulip Festival or Istanbul Lale Festivali showers visitors with tulip brilliance, especially at the Emirgan Korusu in Sariyer, by the Bosphorus. This park alone boasts over 2 million tulips from more than 200 species but you can easily spot tulips around the city, as around 20 million are planted in the public parks and streets! The true park on the Asian side to visit for tulips would be Göztepe 60. Yıl Park in Caddebostan, which has around 1.8 million bulbs and 150 varieties.
Festival period: April
Beijing, China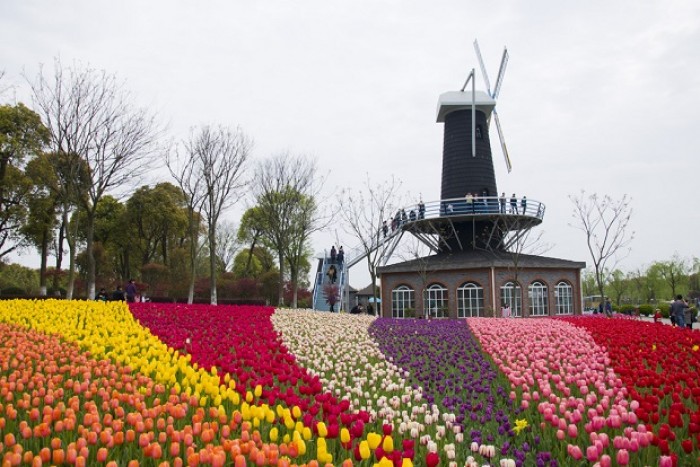 Neat beds of tulips and the symbolic windmill in makes one reminisce of the Netherlands at the Shanghai Flower Port in China.
It is not easy to pinpoint the most impressive tulip display in China — there are really many — but the Beijing Tulip Festival at the Beijing International Port of Flowers is likely to be the grandest and most accessible. Not only does it offer a viewing of over 4 million blooms, but also no effort is spared to create a visually and physically engaging experience. The 2015 edition featured both outdoor and indoor exhibitions, including an 'Arabian castle' and secret garden made entirely of tulips as well as China's largest yellow 'rubber duck'. The Shanghai Flower Port, which typically opens earlier in late March, boasts over 3 million tulips; for a different experience, head over to Shixiang Lake Sightseeing Area (石象湖生态风景区) in Chengdu where you can stroll through the pretty rolling carpets of tulips or admire them from the waters — on a scenic ride.
Festival period (Beijing Tulip Festival): 18th April – 11th May
Yarra Valley and Dandenong Ranges, Australia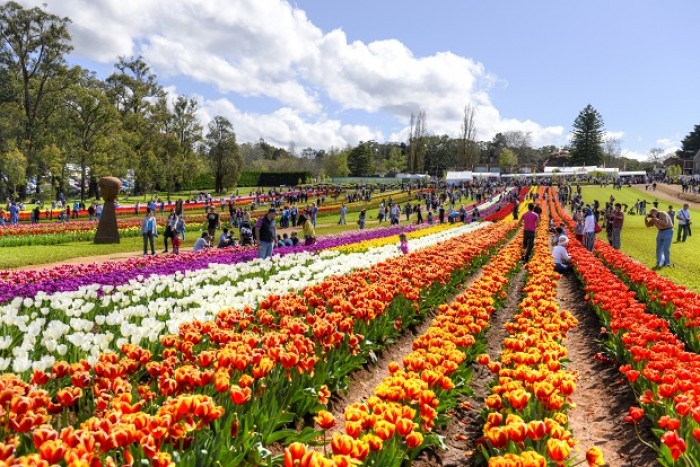 One of only a handful of tulip festivals in the Southern Hemisphere, the Tesselaar fair makes for a great stop for Yarra Valley trippers. | Image credit: CC BY 2.0 (Chris Phutully, 2013)
We dig this one for two reasons: not only is the Tesselaar Tulip Festival the only one on our list in the Southern Hemisphere (and hence takes place in the second half of the calendar year), but it also coincides with the school holiday dates of Singapore's Ministry of Education, which makes it entirely feasible for families with school-going children to enjoy. If you're a country or wine lover, you will all the more smell the roses (we mean metaphorically, of course!) for this is the land of great wine, nature and a relaxed pace of life. Expect to be greeted by more than half a million cheery tulips from over 120 species, cultural showcases, live entertainment, market stalls featuring fresh local produce and a gigantic Dutch clog!
Festival period: 8th September – 4th October, 2016
Also read: Amsterdam Overcome With Mesmerising Colourful Tulips
Taoyuan, Taiwan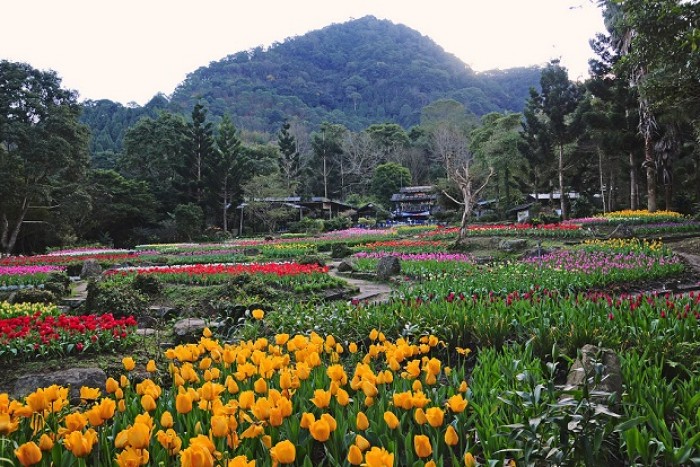 The annual tulip spectacle at the entrance of Taoyuan Fairy Valley casts a spell on floral enthusiasts. | Image credit: CC BY NC-ND 2.0 (Buddy8d, 2011)

With its abundant greenery and peaks, Taiwan is a worthy candidate when it comes to floral appreciation throughout the year. One outstanding tulip grounds is the Taoyuan Fairy Valley or 桃源仙谷 (not to be confused with the one near Beijing); each year around January, the tulip garden near the entrance of the attraction is lit by a sea of around 600,000 bulbs and over 60 varieties can be inspected. Besides tulips, visitors can also enjoy freesias, irises, hyacinths and chrysanthemums early in the year, with other flowers such as azaleas and lilies blooming other times of the year. The display over at the Shanlin Xi Forest Amusement Park (杉林溪森林生態渡假園區) in Nantou is distinctly smaller but still worth a visit for its ecological park setting, forest bathing concept and similar year-round comfortable climate.
Best viewing (Taoyuan Fairy Valley): January and February