Hear that? That's the sound of the Maldivian shores calling to your inner wanderer. When it comes to tropical getaways, the Maldives has it all: beaches, ocean adventures, spas, and an unlimited amount of fresh seafood you could eat for days. Just imagine waking up to all of these at your beck and call — in luxurious suites and villas at that. If you need more convincing, we're on it. Here's your official 2022 guide to the Maldives!
Also read: Maldives Travel Restrictions: What to Know Before Visiting
First off, let's talk about travel requirements…
It couldn't be easier to travel to the Maldives. This hotspot destination is not only open to all foreign tourists, but also doesn't require travellers to quarantine. International tourists don't need to submit a negative RT-PCR test anymore. However, the Maldives does require everyone to present proof of their COVID-19 vaccination. Aside from this, the next important thing is to fill out a health declaration form, get your visa on arrival, and you're good to go. Read more about it here. 
Now that that's clear, let's talk about all the euphoric and therapeutic indulgences to be had in the luxurious Maldives.
1. Pick the island resort of your dreams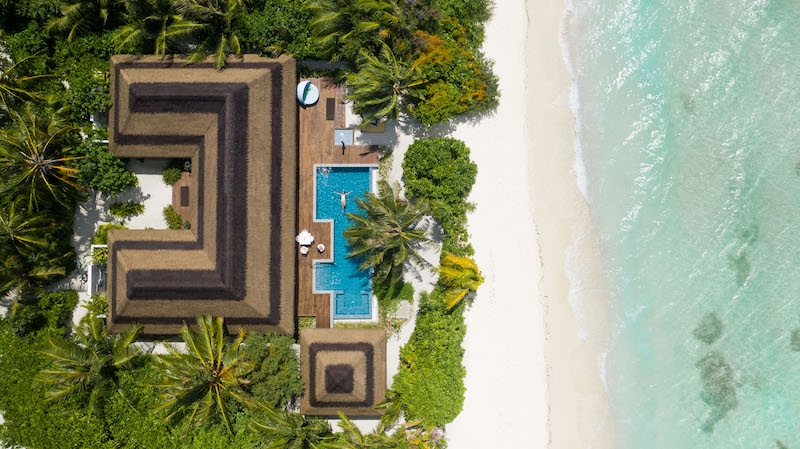 We know that we don't have to tell you, but we're going to, anyway: Enjoy the experience of choosing your island resort in the Maldives. There are over 150 resorts that offer cosy interiors and quality island ambience for stressed guests to recharge and get away. What's even more exciting are the innovative resorts that you need to update your 2022 Maldives guide with.
Take for example Anantara Kihavah Maldives Villa, which was recently crowned the "Best Hotel in the Maldives." This resort rests on a long stretch of private beach and consists of 80 rooms with their own pools. Once guests step outside, they are rewarded with a coral house reef and a jaw-dropping place to dine in the underwater restaurant. You can also take your pick among the stunning accommodations of Brennia Kottefaru, boasting 106 land villas and 84 overwater villas. The interiors are decked with soft mahogany furniture and amber tones to create a warm and earthy ambience. 
Looking for more standout tropical experiences? Furaveri Maldives maximises the beauty of nature as it sits where the open ocean meets the lagoon. Here, you'll encounter turtles, manta rays, birds, and be surrounded by lush pine trees. You'll surely be lulled to sleep under the shade of the tall plantations, the sound of the ocean, and the ocean breeze. Meanwhile, the Taj Exotica Resort & Spa is a five-star hotel found in Emboodhu Finolhu island, the centre of the largest lagoons in the Maldives. Aside from snorkelling to see the pretty corals, guests are invited to go on wildlife-spotting walks; then, to return to luxurious sanctuaries that overlook the ocean. Hammocks and pool beds are up for grabs too. 
Finally, consider the Residence Maldives, whose interiors are a blend of traditional Maldivian architecture and modern inspirations. Guests have a choice between beachfront and overwater villas which lead to private lagoons. The beach is also the perfect place to hold an intimate wedding as everyone gets to bask in the quietness of the sand and sea. Topped with diving and island-hopping services, this island is the perfect place to celebrate and unwind. 
With many more resorts that embody a tropical paradise — and just a stone's throw away from the beach — you're sure to have a good problem when picking your dream accommodation. Our tip? Savour it, and have fun deliberating with your travel buddies. No matter what you pick, it's a win-win scenario. 
2. Immerse in the greens of Addu Nature Park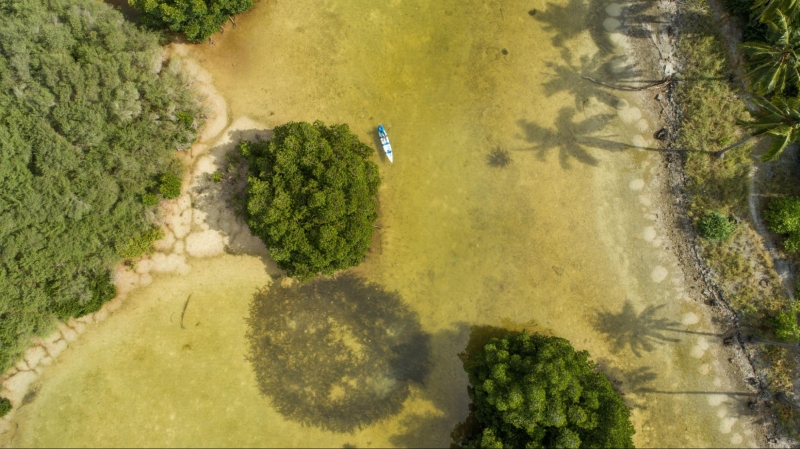 Addu Nature Park might as well be called a thrilling wild playground for eco-warriors. Not only can you snorkel, but you can have a cookout, bike along cycling routes, and bird watch amidst nature that's safeguarded and unique. This park, after all, boasts of having the Maldives' second-largest wetlands. Think of all the mangrove forests and lakes you can explore by kayak, and the many flora and fauna to encounter — perhaps for the first time in your life. 
Snorkelling will reveal to you the rich diversity of the park's coral reefs and aquatic creatures, from fish to clams and lobsters. But after your water adventures, be sure to include a picnic in your itinerary. There are strategically placed tables and chairs all throughout this nature park. It's the perfect place to enjoy quick meals and admire the Maldives' green scenery and biological environment. Above all, don't forget the golden rule: Clean as you go.
3. Bond with aquatic creatures in Baa Atoll Biosphere Reserve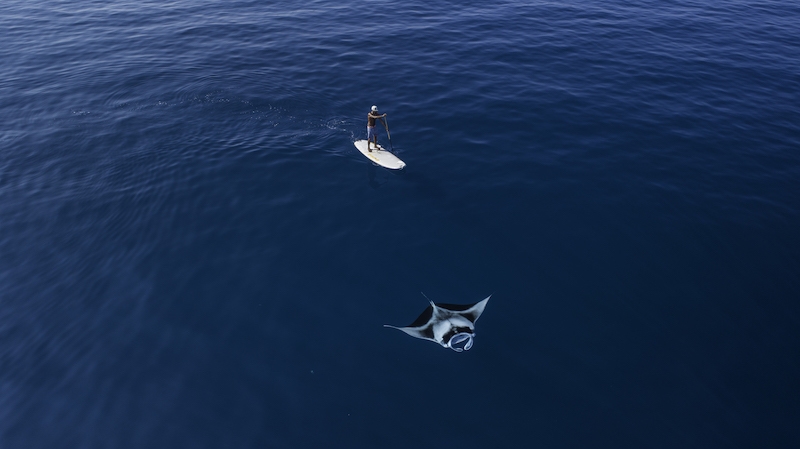 If you can never get enough of underwater adventures, add Baa Atoll Biosphere Reserve to your 2022 Maldives guide. Located in the central western part of the Maldives, this UNESCO World Heritage Site is home to the largest groups of coral reefs in the Indian Ocean. The reserve features approximately 250 coral species and 1,200 reef and reef-associated species. Come prepared not only with an underwater camera but also a reef-safe sunblock that will do no harm to our aquatic friends. 
The site's protected waters teem with vibrant marine life. Its highlight? Hanifaru Bay, where large schools of manta rays flock every year from May to November. Hence, if you want to see as many as 200 manta rays in dramatic feeding chains, you should be planning your Maldives itinerary as early as now. Snorkel and see these magnificent sea creatures in plankton-rich waters for yourself!
4. Dare to meet sharks in Fuvahmulah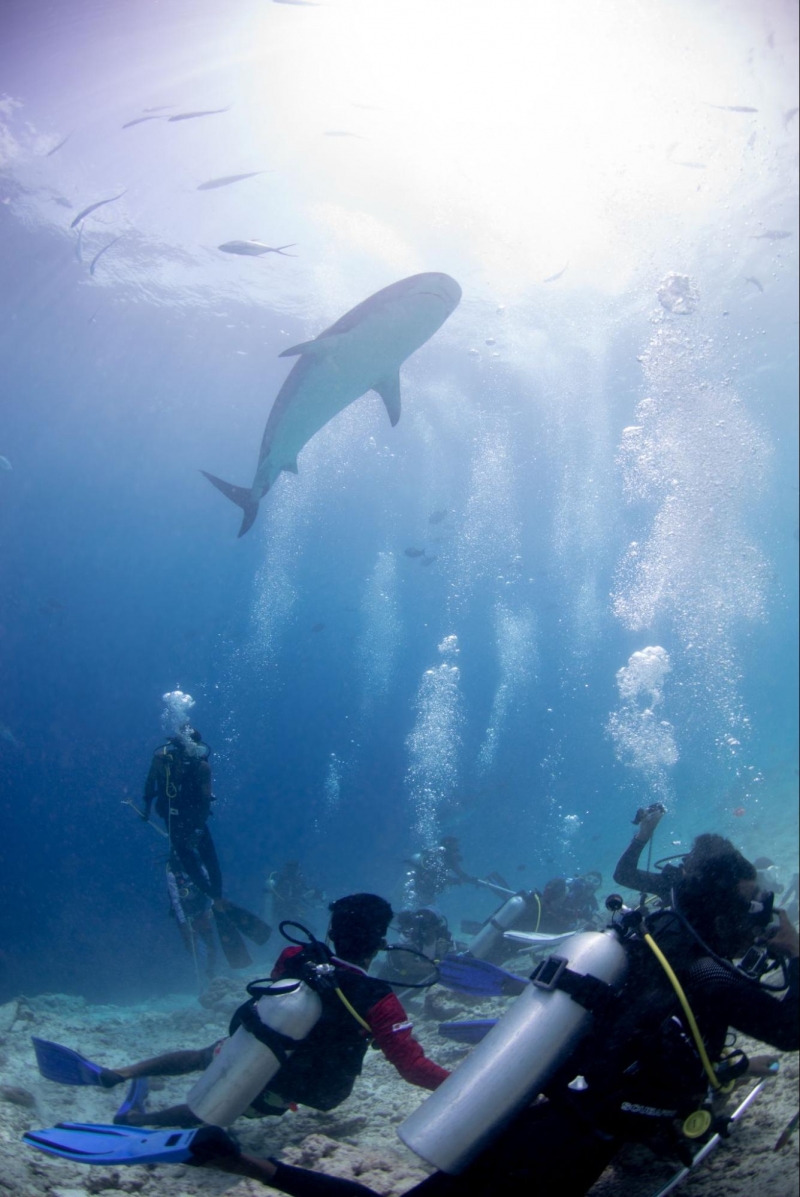 Fuvahmulah is considered the Galagapos of the Maldives, as well as the newest hottest diving site, thanks to its scene-stealing resident sharks that tourists love to see. Here, you can dive and meet Tiger Sharks, Thresher Sharks, Grey Reef Sharks, and Hammerhead Sharks aside from admiring prismatic coral reefs and manta rays. Intimidated? Don't be. These sharks have played a crucial role in the local marine ecosystem as they feed on the fishy remains discarded by community fishermen. The sharks are in no way aggressive and your local tour guide will ensure your diving experience will be safe and responsible. 
To complement your exhilarating ocean adventure, you should also taste the island's fresh fruits, like mango, guava, and papaya, all grown in Fuvahmulah's fertile lands. Unwind to comfort food like Kattelhi, known to be the favourite local soup. It's made out of snake mackerel and fished fresh from the sea.
Don't forget to visit the island's popular mud bath area called Koda Kilhi to soothe those body aches after a long swim too. Any time of the year would be a great time to chill and have fun in Fuvahmulah!
5. Ride some waves at Himmafushi, North Male Atoll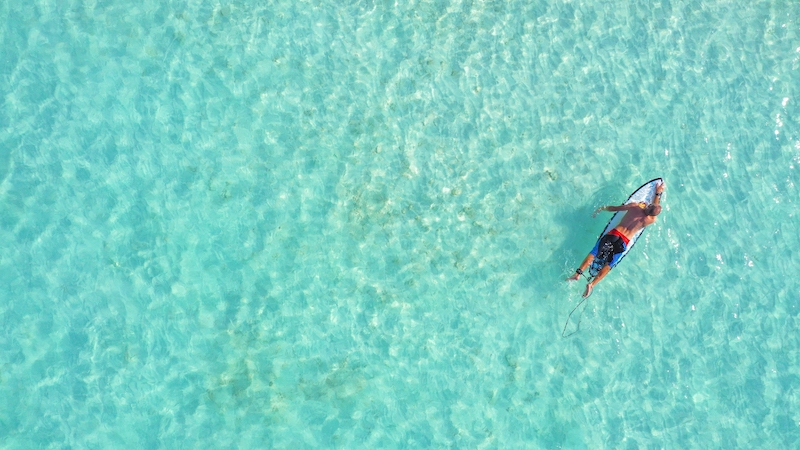 Yes, the best surfing spots in the Maldives are found in Himmafushi, North Male Atoll. Thanks to the light wind conditions in this island region, beginners are sure to have an enjoyable learning experience in tame surf points like Sultans and Honkys. But the most popular surfing spot is definitely Jailbreaks, where waves reach up to eight feet in the summer and longer rides of over 300m can give intermediate surfers the time of their lives. 
Surfers on a budget will find this place to be close to perfect. If you're one of them, Jailbreak Surf Inn should be on your 2022 Maldives guide as it will only cost you US$65 per night. The inn will make every penny worth it and provide daily boat transfers to Jailbreaks, Sultans, and Honkys. 
At your request, the crew can even organise trips to other surfing joints like Chickens and Cokes. But besides all those action-packed activities, Himmafushi also brings you closer to dolphins in the Indian Ocean. Sit back, relax, and get your cameras ready as you snap the playful dolphins swimming beside your boat. 
6. Learn new water board activities in the Maldives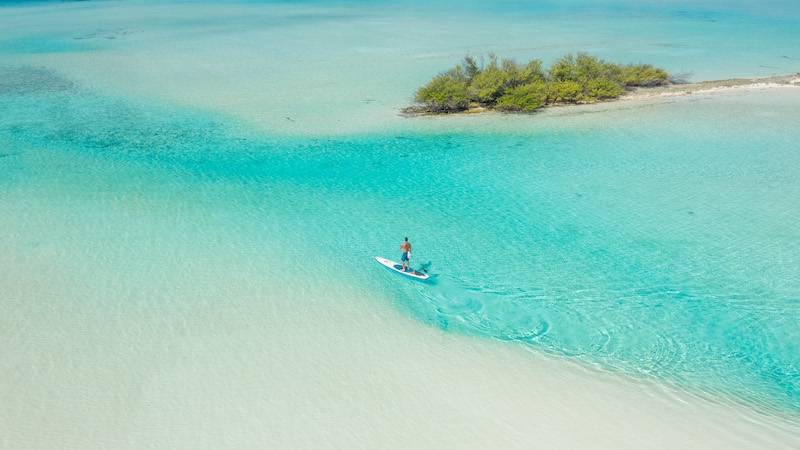 The Maldives is a paradise for water sports enthusiasts. Beyond the typical snorkelling, surfing, and diving, tourists will learn how to engage in many more water boarding activities such as stand-up paddleboarding, kiteboarding, water skiing, and flyboarding.
Stand-up paddleboarding on the Maldives' cerulean waters is one of the most fulfilling things to do on your own. You basically learn how to balance yourself while standing up on the board and navigating the quiet ocean as far as you're allowed to go. You move at your own pace, and if you're looking for some "me time" and reflection, this would be a picture-perfect opportunity. 
In contrast, flyboarding is an epic experience you just have to video and post on your social media. It's like having rockets for feet as you're lifted by a board high up in the air, above the Indian Ocean. You get to decide the direction of the watercraft, and you can even dive underwater if you're up for the challenge. Whether you're new to this sport or not, hands-on instructors will be there every step of the way to ensure a thrilling and safe experience. 
7. Pamper yourself with special spa treatments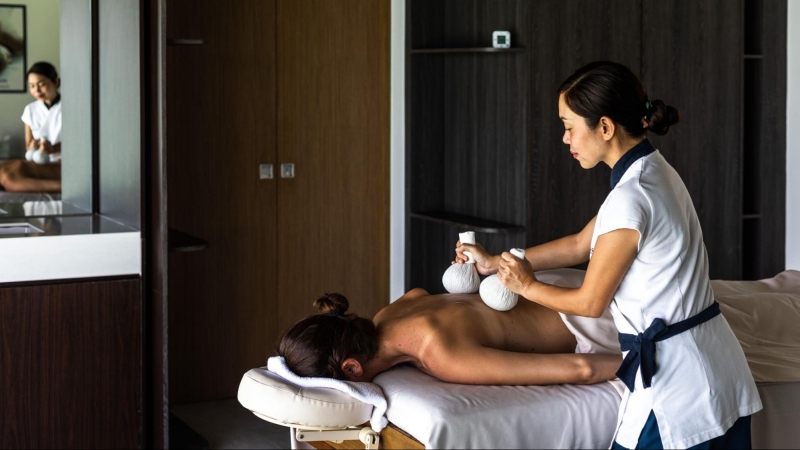 You simply should not leave the Maldives without treating yourself to their world-renowned spas. The island nation is quite popular for its unmatched massages and sleep-inducing spa facilities. There are hundreds of spas dotting the Maldives and you can avail of diverse services such as aromatherapy massages, head massages, couples massages, facial treatments, even a classic Balinese massage. The best part is that several of these spa facilities are also found in overwater resorts. A soothing massage with a view of the Indian Ocean? Sign us up!
8. Discover the capital island Malé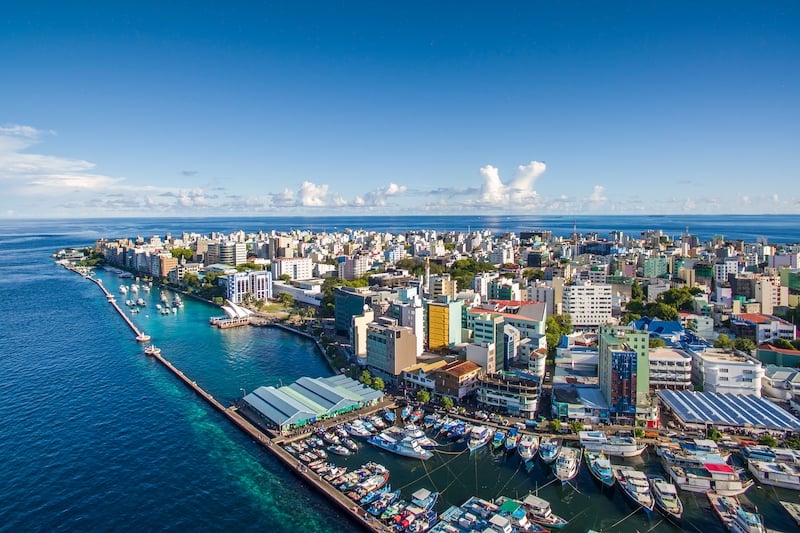 While you're in the Maldives, why not add Malé in your itinerary? Sure, it may not have the overwater resorts you envision for your trip, but the city has something for everyone. Here, you can learn about the Maldives' culture and history in the heritage buildings and museums; plus, you can take it easy and spend your afternoon in well-maintained parks and local beaches. 
Notable attractions in the capital include the National Museum, the Male Local Market, Sultan Park, and the Artificial Beach. From the city, you can even book underwater activities like snorkelling and submarine touring. Yes, you read that right. From Malé, you can stay dry while sightseeing under the sea for two hours in a German-built submarine. This submarine descends 100 feet below the surface and gives you an intimate encounter with vibrant coral reefs and fish species. Now, that is something to put on your 2022 Maldives guide. 
Also read: How Safe Is Travelling to the Maldives These Days? Here's a Primer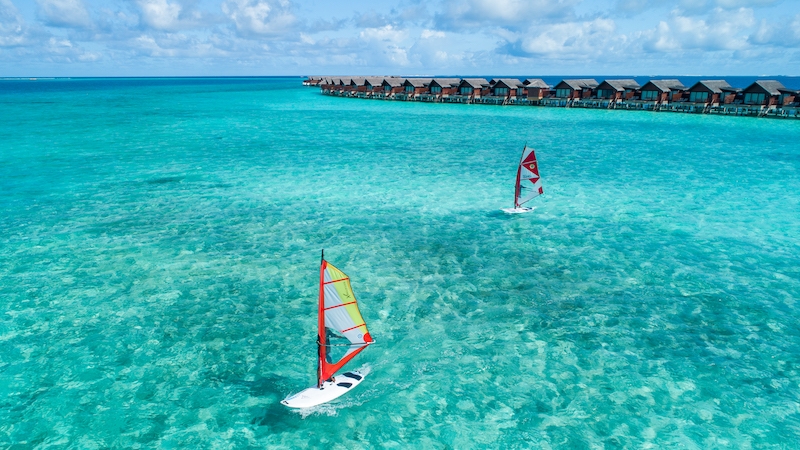 The Maldives brims with natural beauty and all the activities needed for you to savour every moment amidst flora, fauna, and the glistening ocean. We hope this 2022 Maldives guide gave you an idea of where you can start in the face of all the fun options available for you. We're now crafting our Maldives itinerary as we speak. How about you?
For more information, please visit Visit Maldives' official website, Facebook, and Instagram.
---
Brought to you by Visit Maldives. Featured image credit: haveseen via Canva Pro.