You may not know much about mysterious Myanmar, the southeast Asian country formerly known as Burma. What you should know is that if you have never been there, you are missing out. Myanmar is a country of almost infinite intrigue and beauty.
To serve as something of an introduction to this fascinating place, here is a list of 18 of its many attractions:
1. Shwedagon Pagoda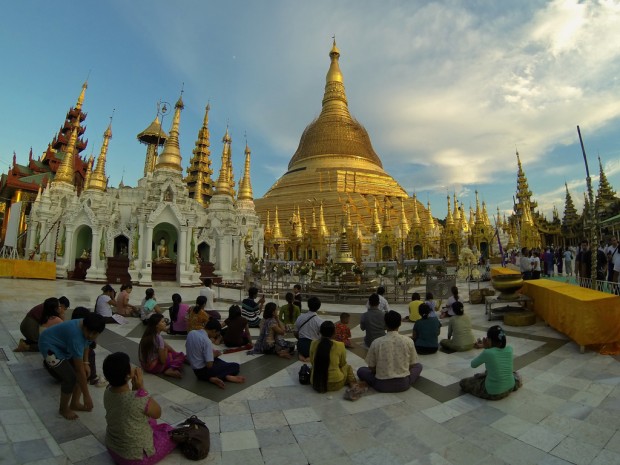 Image credit: Rajesh_India
No visit to the country would be complete without a visit to this 2,500 year old pagoda, one of the most famous in the world. This is the most major attraction of Yangon, Myanmar's capital city. It is also an important Buddhist site – it enshrines some strands of Buddha's hair as well as other religious relics.
2. Kyaiktiyo Pagoda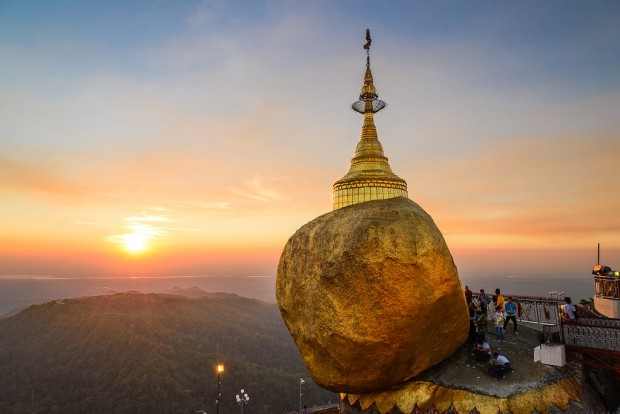 Image credit: Wasin Waeosri
This small pagoda is an important Buddhist pilgrimage site. It is located atop a boulder which has been pasted with gold leaves by devotees. The boulder and pagoda sit in a dramatic location at the top of Mount Kyaiktiyo in Mon State of Myanmar. The views from this golden rock are awe-inspiring.
3. Shwenandaw Monastery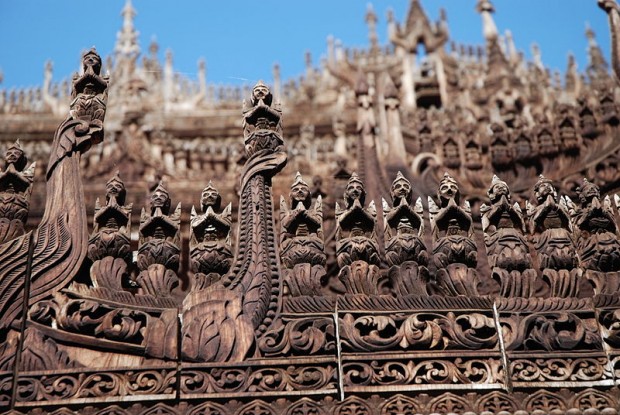 Image credit: Thomas Schoch
Shwenandaw Monastery is one of the most important religious buildings in the Mandalay region. This fine, teak monastery-temple is lavished in carved panels and it is this intricate carving for which it is known. The interior carvings show scenes from the life of the Buddha in gilded Jakarta scenes.
4. Musmeah Yeshua Synagogue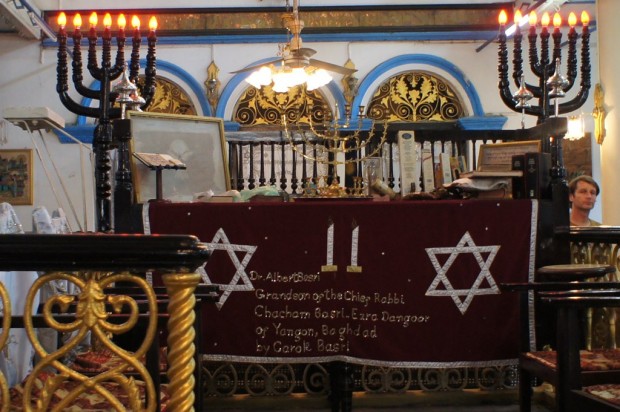 Image credit: Esme Vos
Musmeah Yeshua Synagogue is the only Jewish place of worship in Myanmar's capital city and it is the country's only synagogue. This was once the centre-point of an influential community of Sephardic Jews and now sits in the city centre between Indian paint shops and a variety of Muslim traders.
5. Mahamuni Buddha Temple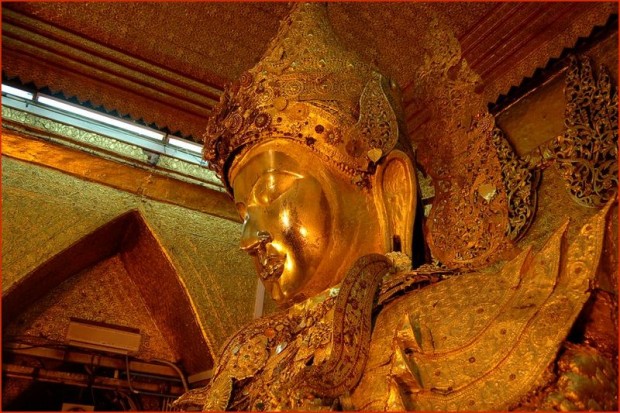 Another major pilgrimage site, the Mahamuni Buddha Temple houses the Mahamuni image of Buddha. This relic is said in ancient times to be one of only five likenesses of the Buddha, two of which are in India, two in heaven and one here. The Buddha is said to have breathed on the Great Image after which it became an exact likeness of the Great Sage.
6. Kuthodaw Pagoda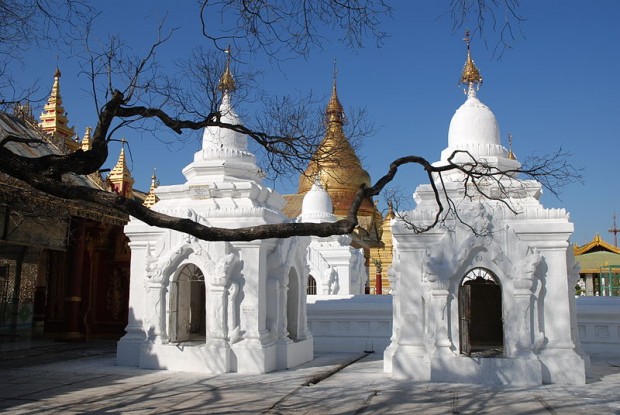 Image credit: Thomas Schoch
Kuthodaw Pagoda is a Buddhist stupa that contains the largest book in the world. The book consists of stone tablets. It has 730 leaves and 1460 pages, each one of which is 13 centimetres thick, 153 centimetres tall and 107 centimetres wide. Each stone tablet is enshrined in its own small cave-like structure with a precious gem on top and these are arrayed around a central gilded temple.
7. Sulamani Temple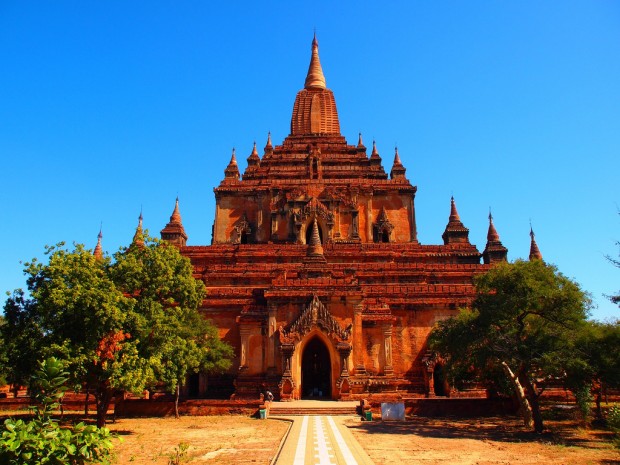 Image credit: Paul Arps
Sulamani Temple is situated in the village of Minnanthu in Bagan. It is the most frequently visited temple in this region. It was built in 1183, using brick and stone, by command of King Narapati sithu. Sadly it was destroyed in the earthquake of 1975 but was rebuilt entirely in 1994.
8. Ananda Temple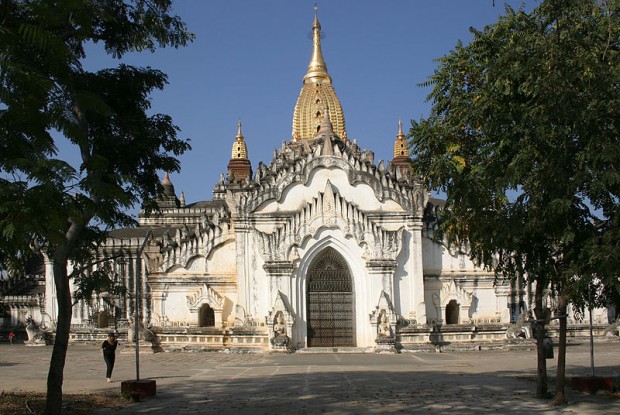 Image credit: Gerd Eichmann
Ananda Temple is another of the four surviving temples in the Bagan region. This Buddhist temple is said to be one of the best surviving examples of Mon architecture. It was built in 1105 during the reign of King Kyanzittha of the Pagan Dynasty, the first of the great temples of Bagan and one of the country's most beautiful.
9. Dhammayangyi Temple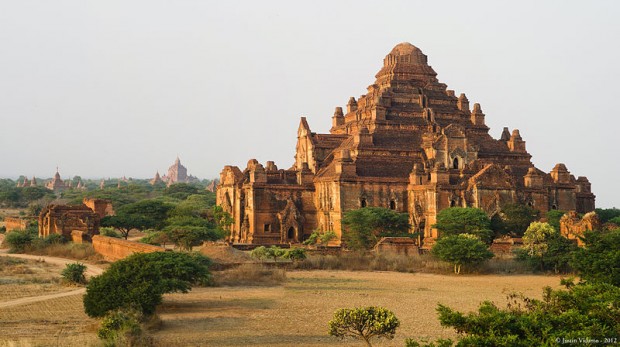 Image credit: Justin Vidamo
Dhammayangyi Temple is the largest of the four Bagan temples. It is commonly known as Dhammayan and was built in the late 12th Century during the reign of King Narathu. This pyramidical structure has sides that are 78 metres long and has six terraced tiers. From a distance it resembles the stepped pyramids of Egypt.
10. Mandalay Hill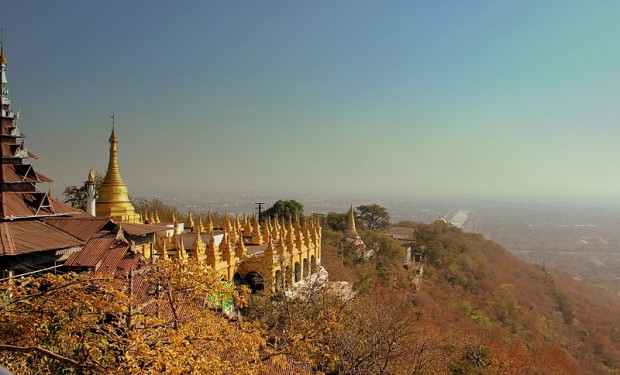 Image credit: calflier001
Mandalay Hill, 240 metres in height, towers above the ancient Burmese capital of Mandalay. Climbing the hill is a gentle excursion and there are many sites to visit along the ascent. From the top of the hill those who have bothered to make the climb are rewarded by amazing views out over the old city and to the Mandalay plains and beyond.
Also read: A Glimpse of the Mythical Landscape of Myanmar
11. Mandalay Palace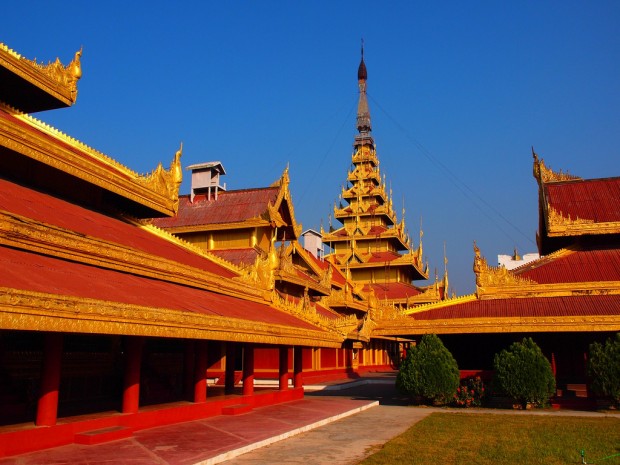 Image credit: Paul Arps
Mandalay Palace is the last royal palace of the Burmese royalty, though no monarch has lived in this grand palace complex in a hundred years. But this palace in the city of Mandalay was restored in the 1990s and now stands as a fascinating window into Burma's past to be enjoyed by tourists to the historic and culturally interesting city.
12. Inya Lake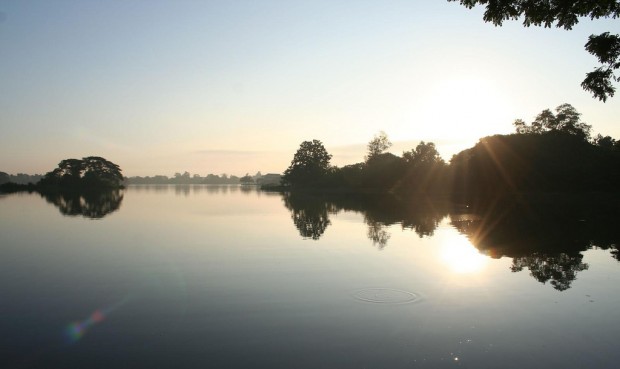 Image credit: Federico Lukkini
Inya Lake is the largest lake in Yangon, created as a reservoir by the British in 1883. This is one of the swankiest areas of the city to live and is a popular place for local recreation. To the south side of the lake you can see the address where for years, Aung San Suu Kyi was kept under house arrest. Inya Lake has a reputation as a good place for romance.
13. Sule Pagoda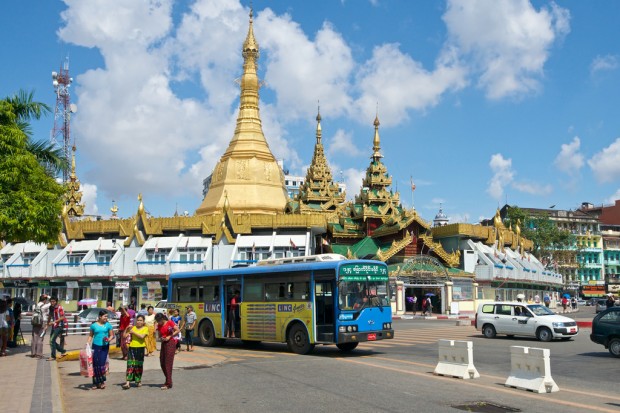 Image credit: Eugene Phoen
This gilded pagoda is located in the centre of Yangon. According to legend it is more than 2,500 years old and was built during the time of the Buddha. It is a focal point of Burmese politics and was a rallying point during the 1988 uprisings and the 2007 Saffron Revolution.
14. Pindaya Caves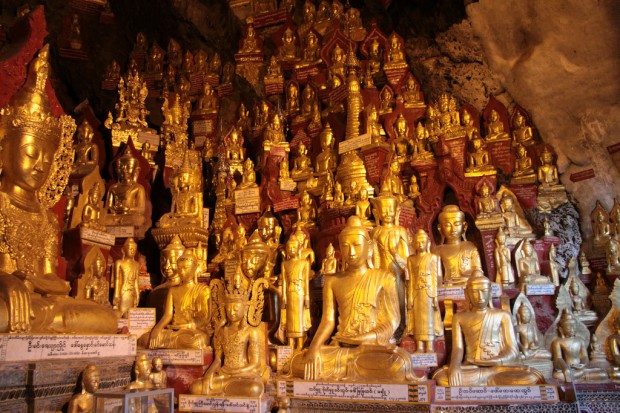 Image credit: Terry Feuerborn
The Pindaya caves, near the town of Pindaya, is a natural cave in a limestone ridge which has been filled with thousands of golden Buddhas, in various sizes and styles, perched on rock shelves and between stalagmites.
15. Kandawgyi Lake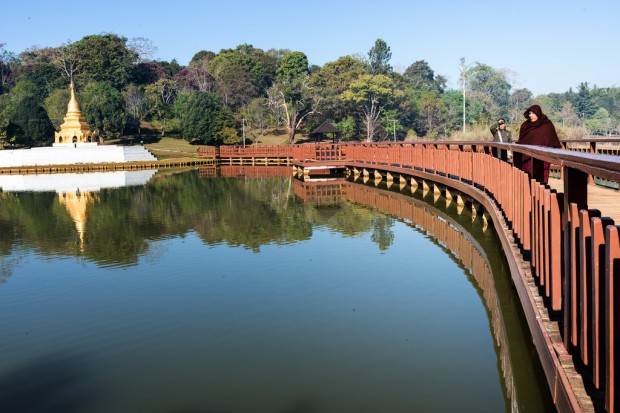 Image credit: Thaths
Kandawgyi Lake is the second of the two artificial lakes in Yandon, fed by water piped from Lake Inya. It was created to provide clean drinking water to the city. It is surrounded by a Nature Park which is a lovely place for a stroll or a picnic.
16. Shwemawdaw Paya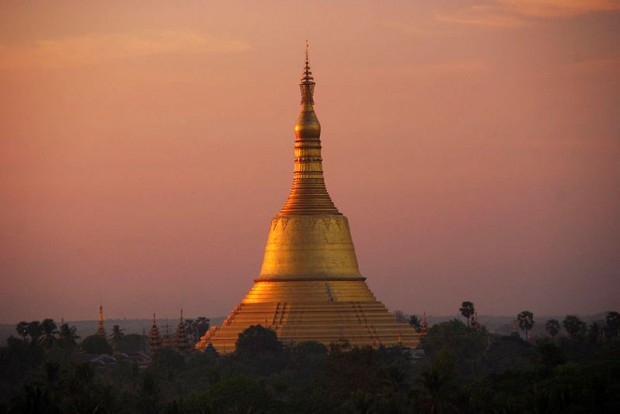 Image credit: Vera & Jean-Christophe
This stupa in Bago is the tallest pagoda in the country at 114 metres in height. It is often referred to as the Golden God Temple.
17. Thatbyinnyu Temple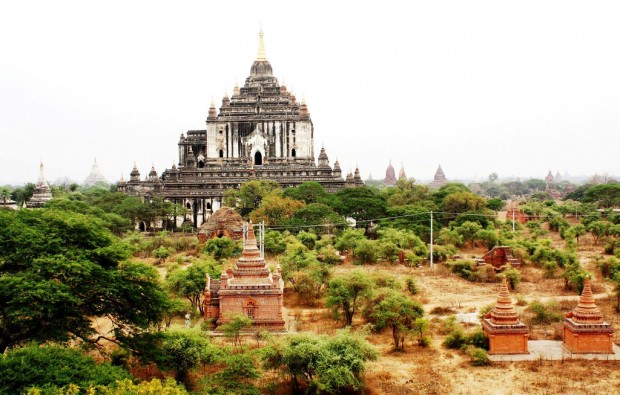 Image credit: dany13
Thatbyinnyu Temple is the last of the four Bagan temples. It was built in the mid 12th Century during the reign of the King Alaung Sithu. It is shaped like a cross but is not symmetrical.
Also read: A Photographer's Dream: The Golden Lights of Bagan, Myanmar
18. Botataung Pagoda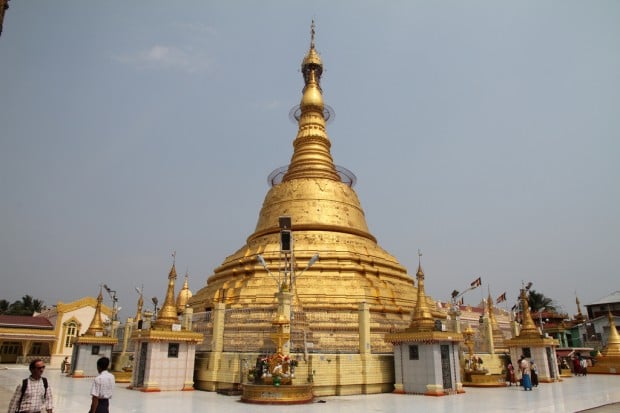 Image credit: Travel Aficionado
This is another famous pagoda situated in Yangon, on the banks of the river of the same name. It is said to have been built 2,500 years ago and has a 40m high golden main stupa.
Where to stay?
Consider these two hotels during your stay in Yangon:
Best Western Green Hill Hotel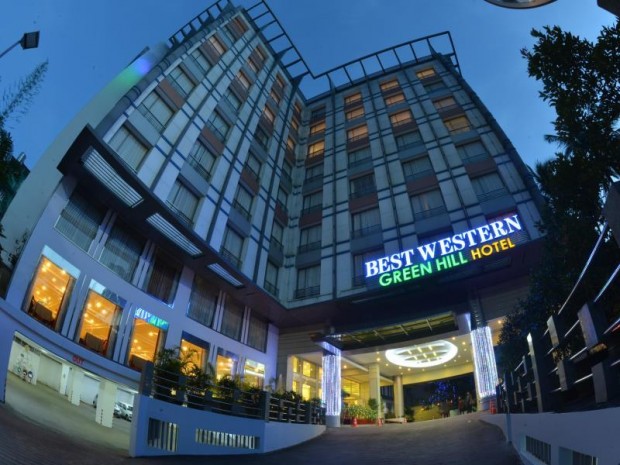 Set in a quiet, leafy street in the heart of Yangon, BEST WESTERN Green Hill Hotel provides the perfect base from which to explore the city's many charms and treasures. Just short walk from Kandawgyi Lake, this modern midscale hotel provides 187 rooms with large windows that overlook the glittering spires of the Shwedagon Pagoda.
Best Western Chinatown Hotel
And a short distance away in downtown Yangon, Best Western Chinatown Hotel provides another convenient location in the heart of the city. Opened in 2015, this new hotel perfectly combines the high-tech amenities of an international hotel with the local charms of its vibrant neighbourhood.
The wonders of religion and history are just some of the many attractions you will find if you visit mysterious Myanmar. What are you waiting for? A great adventure awaits!