New Zealand is made up of three main islands, the North, the South and Stewart Island. Each island has its own charm and is unique in its own way.
The South Island is the largest of the three islands but is not as populated as the North. A mixture of grass plains, rocky alps and majestic fiords make up a simply stunning part of the world that has to be seen to be believed.
The South Island is a picturesque haven for travellers with plenty on offer.
Also read: 15 Must Visit Attractions in New Zealand's North Island
1. Get close to wildlife at Marlborough Sounds
Image credit: Rob Suisted
A good place to start in the South Island is at the very top. Marlborough is home to not only the largest wine region in the country but the famous Marlborough Sounds. Marlborough Sounds is noted for its abundance of bird and marine life – home to some rare species like the king shag, found nowhere else in the world. It's common to spot the shags, dolphins, seals, whales and penguins playing in the natural environment of Queen Charlotte Sound. Hop on a boat and jump in with the playful dolphins for an experience you will never forget.
2. Experience all sorts of outdoor fun at the Nelson and Abel Tasman National Park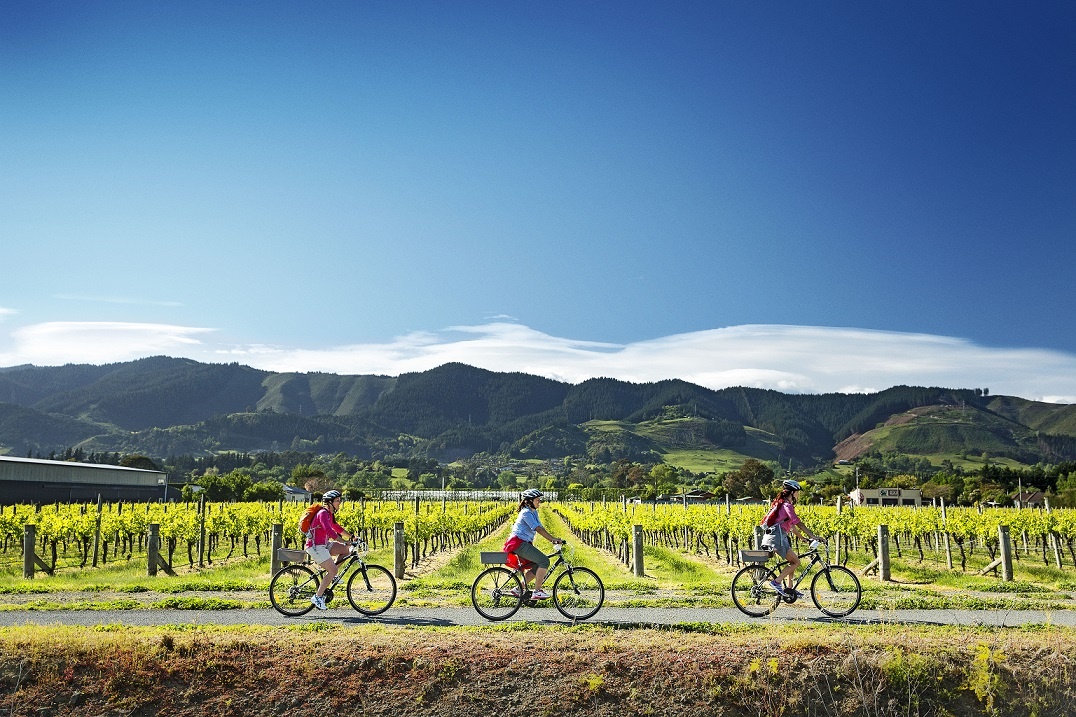 Image credit: Dean McKenzie 
The Nelson Tasman region of New Zealand is a beautiful example of golden sand beaches, pristine coastline enriched with an artistic energy and home to a number of New Zealand's top artisan producers. Protected national park areas set the scene for year-round nature, wildlife and outdoor experiences including sea kayaking, rock climbing, white-water rafting, mountain biking, sailing, horse trekking and swimming with marine life. The sea surrounding Nelson is the source of some of New Zealand's finest seafood, and the sunny coastal climate produces grapes for wine, fresh fruit and produce. Cycling the Great Taste Cycle Trail is a popular way for visitors to explore some of Nelson's best flavours.
3. Marvel at West Coast's breathtaking landscapes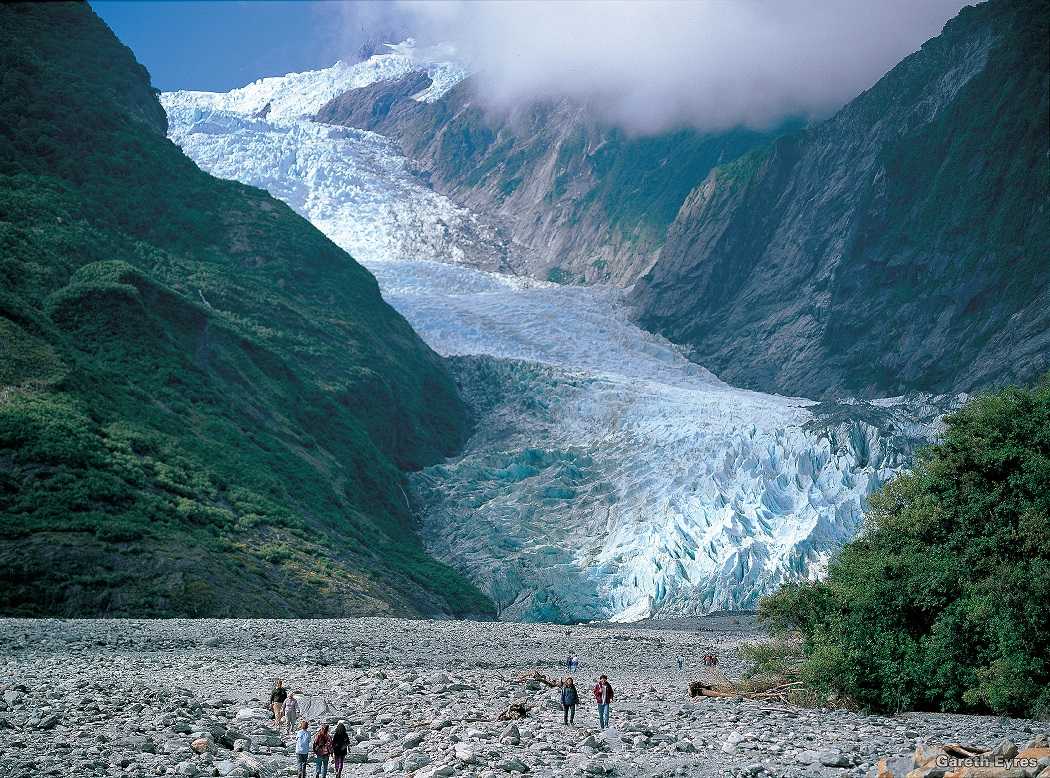 Franz Josef Glacier | Image credit: Gareth Eyres
The rugged West Coast of the South Island is home to wild coastline, mountain peaks, glaciers, rain forests, lakes and sparse population. Glaciers are a must see while on the West Coast, more than 140 glaciers flow down from the Southern Alps, but only Fox and Franz Josef glaciers reach as far as the West Coast's lower rainforests — one of only two places in the world where a glacier meets a rainforest. At Franz Josef and Fox — two of the world's most accessible glaciers — guides take hiking tours through seracs, pinnacles, caves and crevasses. Adventure-seekers can also try ice-climbing, mountaineering and heli-hiking.
4. Spot giant sperm whales at Kaikoura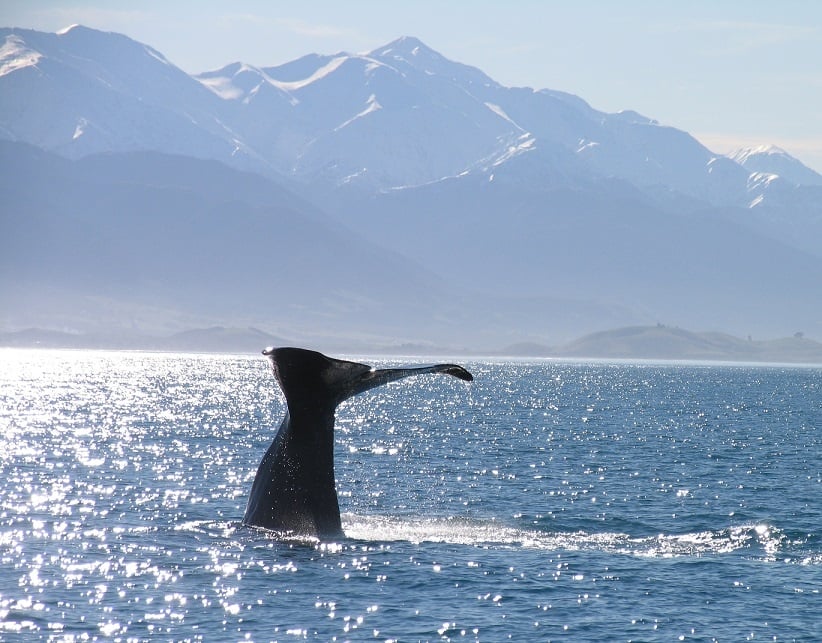 Jumping to the east coast of the South Island, south of Marlborough, you will find Kaikoura, a destination famous for whale watching and fresh crayfish. Whale Watch Kaikoura is one of New Zealand's most famous tourism activities. Whale Watch Kaikoura each year takes around 100,000 visitors out on to the Pacific Ocean to view (with 95% success rate) the giant sperm whales that frequent this rich marine environment. After a day on the water head to Nin's Bins, the iconic roadside stall that sells fresh crayfish, Kaikoura translates to 'eat crayfish, so it would be rude not to.
5. Channel your inner artist in Christchurch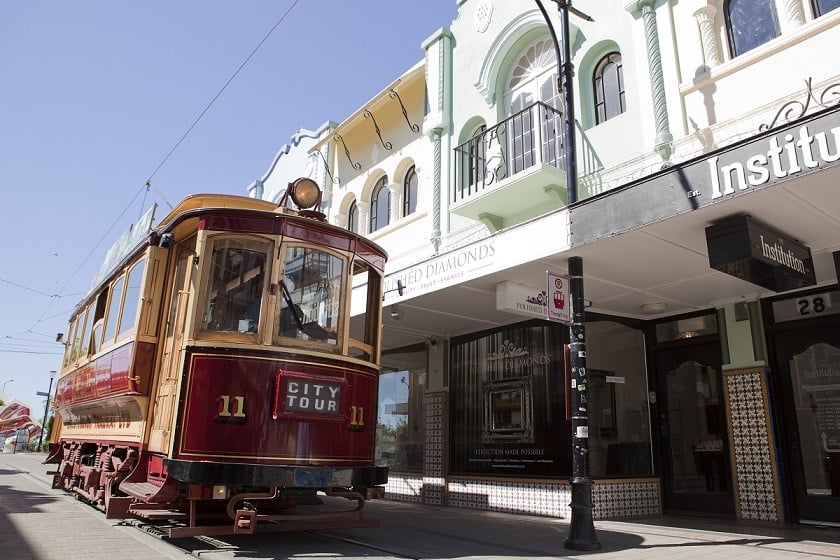 Christchurch is the second largest city in New Zealand, a city of art, culture and inspirational storytellers that also serves as a gateway to fun-filled South Island adventures. The 'garden city', a modern and creative city hub filled with retrospective art, pop-up container centres, innovative bars and restaurants, and the world's-first cardboard cathedral. The brand new Christchurch Art Gallery is a must visit and a testament to a city on the rise. Be sure to visit the surrounding areas like Lyttelton Harbour, Akaroa and Banks Peninsula.
6. Stargaze at Aoraki Mt Cook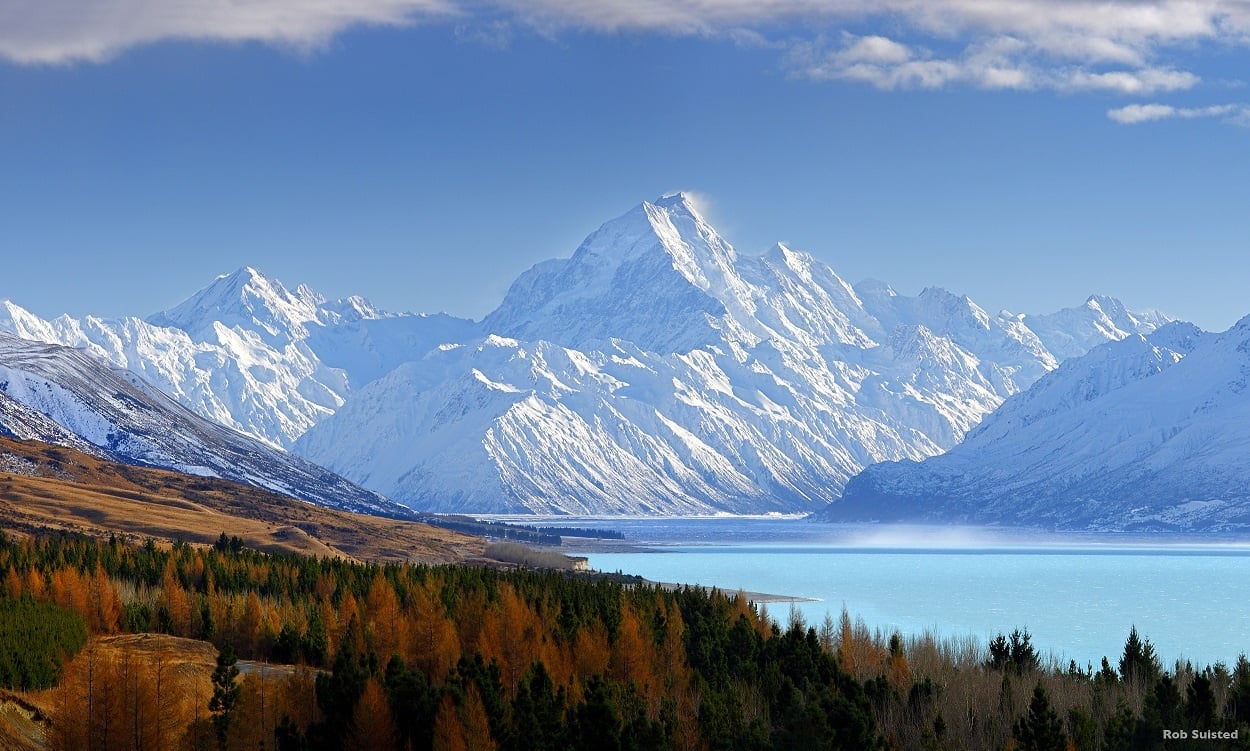 Mt Cook and Lake Pukaki | Image credit: Rob Suisted
The tallest mountain in New Zealand is the mighty Aoraki Mt Cook, standing at 3,724 m. Mt Cook is part of the Southern Alps and found in the Mackenzie region of the South Island. Mackenzie is famous for its night skies and is a proud gold-rated dark sky reserve, in recognition of the quality of the almost light-pollution-free skies. Aoraki Mt Cook's Hillary Alpine Centre and Planetarium, the world's southernmost planetarium, offers sky tours with Big Sky Stargazing. The full dome digital planetarium incorporates a 3D theatre with 126 seats. Named after Sir Edmund Hillary, the first person to conquer Mt Everest, the centre is located at the foot of Mt Cook.
7. Bungy jump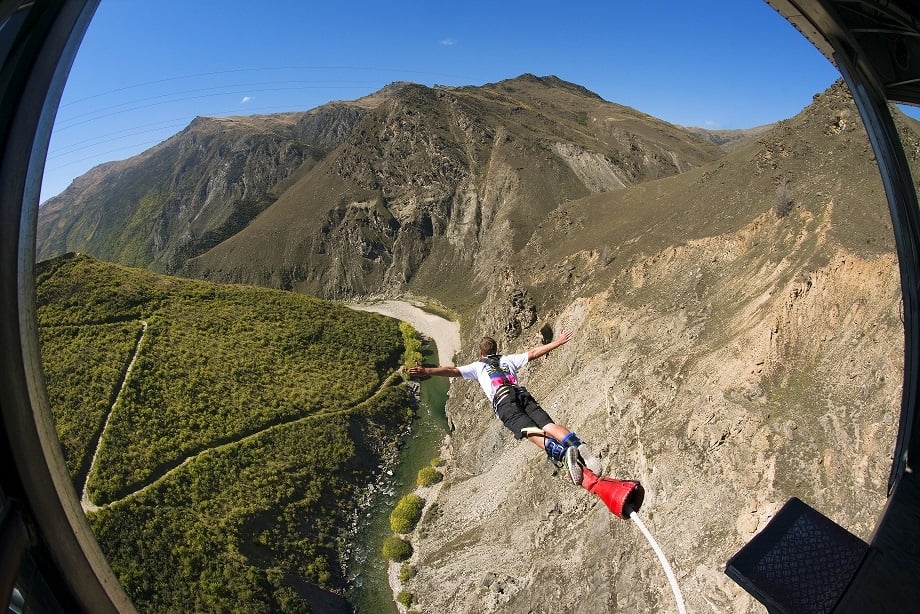 Image credit: AJ Hackett Bungy New Zealand
When New Zealander AJ Hackett came up with the idea of bungy jumping as a tourist activity most people thought he was crazy. But since setting up the world's first commercial bungy site in the world in Queenstown, he has never looked back. The Kawarau Suspension Bridge is 43m above the Kawarau River and where those who are brave enough take the plunge. If the Kawarau is conquered then try the Nevis Bungy, accessed from the same site but 134m above the Nevis canyon. Good luck!
Also read: Top 10 Adventure Activities in New Zealand
8. Sample the country's best pinot noir at Gibbston Valley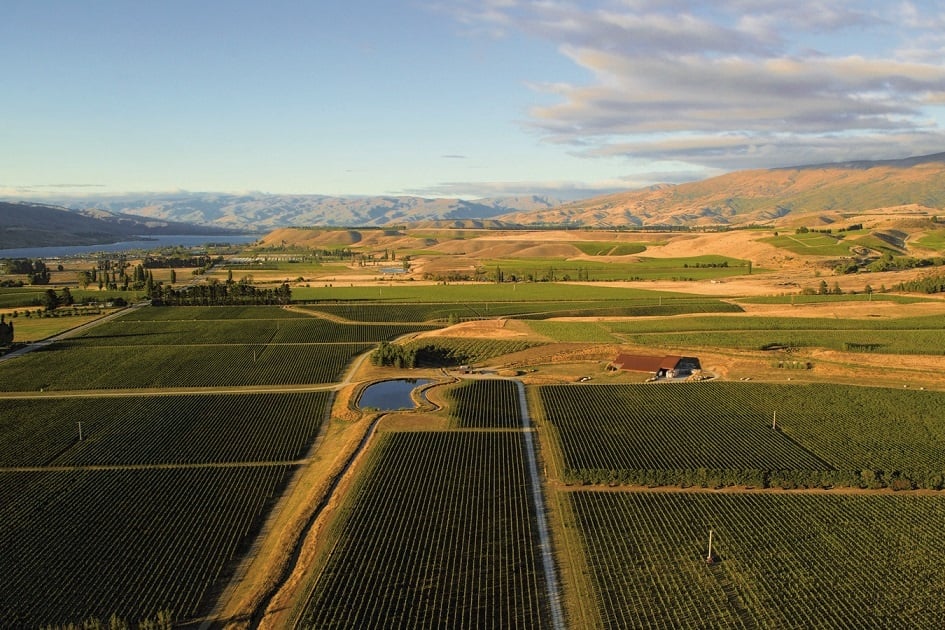 Amisfield Estate, Central Otago
The Gibbston Valley, just outside of Queenstown in Central Otago, produces some of the best pinot noir in the country. Internationally renowned for its pinot noir, Central Otago, is a beautiful backdrop to some of the most picturesque vineyards in the country. Amisfield Winery boasts an incredible restaurant famous for its 'Trust the Chef' menu. Gibbston Valley Winery not only makes award winning wine but also has an onsite cheese shop and their own range of Gibbston Valley chocolate. Don't forget to give Sheeba, the famous winery dog, a pat on your way out.
9. Cruise Lake Wakatipu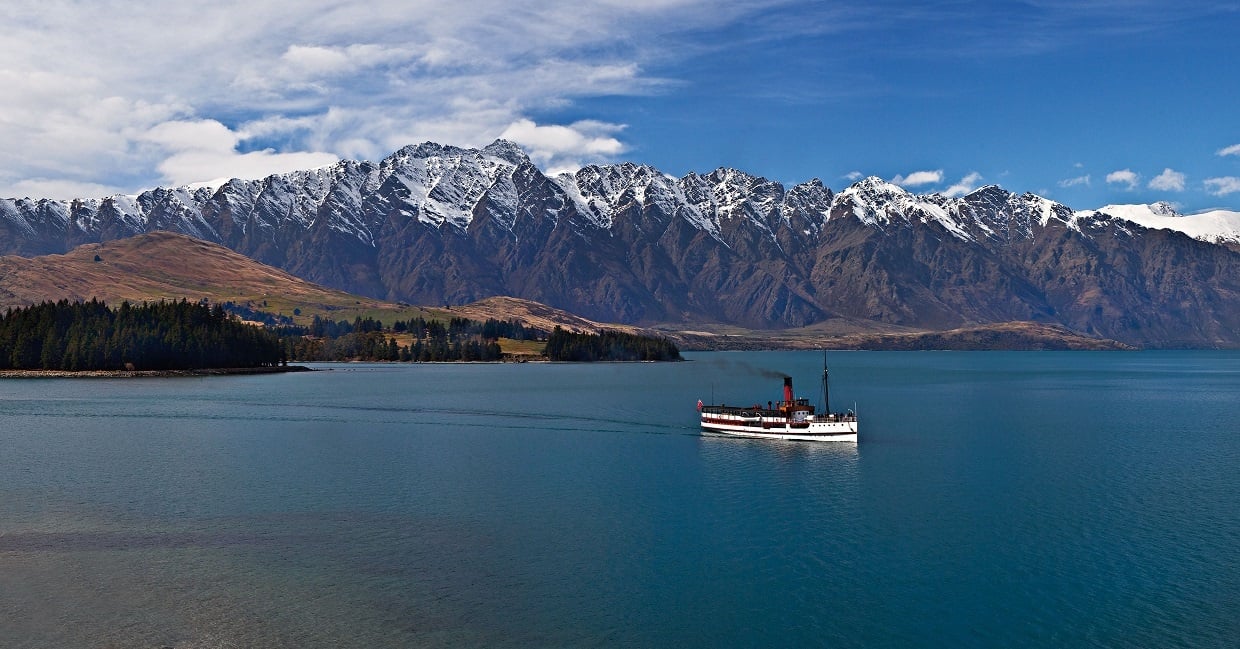 The popular tourist hotspot of Queenstown is on the shores of Lake Wakatipu with the awesome Remarkables mountain range as a backdrop. The TSS Earnslaw, known as 'The Lady of the Lake', is an Edwardian vintage twin screw steamer that takes guests on 90 minute cruise across the lake. It showcases some of Queenstown's spectacular alpine scenery while offering you plenty of time to explore a piece of Queenstown's living history. Cruises depart regularly throughout the day. You can choose to do a cruise and visit the Walter Peak High Country Farm for a guided farm tour, horse trek, barbecue lunch or evening dining.
10. Tee off in stunning surroundings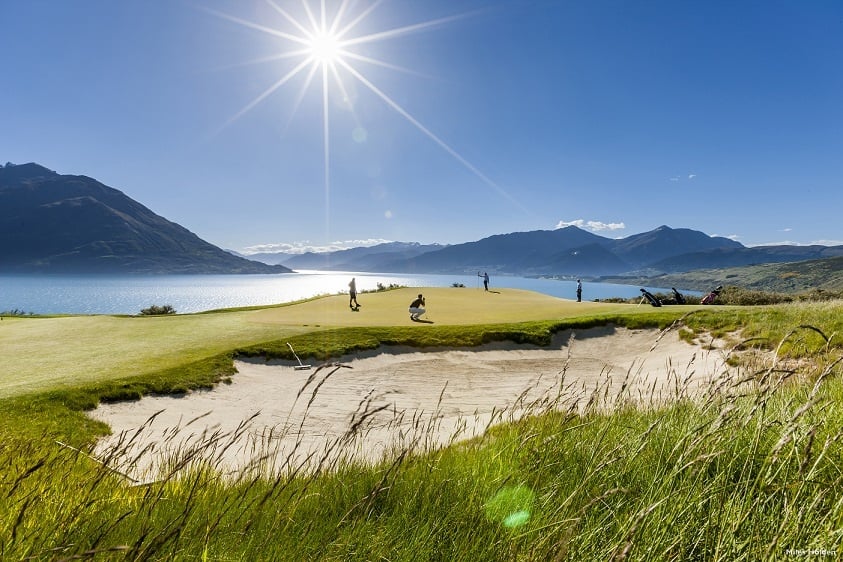 Jacks Point | Image credit: Miles Holden
Queenstown has some great golfing options, whether it be high end resort courses or rustic club courses that you crave. Jacks Point, The Hills and Millbrook offer challenging resort style golf each with their own unique features and interesting layouts. The Queenstown Golf Club on the shores of Lake Wakatipu is a more laid back round of golf but still a breathtaking experience. The small village of Arrowtown, 20 minutes from Queenstown, has one of the most interesting layouts of any course in New Zealand and is a completely different golfing experience. If you are a golfer a round of golf in Queenstown is a must do, maybe two or three.
11. Journey to Middle Earth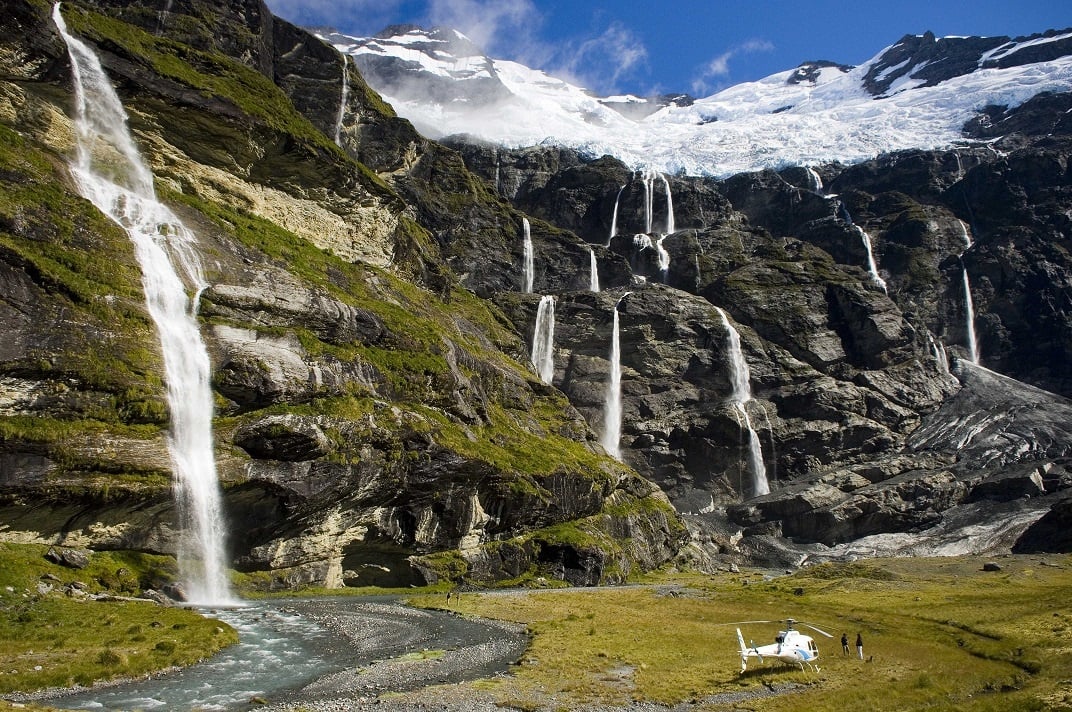 Earnslaw Burn LOTR Tour | Image credit: Heliworks
You may not be able to fly to Middle Earth on the back of Gandalf's great eagle but you can on board a Heliworks special helicopter flight. The ultimate Lord of the Rings tour takes you on a 3.5-hour trip into Isengard, across the Misty Mountains and to the Ford of Bruinen. Peter Jackson himself used Heliworks' helicopters for aerial filming and transportation of cast to Lord of the Rings film locations in and around Queenstown and Fiordland.
Also read: Journey Across Middle-earth New Zealand
12. Ride the river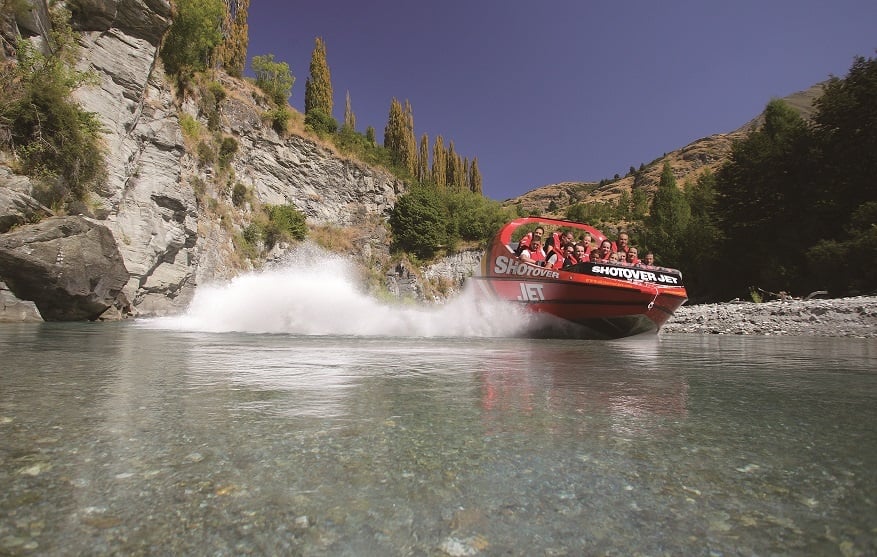 Shotover Shallow | Image credit: Shotover Jet
Queenstown is home to the original jet boat experience, the Shotover Jet. The Shotover Jet has carried more than three million passengers, hurtling down the Shotover River rapids with squeals of equal parts terror and delight at the full 360-degree spins, twists and tight turns between the grey rock canyons of one of New Zealand's most memorable landscapes. Today, Shotover's signature 'Big Red' jet boats are one of New Zealand's most famous and iconic tourist attractions and widely regarded as the world leader in commercial jet boating.
13. See the Eighth Wonder of the World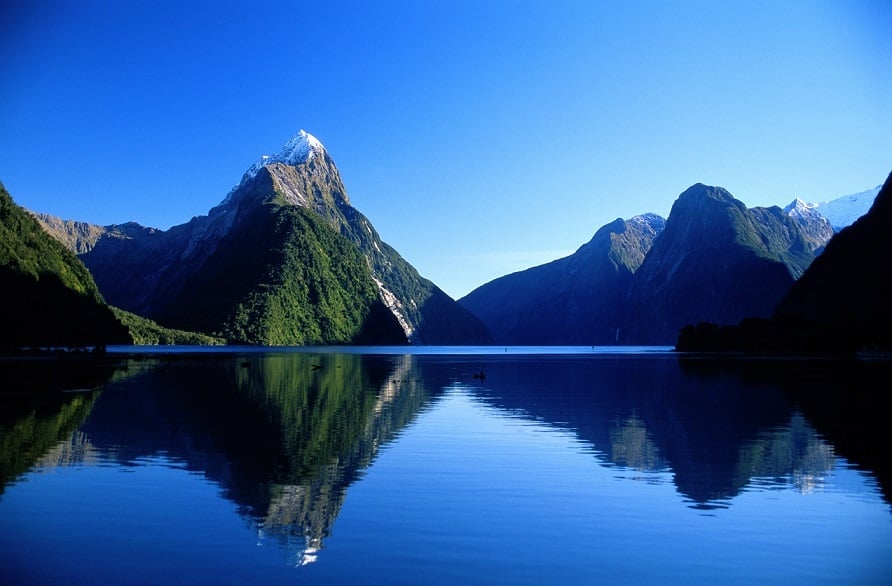 Mitre Peak, Milford Sound Fiordland | Image credit: Destination Fiordland
Rudyard Kipling famously described Milford Sound as the eighth wonder of the world and you have to visit it to see why. Milford Sound is a magnificent fiord cutting into the south-western coast of New Zealand's South Island. It sits within Fiordland National Park which is part of Te Wahipounamu, a UNESCO World Heritage Area. Ranked at 17 in Lonely Planet's top 500 places in the world to visit, Milford Sound is an impressive site no matter the conditions, whether it's teeming with rain, shrouded in mist or glistening in the sun.
Also read: New Zealand's Top 10 Holiday Activities
14. Explore the Southern City of Dunedin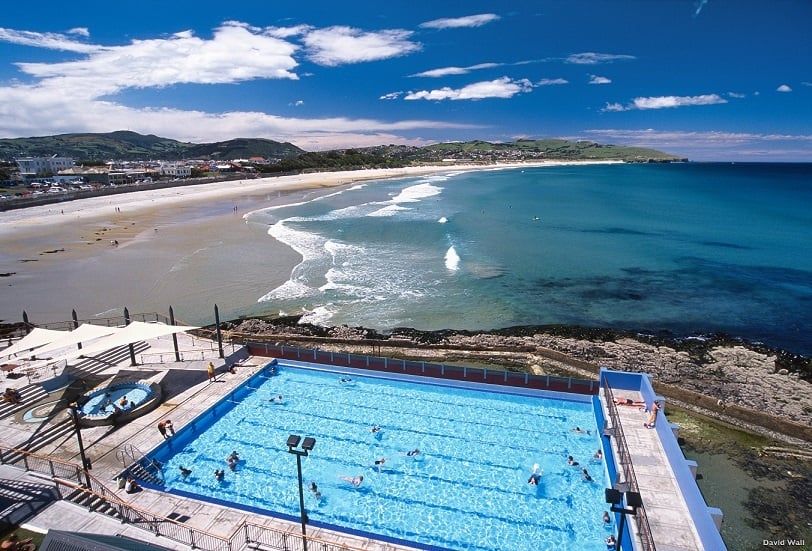 Saint Clair, Dunedin | Image credit: David Wall
The southern city of Dunedin has a rich Scottish heritage, historic architecture, New Zealand's oldest university, and populations of curious wildlife that inhabit the Otago Peninsula. An internationally recognised city of literature, Dunedin's beautiful Edwardian and Victorian architecture sets the scene for quirky city vibe celebrating the old while harnessing the new. Visit the Royal Albatross Centre on the Otago Peninsula and see the only mainland colony in the southern hemisphere. Yellow-eyed, the world's rarest penguin, New Zealand fur seals, and sea lions also live on the peninsula. Home to the steepest street in the world, once a year during the annual Cadbury Chocolate festival, thousands of jaffas, and iconic hard shelled chocolate, are rolled down the hill much to the crowd's delight. There is always something to see and do in Dunedin which is why it is a city you must visit on a South Island tour.
15. Set foot on Southland and Stewart Island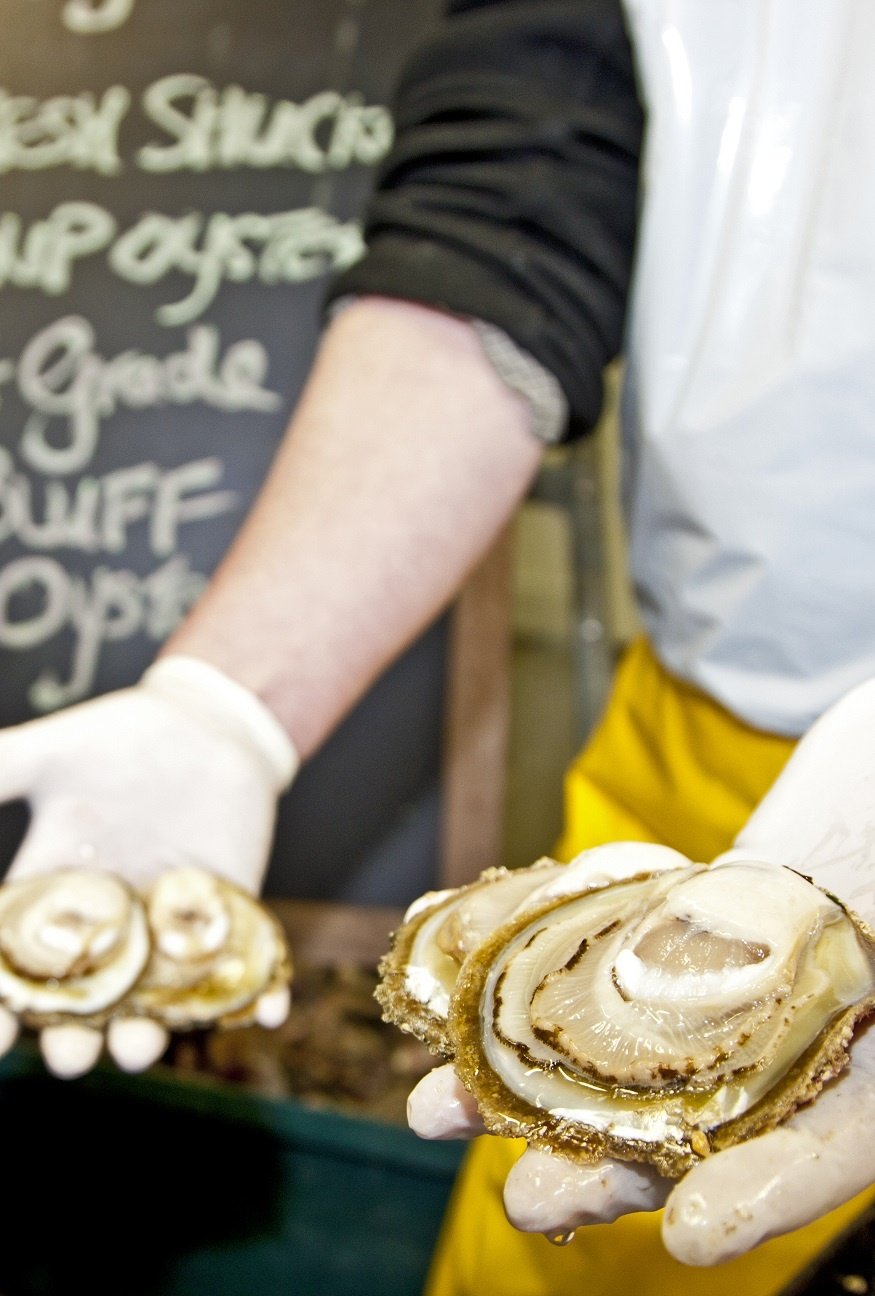 Finishing the tour at the end of the road is a fitting finale to a South Island adventure. The Southland region is home to some of the most untouched landscapes in New Zealand. Curio Bay in the Catlins is home to a 180-million-year-old fossilised forest. The petrified stumps, fallen trees and fern imprints are easily accessed at low tide, or can be viewed from a platform above. Bluff, the last stop before Stewart Island, is where the famous Bluff oyster comes from and hosts the annual Bluff Oyster Festival, a hugely popular event with locals and tourists alike. For bird lovers a trip over the Forveaux Strait to Stewart Island is an amazing experience and one of the only places where you might catch a glimpse of the southern brown kiwi in the wild.
Come and see for yourself the beauty of New Zealand!
For more information, visit http://newzealand.com
---
Brought to you by Tourism New Zealand.