For many travellers, Singapore is the baby step into exotic Southeast Asia. After all, Singapore is relatively safer and better-regulated than other countries in the region, and the lingua franca is English. But is that all Singapore has to offer? Beneath the array of petty crimes you could get fined for, and the very safe roads, here are some unique challenges that you should try braving the next time you hit this sunny island!
1. Go indoor skydiving at iFly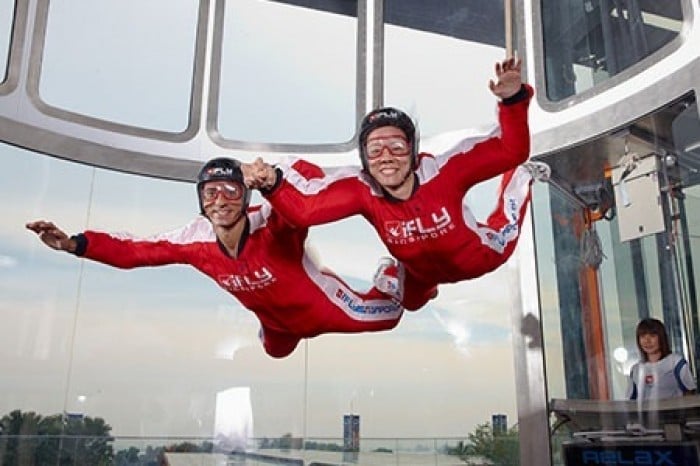 Image credit: TravelDelight
Look nowhere else, Singapore does have its own world-class skydiving experience! And yes, granted it isn't an outdoor one, but hey, a simulated experience is likely to be much safer for the young ones, since there is no jumping, no bad weather, and no plunging involved. The risks are practically reduced to near zero! Plus, it's a great way to test out if you really have the guts to go through with the real thing.
Every flyer gets to experience two skydives in the flight chamber, the world's first and largest themed wind tunnel.  The experience simulates falling through the air from 12000 feet to 3000 feet, and the experience is fully supervised by internationally-certified instructors. Imagine the wind gushing past your face! And there's even a learning curve involved, if you'd like. These friendly instructors will also ensure that return flyers learn something every time they come, so you don't just come, fly (or rather, float), and go off.
Almost everyone can fly, including those with physical disabilities, as long as you inform them in advance. Of course, there are also some other health conditions that one would have to fulfil, but most of us would fall into the category of being fit enough to fly. Find out now if you can fly!
2. Scream your heart out on the G-Max Reverse Bungy
If you still prefer to be somewhat tethered to the ground, then why not try this? Situated in Clarke Quay, the suspended swinging capsules often draw passers-by and pub-goers with screams of exhilaration.
There are two rides here—the G-Max Reverse Bungy and the GX-5 Extreme Swing. The main difference between the two rides, from what I have gathered, is that the G-Max spins 360 degrees at 60 metres in the air and at up to 100 km/h, which kind of feels like you're one flimsy piece of clothing in the dryer. The GX-5, on the other hand, is exactly like its namesake—an extreme swing.  It falls from 50 metres, and can reach speeds of up to 120km/h.
Also read: 10 Thrilling Activities in Singapore that Only Daredevils Should Try
Personally, I've taken the G-Max at night, and it was just AMAZING. Your backside literally lifts off the seat at the moment you start dropping and spinning down, and seeing the night sky whoosh past you as you descend was simply…. I don't even have words to describe the feeling! Not to mention that screaming your lungs out was incredibly therapeutic—lovely for venting some intense emotions.  I'd do it again in a heartbeat!
3. Hunt down the eight Merlions in Singapore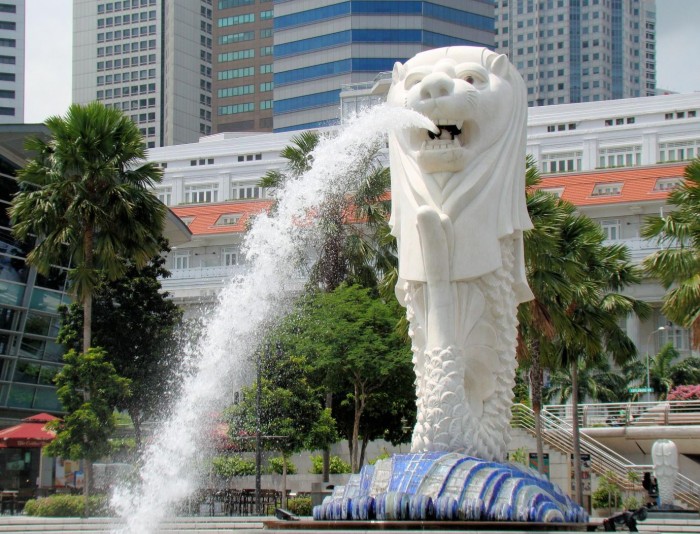 Image credit: Bjorn Christian Torrissen
The Merlion is synonymous with Singapore, in name and association. This mythical creature with a lion-head and fish body has its roots in Singapore's naming origins and its history as a fishing village.
Also read: Quick Guide to Understanding Singaporean Expressions
To date, there are eight statues of the Merlion in and around Singapore, and they come in all sizes. The first and original one is now situated in the Merlion Park, right in front of The Fullerton Hotel, where it overlooks the entire Marina Bay circuit.
Where are the other 7? I'll leave you to find out! And hey, while we're at it, I have something to ask of all of you! Upload your creative selfies with all the Merlions you come across during your sojourn in Singapore and hashtag them with #trippinwithmerlion. Let's see how many poses we can come up with!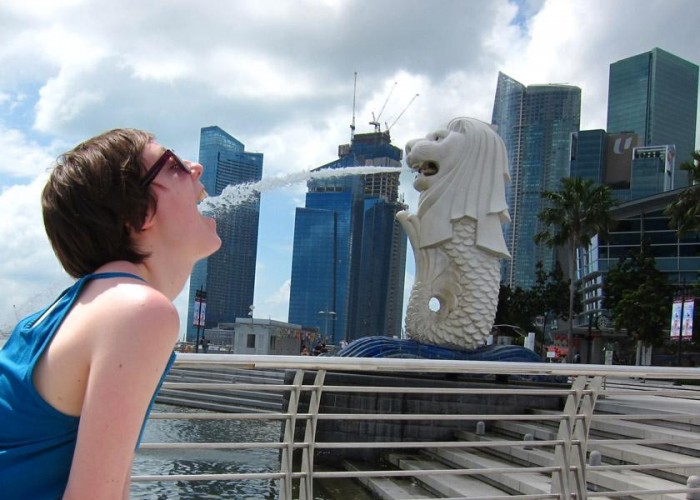 Image credit: Rosie Cunningham
4. Be the first to insert the joss stick at the temple during Chinese New Year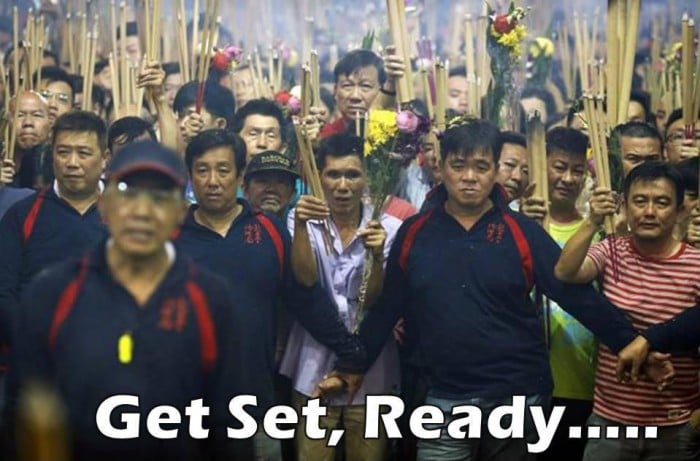 Image credit: SG News Yahoo!
Imagine Black Friday. At Best Buy. Or any mall in the United States. That is approximately what and how it looks like in Chinatown on the eve of Chinese New Year.
My dare to you: be the first person to stick in a burning joss-stick into the joss-stick urn at the stroke of midnight on the first day of the Lunar New Year.
Kwan Im Thong Hood Cho Temple is one of the oldest and most famous temples known to Buddhist devotees in Singapore. Built in 1884, the temple draws devotees like bees to honey come every eve of Lunar New Year, as it is believed that the first person to insert the joss-stick into the urn will be blessed with all the good fortune and luck in the New Year. You can imagine the mad dash and the pushing and shoving to get to the coveted urn.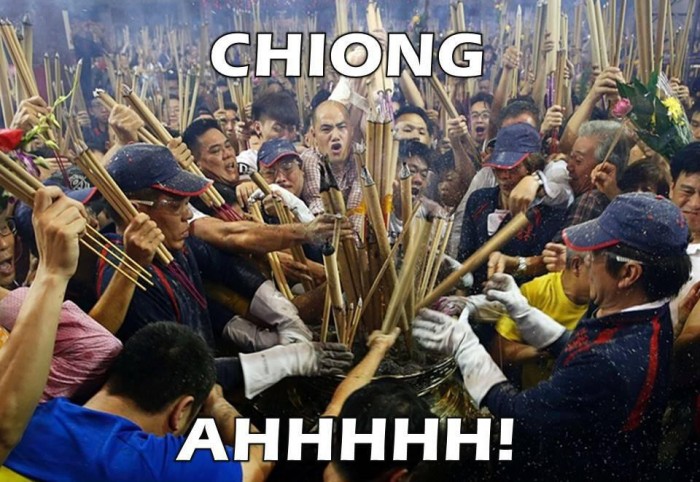 Image credit: The Guardian
A quick tip to all who dare to take up this challenge: be there early to snag a good spot, and prepare sufficient refreshment and fans—once you get in, you can't get out!
And for those who'd like to soak in the Chinese New Year atmosphere without all the incense smoke, you can join in the festivities in Chinatown!
5. Shower outdoors in natural spring water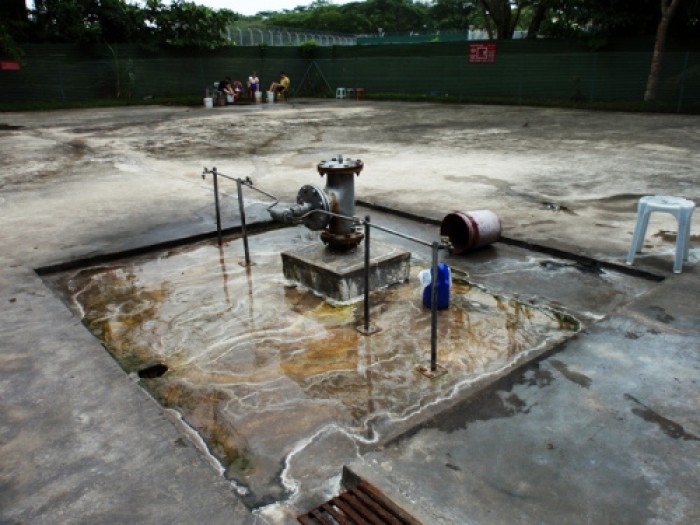 Image credit: TimelessBeauty
Get spring water right from its source here! Widely believed to have healing properties, the hot spring in Sembawang is Singapore's one and only natural hot spring. Although nestled in a quiet nook within the Sembawang Military Air Base grounds, the spring itself is open to public from 7am to 7pm daily and admission is free. While walking to the hot spring, one will see residents swinging empty buckets along the way, presumably to collect spring water to bring home for their own use.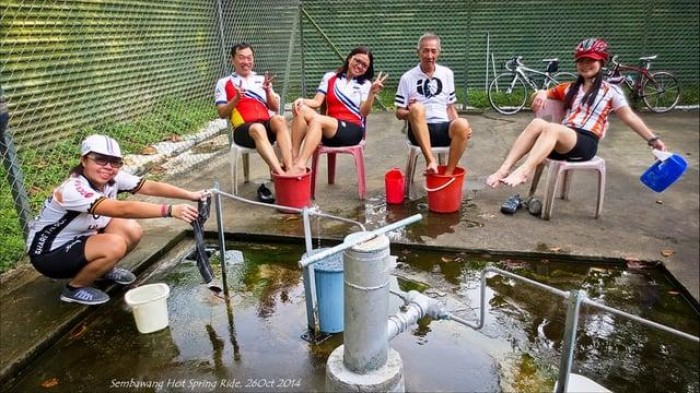 Image credit: Johnston Loh
People who visit the spring mostly dip their feet into the hot spring water, though there are some who are completely fine with submerging their entire bodies into the tubs of water, or taking quick showers, kampong style.
Some even recreate the entire onsen experience Singapore-style, bringing raw eggs, pepper, and salt to cook some half-boiled eggs!
There are buckets provided, but if you're concerned about hygiene, do prepare your own. Also note that there are no toilet facilities available.
6. Make your way to Chek Jawa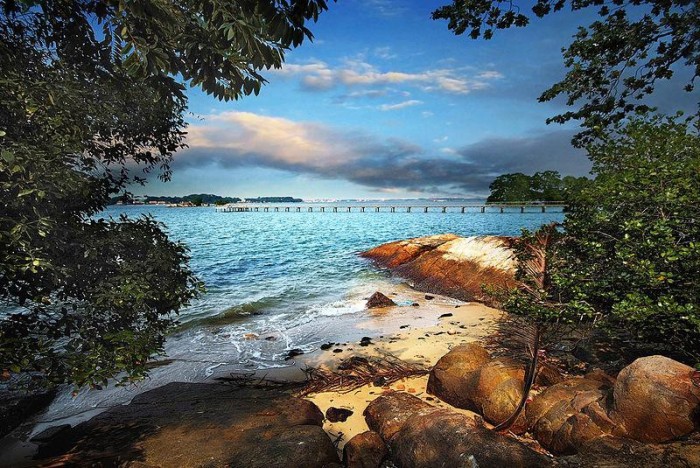 Image credit: William Cho
This is one challenge that nature lovers would love to take up. Located on the south-eastern coast of Pulau Ubin, the wetlands boast one of Singapore's largest and richest eco-systems and one of the last few places with a natural rocky shore. It is great for an educational nature trip for families, as several ecosystems can be observed in action here, including mangroves, corals, and seagrass. It is best to visit the area at low tide, as that it when much of marine life is exposed for viewing.
In addition, the site has also been identified as an Important Bird Area by BirdLife International, not least because it is a preferred resting spot for both resident and visiting birds, some of which are threatened. So nature photographers, come here armed with your cameras, and you just might catch a glimpse of some rare species of bird!
As Chek Jawa is a nature preservation area, do clean up after yourself and leave the place in the same condition as it was when you came.
Remember: Leave nothing but footprints, take nothing but memories!
7. Bird watch in a cemetery
Image credit: All Things Bukit Brown
Now, I'm not sure if they do this in other countries, but Singapore does. The Nature Society of Singapore regularly hosts bird-watching and nature walks at Bukit Brown Cemetery, a public Chinese cemetery purported to be the biggest Chinese graveyard outside of China in the early 20th century. Heritage and conservation website set up by members of the community claim that the cemetery is home to nearly 25% of the bird species in Singapore, including the Great Racket-Tailed Drongo, the Banded Woodpecker, and the Changeable Hawk Eagle, amongst others.
There are also DIY tours, walks, and trails in Bukit Brown Cemetery, in addition to public events celebrating Chinese and non-Chinese cultural festivals. I guess we could call it partying in a graveyard.
Due to the land scarcity in Singapore, the more than 100,000 graves in the area are expected to be exhumed for land development and housing. I'd suggest going down for a nature walk and some bird-watching while you still can, even if just to add it to your list of bucket experiences.
8. Investigate the paranormal at Old Changi Hospital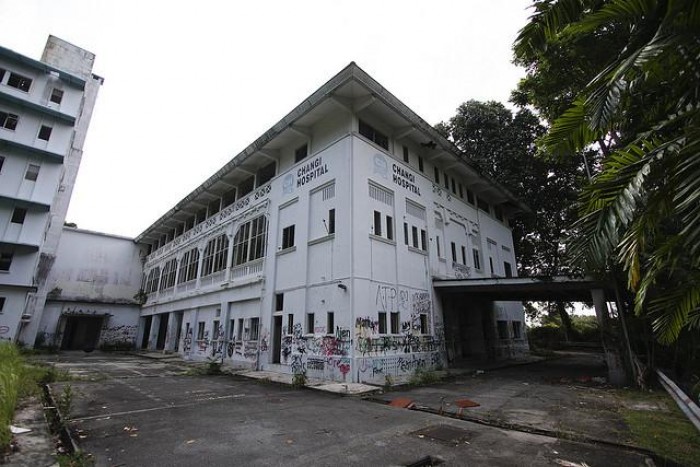 Image credit: Brian Jeffery Beggerly
Enter at your own risk!
During World War 2, it was used as a prison and torture camp by the Japanese secret police. Many who visit the area have claimed to have seen the apparitions of bloodied Japanese soldiers and spirits of children who were once warded in this old, abandoned hospital. They also report deafening screams heard within the building, presumably from the war tortures of years past.
Local and foreign paranormal investigators alike have come forth, armed with their paranormal detectors and film-recording equipment, to explore this haunted derelict area. In fact, the rumours surrounding this hospital were so rampant, it inspired a group of local filmmakers to base a movie on the hospital!
9. Paint a Van Gogh masterpiece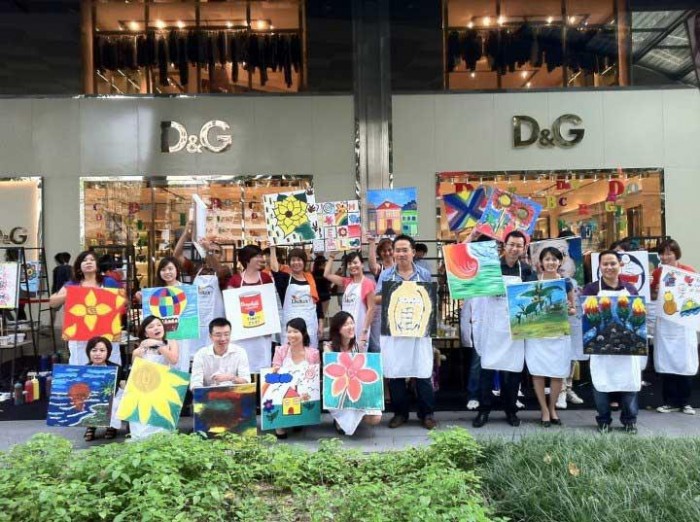 Image credit: Arteastiq
A cup of tea in hand, and a brush in the other—that's how I'd like to spend my afternoon. Art is already well-known for being therapeutic, and the wide application of it in the medical world is well-documented. Well, now you can also experience it for yourself, in a completely social and relaxed setting. Anyone can be a Picasso or Monet here at Arteastiq. A 3-hour session here includes a free canvas, unlimited art supplies, and a free drink. Whether you're alone or you've grabbed a few friends, the chill atmosphere, psychedelic array of paint colours, sponges, brushes, and palettes, and a spot of tea will warm you right up!
As for those who really do not have an ounce of confidence in their artistic abilities, like me, there are guided art lessons, in which there'll be someone to provide you with guidance in creating your own masterpiece from start to finish!
10. Do a Tarzan at Forest Adventure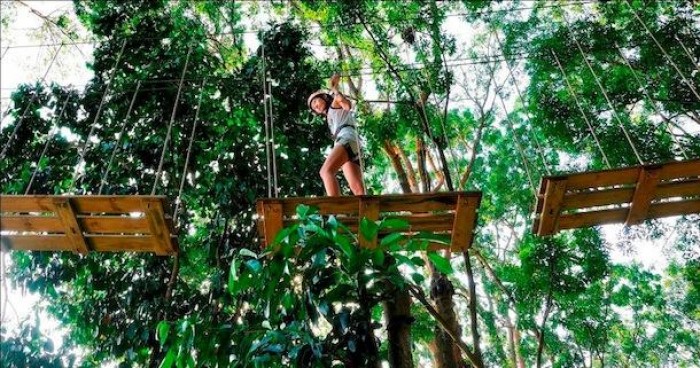 Image credit: Sassy Mama
Fancy yourself as Tarzan and/or Jane? Swing through the jungles here at Forest Adventures! Based in the East at Bedok Reservoir, Forest Adventure is Singapore's first and only treetop obstacle course. With three different obstacle courses—Grand, Kids and Mini—even families with young kids can come live out their fantasies as jungle children here!
Bridges, trapezes, wobbly logs, and the aptly named Tarzan swings, adults on the Grand 35-obstacle course will be able to take in the beautiful scenery and breeze at whilst dancing amongst the trees across 5 sites. Each site culminates in a huge zip line that brings the newly-minted Tarzan/Jane back to base camp. The Kids course, with 16 obstacles, is recommended for children aged 8 and above, while the Mini course has 8 obstacles for kids 4–7 years old. Parents are allowed on the Kids course, though not the Mini course, due to a maximum weight requirement.
Also read: Staycations in Singapore: Dare to Be Different With These Alternative Ideas
11. Fly a Boeing-737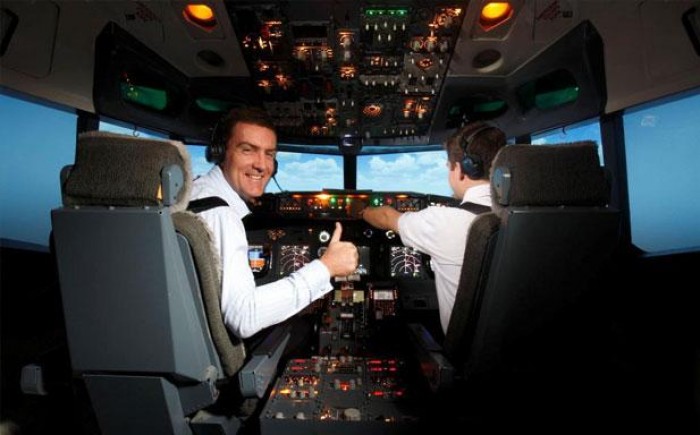 Image credit: Flight Experience Singapore
You've seen it take-off and land. You've sat in one and relished the experience. Now how about flying one? This is one plane you can fly without having to obtain a costly pilot license. At Flight Experience, one gets to sit in the cockpit and captain your own commercial aeroplane. The flight simulators here are used for pilot training, so rest assured that you're getting the most bang for your buck, and the simulated conditions will be as real as can be.
Think about it: when else can you sit in the cockpit with a real pilot, short of becoming one yourself? Yep, the flight instructors are all real pilots, and they sit in the cockpit with you as your First Officer! With the help of the instructors, you'll experience the whole gamut, from boarding, to take-off, and even landing at any airport of your choice. At the same time, you'll also learn loads about the many controls and the things real pilots have to watch out for while flying.
Sounds like one for the books, doesn't it?
12. Break into song….overnight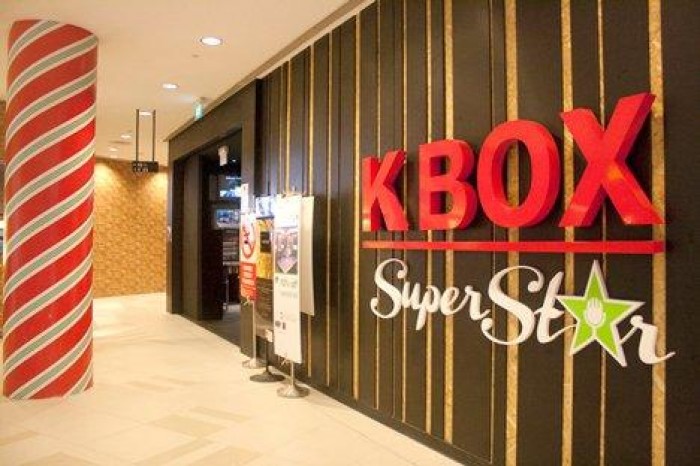 Image credit: Deal.com.sg
Nah, this ain't one of those sleazy nightclubs with extra services. I'm talking about clean (in all senses of the word) and pure singing. Now this may not seem unusual to friends from countries where singing is a widely popular activity, but for the uninitiated, the karaoke culture is pretty alive and strong in Singapore. Many young Singaporeans, and increasingly even the older generations, are flocking to karaoke chains to hone their vocal chords. Usually found in shopping malls, many of these karaoke chains require you to book in advance; they're that popular. It helps that the prices are rather affordable, depending on where you go. There are also other activities available, besides singing. Some chains have pool tables, buffets and even tambourines.
Of these, KBOX at Orchard Cineleisure has a session from 7pm to closing time, that is 6am. That's close to 12 hours of unadulterated singing. Perfect for the wannabe singer! Or for the insomniac, whichever you are. Crazy? Maybe, but it sure is worth an experience! You could turn it into a competition amongst you and your friends; the ultimate test of endurance and stamina in singing and screaming. Remember to bring lozenges to soothe your throat—you're definitely going to need it!
And if you aren't up to it, fret not; KBox and Teo Heng KTV Studio both offer 3-hour sessions for your singing pleasure as well.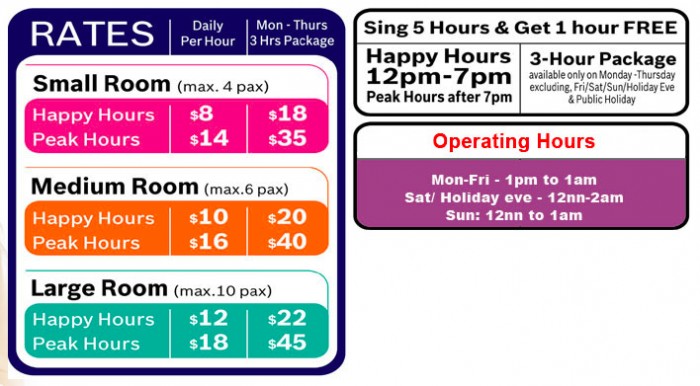 Image credit: Teo Heng KTV Studio
From the supernatural to the artsy to the adventurous, I do think Singapore has quite a number of challenges for both tourists and locals to take up, don't you? I urge you to get started on them, and let me know how your adventures went in the comments below! As for me, I think I'm going to head down to Bedok to swing through some trees!