People travel for new experience, and the Philippines is one country that is full of adventures bordering on what some may consider insane. If you are itching to try something outrageous during your travels, the Philippines is the right place to be.
But if you're not sure what kind of crazy stuff to begin jumping into, take your pick from this list.
Also Read: 12 Places in the Philippines too Stunning to be Real
1. Eat all sorts of strange street food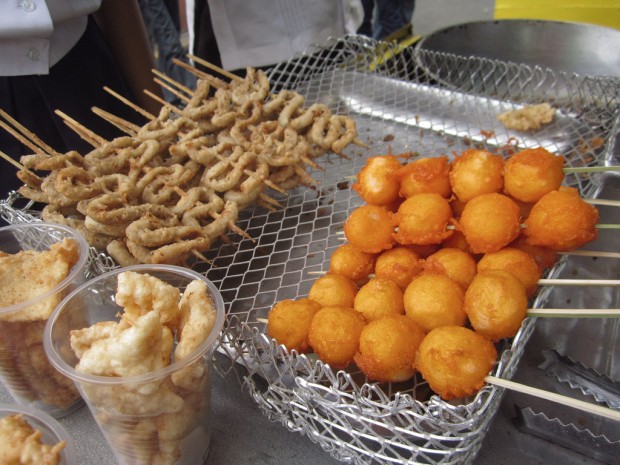 Image credit: Debbie Tingzon
Street food in the Philippines offer a great gastronomic experience for travellers who are brave enough to try. While the selection here is not that extreme (at least not to a Filipino), you are in for a treat to satisfy your cravings and curiosity.
First-timers should try the coveted Balut, which is a developing duckling that is boiled and eaten in the shell. Less hardcore foodies can try more conservative choices like the Kwek-kwek, a boiled quail egg covered in lightly-seasoned flour and fried to perfection. Other choices include sliced green mangoes with shrimp paste, isaw or grilled chicken intestines, Adidas or grilled chicken feet, and locally made ice cream. It's a freestyle buffet whenever, wherever.
2. Dive off cliffs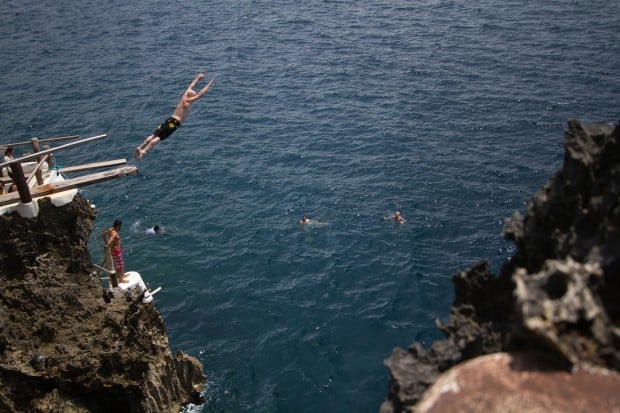 Image credit: Elsen Jiao
Adventurous travellers can experience that intoxicating rush of adrenaline by diving off a cliff. There is a plethora of cliff diving spots in the Philippines, and all of them are equally crazy. One of the most popular cliff diving spots is Ariel's Point in Boracay, where travellers can try varying levels of elevation that range from three metres to a heart-stopping thirteen metres.
All of these cliff diving spots offer pristine waters for divers to enjoy after the most exhilarating leap of their lives. The variety of cliff diving options in the Philippines makes it one of the best cliff diving destinations in the world.
3. Visit haunted places at night
Image credit: Jam A.
The Philippines showcases a culture that is rich in folklore and stories that are best told at night. It is one of the best destinations to visit haunted places and to collect your own share of horror stories that come straight out of your personal experience. Take your pick from abandoned hospitals or dilapidated houses, and bring out your inner ghostbuster.
Some locations to visit include the Teacher's Camp in Baguio City, Bahay na Pula in Bulacan, as well as the famous Balete Drive in Quezon City. If these destinations don't give you enough goosebumps, I don't know what will.
4. Rough it out in the wild
Image credit: Ryan Desiderio
The hustle and bustle of the city life can quickly sap out the energy out of you. Why not pack your bags for a sweet escape into the wilderness? There are numerous options near Manila that offer a well-deserved respite. The serene beauty of Anawangin and Nagsasa Cove, as well as the amazing panorama of Capones Island, which are all found in the province of Zambales, offer a peaceful refuge that is literally away from everything but without being too distant.
Get in touch with nature and have a weekend well-spent in these destinations that offer raw beauty – and when we say raw beauty, that means your stay will not be tainted by technology, electricity, and every other comfort you are used to. Find your own personal space in a unique and quiet setting.
5. Try out the Reverse Bungee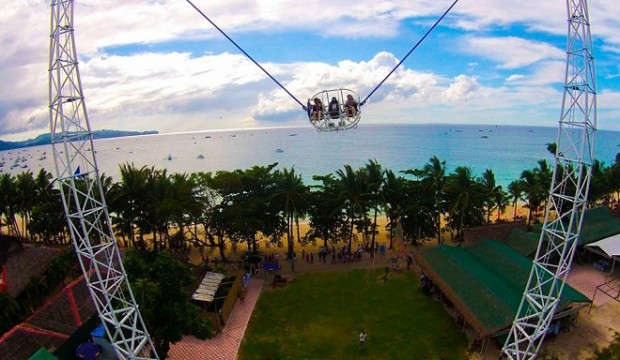 Image credit: Boracay Stories
Reverse Bungee is not something new for hardcore travellers who want to defy the word extreme. Still, the reverse bungee that is available in the island of Boracay is one that everybody should hop on – the ride offers great views of the island and the crystal-blue waters that surround it.
If you manage to keep your eyes open, that is.
6. Time travel by visiting historic sites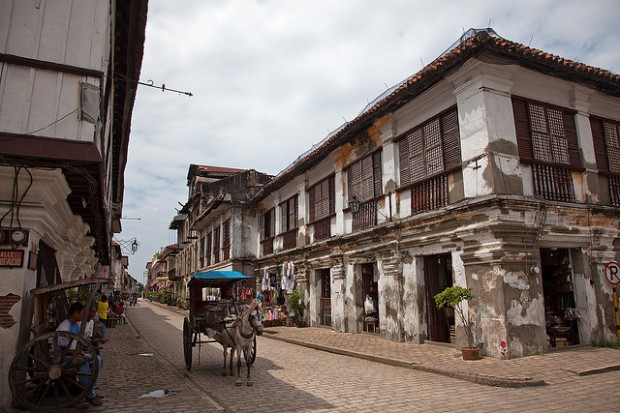 Image credit: Richard Messenger
There are several places in the Philippines where time has seemingly stopped. Two of the most prominent destinations that offer your chance of "time travelling" include the city of Vigan in the province of Ilocos Sur and Las Casas Filipinas in the province of Bataan. These places are preserved to allow visitors to experience the Spanish Colonial era, which is several centuries ago. Immerse yourself in the plain and simple provincial living that is tastefully rich in Philippine history.
7. Get wet while whitewater rafting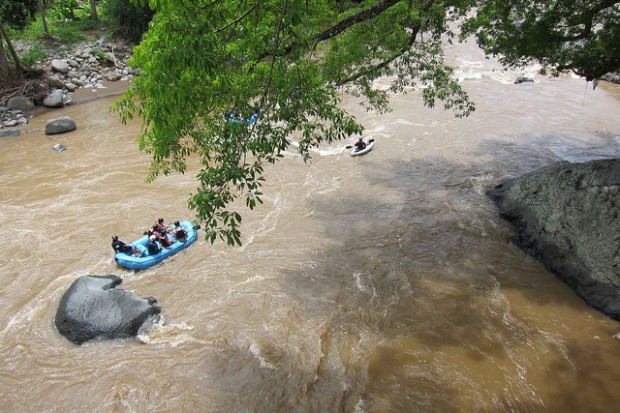 Image credit: Jojo Nicdao
Whitewater rafting can be an exhilarating experience, especially for those who are trying it out for the first time. The most popular destination for this activity is Cagayan de Oro City in the province of Misamis Oriental. Considered as a challenging sport for many, it is indeed a one of a kind experience that is a must-try for travellers who are exploring the southern part of the Philippines.
8. Go diving with whale sharks
Image credit: Klaus Steifel
Atlantis is considered as one of the lost cities that is believed to be a different world waiting to be explored. Well, guess what? You can have a one-of-a-kind experience of exploring a totally different world in Oslob, Cebu, where divers can enjoy whale shark diving.
Also read: Swimming with Whale Sharks in Cebu, Philippines
This is one of the most exhilarating activity that you can try out when visiting central Philippines. Whale shark interaction officers will help you get up close and personal with these gentle giants. You will literally be immersed into a whole new world surrounded by countless fishes, as well as the star of the show: whale sharks.
9. Experience sky cycling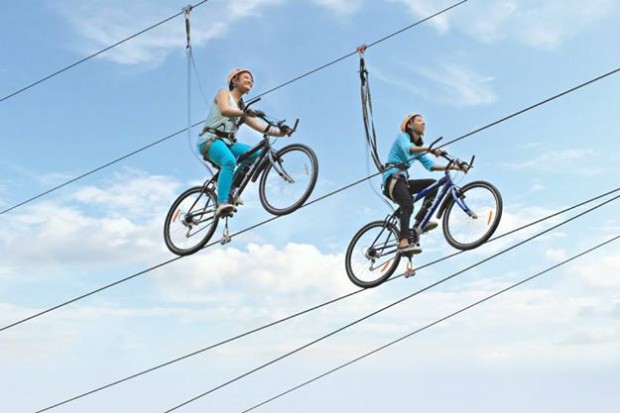 Image credit: Eden Nature Park
Summon your inner daredevil by experiencing sky cycling. Sky cycling allows you to ride a bicycle while being suspended mid-air and balancing on a steel cable. It is quite stable, although it can be a heart-pounding experience for some.
There are two prominent sky cycling spots in the Philippines as of now. One is at the Eden Nature Park in Davao City, while the other one is at the Campuestuhan Highland Resort in Talisay City in the province of Negros Occidental.
10. Walk or coast along the edge of the earth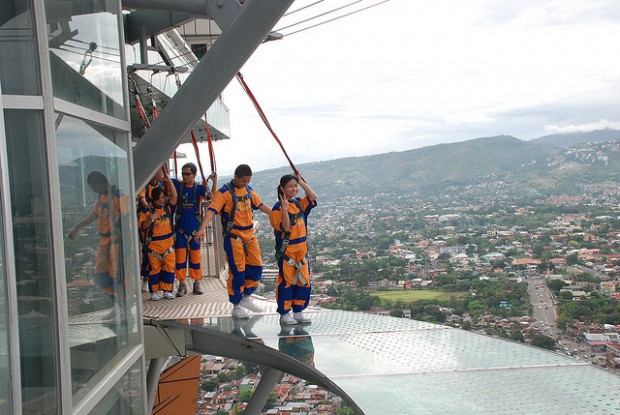 Image credit: Joel Mendoza
Two of the points of interest that are gaining popularity in the country's Queen City of the South are the Sky Walk and the Edge Coaster, which are both offered by one of the best hotels in the city – the Crown Regency Hotel. The Edge Coaster is in the hotel's 38th floor, and it offers an amazing view of the city. The Sky Walk Extreme allows the guest to walk around a translucent glass floor on the edge of the building, giving an unobstructed view down below.
Also read: The Philippine Bucket List: 20 Challenges Every Filipino Traveller Must Complete
Crazy as it may seem, the Philippines is in a constant pursuit of entertaining its guests. From the sublime natural wonders to exciting man-made marvels, these are just some of the craziest things you can do during your fun-filled stay in the Philippines. More fun, more excitement, and more memories – that is what the Philippines has to offer.